These Chicken Meatball Bowls are a quick and healthy weeknight meal that is addictingly delicious! Best of all, the Chicken Meatballs are very versatile and freeze beautifully. The homemade meatballs only require a handful of simple ingredients, and you can customize the bowls with your favorite flavors and veggies.
Want more quick, healthy weeknight dishes? Try our tasty Greek Chicken Bowls, Stuffed Pepper Casserole, or our Lemon Garlic Shrimp Kabobs.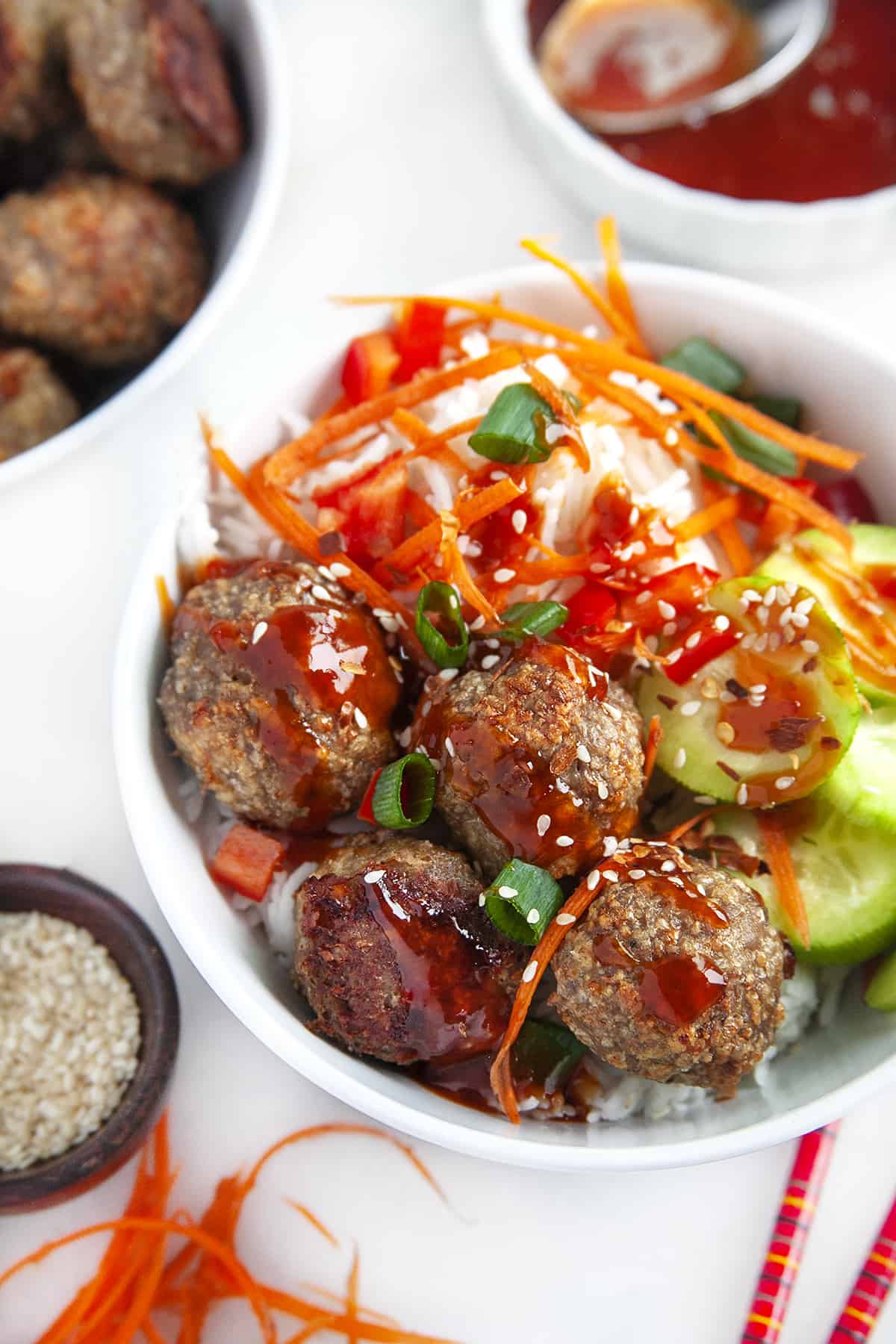 What Goes into a Chicken Meatball Bowl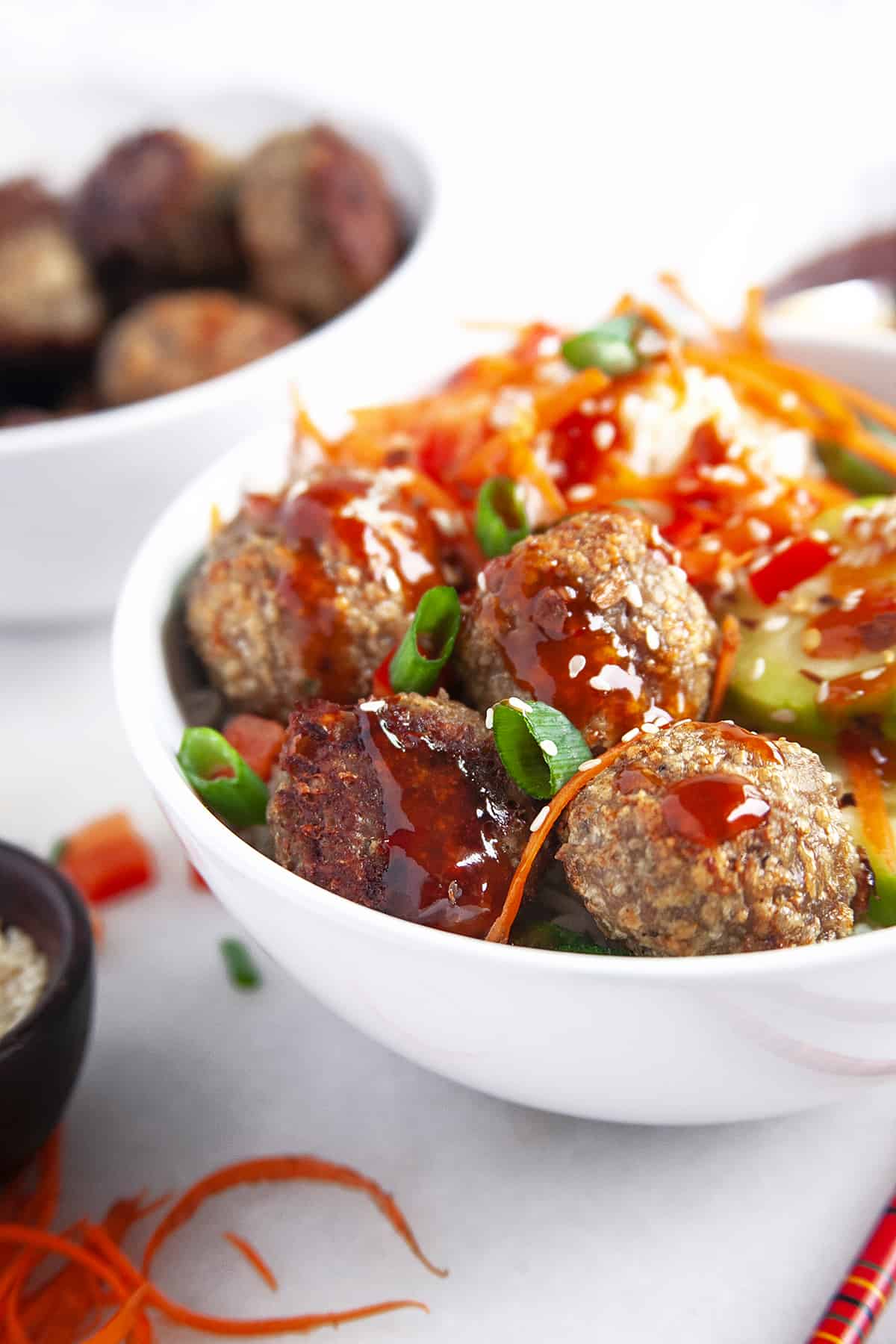 Chicken Meatballs are so versatile, and there are a hundred different ways to serve them. You can add them to pasta dishes, turn them into sandwiches, or toss them into a salad. My favorite way to eat them, though, is in a rice bowl with fresh veggies and Asian flavors.
I love that they are always a mix-in-one-bowl recipe. Chicken meatballs are a great meal prep item.
For this Chicken Meatball Bowl, you'll need:
Chicken Meatballs (recipe below)
Cooked Rice (you can use your favorite type of rice, I like either brown or white basmati rice for a meatball bowl)
Carrots, grated or thinly sliced
Red bell pepper
Cucumber
Green Onions
Lemongrass Hoisin Sauce (or your favorite hoisin sauce)
Sesame Seeds
Red Pepper Flakes
How to Make a Chicken Meatball Bowl
To begin, make the chicken meatballs. These are so simple to make, and after you've made them a few times, you'll likely have the recipe memorized and be able to whip these up in a flash.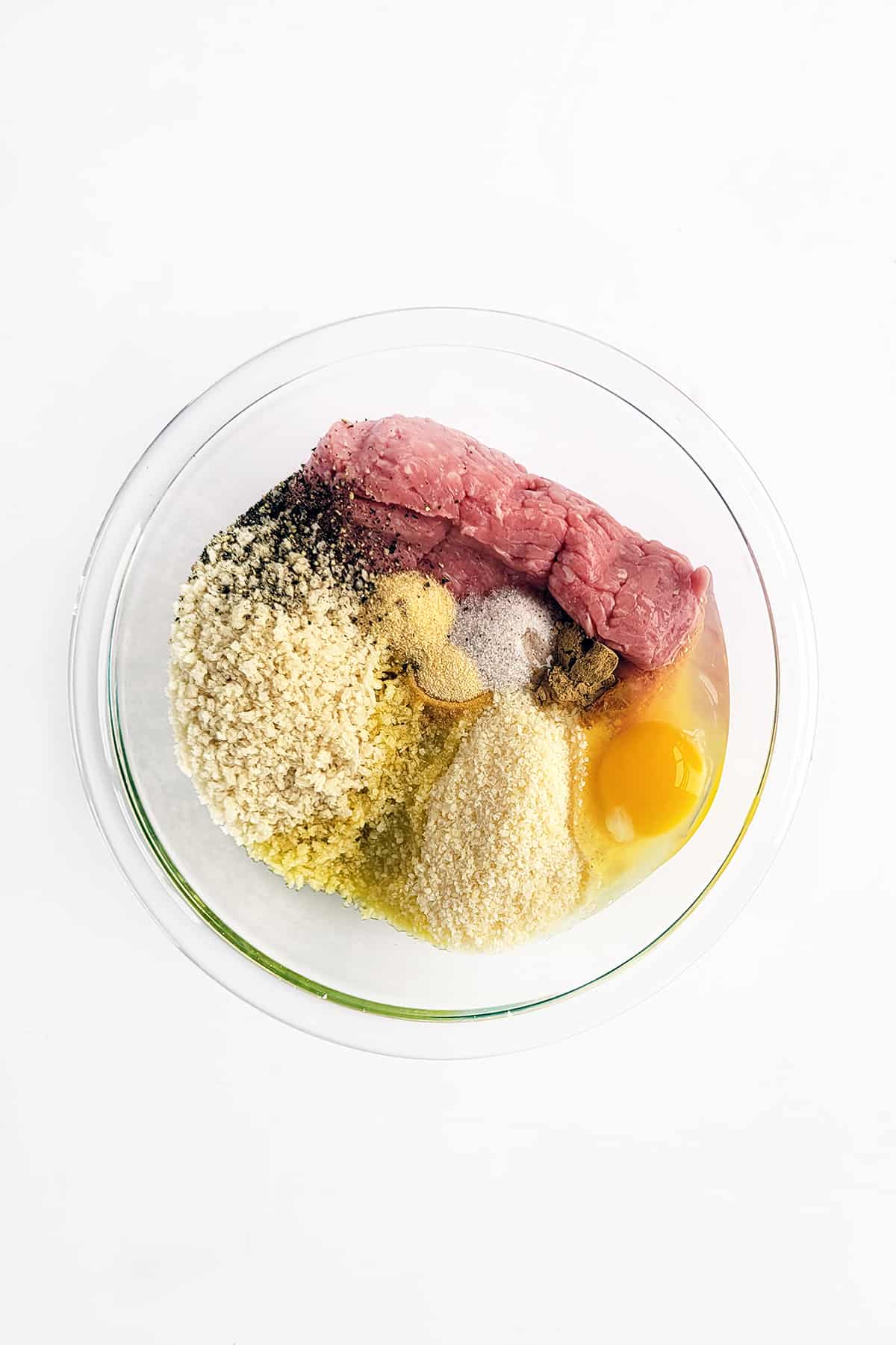 Preheat your oven to 400 degrees Fahrenheit. Line a large baking sheet with parchment paper.
In a large bowl, combine the following ingredients:
ground meat, chicken (or turkey)
panko bread crumbs
finely grated parmesan
egg
olive oil
spices – black pepper, garlic powder, onion powder, ground ginger
The secret ingredient in these Chicken Meatballs is ground ginger – it's the perfect burst of flavor for an Asian Flavor Inspired Meatball Bowl.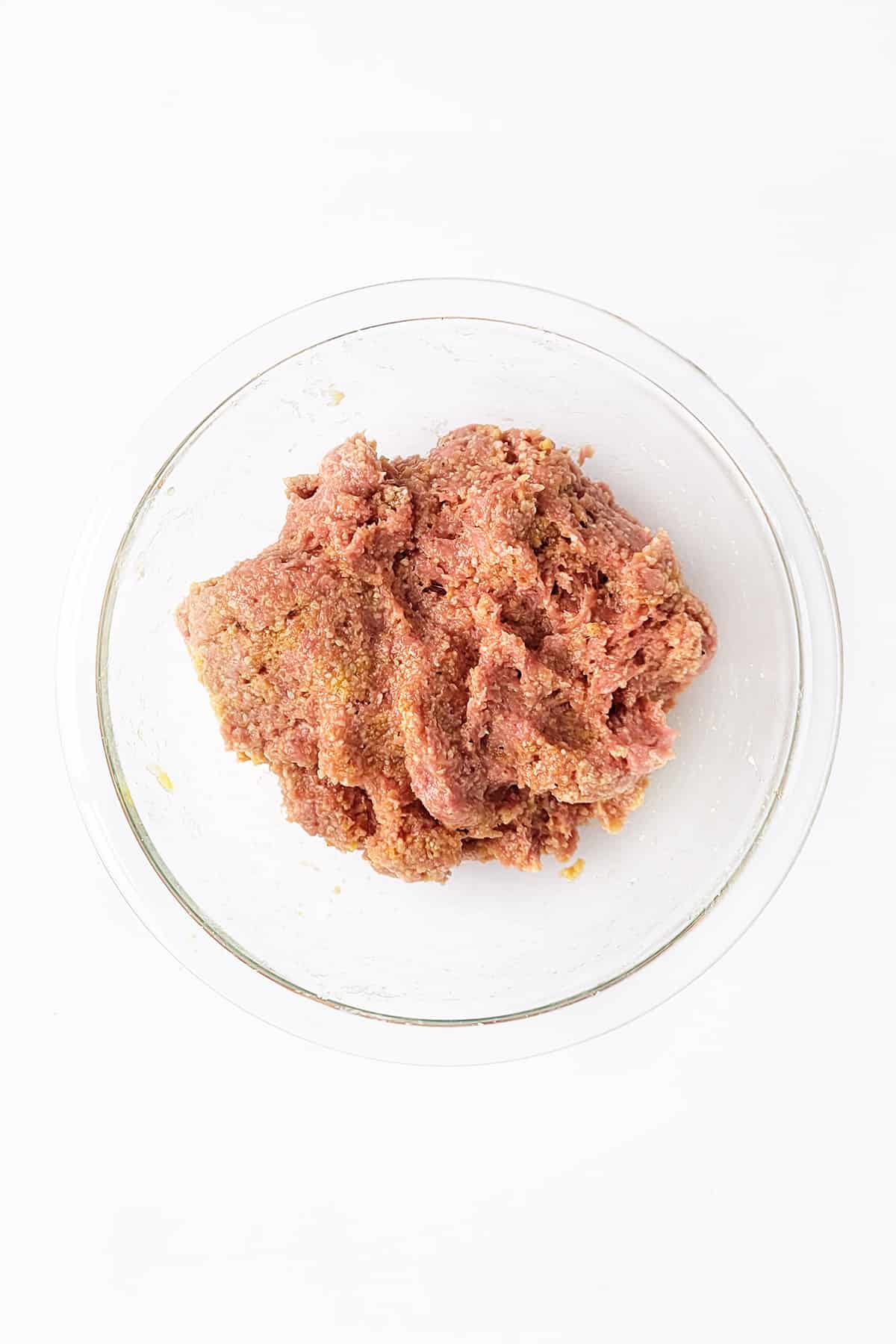 Now, use your hands and combine all of the ingredients until they are thoroughly mixed.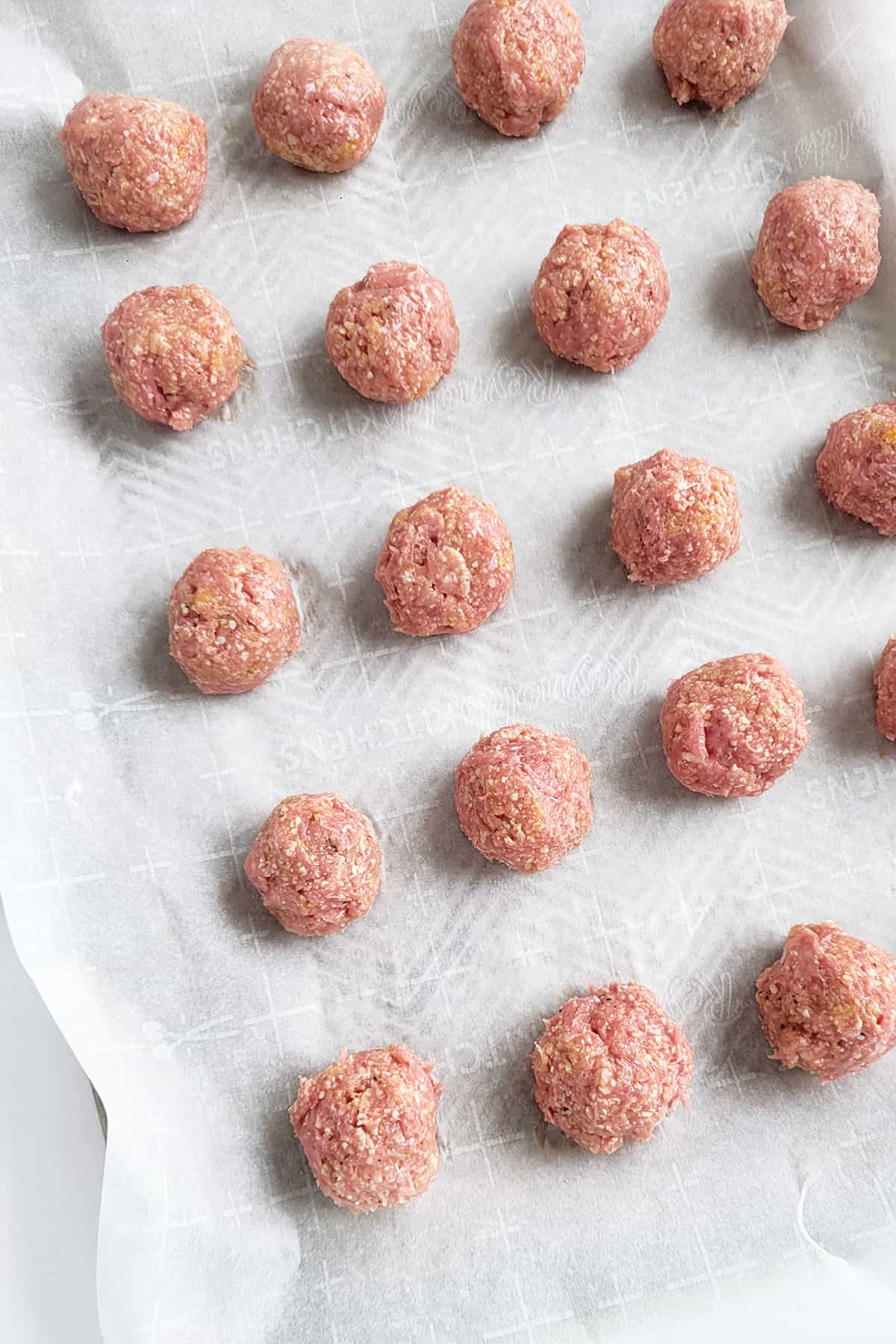 Using a 1.5-tablespoon cookie scoop or a heaping rounded tablespoon, scoop the meatballs onto the prepared baking sheet lined with parchment paper. Bake the meatballs for 25 to 30 minutes (or until they reach an internal temperature of 160 degrees).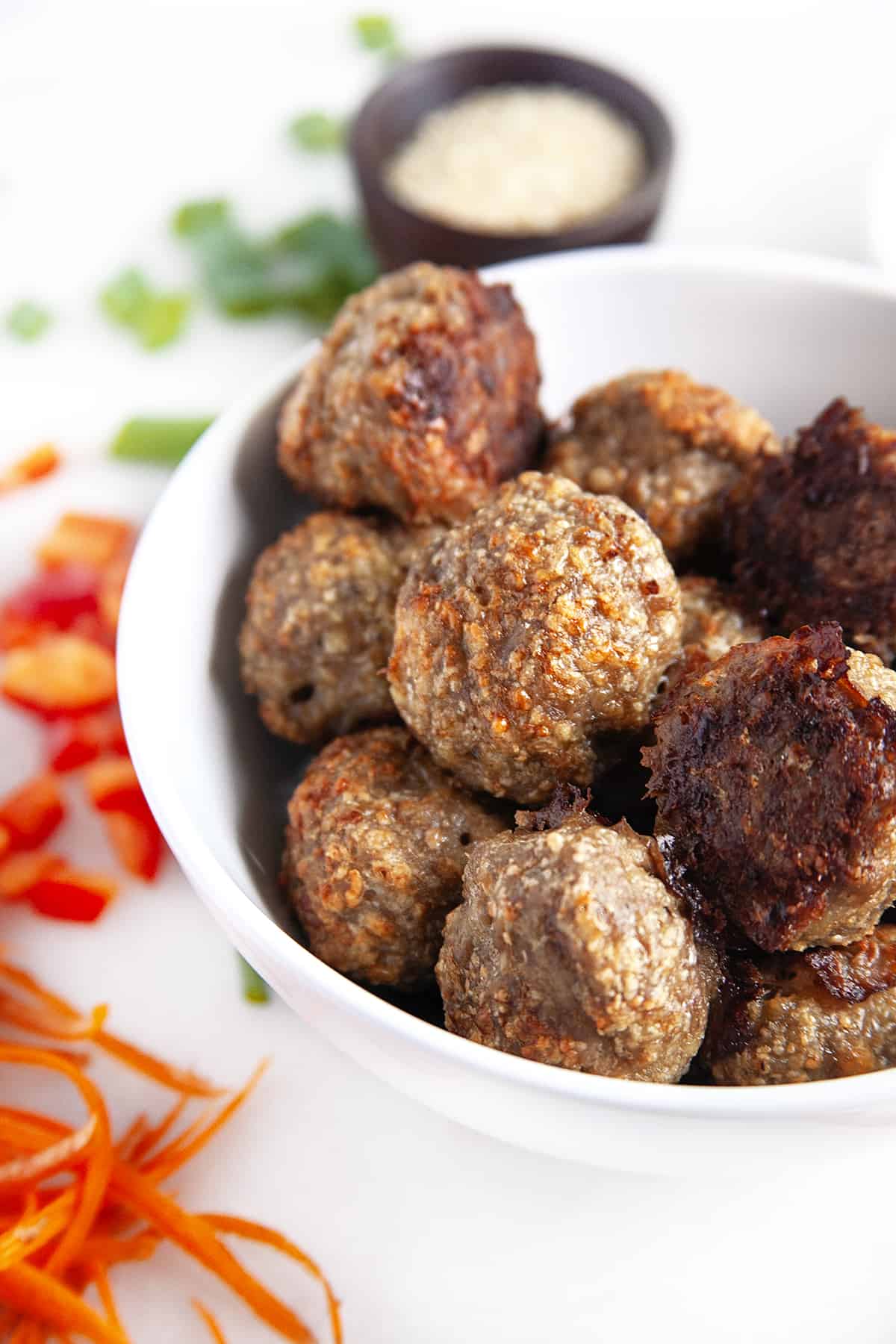 When the Chicken Meatballs are done, they'll be evenly and deliciously browned and slightly crunchy on the outside. I like to assemble the rice bowls while the meatballs are cooking so that when they come out of the oven, I can immediately add the warm meatballs and serve.
Look at those crunchy browned bottoms; I know you want to dive right in.
Make sure your meatballs are cooked all the way through; for chicken, you must reach a temperature of 160F. I always use my trusty Thermoworks Thermapen instant-read meat thermometer for a quick and accurate read.
Thermapen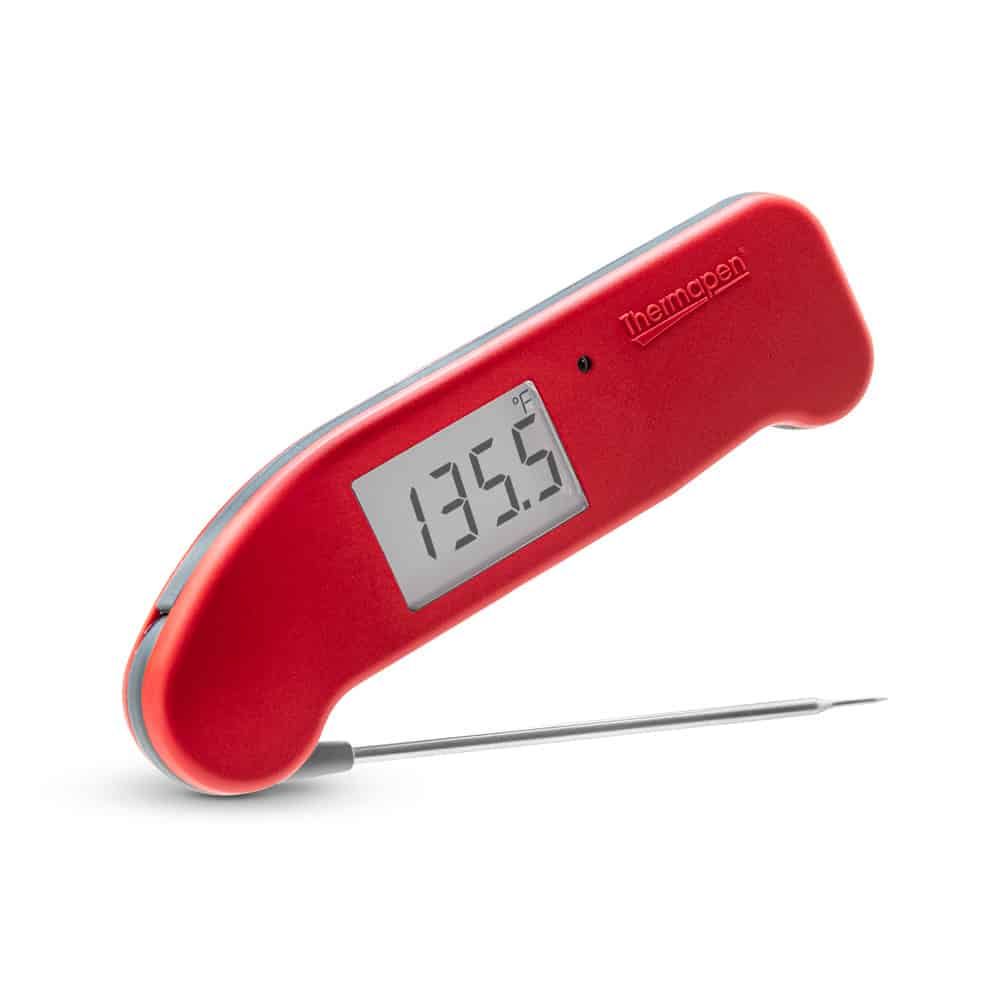 This post contains affiliate links. As a Thermoworks Affiliate, I earn a small portion from qualifying purchases at no extra charge to you.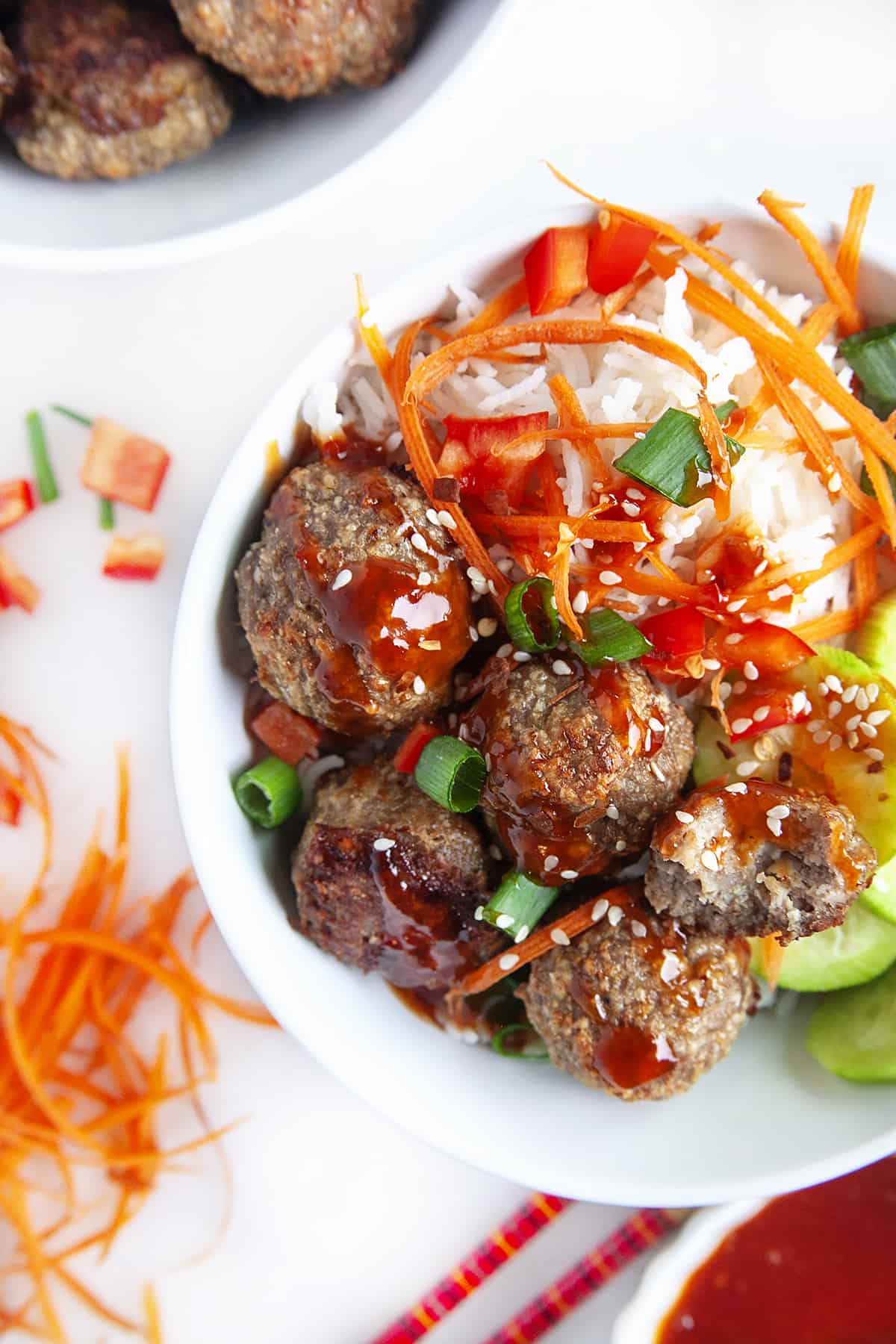 To assemble the Chicken Meatball Bowls, add a scoop of rice to each bowl. Top it with fresh veggies. Add the cooked meatballs and drizzle 1 to 2 tablespoons of hoisin sauce over all of the ingredients. Sprinkle with green onions, sesame seeds, and a pinch of red pepper flakes.
These bowls are a delightful blend of sweet and spicy with a satisfying crunch in every bite. The chicken meatballs make them hearty and filling. My family requests these meatball bowls several times a month, and I'm happy to oblige because they're such a super easy weeknight dinner!
Alternative Flavors For The Meatballs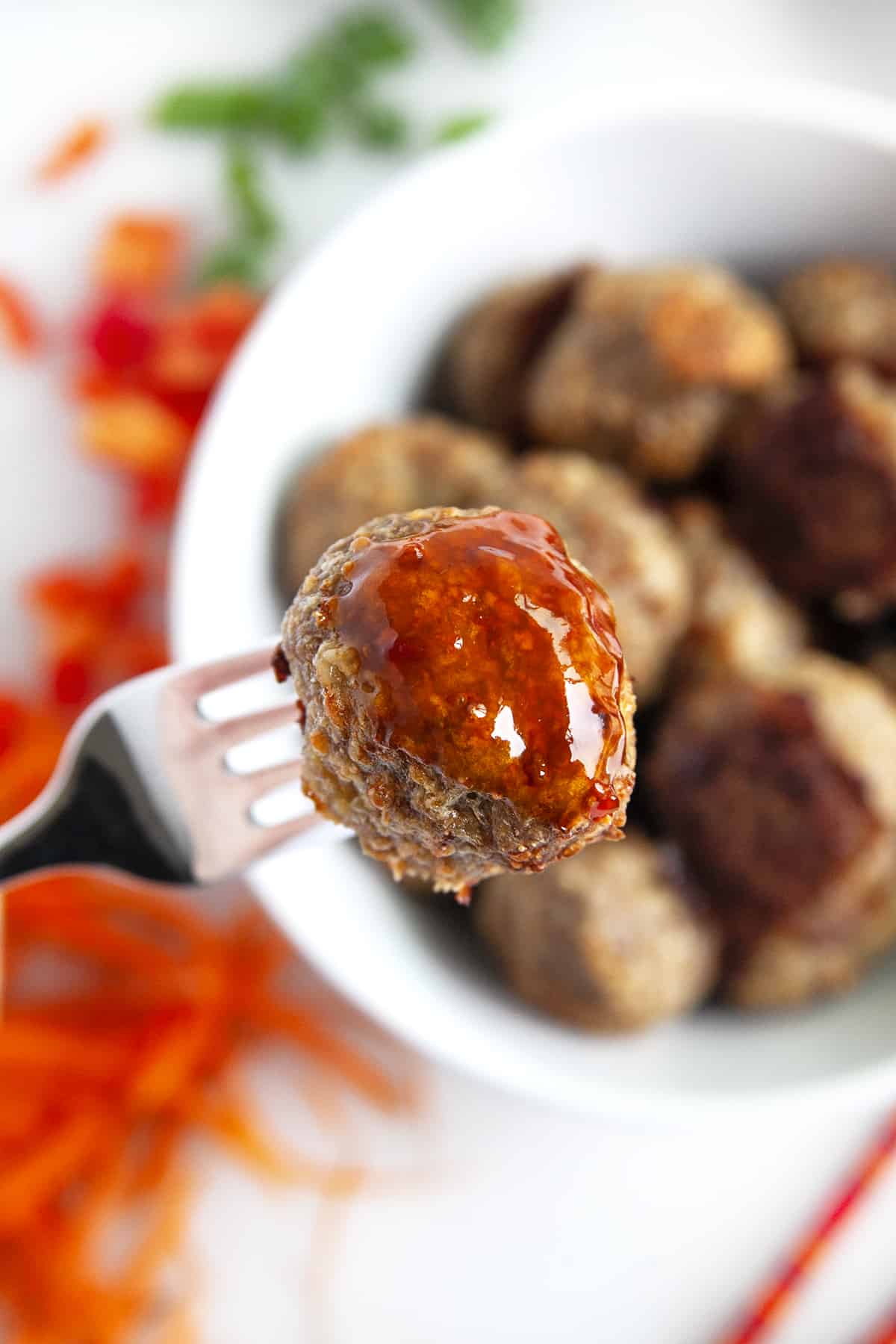 Don't like hoisin sauce? Then change the flavoring up to what you do like. Here are some sauces that are in our fridge almost all the time to change the dish up completely.
Teriyaki Sauce – Try our homemade version that is fast, easy, and economical to pull together. Ours is not too sweet or too salty, just right.
Sweet Asian Chili Sauce – A must pantry/fridge item that gives the perfect sweet heat to this meatball bowl.
Frank's Hot Sauce – This sauce is an all-time favorite, and I love it with Asian foods too.
Sriracha – Add this to the hoisin sauce for a perfect blend of sweet, savory, and spicy.
If you would like to move away from Asian flavors, you can also try your favorite BBQ sauce, jerk sauce, enchilada sauce, salsa, or your favorite sauce. Make sure you change up the veggies and rice accordingly to match your new dish. For example, you could use enchilada rice with your enchilada sauce.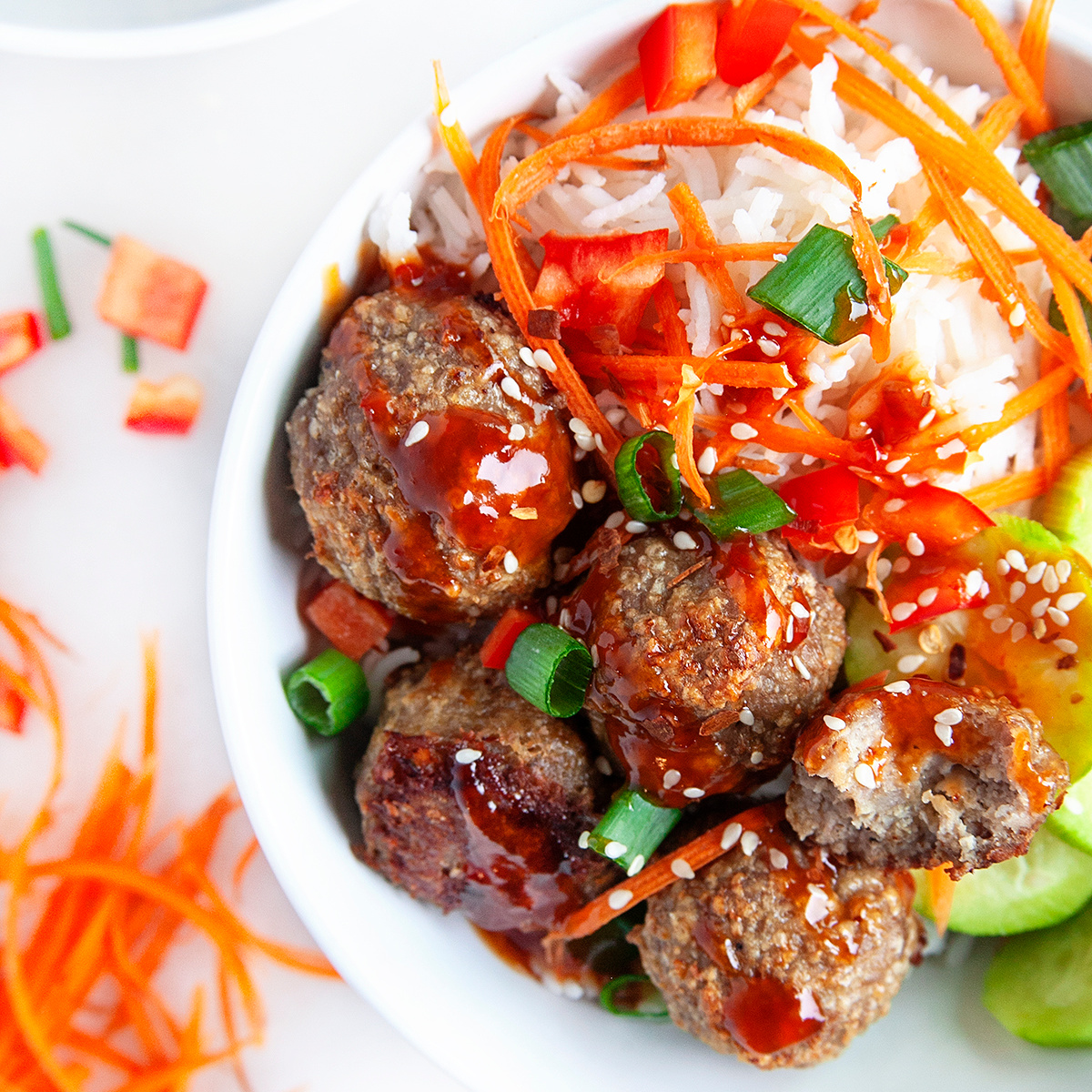 Pin it HERE!!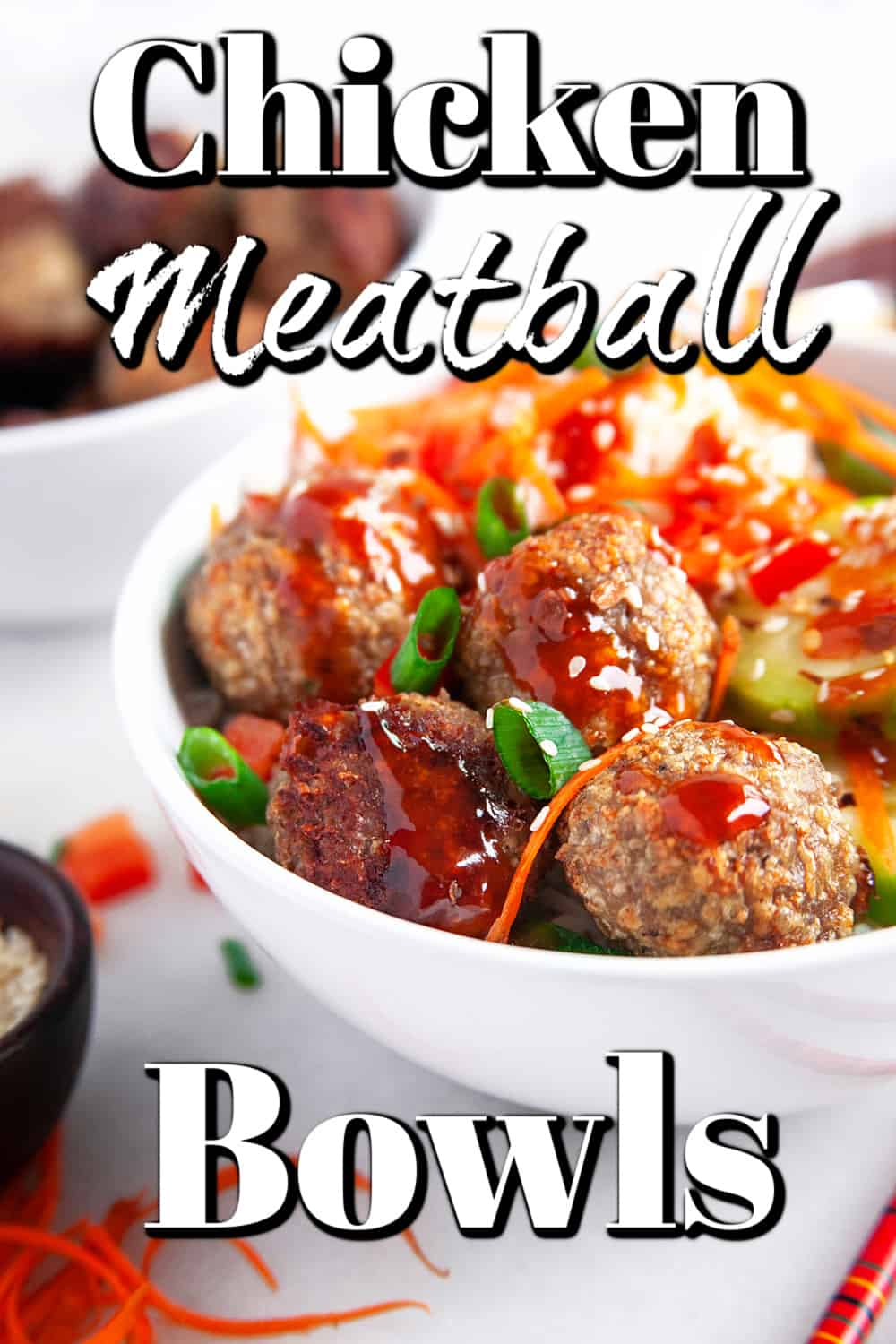 Pin it HERE!!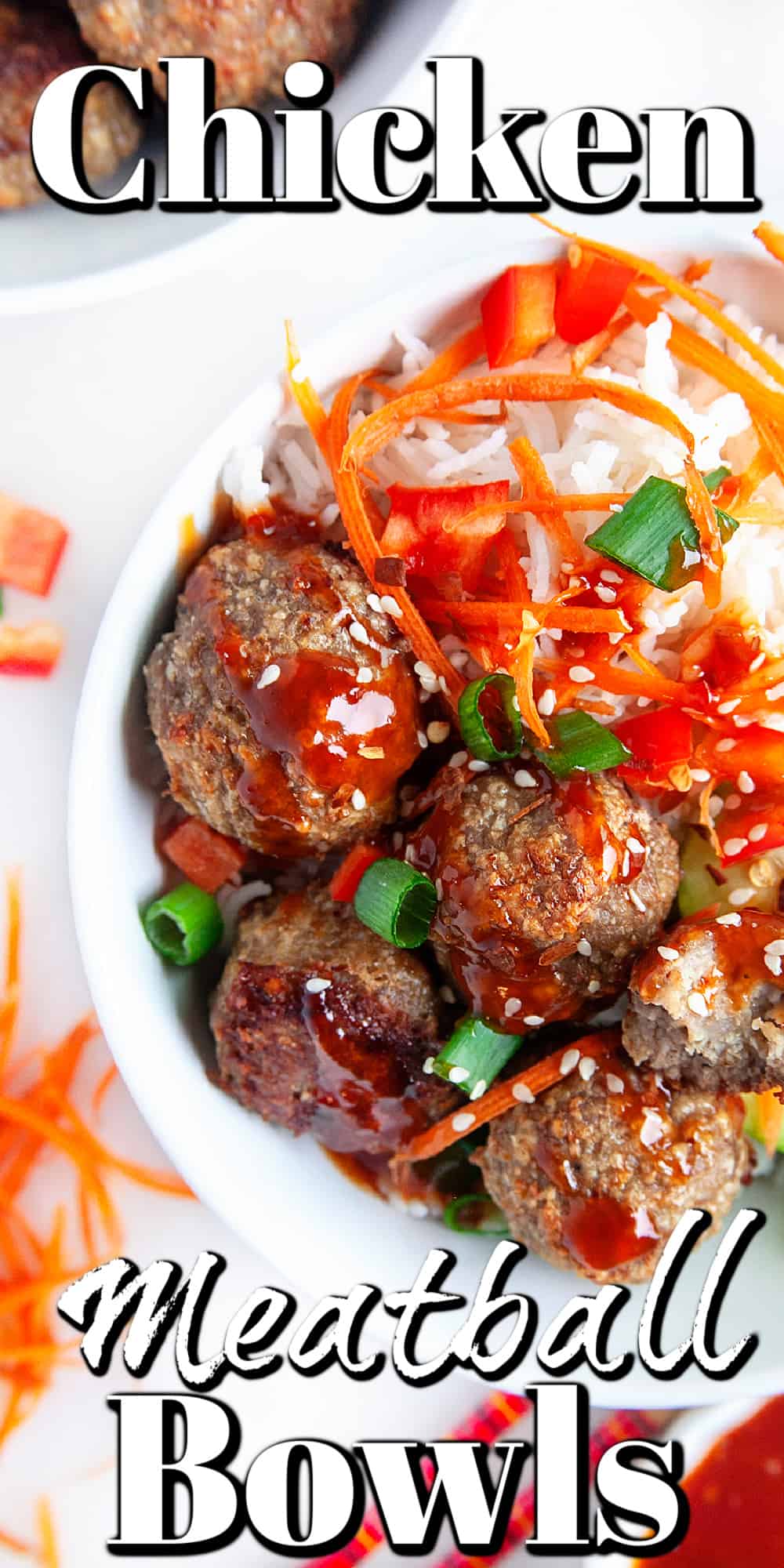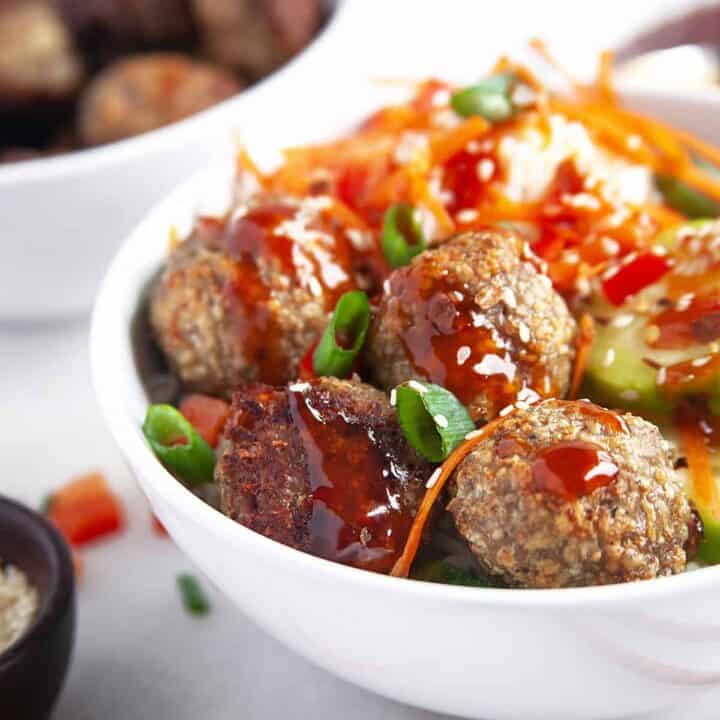 Chicken Meatball Bowl
Yield: 4 to 6 servings
Prep Time: 20 minutes
Cook Time: 30 minutes
Total Time: 50 minutes
This Chicken Meatball Bowl is simple to make and packs a punch of goodness for any weeknight meal. You could prepare the meatballs in advance or even cook and freeze them to have them ready for a fast meal when your evenings are busy.
Ingredients
For the Meatballs
1 lb ground chicken (or turkey)
1/2 cup finely grated parmesan
1/2 cup panko bread crumbs
1 egg
2 tablespoons olive oil
1/2 teaspoon salt
1/4 teaspoon ground black pepper
1/2 teaspoon garlic powder
1/2 teaspoon onion powder
1/4 teaspoon ground ginger
for the Bowls
6 cups cooked basmati rice (2 cups uncooked)
1 red bell pepper, chopped
1 medium cucumber, peeled and thinly sliced
2 carrots grated
3 green onions, chopped (green parts only)
Lemongrass Hoisin Sauce (or your favorite flavor of Hoisin sauce)
sesame seeds
red pepper flakes
Instructions
Preheat oven to 400 degrees Fahrenheit. Line a large baking sheet with parchment paper.
Combine all of the ingredients for the meatballs in a medium bowl. Using your hands, mix the ingredients until thoroughly combined.
Using a 1.5 tablespoon cookie scoop or a rounded tablespoon, scoop the meatballs onto the prepared baking sheet (recipe makes approximately 20 meatballs). Bake at 400 degrees for 25 to 30 minutes. Meatballs will be golden.
While the meatballs are cooking, assemble the bowls. Place a scoop of cooked rice into each bowl. Top with the veggies. Add the meatballs, then drizzle 1 to 2 tablespoons of hoisin sauce over each bowl. Sprinkle with green onions, sesame seeds, and a pinch of red pepper flakes. Serve immediately.
Nutrition Information:
Yield: 6
Serving Size: 1
Amount Per Serving:
Calories: 535
Total Fat: 19g
Saturated Fat: 5g
Trans Fat: 0g
Unsaturated Fat: 13g
Cholesterol: 119mg
Sodium: 518mg
Carbohydrates: 62g
Fiber: 3g
Sugar: 4g
Protein: 28g
Recipe calculation was provided by Nutritionix and is an estimation only. If you need nutritional calculations for medical reasons, please use a source that you trust.