This Greek Chicken Bowl makes a perfect easy dinner or lunch that's both healthy and delicious! It's completely customizable and, best of all, you can even make it ahead of time and just assemble the bowl when you're ready to eat. You'll absolutely love the Greek flavors and versatility!
Looking for more Greek flavor recipes? Try our Greek Quinoa Salad or this tasty Sheet Pan Greek Pita Pizza.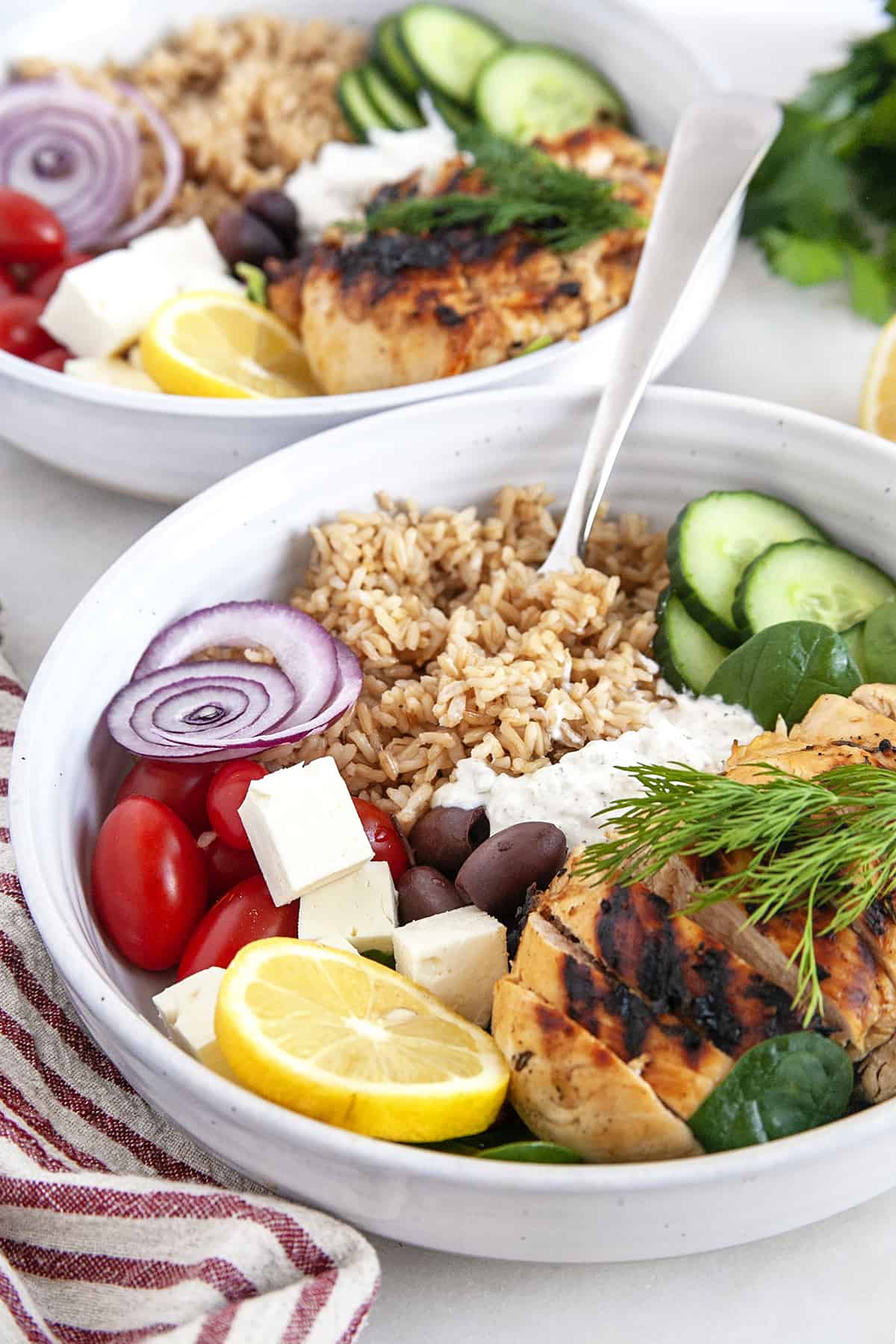 I admit it, I am a bit "bowl" crazy lately!! We love the chicken meatballs in our Chicken Meatball Bowls. We enjoy making our Healthy Chicken Burrito Bowl for an easy weeknight meal. I also adore ordering in a poke bowl. So many flavors and combinations for you to choose from in a big gorgeous bowl of food that all marries so beautifully together.
Plus, the bonus of these bowls is that you can make them to how you like them, and all of them are so healthy.
What to put in Greek Chicken Bowls?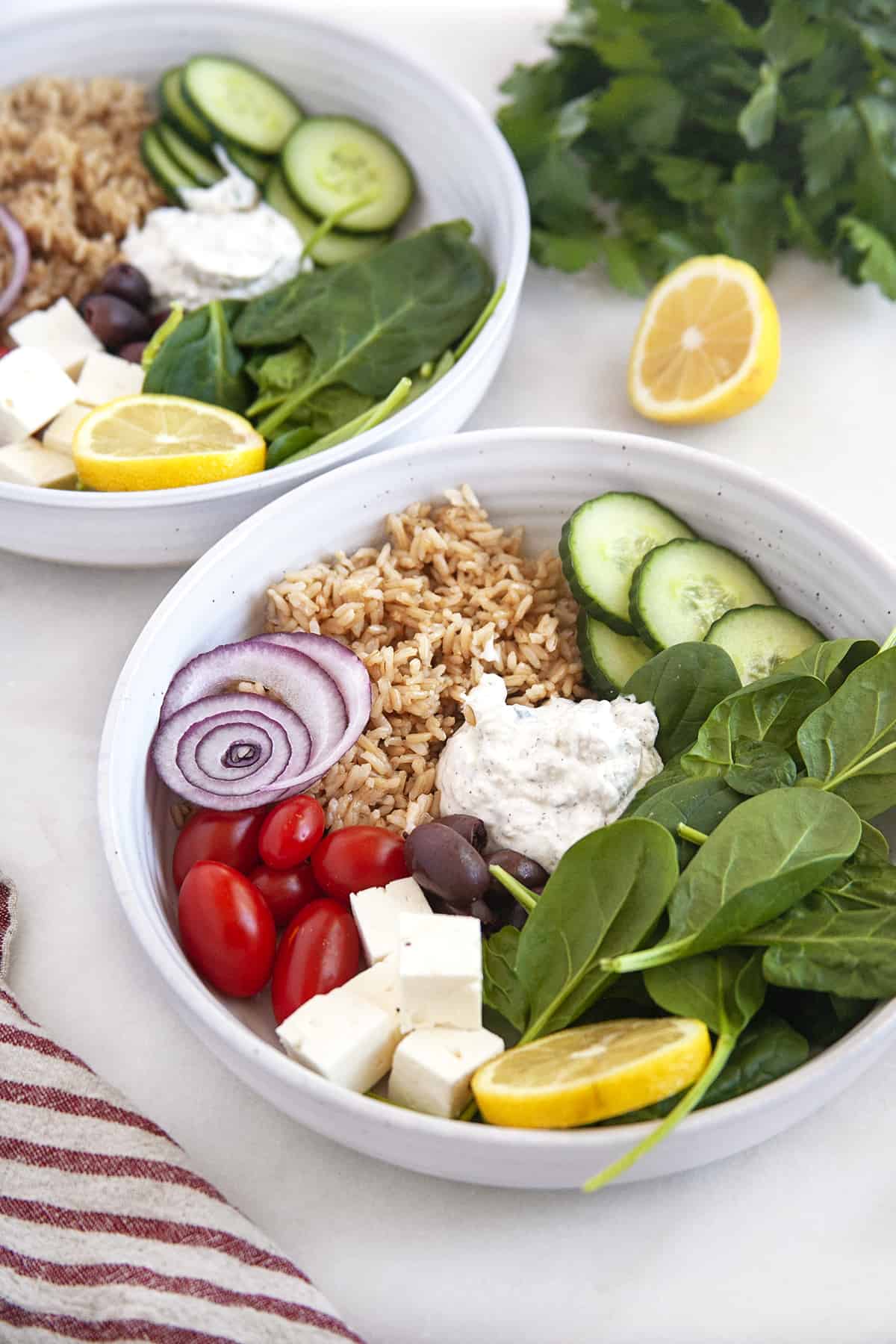 The best thing about a bowl recipe like this Greek Chicken Bowl is just how versatile they are. Here is what I like in a Greek Chicken Bowl, as well as a few more options and substitutions below.
Ingredients
Greek Marinated Chicken Breasts (recipe below) – I like the chicken breast in this recipe; you can pound them out a bit to have them cook quicker.
Brown Rice – you can substitute white rice if you don't enjoy brown rice, but it is much healthier for you.
Feta Cheese – cut into cubes – find good quality feta; I personally like the one that is a bit creamier as opposed to crumbly.
English Cucumber – sliced – you can also use mini cucumber too.
Grape Tomatoes – sweet and delicious; these are the perfect tomato for this bowl.
Fresh Spinach – you could sub in lettuce, kale, etc., whatever you prefer.
Kalamata Olives – if you go to the deli section of your grocery store, many places now have olive bars where you can buy as much or as little as you want.
Red Onion – sliced – to make them less pungent, you can pickle them using a quick pickle method.
Tzatziki – store-bought is great for this bowl; it is quick and easy to use with no cleanup!
Fresh Dill – for garnish- this is optional
Lemon – sliced – this is optional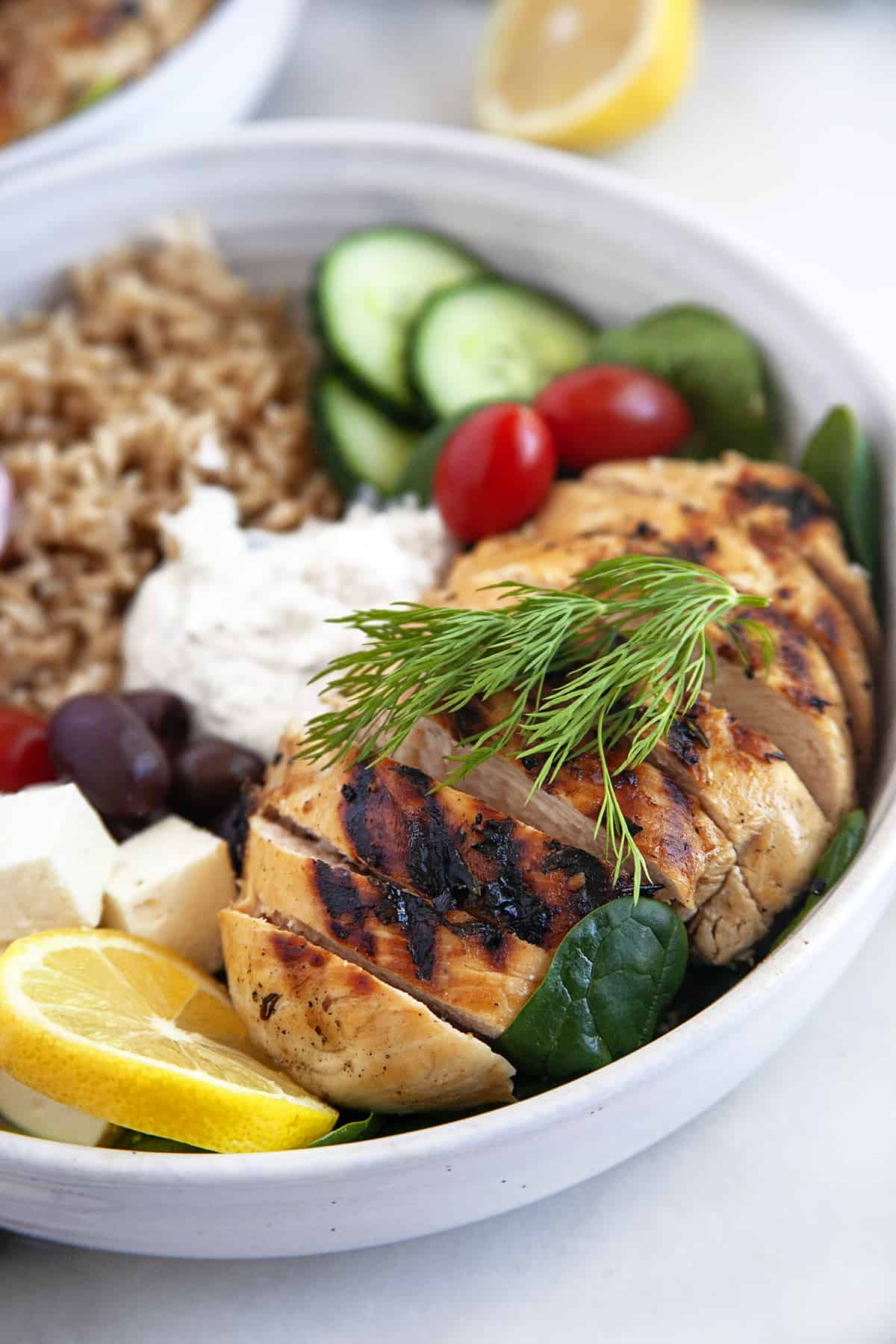 If you would like to change things up, here are a few suggestions.
More Ideas for what to put in Greek Chicken Bowls:
Quinoa
Cauliflower Rice
Roasted Red Potatoes
Hummus
Chickpeas
Roasted Red Peppers
Greek Salad Dressing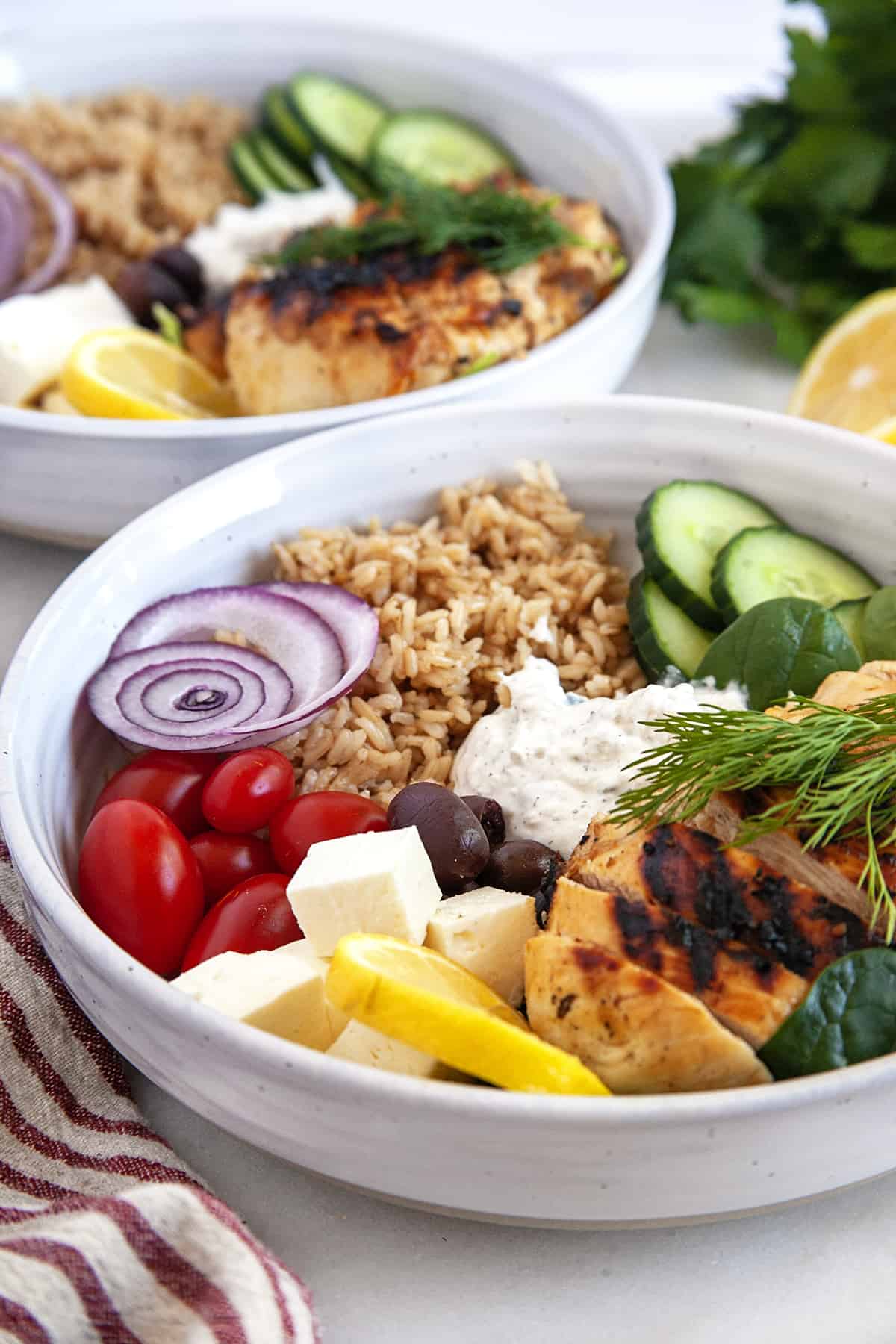 Recipe Shortcuts
If you're in a hurry, there are a few simple shortcuts you can take without sacrificing the flavor in this Greek Chicken Bowl:
First, make your rice or quinoa in an instant pot. Not only is this a time saver, but I think it makes the grains more tender and delicious. If you need even more of a shortcut, buy a microwavable bag of brown rice, and it will be ready in only 90 seconds!
Also, you can use feta crumbles instead of cutting the feta into cubes.
How to Make this a Meal Prep Dinner?
What do meal prep dinners mean? Simply put, meal prep means that you are just prepping your meals ahead of time. You may sit down and create an entire meal plan (I do this weekly, so I am not constantly thinking of what to make). Or it could mean preparing a meal or a variety of meals ahead of time. This is especially effective when you know you have a busy week ahead, or you may incorporate meal prep dinners into your weekly/daily lives.
And this recipe is a great make-ahead recipe! Make the chicken a day or two ahead. Have all the veggies washed and prepped, and simply just assemble the bowl when you're ready to eat. You may want to have these already in sealed containers, too, ready to grab and go! You can reheat the chicken, or you can serve it cold. This bowl tastes great, warm or cold!
Lastly, you can make the veggie ingredients into a Greek Salad and just add the rice and chicken to complete the meal. However you make it, you are going to enjoy this Greek Chicken Bowl of goodness.
How to Make a Greek Chicken Bowl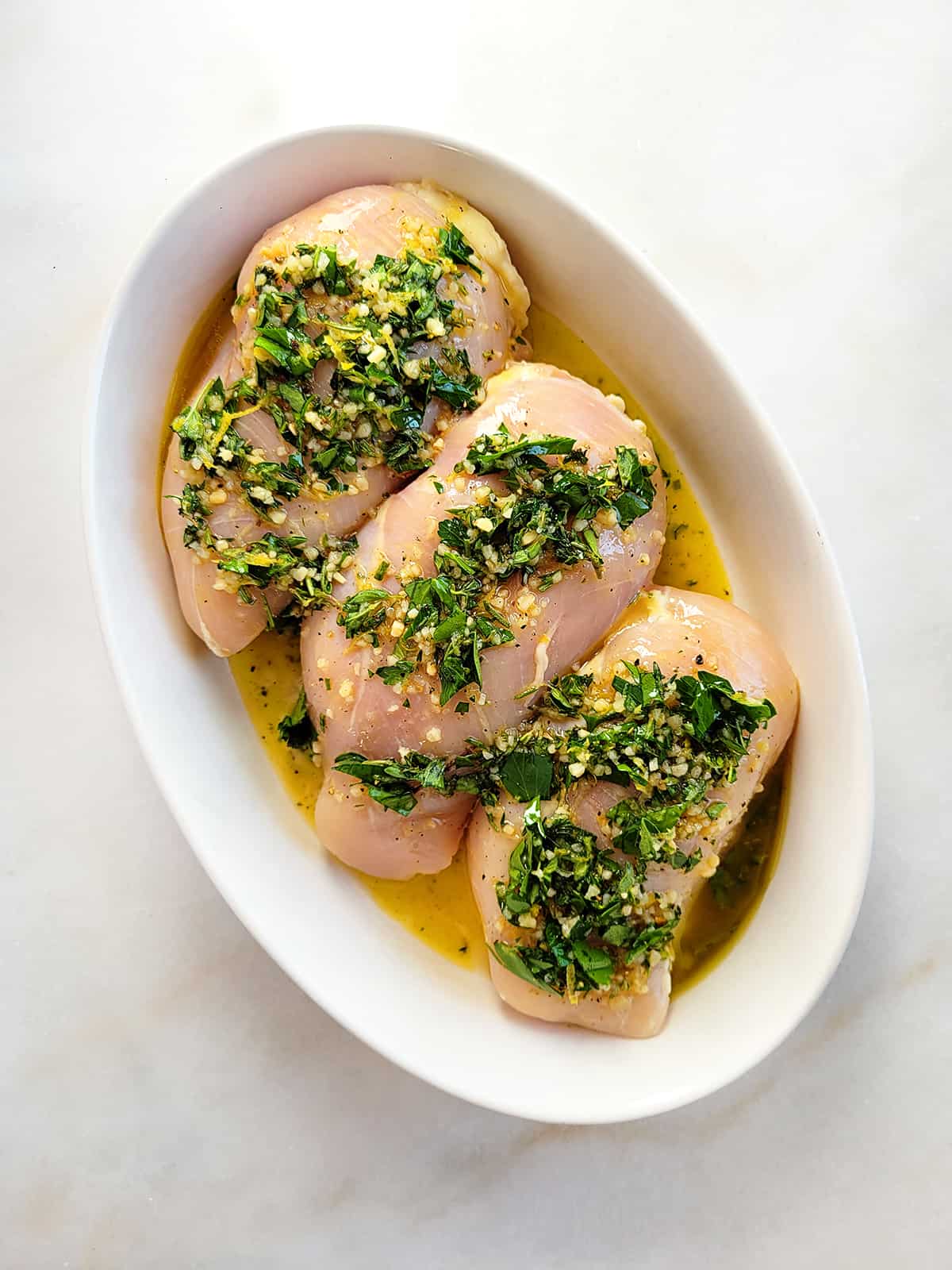 Marinate
The most important step in making this Greek Chicken Bowl is to marinate the chicken. Don't skip this step, as it adds a lot of flavor to the whole bowl!
To make the marinade, you'll mix together olive oil, minced garlic, juice, and zest from 1 lemon, salt, and pepper, and fresh, chopped thyme, oregano, parsley, and rosemary. Pour the oil mixture over four medium chicken breasts into a shallow dish. Cover and refrigerate in the marinade for at least 1 hour.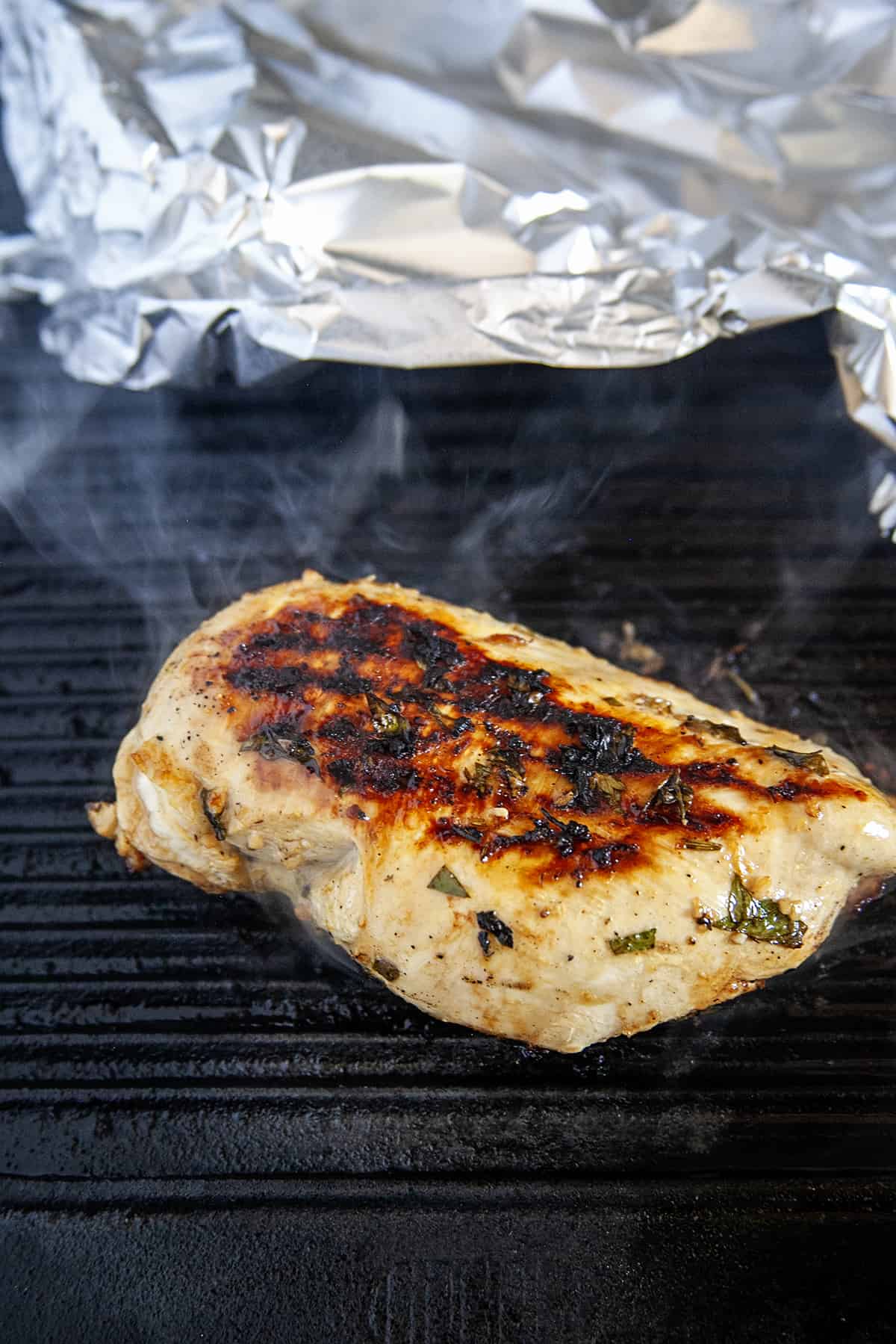 Cook The Chicken
Heat a grill or grill pan with medium-high heat. Brush the grill with oil or spray it with cooking spray. Place the marinated chicken breasts directly onto the heated grill (discard all remaining marinade). Cook for 5 minutes (or up to 7 minutes if your chicken breasts a very thick, you may want to pound them thinner, so they cook quicker). Then, reduce the heat to medium and flip the chicken over, cooking for another 5 to 7 minutes or until a thermometer placed in the thickest part of the chicken reads between 160 and 165 degrees Fahrenheit.
Remove the breasts from the grill and tent with aluminum foil for 5 minutes before serving.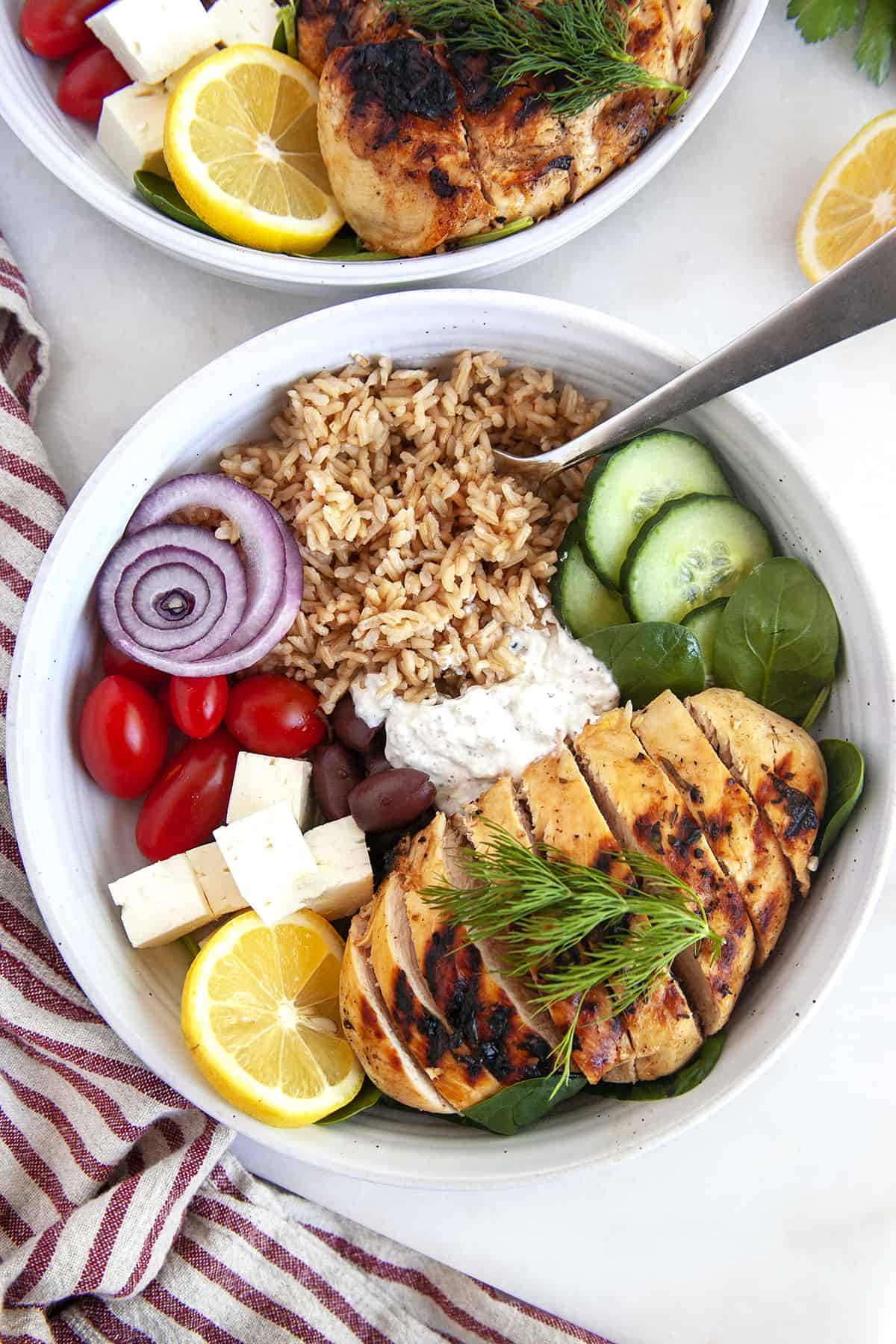 Build Your Bowls
While the chicken is cooking, prepare your bowls. Add the cooked rice (or your favorite substitution for rice), a small handful of baby spinach, feta, tomatoes, sliced cucumbers, olives, sliced red onion, and tzatziki. (See the picture above for how to arrange the Greek Chicken Bowls, so they are pretty as well as delicious.
When the chicken breasts are cooked, slice them and place them onto the bed of baby spinach. Top with fresh lemon and a sprig of fresh dill.
As you eat, you can combine all the ingredients and enjoy the burst of Greek-inspired flavors in this easy, healthy dish! Add crumbled feta cheese to the bowl if you like to get that salty briny flavor with each bite. This is a family favorite at my house, and I'm sure you're going to love it too!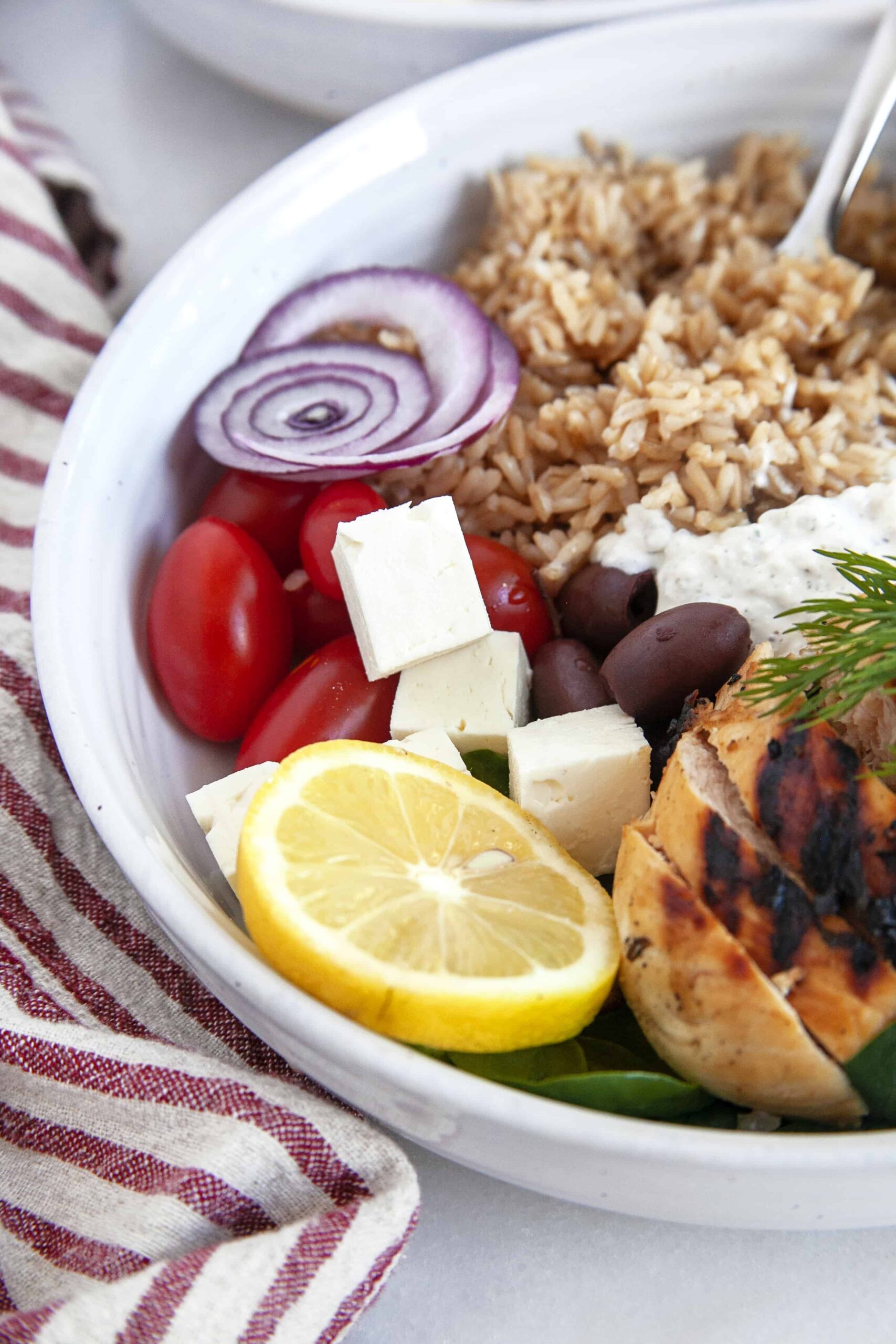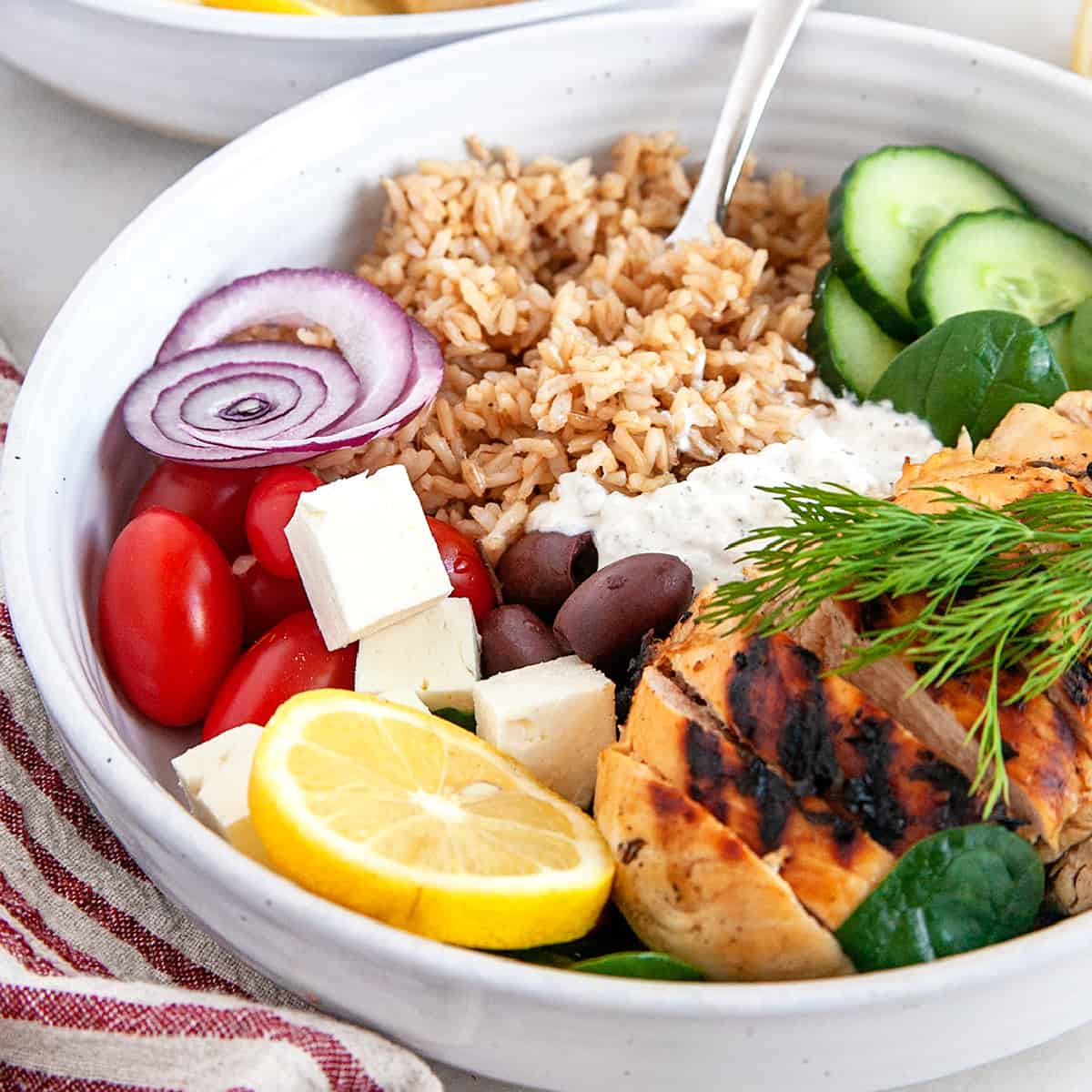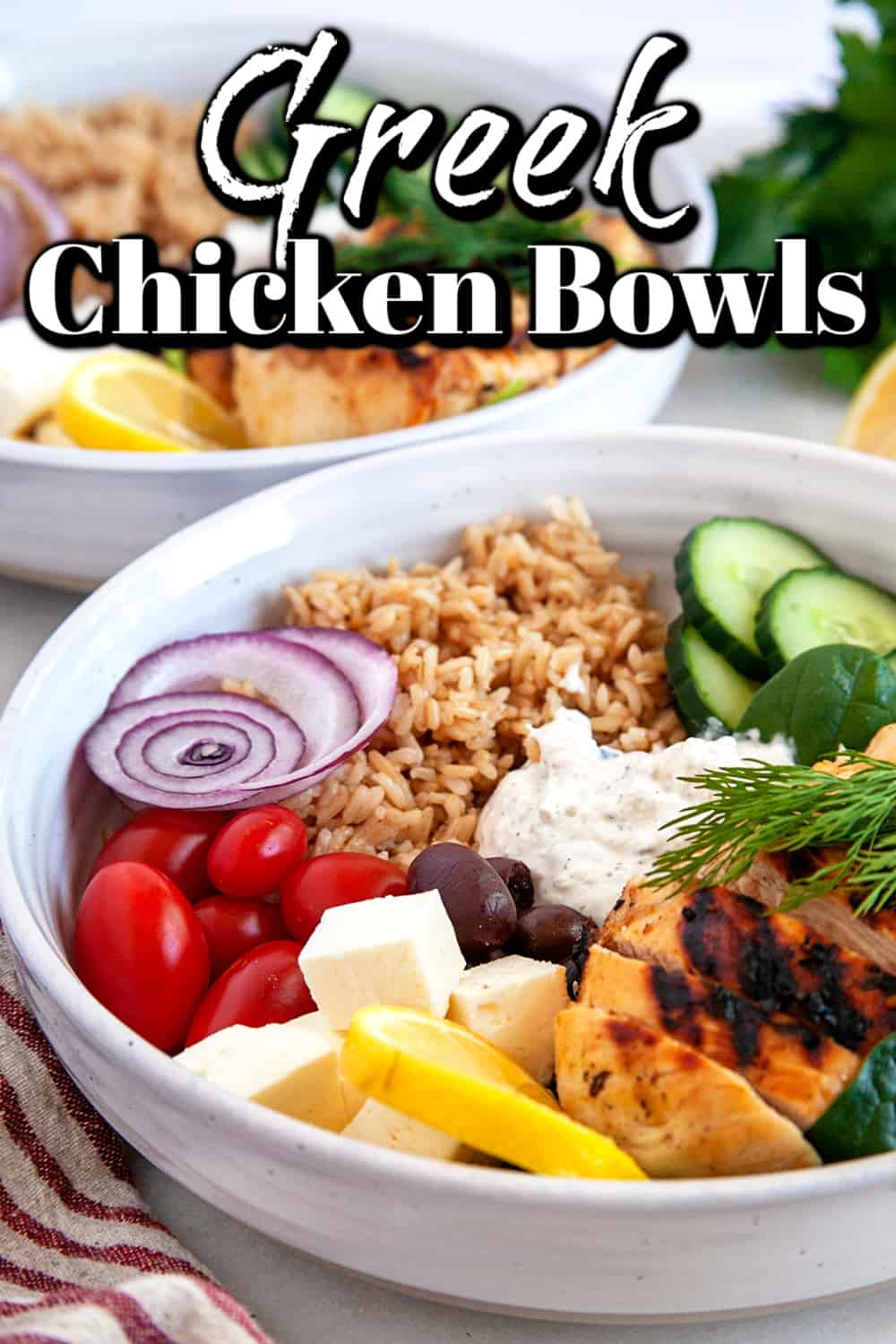 Pin it HERE!!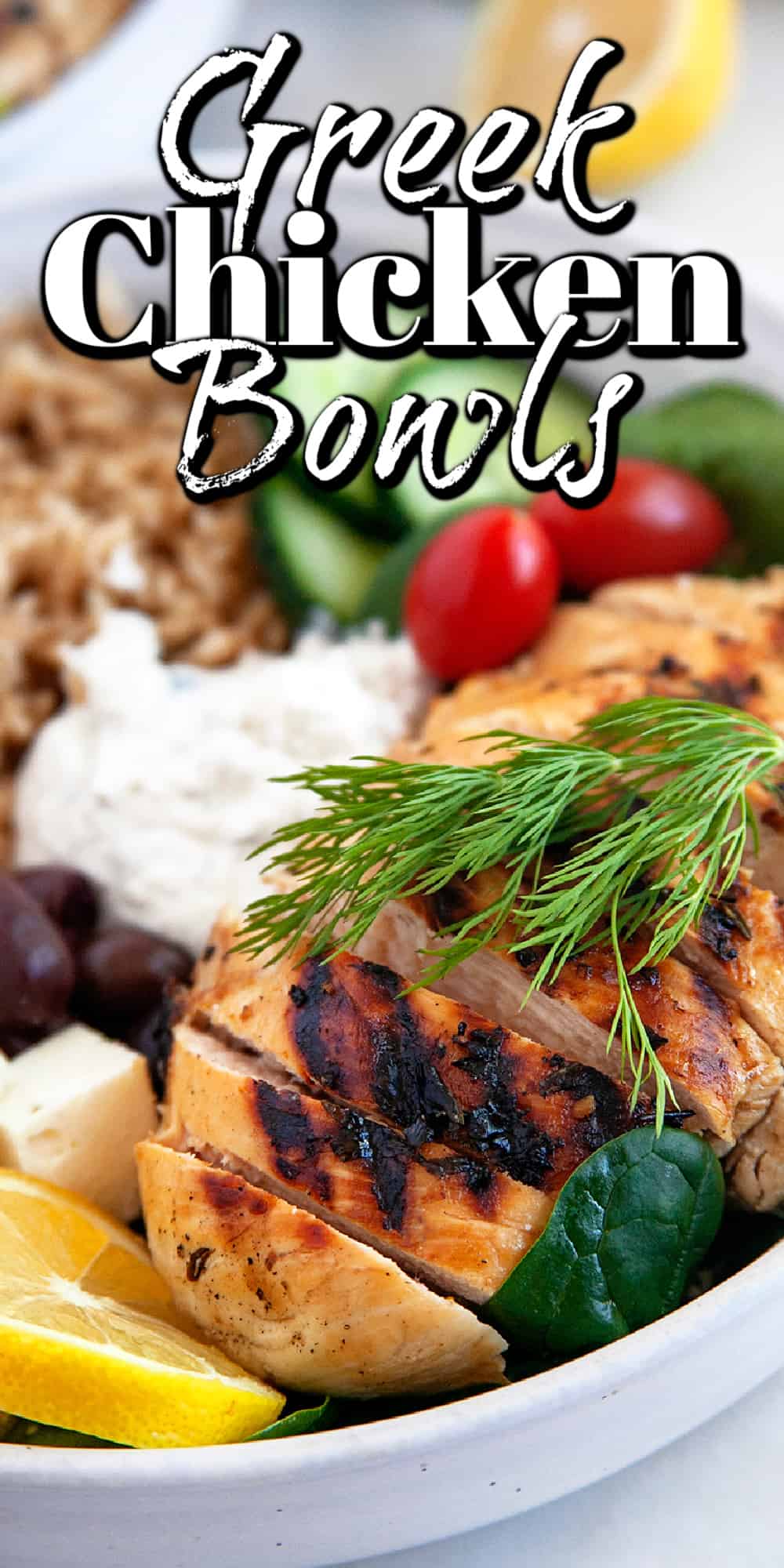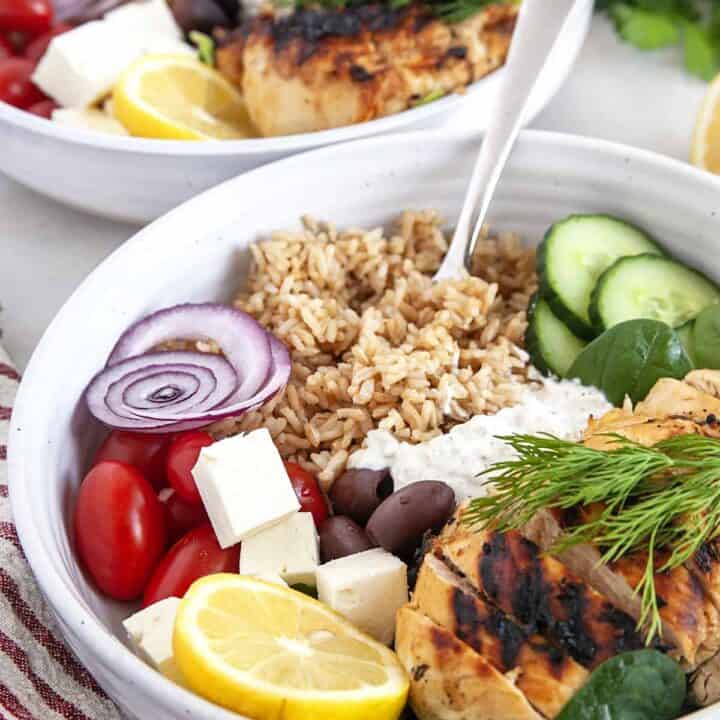 Greek Chicken Bowl
Yield: 4 servings
Prep Time: 15 minutes
Cook Time: 20 minutes
Additional Time: 1 hour
Total Time: 1 hour 35 minutes
The Greek Chicken Bowl is a great weeknight meal that can be part of a meal prep menu and ready when you are. All elements can be made ahead and quickly put together for a nutritious, healthy meal.
Ingredients
chicken and marinade
1/4 cup olive oil
3 cloves garlic, minced
juice and zest of 1 lemon
1 sprig of fresh thyme, chopped
1 sprig of fresh oregano, chopped
1 small sprig of fresh rosemary, chopped
2 teaspoons fresh parsley, chopped
1/2 teaspoon salt
a few grinds of pepper
4 medium to large chicken breasts
for the bowl
3 cups cooked brown rice
2 cups baby spinach
1 cup grape tomatoes
1/2 cup kalamata olives
8 ounces feta, cubed
1 English cucumber, sliced
1 small red onion, sliced
8 ounce container of Tzatziki
Lemon slices and Fresh Dill for garnish
Instructions
Prepare the chicken marinade. Whisk together the oil, garlic, lemon juice and zest, fresh chopped herbs, salt and pepper. Place the chicken breasts in a shallow dish. Pour the marinade over the chicken breasts. Cover and refrigerate for at least one hour.
To cook the chicken, heat a grill or grill pan over medium-high heat. Place the marinated chicken breasts directly onto the grill (immediately discard all remaining marinade). Cook for 5 to 7 minutes, then reduce heat to medium. Flip the chicken breast over and cook for an additional 5 to 7 minutes, or until a thermometer placed in the thickest part of the breast reads between 160 and 165 degrees Fahrenheit.
Remove the chicken from the grill and place on a plate. Tent the plate with aluminum foil and let the chicken rest for 5 minutes before slicing and serving.
While the chicken is cooking, prepare the four bowls. Place 3/4 cups of cooked brown rice and 1/2 cup baby spinach into each bowl. Divide the tomatoes, olives, cubed feta, tzatziki, red onion slices, and cucumbers evenly between the bowls.
Slice the cooked chicken breasts and place them onto the bed of spinach in the prepared bowls. Garnish each bowl with a slice of lemon and a sprig of fresh dill. Serve immediately.
Notes
This is a great make-ahead recipe! Just prepare the chicken and rice in advance. When you're ready to serve the bowls, you can reheat the rice and chicken before serving, or you can serve the whole bowl cold- tastes great both ways!
See the post for more tips and tricks!!
Recommended Products
As an Amazon Associate and member of other affiliate programs, I earn from qualifying purchases.
Nutrition Information:
Yield: 4
Serving Size: 1
Amount Per Serving:
Calories: 643
Total Fat: 36g
Saturated Fat: 13g
Trans Fat: 0g
Unsaturated Fat: 22g
Cholesterol: 80mg
Sodium: 1069mg
Carbohydrates: 58g
Fiber: 6g
Sugar: 15g
Protein: 24g
Recipe calculation was provided by Nutritionix and is an estimation only. If you need nutritional calculations for medical reasons, please use a source that you trust.