Healthy Chicken Burrito Bowl
This Healthy Chicken Burrito Bowl recipe is exploding with flavour and makes a perfect quick lunch or dinner. Made with lean chicken breast tenders and packed with tasty vegetables, it's also a great addition to any meal prep recipe rotation.
Need a quick, healthy weeknight meal that's satisfying and packed with flavour? Have you made eating healthy lunches at work a priority? Do you have picky kids that are tossing their boring school lunch sandwiches? These versatile burrito bowls are guaranteed to shake things up a bit by bringing a little Mexican fiesta into your daily routine.
Love Mexican flavours as much as we do? During your next fiesta, skip the queso and indulge in our lively Best Ever Mexican Corn Dip. Then, bring out the loaded Mexican Potato Skins. These lighter Mexican inspired appetizers are filling and so much so that you'll need to grab a siesta later on. Or feel like trying another bowl? Try our healthy Chicken Meatball Bowls too.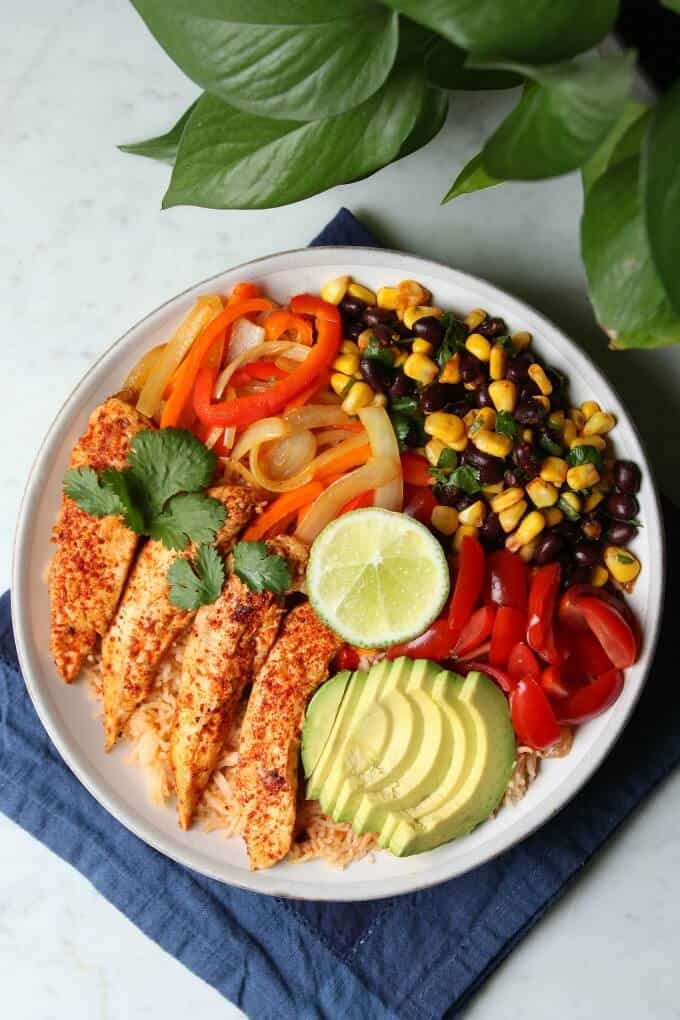 Helpful Items for This Recipe
This post contains affiliate links. As an Amazon Associate, I earn a small portion from qualifying purchases at no extra charge for you.
Hello NWTN readers! It's Bernice from Dish 'n' the Kitchen here and today have I got a treat for you! All of my favourite Mexican ingredients are packed into these delicious (and crazy easy!) burrito bowls. The whole family appreciated having pre-prepped lunches for a few days that week.
I love to whip up a batch of my homemade Taco Seasoning and use it whenever the mood strikes. It's perfect for adding a bit of zesty heat to casseroles, scrambled or deviled eggs, roasted potatoes, Pork Carnitas, and these Chicken Burrito Bowls.
What is a Chicken Burrito Bowl?
A burrito bowl is simply a bowl containing all of the components found in a burrito, except for the tortilla. It contains all the flavors that everyone loves, but fewer carbohydrates.
Burrito bowls are a quick and easy meal to make for your family on a busy night. However, they also make the PERFECT lunch at your work desk…don't forget the fork!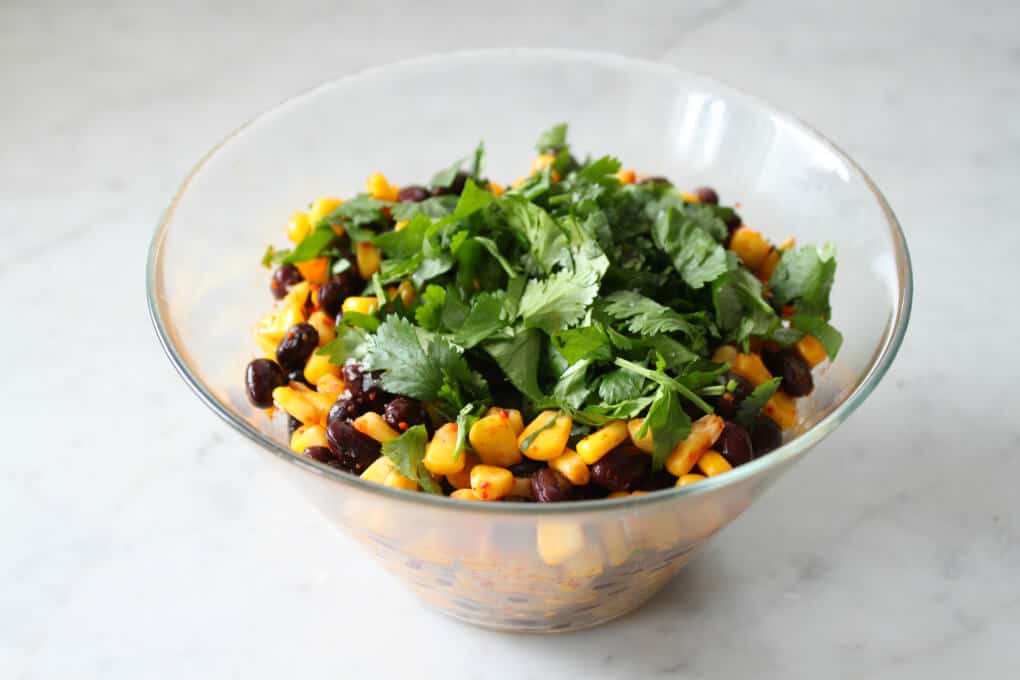 What is in a Chicken Burrito Bowl?
After a long day at work or home, the last thing anyone wants to do is think about making dinner. What is great about these bowls is that they don't require a lot of thought or preparation. Once you have all the components prepped, all you do is assemble and eat.
Chicken Burrito Bowls can be quickly prepared with basic ingredients such as rice, beans, corn, peppers, onions, tomatoes, and chicken. Add a touch of spice and a few 'extras' like avocado, lime, and cilantro. Winner winner, chicken burrito bowl dinner!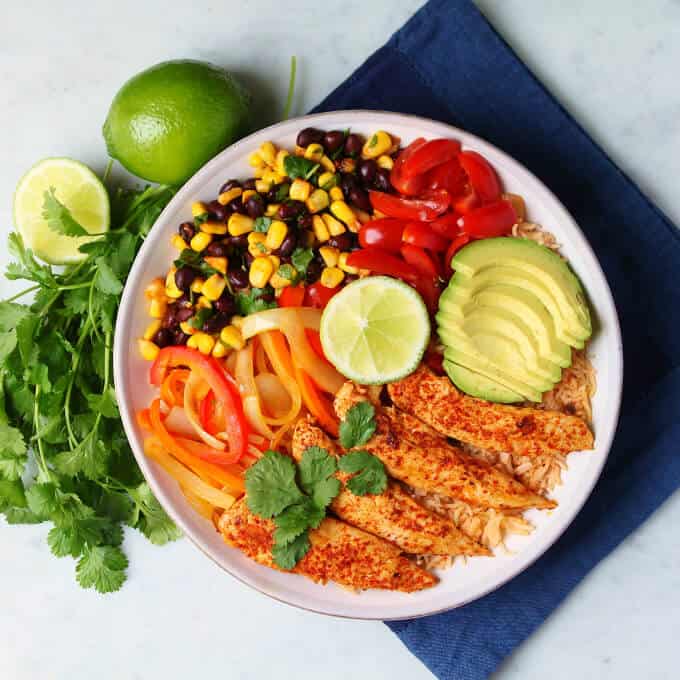 How Can I Customize Burrito Bowls?
The best thing about these Chicken Burrito Bowls is that they are fairly simple to make. In addition, you can use ingredients you have on hand or customize to your family's flavour preferences.
For me, that combination of chicken, cilantro, lime can't be beaten! The lime juice really livens things up! Then add in those black beans, corn and peppers!! Nothing like fresh ingredients too, like avocado!! Always add that in the end. But, if you want to make it your own the sky is the limit too.
Here are several tasty ways to customize your burrito bowl: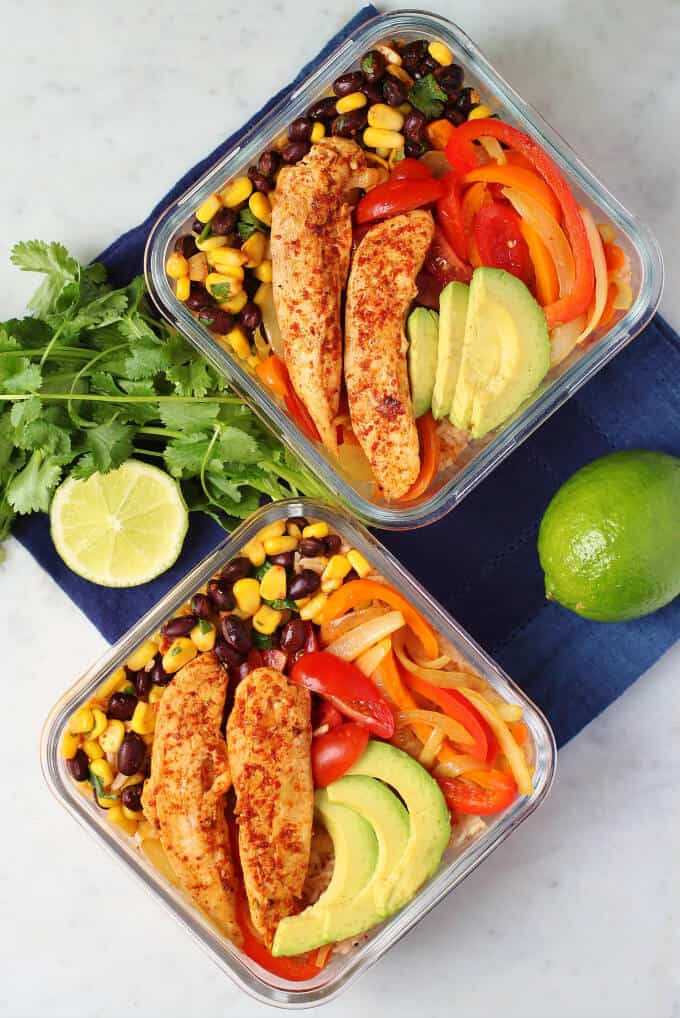 Use plain rice, brown rice, cilantro-lime rice, quinoa, or cauliflower rice for a low carb diet.
Include greens like shredded Romaine lettuce, rubbed kale, or coleslaw.
Add a dairy component such as shredded Cheddar or Monterey Jack cheese or Mexican Cotija cheese.
Add sliced jalapeños.
Replace the sliced grape tomatoes with pico de gallo.
Use a scoop of guacamole instead of sliced avocados.
Switch out the proteins. Use shrimp, leftover steak, refried beans, ground beef, or marinated tofu.
Sauce it up with hot sauce, Mexican crema, sour cream, or cilantro lime sauce.
Can You Eat Burrito Bowls Cold?
Chicken Burrito Bowls can be eaten hot or cold. This recipe makes enough for four generous portions and is very easy to double. That way you can have hot burrito bowls for dinner then pack them up to go for lunches. If you have access to a microwave, they heat up nicely (you might want to add the avocado separately if you are doing this).
However, chicken burrito bowls are still delicious cold. Don't forget to bring a bottle of hot sauce and a fork!
Is a Burrito Bowl Healthy?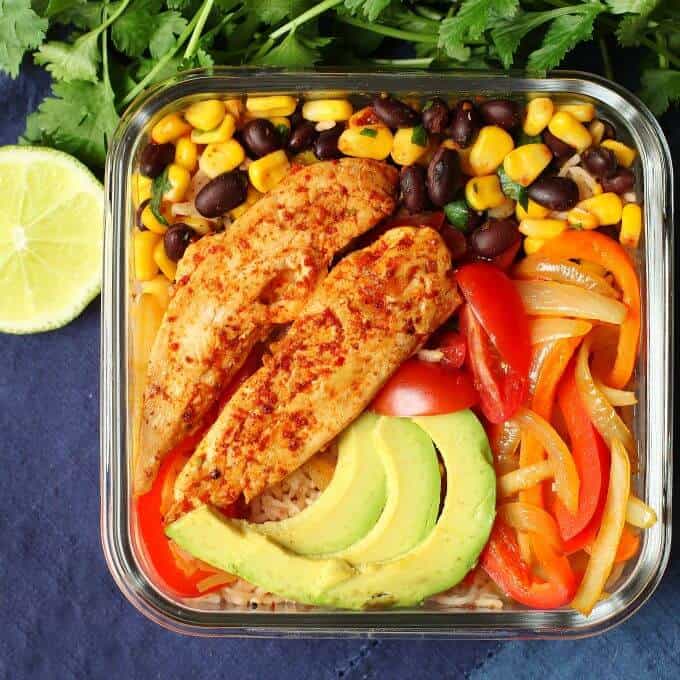 On average a burrito bowl is only about 650 calories for a very filling and satisfying meal. You get a large bowl of goodness and something new in every bite. A very healthy well-rounded meal that everyone will love.
The chicken tenders are made easy and you don't even have to have marinated chicken, just a little salt and pepper and your favorite seasoning. I used a cilantro-lime seasoning from Trader Joe's but you can use your favorite seasoning or just chili powder even.
The chicken is sauteed in olive oil in a skillet over medium-high heat. The rest of the meal comes together quickly and is about 30 minutes to make. Great for a busy night!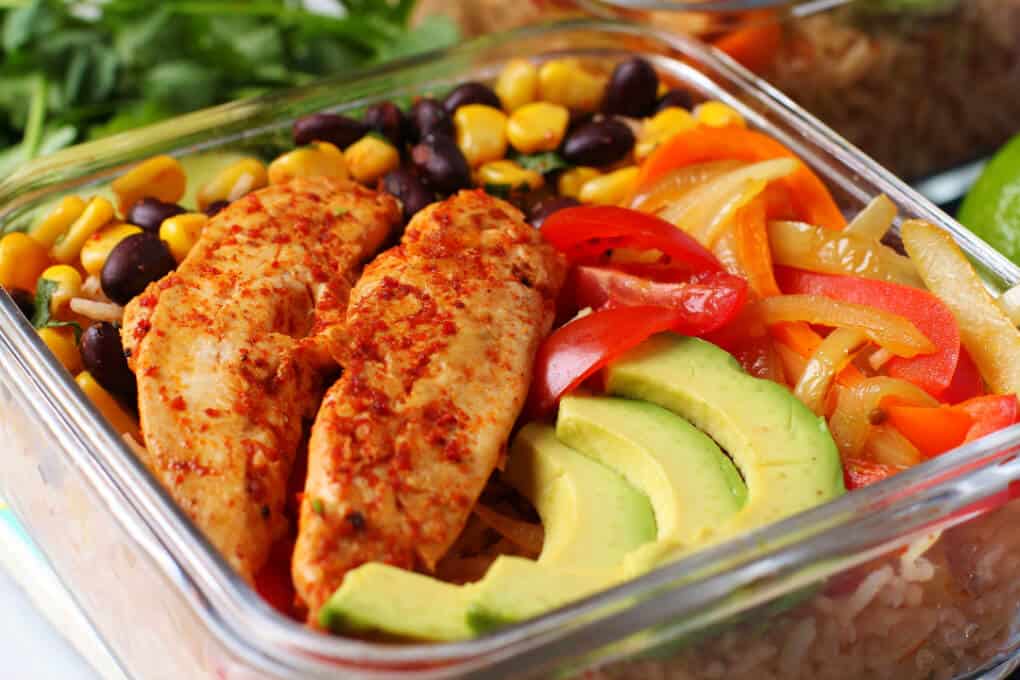 Chicken Burrito Bowls are a fast and easy weeknight meal that is full of flavor. Additionally, by prepping several servings ahead of time you can save money while enjoying a healthy lunch at your desk instead of unhealthy takeout.
Pin it HERE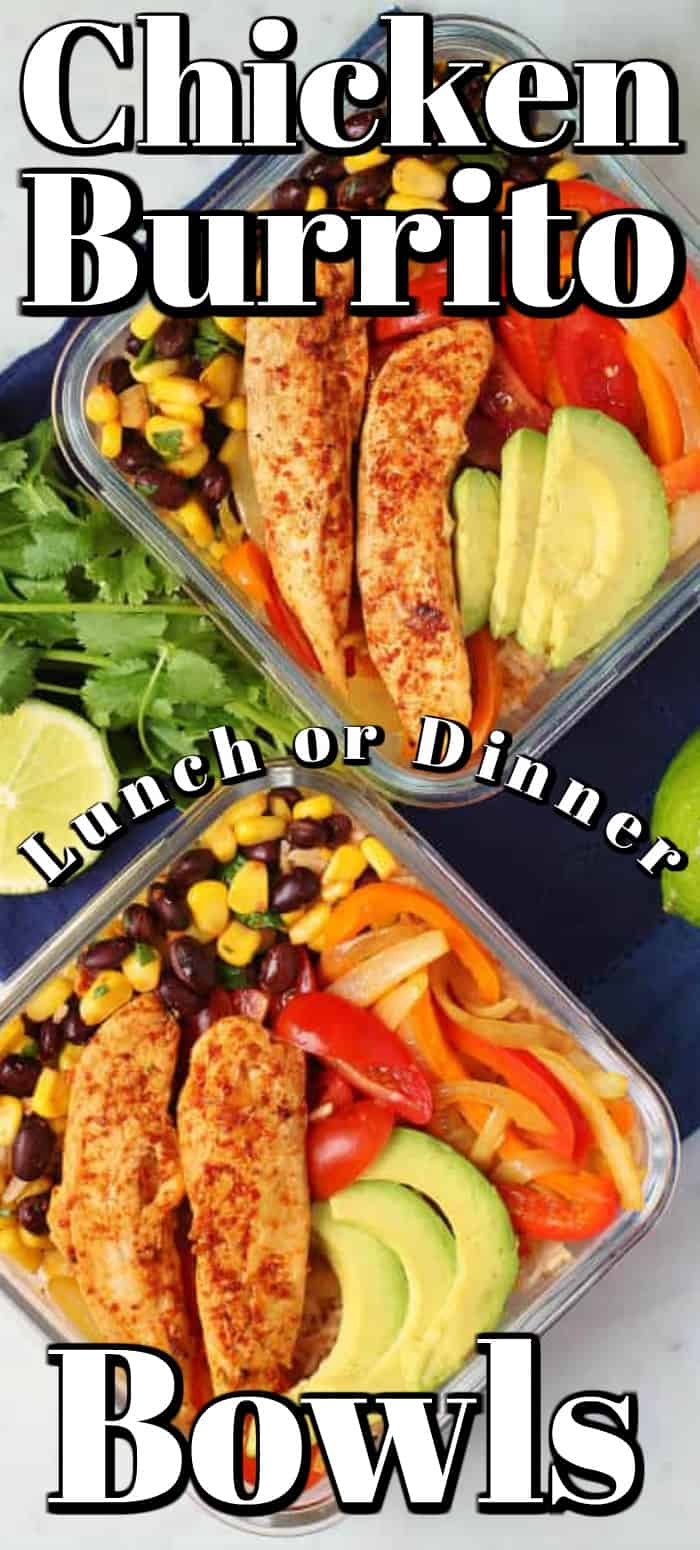 Pin it HERE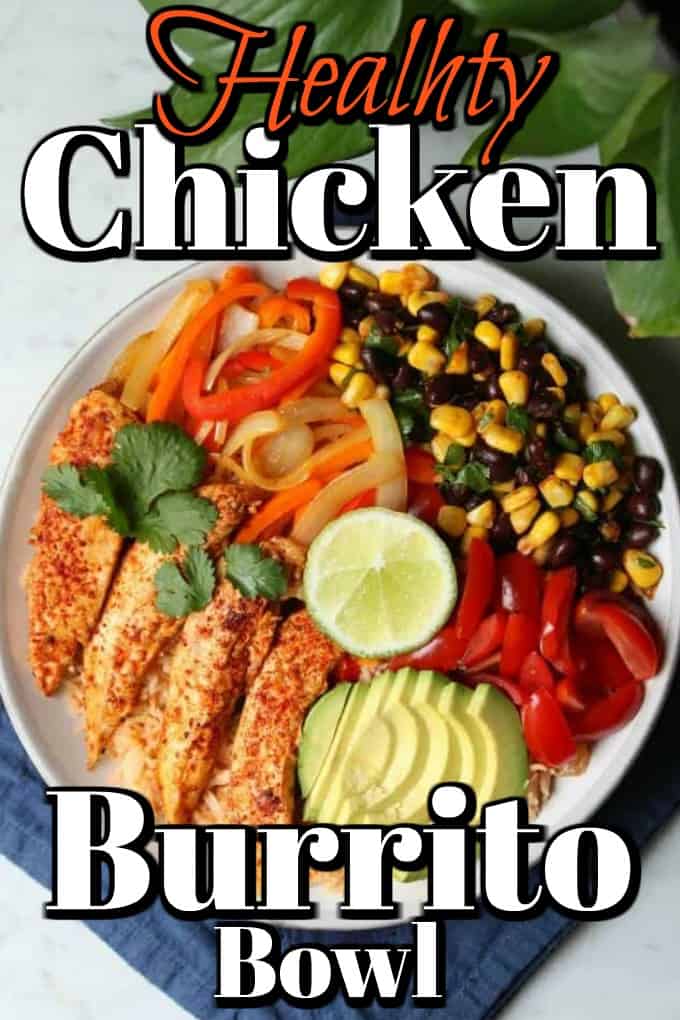 Healthy Chicken Burrito Bowl Recipe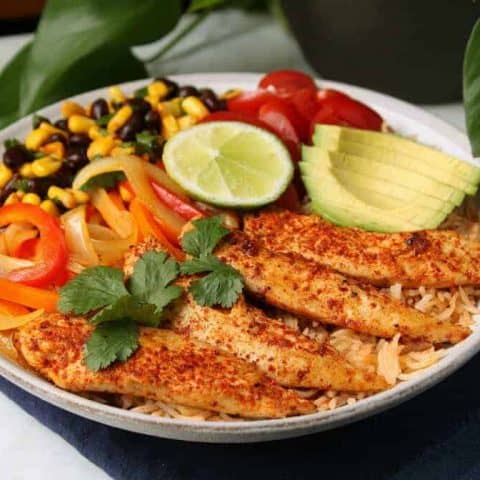 Healthy Chicken Burrito Bowl
Yield: 4 servings
Prep Time: 25 minutes
Cook Time: 30 minutes
Total Time: 55 minutes
This Healthy Chicken Burrito Bowl recipe is exploding with flavour and is the perfect quick lunch or dinner. Made with lean chicken tenders and packed with tasty vegetables, it also makes a great addition to any meal prep recipe rotation.
Ingredients
1 cup long grain rice
1/2 cup chunky salsa
1 1/4 cups water or chicken broth
olive oil
12 chicken breast tenders
cilantro-lime seasoning (such as Trader Joe's)
1 red bell pepper; cut into strips
1/2 large onion; sliced
1 ripe avocado
1 lime
1 cup frozen corn kernels; thawed
1 cup black beans
3 tbsp chopped fresh cilantro
18 grape tomatoes
salt and pepper
Instructions
Place first three ingredients in a rice cooker and cook on white rice setting.
Drizzle olive oil in a frying pan and add the onions and peppers. Sauté them until just soft, about 5 minutes. Remove from pan and set aside.
Dry the chicken tenders with a paper towel. Season with salt, pepper, and the chili-lime seasoning.
Drizzle olive oil into the pan and sauté the tenders over medium high heat for about 3 minutes per side. Remove from pan and set aside.
Zest the lime then cut it in half. Juice one half and reserve the juice. Slice the second half into 4 wedges.
In a small bowl, combine the corn, black beans, and cilantro together. Season with salt, pepper, and chili-lime seasoning. Drizzle with the lime juice.
Quarter the grape tomatoes.
Divide the salsa rice in four bowls or fridge safe containers. Arrange the veggies, chicken, corn salad, and tomatoes in each bowl/container.
Slice the avocado in half, remove the pit and peel. Slice each avocado half into 10-12 slices crosswise.
Arrange avocado slices on top of burrito bowl and top with a wedge of lime.
Recommended Products
As an Amazon Associate and member of other affiliate programs, I earn from qualifying purchases.
Nutrition Information:
Yield: 4
Serving Size: 1
Amount Per Serving:
Calories: 631
Total Fat: 31g
Saturated Fat: 5g
Trans Fat: 0g
Unsaturated Fat: 22g
Cholesterol: 52mg
Sodium: 1530mg
Carbohydrates: 64g
Fiber: 11g
Sugar: 7g
Protein: 30g
Recipe calculation was provided by Nutritionix and is an estimation only. If you need nutritional calculations for medical reasons, please use a source that you trust.