I love great potato skins but to make them even more special I made Mexican Potato Skins. These would be outstanding to serve on game day or any day of the week. They are hearty, nutritious, and delicious. The perfect appetizer or with a big salad can be the main course too! This post originally appeared on Real Housemoms.
Mexican Potato Skins are loaded up with chicken, red onion, red pepper, corn, cheese and spices. Then drizzled with amazing avocado cream and garnished with cilantro and tomatoes. Family and friends will be gobbling these down and asking for more.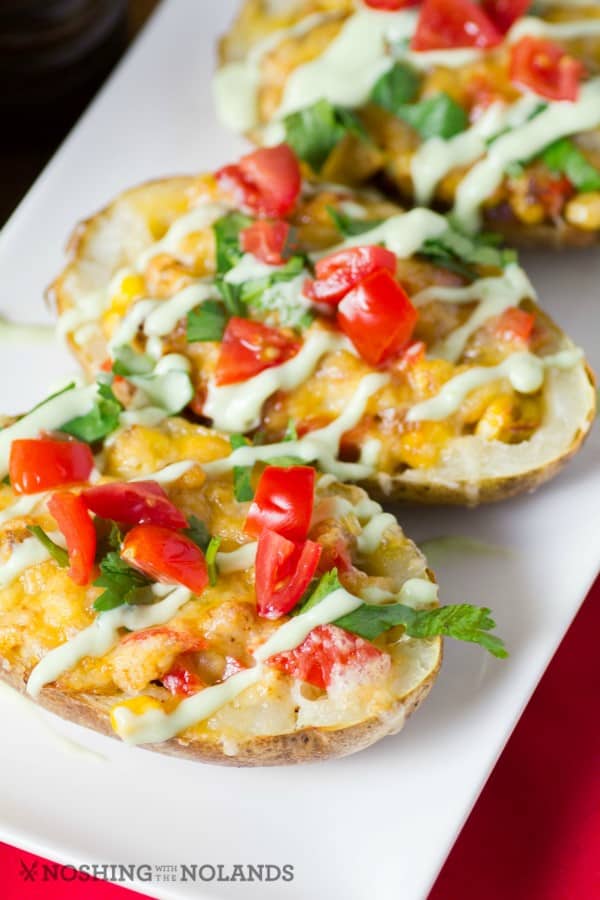 Another bonus of these potato skins is that they are baked not fried. With so much love put into them, you will never notice nor miss that they aren't deep-fried. I always like to rub the outside of baked potatoes with olive oil and Kosher salt, this makes the skins incredible.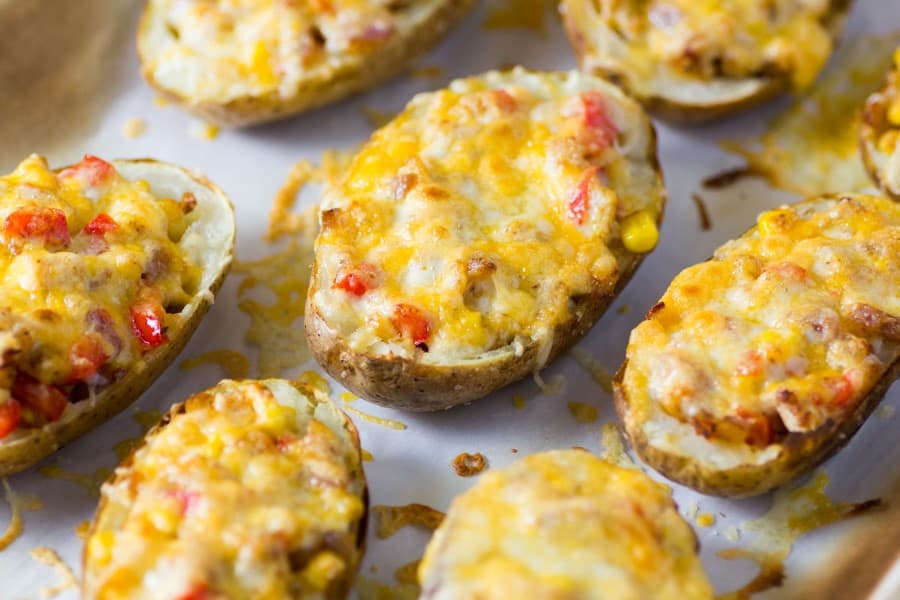 Here they are in their naked form before the toppings are on. You can see how wonderful and cheesy they are. I know you want to reach right in but wait for the toppings, they are so good!!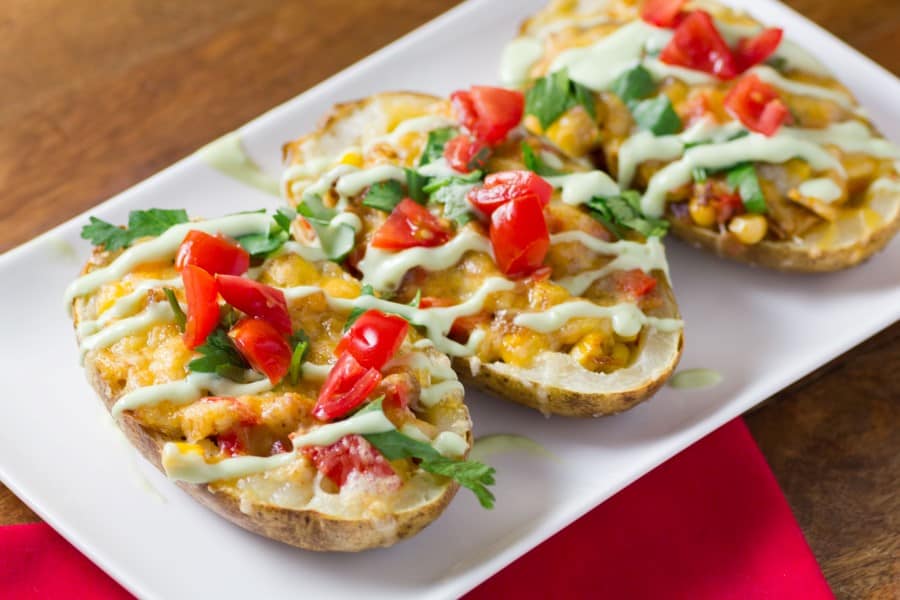 The finishing touch is a gorgeous avocado cream that is drizzled on just before serving. It is not complicated to make and adds so much to this dish and many others like these Avocado Cream Slaw Fish Tacos!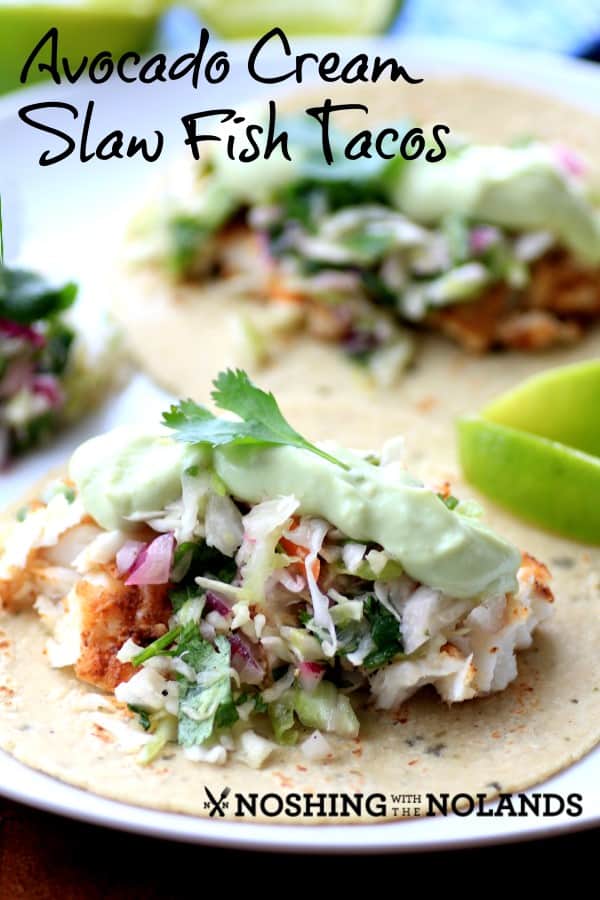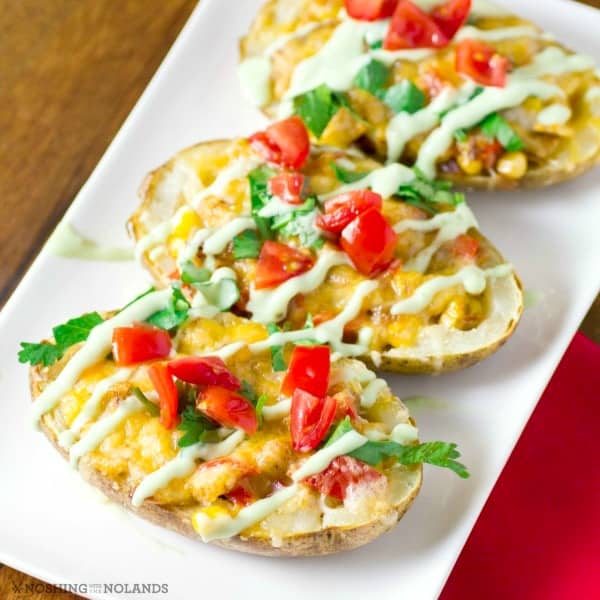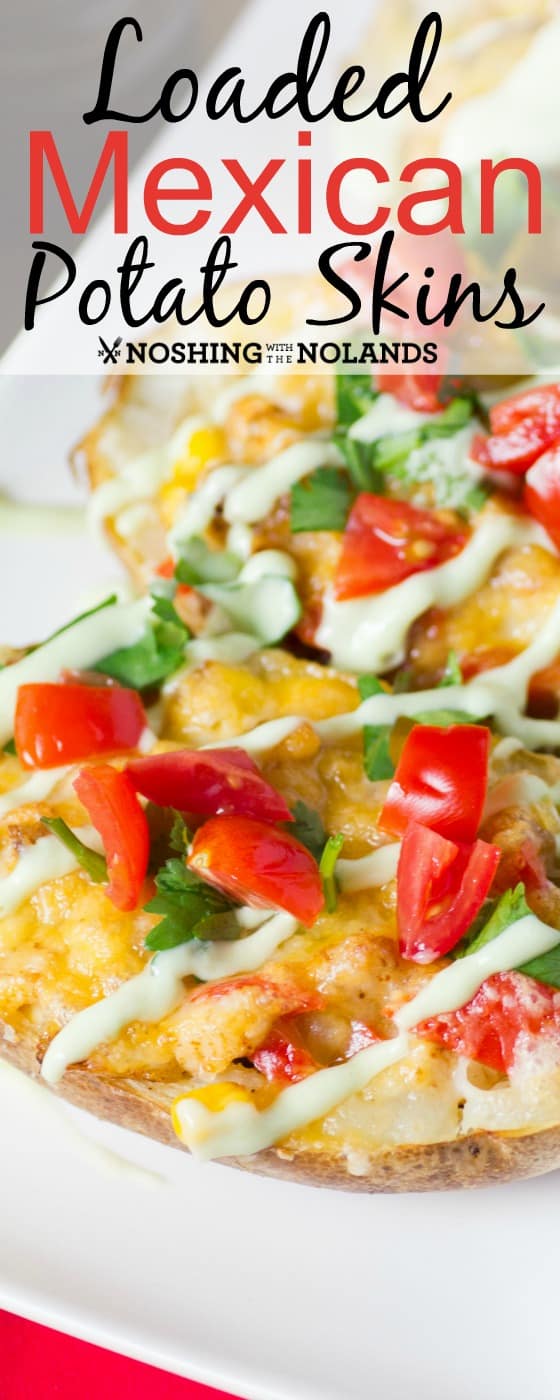 Mexican Potato Skins Recipe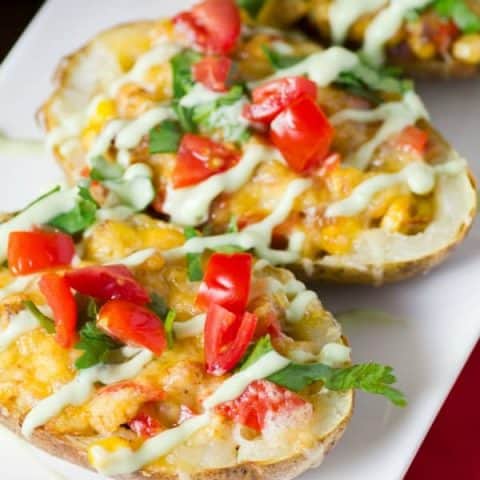 Mexican Potato Skins
Yield: 4 servings
Prep Time: 20 minutes
Cook Time: 1 hour
Total Time: 1 hour 20 minutes
A baked potato skin with lovely Mexican ingredients makes this a hearty and delicious appetizer, that is perfect for game day or any day!
Ingredients
4 medium potatoes (russets, bakers, Idaho, whites all would work)
2 Tbsp. olive oil plus more for the outside of the potatoes
Kosher salt
1/2 red pepper, diced
1/2 red onion, diced
1 cup frozen corn kernels, thawed
1 cup diced chicken
1 tsp. chili powder
1/2 tsp. cumin
Salt and pepper to taste
1 cup Mexican blend shredded cheese
Avocado Cream
¼ tsp. grated lime rind
2 Tbsp. fresh lime juice, divided
¼ cup light sour cream
2-3 Tbsp. milk
½ ripe peeled avocado
Salt, to taste
Garnish
2 Tbsp. cilantro, chopped
Chopped grape tomatoes
Instructions
Preheat oven to 400F. Line a baking sheet with foil. Rub the outside of the potatoes with olive oil and then sprinkle with Kosher salt. Bake for 50-60 min. or until cooked through. Let cool while you make the filling.
In a blender or food processor, mix the avocado cream ingredients together. Use more or less milk to get the right consistency that you like. Set aside.
Add the 2 Tbsp. olive oil to a large saute pan. Add in the peppers and red onion and cook over medium-high heat until tender. Stir in the chicken, corn, chili powder, cumin, salt and pepper to taste. Cook stirring for 4-5 min. Set aside.
When potatoes are cool enough to handle. Slice in half lengthwise and scoop out center of the potatoes. Save the potato for another use, pancakes, scones or soup. Fill the skins with about 4 Tbsp. of the chicken mixture. Top with the shredded cheese and place on a clean foil or parchment lined baking sheet. Return to the oven and let bake for 3-4 min. or until cheese is bubbly.
Top with the avocado cream, cilantro and tomatoes, serve immediately!