Are you like me and have a pile of rhubarb in the freezer from when you harvested it last fall? Some years after already baking in the summer I still have 25 cups or so that get stowed away in the freezer. I wanted something easy to make so with some research I made this super simple Rhubarb Dump Cake.
Our rhubarb patch does very well and we have numerous stalks each year with a wonderful deep ruby-red color. This makes for such wonderful desserts. I have made a cake similar to this called a Blueberry Breakfast Cake where you dump the fruit into a 9×13 inch baking dish and put a batter on top.
For the blueberry cake, you actually make up a batter and pour it over. This Rhubarb Dump Cake recipe is even easier than that where you add the fruit, sugar, dry cake mix, water, and melted butter. Try our Strawberry Dump Cake too.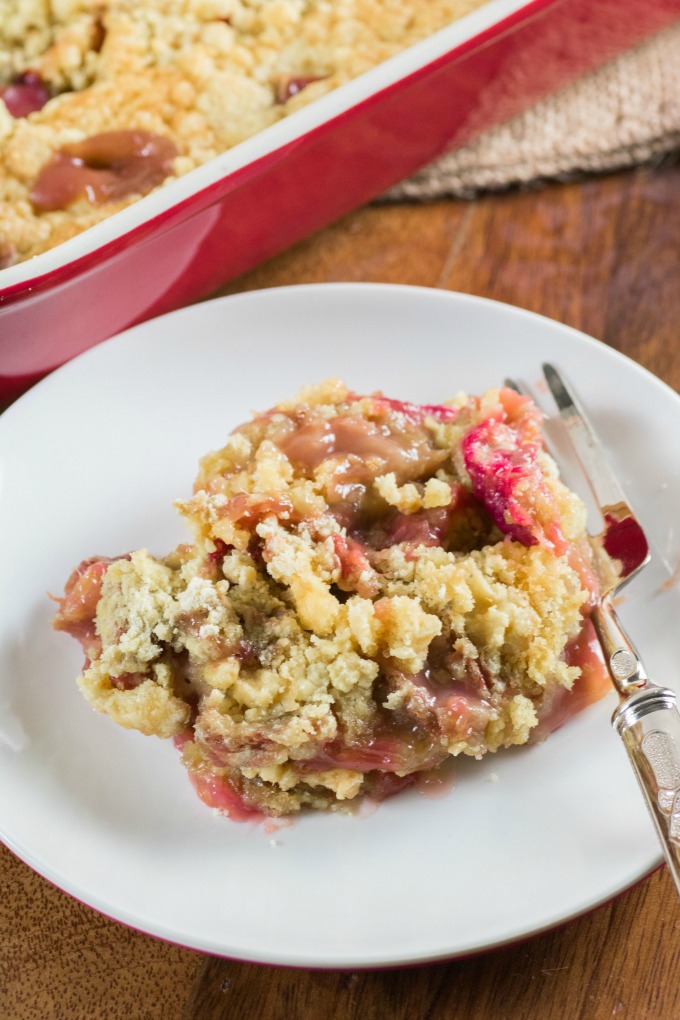 The end result is something like a crisp or cobbler. Very cool! I saw many recipes that asked for jello but I thought no way, that is going to be too sweet on top of the other ingredients. I didn't need color either for my rhubarb so I omitted that.
So I decided to go without the jello for my recipe and I am so glad I did. Not too crazy sweet as the tart rhubarb balances it very nicely. This is such an easy and delicious recipe. You have nothing to loose.
What Desserts Can You Make With Rhubarb?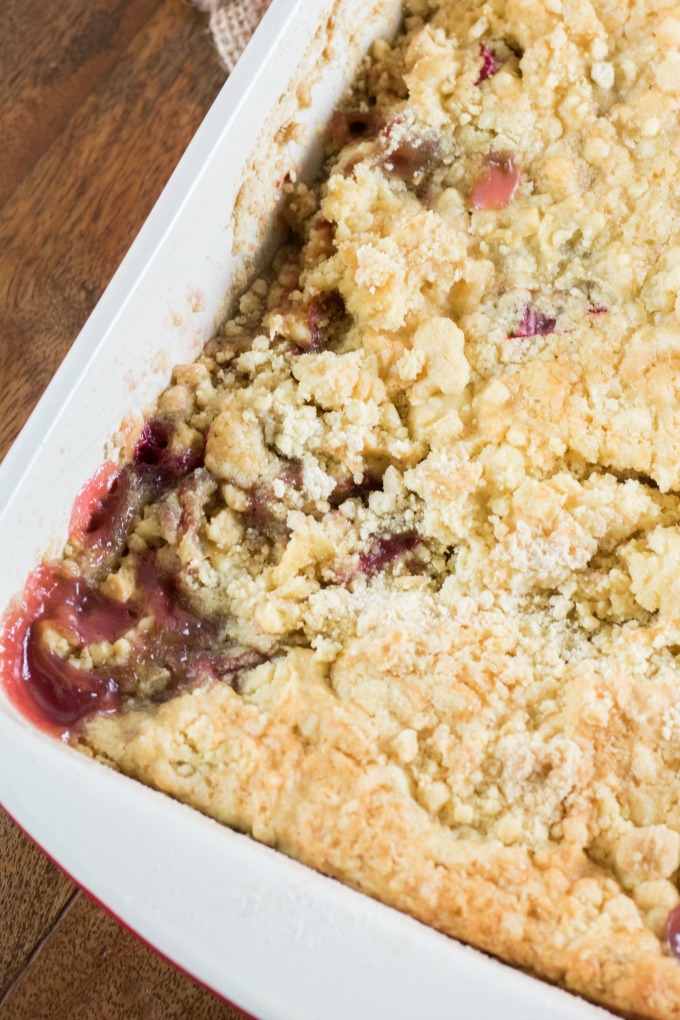 We have loads of desserts using rhubarb on our site, plus some with a strawberry rhubarb combination. I love that strawberry flavor with rhubarb too. It is such an easy ingredient to work with!
Once you start to grow a plant or two you have a nice harvest every year and they take very little care. Maybe just the occasional water, they really just grow like a weed on their own.
How Do You Make a Rhubarb Dump Cake?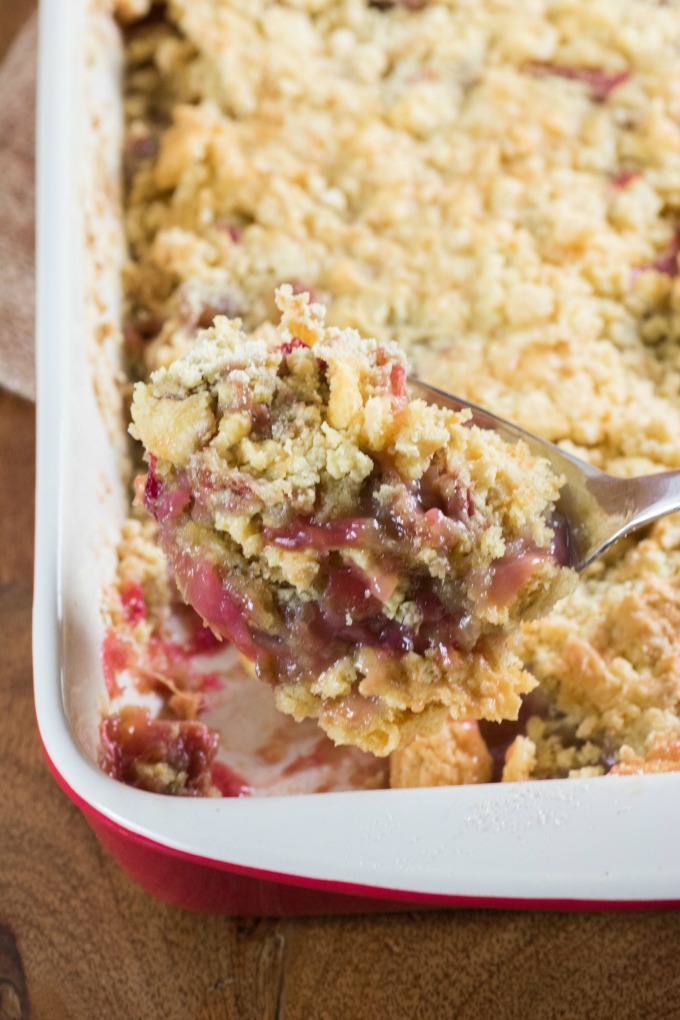 We are talking as simple as it gets in making the rhubarb dump cake. To make a rhubarb dump cake all I did was spray a 9×13″ pan with cooking spray. Preheat your oven to 350 F.
I then added in the frozen fruit, in this case, rhubarb. I sprinkled the sugar over the rhubarb and then followed that with the dry cake mix. You then sprinkle the cake mix, pour the water and then melted butter. Trying to evenly disperse all the ingredients.
What? No mixing, yup that is correct. DO NOT MIX but put it directly into a preheated oven.
You can add fresh fruit also to make this, it doesn't have to be frozen. Serve this dessert warm with a scoop of vanilla ice cream or fresh whipped cream.
Rhubarb Dump Cake with Yellow Cake Mix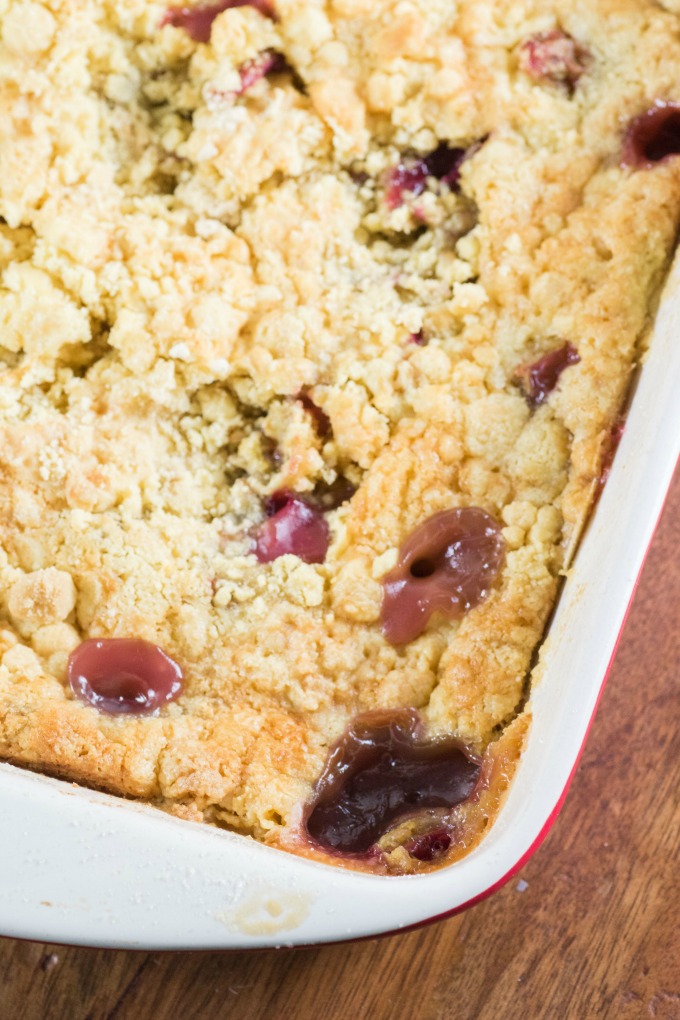 I love how the fruit bubbles up through the crust. This is so yummy you won't believe it. I liked the yellow cake mix for this recipe as opposed to a white cake mix to give it the warm contrast in colors.
Grab some of your frozen rhubarb and bring summer to life again in this easy dessert!!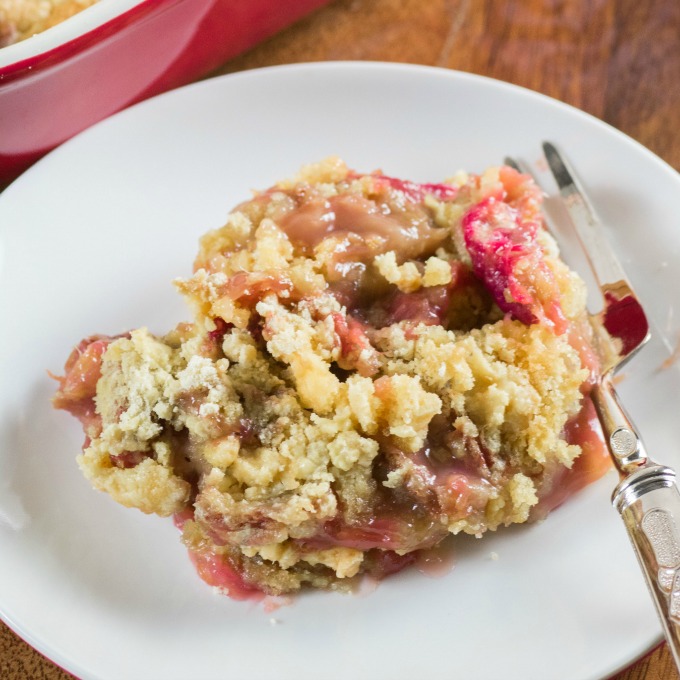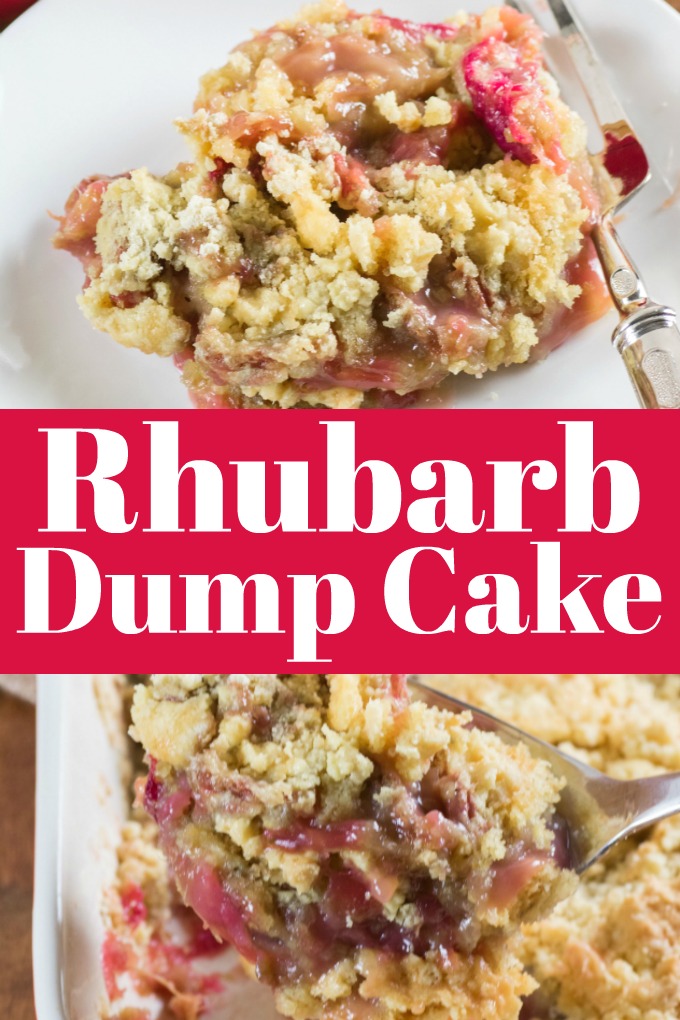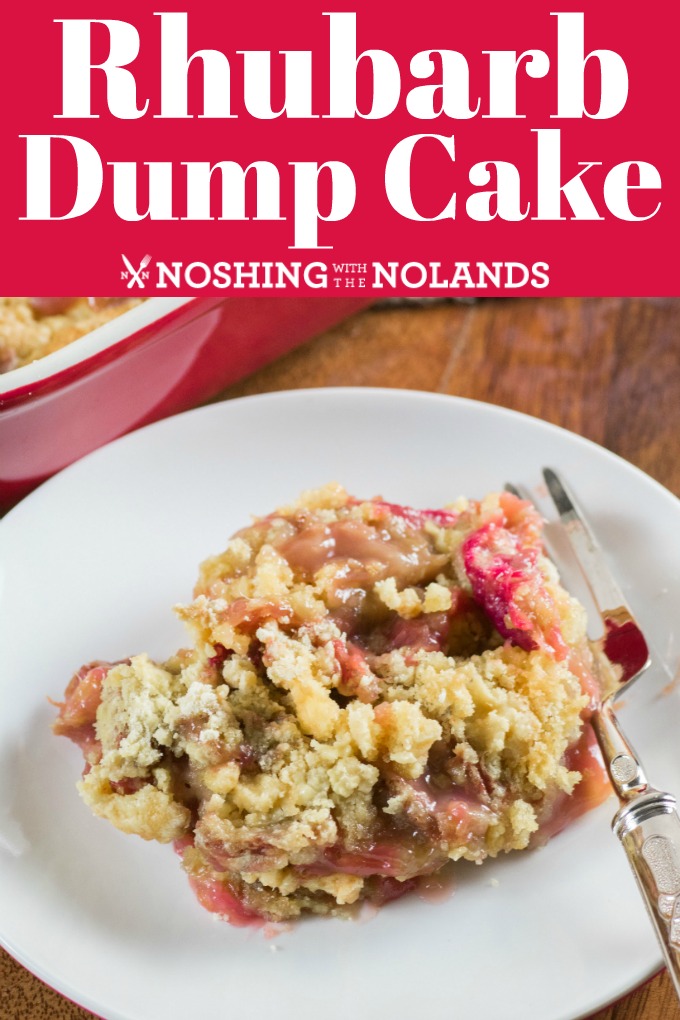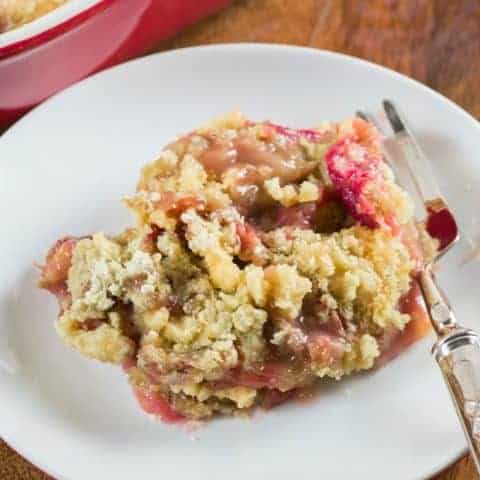 Rhubarb Dump Cake
Yield: 10-12 servings
Prep Time: 5 minutes
Cook Time: 45 minutes
Total Time: 50 minutes
This recipe could not be easier to make. It turns out more like a crisp than a cake but is heavenly with rhubarb.
Ingredients
4 cups fresh or frozen rhubarb, chopped
1 scant cup white sugar
1 package yellow cake mix
1 cup water
1/3 cup butter, melted
Cooking spray
Instructions
Preheat oven to 350F. Spray a 9x13" pan with cooking spray.
Add the rhubarb and spread out evenly on the bottom of the pan.
Sprinkle over the sugar followed by the cake mix.
Pour over the water and melted butter evenly. DO NOT MIX!
Bake for 45 min. until bubbling and the rhubarb is tender and the top is slightly browned.
Recommended Products
As an Amazon Associate and member of other affiliate programs, I earn from qualifying purchases.
Nutrition Information:
Yield: 10
Serving Size: 1
Amount Per Serving:
Calories: 338
Total Fat: 8g
Saturated Fat: 5g
Trans Fat: 0g
Unsaturated Fat: 2g
Cholesterol: 16mg
Sodium: 433mg
Carbohydrates: 65g
Fiber: 2g
Sugar: 43g
Protein: 2g