My rhubarb patch was the inspiration for this Old Fashioned Rhubarb Loaf. Rhubarb is a great late spring/early summer crop that is really versatile.
The weather plays a big role in when rhubarb is ready to harvest. With a very dry spring, I let my rhubarb stay in the ground longer.
My stalks were short and stunted due to lack of rain but after the last two or three weeks of deluge rain, they are plumped up and are now bright ruby red. I also love to freeze rhubarb so that I can enjoy it year round. Want another rhubarb recipe? Try our amazing Rustic Rhubarb Cake.
Just perfectly ripe for picking using in delicious baked treats.
About Rhubarb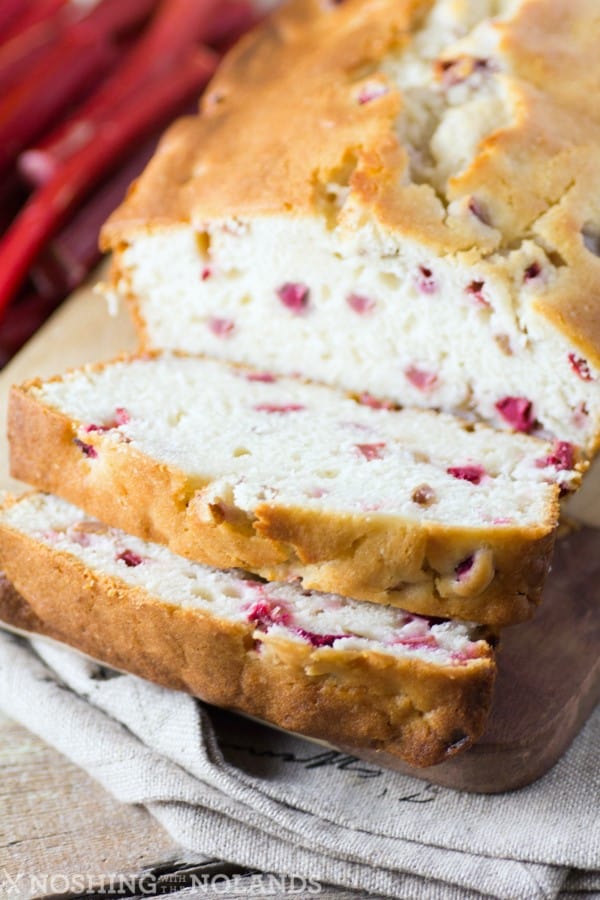 There are many different varieties of rhubarbs. I am not certain of the ones we have planted as they were here when we bought the house.
The stalks are smaller than some and much redder in color too, therefore, giving all my desserts a lovely color.
Although rhubarb is not a true fruit, it is usually prepared like one. The leaves are highly poisonous, so discard those quickly.
The long stalks are sour and bitter if not added to something sweet like this delicious loaf.
You can pair rhubarb with almost any fruit – strawberry is a common one but lemon, banana, apple, and blueberry all work amazingly well to create delicious and healthy desserts.
Most noteworthy are these Rhubarb Dream Bars. The lovely color and gorgeous recipe have made this one of our most popular recipes.
The easy quick bread recipe below is quickly becoming a favorite in our house.
To make this delicious loaf even more moist and delicious, I added in sour cream and it turned out great!
It works as a breakfast item, but it also carries you right through the day for coffee or tea time or works as a dessert.
Rhubarb Loaf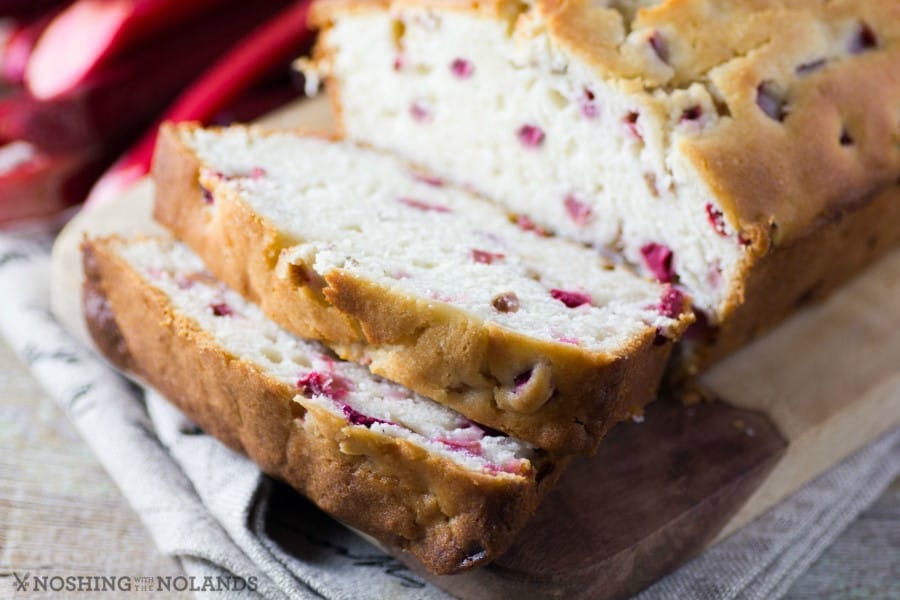 It's actually really easy to make this recipe. First, preheat the oven to 350 degrees.
Then, in a large bowl, cream the butter (room temperature or softened) and sugar together until the mixture is fluffy (either by hand or using a stand mixer).
Add in eggs one by one, then the vanilla, mixing well after each addition.
In a separate medium bowl, whisk together the flour, baking powder, baking soda, and salt. (You can substitute 1 cup whole wheat flour for 1 cup all-purpose flour to make it more nutritious.)
Add in half of the flour mixture, ¼ cup milk, ½ cup sour cream, finishing with the rest of the flour mixture. Mix well before folding in the cups of rhubarb.
Although rhubarb and nuts go well together we omitted them in this rhubarb bread.
Easy Peasy!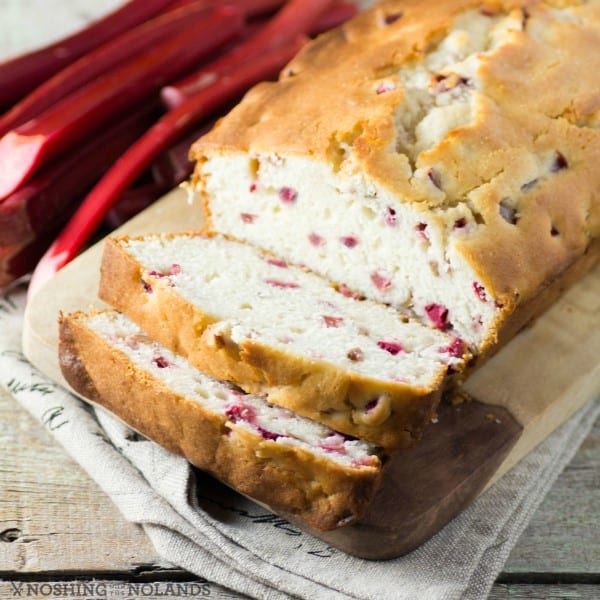 Spray your loaf pans with cooking oil (even if they're non-stick), and pour the mixture into the pans.
Bake for between 60 and 70 minutes – when a toothpick inserted into the loaf comes out clean, the loaf is done. The top of the bread should be a lovely golden brown.
Cool in the pan for 10 minutes then remove from the pan onto wire racks to cool completely. Enjoy on its own or with a scoop of ice cream!
Our daughter does not like cake very much but give her a delicious loaf like this one and she is in love.
She loves devouring not one but two slices right away. I don't mind as I know what goes into this loaf, nothing but old-fashioned goodness.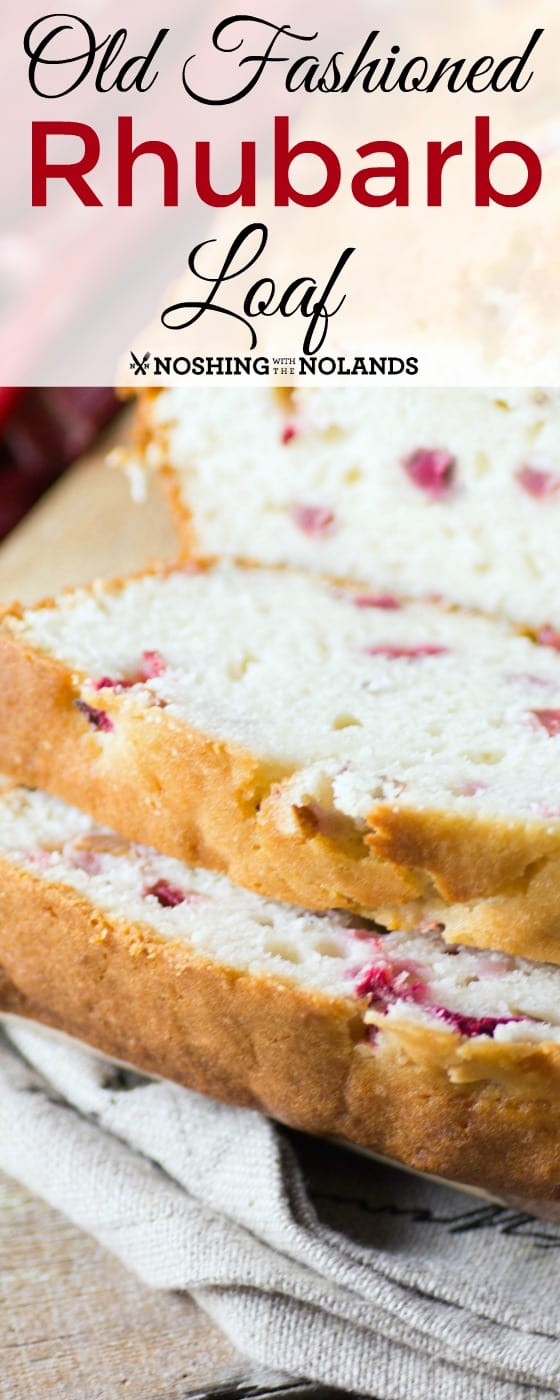 Here are the Rhubarb Dream Bars I spoke to you about in the beginning. Get yourself extra rhubarb, maybe you will be wanting to make both recipes!!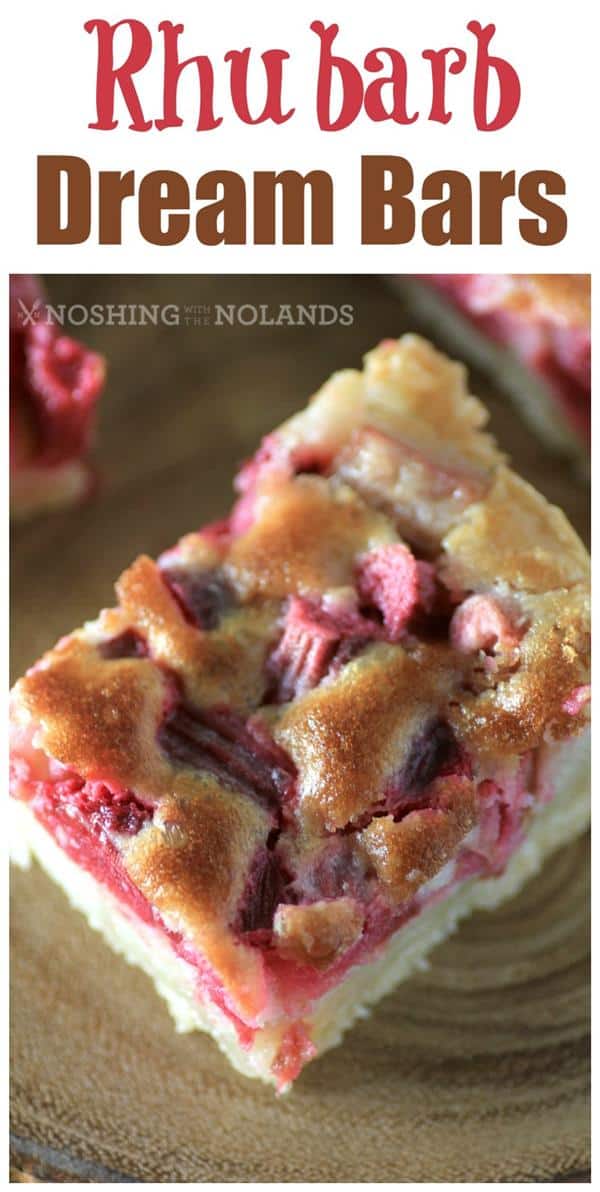 Here are all of our wonderful rhubarb dessert recipes and one cocktail recipe too!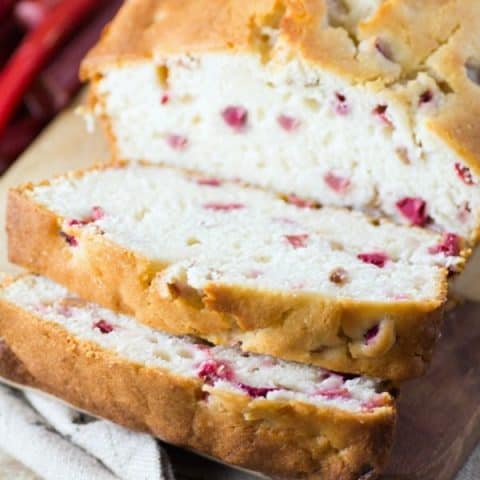 Old Fashioned Rhubarb Loaf
Yield: I loaf
Prep Time: 15 minutes
Cook Time: 1 hour 10 minutes
Total Time: 1 hour 25 minutes
An Old Fashioned Rhubarb Loaf that is very easy to make and the moist cake will be enjoyed at anytime of the day. Great use for your backyard rhubarb.
Ingredients
1/2 cup butter, softened
1 cup sugar
2 large eggs
2 cups all-purpose flour
1/2 tsp. each baking powder, baking soda and salt
1/2 cup light sour cream
1/4 cup milk
1 tsp. vanilla
1 1/2 cups rhubarb, diced small
Instructions
Preheat oven to 350F. Spray a 9x5x3" loaf pan with cooking spray and set aside.
Whisk together the flour, baking powder, baking soda and salt, set aside.
In the bowl of a standup mixer cream the butter and sugar together until fluffy. Add the eggs one at a time mixing well after each then add the vanilla. Add the flour with the milk and sour cream in batches, starting and finishing with the flour. Mix well. Fold in the rhubarb.
Pour into the prepared loaf pan, smooth top and bake for 60-70 min. until a tester comes out clean. Let cool 10 min. and then remove from pan and cool further on a wire rack. Store in an air tight container for a few days if needed.