Old Fashioned Rhubarb Loaf
My rhubarb patch was purely the inspiration for this Old Fashioned Rhubarb Loaf. The weather seems to be changing a lot for us all. With a very dry spring, I therefore let my rhubarb stay in the ground longer. My stalks were short and stunted due to lack of rain but after the last two or three weeks of deluge rain they are plumped up and are now bright ruby red. Just perfectly ready for picking and baking.
Although rhubarb is not a true fruit, it is usually prepared as one. The leaves are highly poisonous, so discard those quickly. The long stalks are sour and bitter if not added into something sweet like this delicious loaf.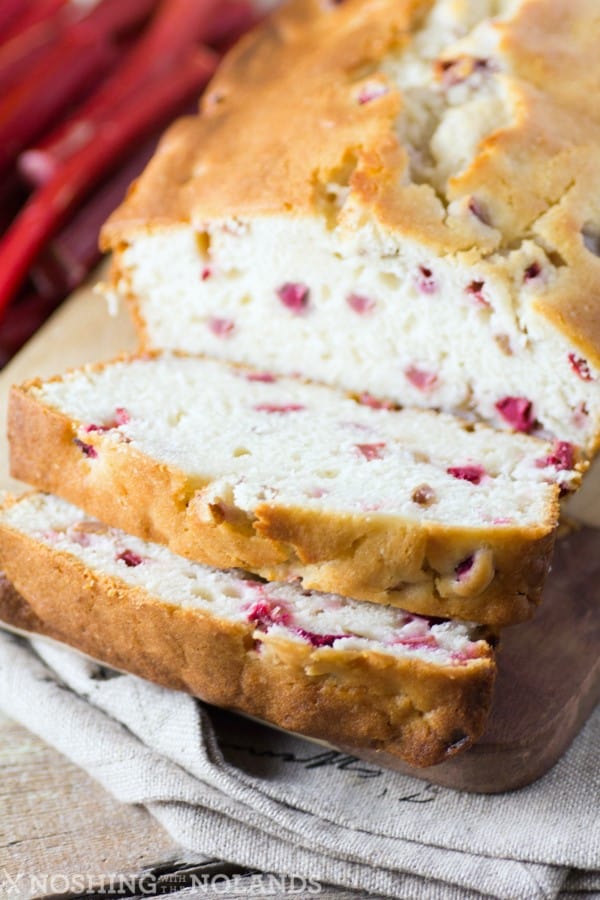 You may be shocked by the different kinds of rhubarbs, since there are so many varieties. I am not certain of the ones we have planted as they we here when we bought the house. The stalks are smaller than some and much redder in colour too therefore giving all my desserts a lovely colour.
Most noteworthy are these Rhubarb Dream Bars and you can see the gorgeous colour the rhubarb adds to this dessert. The lovely colour and gorgeous recipe consequently has made this one of our most popular recipes.
To make this delicious loaf even moister I added in sour cream. I love how wonderful this is for a breakfast item but it also carries you right through the day for coffee or tea or a dessert. A snack for the kids anytime of day too.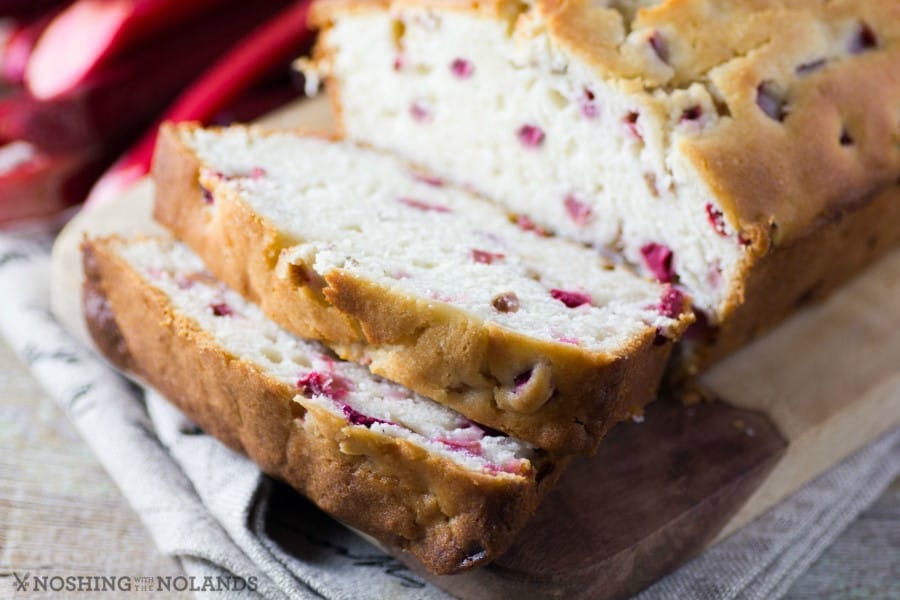 Our daughter does not like cake very much but give her a delicious loaf like this one and she is in love. She loves devouring not one but two slices right away. I don't mind as I know what goes into this loaf, nothing but old fashioned goodness.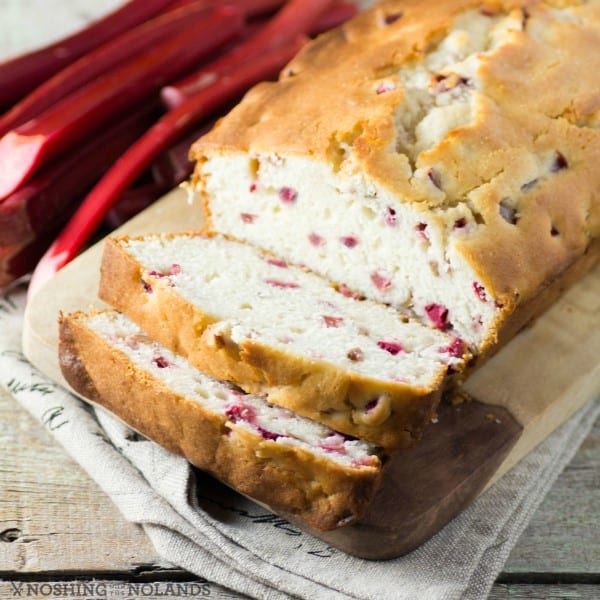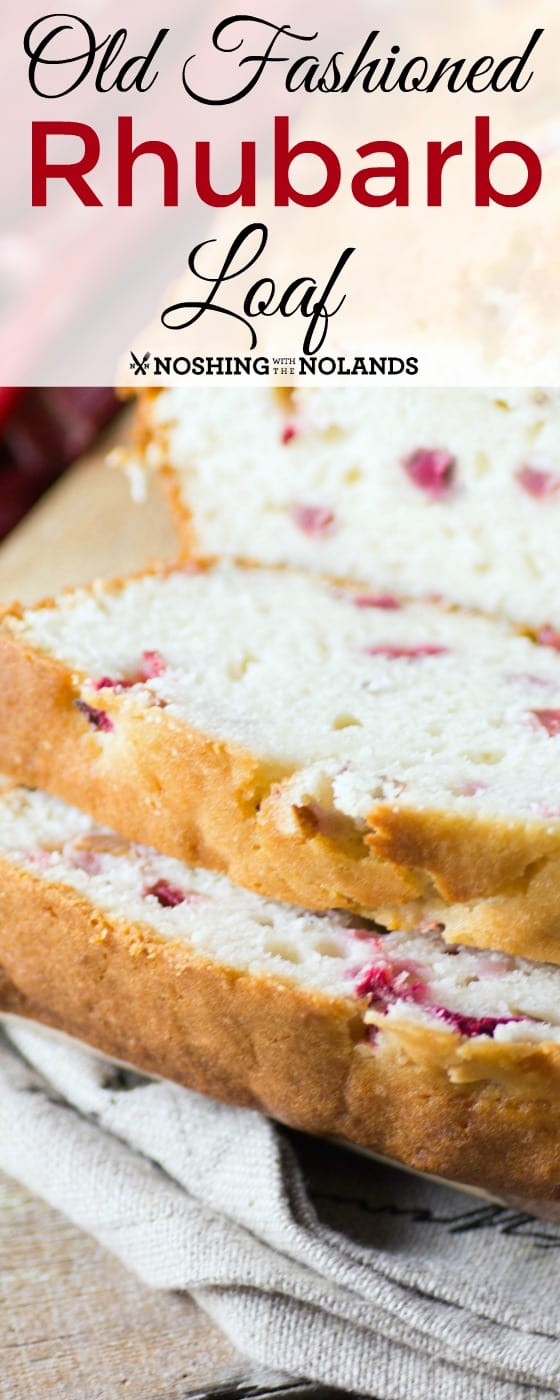 Here are the Rhubarb Dream Bars I spoke to you about in the beggining. Get yourself extra rhubarb, maybe you will be wanting to make both recipes!!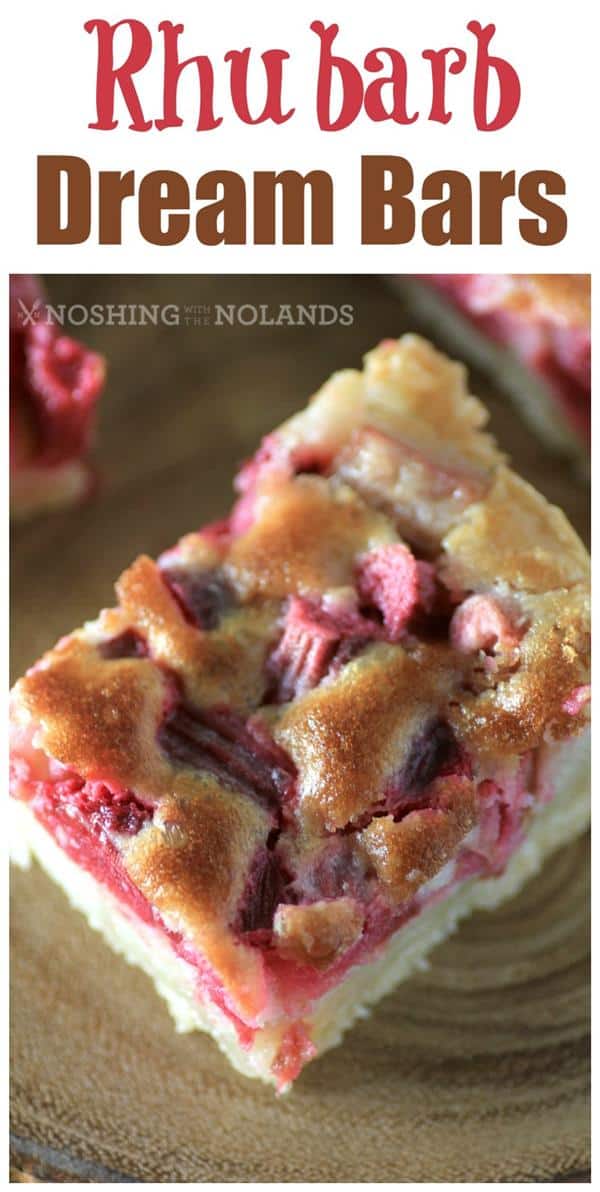 Old Fashioned Rhubarb Loaf
Old Fashioned Rhubarb Loaf Recipe Type : Dessert Cuisine: American Author: Tara Noland Prep time: 10 mins Cook time: 70 mins Total time: 1 hour 20 mins Serves: 1 loaf An Old Fashioned Rhubarb Loaf that is very easy to make and the moist cake will be enjoyed by all.
Ingredients
½ cup butter, softened
1 cup sugar
2 large eggs
2 cups all-purpose flour
½ tsp. each baking powder, baking soda and salt
½ cup light sour cream
¼ cup milk
1 tsp. vanilla
1½ cups rhubarb, diced small
Instructions
Preheat oven to 350F. Spray a 9x5x3" loaf pan with cooking spray and set aside.
Whisk together the flour, baking powder, baking soda and salt, set aside.
In the bowl of a standup mixer cream the butter and sugar together until fluffy. Add the eggs one at a time mixing well after each then add the vanilla. Alternatively add the flour with the milk and sour cream, starting and finishing with the flour. Mix well. Fold in the rhubarb.
Pour into the prepared loaf pan, smooth top and bake for 60-70 min. until a tester comes out clean. Let cool 10 min. and then remove from pan and cool further on a wire rack. Store in an air tight container for a few days if needed.