Paglia e Fieno (Straw and Hay Pasta)
I love spring and summer pasta like this one that is not heavy with meat or a red sauce. This Paglia e Fieno (Straw and Hay Pasta) is just that and is an amazing Italian classic dish. A wonderful creamy pasta of yellow and green with added prosciutto, peas, and Parmesan. One fantastic combination of flavors.
Fresh pasta like this is also very easy to make for the summer months where you don't want to be slaving away in the kitchen. Some days are rainy or cloudy and you still want a good comforting Italian dish. Take your pasta to the outdoors too if the weather is nice and enjoy.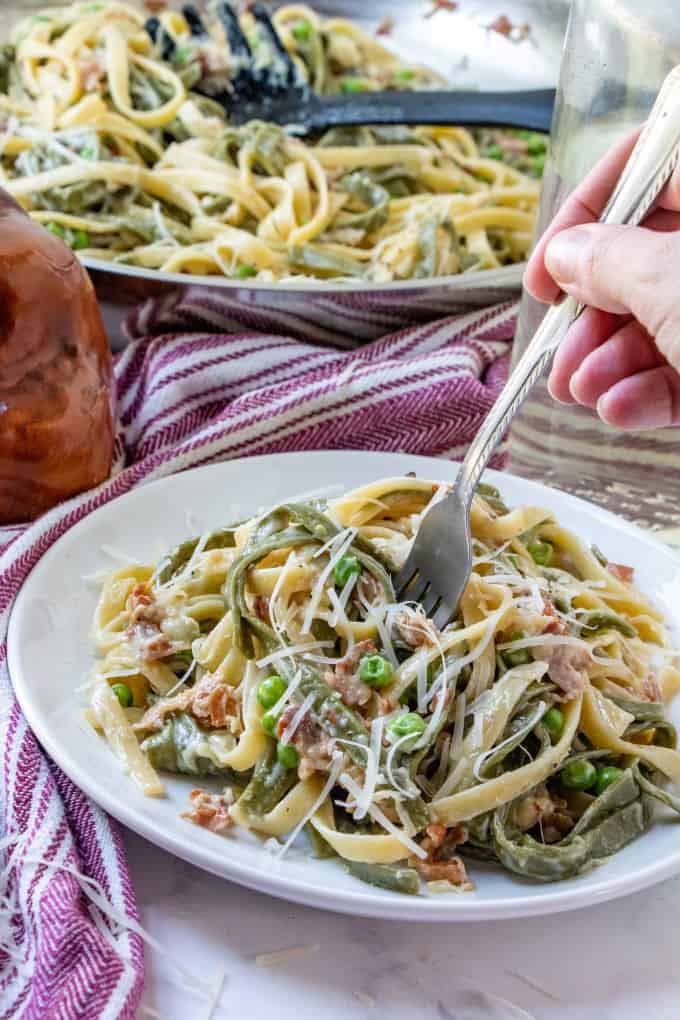 Helpful Items For This Recipe
This post contains affiliate links. As an Amazon Associate, I earn a small portion from qualifying purchases at no extra charge for you.
What is Paglia e Fieno?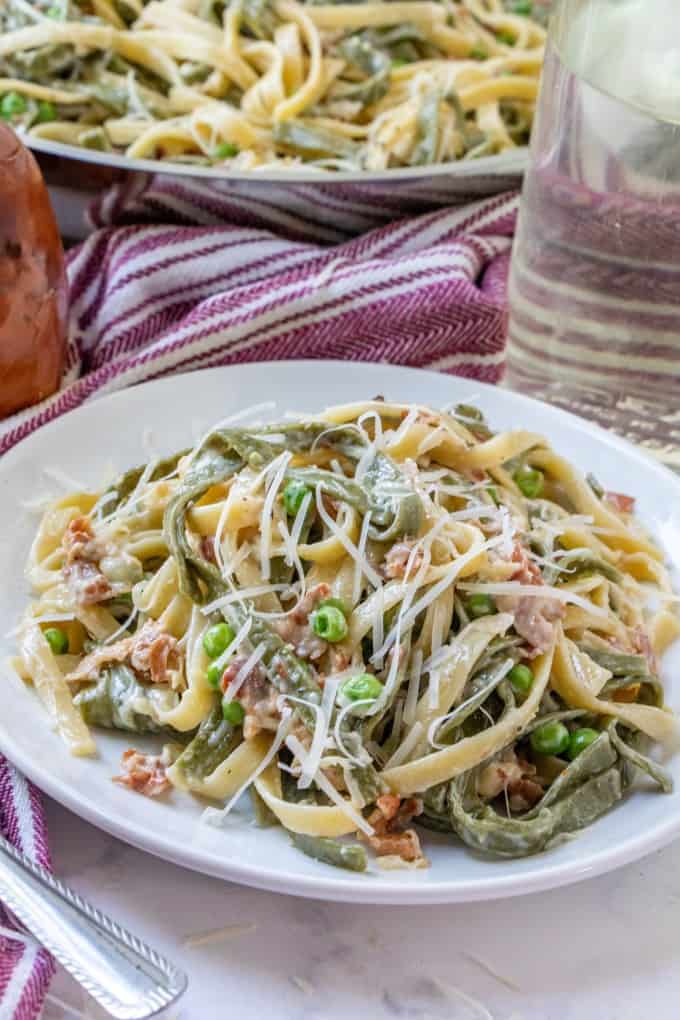 Paglia e Fieno means straw and hay and specifically for this pasta dish of yellow and green pasta. In Italy and possibly here in North America, you can find nests of pasta with these two colors together.
That may be hard to find here so the easy fix is to buy regular Fettucine and spinach Fettucine. You can also buy Tagliatelle if you can find it.
What is the difference between Fettucine and Tagliatelle you ask?
The Garum Factory writes, "Tagliatelle is the flat-rolled pasta noodle of the Emigia-Romagna (which includes Bologna) and Marche regions. Usually, it's made fresh, then cooked. Fettucine is the flat wide noodle of the same width, but theoretically, a shade thicker, found in the cooking of Rome. It may be fresh but is widely available dried."
So the difference is pretty immeasurable and I would say you can use either interchangeably.
How To Make Paglia e Fieno?
Ingredients
Spinach fettuccine
Regular fettuccine
Butter
Olive oil
Prosciutto
Heavy cream
Frozen or fresh peas
Parmesan cheese
Freshly ground black pepper
3% milk
Bring a large pot of salted water to a boil. Cook pasta according to package directions. The different pasta may need different lengths of time, just add one sooner than the other that needs longer to cook. Cook to al dente. Drain and toss with 2 Tbsp. butter.
While the pasta cooks, in a large saute pan over medium-high heat, add the olive oil and prosciutto and cook until crisp. Place on paper towels and drain off fat.
Add the prosciutto and then add the cream, peas, pepper, and half the Parmesan cheese. Place the skillet over medium heat but don't let the mixture boil. Add the noodles and remaining cheese and stir.
Add the milk until desired consistency. Serve with salt and pepper or just more freshly ground black pepper. The prosciutto is salty so be careful with additional salt.
Want to Lighten Up Paglia e Fieno?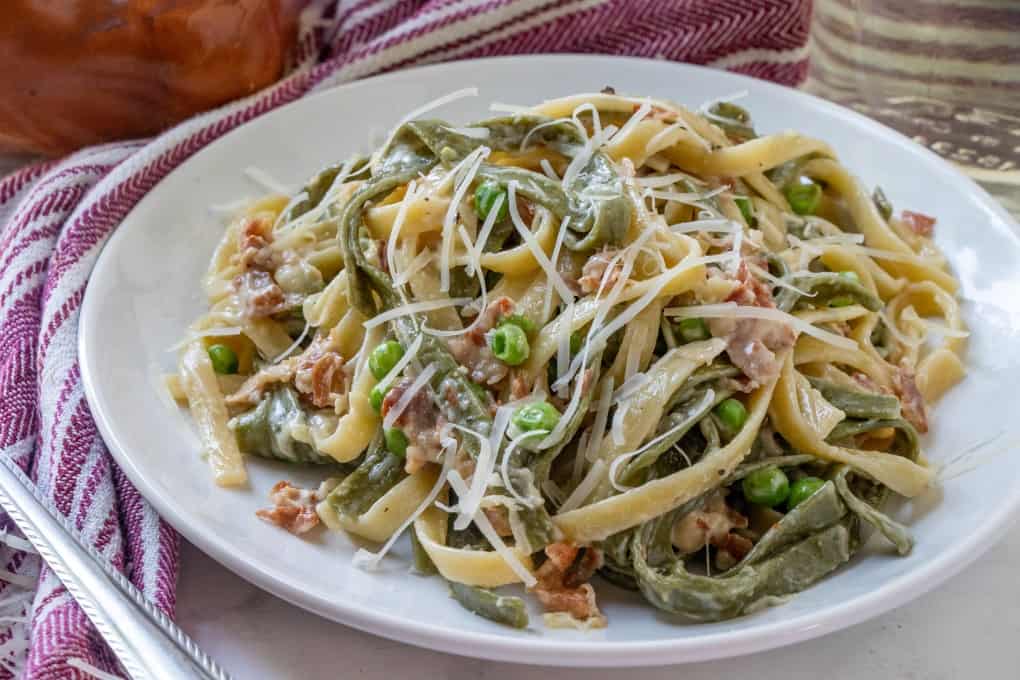 The prosciutto is a must as well as the peas and the Parmesan cream sauce, but a little trick you may want to do if counting calories is to use evaporated 2% milk in place of heavy cream. This will lighten the load slightly and will still be creamy!
You can also for the additional milk bring it down to 2%. Parmesan is already a lower calorie cheese than say cheddar, so that is good there. You can also use a bit less prosciutto, but don't reduce ingredients too much as you still want this to be an amazing meal.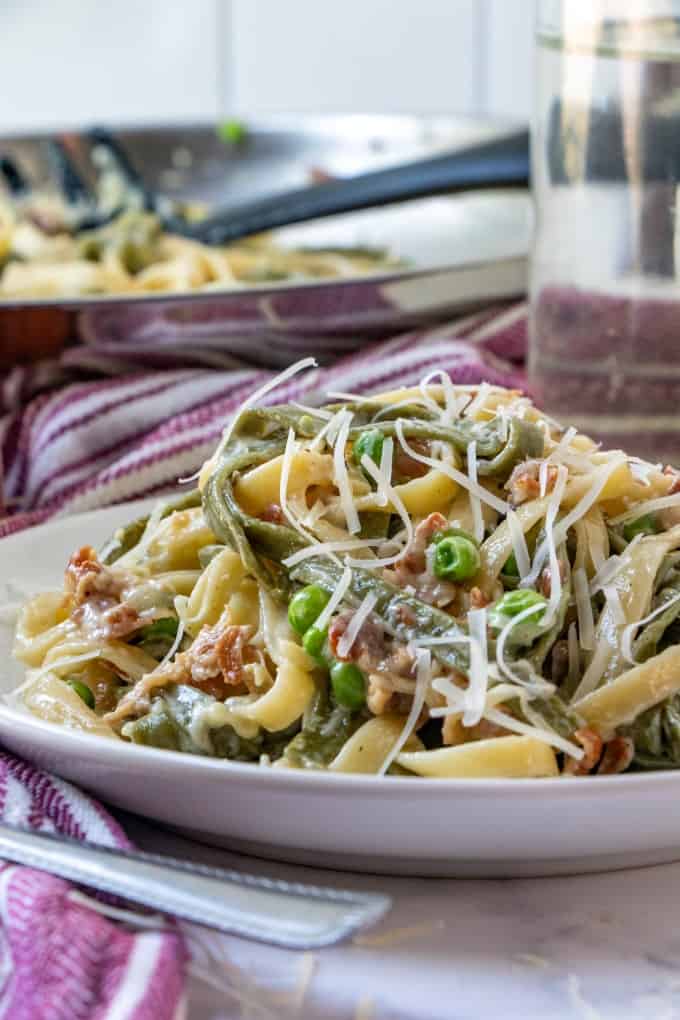 Enjoy this easy pasta with your family or friends. One note is that it comes together very quickly (which is a great thing) but you want to have all the ingredients ready and at hand so it is cook and serve! Enjoy! Buon Appetito!!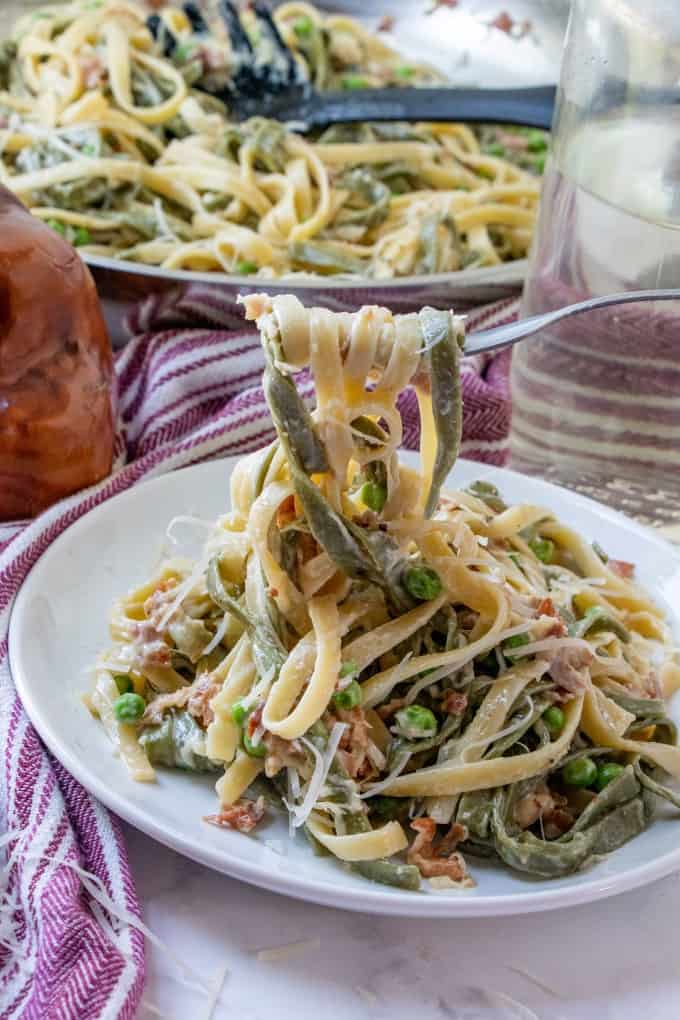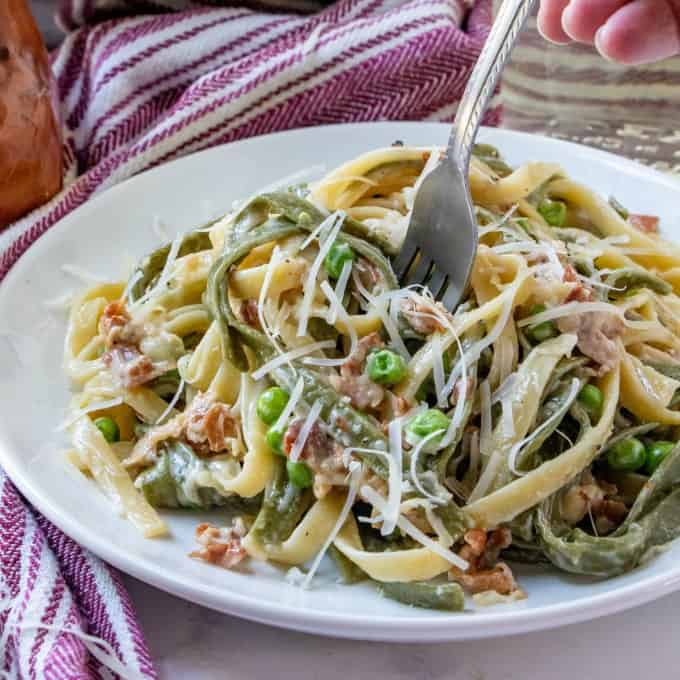 Pin it HERE!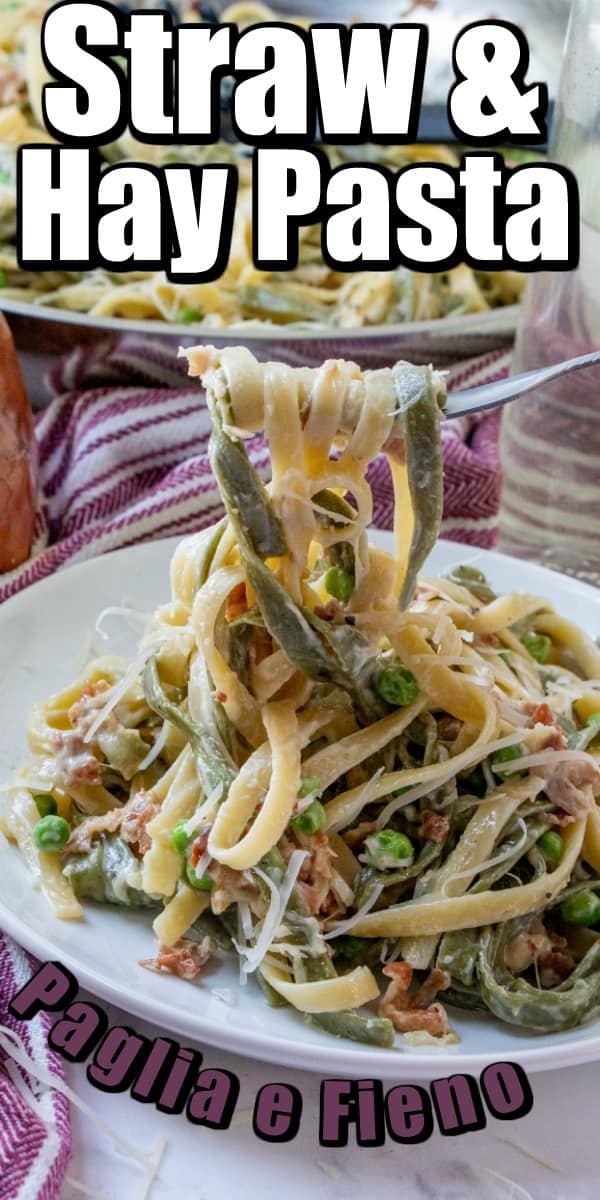 Pin it HERE!!