Parmesan Peppercorn Dressing is a wonderfully creamy dressing with a spicy kick from fresh cracked peppercorns! It's amazing over salads or used as a dip with vegetable crudites!
Homemade dressings always taste so much better than store-bought because they are made fresh with real ingredients. Some of our other popular creamy salad dressing recipes are Homemade Thousand Island Dressing and Easy Russian Dressing.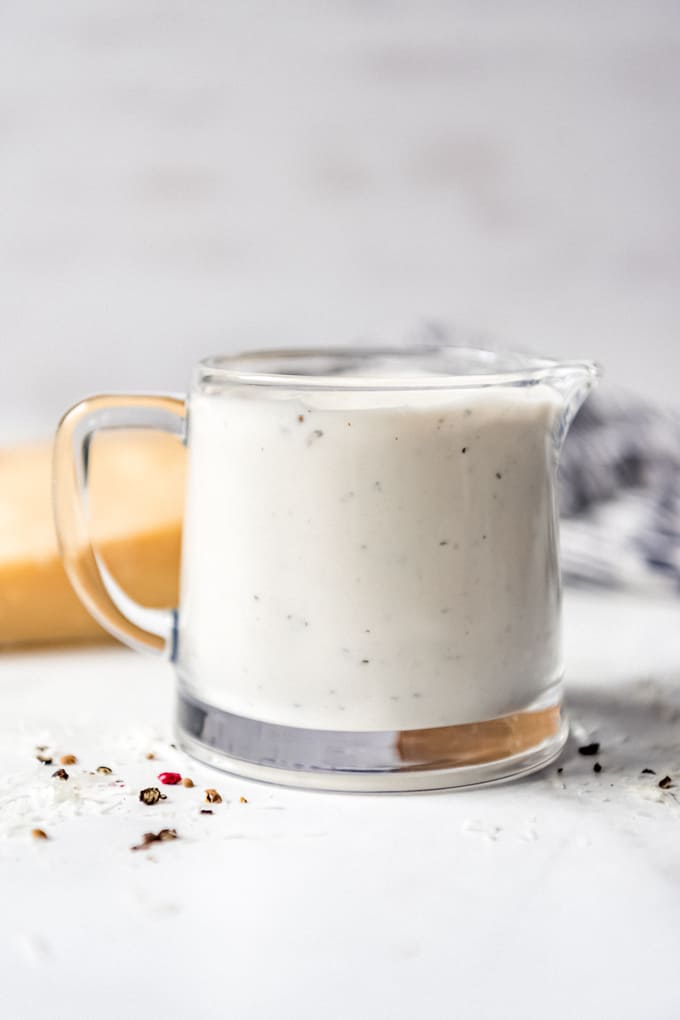 Hey there! It's Amy from House of Nash Eats back with this zinger of a cheesy, spicy salad dressing that your family is going to rave about. Sorry ranch and blue cheese, but there's a new sherriff in town and its name is parmesan peppercorn dressing.
This stuff is amazing. It gives a surprising kick to any salad with a wonderfully deep, savory flavor from the nutty parmesan cheese. Be sure to use a brick of parmesan that you grate yourself on the small holes of a grater so that it mixes in with the dressing well. Freshly grated parmesan cheese has better flavor and mixes into the dressing better than the powdered stuff in a canister.
Helpful Items For This Recipe
This post contains affiliate links. As an Amazon Associate, I earn a small portion from qualifying purchases at no extra charge for you.
Reusable Salad Dressing Containers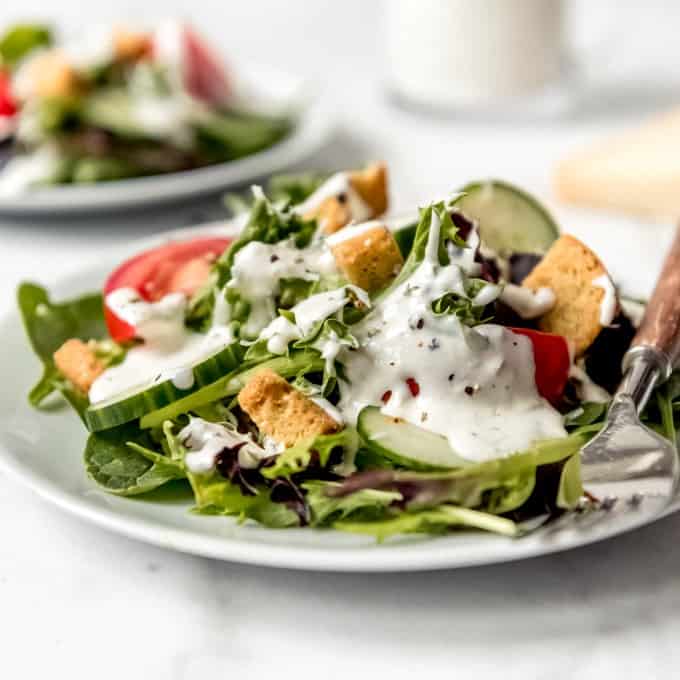 The base of the dressing is made with a combination of sour cream or greek yogurt mixed with mayo and white wine vinegar for more kick, plus a little buttermilk to thin it out.
If you don't have buttermilk on hand, you can make an easy substitute by adding 2 teaspoons of lemon juice or vinegar to a 1/2 cup measuring cup, then filling the rest of the way with milk. Let this sit for 5 minutes, then use it in place of buttermilk in the recipe.
How to make Parmesan Peppercorn Dressing
Like most homemade dressing recipes, this one is incredibly simple to make. It takes five minutes, MAX, and that's including the time it takes to grate the parmesan cheese by hand.
Start by roughly cracking the peppercorns. You could use ground black pepper, but with a dressing like this there is a noticeable difference in the quality of the ingredients you choose and whole peppercorns are a must in our book. See the recipe notes for how to use ground pepper if that's all you have on hand though.
Throw the whole peppercorns in a heavy-duty zip tight bag and take out your aggression on them with a rolling pin or meat mallet. You just want them to be coarse ground so that you get little spicy bites of peppercorn throughout the dressing.
Add the cracked peppercorns with all of the rest of the ingredients, including the freshly grated parmesan cheese, in a medium bowl and whisk well to combine. I recommend starting with the smaller amount of buttermilk listed in the recipe, then adding more to thin it out to your liking.
Transfer to a small pitcher or jar and chill in the fridge for at least 30 minutes so the flavors can combine. Serve over your favorite salad, a wedge salad, or with fresh, crispy veggie sticks. We made a salad with mixed greens, cucumber slices, tomato wedges, and crunchy croutons and used this dressing with it. For such a basic salad, the flavors were just out of this world.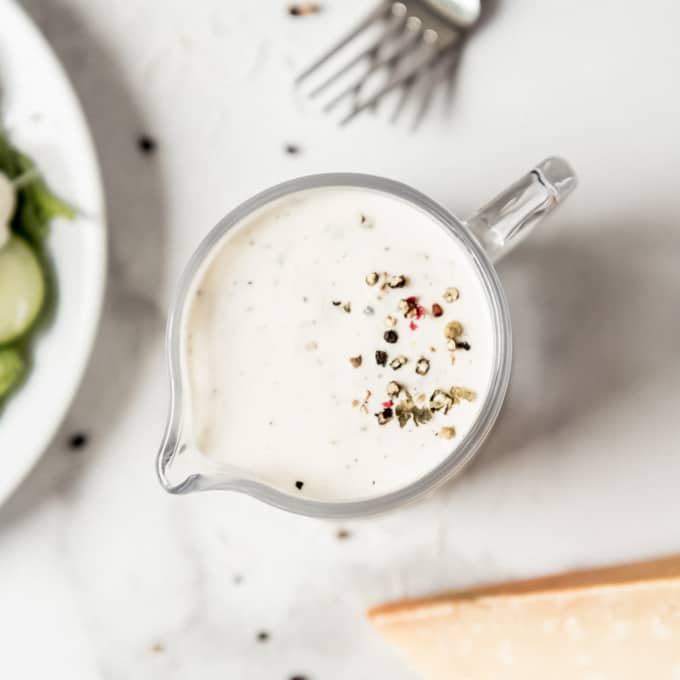 What to serve with Parmesan Peppercorn Dressing
A salad drizzled with this creamy, spicy dressing goes so well with a homemade pizza made with our favorite pizza dough recipe. Or serve it with homemade breadsticks on the side.
PRO TIP: Dip your breadsticks in the parmesan peppercorn dressing. It's so good!
Try our other very easy recipes for an excellent Homemade Italian Dressing or Buttermilk Ranch Dressing. These homemade dressings are honestly so easy you will never go back to store-bought again.
It is really reassuring also to give your family a freshly made salad dressing that you know exactly what goes into it.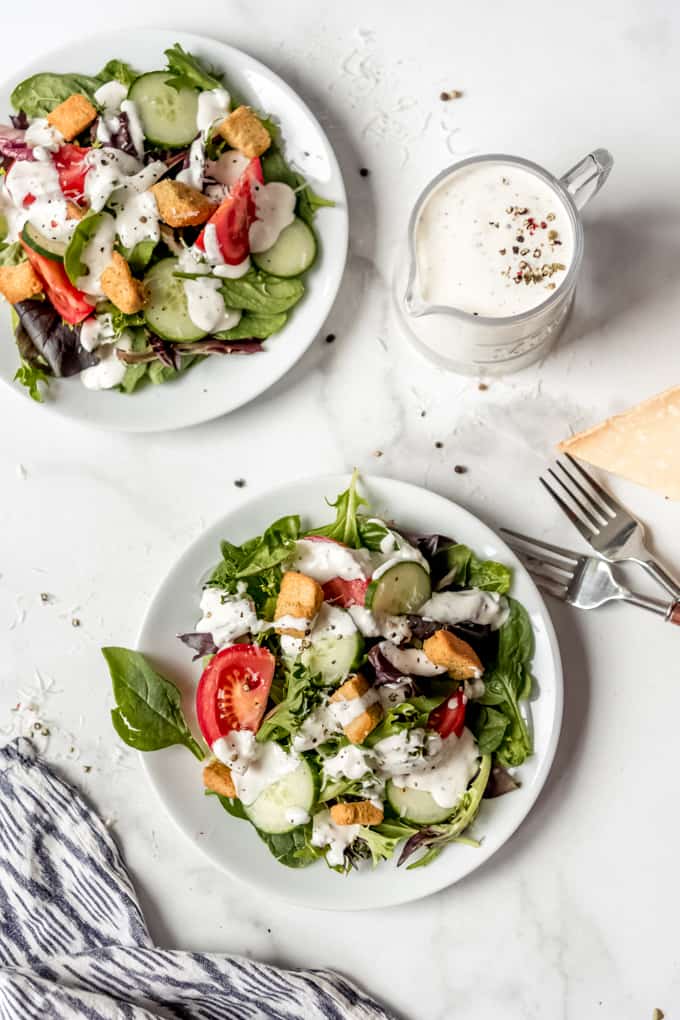 Pin it HERE!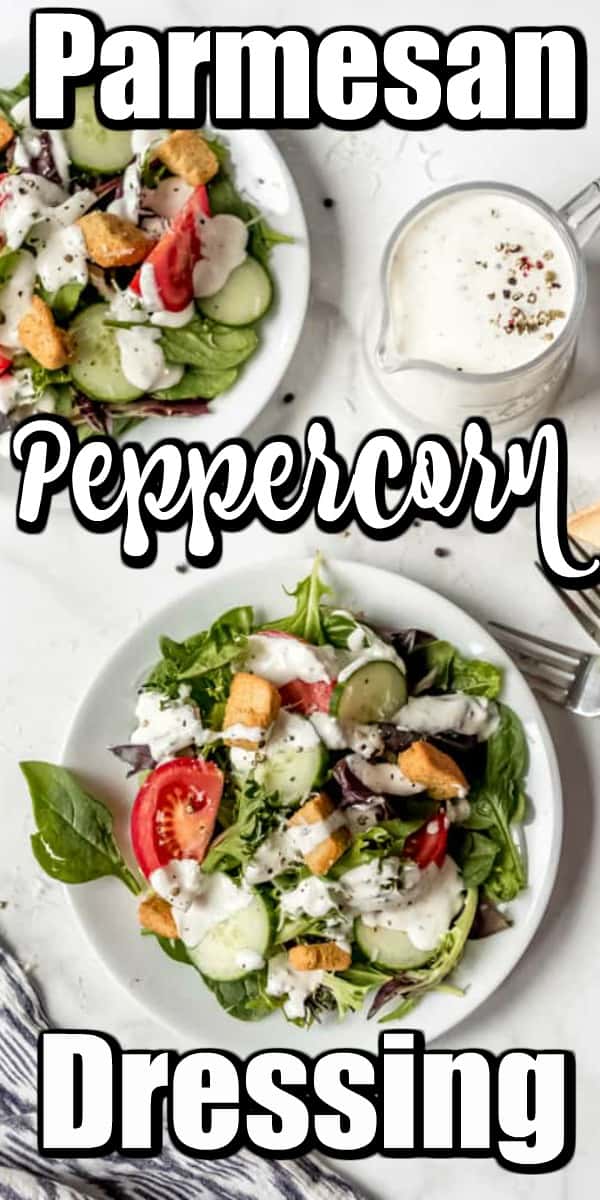 Pin it HERE!!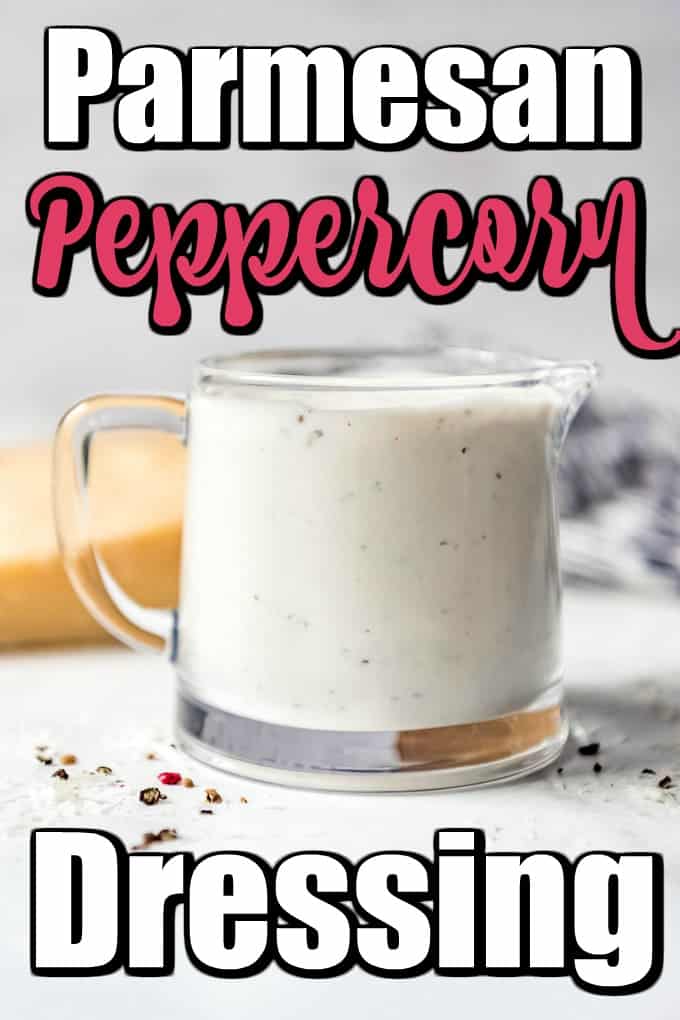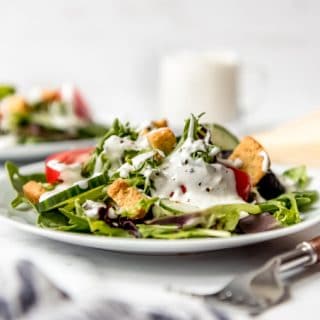 Parmesan Peppercorn Dressing
Yield: About 2 cups
Prep Time: 5 minutes
Total Time: 5 minutes
Parmesan Peppercorn Dressing is a wonderfully creamy dressing with a spicy kick from fresh cracked peppercorns! It's amazing over salads or used as a dip with vegetable crudite!
Ingredients
1/2 cup sour cream
1/2 cup real mayo
1-2 tablespoons freshly cracked peppercorns, depending on how spicy you like it
1/2 cup freshly grated Parmesan cheese
2 tablespoons white wine vinegar
2 cloves garlic, minced
1/2 teaspoon Kosher salt
1/4 cup buttermilk + more to thin to your liking
Instructions
Roughly crack the peppercorns by placing in a heavy duty zip tight back, sealing, then hitting with a rolling pin or meat mallet to break them up into coarse pieces.
Combine all of the ingredients in a medium bowl and whisk together well.
Chill in the fridge for at least 30 minutes for the flavors to combine.
Notes
Greek yogurt can be used in place of sour cream as a substitute.
If using finely ground black pepper, reduce the amount to 1 teaspoon.
Recommended Products
As an Amazon Associate and member of other affiliate programs, I earn from qualifying purchases.
Nutrition Information:
Yield: 8
Serving Size: 1
Amount Per Serving:
Calories: 157
Total Fat: 15g
Saturated Fat: 4g
Trans Fat: 0g
Unsaturated Fat: 10g
Cholesterol: 20mg
Sodium: 352mg
Carbohydrates: 3g
Fiber: 0g
Sugar: 1g
Protein: 3g