I love making homemade dressings; they are so much better than store-bought and they are so easy too! This Homemade Italian Dressing recipe can be made fresh in a matter of minutes.
You can have the Italian seasoning mix all made up and at the ready. Then just add in 1-2 Tbsp. of your seasonings to a few other ingredients and you have homemade dressing at a fraction of the cost.
We have done a little series of dressings now with Homemade Thousand Island Dressing (great on a burger) and Buttermilk Ranch Dressing and now this latest one.
We will continue on making more as I love having them on hand or made fresh to enjoy a big salad with.
See all the delicious herbs and spices in that salad dressing and the best part is that you can make it to how you like it too! Want it with more garlic to make it zesty, don't like a certain herb, want it saltier. It is all up to you to tweak it how you like it.
Making a homemade dressing allows you to know exactly what is going into the dressing. Also, you can leave out all the preservatives and remove all the "icky" ingredients that are not necessary when making it homemade.
How to Make Italian Dressing?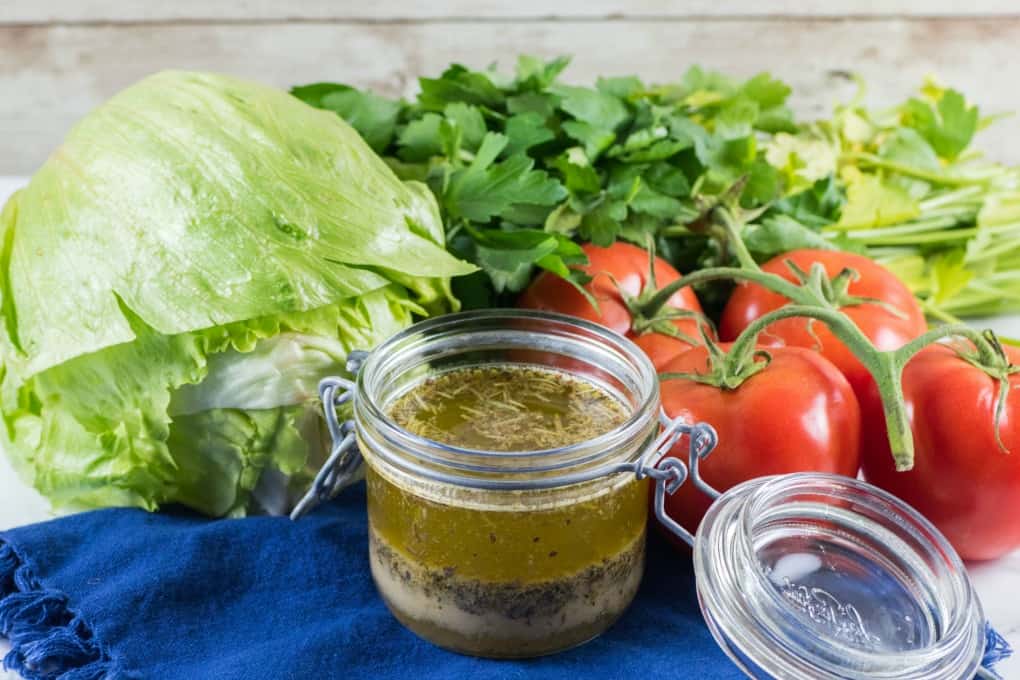 For our recipe a seasoning mix is first made which can be stored and used when needed. It consists of oregano, basil, thyme, rosemary, garlic and onion powder, salt and pepper.
This is then added to red wine vinegar, extra virgin olive oil, water and dijon mustard. I love the mustard as it adds a little tang to the dressing.
The only thing to add after that is the fresh produce!! Make a salad or even a pasta salad to your liking also and really enjoy your veggies!!
For company I always make a homemade dressing so I need to also do this for my family.
If it is in the summer months and you have a herb garden then, by all means, use fresh herbs but in the winter months making up an Italian seasoning is fast, easy and inexpensive.
This seasoning recipe is also very versatile as you can use it on meat and veggies too. You can add it to a tomato sauce or a soup.
What Kind of Oil Do You Use for Italian Dressing?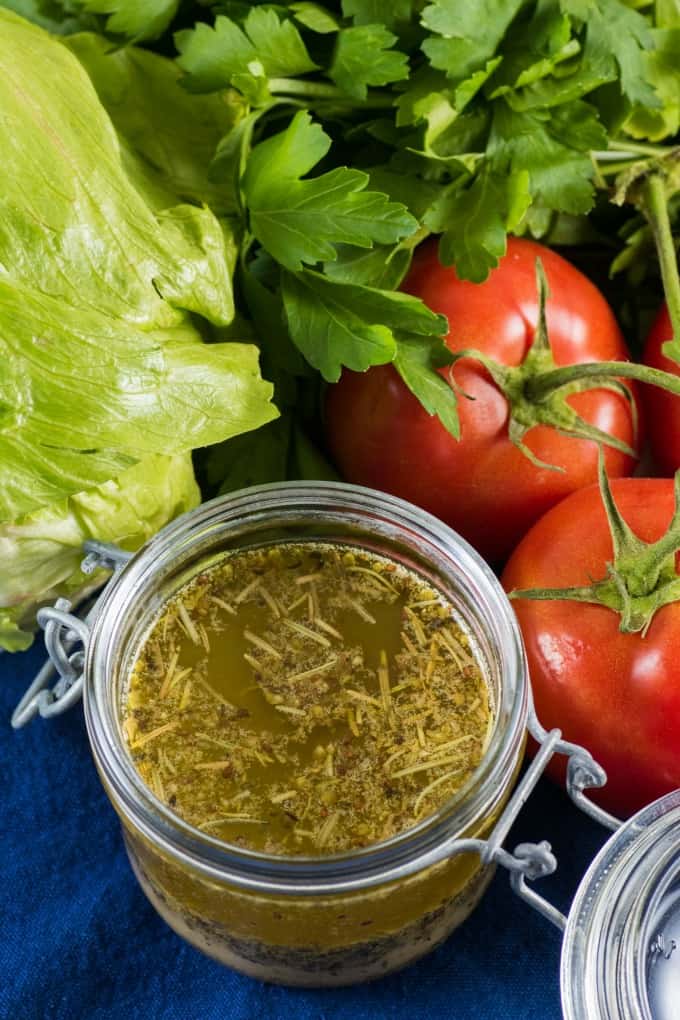 What kind of oil to use? Well, do use the finest ingredients you can afford; I always use olive oil for this type of dressing to get the best flavor.
Using a really cheap olive oil will give you a completely different outcome to a better quality extra virgin olive oil. They can be expensive though so look around.
What is your favorite kind of salad? What dressing do you like the most? I like a variety of both and change them up to suit the meal. And Italian dressing and salad, of course, goes great with a big bowl of pasta.
An Italian dressing like this one can also be used to marinate chicken, think of the flavor you would get from that!! It is also gluten free and vegan if you are just having it on your salad! Instead of mayonnaise you can add a little to potatoes to make a great potato salad too.
The Thousand Island Dressing I mentioned above not only goes great on a yummy wedge salad but also on your burger or reuben sandwich!!
The creamy, dreamy Buttermilk Ranch Dressing is great as a dip too for veggies but can be perfect on a salad like a Cobb. I love that salad so much, great for a picnic also!!
So explore our little salad dressing collection and look forward to more coming in the future as we love to share these. Take your ho-hum salad to the next level with making your own dressing of choice.
How Long Does Homemade Italian Dressing Last?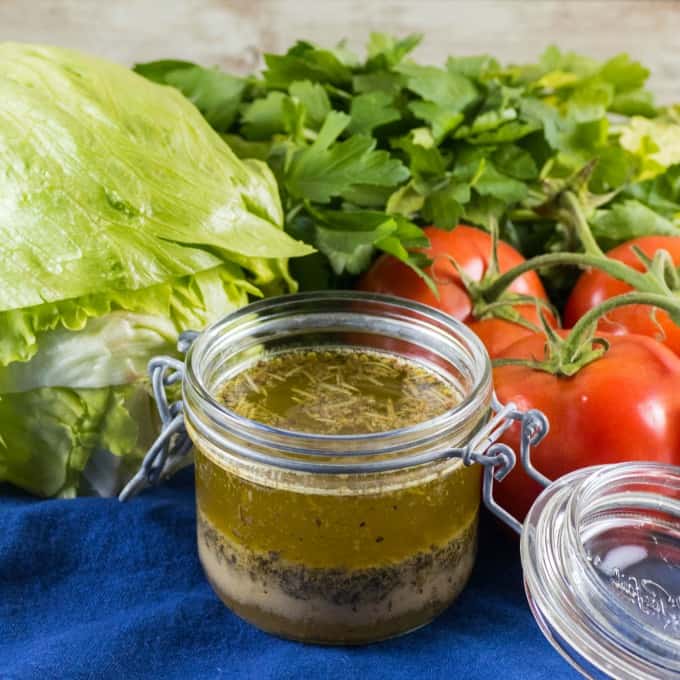 How long will your Homemade Italian Dressing last refrigerated? As long as you have a tight fitting lid it will last for at least 2 weeks.
Dressings with fresh produce, eggs, buttermilk, mayonnaise will only last up to a 1 week. Eat up and enjoy all of the dressings!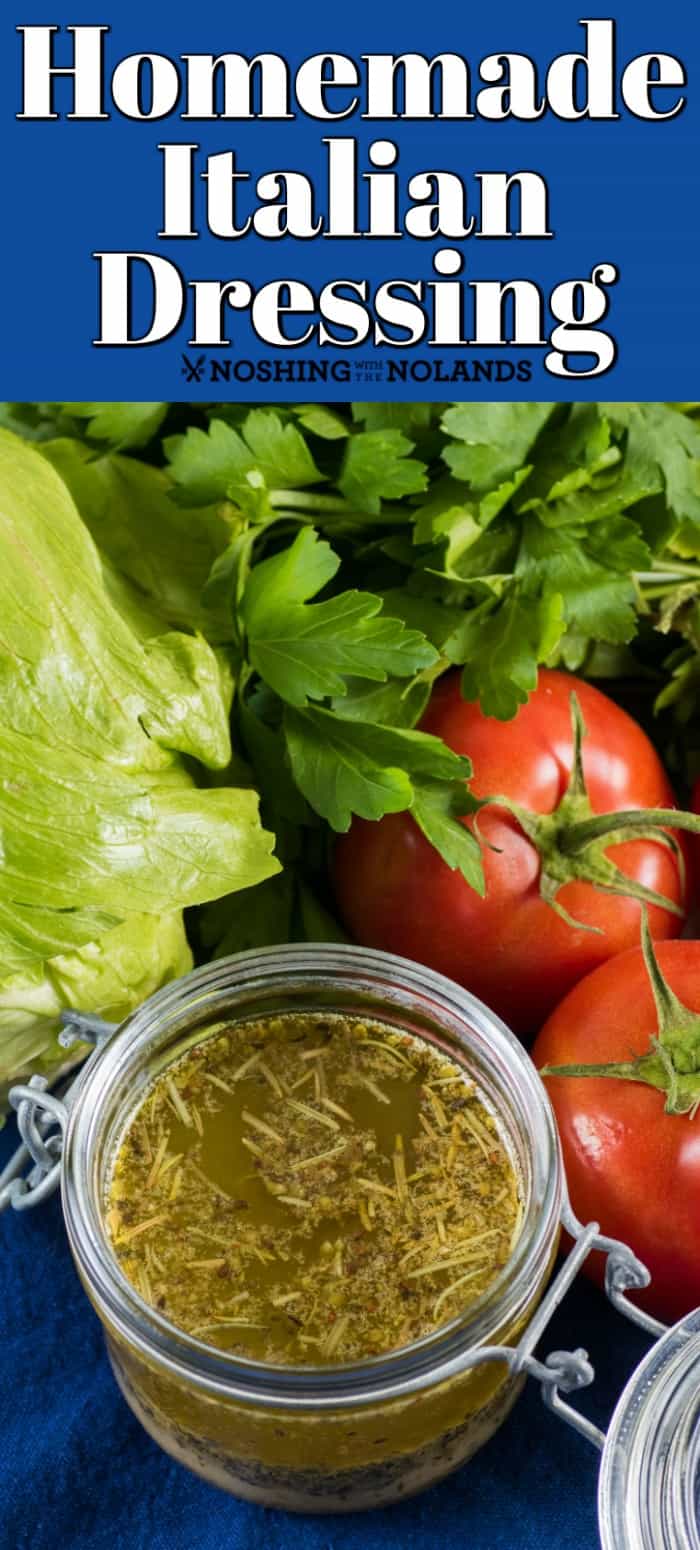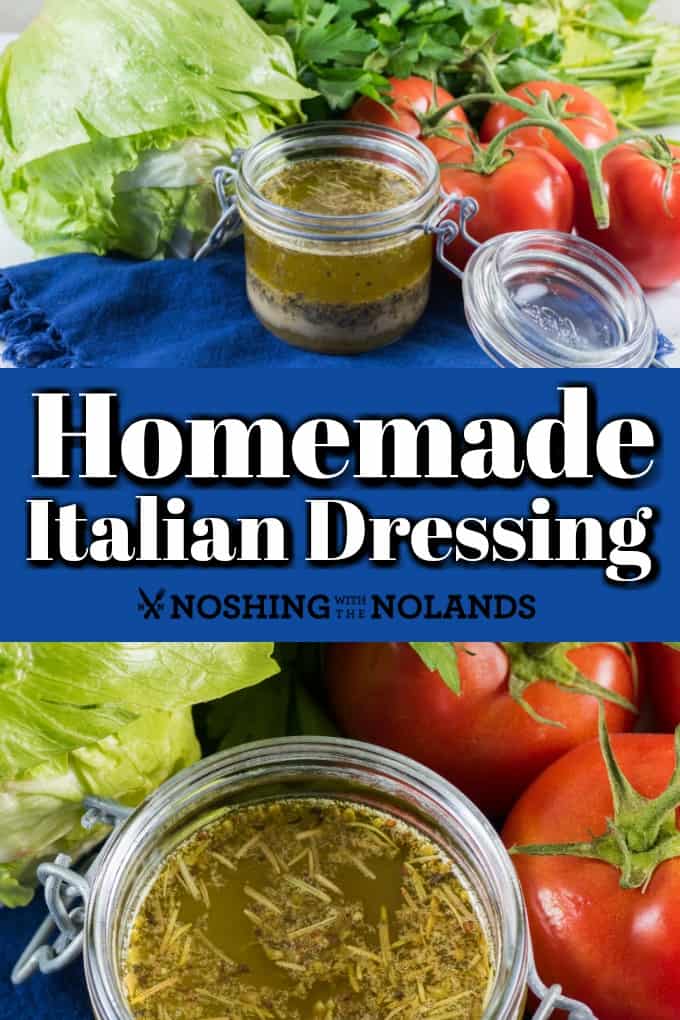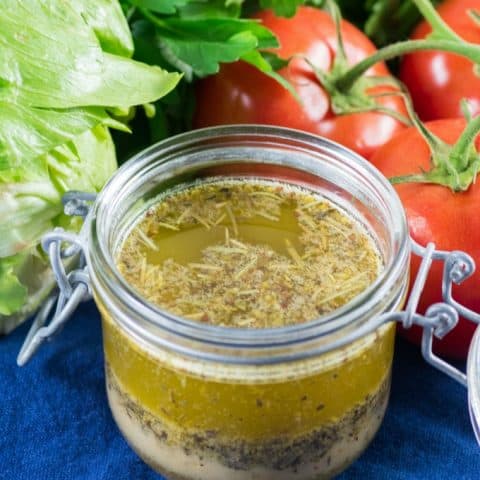 Homemade Italian Dressing
Yield: 8 servings
Prep Time: 5 minutes
Total Time: 5 minutes
This homemade Italian Dressing is so easy to make you will never want to pay for bottle dressing again. With the seasoning mix at the ready it only takes minutes to pull together.
Ingredients
Seasoning Mix
1 Tbsp. each dried oregano, dried basil, dried thyme and dried rosemary
1 tsp. garlic powder
1/2 tsp. onion powder
1/2 tsp. Kosher salt
Pepper to taste
Dressing
1/4 cup red wine vinegar
1/2 cup olive oil
1 Tbsp. water
1-2 Tbsp. seasoning mix
1 tsp. Dijon mustard
Instructions
Mix the seasoning mix together and store in a tight fitting container with a lid. You can double this recipe to use for other recipes also.
Pour the dressing ingredients into a shaker or jar and shake well. Add the seasoning mix and shake again. Keeps refrigerated up to 2 weeks in a container with a tight fitting lid.
Recommended Products
As an Amazon Associate and member of other affiliate programs, I earn from qualifying purchases.
Nutrition Information:
Yield: 8
Serving Size: 1
Amount Per Serving:
Calories: 130
Total Fat: 14g
Saturated Fat: 2g
Trans Fat: 0g
Unsaturated Fat: 11g
Cholesterol: 0mg
Sodium: 1304mg
Carbohydrates: 2g
Fiber: 1g
Sugar: 0g
Protein: 0g