Red Wine Vinaigrette is a quick and easy salad dressing with a wonderful zesty flavor, suitable for dressing salads or as a marinade.
Homemade salad dressing is so easy to make and free from the additives and preservatives found in store bought dressings. From creamy Parmesan Peppercorn to zesty Italian, we have a salad dressing for you!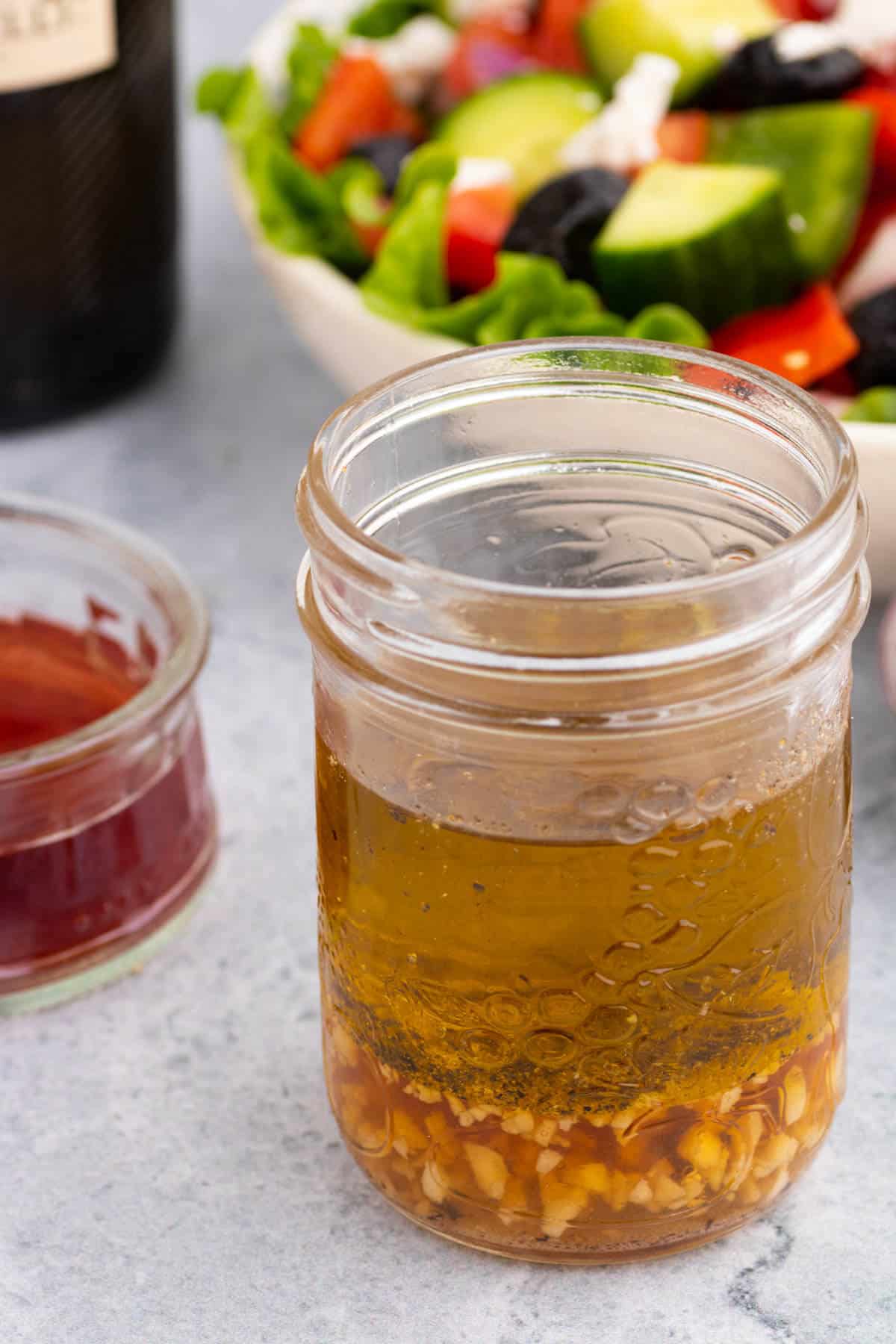 Helpful Items for This Recipe
This post contains affiliate links. As an Amazon Associate, I earn a small portion from qualifying purchases at no extra charge for you.
Red Wine Vinaigrette
Interested in learning how to make your own salad dressing? This simple Red Wine Vinaigrette is THE place to start.
It contains very few ingredients, requires no special tools, and you can whip it up in under 5 minutes. How's that for easy?!
However, this simple vinaigrette is anything but basic in flavour; it's full of zest and vigor which allows even the plainest of chopped leaf salads to sing.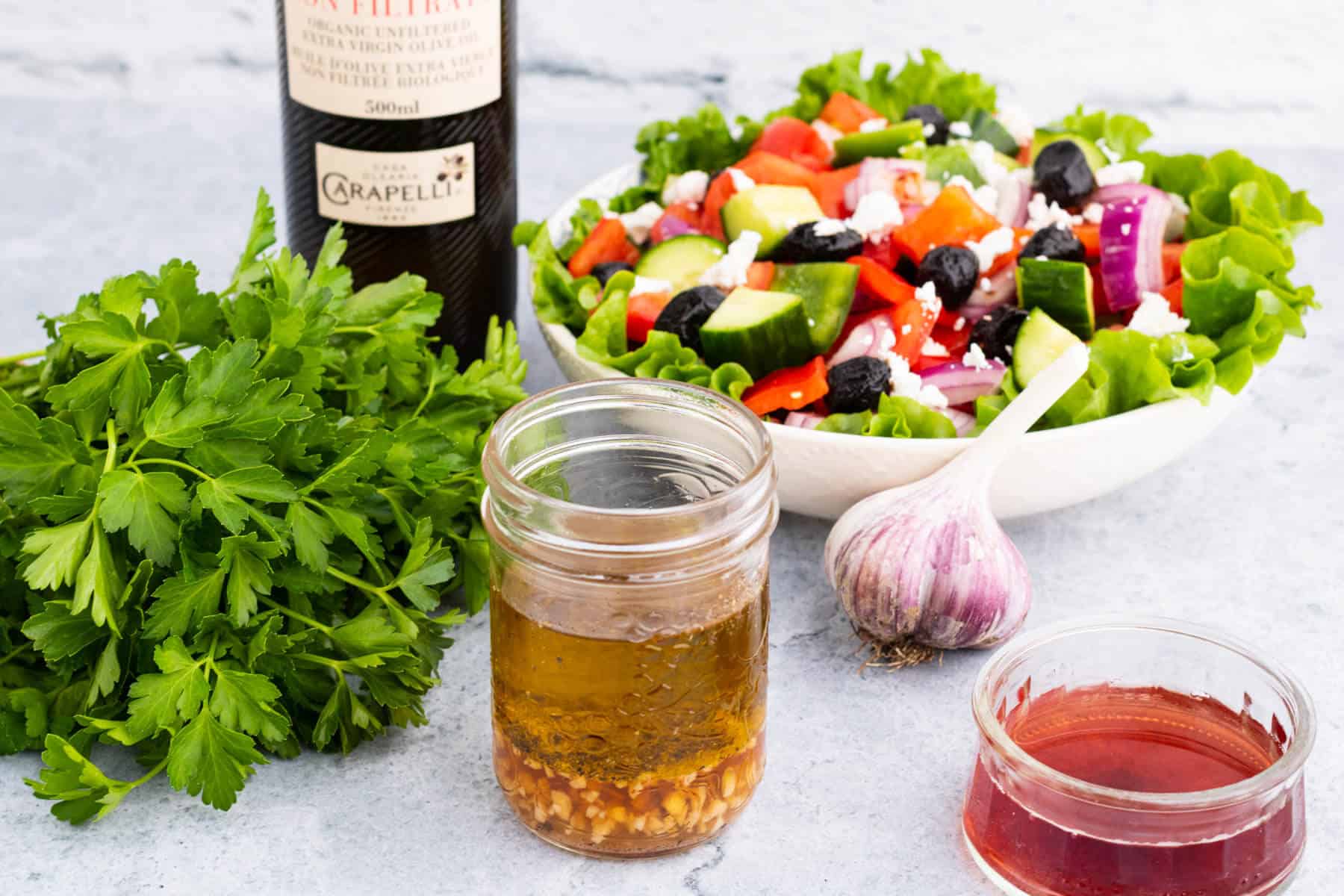 Hey there NWTN readers! It's Bernice, recipe developer and food blogger over at dishnthekitchen.com. I'm so pleased to contribute this post for Tara because making my own dressing is something I love to do at home and I'd love for you to try it too.
I love dressing up a basic vinaigrette by adding fruit, like strawberries in the Strawberry Balsamic Vinaigrette I drizzled over this Strawberry Spinach Salad or herbs like mint for a Snap Pea and Goat Feta Salad.
The Basic Vinaigrette Formula
A vinaigrette is an emulsion made with an established ratio of acid to oil. However, as Julia Child states, "The usual proportion of vinegar to oil is one to three, but you should establish your own relationship."
It all comes down to personal taste and preference. This Red Wine Vinaigrette recipe uses a 1:2 ratio of vinegar to oil. If you prefer a touch more oil, feel free to use the established 1:3 ratio.
In addition to the vinegar and oil, flavourings of a typical Red Wine Vinaigrette are very basic. They include freshly minced garlic, Dijon mustard, salt and pepper.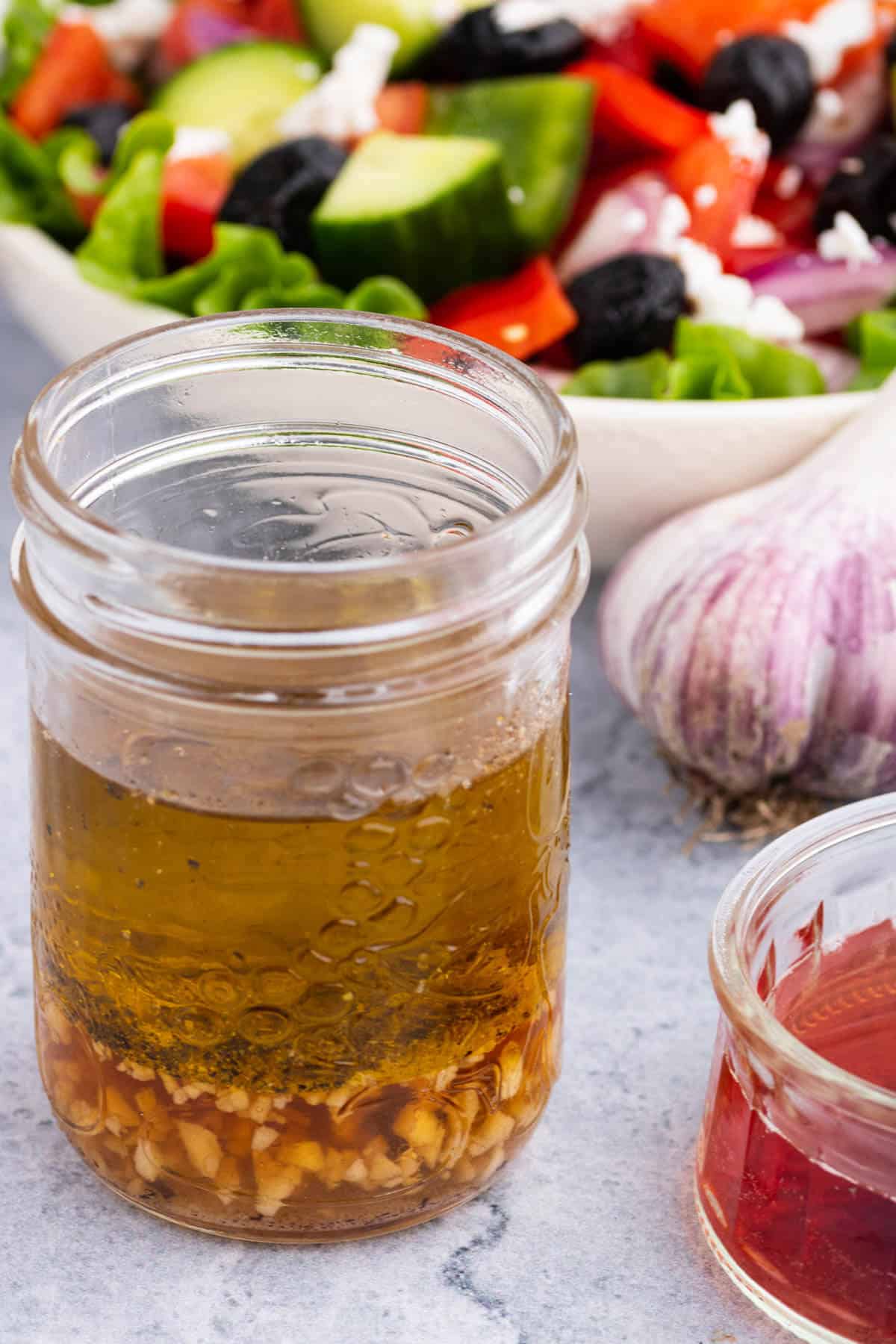 What is an Emulsion?
After the ratio, emulsification is the second most important part of making a vinaigrette. However, don't let that scare you. It simply means a mixture of two unmixable liquids. WHAT?
Compare the photos above and below, then allow me to explain. In the above photo you can see distinct layers of red wine vinegar (where the garlic and mustard reside) and the oil. The pepper and salt are floating along blissfully in suspension between the two.
In the photo below, the vinaigrette is a mostly continuous mixture, though you can still see some droplets of oil that haven't become totally emulsified.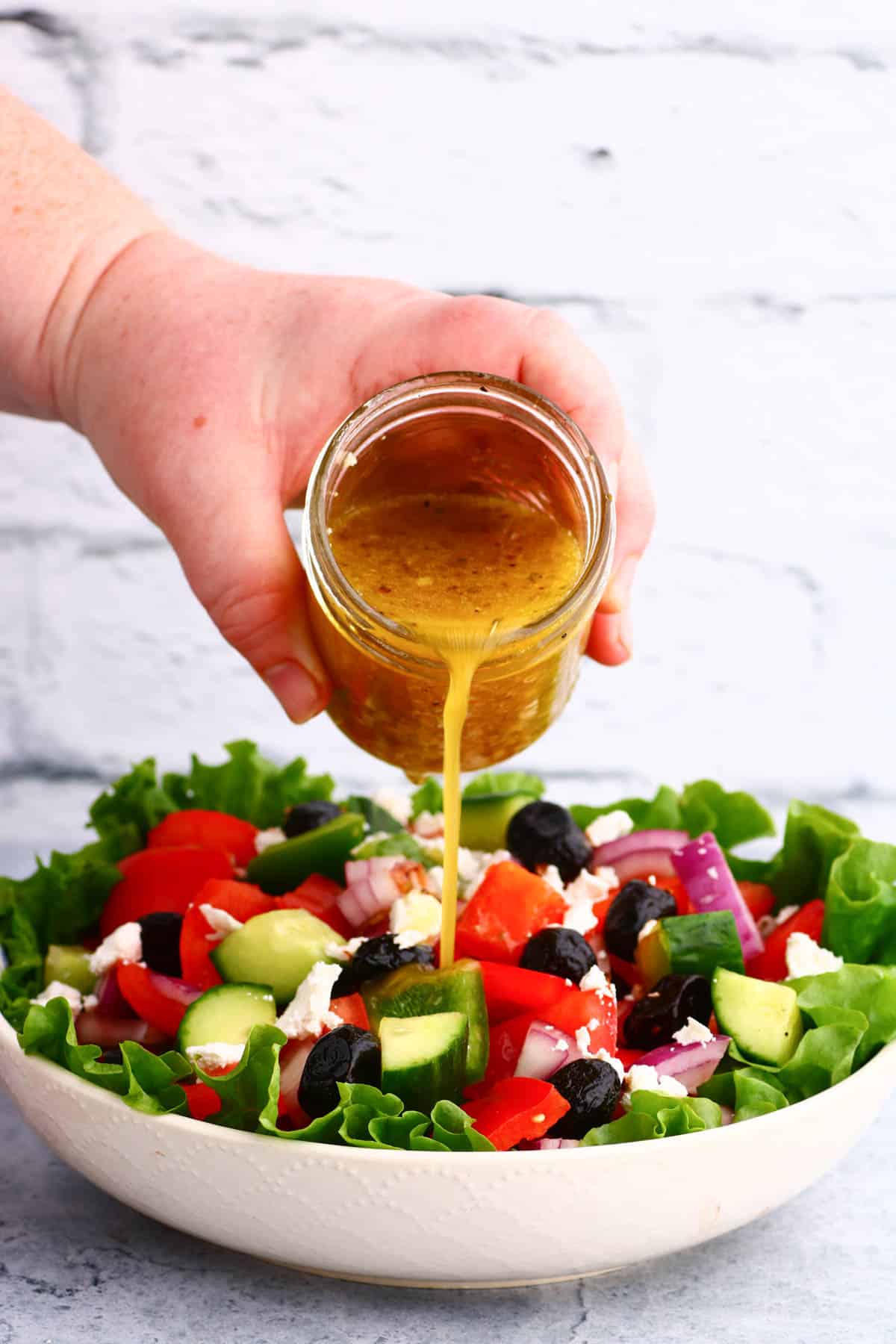 The easiest way to get oil and vinegar to mix (or emulsify) is to shake it, baby!! The agitation briefly breaks up each liquid and allows them to become surrounded by each other.
However, because of the natural properties of the two liquids, this emulsification is only temporary. Left alone, the dressing will quickly begin to separate again. Have no fear, there is a way to slow this separation. Enter Dijon mustard.
Dijon mustard acts as an 'emulsifier'. This means it helps to keep the oil and vinegar together for a longer period of time, though not forever. Other emulsifiers may include egg yolk and other proteins, and soy lecithin (which is used in store bought dressings).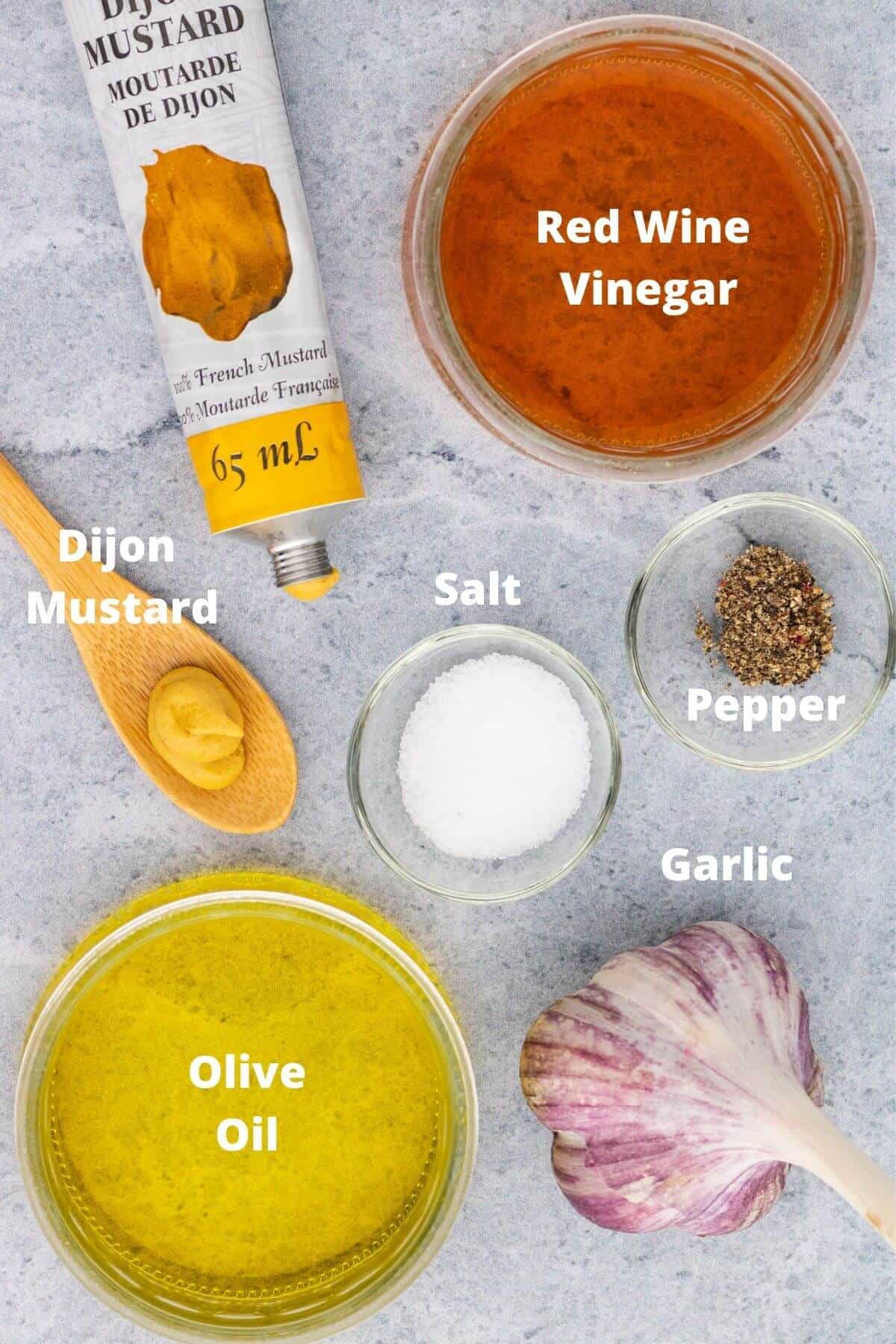 How to Make a Red Wine Vinaigrette
Now that you know the ingredients and their properties, whipping up this vinaigrette is fairly straightforward. There are two methods you can use and both will result in a nicely emulsified Red Wine Vinaigrette.
The more complicated or 'cheffy' method is to place red wine vinegar, minced fresh garlic, Dijon mustard, salt, and pepper in a small bowl. Whisk them together, then whisk vigorously as you pour the olive oil in a very thin stream.
The easiest way is to place all ingredients in a small mason jar, screw the lid on tightly and shake vigorously for 30 seconds. Feel free to use the method you prefer.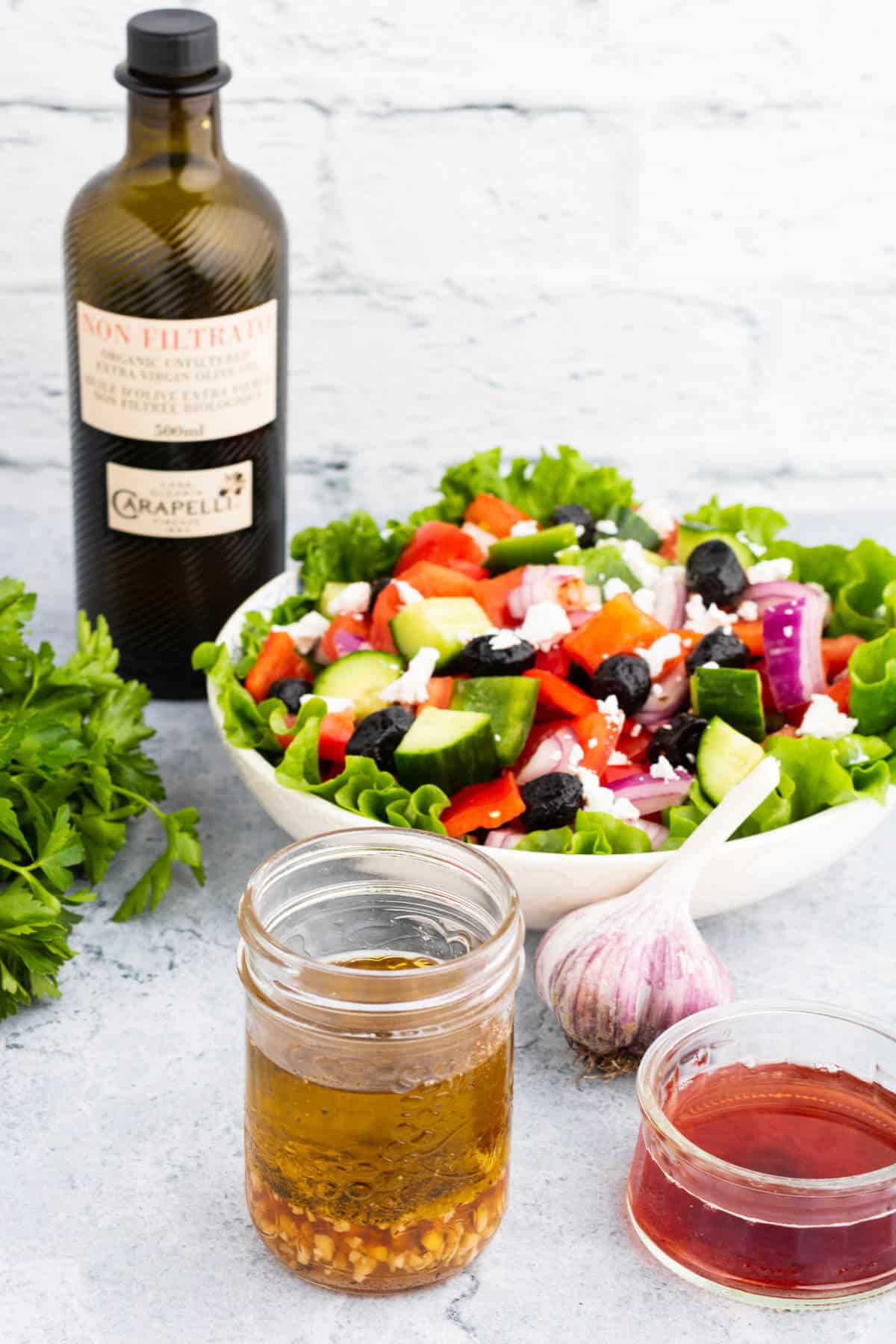 Which Oil is Best in a Vinaigrette?
Use the oil that you prefer. If you have a high quality olive oil and love the flavour, use it. However, many people prefer to add neutral vegetable oils such as soybean, canola, sunflower, safflower, peanut, or grape seed oil.
Vinaigrette Variations
Red Wine Vinaigrette is the most basic vinaigrette there is. There is joy to be found in its simplicity, especially when it contains the highest quality ingredients.
However, you can also think of it as a blank canvas and use it as a base for other vinaigrette variations. Here are a few ways to jazz it up:
chopped shallots
fresh or dried herbs such as oregano, basil, parsley, dill, or tarragon
yellow or honey mustard
apple cider, malt, white, rice, or balsamic vinegar
lime or lemon juice instead of vinegar
nut-based oils (such as walnut or sesame) for a pronounced nutty flavor.
tahini
fruit such as strawberries, blueberries, haskaps, or raspberries.
cheese whey (protein-rich emulsifier)
cheese such as Parmesan or Feta
sherry instead of vinegar
chili flakes or chopped chilies for heat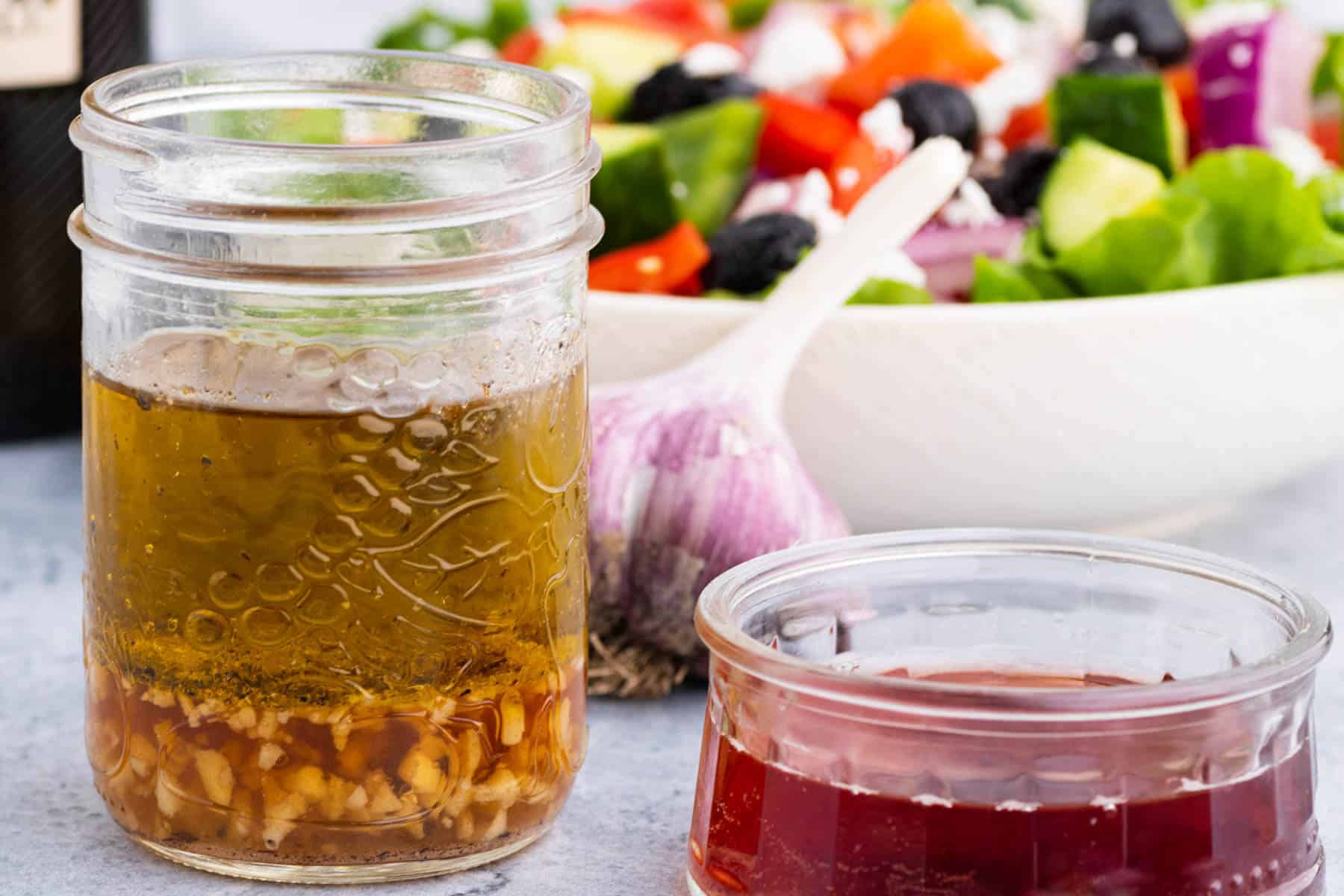 How to Serve Red Wine Vinaigrette
This basic vinaigrette is wonderful on a leafy green salad, marinated chopped vegetable salad, warm potato salad, coleslaw, or pasta salad. There really is no limit to its uses.
It also makes a great quick marinade for chicken or shrimp (think 15 minutes or less) or as a longer marinade for beef, pork, or lamb.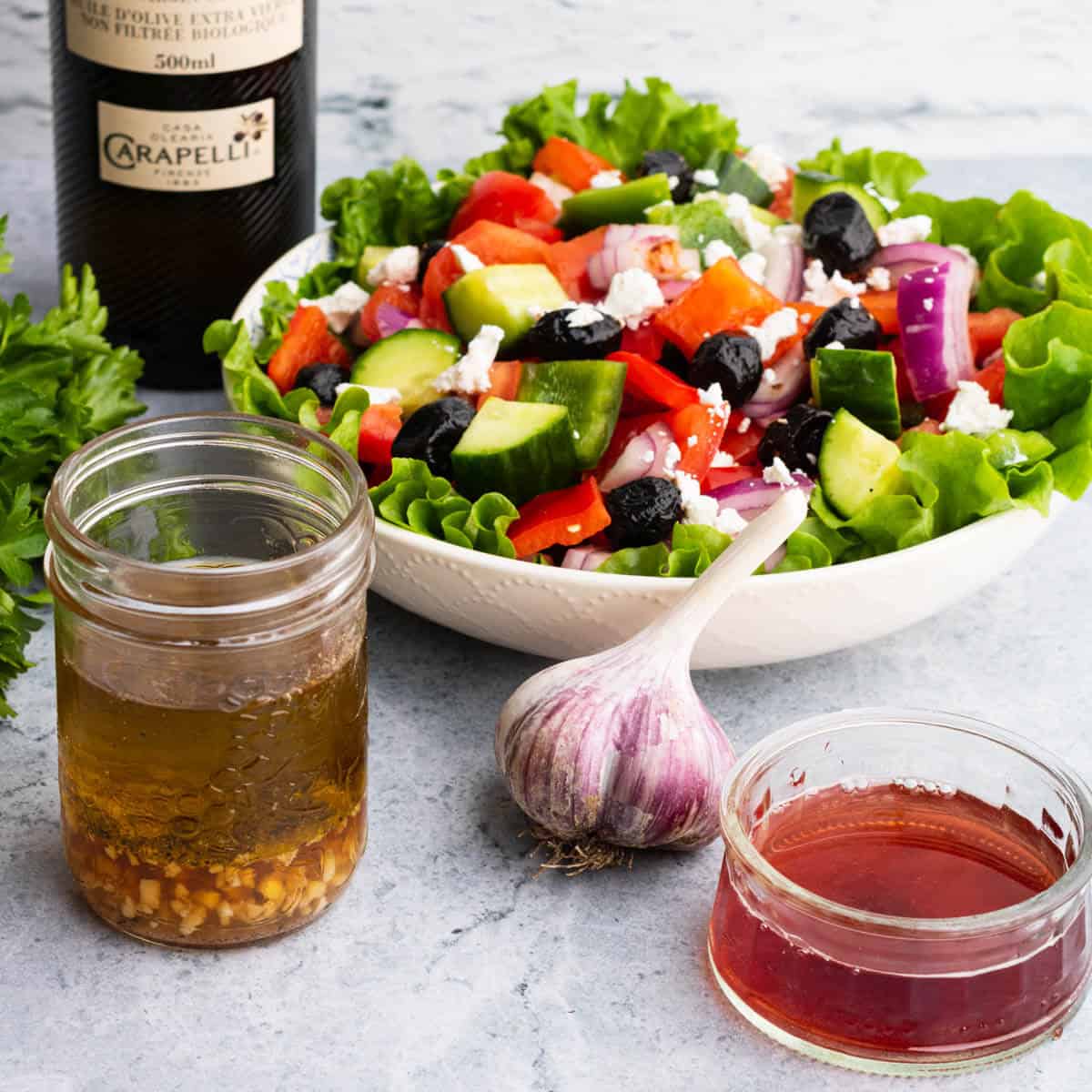 How to Store Red Wine Vinaigrette
A jar of basic Red Wine Vinaigrette will keep for up to two weeks when stored in a refrigerator. If it contains olive oil, the oil will solidify as it cools. It will liquefy once again as it warms back up to room temperature.
The oil and vinegar will likely have separated during storage so give the jar a good shake and pour to your heart's content.
Pin it HERE!!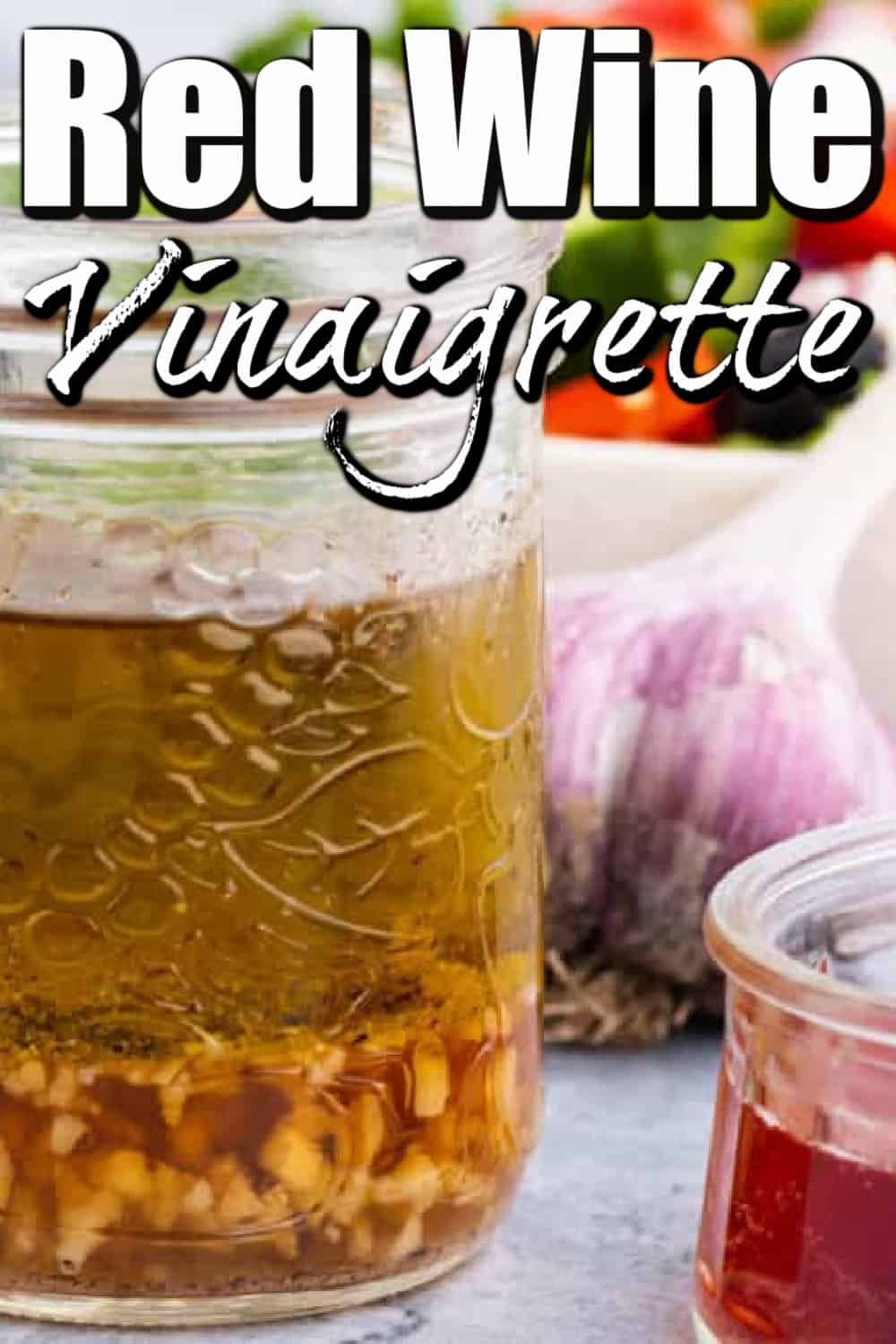 Pin it HERE!!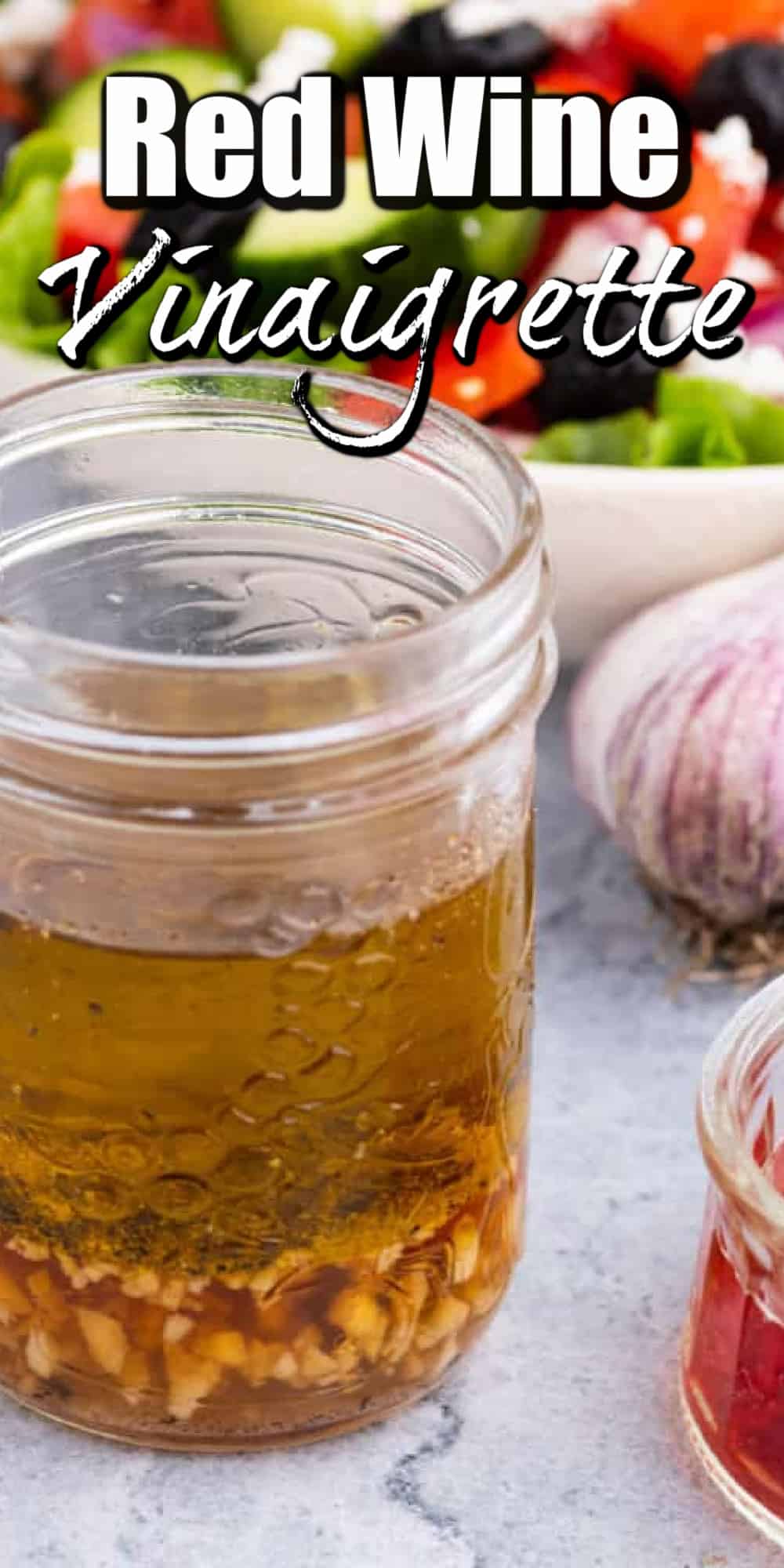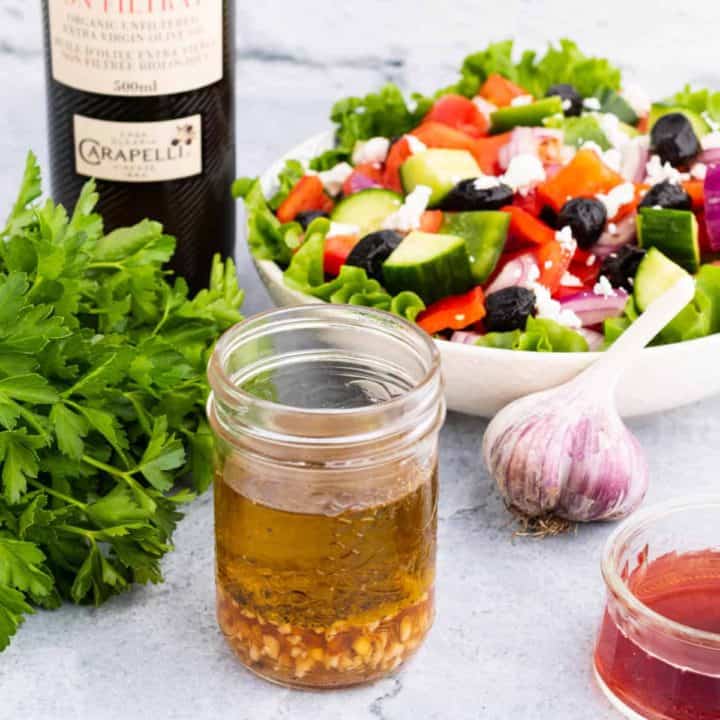 Basic Red Wine Vinaigrette
Yield: 3/4 cup
Prep Time: 5 minutes
Total Time: 5 minutes
Red Wine Vinaigrette is a quick and easy salad dressing with a wonderful zesty flavour, suitable for dressing salads or as a marinade.
Ingredients
1/4 cup red wine vinegar
1/2 cup olive oil
1 tsp dijon mustard
1 garlic clove; finely minced
1 tsp salt
freshly ground pepper to taste
Instructions
Place red wine vinegar, garlic, Dijon mustard, salt, and pepper in a bowl.
Pour the olive oil in a thin steam into the bowl while whisking vigorously. Use immediately.
OR
Place all ingredients in a small jar, screw the lid on tightly and shake vigorously for 30 seconds. Use immediately.

Recommended Products
As an Amazon Associate and member of other affiliate programs, I earn from qualifying purchases.
Nutrition Information:
Yield: 4
Serving Size: 3 tbsp
Amount Per Serving:
Calories: 245
Total Fat: 27g
Saturated Fat: 4g
Trans Fat: 0g
Unsaturated Fat: 23g
Cholesterol: 0mg
Sodium: 617mg
Carbohydrates: 1g
Fiber: 0g
Sugar: 0g
Protein: 0g