This decadent, Delicious Chocolate Tart with Raspberries is a perfectly balanced recipe with a rich chocolate ganache and a raspberry jam on a buttery crust. This is a simple dessert to make and impress your guests. It is perfect for the chocolate lovers of your life. Don't you just love a rich and yummy chocolate dessert? They always get you to rave reviews. For another great tart try our Terrific Treacle Tart.
If you don't know how to make a tart shell, this is a great opportunity to learn. The ganache filling is very easy to prepare, and so is the fruit jam below it that you can adapt depending on the season or your taste.
Hi there, It's Melanie from Bon Appét'Eat. It's been a lot of fun to be part of the Noshing with the Nolands team. As you may know by now, we have a sweet tooth, but we also are chocoholics! This super decadent almond flour chocolate cake and this chocolate lava cake for 2 are the proofs!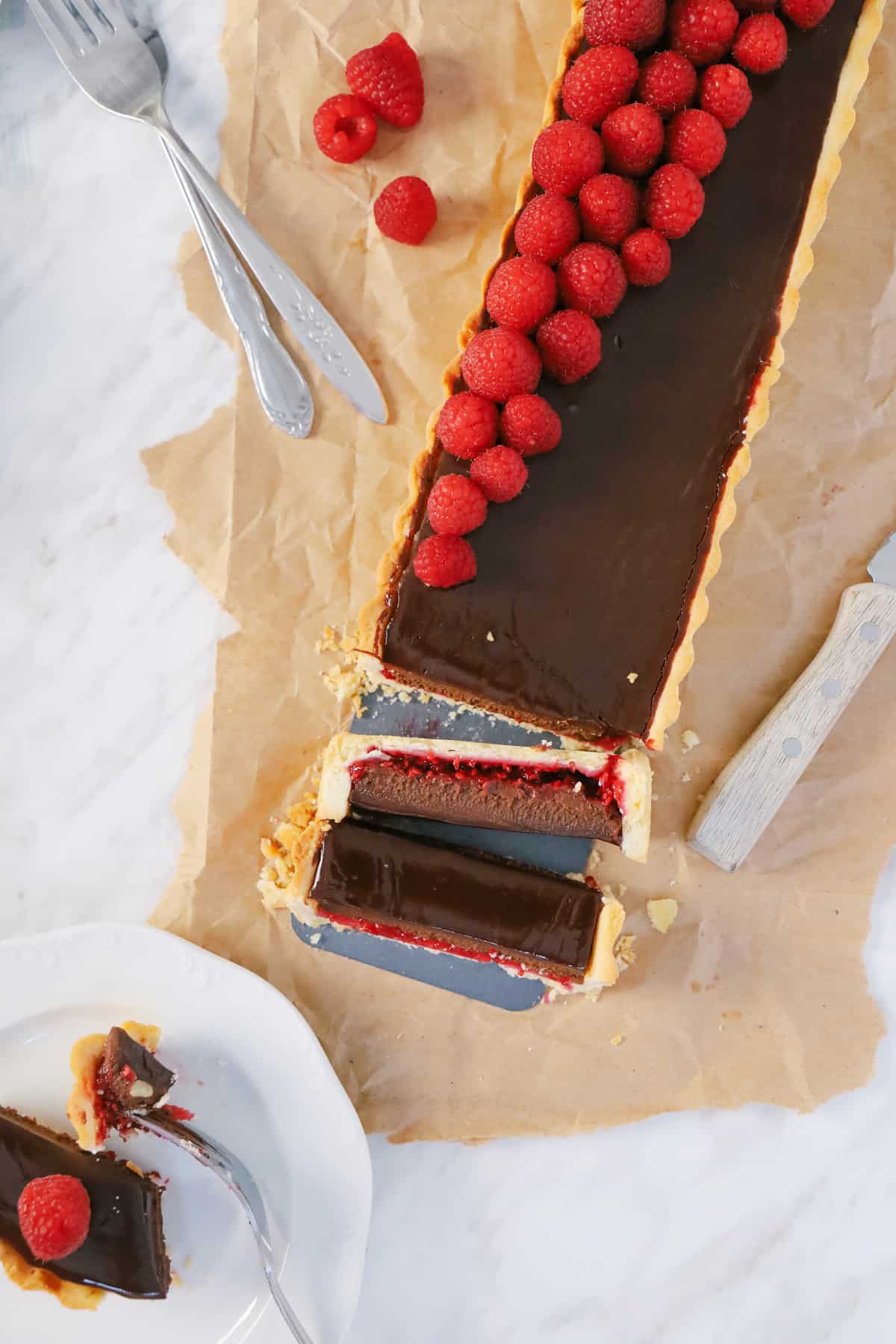 Given the few steps of this recipe, I have them down below to explain, but I have answered all your potential questions at the bottom of this post, before the recipe. I hope it will help you enjoy your baking experience!
Helpful Items for This Recipe
This post contains affiliate links. As an Amazon Associate, I earn a small portion from qualifying purchases at no extra charge for you.
Extra Long Non-Stick Tart and Quiche Pan
What is a Tart
A tart is a pastry crust filled with a sweet or savoury filling. If sweet, it can be a custard, ganache or fruit. It can be a pie crust, a sweet pie crust or a shortbread pastry crust.
A savory tart consists of vegetable filling or an egg base mixture into the pastry crust to make a quiche.
A tart, as opposed to a pie, does not have another layer of crust on top, like this chicken pot pie.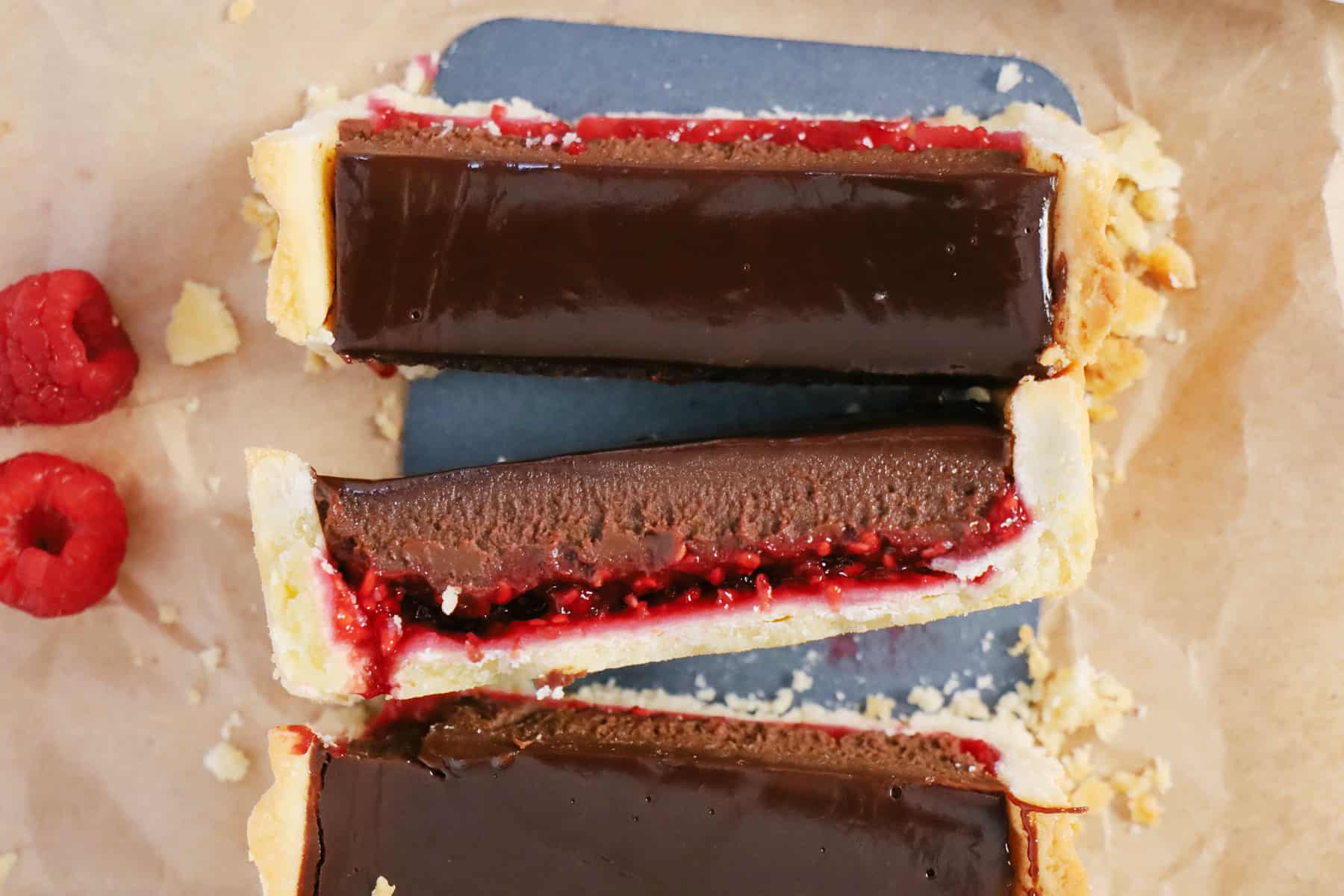 How to Make a Chocolate Tart
This chocolate tart recipe is broken down into 3 main steps: the crust, the fruit jam, and the dark chocolate filling.
The Crust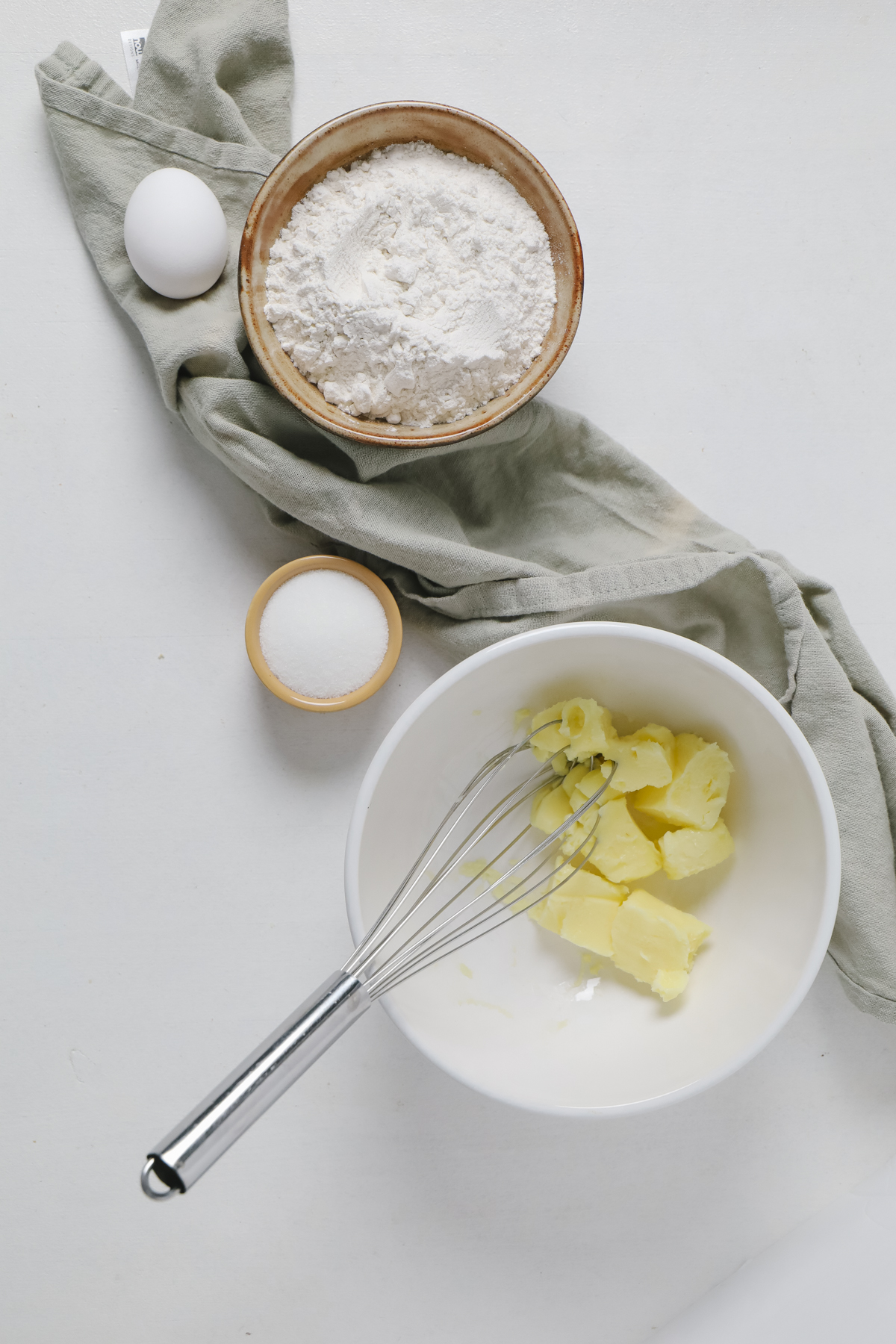 You may have tried making my easy pastry crust from scratch with my peach pie recipe. This is a great recipe to know!
For the crust, you will need some soft butter, sugar, eggs, and flour. You will cream the butter with the sugar, then add in the egg and mix some more until it has a very creamy appearance.
Then, in another large bowl or a clean surface, make a well with the flour and pour the mixture in. Fold in with a spatula or bench scraper if you have one until the dough is smooth. Wrap it in cling wrap and let it rest in the fridge for 30 minutes.
Roll the dough on a lightly floured surface. To transfer your pie dough to your dish, roll your dough onto the rolling pin and unroll it on the pie plate. Cut the excess with a knife.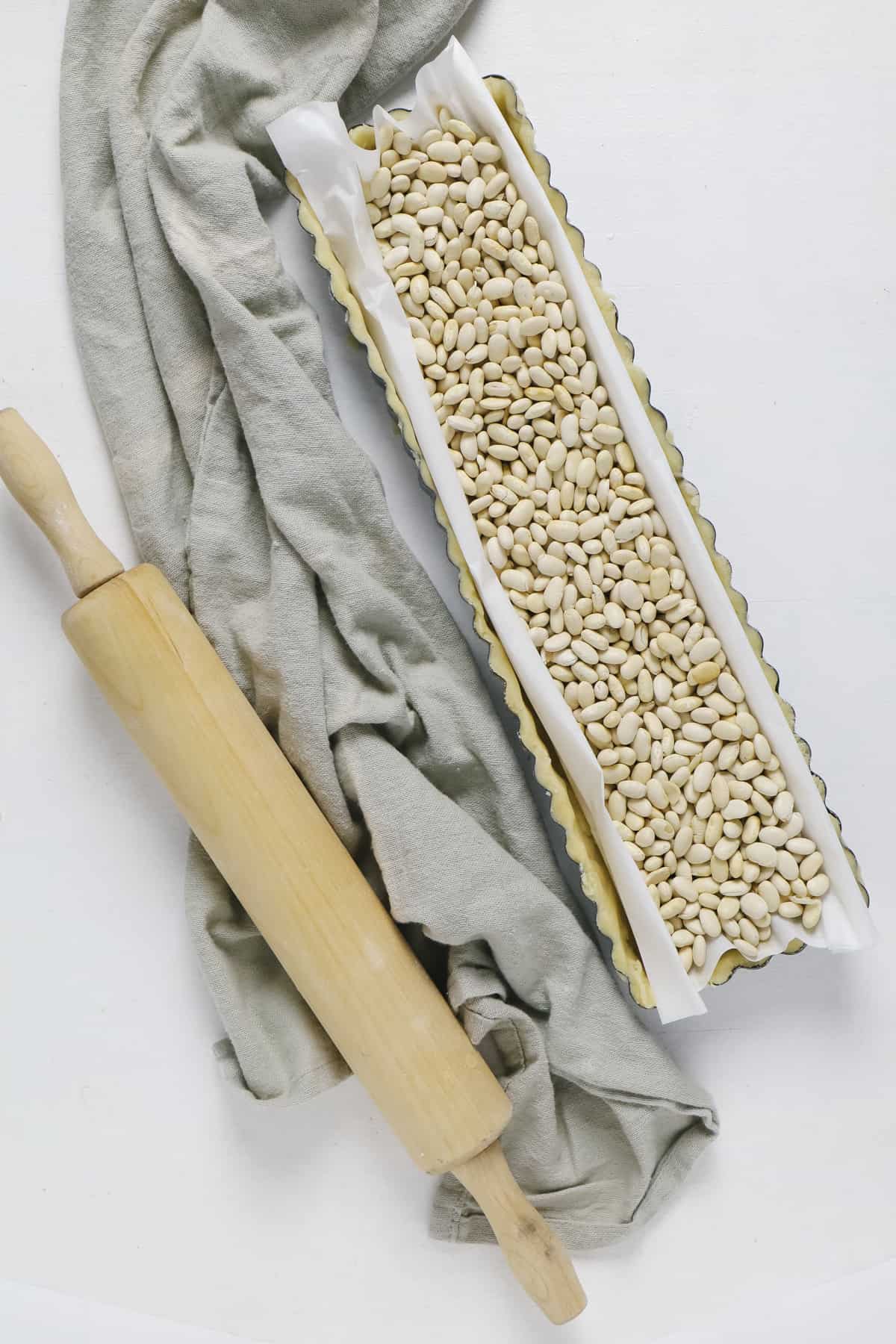 Now, we will blind-bake this butter crust. Place a parchment paper on your crust and fill it up using some metal or ceramic beads or simply some dry beans like I did. Bake for 15 minutes and allow to cool completely.
The Jam Filling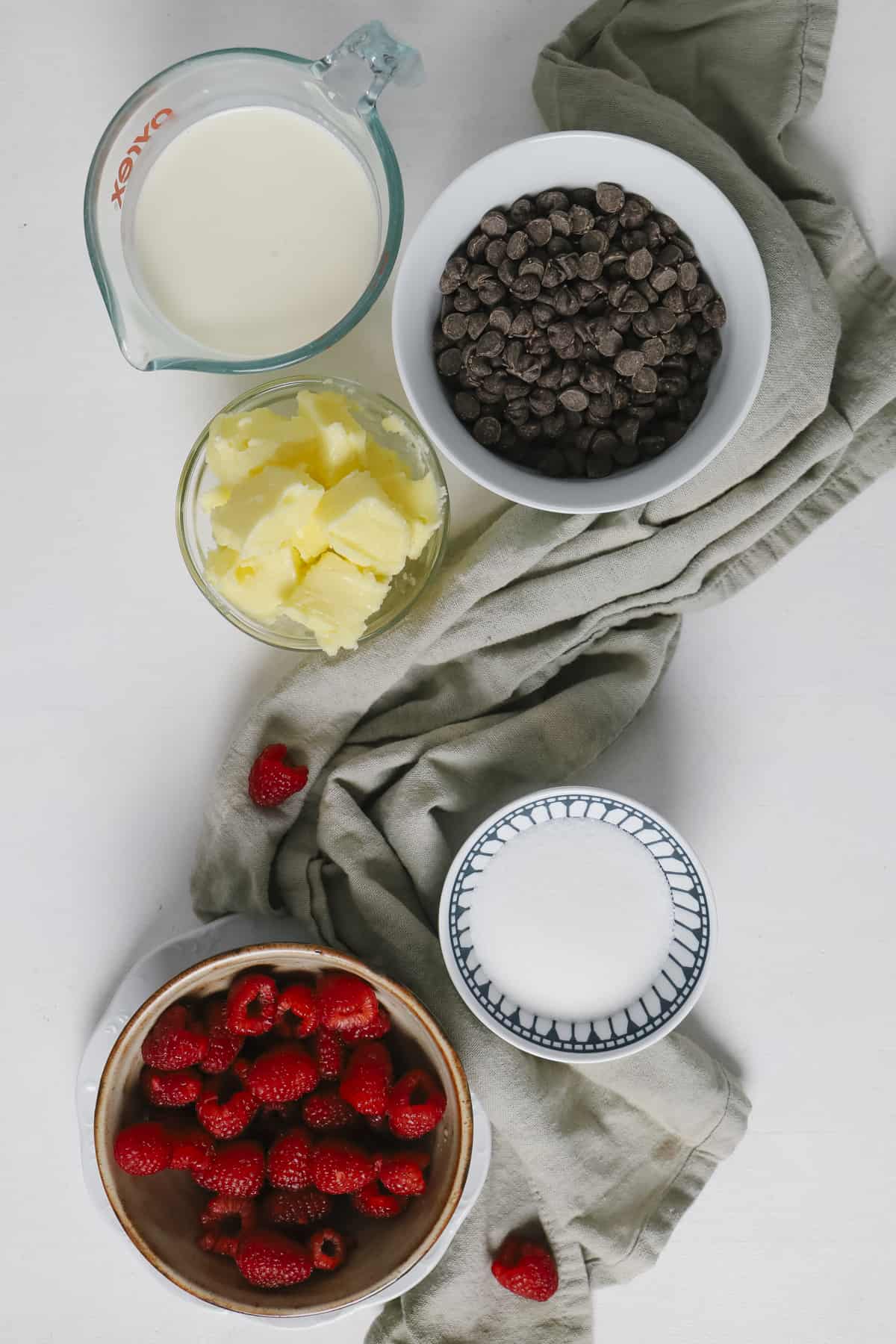 Next step, the raspberry jam and the chocolate ganache. The ingredients you will need are raspberries and sugar, and whipped cream, bittersweet chocolate and butter.
In a small saucepan, place the washed fruits and the sugar. Bring to a boil until the mix looks like a jam. Set aside and allow cooling to room temperature.
The Chocolate Filling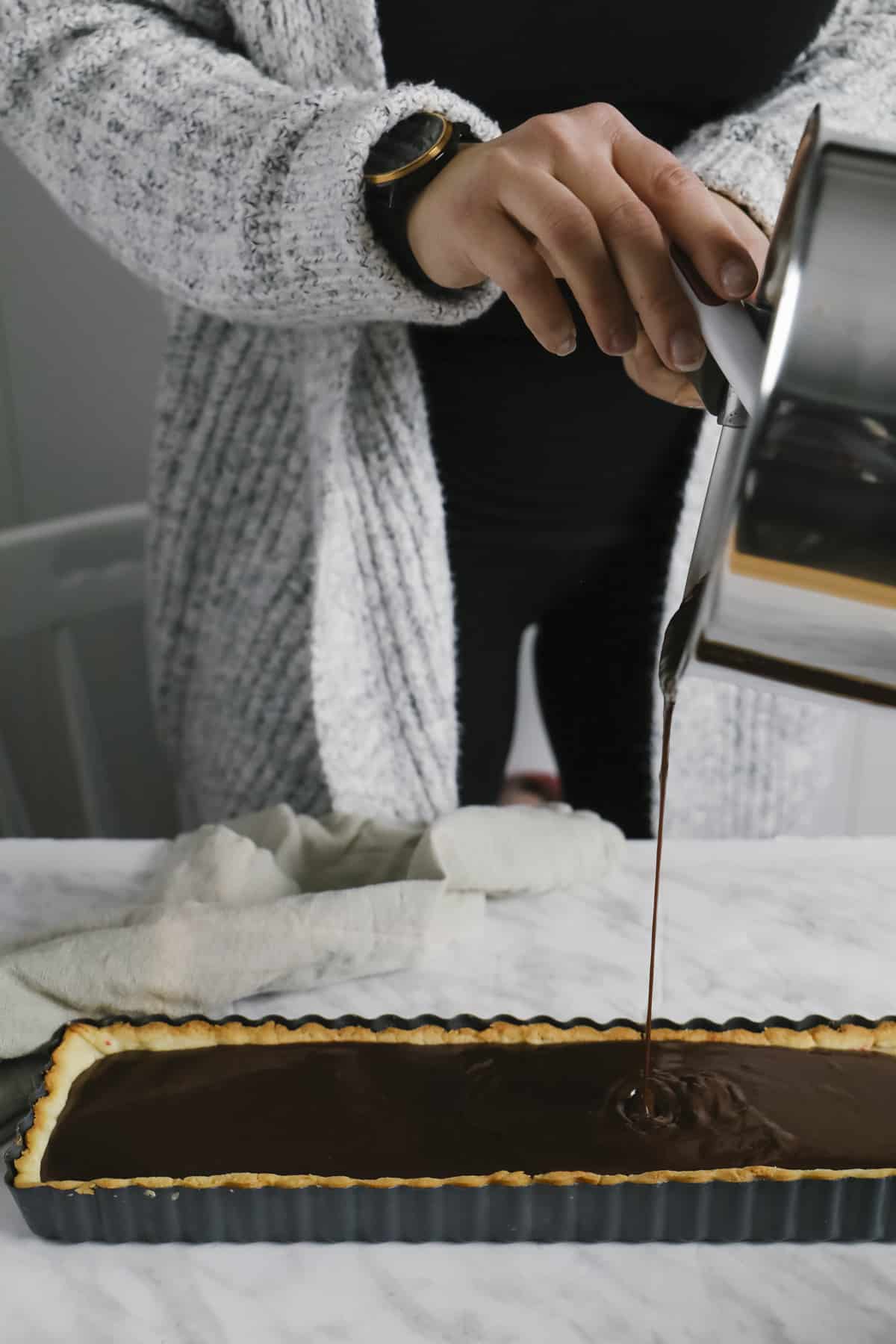 For the ganache, bring the cream to a boil, put in the chocolate chips and add the butter. Mix until smooth.
Assembling the tart: Spread evenly the raspberry jam at the bottom of the pie crust and then, pour the filling of the heavy cream and chocolate mixture.
This chocolate tart now needs to set for at least 4 hours in the fridge, ideally overnight.
How to Decorate a Chocolate Tart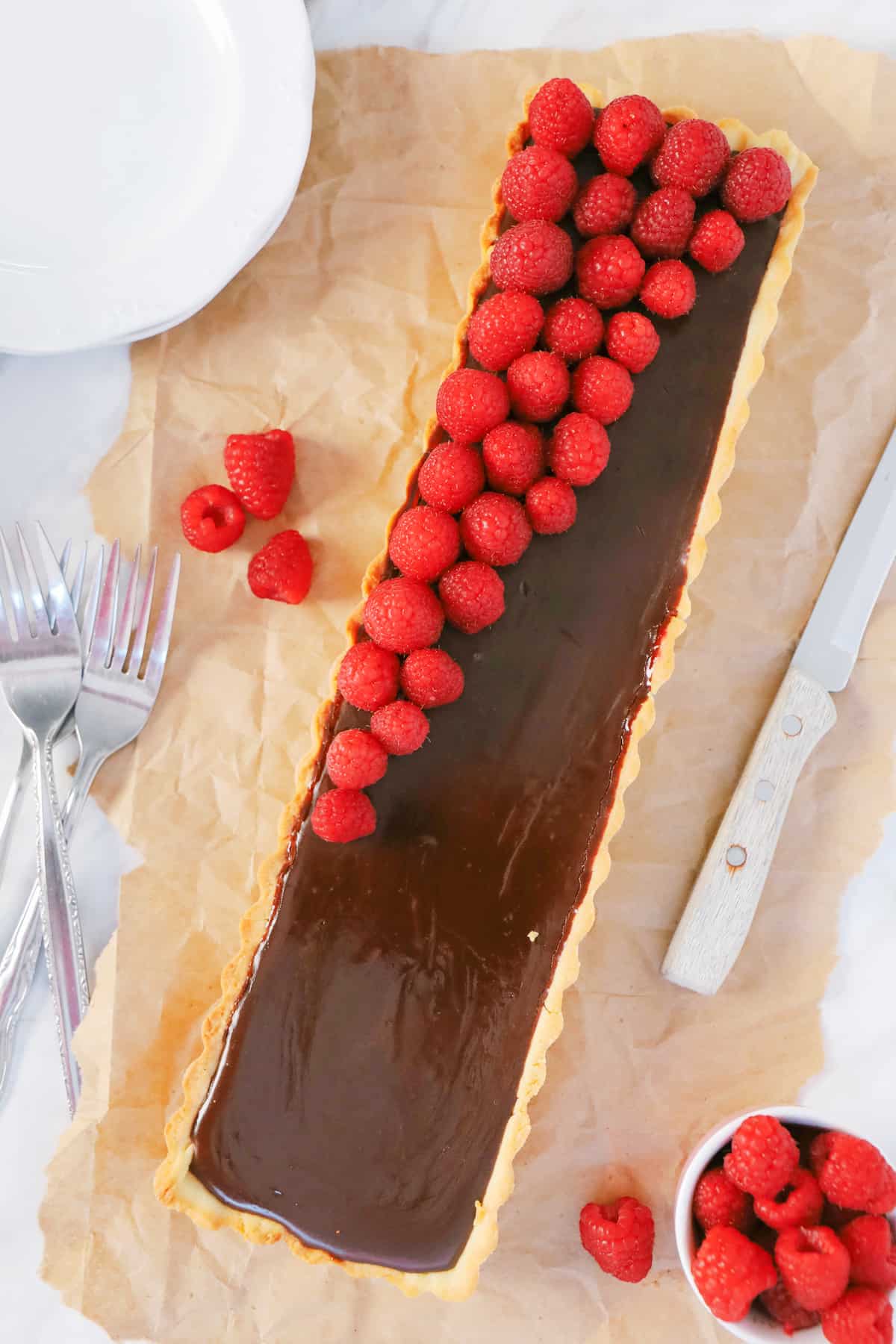 The options to decorate this tart are endless.
Fruits: Use the same fruits you made the jam with. These can swap around. The fruits on the tart add freshness and is a great addition to the rich chocolate.
Salt: Sprinkling some flaked sea salt is not only a great visual enhancement but also an amazing add on for your palate! Dark chocolate and salt is a winning combo!
Caramel: You can spread some dulce de leche or caramel at the bottom of the crust and then decorate with some Almond Roca. You can place some pieces to only half of the pie or randomly drop some all over. Or simply drizzle some caramel sauce!
Helpful Baking Questions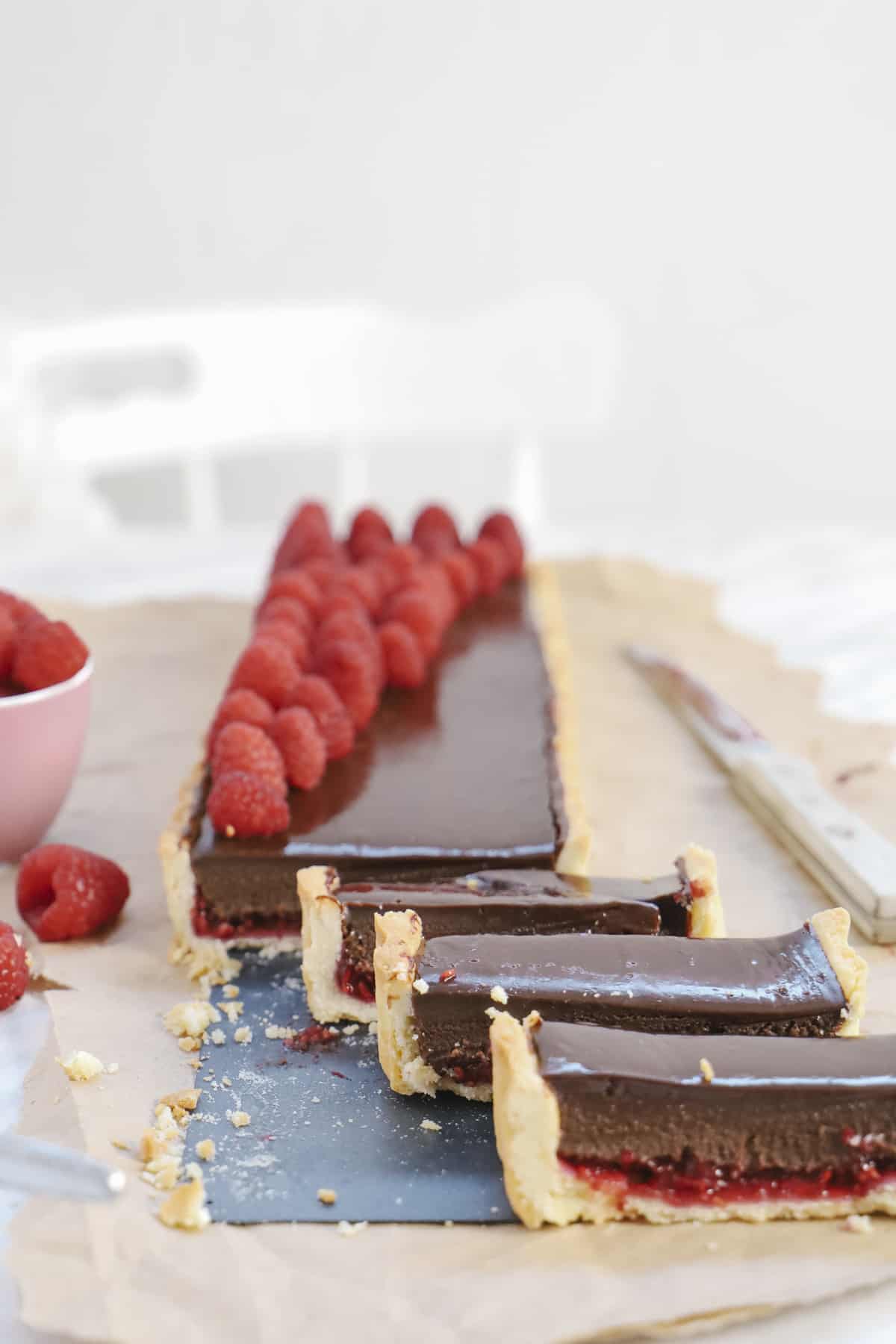 I don't have dark chocolate, can I use milk chocolate? Sure! This is a very adaptable recipe!
Can I use real jam instead of the fruits? If you wish but it will change the sweetness of this dessert. If you don't have fresh fruits, the alternative would be frozen fruits for me.
Why did my chocolate tart not set? You did not let it set in the fridge long enough. Once cooled, the butter, cream and chocolate will set properly and allow to be cut into slices.
How long do chocolate tarts last? You can save the tart up to 3 or 4 days in the fridge if it lasts that long!
Can you Freeze a Chocolate Tart? I have never done it myself, but I know that the crust can be frozen, and so can the ganache. I would advise to freeze them separately, and once thawed out completely, assemble it.
More Questions Answered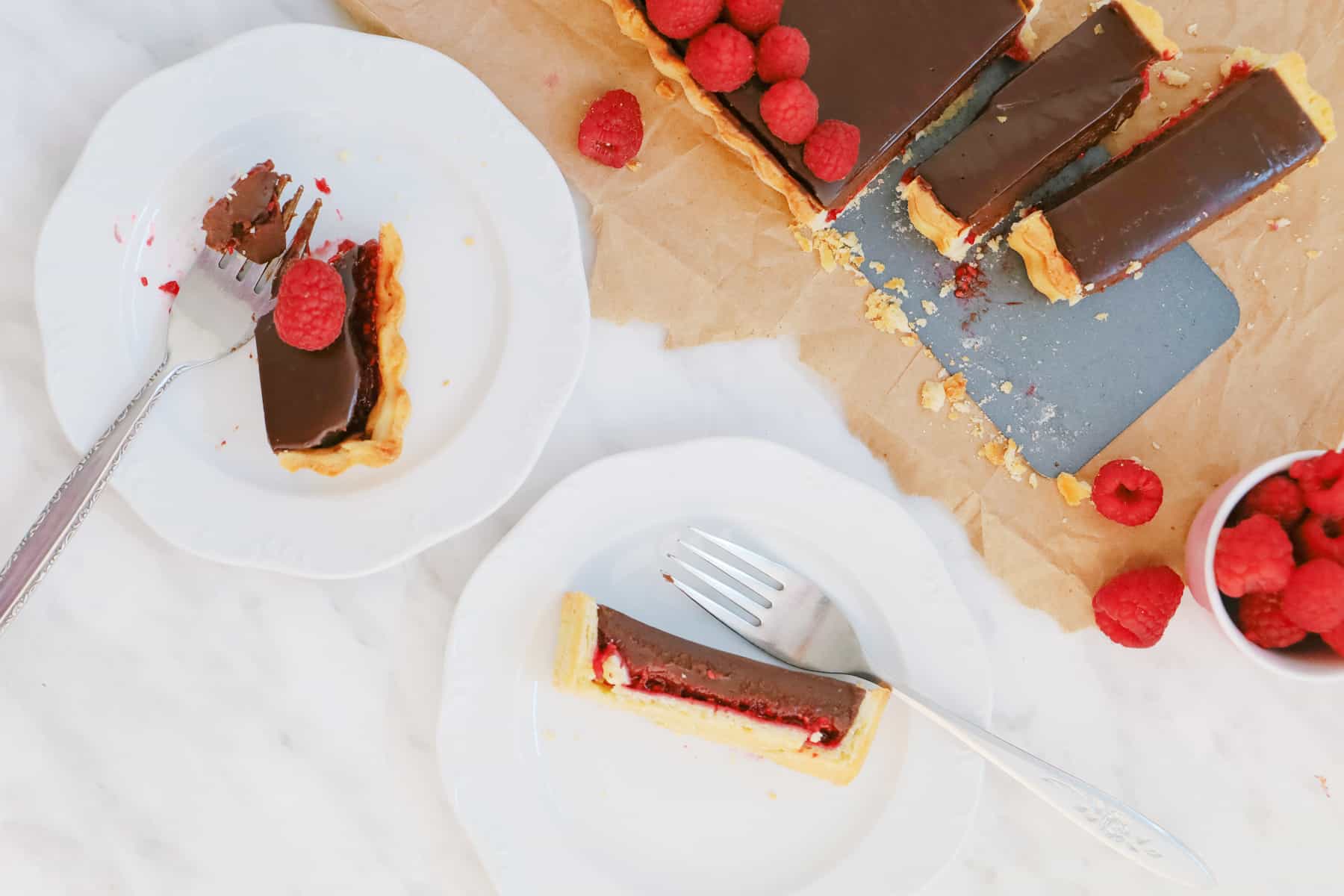 My butter is hard for my pastry crust, shall I melt it? Absolutely not! If you wish to make this recipe but the butter was in the fridge, simply grate it with a cheese grater and it will soften very quickly.
Why do I need to use beads or dry beans to blind-bake my crust? If you do not put anything, your crust may create a bubble or shrink. I don't have beads but use some dry beans. You can't cook with them afterward; you can save them in a jar for the next blind-baking.
Can I just bake my dough without letting it rest in the fridge? I recommend not skipping these steps. Use this time to prepare the ingredients for the next steps, do some dishes; time will pass by quickly. Putting your dough in the fridge will give you a flaky crust and will prevent shrinking.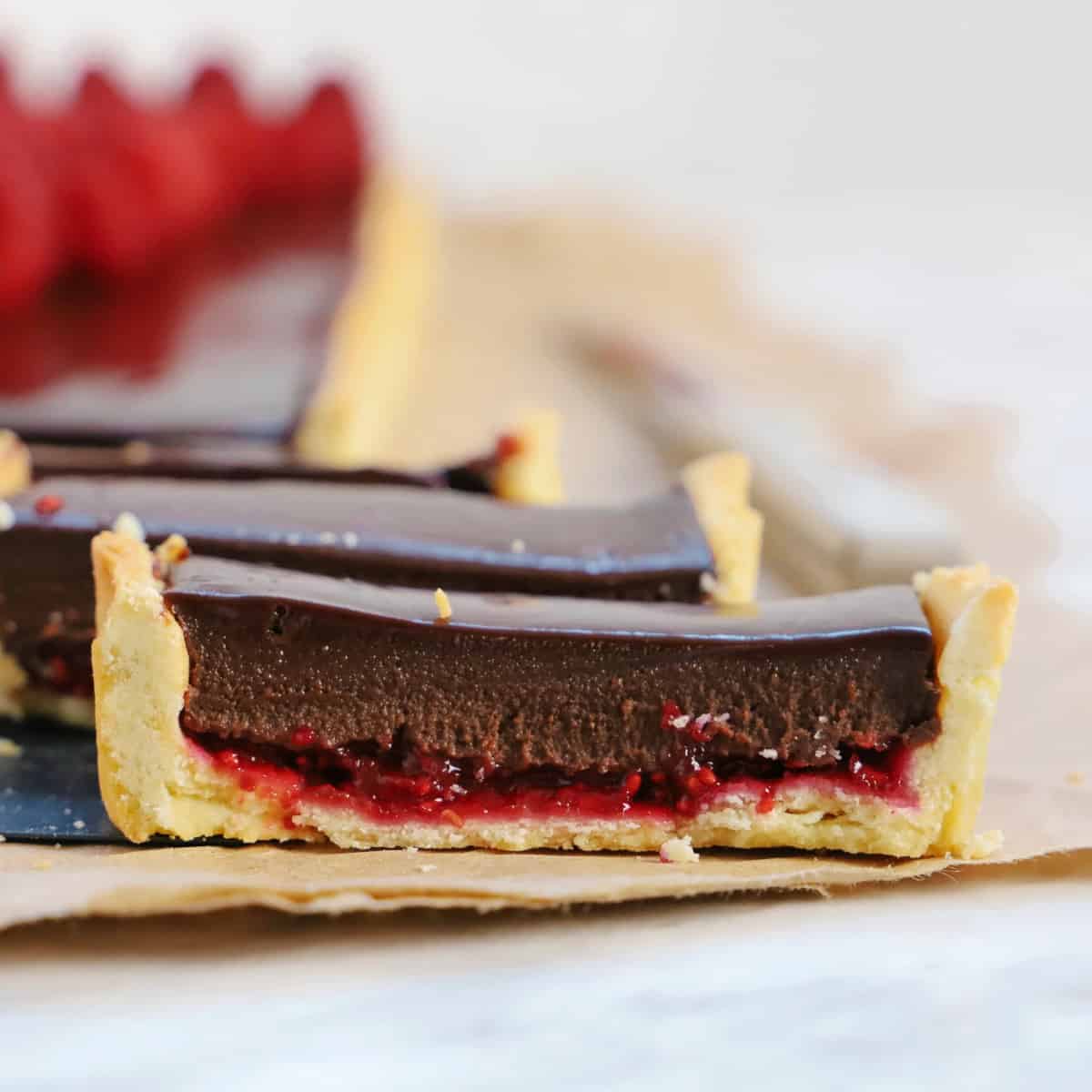 Pin it HERE!!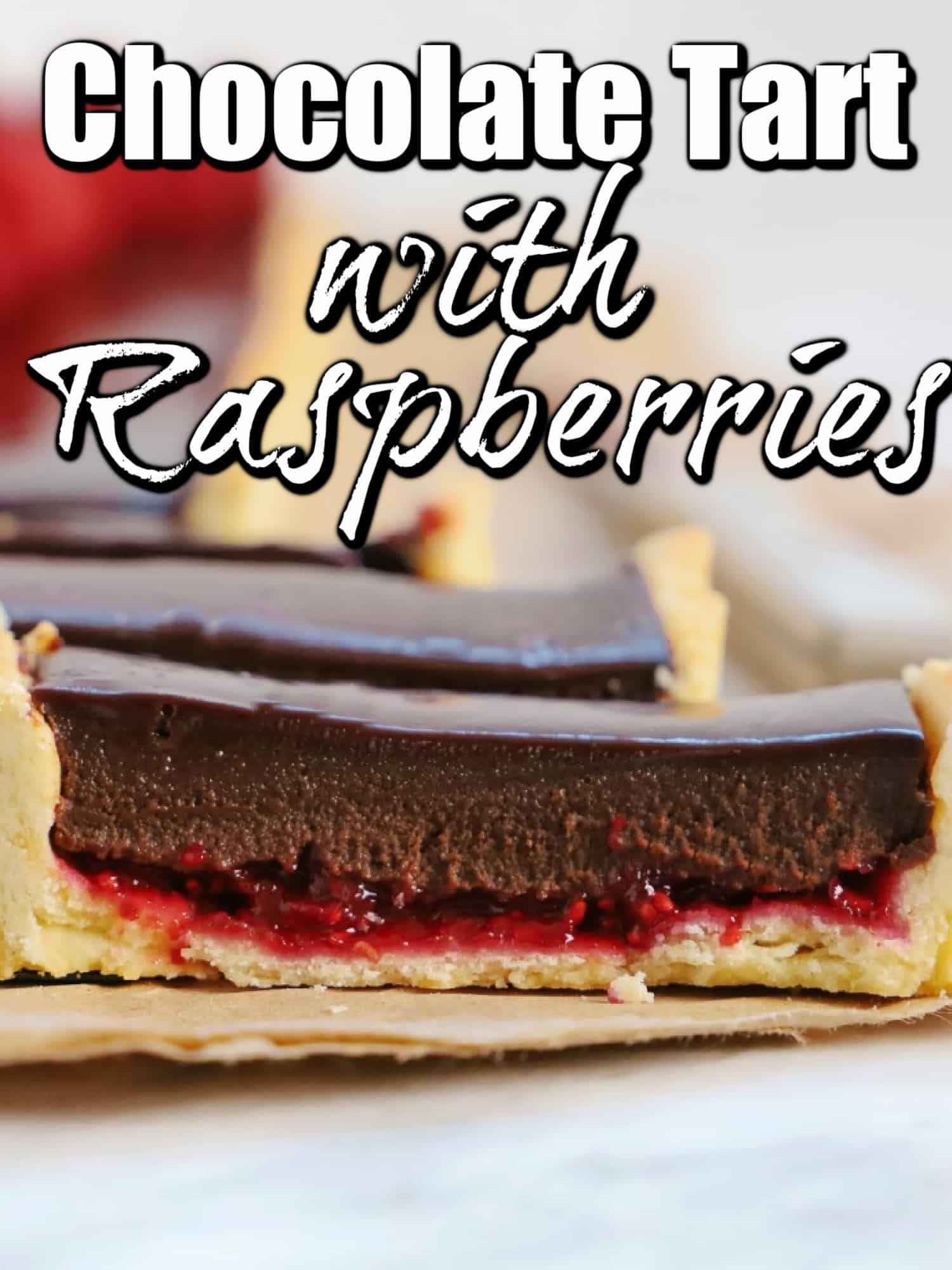 Pin it HERE!!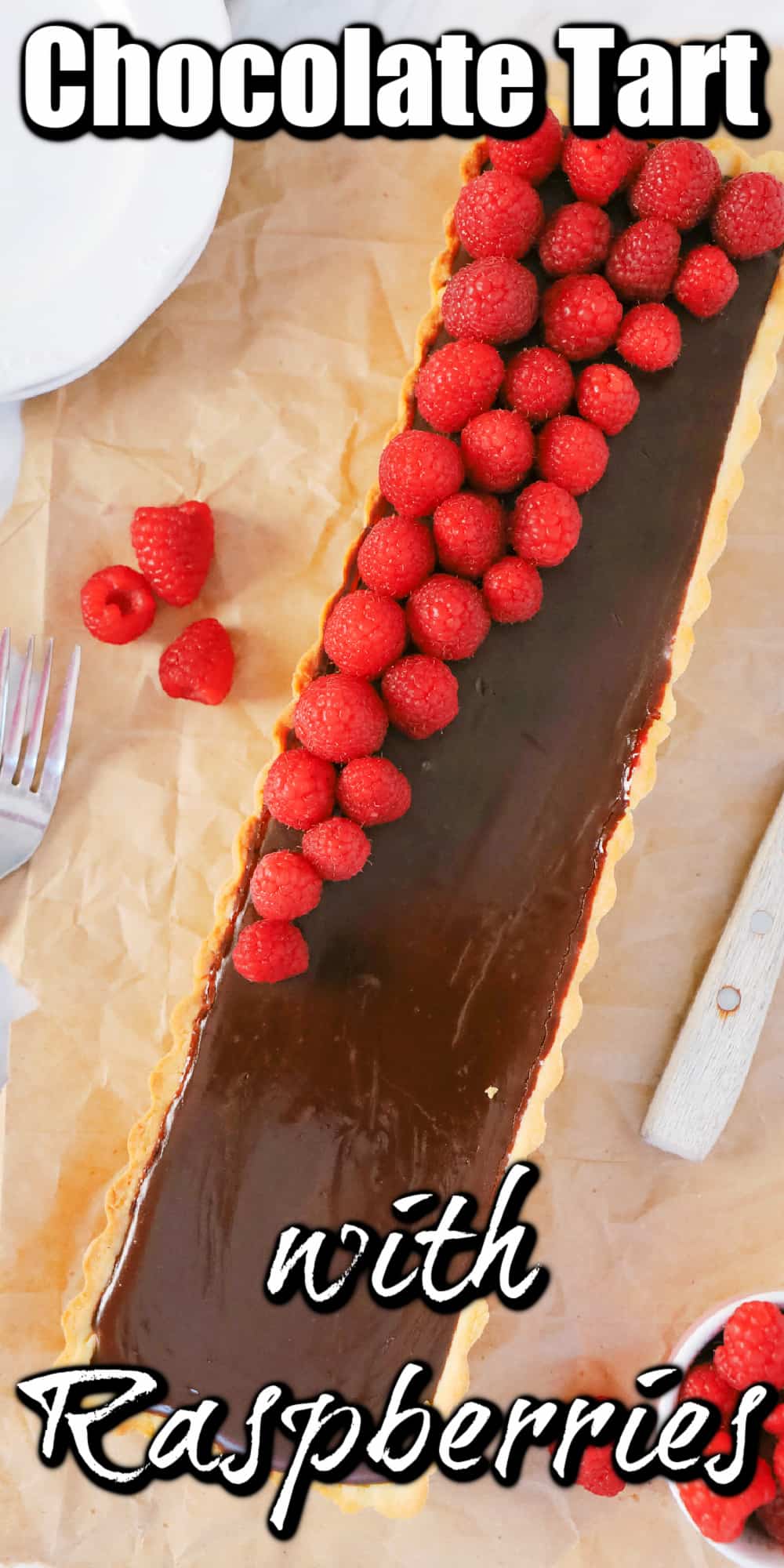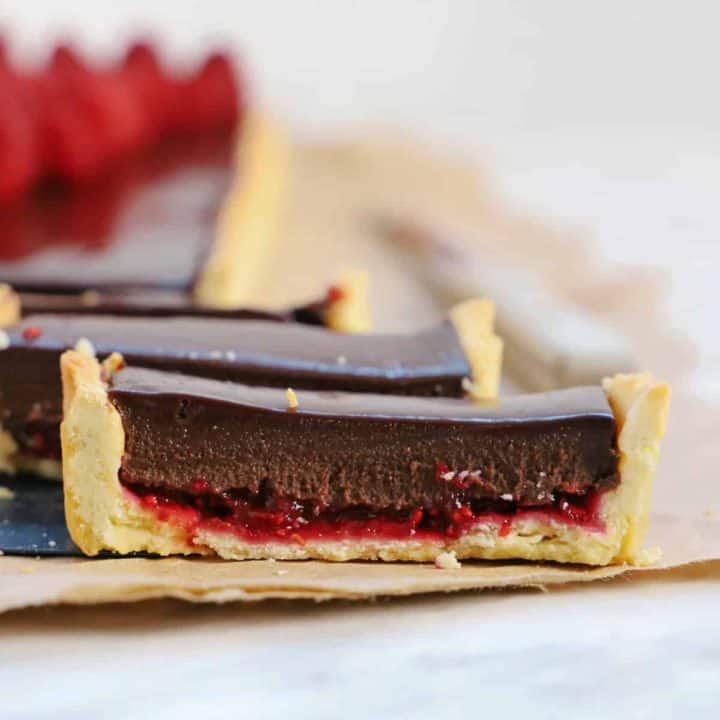 Chocolate Tart with Raspberry Jam
Yield: 8 slices
Prep Time: 30 minutes
Cook Time: 15 minutes
Additional Time: 4 hours
Total Time: 4 hours 45 minutes
This delicious, decadent chocolate tart is a perfectly balanced recipe with a rich chocolate ganache and a raspberry jam on a buttery crust.
Ingredients
Pie Crust
1/2 cup of butter, softened
1/4 cup of granulated sugar
1 and 1/3 cup of flour
1 egg, medium size, beaten
Raspberry Jam
1/2 pint of raspberries, washed
1/2 cup of granulated sugar
Chocolate Ganache
1 cup of chocolate chips, dark
1 cup of heavy cream
1/2 cup of butter
Instructions
FOR THE PIE CRUST:
- Preheat the oven to 375F.
- In a small bowl, cream the butter with the sugar. Add in the beaten egg. Mix well.
- In a separate bowl, pour the flour and put the egg/butter mix in the middle. Fold in everything together. Using a spatula, fold the flour and pretend to cut in the middle with the tip of your spatula to incorporate the flour. Repeat this gesture until your dough is smooth. Set aside in the fridge for 20 minutes.
- Roll the dough on a lightly floured surface. Place it in your 4'' x 14 '' tart baking dish with a removable bottom.
- Cover the crust with parchment paper, add beads or dried beans, and blind-bake for 15 minutes or until golden.
FOR THE RASPBERRY JAM
- In a small saucepan, put in the raspberries and the sugar. Bring to a boil, then reduce to a simmer for 5-7 minutes or until the fruit is cooked and it has a runny jam consistency. It will thicken once cooled down.
FOR THE CHOCOLATE GANACHE
- In a saucepan, bring the cream to a boil. Removed from the stove and add the chocolate and the butter. Stir until melted.
- Allow to cool a little before pouring on the crust.
ASSEMBLING
- Spread the jam at the bottom of the pie crust.
- Pour the ganache in and spread evenly.
- Set aside for 4 hours or overnight.
- Decorate with fresh fruits. Enjoy!
Recommended Products
As an Amazon Associate and member of other affiliate programs, I earn from qualifying purchases.
Nutrition Information:
Yield: 8
Serving Size: 1
Amount Per Serving:
Calories: 519
Total Fat: 41g
Saturated Fat: 25g
Trans Fat: 1g
Unsaturated Fat: 13g
Cholesterol: 115mg
Sodium: 201mg
Carbohydrates: 40g
Fiber: 3g
Sugar: 32g
Protein: 3g
Recipe calculation was provided by Nutritionix and is an estimation only. If you need nutritional calculations for medical reasons, please use a source that you trust.