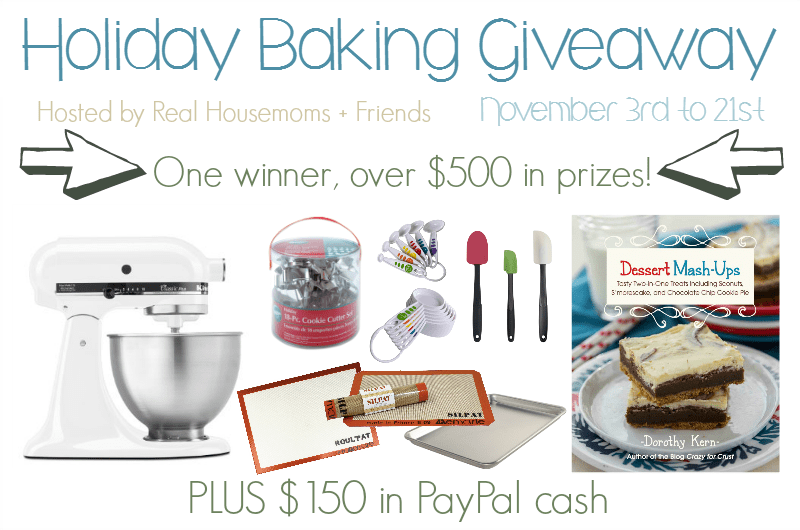 Fabulous isn't it? What a fantastic giveaway and I am thrilled to be part of it!! This is the first giveaway for Real Housemoms and wow, what a splash of prizes. Over $500 worth of prizes PLUS $150 in PayPal Cash to buy ingredients for your Christmas baking. The lucky winner will be all set for the holidays!! I brought Scrumptious Turtle Bars to the party today to celebrate the giveaway!!
I adore Christmas baking and always like to try something new. There are old standbys that my family would revolt if I didn't make but I like to sneak some new ones in too! We give away lots of our baking as gifts and everyone has always been grateful to receive it.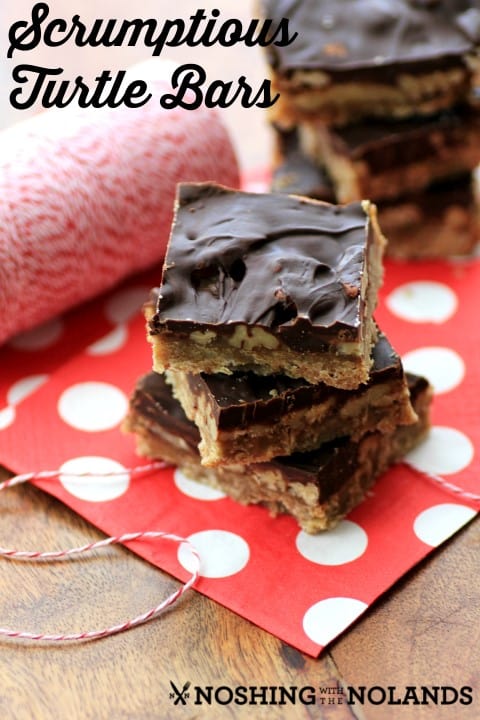 This is a new recipe for me to try this year. Well, what is there not to love. Yummy cookie bottom followed by a caramel nutty center and a rich chocolate topping. Turtles and the holidays are my favorite!!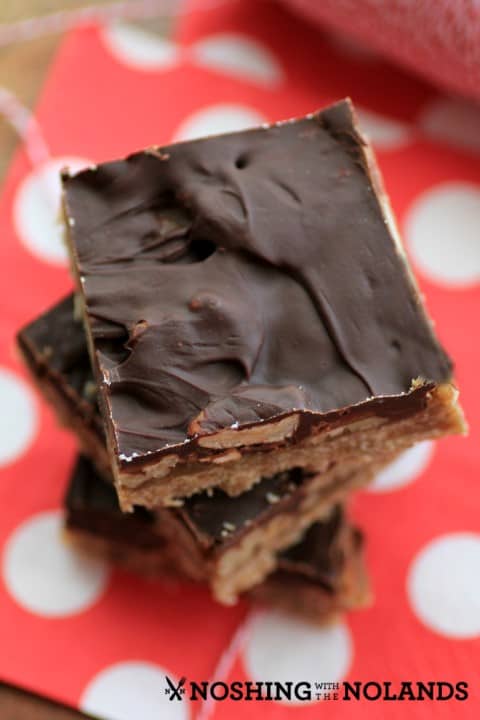 Here is the very easy recipe for you. I hope you try these and enjoy them as much as we did. They don't need to be refrigerated. Actually much better not!!
Scrumptious Turtle Bars 40+ Holiday Baking Recipes #Giveaway
Yield: 40
Scrumptious Turtle Bars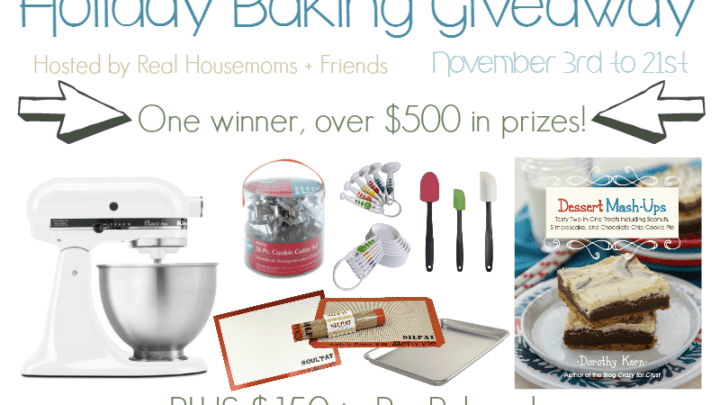 A holiday treat that you will want to add to your baking this year!!
Ingredients
2 cups flour
1 3/4 cups demerara sugar (or dark brown sugar), divided
1 1/4 cups butter, softened, divided
1 Tbsp. half and half cream
1 cup pecan halves
1 cup pecan pieces
2 cups semi sweet or milk chocolate chips
Instructions
Preheat oven to 350F. Mix flour, 1 cup demerara sugar and 1/2 cup butter together. Press it into a 9x13" pan and bake for 15 min.
Mix together the remaining 3/4 cup butter and 3/4 cup brown sugar with 1 Tbsp. half and half cream in a small sauce pan. Boil for 1 min.
Sprinkle pecans over the baked crust. Using the pieces and halves fill in nicely without over lapping. Pour the caramel over the crust. Bake for 20min.
Remove from the oven and sprinkle on the chocolate and wait 4 min. and then smooth out. If still not melted you can pop it back into the warm oven for a minute to finish melting. Smooth out the chocolate.
Let set completely and then cut into squares.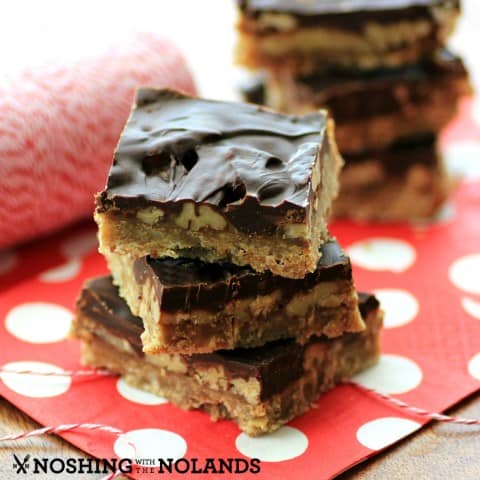 Back to the giveaway!!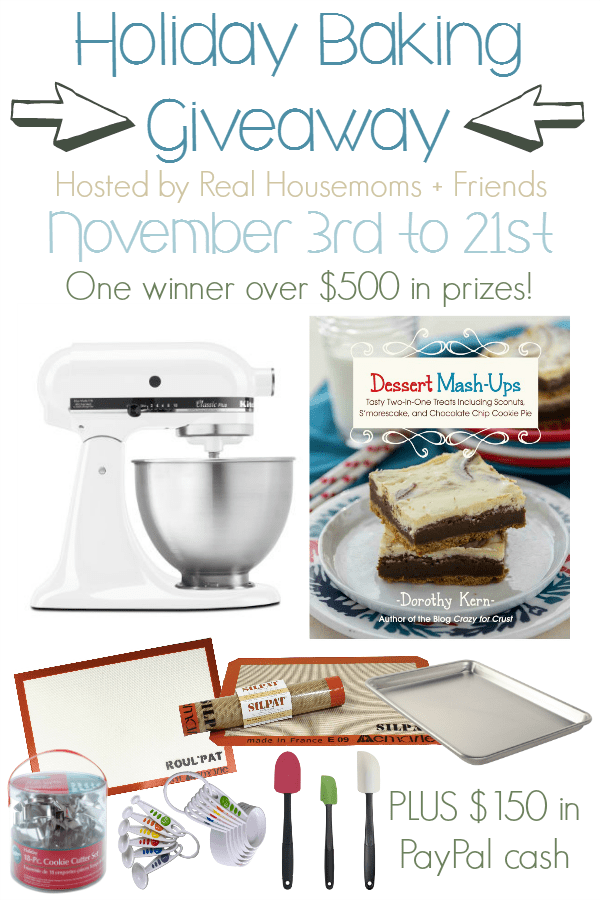 Here are the amazing prizes!!
1 White 4.5 Quart KitchenAid Stand Mixer (provided by Aubrey)
1 signed copy of Dessert Mash-Ups (provided by Dorothy of Crazy for Crust)
1 Holiday Baking Prize Pack (including, but no limited to: 1 Sil-Pat, 1 Roul'Pat, 1 jelly roll pan, 3 OXO spatulas, 1 set of measuring cups, 1 set of measuring spoons, 1 set of 18 Wilton holiday cookie cutters)
$150 in PayPal cash "to buy your baking ingredients"
Come and enter to win!!
Isn't that an awesome lineup. One lucky person will take all. Giveaway is open to US & Canada. Non-US winners will receive an Amazon gift card in the amount of the prizes in addition to their PayPal cash prize. Must be 18 years or age or older to enter. Giveaway will run November 3, 2014 to November 21, 2014. Winner will have 48 hours to confirm prize notification email or a new winner will be chosen. All entries will be verified. "Giveaway accounts" will be disqualified. Amazon, KitchenAid, Pinterest, Twitter, and instagram are in no way affiliated with this giveaway. That is not all, we also have a fun Blog Hop. Look at all the wonderful recipes, this will help with your holiday baking for sure!!