Cookie Cutter Christmas Fudge
I have had this recipe tucked away for many many years. In fact I am surprised I haven't shared it with you already. It is for Aunt Lil's Brownies but it is much more an easy fudge than anything. I changed it up for gift giving and made it into Cookie Cutter Christmas Fudge!
This recipe will be the perfect little gift that you will so love to give and of course love to receive too. The Christmas fudge is so easy a beginner could make this.
We have loved to give it as gifts at Valentine's Day as well as make it for Christmas gift giving too. It is almost always on our Christmas plates of goodies. Also, try our new Easy Oreo Pumpkin Pie Fudge, so good!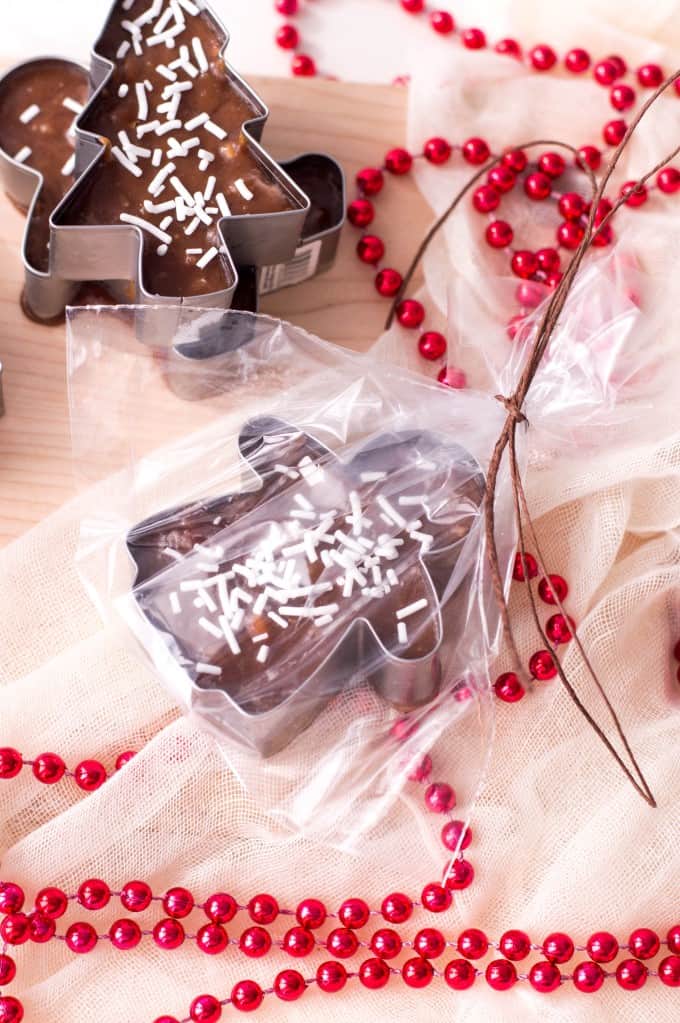 The fudge is luscious and chocolatey, smooth and creamy! No need to be using a candy thermometer and doing anything difficult for this great recipe.
They remind me of a Cherry Blosom candy that I always loved when I was a kid. They were a bit more expensive than your penny candy so when I had extra money that is what I bought.
I have always loved fudge though and remember making delicious peanut butter fudge as a kid too. Mmmm, I will have to make you some!!
How to Make Christmas Fudge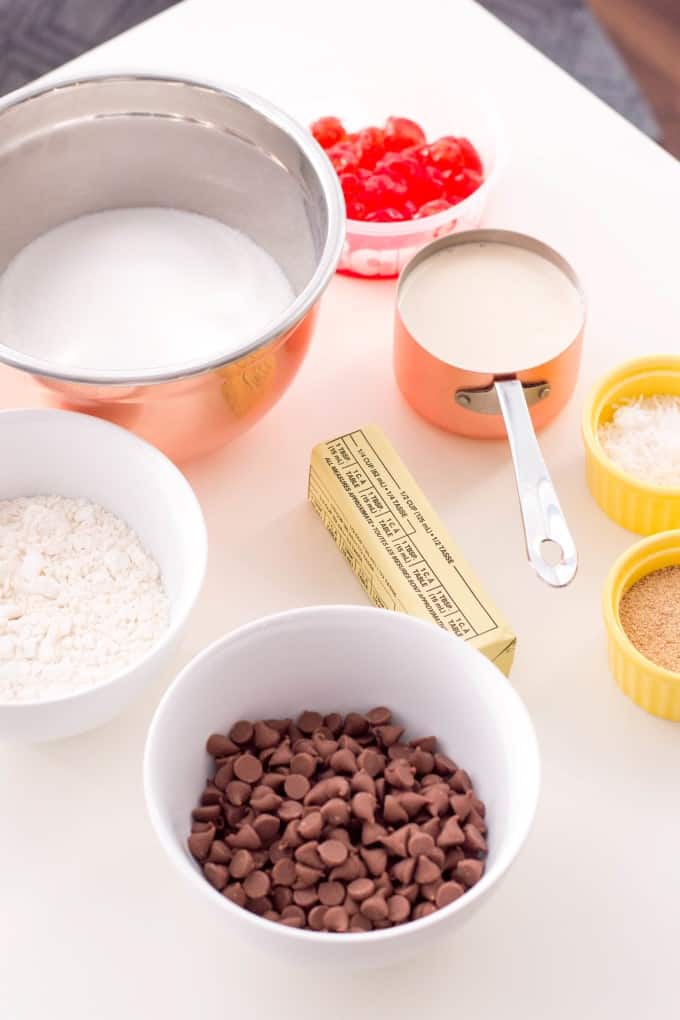 Simple ingredients make up this wonderful homemade gift. Sugar, evaporated milk, butter, chocolate chips, flour, graham crumbs, coconut and cherries.
I have used maraschino cherries for this recipe and dried them well but you can also use candied cherries too.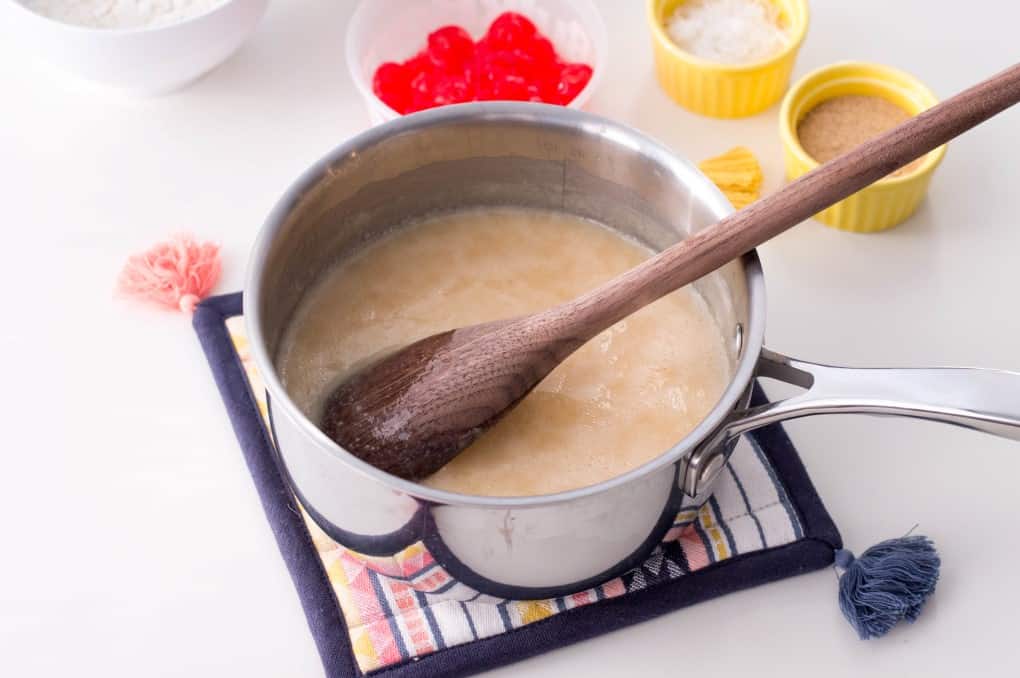 The first step is to add the sugar, evaporated milk and butter and bring to a boil. Remove from heat to add in the remainder of the ingredients.
Once the other ingredients are added return to a simmer for a couple of minutes to make sure the flour is cooked a bit.
Lastly, gently stir in the cherries. Now the fudge is ready for the cookie cutters.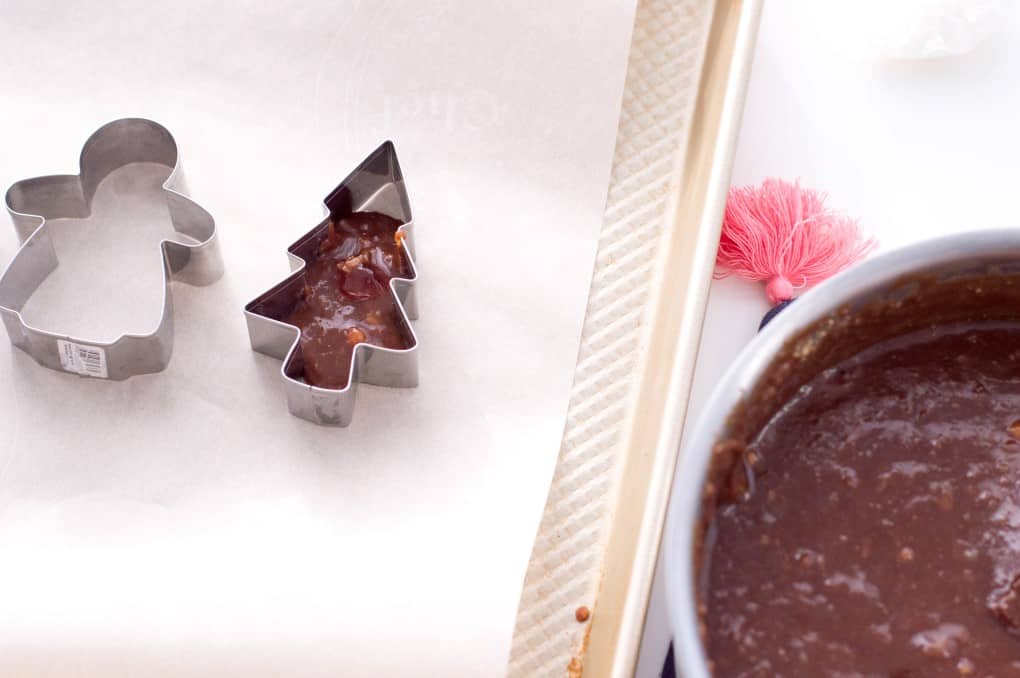 Butter or spray the cookie cutters. Here they are shown just on parchment paper but if you are afraid of them leaking you can wrap the cookie cutter in foil and wait until hardened.
If you don't want to make them all into cookie cutter shapes you can pour the remainder of the fudge into a buttered pan to later cut into squares.
Fudge Gift Ideas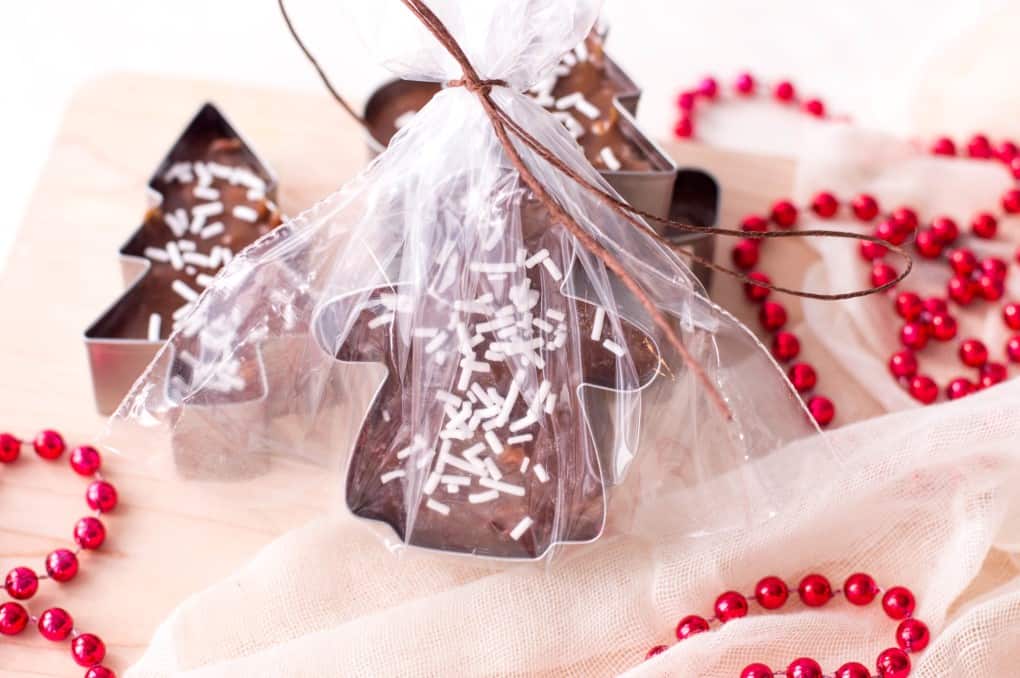 Isn't this a great idea for a teacher gift, hostess gift, or someone with a sweet tooth? You don't have to give away the cookie cutter but I think it is a lovely touch.
The extra special gift is Aunt Lil's fudge recipe and you will want to be making this again and again. There is nothing better than a homemade gift.
Aunt Lil is Ken's aunt and was a wonderful, generous, happy and kind person. She is missed by all of us but at least we can remember her kindly with a heartwarming recipe.
Cut into the chocolate fudge randomly is 12 to 14 cherries. You can do whole cherries or sometimes I have cut them in half. This way you have more scrumptious cherries per bite.
Can You Make Fudge with Evaporated Milk?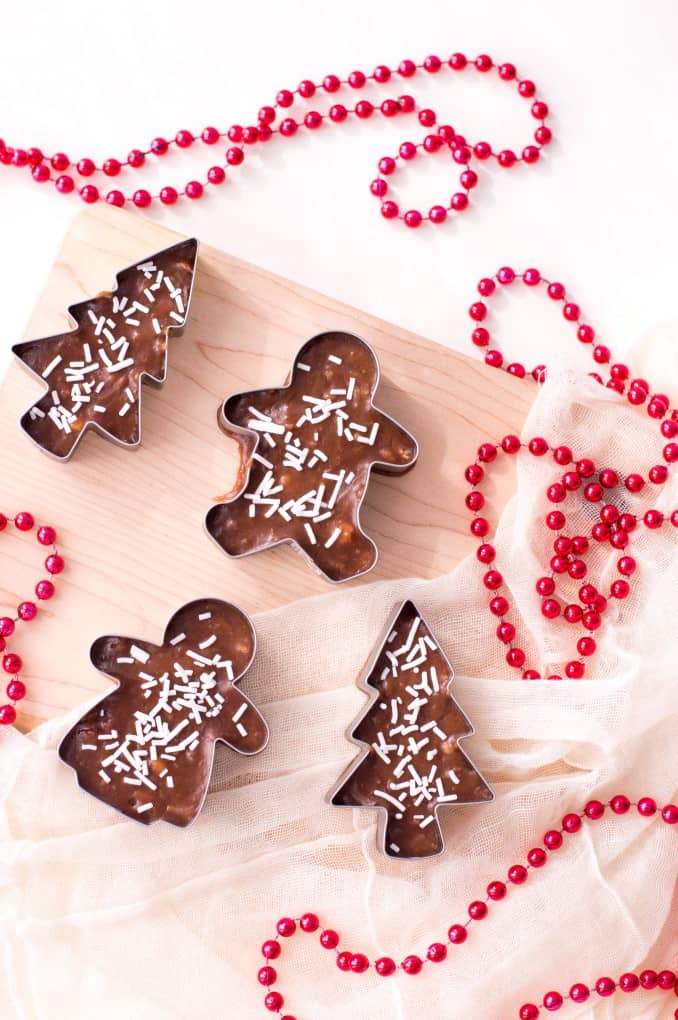 Some recipes use sweetened condensed milk and microwave to make a quick fudge.
This recipe uses evaporated milk but relies on the flour and graham crackers to do the thickening, which is why originally it was called a brownie but it is way more fudge like than that and doesn't require baking either.
I definitely put it in a category of candy as opposed to a brownie. It is unique and that is why I like it even more and I am so happy to share this great recipe with you also.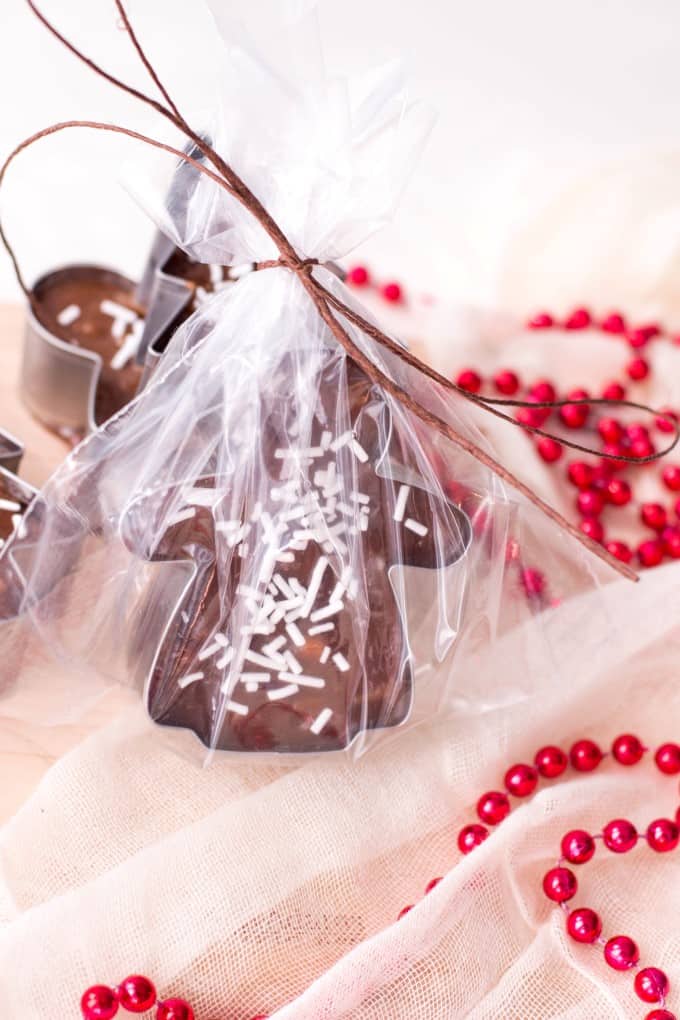 Fudge lasts quite a while and I will make up a pan of this for our Christmas treats. Depending on how thick you like it you can put it in an 8×8″ pan or an 8×11″ pan. I have made it either way!!
When stored in the refrigerator it can last up to 3-4 weeks during the holiday season. It rarely does as this is one of the first treats to disappear.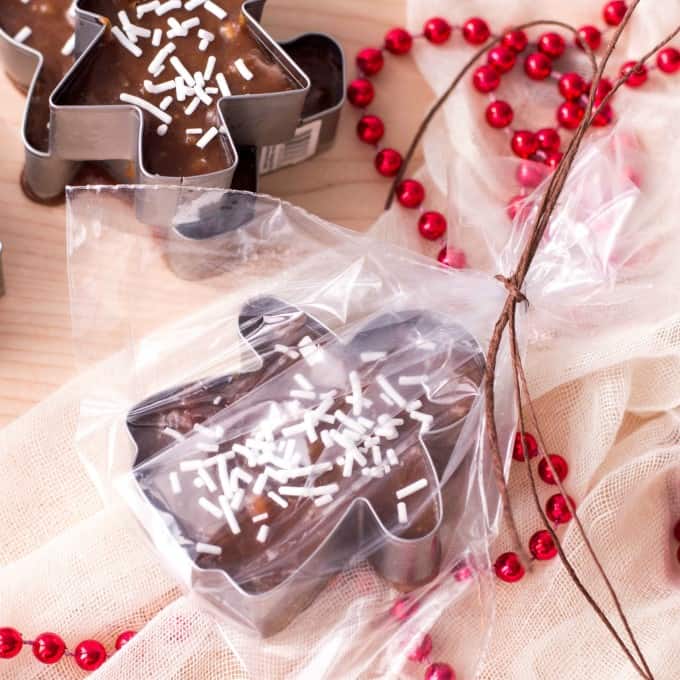 Wrapped up in little cello bags and kept in the fridge these little gifts will be at the ready when you need them for the holidays.
Nothing worse than being without a gift when someone hands you something unexpectedly. I always have many things available for that last minute gift.
I hope you enjoy this recipe as much as we have for so many years.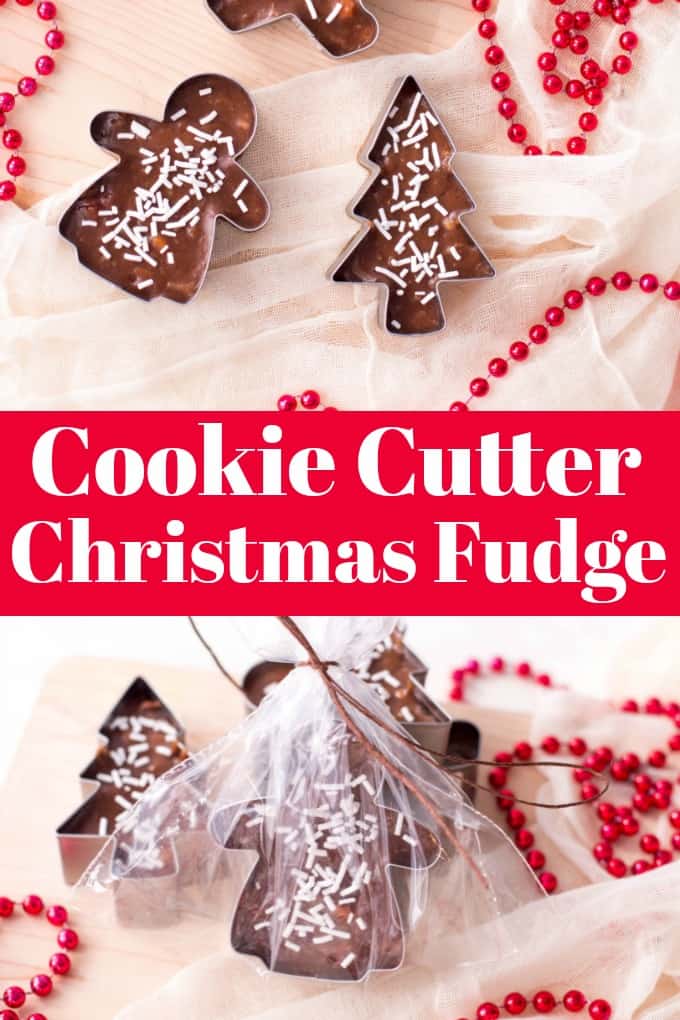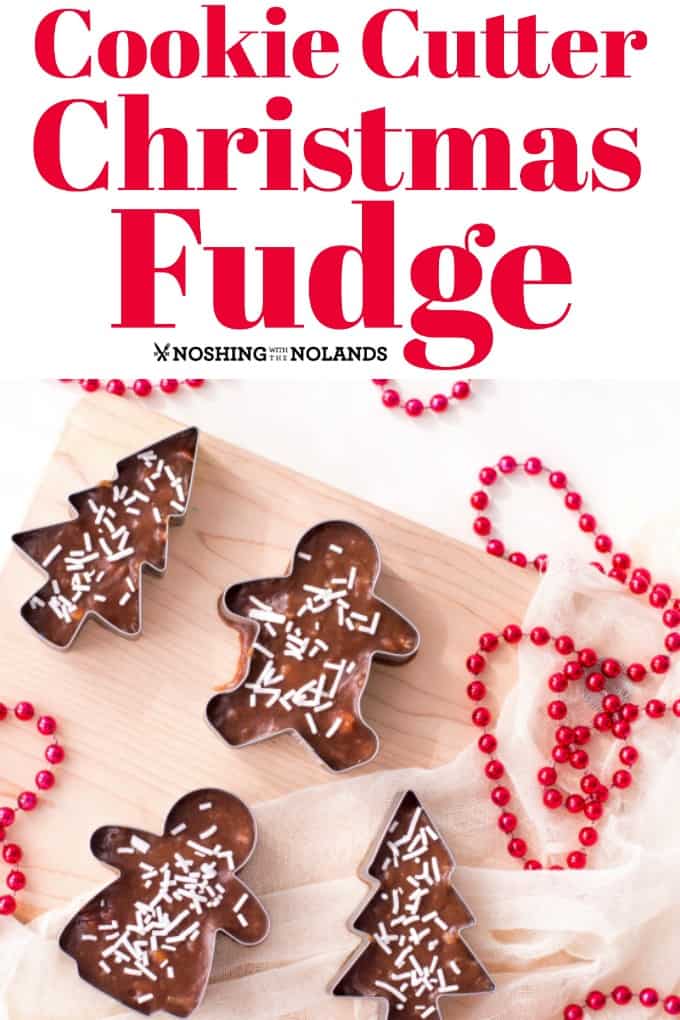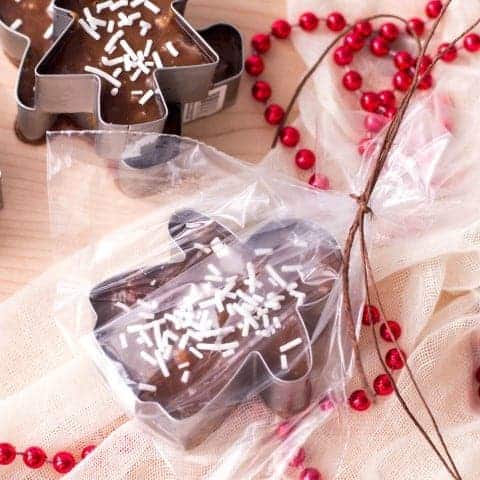 Cookie Cutter Christmas Fudge
Yield: 8x8" pan or 8x11" pan
Prep Time: 10 minutes
Cook Time: 10 minutes
Additional Time: 2 hours
Total Time: 2 hours 20 minutes
This Cookie Cutter Christmas Fudge is so easy to make and a delight to give as a homemade gift.
Ingredients
2 cups sugar
1 cup evaporated milk
1/2 cup butter
2 cups chocolate chips (milk or semi-sweet)
3/4 cup flour
1 cup graham cracker crumbs
1 cup coconut
12-14 maraschino (dried well) or candied cherries, whole or cut in half
Instructions
Prepare an 8x8", 8x11" or cookie cutters. All being buttered or sprayed ahead of time and set aside.
Bring the sugar, evaporated milk and butter to a boil in a large pan while stirring.
Remove from heat and add the rest of the ingredients except the cherries.
Bring to a simmer and cook for a few minutes.
Remove from heat and gently stir in the cherries.
If using the cookie cutters, place either on parchment on a cookie tray or wrap foil around the bottom.
Pour into desired dish or cookie cutters.
Refrigerate for 2 hours. Cut into squares or wrap the cookie cutters in cello bags.
Keep refrigerated until ready to serve or give as a gift. Last up to 3-4 weeks refrigerated.