Antipasto Tortellini Salad
Antipasto Tortellini Salad – Day 5 or 5 days of Pasta. As I was flipping through Emeril's Potluck cookbook I came across an antipasto salad, his salad is quite different than what you see here today but that was the initial inspiration. I had thought that I wanted to use a little stuffed pasta in the salad as I have not made one like that before. My new favorite summer salad has emerged!! So full of flavor and miles away from your average pasta salad.
We all love tortellini and we are big fans of a good antipasto platter, so bringing those two loves together has created this wonderful salad. I have also used an Epicure dip mix again. These add such wonderful flavor to so many dishes. Click here to explore the world of Epicure. Enjoy!!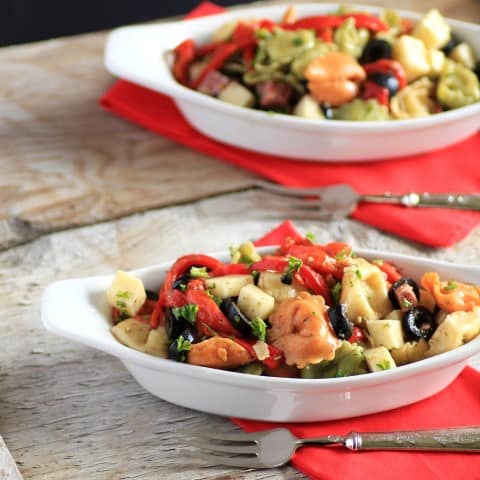 Antipasto Tortellini Salad
A wonderfully flavored pasta salad.
Ingredients
350 gm. package multi colored cheese tortellini
4 oz. (120 gm.) genoa salami, diced
225 gm. provolone cheese, diced
200 ml. can sliced black olives
270 ml. jar roasted red peppers, sliced
2 Tbsp. Epicure Herb and Garlic Dip Mix
2 Tbsp. Balsamic Vinegar
¼ cup olive oil
¼ cup chopped parsley
Salt and pepper to taste
Instructions
Cook the pasta according to the manufacturer's instructions. Rinse under cold water and let cool.
Mix the Epicure herb and garlic dip mix together with the balsamic vinegar and olive oil in a jar and shake well. Set aside.
Combine the cooled pasta with the salami, cheese, black olives and roasted red peppers. Pour over the dressing and toss well. Season with salt and pepper to taste and toss again with the parsley.
Refrigerate for several hours and serve.