This light Easy Caprese Salad Recipe goes with so many meals. It is perfect in the summer when tomatoes are at their finest but is also enjoyable in the winter months too. Cherry tomatoes and mozzarella pearls are tossed in a light balsamic vinaigrette that marries gorgeously with torn fresh basil leaves.
This recipe is great as a side dish, or make it a meal for lunch with a crusty slice of bread! Another great salad to try is our Italian Pasta Salad, you will love it! If you love this combination of flavors then you will also love our Bruschetta Caprese too! Or try our new Classic Greek Salad, always a winner!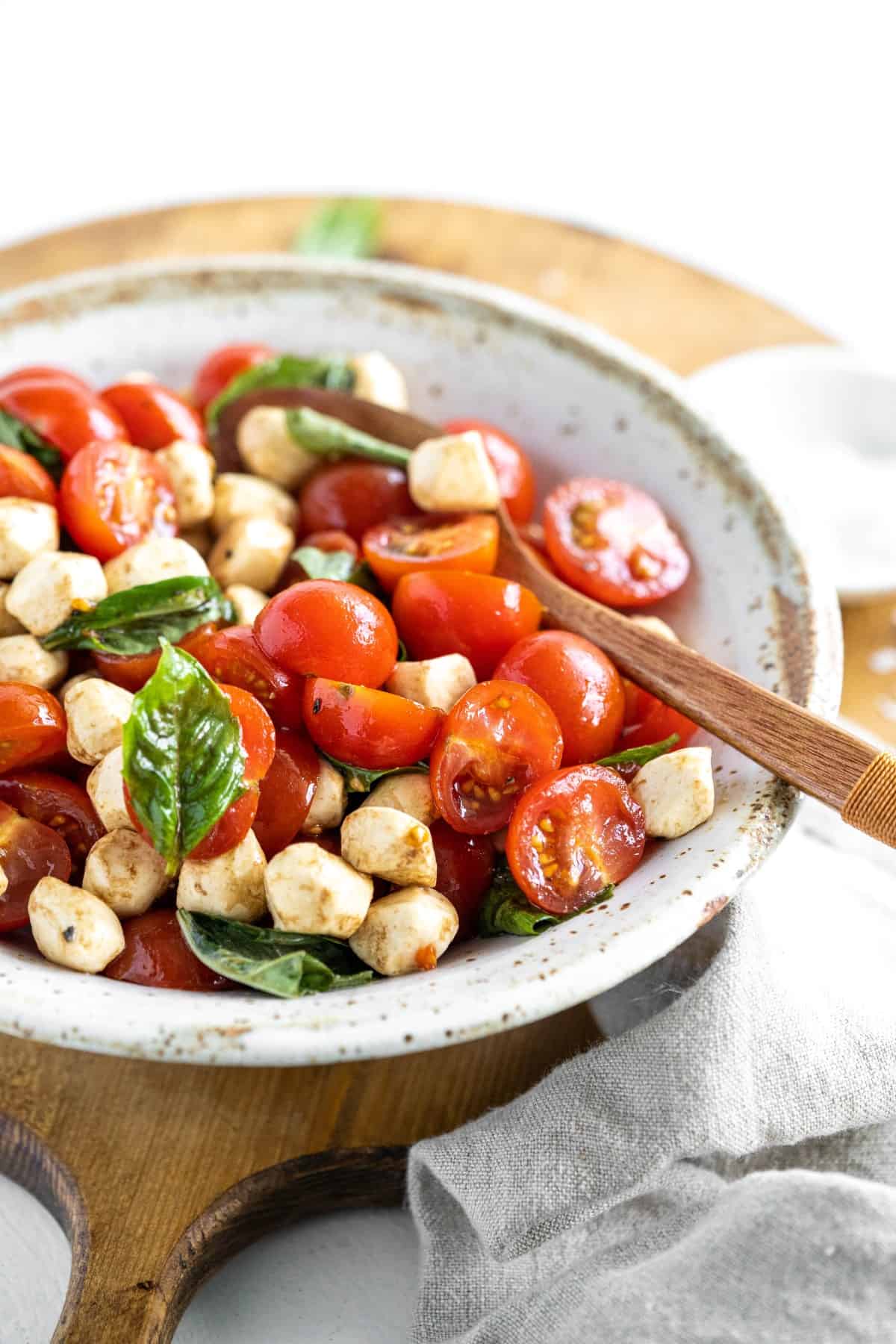 Helpful Items For This Recipe
This post contains affiliate links. As an Amazon Associate, I earn a small portion from qualifying purchases at no extra charge to you.
What's in a Caprese Salad?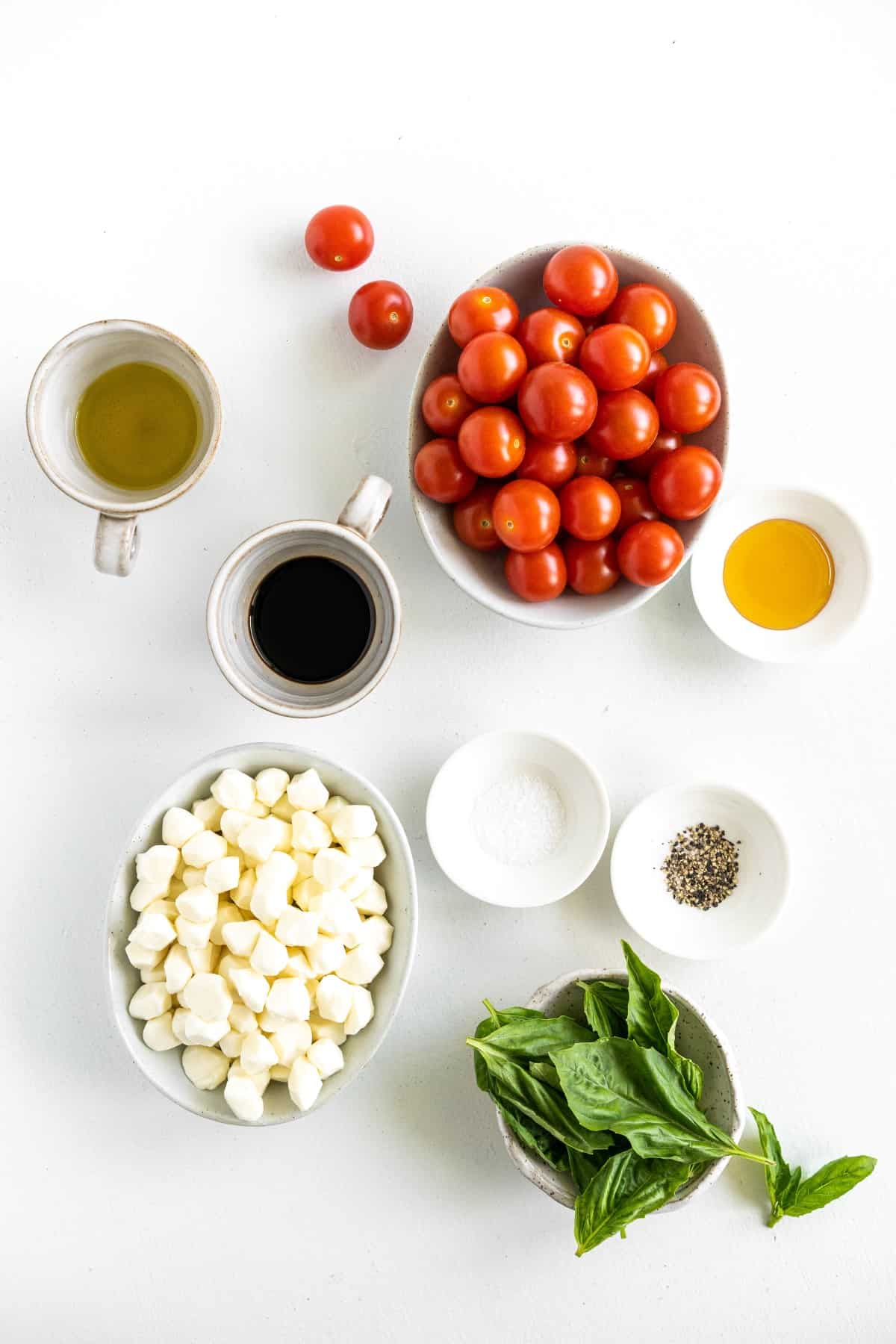 Make sure to get the best and freshest ingredients available for this salad as there are only a few ingredients, tomatoes, mozzarella, and basil. You really want them to shine through so search out the best at your grocery store or farmers market.
You want to buy fresh mozzarella cheese, not hardened mozzarella, for this recipe. The pearls or mini mozzarella balls are the perfect size for this recipe.
Instead of the traditional slices of tomatoes, this recipe uses plump cherry tomatoes. You can also use grape tomatoes too.
Make sure you have good-quality balsamic vinegar or even a balsamic glaze and extra virgin olive oil. Salt and pepper are important too. Use a good Kosher salt or flaky sea salt, and make sure to use freshly coarsely ground pepper.
Ingredients
Good-quality balsamic vinegar (this will make your salad so much better with a really good balsamic)
Extra-virgin olive oil (don't skimp on the quality here, pay for a good olive oil for salads)
Honey (there are so many great honeys on the market now, try a new flavor)
Kosher salt or flaky sea salt ( I rarely use table salt anymore)
Coarsely ground black pepper (fresh pepper is also key in this recipe)
Cherry tomatoes, rinsed and halved (not refrigerated)
Mozzarella cheese ball "pearls" or mini balls, you can dice the larger balls if you can't find these
Fresh basil leaves, torn
How to Make Caprese Salad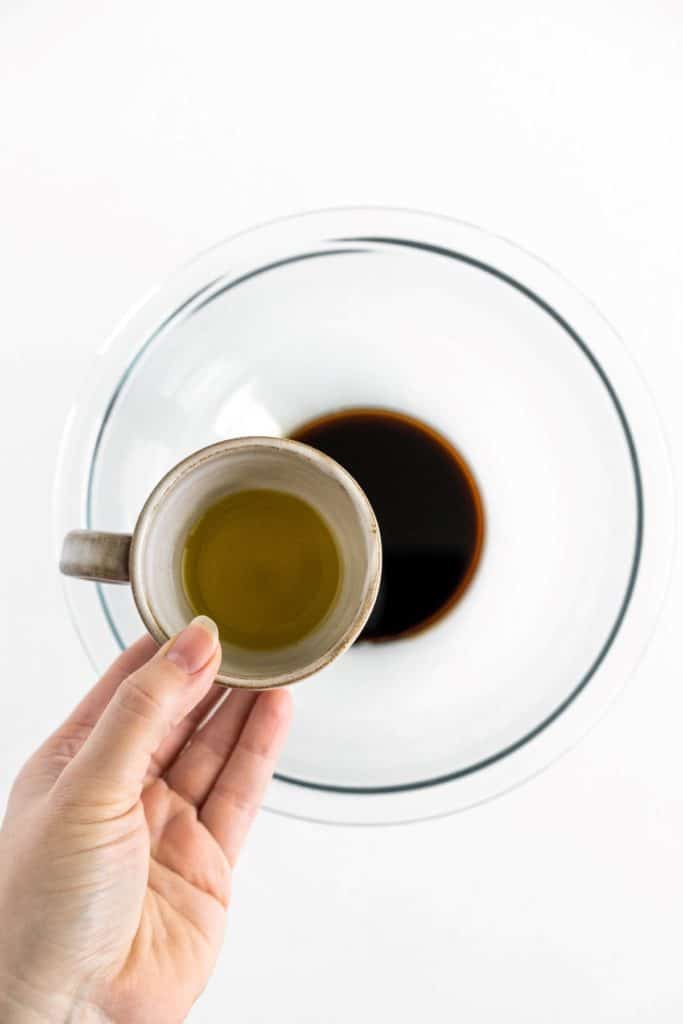 Whisk together the vinegar, oil, honey, salt, and black pepper in a medium bowl. You can use a fork or a small whisk for this.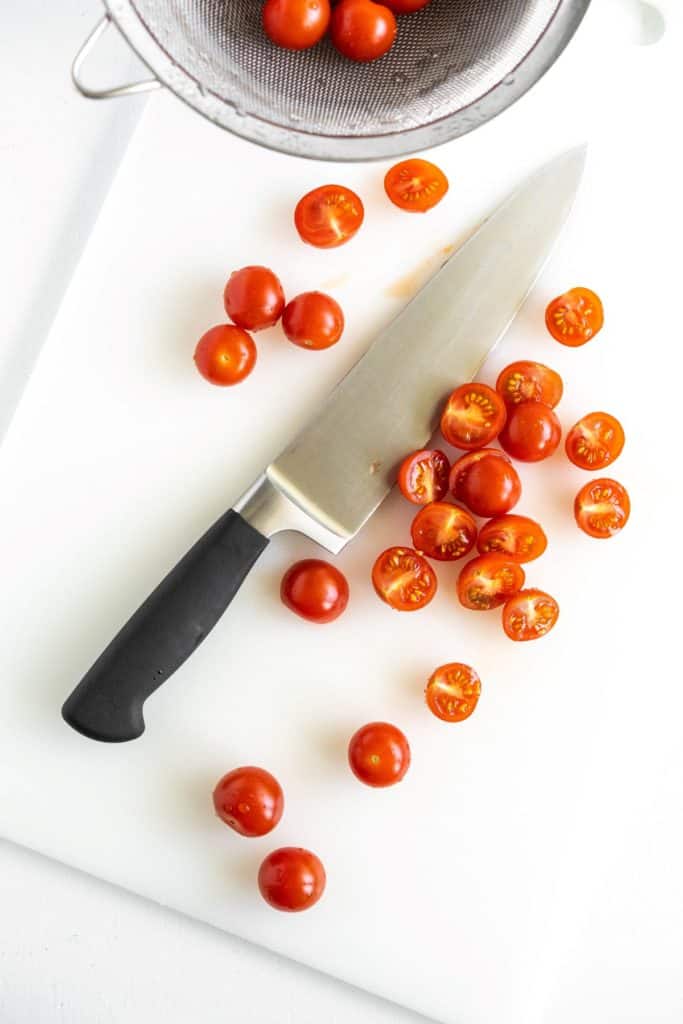 Gently stir in the tomatoes, mozzarella cheese, and torn basil. Serve it up in a bowl or on a serving platter. Drizzle with olive oil right before serving again if you like.
Make sure you don't refrigerate your tomatoes. You want them at room temperature, warm and sweet.
What to Serve with Caprese Salad?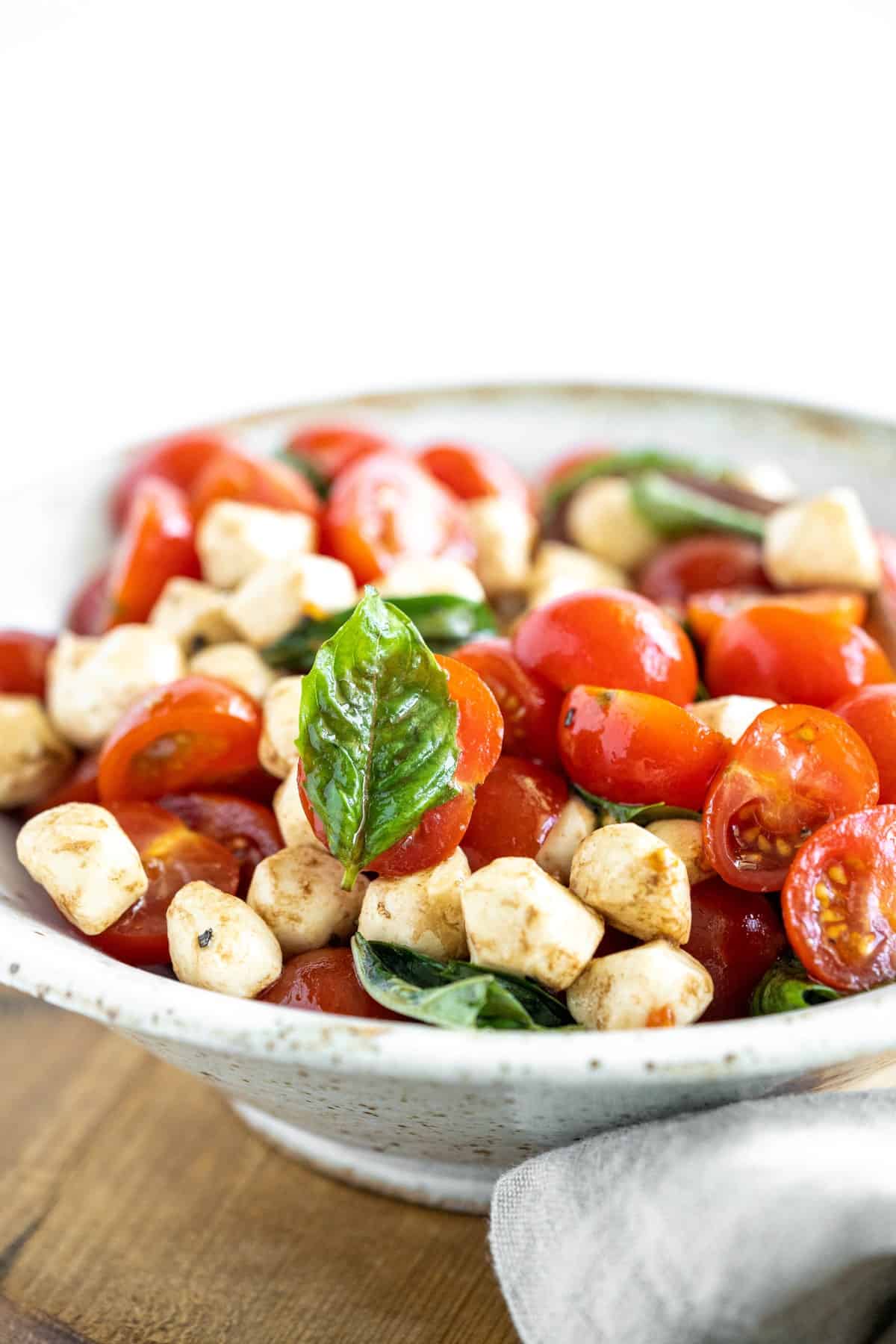 Serve Caprese salad with any dish that you like; it is such an easy side dish to make in a matter of minutes. It is healthy, gorgeous looking and takes only a few ingredients. Here are some suggestions we like to serve it with, steaks, chicken and pasta come to my mind first:
18 Perfect Grilled Steak Recipes
Garlic Chicken Pasta with Prosciutto
Paglia e Fieno (Straw and Hay Pasta)
Pasta with Prosciutto Peas Mint and Lemon
Is Caprese Salad Unhealthy?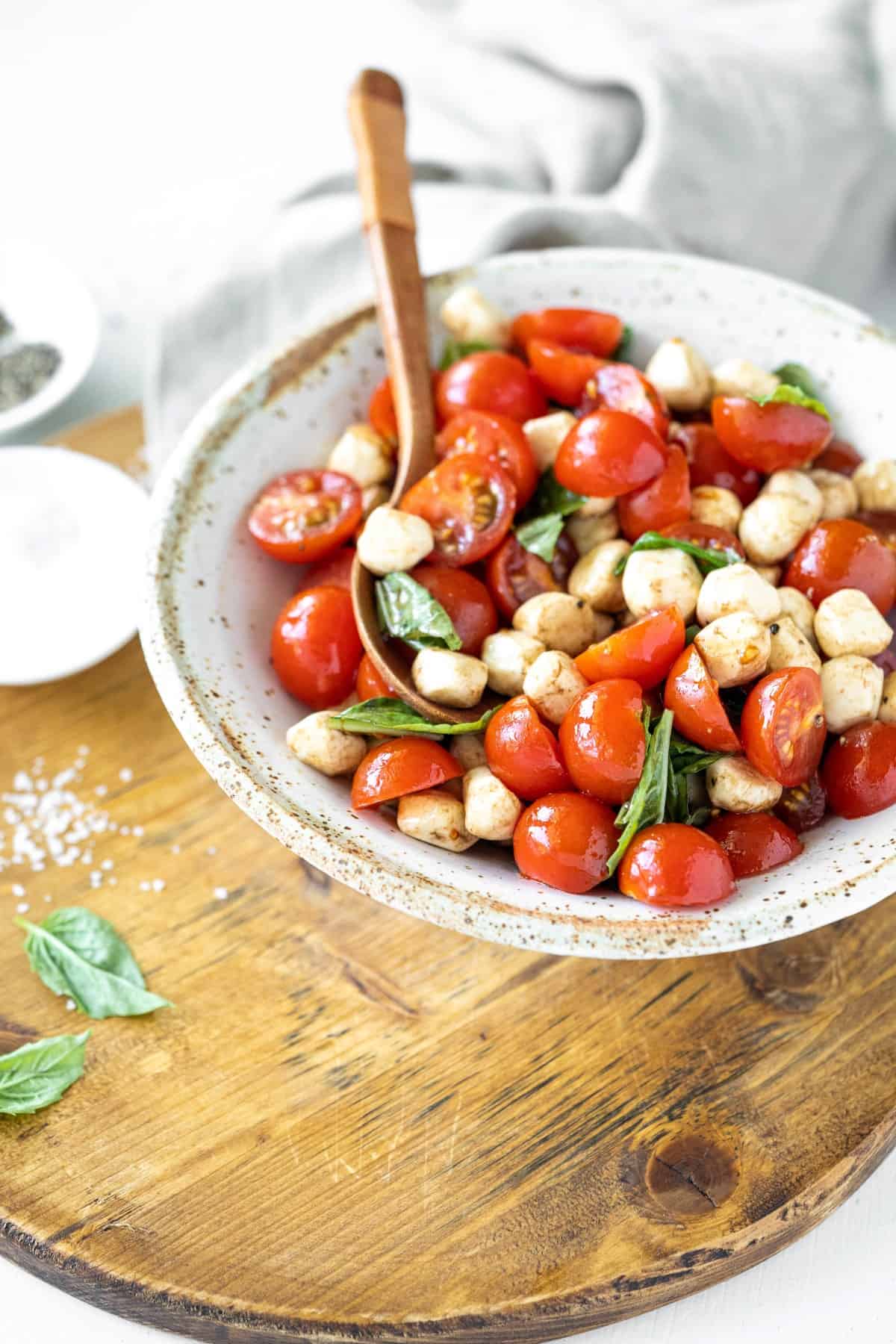 Is caprese salad unhealthy? Not at all, as long as you limit the mozzarella and your portion size just like anything. It is fairly low in calories, and all of the ingredients have health benefits.
What to Add to Caprese Salad?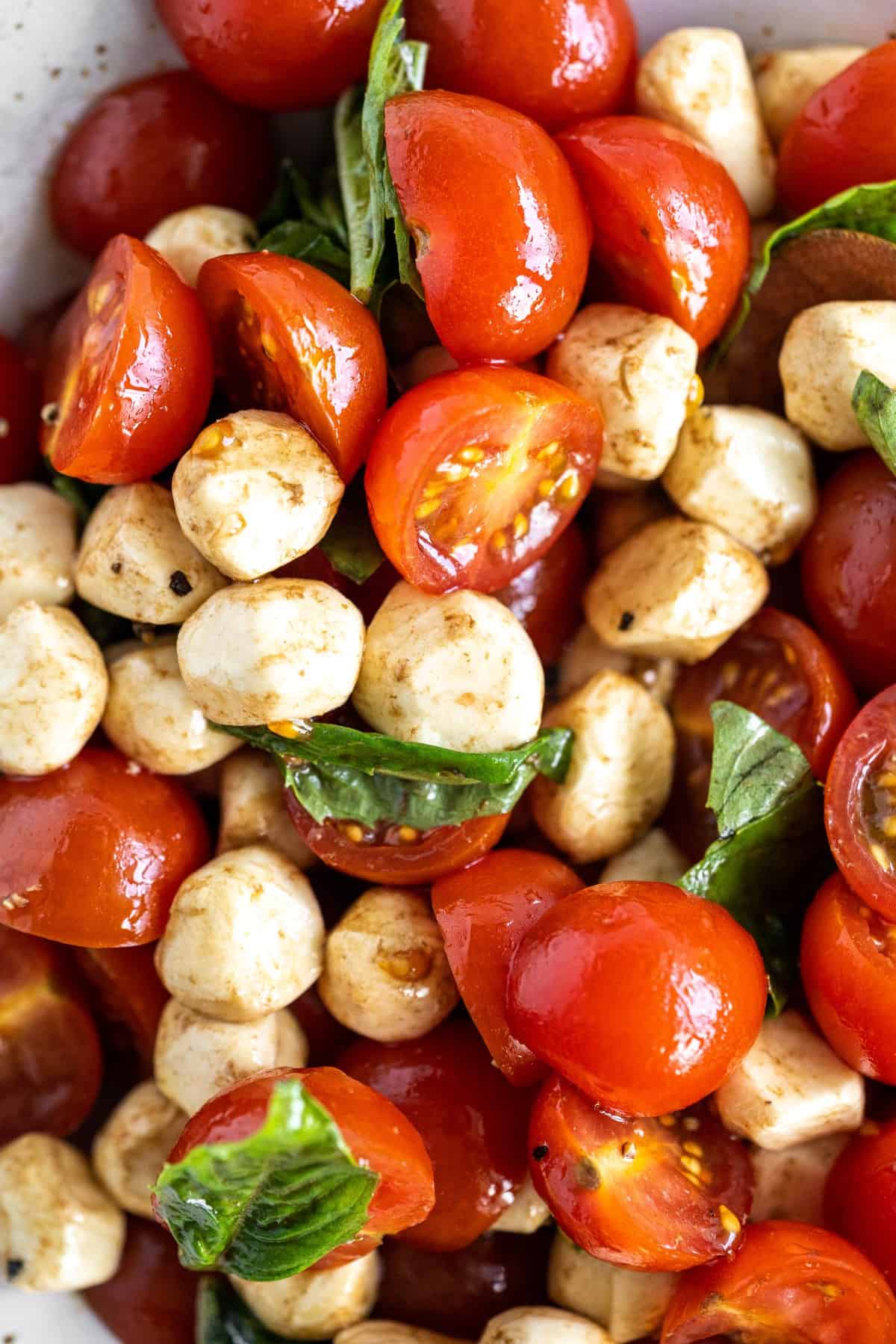 Caprese salad can be just a starting point, too, as you can add other ingredients into this salad to give it a new twist or making it an entire meal on its own. We love making Grilled Caprese Chicken Little Potato Foil Packs as an example of what you can do with caprese ingredients.
To these basic salad ingredients, you can also add cooked chicken, avocado, pasta, try a macaroni, bow tie, tortellini or rigatoni. Maybe some grilled vegetables like red onion, zucchini, peppers, or even corn. Take your caprese salad to the next level. It is easy and fast to make.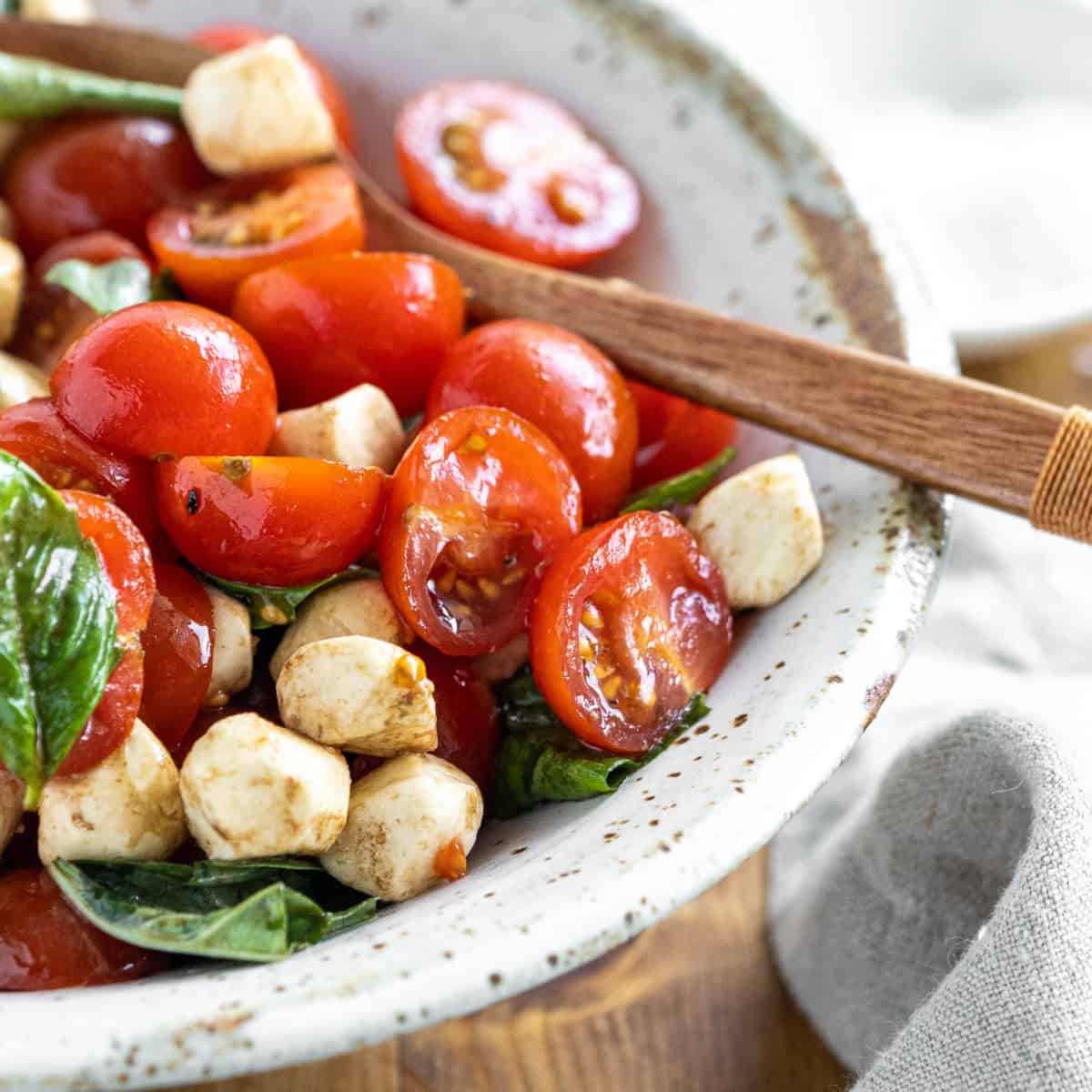 Pin it HERE!!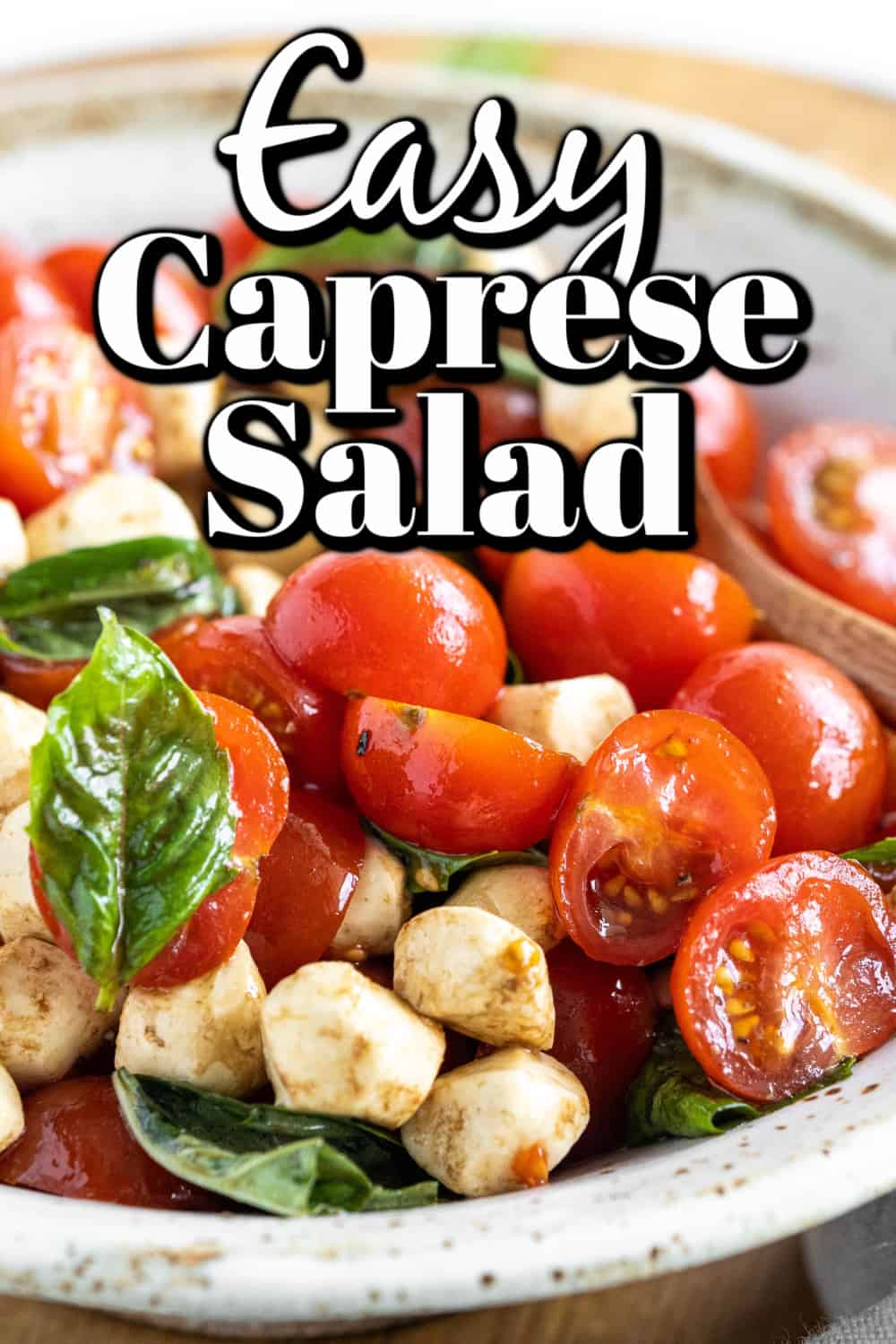 Pin it HERE!!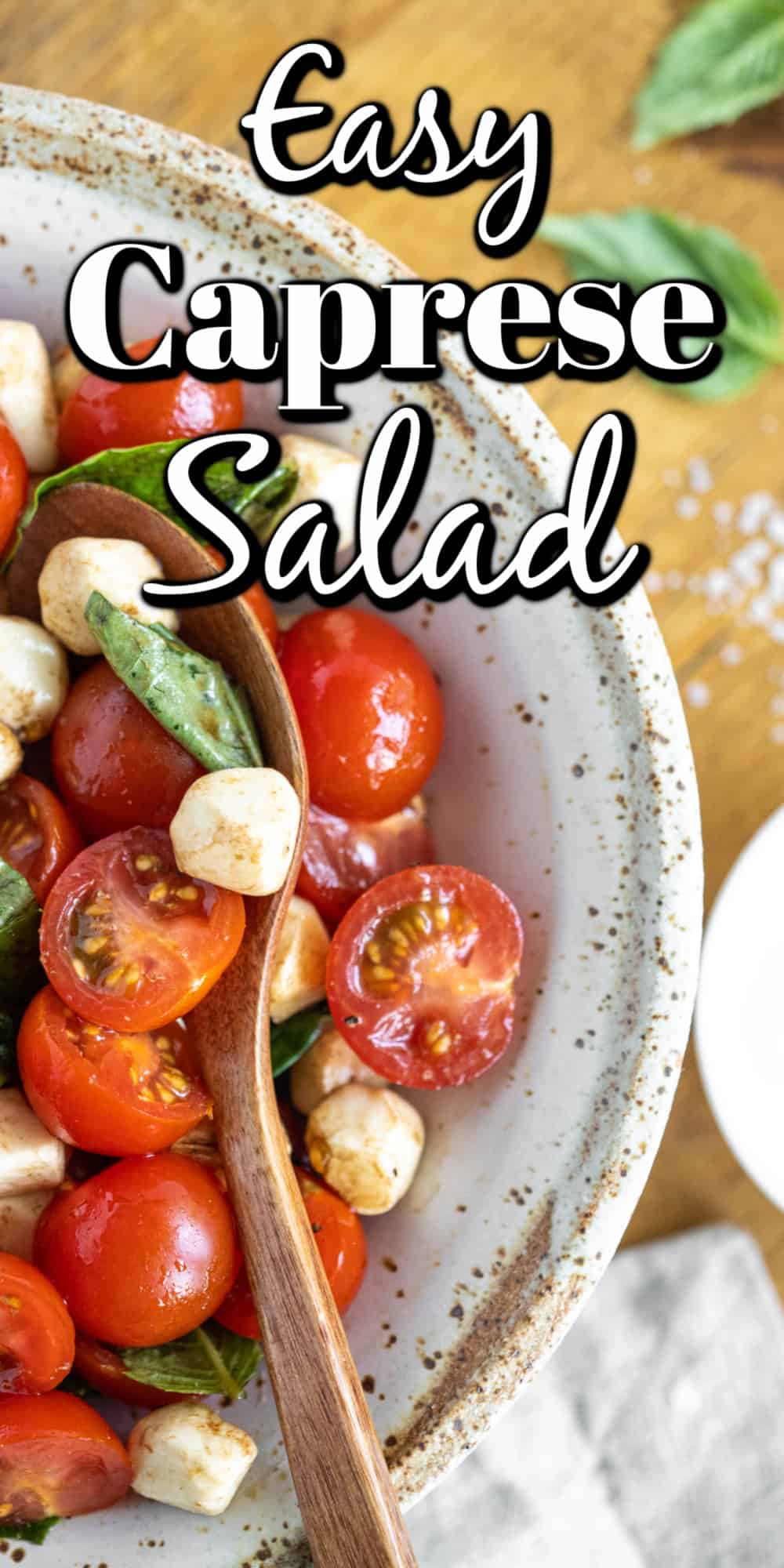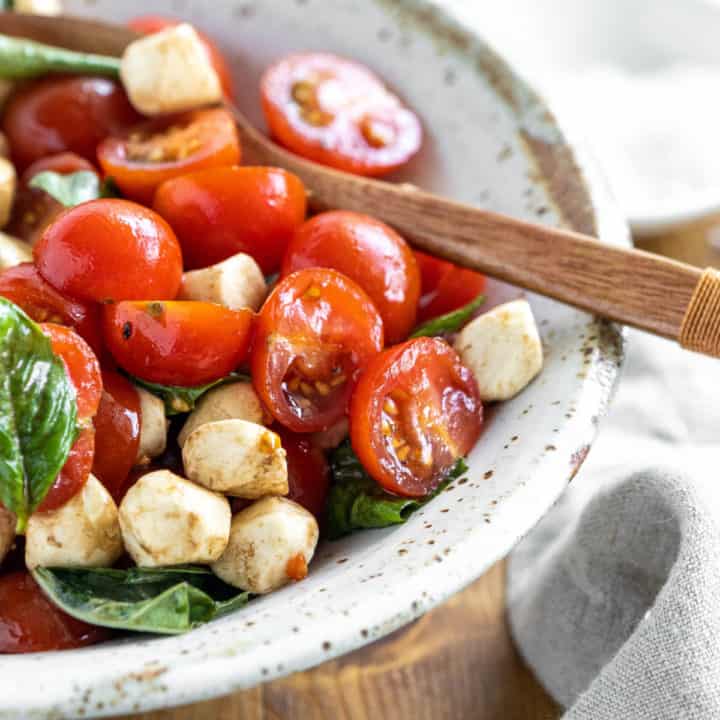 Easy Caprese Salad Recipe
Yield: 2 to 4 servings
Prep Time: 10 minutes
Total Time: 10 minutes
This easy Caprese Salad Recipe has just a slight twist from the classic, using instead cherry tomatoes and mozzarella pearls for a great fast and delicious recipe that can be enjoyed any time.
Ingredients
1 tablespoon good-quality balsamic vinegar
1 tablespoon extra-virgin olive oil
1 teaspoon honey
1/4 teaspoon coarse kosher salt
1/4 teaspoon coarsely ground black pepper
12 ounces cherry tomatoes, rinsed and halved
8 ounces mozzarella cheese ball "pearls"
1/4 cup fresh basil leaves, torn
Instructions
Whisk together the vinegar, oil, honey, salt, and black pepper in a medium bowl.
Gently stir in the tomatoes, mozzarella cheese, and torn basil.
Serve.
Recommended Products
As an Amazon Associate and member of other affiliate programs, I earn from qualifying purchases.
Nutrition Information:
Yield: 4
Serving Size: 1
Amount Per Serving:
Calories: 225
Total Fat: 16g
Saturated Fat: 8g
Trans Fat: 0g
Unsaturated Fat: 7g
Cholesterol: 45mg
Sodium: 440mg
Carbohydrates: 7g
Fiber: 1g
Sugar: 5g
Protein: 13g
Recipe calculation was provided by Nutritionix and is an estimation only. If you need nutritional calculations for medical reasons, please use a source that you trust.