lI have a really special cookbook review today. I was invited to the cookbook launch here in Calgary at Wurst Restaurant in December. The cookbook is written by our own Gwendolyn Richards of Calgary, who is a blogger and Calgary Herald Food Writer. Her new cookbook is entitled Pucker, a cookbook for citrus lovers. From this gorgeous and I mean gorgeous cookbook, I chose Pasta with Proscuitto, Peas, Mint, and Lemon.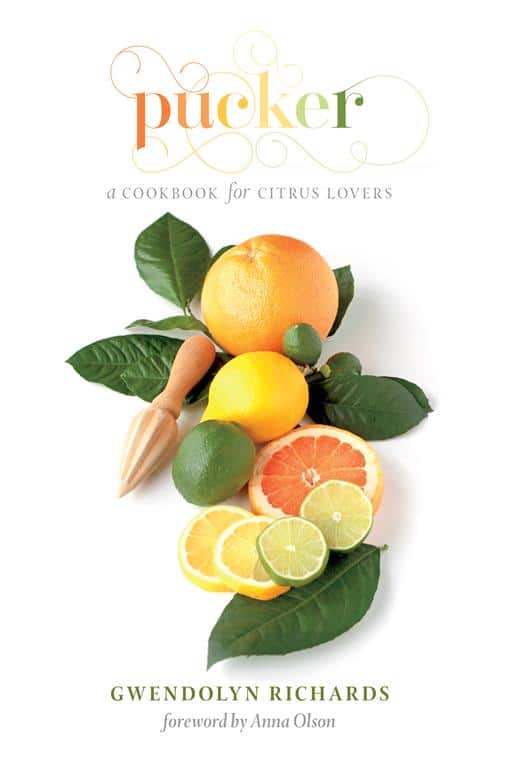 Pucker – The Cookbook
I have to say I love citrus and it can be an overlooked ingredient. When it is the forefront of a recipe, like the lovely ones that Gwendolyn has created, your recipes burst with flavor. Your mouth is alive with wonderful acidity. It is not only the star but it lends itself to making other ingredients shine too.
I picked the Pasta with Proscuitto Peas Mint and Lemon from this cookbook to try. It has seriously become my favorite pasta to make now. I have already made it again and would make it every week if I could. What a wonderful combination of flavors! Truly amazing, I could have eaten the whole bowl myself.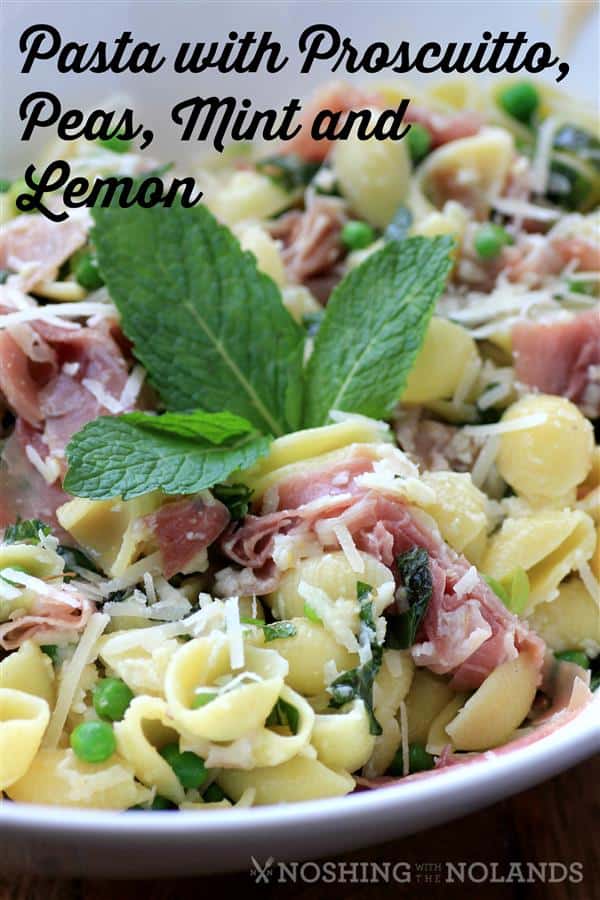 I adore it when a cookbook has lots of pictures of the dishes to entice you. Pucker, has just that. Each recipe has at least one beautiful picture. A cookbook like this I love reading like a magazine, going from front to back cover.
There are many recipes to try, from cocktails to desserts and more. I enjoyed a whiskey sour with Gwendolyn the night of the launch and that is in the cookbook too. Other great recipes like Scallops with Meyer Lemon Beurre Blanc, Asparagus Salad with Parmesan and Lemon-Dijon Dressing, and Citrus Braised Pork Shoulder Tacos (I was able to experience this one at the launch, delicious). There are a lot of desserts too, like the quintessential Key Lime Pie, Lemon Bars, and an interesting recipe, Grapefruit and Polenta Cookies. Also, there is a basic section in the back with great recipes like Lemon Aioli, Guacamole, Pico de Gallo, and Lemon-Honey Butter. There are over 90 recipes to get you all a Pucker!!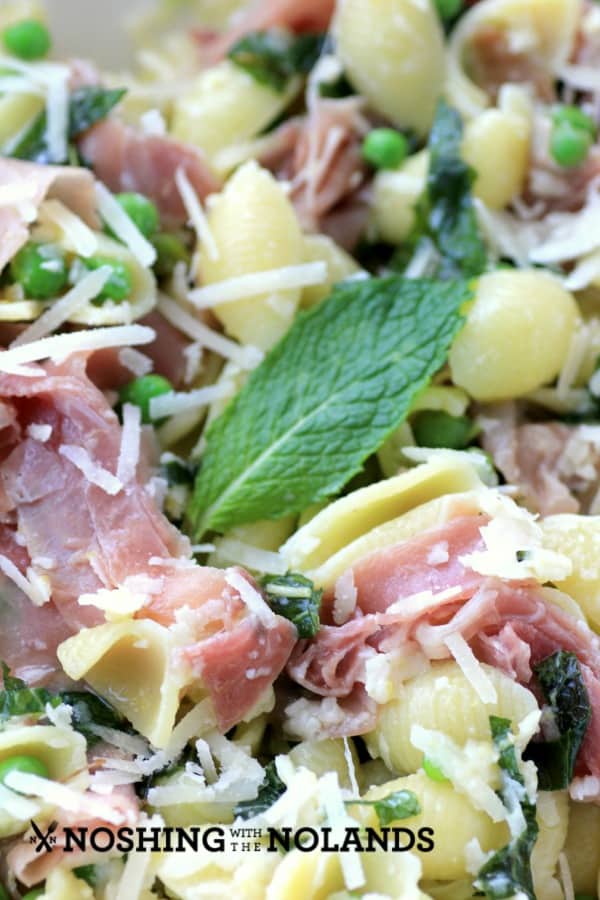 Springtime Recipe
This fantastic recipe is not only scrumptious but takes no time at all to create. In the time that it takes to cook the pasta, you will have all the other ingredients prepped. A simple toss and you have the most amazing meal. One that I would serve to company in a blink! I didn't have the pasta that she suggested and opted for a medium shell. It worked great as the pasta was a little vessel for some of the peas too. This recipe will take you through all the seasons. When you are longing for something fresh in the fall and winter months to spring and summer, it will take you to new heights with all its vibrance. I can only imagine this with fresh peas from the market, YUM!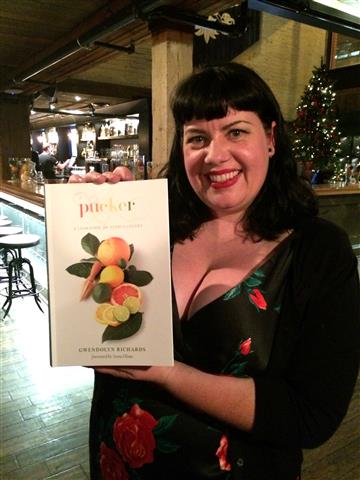 Here is Gwendolyn Richards at her cookbook launch.
Enjoy this recipe and many more in Pucker. You can see what Gwendolyn is up to on her blog Patent and The Pantry. She also appears on TV occasionally cooking up a storm on our local morning news shows. Gwendolyn is the food writer for The Calgary Herald along with many other newspapers across Canada as well as Avenue Magazine in Calgary.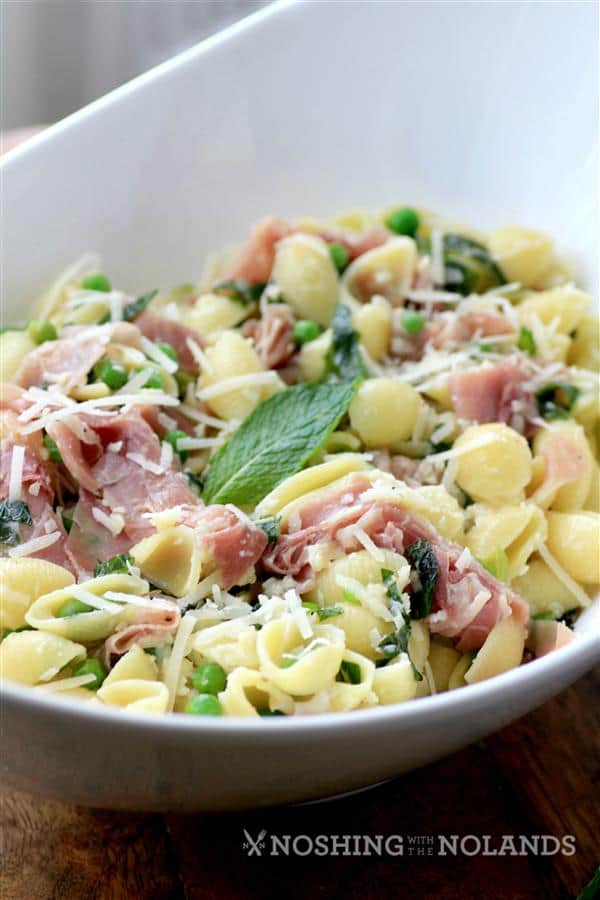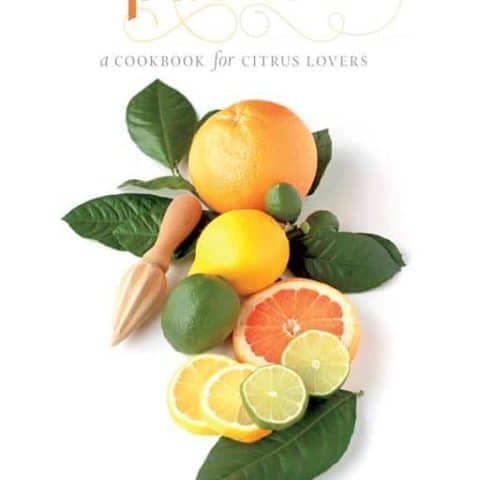 Pasta with Proscuitto Peas Mint and Lemon
Yield: 4
Prep Time: 10 minutes
Cook Time: 12 minutes
Total Time: 22 minutes
Prosciutto and peas are the basis of one of my favourite pasta dishes. Peas and mint go together perfectly. And lemon? Well, it just brings everything together in this quick and easy pasta dish.
Ingredients
8 ounces (250 g) small pasta, such as farfalle, penne or orecchiette
1 cup (250 mL) peas, fresh or frozen
3 tablespoons (45 mL) extra virgin olive oil
zest of 2 lemons
2 tablespoons (30 mL) lemon juice
1 teaspoon (5 mL) sugar
freshly ground pepper
3 tablespoons (45 mL) mint leaves
1/2 cup (125 mL) finely grated Parmesan, plus more for serving
4 ounces (125 g) prosciutto, cut or torn into thin strips
lemon wedges
Instructions
Bring a large pot of water to a boil over high heat, salt heavily and add the pasta. Cook until it is al dente (there should still be a slight chew to it), adding the fresh or frozen peas to the pot when the pasta is almost done. (Start checking the pasta a minute or two before the package instructions suggest it will be cooked.)
Meanwhile, in a large bowl—ideally the one you want to serve the pasta from—add the olive oil, lemon zest and juice, sugar and pepper to taste. Mix thoroughly. Stack the mint leaves and roll like a cigar, then slice into thin strips and stir into the lemon–olive oil mixture.
When the pasta is cooked, drain, reserving about half a cup (125 mL) of the cooking liquid. Add the drained pasta to the bowl and toss thoroughly. Sprinkle the Parmesan over the pasta and toss again, then add the prosciutto. If the mixture seems too dry, add a splash of the reserved pasta water and toss again.
Serve with a few lemon wedges and extra Parmesan for sprinkling over.
Recipe excerpted from Pucker with permission from Whitecap Books and Gwendolyn Richards.