Have you had the pleasure to indulge at a Ruth's Chris Restaurant? I have and one of my favorite sides is this Ruth's Chris Copycat Sweet Potato Casserole.
We will be going again to Ruth's Chris Restaurant soon for a little family celebration. I can't wait!! We have done a few other recipes from this restaurant like Ruth's Chris Copycat BBQ Shrimp and Copycat Ruth's Chris Shoestring Fries,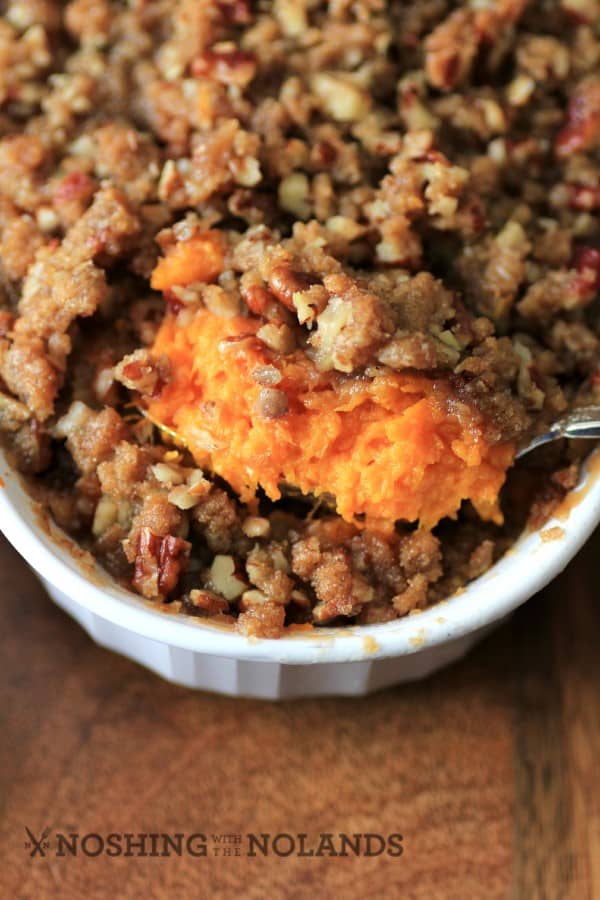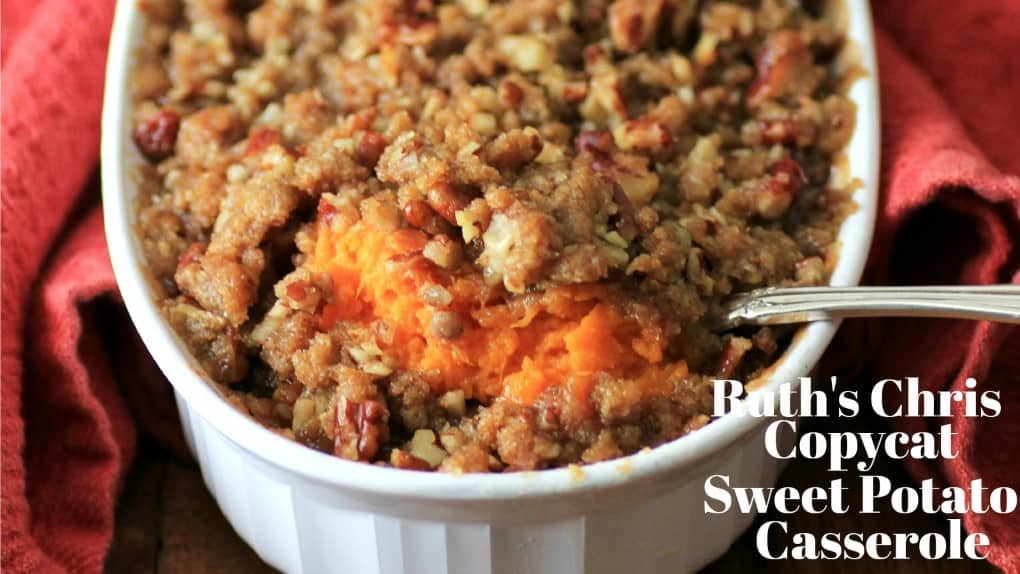 Really simple ingredients but the results are spectacular for a special meal like a Thanksgiving dinner. Personally, the pecan topping takes this to the ultimate for me. We love making it often even for other meals than the holidays as it easy and perfect for a Sunday supper or when company are over.
INGREDIENTS
Large sweet potatoes, baked until very tender, peeled, and mashed (about 3-4 cups), they take about 60 min. at 350F.
Butter
1/2 and 1/2 cream (10%)
Salt to taste
PECAN TOPPING
Brown sugar
All-purpose flour
Pecans, chopped
Butter
This casserole is nothing but delicious and shines as an outstanding side on your festive tables for the holidays. This is a dish that we love to serve with any entree as it goes gorgeously with beef and poultry.
Even fussy kids will be enjoying sweet potatoes as they have never had!! This is a true family winner of a side!!
Holiday Casseroles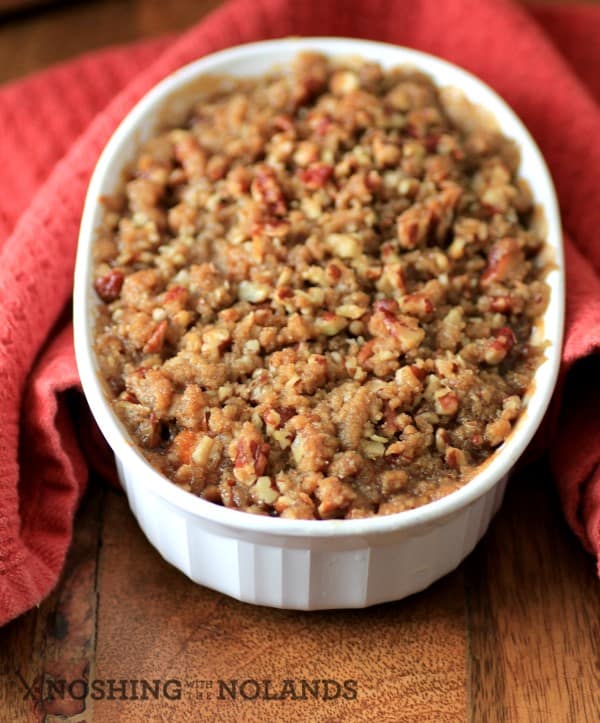 Now you can make this amazing side at home and enjoy all its divine flavors. This would be a highlight on any Thanksgiving or Christmas table and is always one of our faves!
This is part of our 25 New Holiday Make Ahead Casserole collection where you will find even more great recipes. I think sides make the meal, everyone loves a great casserole!!
We also have an amazing 25 Make Ahead Thanksgiving Casseroles roundup that is sure to please. This is our number one post for the holidays!!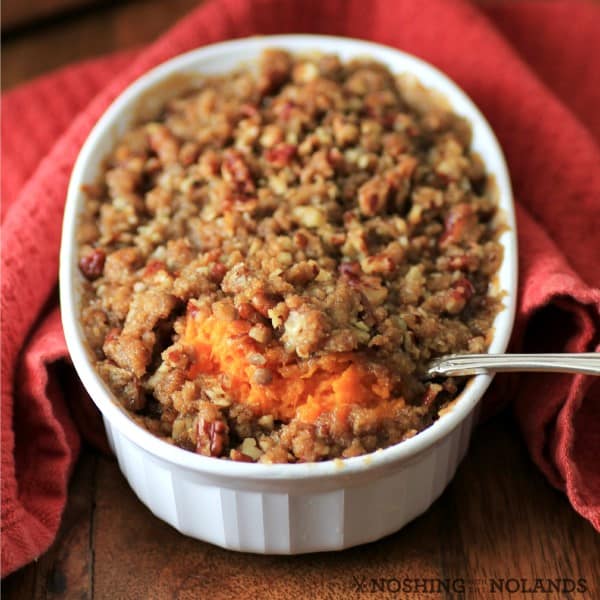 Crispy sweet pecan topping with creamy sweet potatoes underneath, even a person who doesn't like veggies will be diving into this dish. It is the perfect accompaniment to turkey or other meats. It is comforting and screams the holidays!!
Everyone will be wanting seconds of this dish so you can make extra by doubling the recipe. This screams comfort food for the holidays or anytime.
No marshmallow topping here!! Just a yummy pecan brown sugar streusel. This is a clincher to a side that everyone will love even the people that don't like sweet potatoes or veggie casseroles.
What are some of your favorite casseroles for the holidays? Do you make the same thing every year or mix it up? I like to have some standards and then add something new too!!
This can also be made ahead and then the topping added on and warmed in the oven. You will get rave reviews from everyone who tries this!! If it already isn't a family favorite for the holidays it soon will be. INDULGE, ENJOY AND CELEBRATE!!
Ruth's Chris Copycat Sweet Potato Casserole Recipe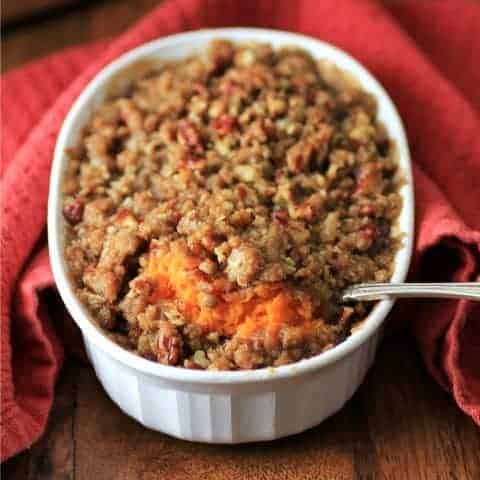 Ruth's Chris Copycat Sweet Potato Casserole
Yield: 4-6 servings
Prep Time: 15 minutes
Cook Time: 1 hour 20 minutes
Additional Time: 40 minutes
Total Time: 2 hours 15 minutes
Ruth's Chris Copycat Sweet Potato Casserole is an awesome side dish that everyone will love. It is easy and a great make ahead too.
Ingredients
INGREDIENTS
2 large sweet potatoes, baked until very tender, peeled and mashed (about 3-4 cups), they take about 60 min. at 350F.
3 Tbsp. butter
2 Tbsp. 1/2 and 1/2 cream (10%)
Salt to taste
PECAN TOPPING
1/2 cup brown sugar
1/4 cup all purpose flour
1 cup pecans, chopped
1/3 cup butter
Instructions
Mashed soft baked sweet potatoes with the butter, cream and salt. Place them in 3-4 ramekins or one larger dish. Mix the brown sugar, flour and butter together until crumbly, add the pecans and place on top of sweet potato. Bake at 350F for 20min. or until the edges are bubbling and the topping lightly browned. Serve immediately.
Note: This can be made ahead. Leaving the topping off until you are about to put it in the oven. If it is made ahead you will need to bake for an additional 10-15 min. or until heated through.
Recommended Products
As an Amazon Associate and member of other affiliate programs, I earn from qualifying purchases.
Nutrition Information:
Yield: 6
Serving Size: 1
Amount Per Serving:
Calories: 417
Total Fat: 30g
Saturated Fat: 12g
Trans Fat: 1g
Unsaturated Fat: 17g
Cholesterol: 47mg
Sodium: 301mg
Carbohydrates: 35g
Fiber: 4g
Sugar: 20g
Protein: 5g