Do you love making Christmas Cookies? I sure do and one of my favorites over the years has been these Best Ever Fruitcake Cookies. If Christmas can be put into cookie-form, then it's totally this recipe! How incredibly delicious!!
This is an easy drop cookie recipe too. There is no added rum or bourbon to these cookies so everyone will enjoy them. There are red and green cherries, raisins, and Brazil nuts to make these cookies fantastic. They turn out with lightly browned edges and chewy yet light and fluffy interiors.
Making these ahead of time only ensures that they get better with time. By always freezing my cookies I can make them well in advance and have them ready for any situation or gift-giving.
I have a whole post on 26 Freezable Christmas Cookie Recipes that you can enjoy also and our new Best Rugelach, Peanut Butter Blossoms or Butter Pecan Cookies both are simply delicious!!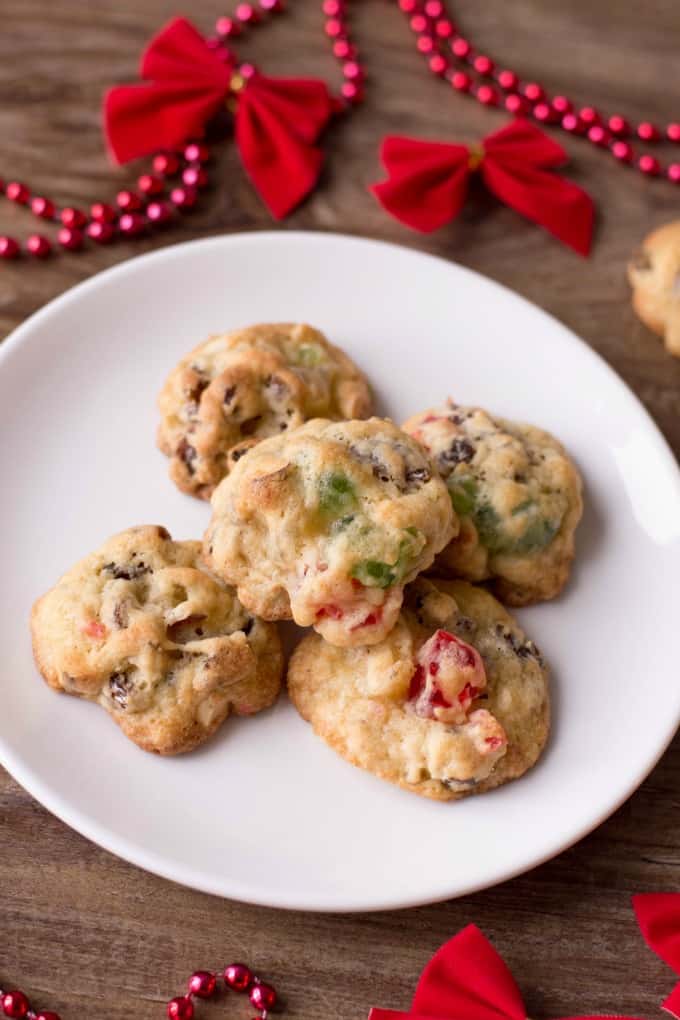 Subscribe To Our Weekly Newsletter
Helpful Items for This Recipe
This post contains affiliate links. As an Amazon Associate, I earn a small portion from qualifying purchases at no extra charge to you.
I have had this recipe for many, many years. Thinking back I believe I got it when I was doing cookie exchanges back in the 1990's when I was nursing.
It is written out on a pretty little card but I am not 100% sure who I received it from. Anyway, it has been a recipe that I have made many times.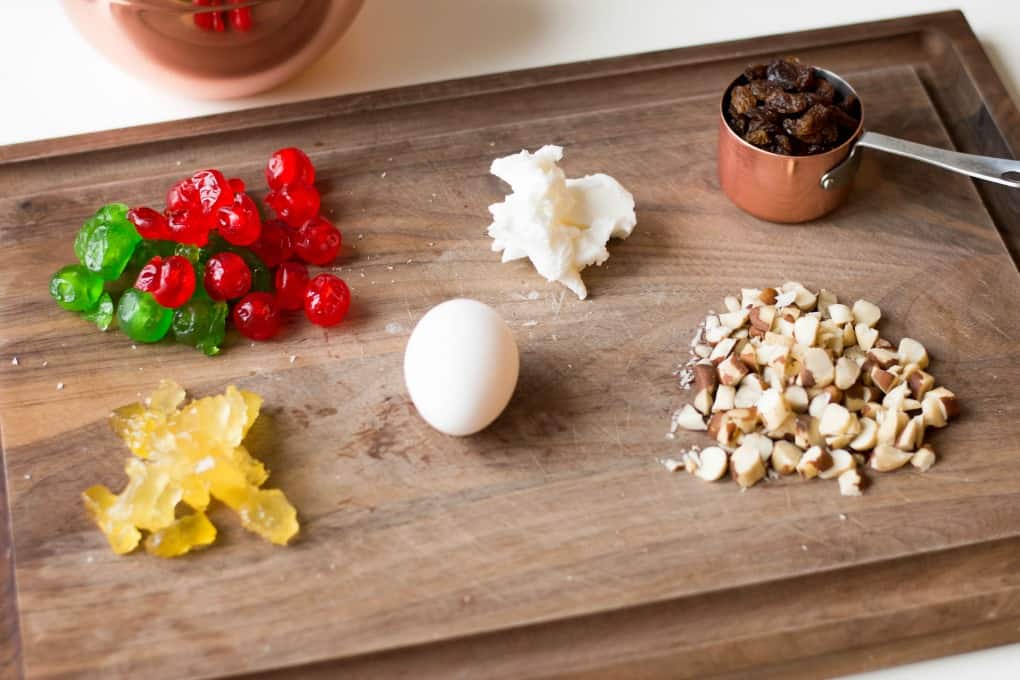 INGREDIENTS
raisins
candied cherries (red and green are pretty)
1 cup candied pineapple, coarsely chopped
Brazil nuts
Golden Crisco shortening
White sugar
Egg
Vanilla
Almond extract
All-purpose flour
Baking soda
Salt
I see that Ina Garten, the Barefoot Contessa has a fruitcake cookie but it is very different from this one. Hers are rolled and sliced and have different ingredients.
Ours taste like a really good fruitcake, nothing nasty here. Just a wonderful candied fruit and nut combination. I love that this recipe uses Brazil nuts, you don't find that in holiday baking very often.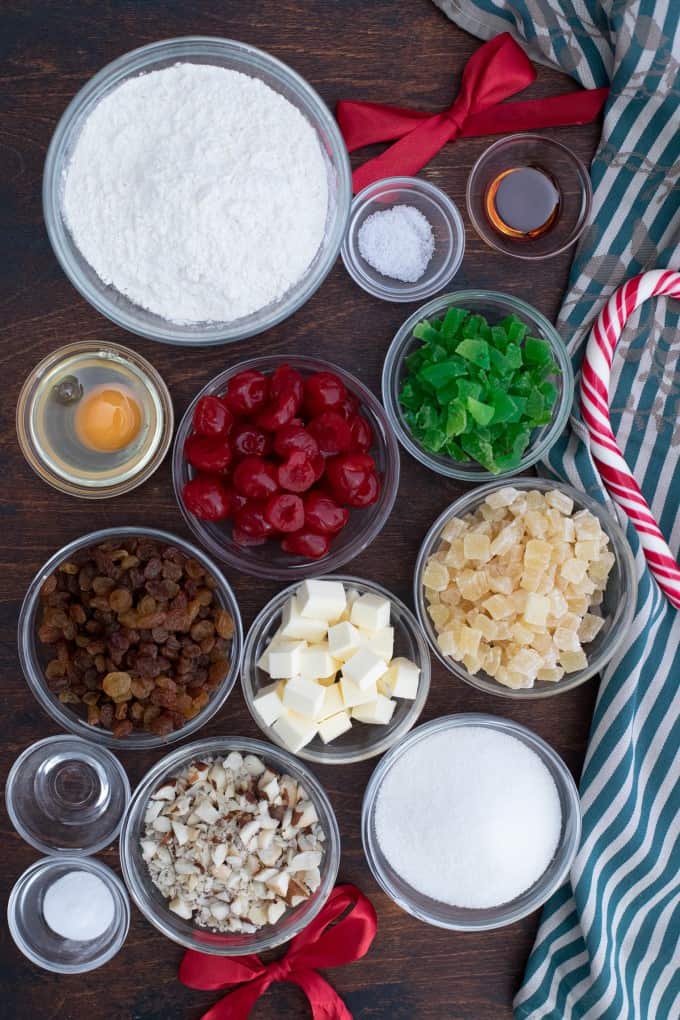 Candied Fruit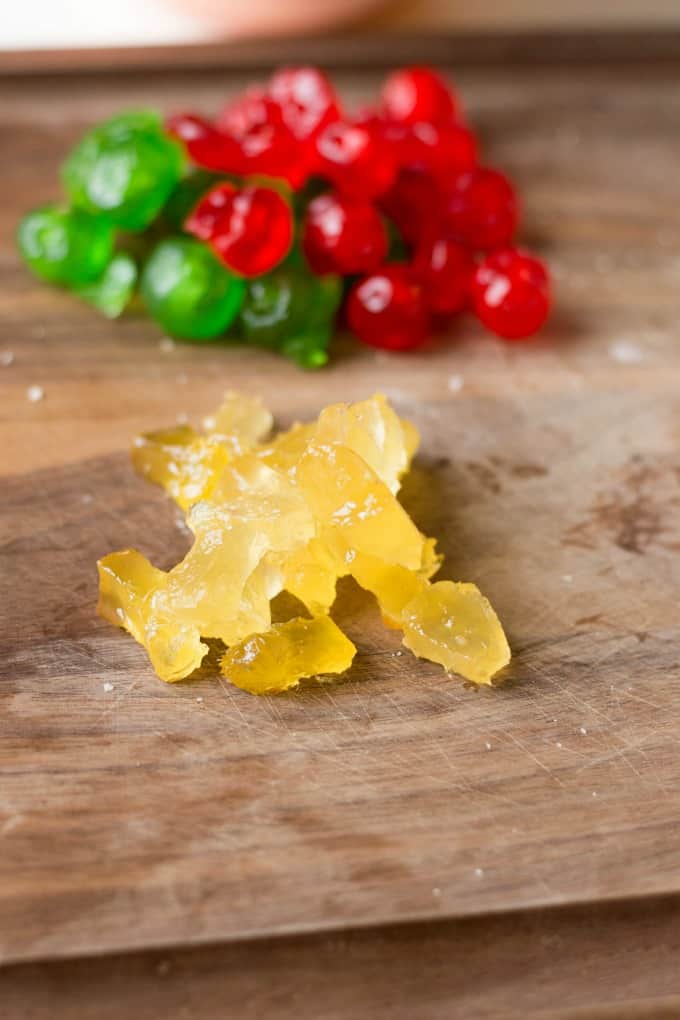 Look at how pretty the candied dry fruit is. That screams Christmas to me right away!! The Best Ever Fruitcake Cookies have to be added to your cooking baking list.
Not only are they easy but for many, they bring back a flood of memories as this vintage recipe has been around for a long time.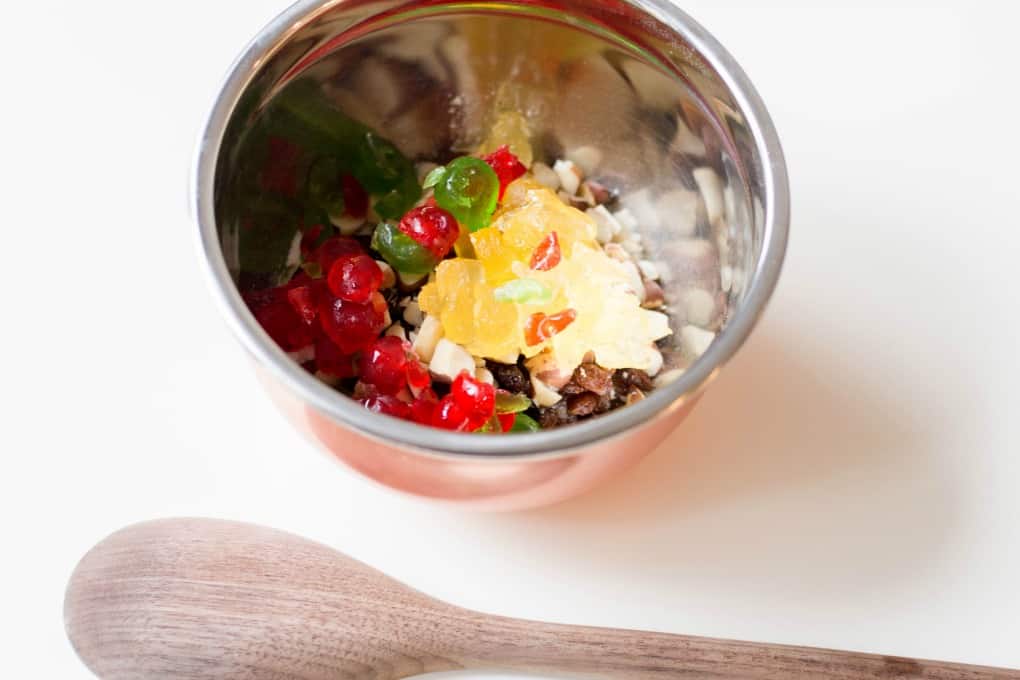 Simple ingredients and easy prep will lead you to make these cookies again and again.
Have you been a fruitcake fan but don't like to make it? These cookies will fit the bill and have you loving how easy they are too.
How to Make Easy Fruitcake Cookies?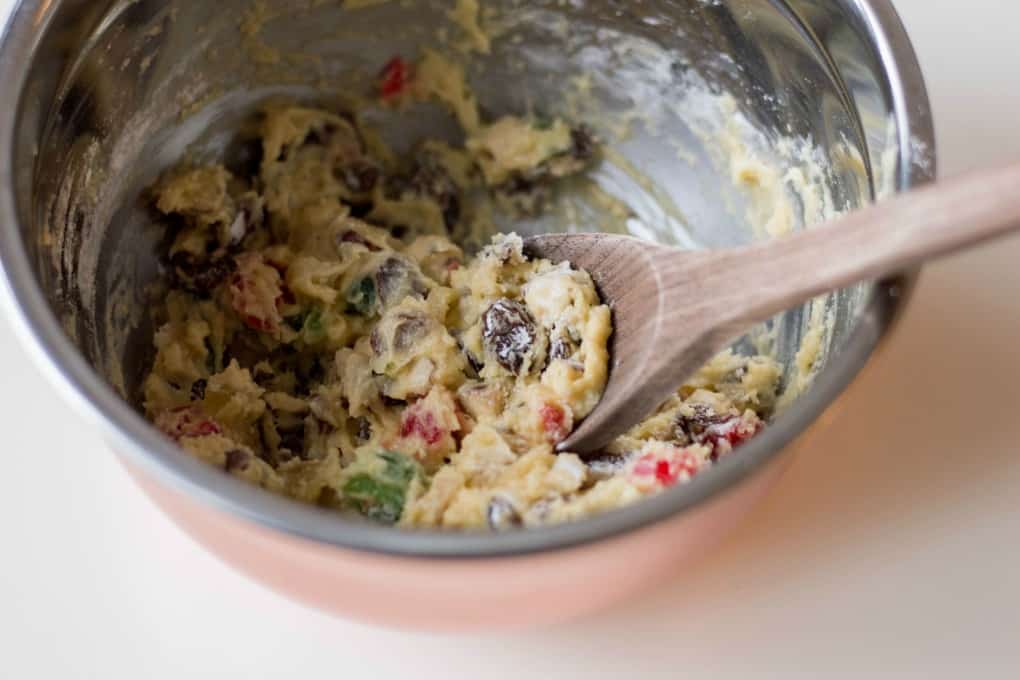 It is just a few easy steps. In a large bowl mix the fruits together with the nuts and then add 1/2 the flour. Cream the shortening with the sugar using an electric mixer on medium speed and then add the egg and vanilla along with the almond extract.
Next, the dry ingredients, add the flour, baking soda, and salt. Stir the flour mixture into the fruit mixture and mix well.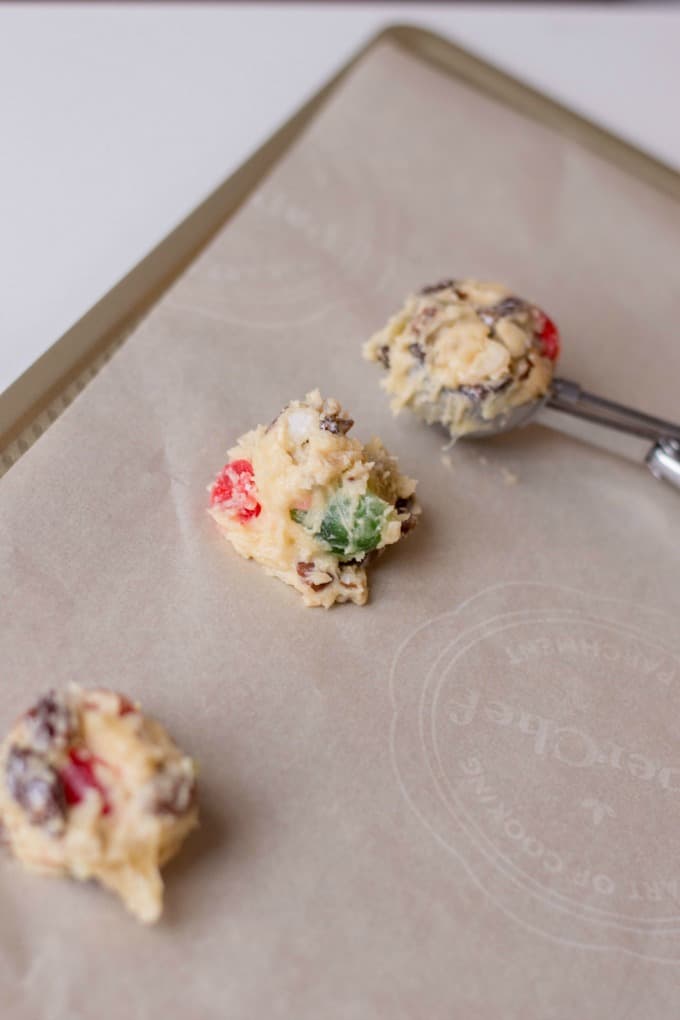 Using a 1 " cookie scoop if you have one, drop the cookies onto a lined or greased baking sheet. I like to use parchment paper. Then bake in the preheated oven for 10-12 minutes or until golden brown.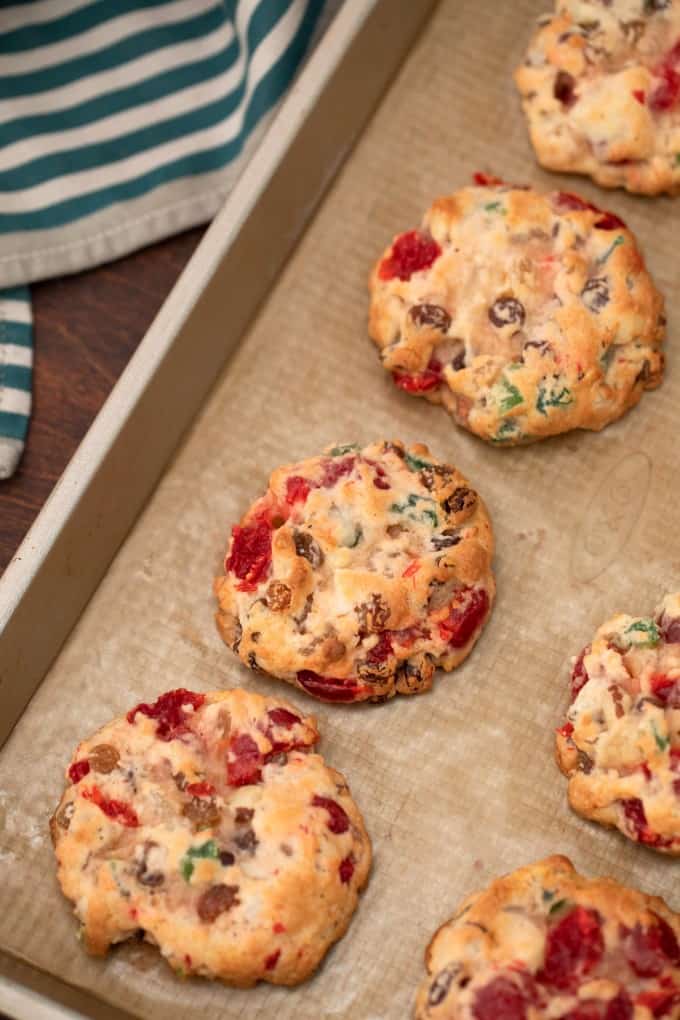 Let them cool on wire racks and once cooled put them in sealed containers and enjoy or freeze. These are the best easy made cookies for the holidays!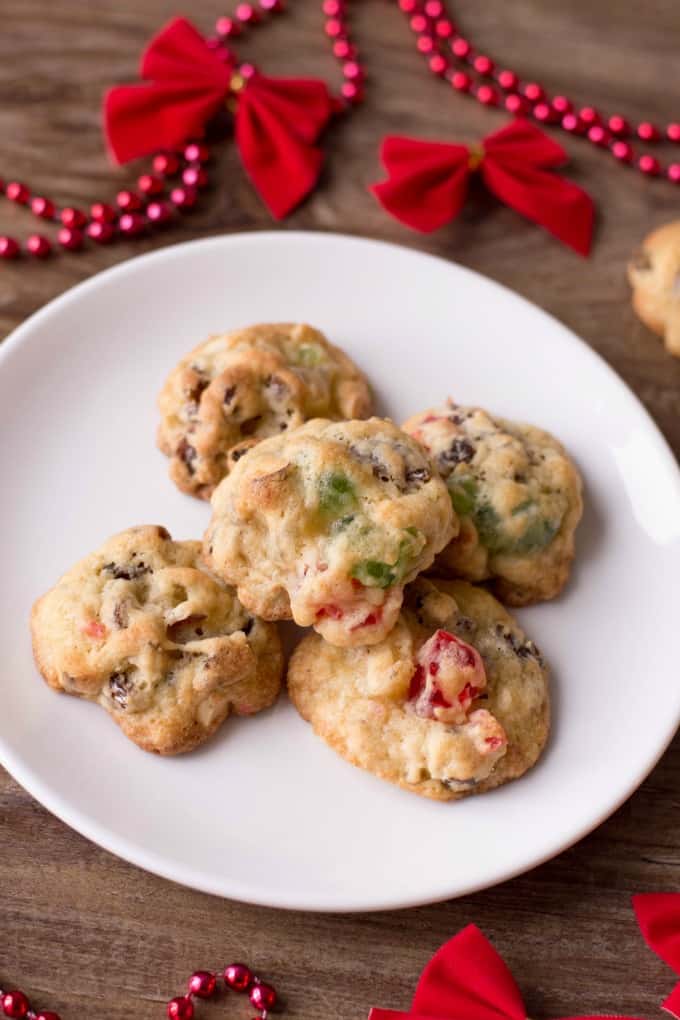 They have perfect texture and flavoring. Crispy, crunchy, and chewy, these cookies will be a hit with young and old.
How To Store Fruitcake Cookies
If I know the cookies will be eaten up quickly then I store them in an air-tight container at room temperature, if longer then in the refrigerator. If I want to have them made ahead I will freeze them in layers with wax paper in between. They will be good frozen for 2-3 months.
I love the retro-ness of these cookies. This would be something that grandma would serve you when you come over for the holidays. She would have the cocoa hot and the cookies ready!!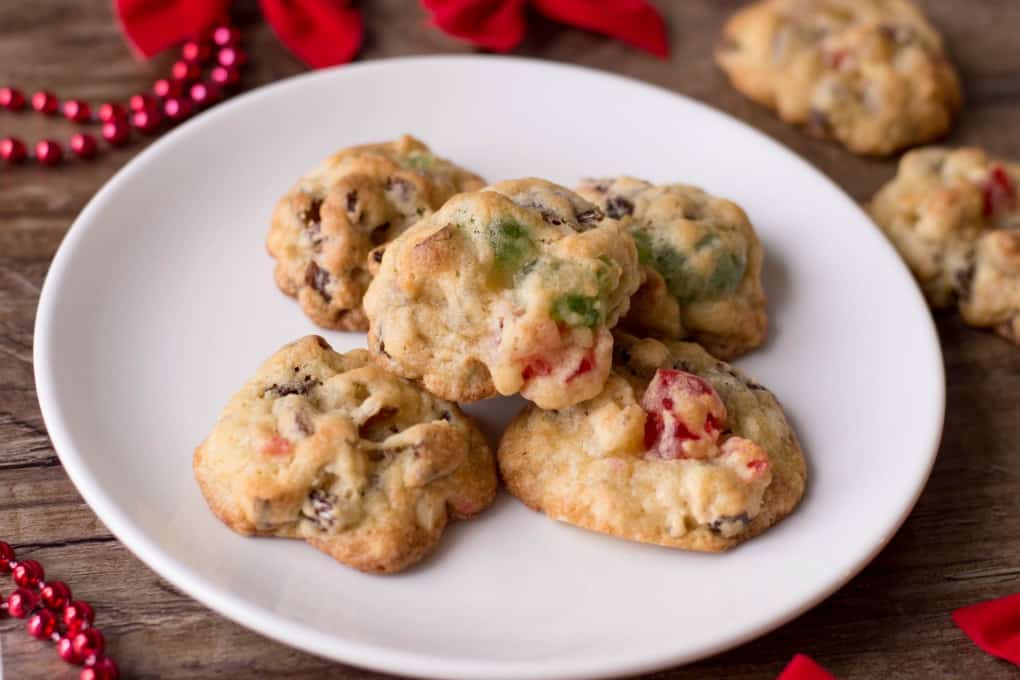 If you don't like fruitcake I bet you love these! They are similar but yet oh so much better. They will last up to 2 weeks in a sealed container but in most households, they will only last a few days!!
Happy Holidays everyone!!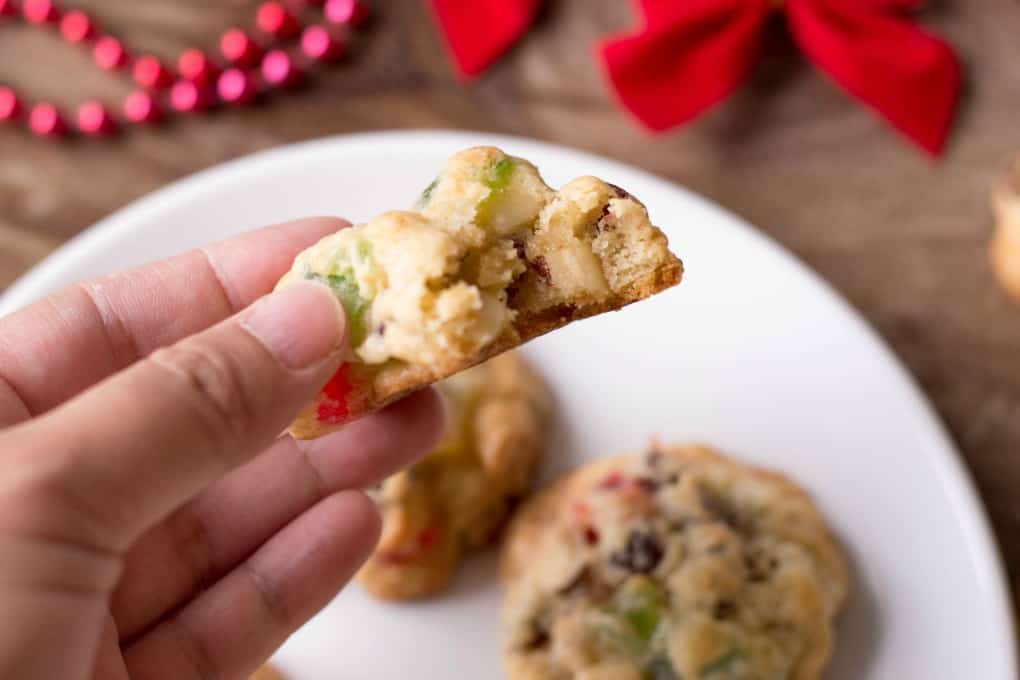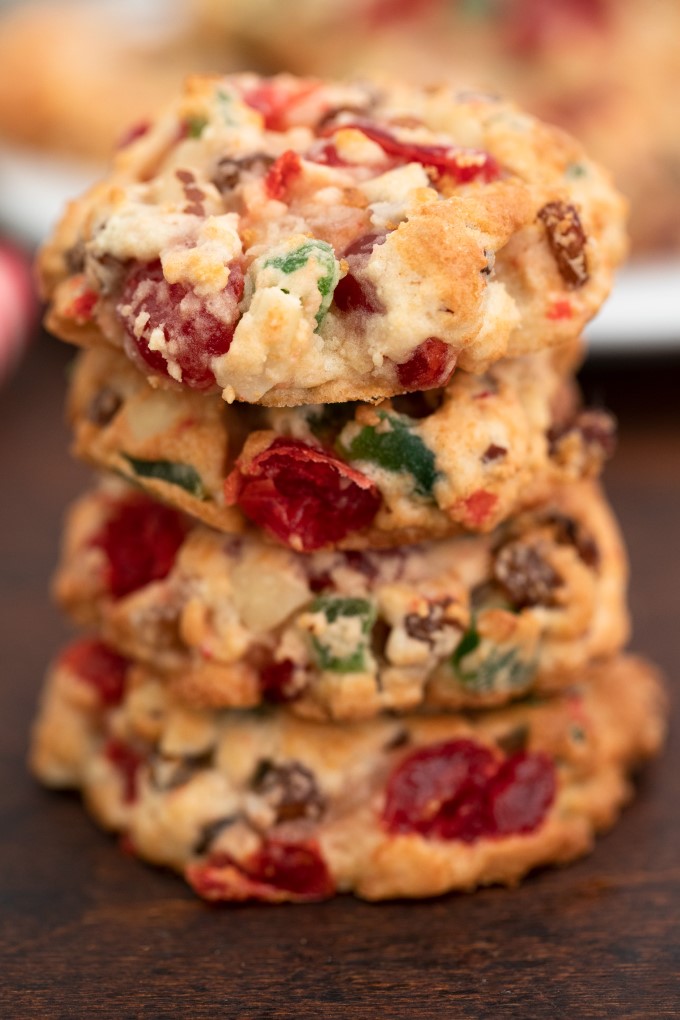 Pin it HERE!!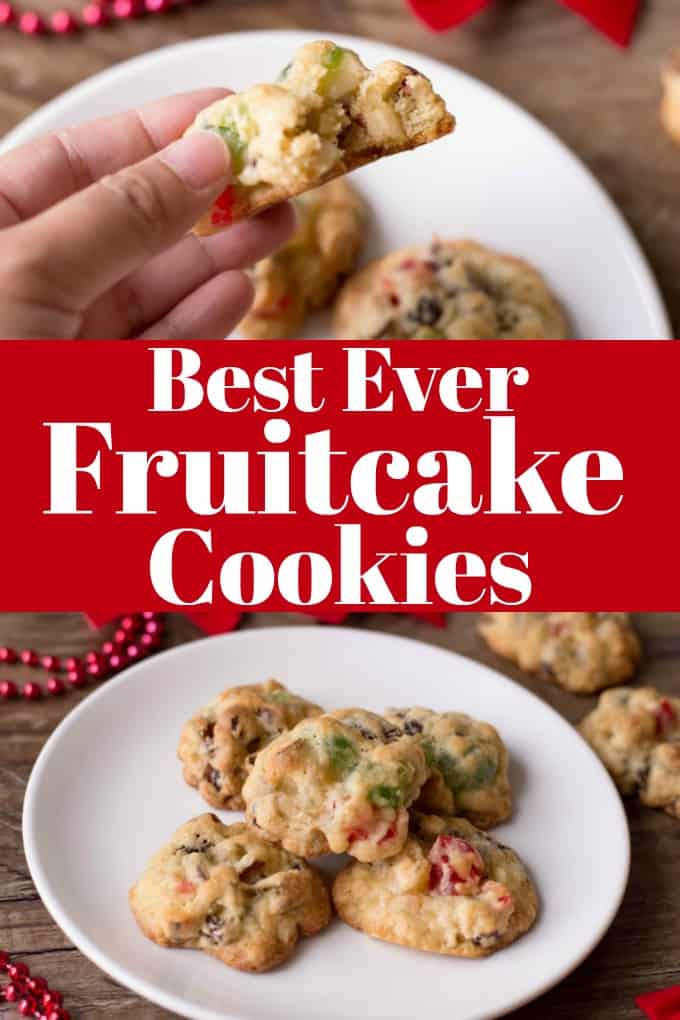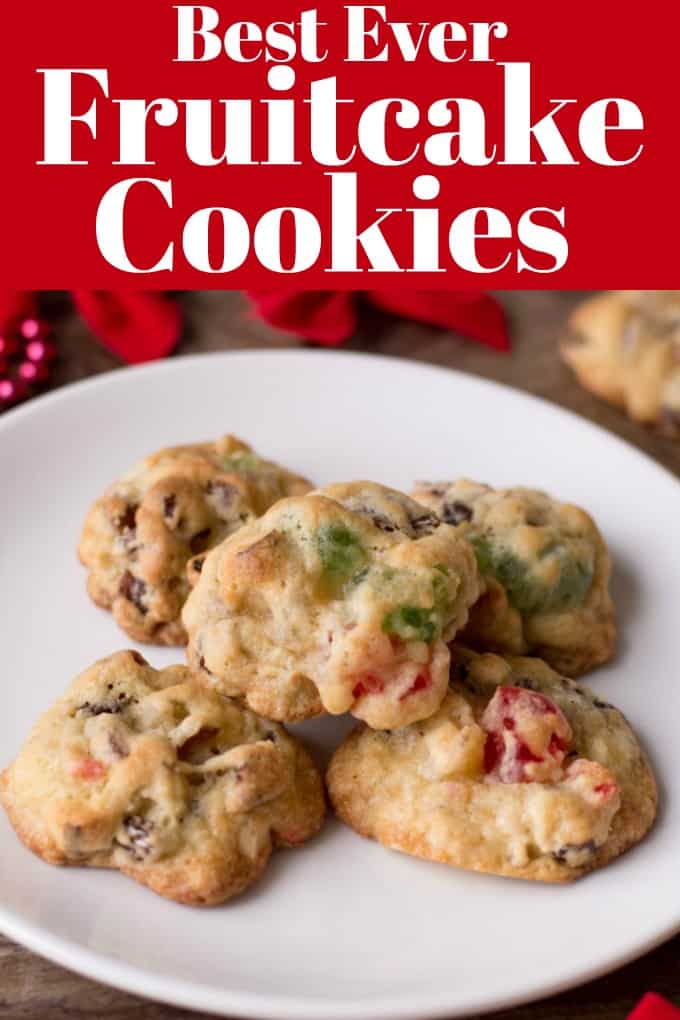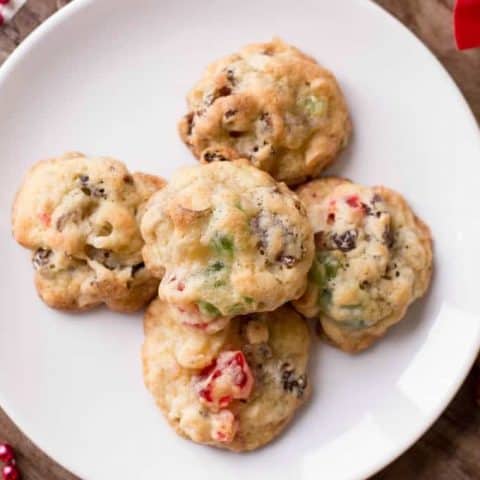 Best Ever Fruitcake Cookies
Yield: 50 Cookies
Prep Time: 15 minutes
Cook Time: 12 minutes
Total Time: 27 minutes
These Best Ever Fruitcake Cookies taste like Christmas in a bite; you will want to make a double batch!
Ingredients
1 cup raisins
1 cup candied cherries (red and green are pretty), coarsely chopped
1 cup candied pineapple, coarsely chopped
1 cup Brazil nuts, coarsely chopped
1/2 cup golden Crisco shortening
3/4 cup white sugar
1 egg
1 tsp. vanilla
1/2 tsp. almond extract
1 1/4 cups flour
1/2 tsp. baking soda
1/2 tsp. salt
Instructions
Combine fruit and nuts and 1/2 the flour, and mix well.
Cream the shortening and sugar, and add the egg and flavoring.
Beat on medium speed with an electric mixer until light and creamy.
Stir in fruit mixture and remaining flour, baking soda, and salt and mix well.
Drop onto parchment lined or greased baking sheet using a 1" scoop and bake at 350F for 10-12 min. Let cool on cooling racks.
Notes
Notes: The colder your dough is the less it will spread so chill the dough or the scooped out dough on a cookie sheet before going into the oven.
These cookies also freeze well for up to 3 months.
Recommended Products
As an Amazon Associate and member of other affiliate programs, I earn from qualifying purchases.