12 Days of Christmas-Holly Hermits
A couple of things about the cookie 12 Days of Christmas-Holly Hermits that I am sharing with you today. Number one I have baked from Betty Crocker's cookbooks forever and love the cookie recipes that they have. Old fashioned all-time favorites. I have found this cookbook through a friend of mine Nan. It is called Betty Crocker's Cooky Book. Cute title!!
Secondly, I love a cookie full of spice and flavor and this one delivers. This cookie is the best from the 1880-1890's, rich with spices from the Indies. Wow, they have longevity!! They originated from Cape Cod and were sent to sea on many boats in the time frame and are still favorites to this day!!
I keep my raisins in the freezer and they may get a bit dried out but I plump them back up with hot water. This time I added some rum to the mix and let them soak for about 1/2 hour. The longer you soak them the more rum flavor you will get. Try baking some of these up this year, they will become one of your favorites too!
Take a break from decorating, sit back with a coffee, and enjoy these little satisfying cookies.
Yummy!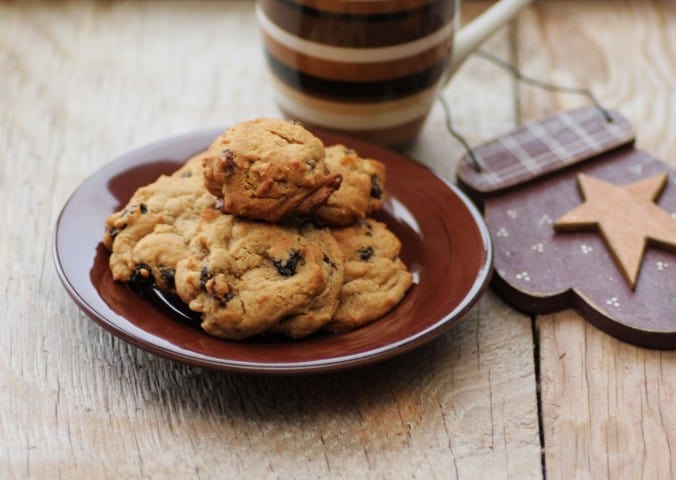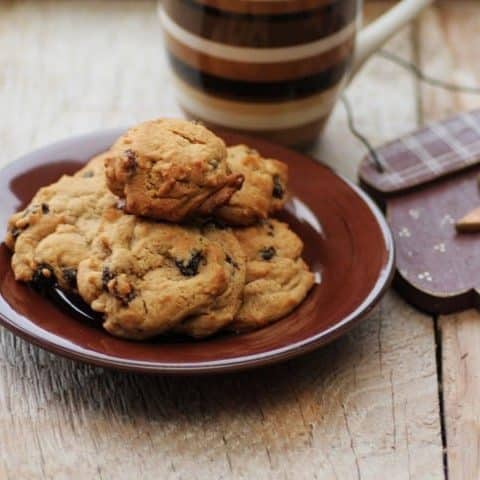 12 Days of Christmas-Holly Hermits
Yield: 8 dozen cookies
Prep Time: 15 minutes
Cook Time: 10 minutes
Inactive Time: 1 hour 30 minutes
Total Time: 1 hour 55 minutes
A spicy, fruity, satisfying cookie!
Ingredients
1 cup shortening
2 cups brown sugar, packed
2 eggs
1/2 cup cold coffee
3 1/2 cups flour
1 tsp. baking soda
1 tsp. salt
1 tsp. nutmeg
1 tsp. cinnamon
2 1/2 cups raisins
1/2 cup hot water
1/4 cup dark rum
1 1/4 cup walnuts, rough chopped
Instructions
Soak raisins in the hot water and rum for at least 1/2 hour stirring occasionally. Drain.
In a stand-up mixer with a paddle attachment cream shortening and sugar together.
Add eggs. Stir in coffee. Stir the flour, salt, nutmeg, and cinnamon together and incorporate it into the shortening mixture.
Remove the bowl from the stand-up mixer and fold in the nuts and raisins.
Chill dough for 1 hour at least.
Heat oven to 400F. Drop tsp. of dough onto a lightly greased cookie sheet and place 2" apart.
Bake for 8-10 min. or until golden brown. Cool on cookie racks.
Nutrition Information:
Yield: 96
Serving Size: 1
Amount Per Serving:
Calories: 74
Total Fat: 3g
Saturated Fat: 1g
Trans Fat: 0g
Unsaturated Fat: 2g
Cholesterol: 5mg
Sodium: 41mg
Carbohydrates: 11g
Fiber: 0g
Sugar: 6g
Protein: 1g
Recipe calculation was provided by Nutritionix and is estimation only. If you need nutritional calculations for medical reasons, please use a source that you trust.
Adapted from Betty Crocker's Cooky Book