Here is my second installment of the 12 Days of Christmas in conjunction with #SundaySupper. I loooooove celebrity chefs and Michael Symon tops my list. I watch him everyday on The Chew, never miss an episode. I love his wit and humor never mind his wonderful style of cooking. Fast and simple are a lot of his meals as in his 5 minute Meals.
I wanted to add this to my 12 Days of Christmas as we are all running in one direction or the other and Michael's quick meals are a big help. The one I made for you today is easy and so fabulous that company would love it. You can be out and about doing what needs to be done and then home with company and serving this delicious holiday meal. It took me all of 20 minutes to pull together from refrigerator to plate. I am not as fast as Michael is and he always has a little helper on the side in Carla, Clinton or Daphne. I changed a few things from his original recipe due to availability of items. There wasn't fresh sage leaves at the grocery store so I used ground, there wasn't apple cider so I used apple juice. You get the picture right?
You want to be enjoying your company over the holidays not slaving in the kitchen and this recipe can help you achieve that. Serve this with a simple salad and you have dinner on the table in no time.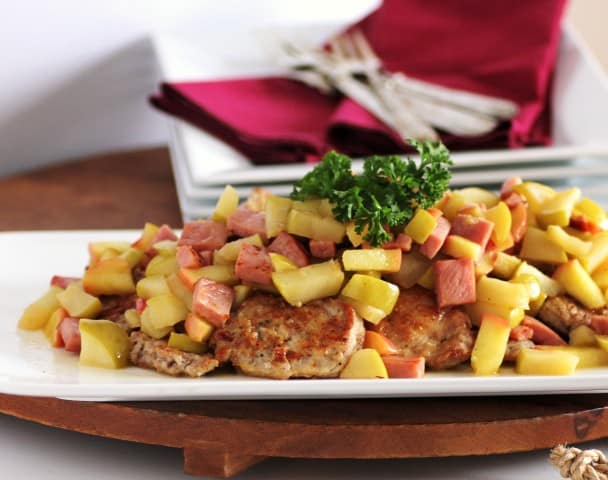 12 Days of Christmas-Michael Symon's Pork and Apple Scallopini for Favorite Celebrity Chef #SundaySupper
A fast and easy holiday meal!!
Ingredients
1.5 lb. pork tenderloin, cut into ¾ inch rounds and pounded thinly
2 granny smith apples
1 gala apple
¼ lb. ham steak
¼ tsp. ground sage
200 ml. apple juice
2 Tbsp. apple cider vinegar
5 Tbsp. olive oil
3 Tbsp. butter
Salt and pepper to taste
Flour for dredging
Instructions
Season the thinly pounded out pork with salt and pepper and then dredge in flour, shaking off the excess. Heat a large pan over medium high heat with 3 Tbsp. of the olive oil. Carefully lay pork in and cook two minutes a side. You may have to do this in two batches, don't over crowd.
Meanwhile, dice the ham and apples. Heat the 2 Tbsp. of olive oil in a second large fry pan on medium high heat and add the ham cooking for 1 minute, browning slightly. Add the apples and cook for 2 min. Add the apple juice and and sage and turn up to high for 2 minutes to reduce. Add in the butter and toss to emulsify. Finish with the apple cider vinegar. Adjust seasoning.
Plate the apple ham hash over the pork and enjoy!!
Adapted from Michael Symon recipes on The Chew.
Now let's see what everyone else has brought with them from their favorite chef.
Who's your favorite Celebrity Chef?  Can you pick just one?  What's your favorite Celebrity Chef recipe?  Is it Polenta, Bread Pudding or a Shrimp Scampi?  We want to know!  Join #SundaySupperthis week at 7pm Eastern Time on Twitter and tell us all about your favorite Celebrity Chef inspired recipe!
FAVORITE CELEBRITY CHEF SUNDAY SUPPER RECIPES
Starters or Snacks :
Martin at ENOFYLZ Wine Blog – Oyster and Brie Soup and Wine Pairings for Celebrity Chef #SundaySupper
Linda at The Urban Mrs. – Inspired by Bobby Flay, Lobster Chowder with Roasted Corn Salsa
Erin from Dinners, Dishes and Desserts – Rachael Ray's Cinnamon Popcorn
Cindy over at Cindy's Recipes and Writings – Jamie Oliver's Bread and Tomato Soup
Jeff at The Catholic Foodie – Drop Biscuits – Breakfast with Chef John Besh
Renee over at Kudos Kitchen By Renee – Giada De Laurentiis' Garlic Toasts With Red Pepper Aioli
The Main Dish:
Sheila at Cooking Underwriter – Paula Deen's  Chicken in a Crock Pot w/ Sauerkraut and Apples
Laura over at Small Wallet Big Appetite – Martin Yan's Beef Chow Fun
Sarah over at Crispy Bits & Burnt Ends – Michael Symon's Lola burger with crab tater tots
Susan at The Girl in the Little Red Kitchen – Ina Garten's Baked Shrimp Scampi
Tammi at Momma's Meals – Lee Drummond's Sloppy Joe's
Lane over at Supper for a Steal – Bobby Flay's Rosemary Bricked Chicken
Tara from Noshing with the Nolands – Michael Symon's Pork and Apple Scallopini
Shannon at Country Girl in the Village – Simple Red Sauce over Rigatoni. Inspired by,  Debi Mazar and Gabriele Corcos
Kris over at In the Kitchen with Audrey and Maurene – Rachael Ray's Muffin Tin Meatloaf
Nicole from The Daily Dish Recipes – Paula Deen's Slow Cooker Pulled Pickled Pork Sandwiches
Becca from It's Yummilicious – Ina Garten's Grown Up Bacon Mac & Cheese
Alice at  Hip Foodie Mom – Sunday Pot Roast with Risotto Cakes from Kelsey Nixon
Jen over at  Juanita's Cocina – The Neely's White Turkey Chili
Brianne from Cupcakes & Kale Chips – Crockpot Beef Pot Roast with Mushrooms inspired by Giada DeLaurentiis
Isabel at Family Foodie – Polenta with Garlicky Shrimp inspired by Chef Todd English
Wendy from The Weekend Gourmet – Shrimp Penne in Pesto Cream Sauce, From Emeril Lagasse
Bobbi over at Bobbi's Kozy Kitchen – Cheesy Poblano Chicken
Patti at Comfy Cuisine – Tyler Florence's Chicken Francese
Roxanne over at The Roxx Box – Jambalaya Pasta with Penne, Chicken, Shrimp and Andouille
Sue from Sue's Nutrition Buzz – Rachael Ray's Spicy Corn Chowdah Mac 'n' Cheese
Jamie at Mama Mommy Mom – Penne with Asparagus, Smoked Gouda and Prosciutto. Adapted from, Giada De Laurentiis'
Tora over at Tora's Real Food – Pork and beans with Alton Brown's pickled pork
Elisabeth over at The Hand That Rocks The Ladle – Emeril's New Orleans Style Red Beans & Rice
Amazing Sides:
Megan from I Run For Wine – Curtis Stone's Acorn Squash Roasted with Thyme
Sandi over at Midlife Road Trip –  Gabriele Corcos's Gnocchi di Patate
Shelby at  Diabetic Foodie – Orange Pecan Black Rice, adapted from Ina Garten
Katie from She likes Ruffles, He likes Truffles – Chef Fabio Viviani's Spinach and Artichoke Risotto
Sweet Endings:
Renee over at Magnolia Days – Brownie Tart
Conni at The Foodie Army Wife – Inspired by Ree Drummond – Scrumptious Apple Coffee Cake
Paula over at Vintage Kitchen Notes – Bill Granger´s Cherry Tart
Pam from The Meltaways – Savannah Sheet Cake
Katy over at Happy Baking Days – Mary Berry's Treacle Tart
Jaime over at Mom's Test Kitchen – Southern Tea Cakes
Amy over at Kimchi MOM – Crack Pie, I Can't Quit You
Wine Pairings: 
Martin at ENOFYLZ Wine Blog
Please join on us on Twitter throughout the day  #SundaySupper.  In the evening we will meet at 7pm EST for our weekly #SundaySupper live chat,  you have to join us!
All you have to do is follow the #SundaySupper hashtag or you can follow us through TweetChat.