Carrot, Parsnip and Lentil Casserole from Happy Baking Days
I am continuing with my #SundaySupper series picking from the big list of contributors. I first did a Harvest Rice from Webicurean that is excellent and we have made a few times since! This time a Carrot, Parsnip and Lentil Casserole caught my eye from Happy Baking Days. It looks so full of hearty goodness.
It leaped off the screen at me for a number of reasons. First off we all love lentils, secondly, I am always on the hunt for a good vegetarian meal as we try to do that once a week, and thirdly it just made me drool.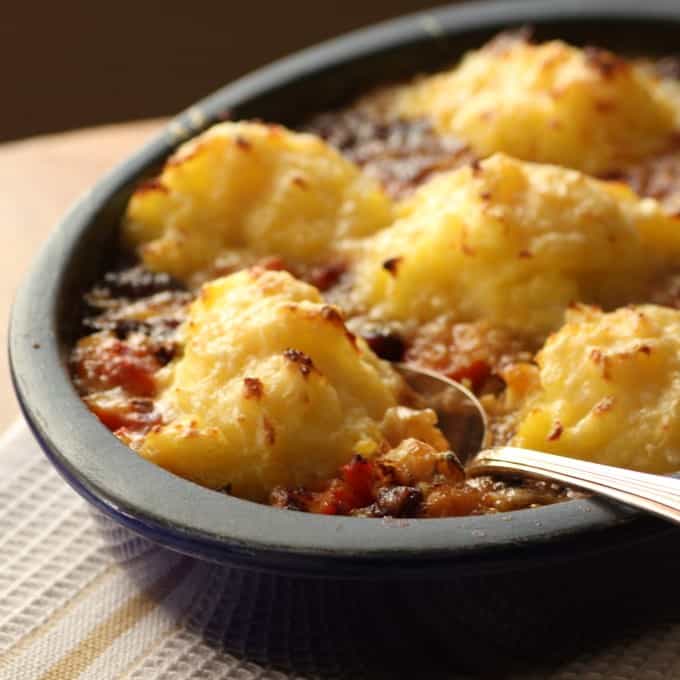 We made the dish and it was so fantastic, we literally had to pull ourselves away from the casserole so there would be some left for Ken's mom as we send her care packages all the time.
I loved how hearty it was and if you left out the cheese and did the potatoes vegan the whole thing would be vegan but I have to admit I do struggle with that. Vegetarian not a problem but don't take away my butter, eggs, milk, and cheese.
Anyway, I digress. I would make this dish for sure again and again. It does have quite a few steps so it would be a good Sunday meal. Something that you can putz with when you have the time. It is a perfect winter meal.
Happy Baking Days
Katy who lives just outside of London in the UK has a cute site in Happy Baking Days. She specializes in sweet treats but as you see offer other fine dishes too!.
Katy has Celiac disease so her baking offers gluten-free recipes which is a great help for those seeking these recipes. She is new to blogging as she has only started in July. I loved her little Ghostly Chocolate Orange Tarts she did at Halloween. So come over and see her site and say hi from me!!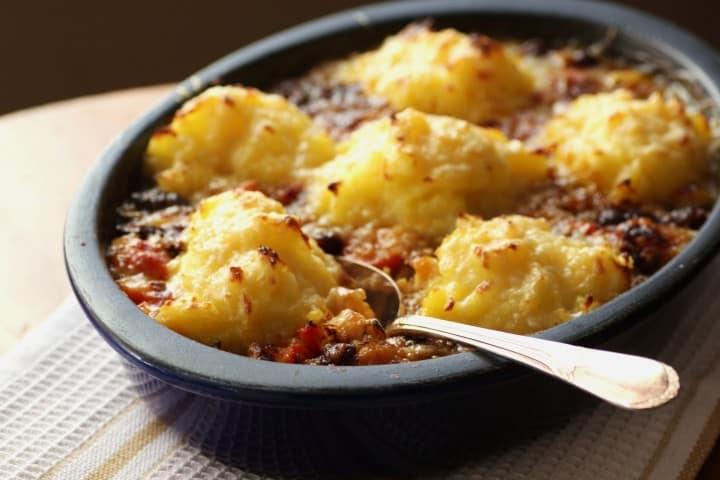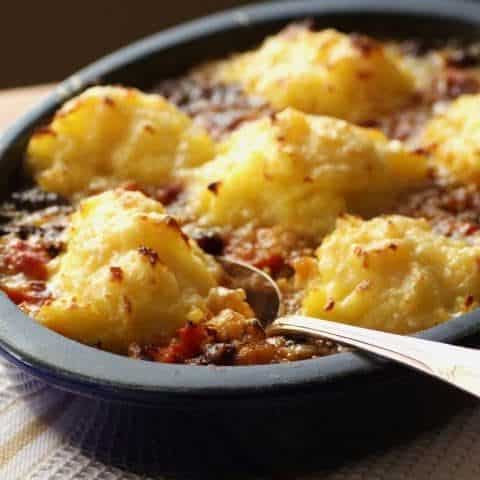 Carrot, Parsnip and Lentil Casserole from Happy Baking Days
Ingredients
1 Tbsp. olive oil
3 carrots, peeled and sliced
2 parsnips, peeled and sliced
1 onion, finely chopped
1 clove garlic, minced
1/2 cup red lentils, rinsed
1 can kidney beans, drained and rinsed
2 tsp. cumin
1 tsp. ginger
1 tsp. finely chopped corriander
1 bay leaf
Salt and pepper to taste
600 ml. vegetable stock
2 medium yukon gold potatoes
2 Tbsp. milk
1 Tbsp. butter
Parmesan cheese, grated
Instructions
Add olive oil to a large pot and saute onion and garlic until soft. Add the carrots and parsnips to the pan along with the stock and bring to a boil. Add the lentils, herbs, and spices. Simmer covered for 20min. or until the vegetables are tender and the lentils are cooked.
Preheat oven to 300F. Spray a casserole dish with cooking spray if needed. Mix kidney beans into the large pot with the carrot mixture. Using a slotted spoon transfer vegetables into the casserole dish, then ladle in enough liquid to cover the vegetables. Bake for 30-40 min. until a slight skin forms and the casserole is bubbling. You may want to cover it at this point.
Meanwhile, peel and chop potatoes and cook in boiling water until tender. Mash with the milk and butter and season with salt and pepper. Remove the casserole from the oven and carefully put spoonfuls of mashed potato onto the vegetables. Increase oven to 350F and return the casserole to oven and bake, uncovered for an additional 20-30 min. until potatoes begin to crisp.
Add grated parmesan and broil until slightly browned. Cool slightly and serve with warm crusty bread.
Nutrition Information:
Yield: 4
Serving Size: 1
Amount Per Serving:
Calories: 337
Total Fat: 8g
Saturated Fat: 3g
Trans Fat: 0g
Unsaturated Fat: 5g
Cholesterol: 9mg
Sodium: 831mg
Carbohydrates: 56g
Fiber: 12g
Sugar: 7g
Protein: 13g
Recipe calculation was provided by Nutritionix and is an estimation only. If you need nutritional calculations for medical reasons, please use a source that you trust.