It is that haunting time of year again and we adore anything Halloween. Well, fun Halloween not super scary Halloween. So to celebrate the fun side Amber was in the kitchen again creating this deliciously spooky Halloween Bark.
Can you feel fall in the air? We sure can here in the west. They are even predicting snow this week. What a rapid change from our hot, dry and smoky summer we had.
Halloween Bark! What is not to love about this Halloween treat? Get yourself really good quality milk chocolate as opposed to choclate chips. This kind of chocolate I can find is already cut up or in large chunks. This will ensure that everyone will be enjoying this colorful and flavorful treat.
Then buy some fun candy melts in great Halloween colors like purple, green and orange. Toss in some candy eyeballs and the ever present Halloween peanut butter cups and you have the best bark going.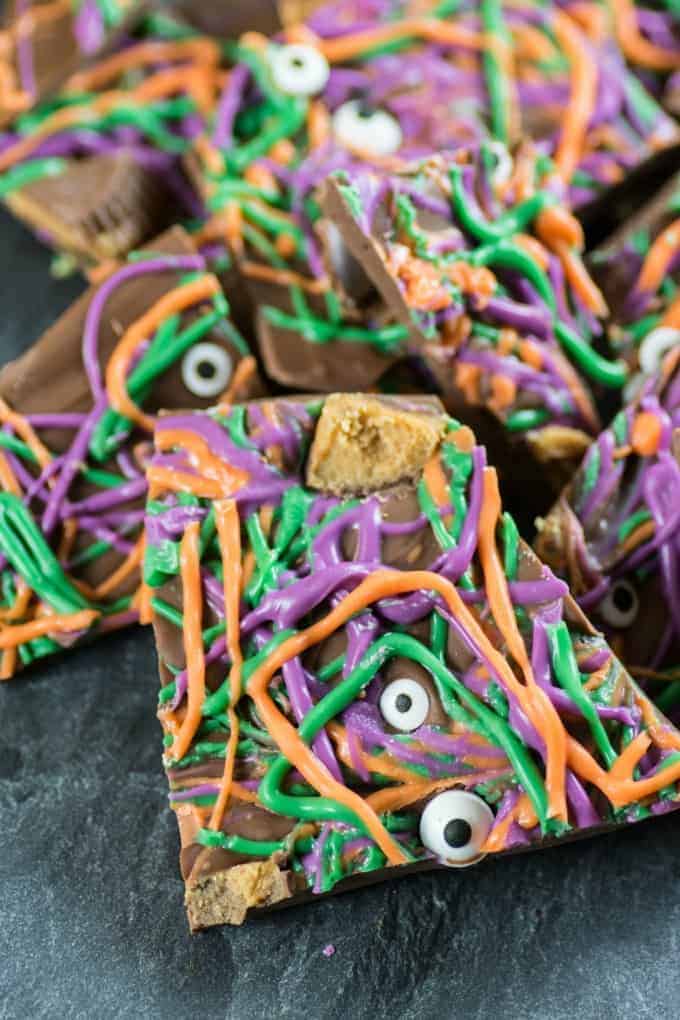 The recipe is so simple for this fun treat! You can easily make it your own. Melted chocolate is not hard to work with and can be handled by kids too as it shouldn't get that hot.
If chocolate gets too hot it can seize. So always heat low and slow. This can also happen if water gets into the chocolate, so avoid those two things and you should not have an issue.
Don't love peanut butter cups or have an allergy then add in oreo cookies, candy corn, ghoulish chocolate dracula teeth, pretzels, M&M's, Smarties, or whatever your favorite candy is or what cool things you find and like!
Leftover Halloween candy can also be transformed into this great bark as any chocolate bar cut up would work too. The possibilities are endless and fun!!
How to make Halloween Candy Bark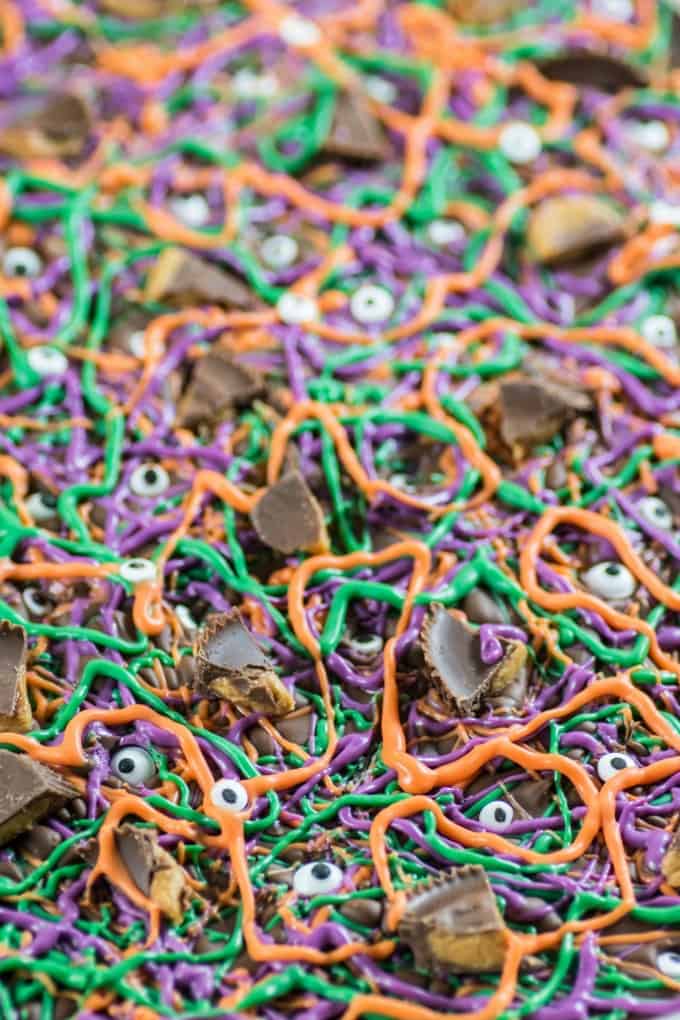 How to make Halloween Candy Bark is basically just a few easy steps. You just need various microwavable bowls and chopped up milk chocolate and the candy melts. Prepare a 12×17″ sided cookie sheet with parchment and set aside.
You can always work on a double-boiler method or as I like to do low and slow in the microwave. I use half power (50%) and do 30 second to 1 minute intervals stirring after each. Continue stirring until smooth.
Melt all the ingredients separately in the microwave and then place the candy melts after melting in ziploc bags. Before drizzling you can keep them warm in bowls of warm water while you continue to melt more. Just be sure to dry them thoroughly before starting to drizzle.
Melt the milk chocolate and then pour the chocolate onto your large sided prepared cookie sheet and then spread out thinly. Then snip the bottom of each candy melt bag and start to drizzle. Add in your candy eyeballs and chopped peanut butter cups as you go. So much fun and quick and easy too!!
Once you have your creation then simply place it in the refrigerator to harden. When ready it is easily broken into pieces and then can be stored in an air tight container.
Halloween Candy Bark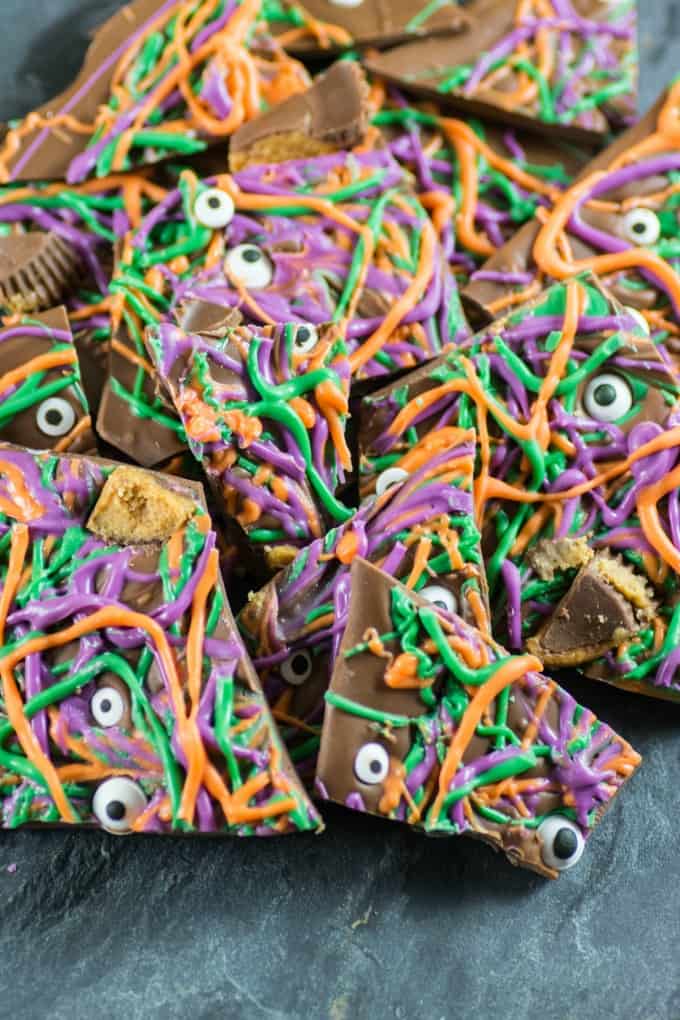 Ghoulish and silly is this Halloween Bark. Getting different sized eye balls adds to the amusement. Kids can easily help you make this because the messier it is the better, almost forming a spiderweb look with the layers of candy melts.
Where do you find candy melts? For us in Canada they are at our local craft store as they can be used for so many different crafts and recipes.
Halloween is a time of year where you can do a little or a lot or nothing at all and no one really cares. This is one of the reasons I love it so much!
It is a no pressure holiday in my mind but one that is so fun that we have always joined in to some extent. This recipe is just as easy as an almond bark is at Christmas time.
We have done a lot of fun recipes over the years like Witch's Fingers, Headless Gingerbread Men, Frankenstein Cheeseball Head, Spider Guacamole Eggs, Eyeball Truffles and the ever popular Embalming Fluid Cocktail.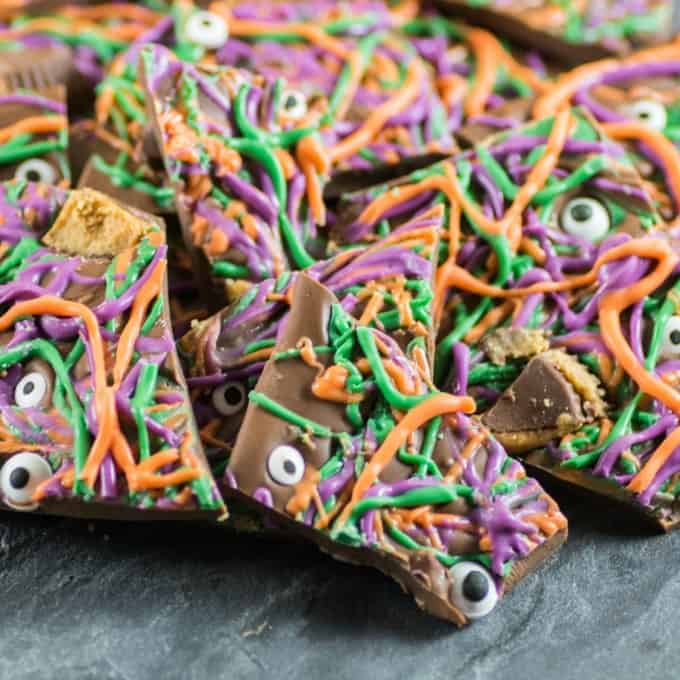 We used to have huge Halloween Bashes at our old house and would have up to 100 people from young to old arrive and have the best time.
Ken and myself made all the wonderfully ghoulish treats for the night with a big dessert table. The parties were a blast and it was something we planned for all year, testing recipes and planning games, invitations and more. Enjoy this fun Halloween treat this year!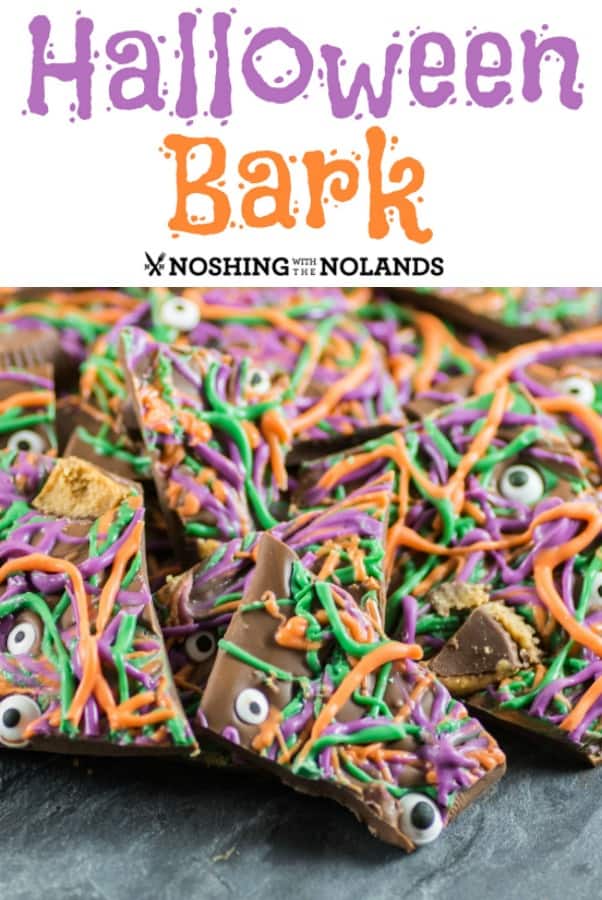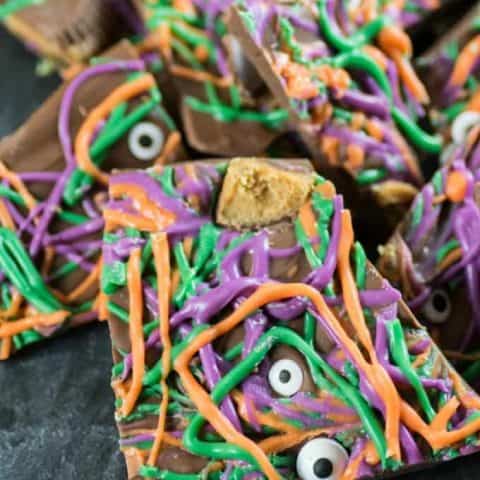 Halloween Bark
Prep Time: 25 minutes
Total Time: 25 minutes
This Halloween Bark is fun to make and delicious to eat. Using really good chocolate will have everyone enjoying it.
Ingredients
5 cups good quality milk chocolate, chopped
1 cup each orange, purple and green candy melts
1 pkg. peanut butter cups (3 cups)
Candy eyeballs various sizes
Parchment paper
Instructions
Line a 12x17" rimmed baking sheet with parchment paper. Chop up the peanut butter cups and set aside.
Melt each of the candy melts in a microwave safe dish at 50% power for 30 second intervals until melted stirring after each time. Pour the candy melts into ziploc bags and place in warm water to stay warm.
Melt the milk chocolate in a large microwave bowl using the same above method and stir until very smooth. Pour onto prepared rimmed baking sheet and spread out thinly.
Dry the bags of candy melts well and snip off a corner so you can drizzle out the candy. Using any design you like add all three candy melts and also add in the eyes and peanut butter cups.
Place in the refrigerator for 2 hours. Break into pieces and then store in an air tight container.