This Easy Russian Dressing is a fast classic salad dressing or spread for sandwiches. Its tangy flavor from red wine vinegar, ketchup, mayonnaise, lemon juice, white onion, and more will have you making it again and again.
Have you ever made a homemade dressing? If not, Easy Russian Dressing is a great recipe to start with. I love making homemade dressing recipes, not only do they taste better than store-bought but you also know exactly what goes in your recipe.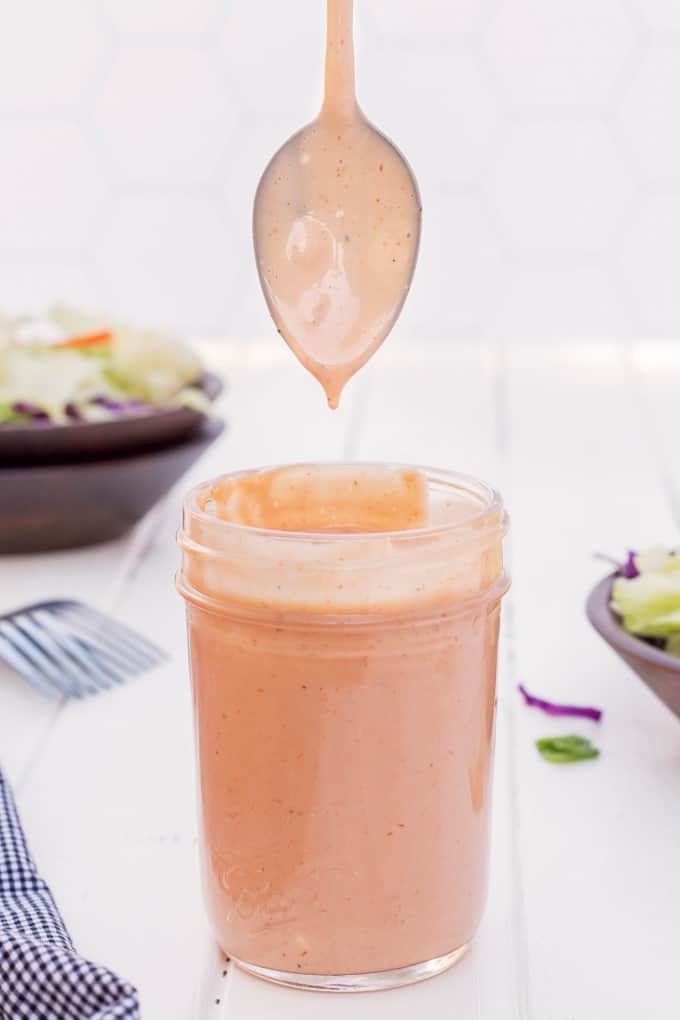 Homemade dressings usually have simple ingredients that you already have on hand like, mayonnaise, ketchup, onion, vinegar, lemon juice, etc. This dressing also makes a great tangy spread for sandwiches too, a real win, win.
We have started a collection of homemade dressings with Homemade Italian Dressing, Homemade Thousand Island Dressing, Parmesan Peppercorn Dressing, Red Wine Vinaigrette, and Buttermilk Ranch Dressing. Each uniquely wonderful and so easy and delicious to whip up!
HELPFUL ITEMS FOR THIS RECIPE
This post contains affiliate links. As an Amazon Associate, I earn a small portion from qualifying purchases at no extra charge for you.
Stainless Steel Measuring Spoons and Measuring Cups Combo, Set of 8
How Do You Make Russian Dressing From Scratch?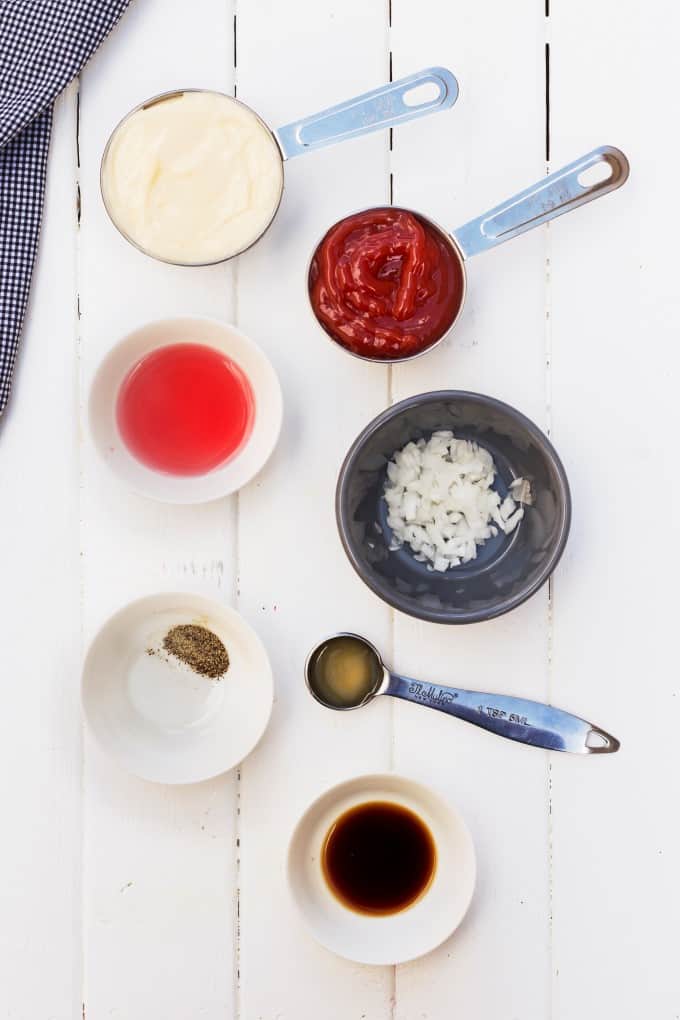 Ingredients
Mayonnaise
Ketchup
Red wine vinegar
White onion
Lemon juice
Salt and fresh ground pepper
Worcestershire sauce
Place all the ingredients in a small bowl or jar and stir to combine. Serve immediately or cover and refrigerate in an air-tight container for up to a week. What? It is easy to make Russian Salad Dressing? Why haven't I done this forever? Yup, crazy easy to make at home isn't it.
If you would like a spicier version, add in prepared horseradish or chili sauce or hot sauce. This would be great if you are using it as a spread for a sandwich.
Why Do They Call it Russian Dressing?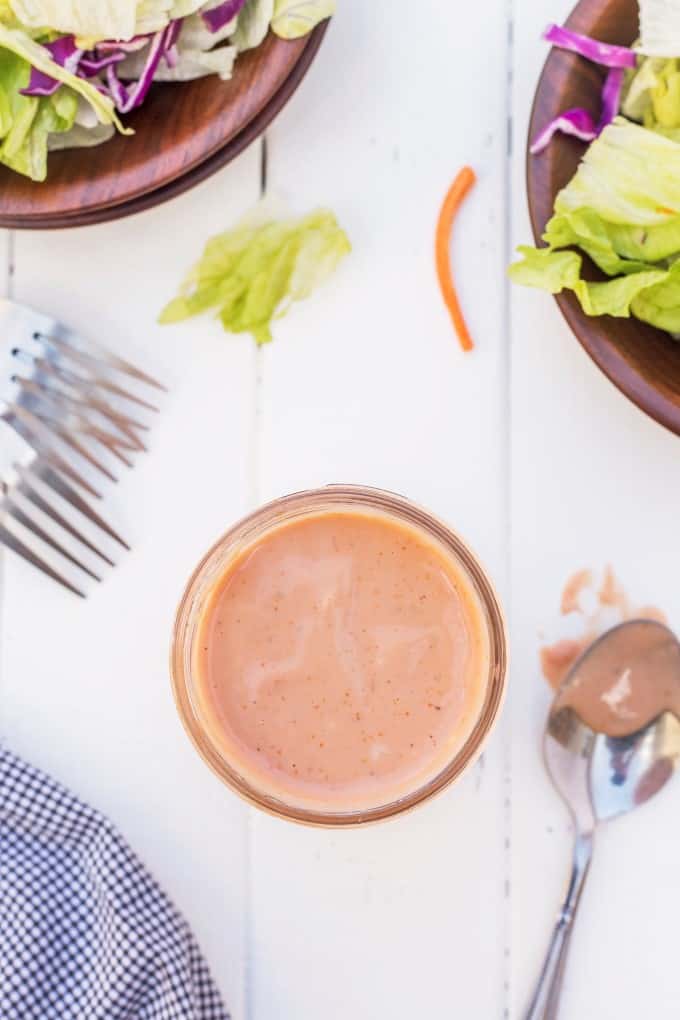 Is Russian dressing Russian? Where did the name come from? Its origins in the 1950s had it look very different than it does today.
It was a mayonnaise-based dressing that was tinted pink from poached and pulverized lobster shells, salt, and pepper. Then caviar was added. The addition of caviar could have given it its Russian name.
At times it would contain pickles and Russians love pickles, so maybe that was where the name came from. But it is not a Russian recipe and entirely made up in the US. With the addition of pickles you are starting to head to a Thousand Island dressing, in my opinion.
Russian dressing is what a Reuben sandwich loves to have slathered on it. It is one of the key ingredients besides corned beef. It makes an excellent sandwich spread for other sandwiches too. You can also use this for a salad dressing or a dip!
What is the Difference Between Russian and Thousand Island Dressing?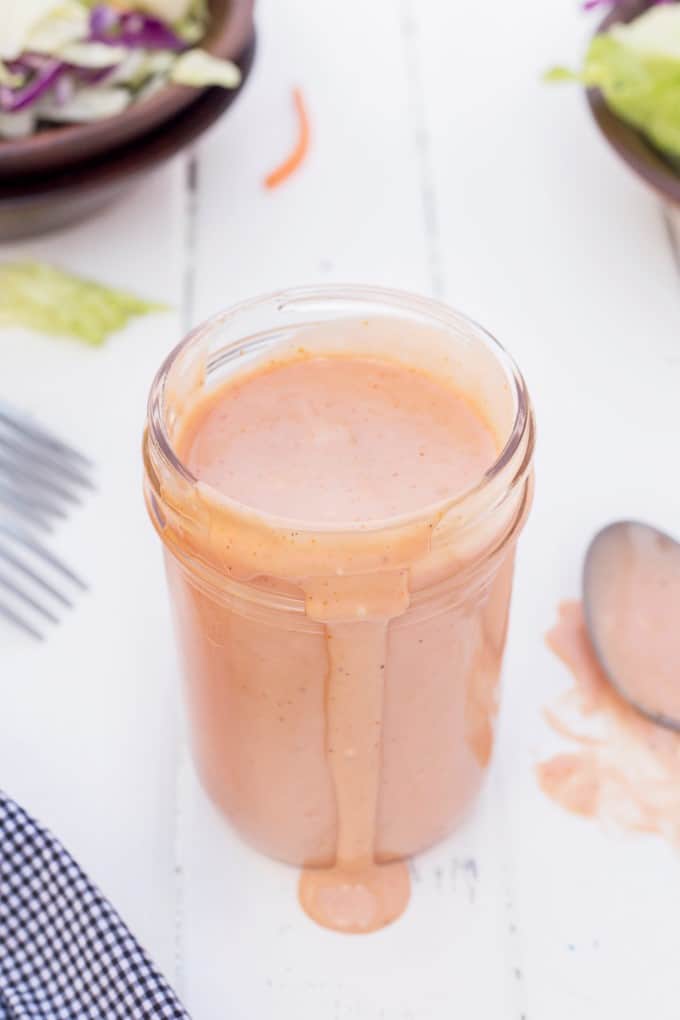 The biggest difference in the two dressings is the addition of dill pickles or pickle relish that is found in Thousand Island Dressing.
We use a little sweet relish in our version of Thousand Island Dressing and it is great to up your burger to a new level. It is different from Big Mac sauce as that is not tomato-based but I like it even better than their sauce.
Your family will rave having either of these dressings available for your next cookout.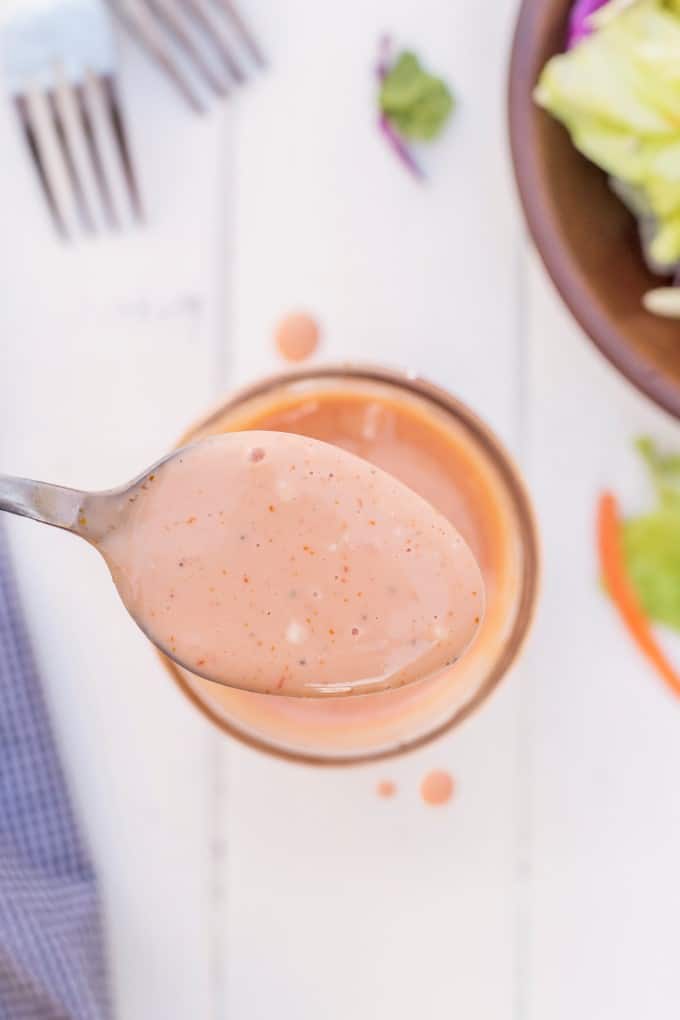 What to Use Russian Dressing On?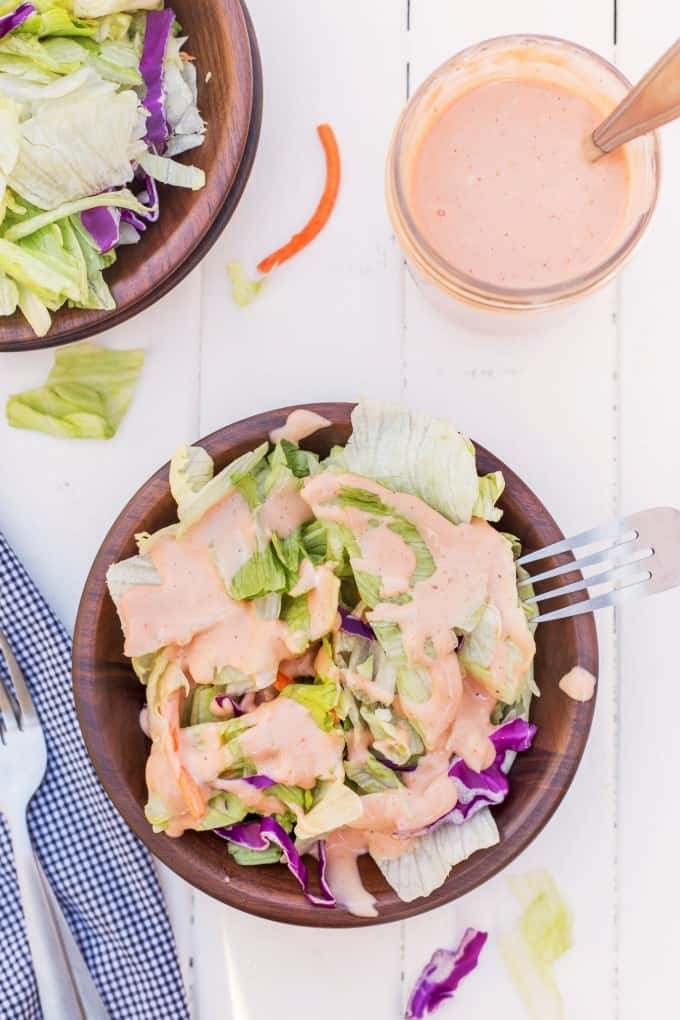 Ideas for Russian Dressing:
As a Russian Salad Dressing.
On a Reuben Sandwich – classic sandwich of corned beef, Swiss cheese, sauerkraut, and Russian dressing on rye bread.
On a Rachel Reuben Sandwich – turkey or pastrami and coleslaw, Russian dressing on rye bread.
With other deli meat sandwiches.
Use in a Crab Louie Salad.
Add it to a Burger.
Come up with your own idea for this amazing mayonnaise and ketchup dressing.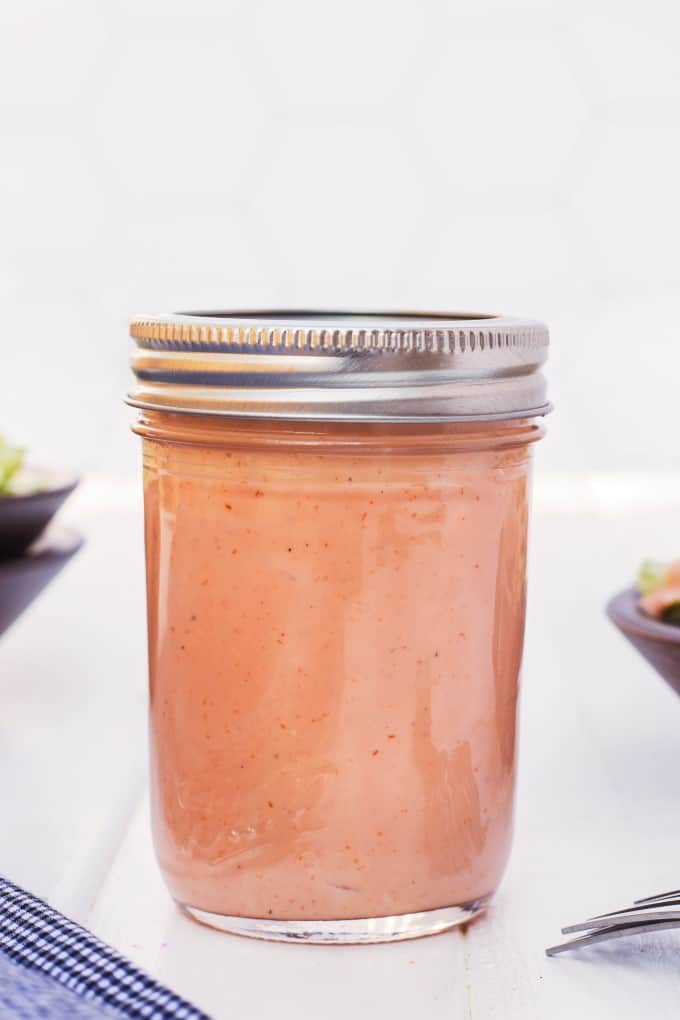 Storing this dressing couldn't be easier than in a lidded jar like this. You can make it up, right in the jar if you like. Fewer dishes and gives you a way to give the salad dressing a good shake too.
Then just simply refrigerate until you are ready to use it on your sandwich or salad.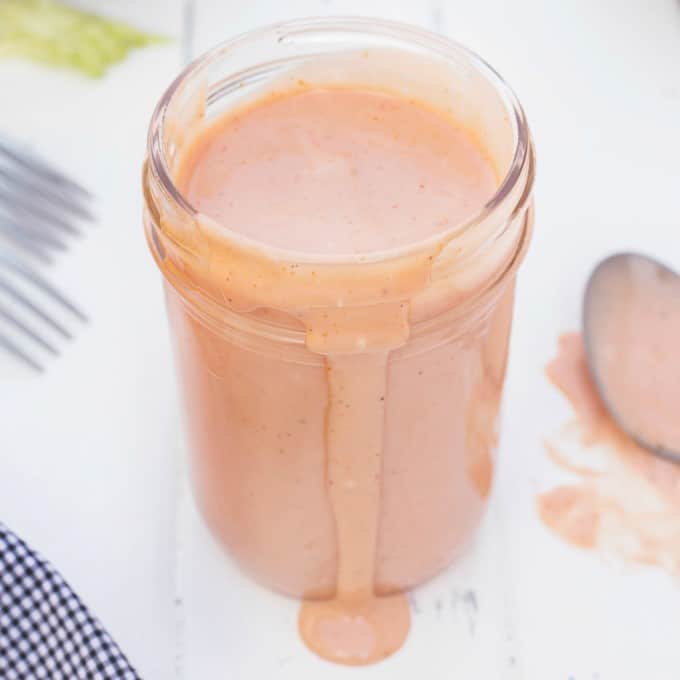 Pin it HERE!!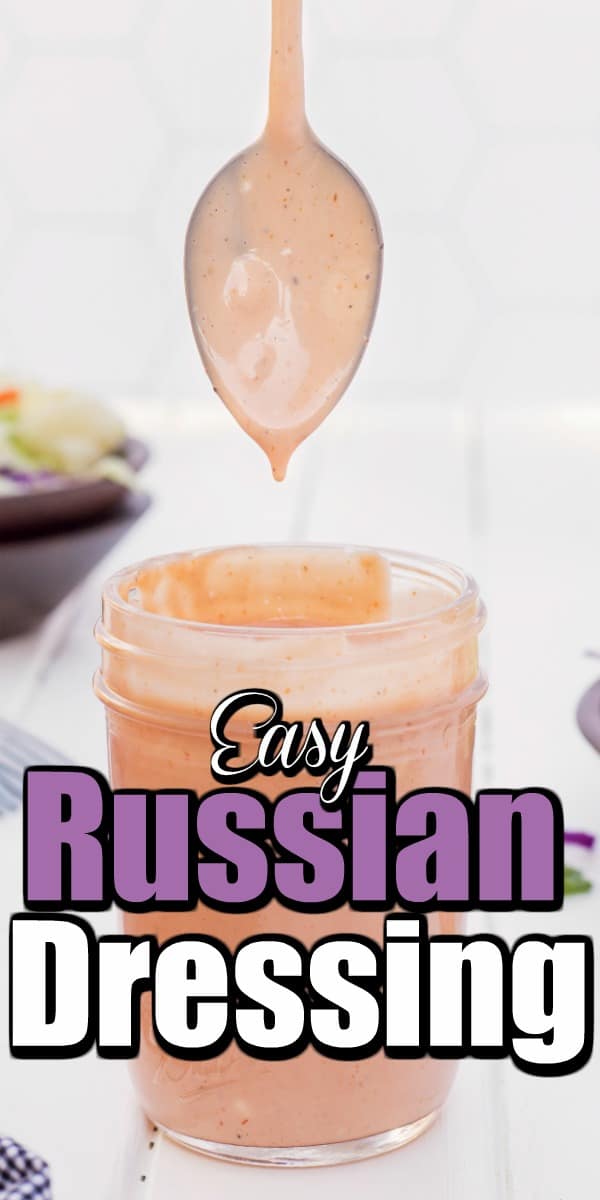 Pin it HERE!!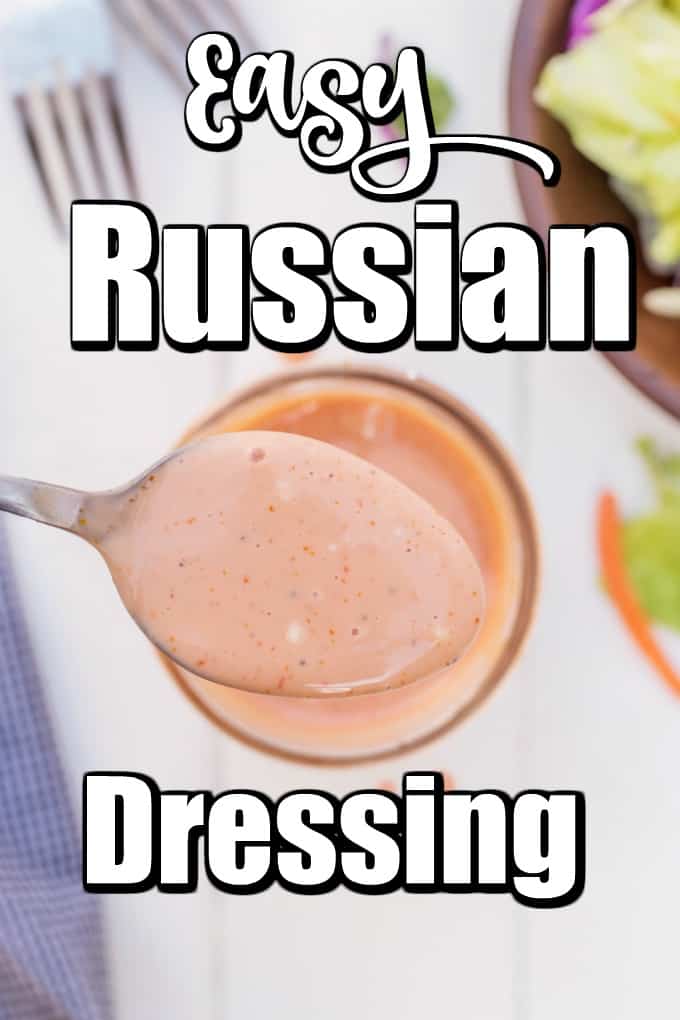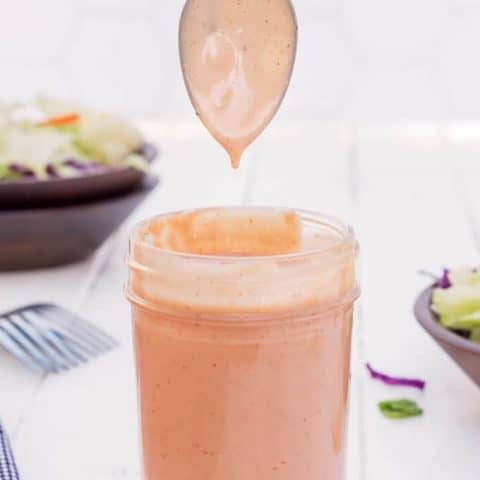 Easy Russian Dressing
Yield: 1 cup
Prep Time: 10 minutes
Total Time: 10 minutes
This Easy Russian Dressing is great on a Reuben, other sandwiches, burgers, and salad. It only takes minutes to make and keeps for a week in the refrigerator.
Ingredients
1/2 cup mayonnaise
1/3 cup ketchup
1 TBSP red wine vinegar
1 TBSP finely minced white onion
1/8 tsp salt and fresh ground pepper
1 tsp lemon juice
Dash of Worcestershire sauce
Instructions
1. Place all the ingredients in a small bowl and stir to combine
2. Serve immediately or refrigerate in an air-tight container for up to a week.
Recommended Products
As an Amazon Associate and member of other affiliate programs, I earn from qualifying purchases.
Nutrition Information:
Yield: 8
Serving Size: 1
Amount Per Serving:
Calories: 106
Total Fat: 10g
Saturated Fat: 2g
Trans Fat: 0g
Unsaturated Fat: 8g
Cholesterol: 6mg
Sodium: 213mg
Carbohydrates: 3g
Fiber: 0g
Sugar: 2g
Protein: 0g
Recipe calculation was provided by Nutritionix and is an estimation only. If you need nutritional calculations for medical reasons, please use a source that you trust.