Do you love to make your own dressing? Do you think it is too hard? Homemade dressings really are very simple to make and so so much better than store-bought. This Buttermilk Ranch Dressing is a winner not only with a Cobb Salad Recipe but also with chicken wings, salmon, in an avocado half for a quick snack or lunch, with chips or even pizza and more!!
Dressings are so easy to mix together. You probably have most of the ingredients already. I like to make this recipe up when we have some buttermilk leftover from waffles or pancakes. You only need 1/2 cup for the recipe.
Ranch is probably one of the most popular dressings around. It is something that is commonly seen in many restaurants.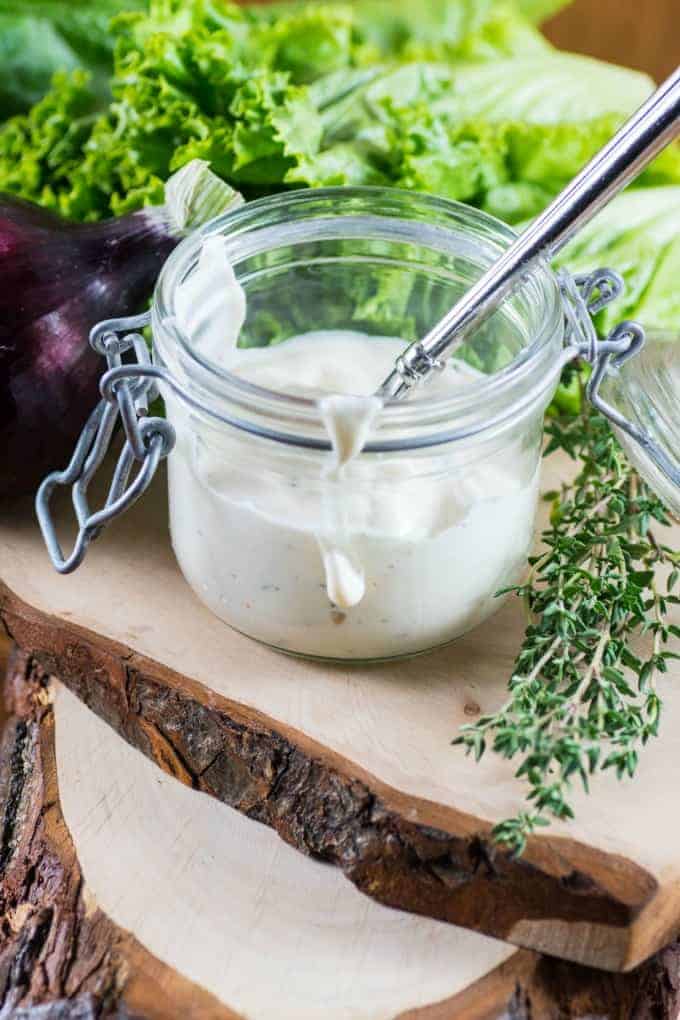 Who doesn't love ranch dressing? It is my daughter's favorite. She has to have it with pizza, it is a must!!
I like to use fresh garlic in this recipe but you can sub in garlic powder. I have to say that garlic salt and onion salt are two seasonings I never use anymore. Got rid of them years ago.
They are something that if you want to up the garlic flavor you have to up the salt. I like to use salt and pepper on its own. That way you can control the seasoning much better and you don't end up with over salted food.
How do Restaurants Make Ranch Dressing?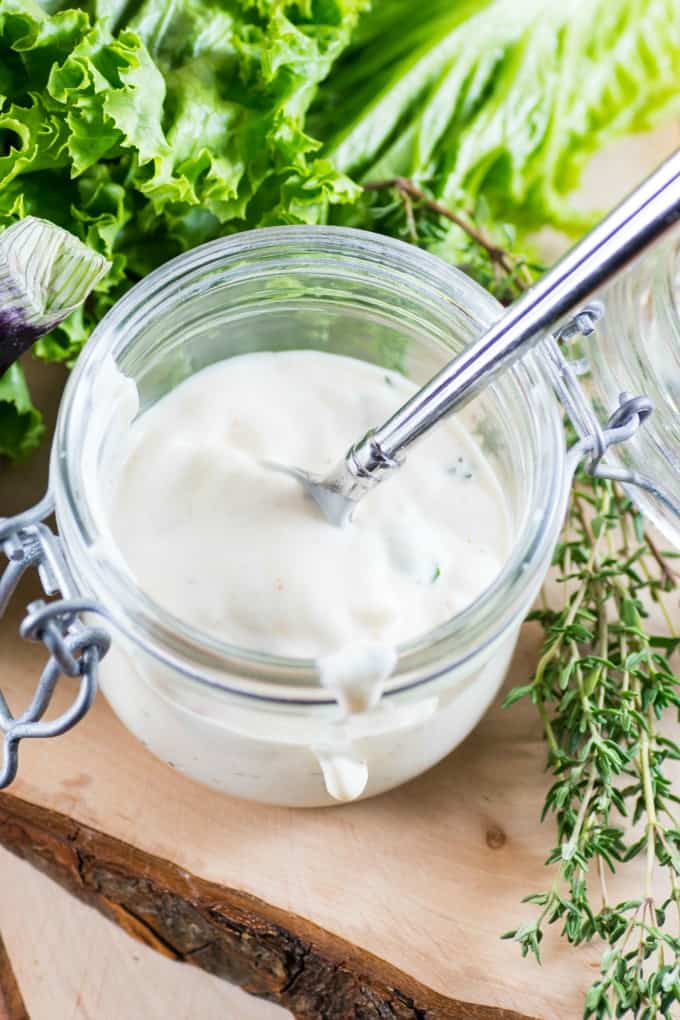 If you are at a good restaurant they should make everything from scratch. That is why when you go to a restaurant their dressing taste so amazing!! They don't come from a bottle, they are freshly made and refrigerated, just like this recipe!!
You can use dried herbs instead of fresh herbs for this recipe. I have used both. Using the buttermilk gives a perfect tang to the dressing and makes it a perfect thickness also. I like the addition of this with the mayonnaise sour cream blend. It just adds more flavor!
Steve Henson was the developer of of the recipe for ranch dressing in the early 50's while he was working as a plumbing contractor in the Alaskan bush. He and his wife later in 1954 opened Hidden Valley Ranch which was a dude ranch in Santa Barbara County in California.
I am sure you know the rest of this story!! They later incorporated Hidden Valley Ranch Food Products, Inc. and opened up a factory to bring their dressing nationwide. It is a common staple in Canada and the US but not really known worldwide.
Best Buttermilk Ranch Dressing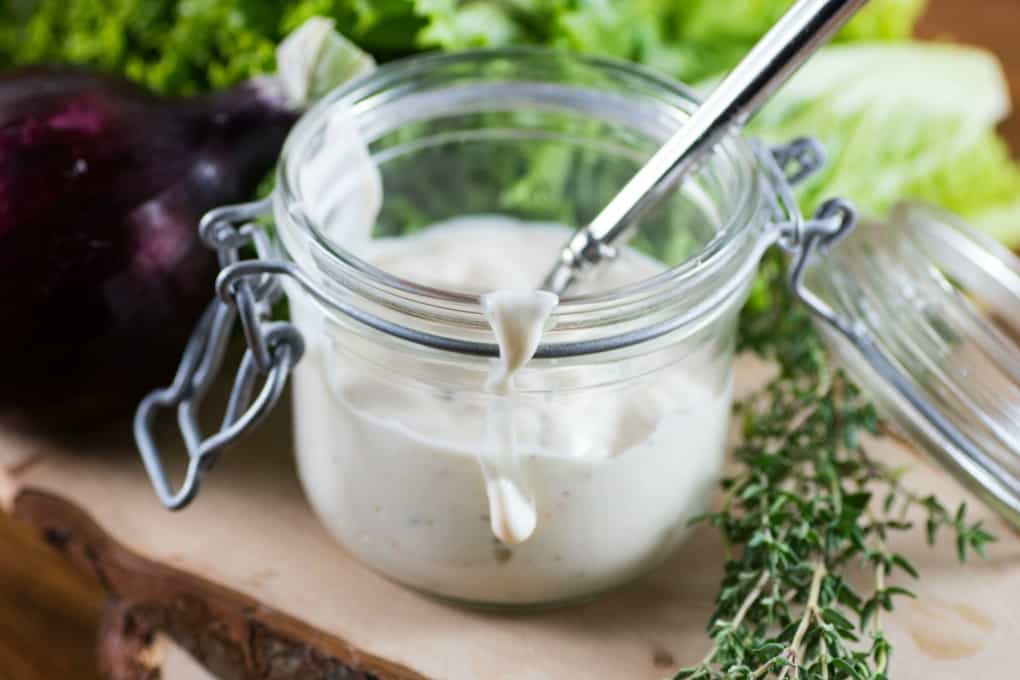 You just want to stick your finger into the picture to get a little lick! I know you do!! If you love ranch dressing you will want to make this again and again.
Also added is a tsp. of fresh lemon juice to the salad dressing to give it that fresh kick that makes all the other ingredients come alive!! Somtimes yogurt is substituted for the sour cream but I have never tried that.
What is the best salad dressing for a keto diet? Well, this one is rated high up there. It is very simple to make and doesn't have an perservatives or additives that you have never heard of.
It is pretty amazing what we consume without thinking about it at all. When you stop to think of a ranch dressing that is shelf stable it has to be loaded with things that aren't the best for us.
Homemade Buttermilk Ranch Dressing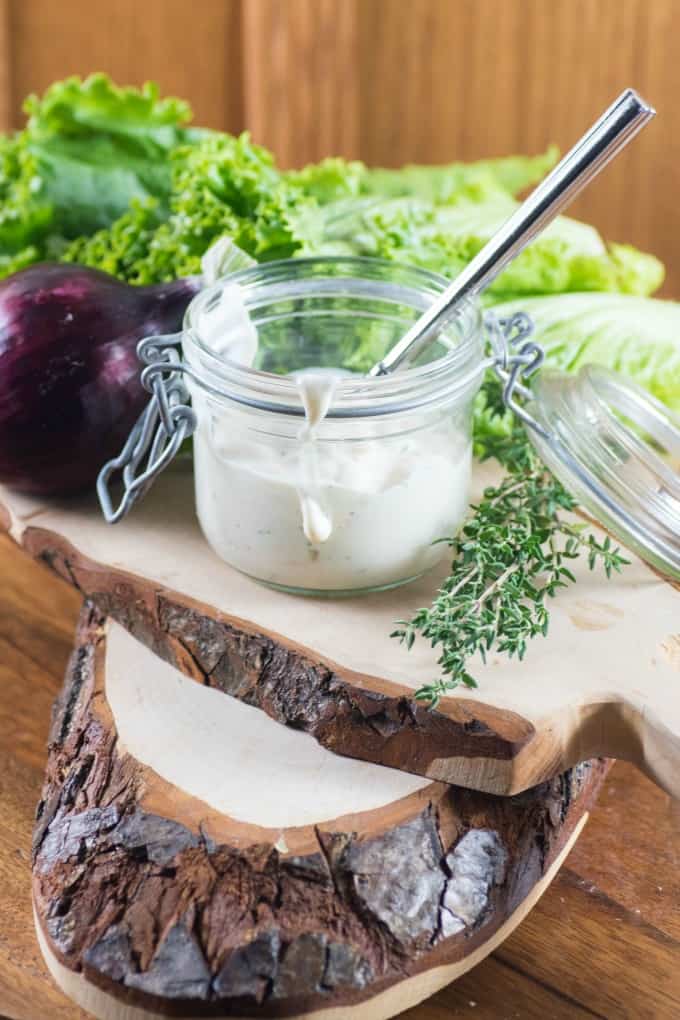 If you were doing this recipe for fish or in the spring adding in some fresh dill would be a nice touch. Adding in blue cheese would take it to another level. To keep it traditional though I would leave those out.
After the dressing is made it is ready to serve but it is best if it is left to sit for at least an hour, cover and refrigerate, it will only get better with time. The dressing will last up to 3 days in the refrigerator, if you have any that even lasts that long!!
This is the best ranch dressing recipe I have tried. Perfectly balanced and delicious.
How to Make Buttermilk Ranch Dressing?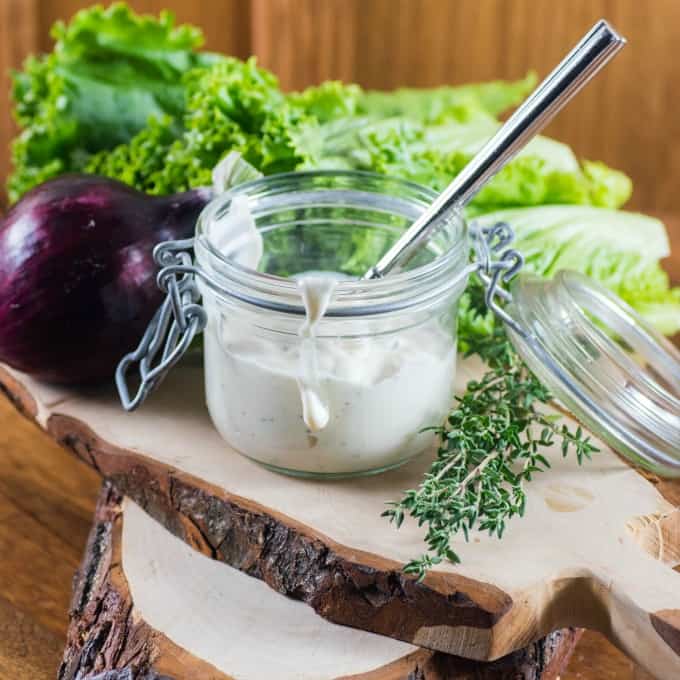 Now I told you this was simple. All you have to do is whisk together the buttermilk, mayonnaise and sour cream in a medium bowl.
Then stir in the rest of the ingredients and season with salt and pepper. Nothing could be easier. How simple was that?
Try this today, your whole family will love it. I know that it is loved by kids. It is a dressing they always go to, so even simple carrots and celery are wonderful.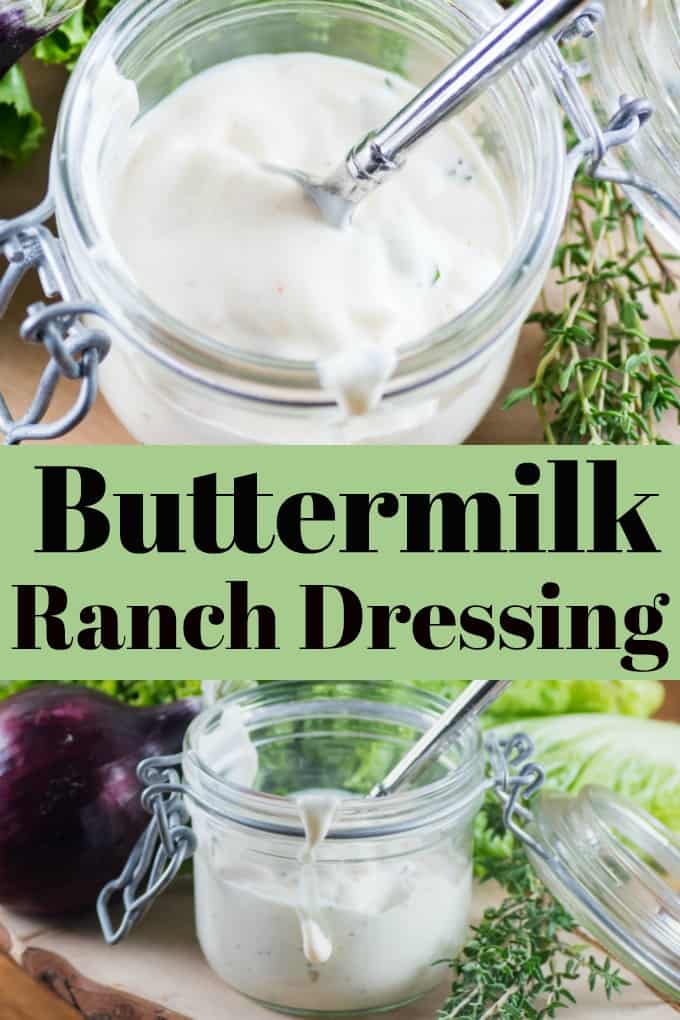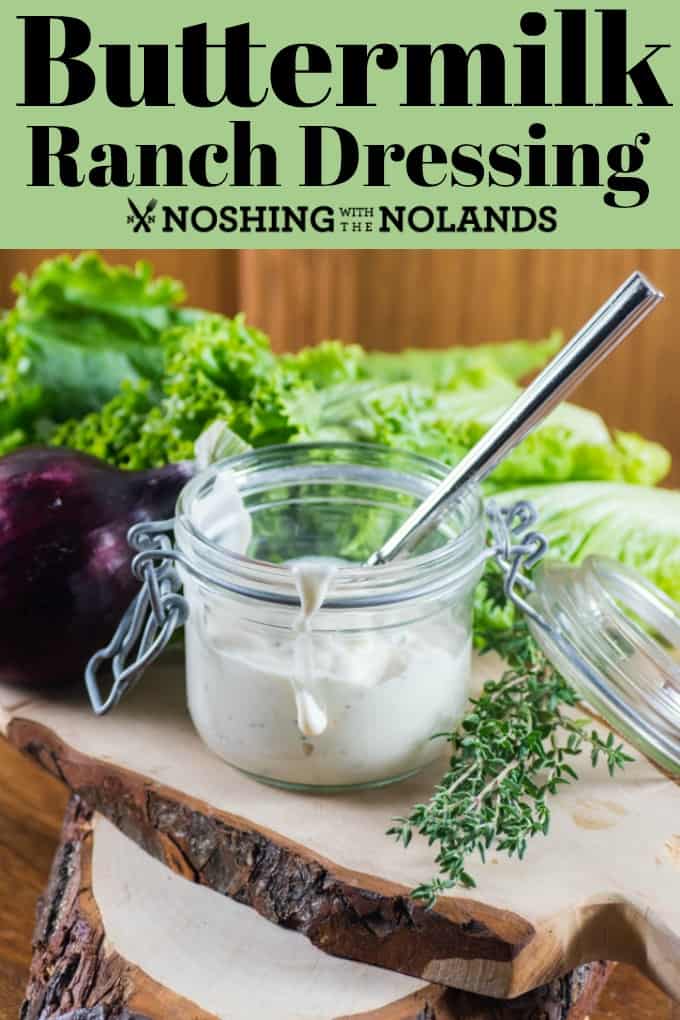 Buttermilk Ranch Dressing Recipe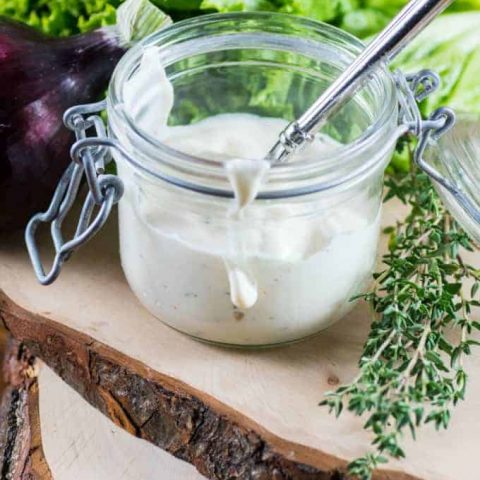 Buttermilk Ranch Dressing
Yield: 1 1/3 cups
Prep Time: 5 minutes
Total Time: 5 minutes
This delicious homemade Buttermilk Ranch Dressing takes only minutes to make and is so much better than bottled.
Ingredients
1/2 cup buttermilk
1/3 cup mayonnaise
1/3 cup sour cream
1 tsp. lemon juice
1 1/2 tsp. fresh parsley, minced
1 tsp. fresh garlic, minced
1 tsp. fresh thyme, minced
pinch of paprika
Kosher or sea salt to taste
Freshly ground black pepper
Instructions
Whisk together the buttermilk, mayonnaise and sour cream in a medium bowl. Stir in the parsley, garlic, thyme, paprika, salt and pepper.
Serve immediately or cover and refrigerate for an hour. Keeps up to 3 days.
Recipe adapted from Fine Cooking Magazine