This one is for you Alex. The trick to make this Salmon en Papillote is three things. Your potatoes need to be thinly sliced, you have to heat your baking tray in the oven prior to putting your packs on and wrapping the packets well. You then will have a delicious salmon meal.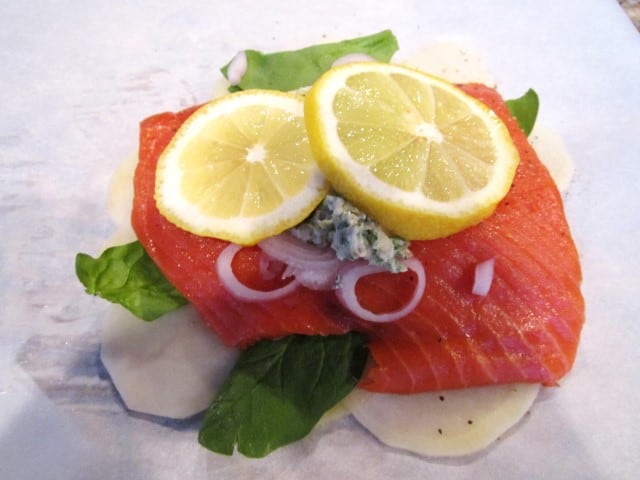 Serves 4.
2 Tbsp. unsalted softened butter
2 Tbsp. capers, rinsed and finely chopped
2 Tbsp. curly leaf parsley, finely chopped
2 garlic cloves, finely chopped
1 large russet potato, thinly sliced with a mandolin
Salt and pepper
4 shallots, thinly sliced
6 oz. baby spinach (about 2 cups)
4 salmon fillets, skinned, wild if possible (ask the butcher to skin them for you)
1-2 lemons, thinly sliced
Preheat oven to 400F. Cut four parchment sheets 17″ long. Fold each in half and set aside. Stir together butter, capers, parsley and garlic in a small bowl. This can be done ahead of time and refrigerated but brought back to room temperature before using.
Place two baking sheets in the oven to heat. Divide potatoe slices between parchment papers on one side of the crease, slightly larger than the salmon fillet, see photo below. Season with salt and pepper.
Top each of the bed of potatoes using one half of the shallots. Top the shallots with the baby spinach. Then place the salmon fillets on top. Season with salt and pepper and then divide the rest of the shallots amongst the packets. Top the salmon with a dollop of the butter mixture and place two slices of lemon on top. Fold the parchment paper over and starting at the top make small pleats folding inward to seal the packet. See photo below. Packages can be made an hour or two ahead of time and refrigerated, if so cook to the 18 min. mark.
Carefully transfer packs to hot baking sheets. Bake 15-18 min. Transfer packs to plates and serve immediately. Open the packages at the table. ENJOY!!