This is the Best Chef Salad recipe and our latest salad obsession! It's a showstopper for either lunch or dinner, but it's also super quick and easy to assemble. Best of all, you can completely customize it with all your favorite meats and cheeses. This is a staple salad recipe that every home cook should keep in their back pocket!
Want more simple summer salads? Here are some of our favorite recipes, Summer Spinach Salad, Lebanese Fattoush Salad, or this crowd-pleaser Easy Beef Taco Salad, and this delicious Brazilian Chicken Salad. You can't go wrong with a salad in the summer! Or try our Everyday Garden Salad or Best Ever Wedge Salad all year round.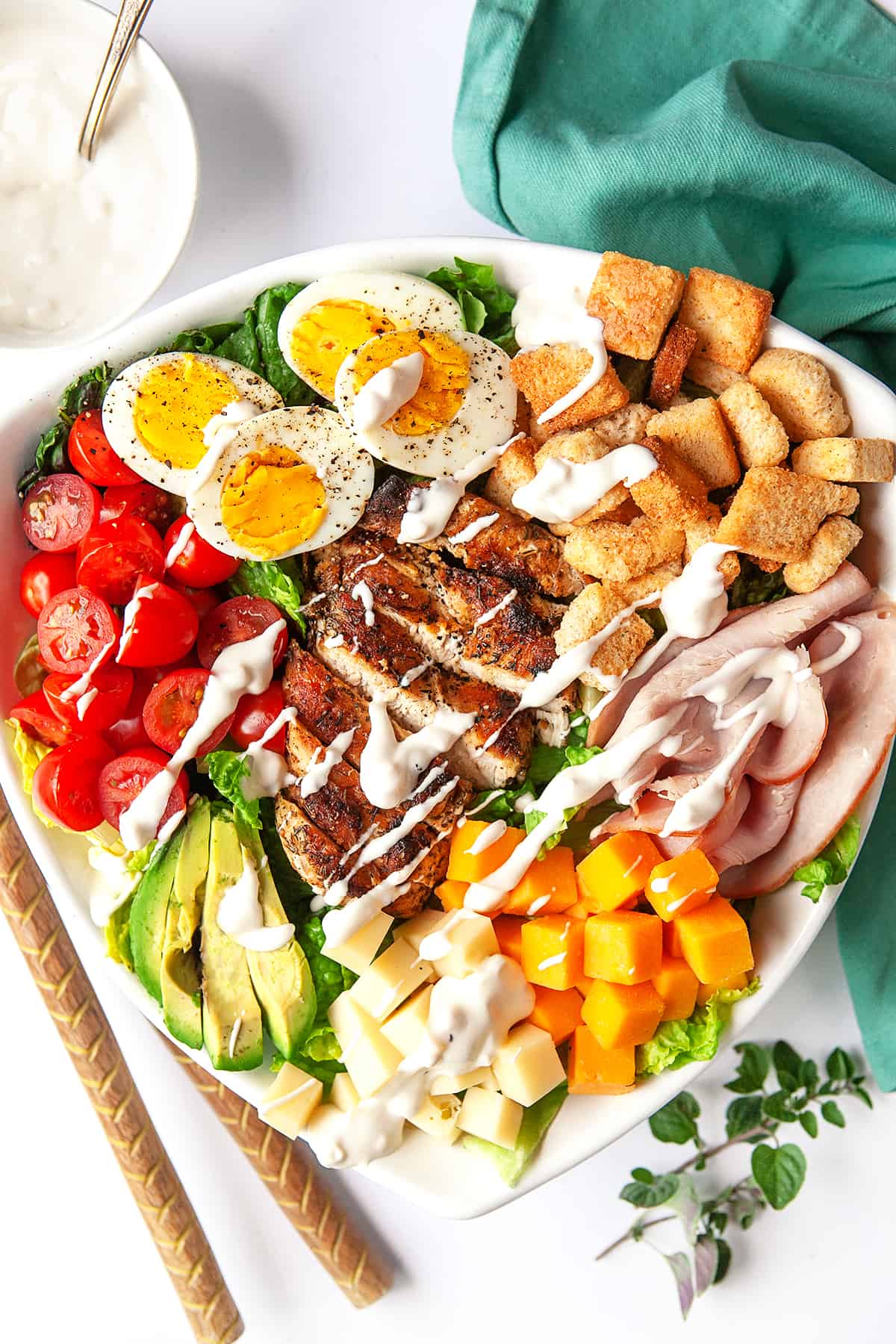 This Chef Salad is both delicious and beautiful! Look at all those colors and textures.
What is in a Chef Salad?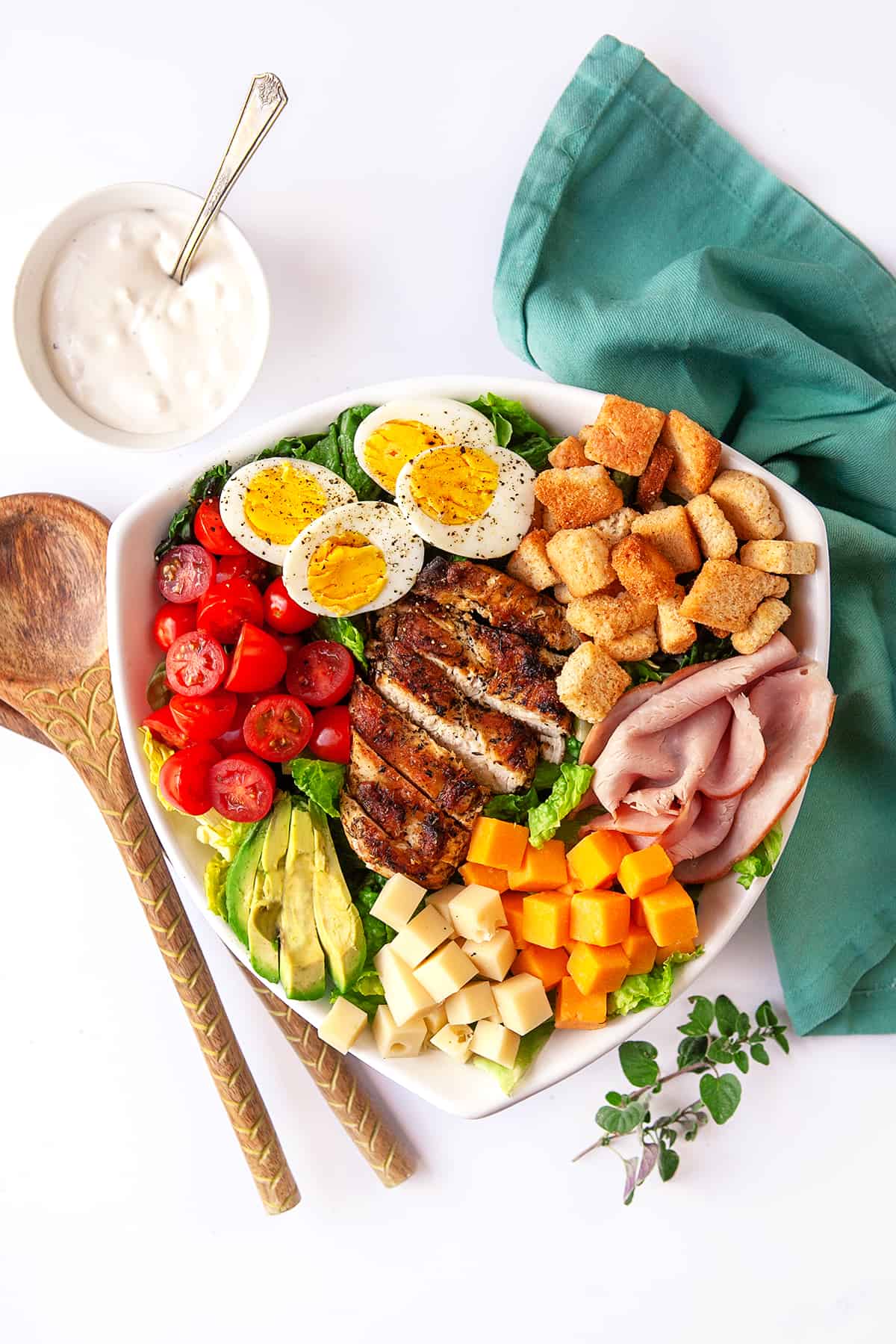 The best thing about this delicious Chef Salad is that it's completely customizable. You can make everything in bite-sized pieces or leave slices whole. The basic ingredients for a Chef Salad are:
Lettuce (romaine lettuce, butter lettuce)
Meat (grilled chicken, ham, roast beef, smoked turkey, bacon)
Hard-Boiled Eggs
Tomatoes
Avocado
Cheese (cheddar, swiss cheese, gorgonzola)
Croutons
Dressing (ranch, blue cheese) or try our homemade Parmesan Peppercorn Dressing or our Buttermilk Ranch Dressing
When you assemble your own Chef Salad, you can pick and choose your favorite ingredients, then top it with your favorite dressing and make it your very own favorite salad.
How to Make a Chef Salad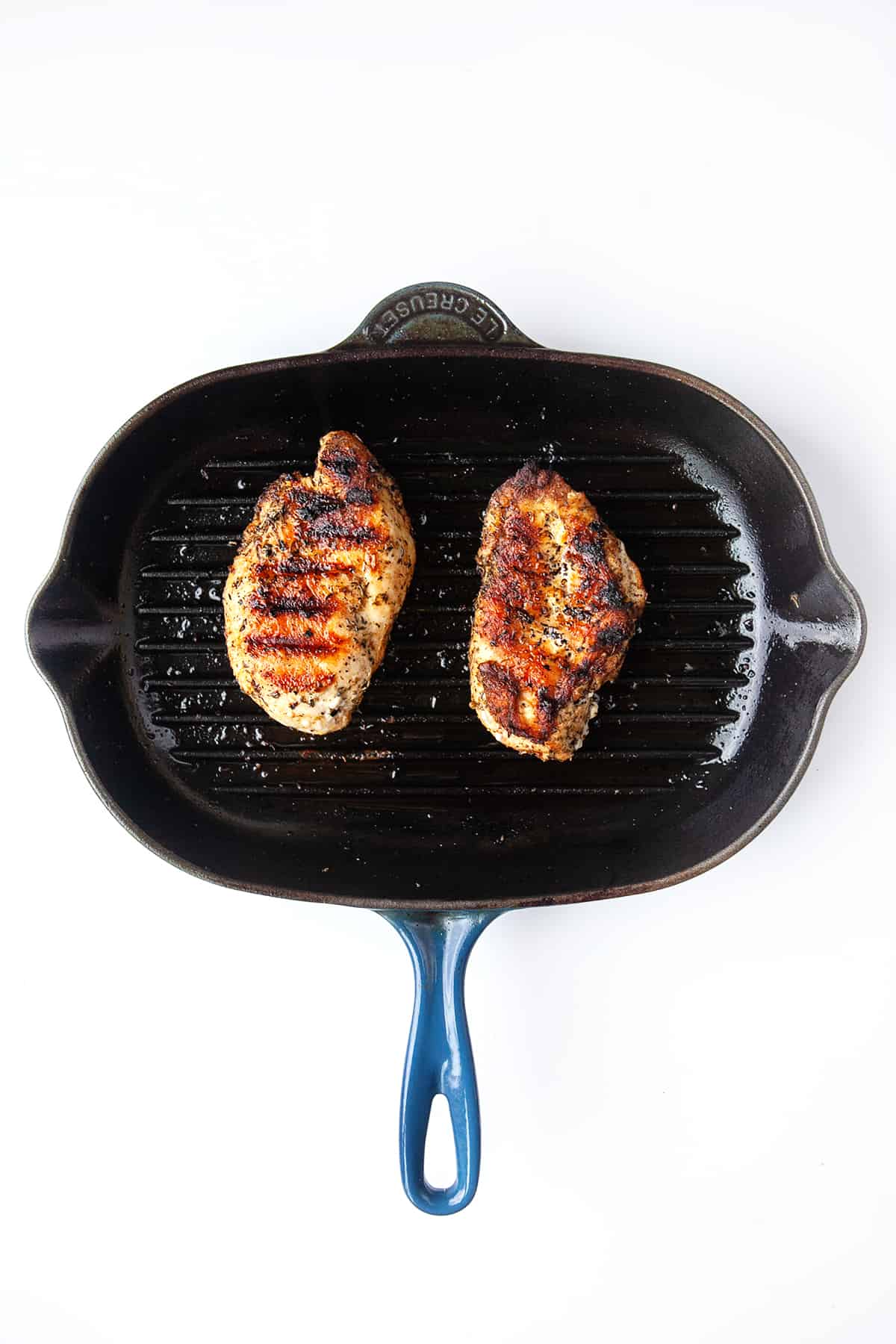 The secret to making the most delicious chef salad is to grill a delicious piece of chicken to start with. In a hurry, you can take shortcuts and use rotisserie chicken and/or other deli meats, but when you take the time to season and grill a good piece of chicken, it really does elevate the salad.
Preheat your grill, grill pan, or cast-iron skillet to medium-high, and brush the grates with oil. Add the chicken breast to a bowl and toss with olive oil, Italian seasoning, freshly squeezed lemon juice, and a pinch of salt and pepper. Grill the chicken for 5 to 8 minutes on each side or until cooked through. Remove from grill and let rest for 10 minutes. Thinly slice the chicken.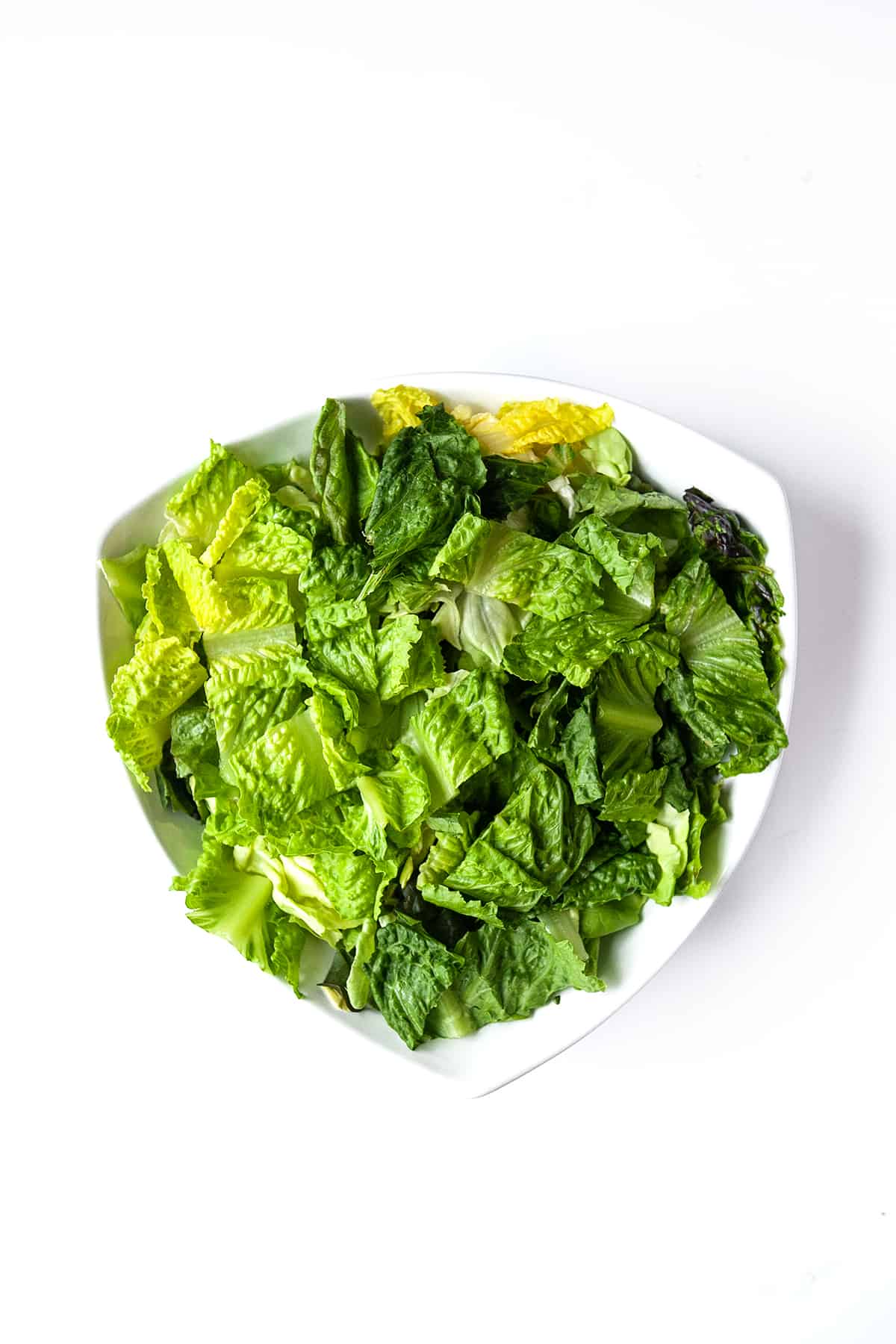 While the chicken is grilling, you can tear or chop your greens and place them in a large bowl. Prep the other ingredients. Slice the cherry tomatoes in half, cube the cheese, and slice the avocado. If you're making your own homemade croutons, go ahead and get those ready now too.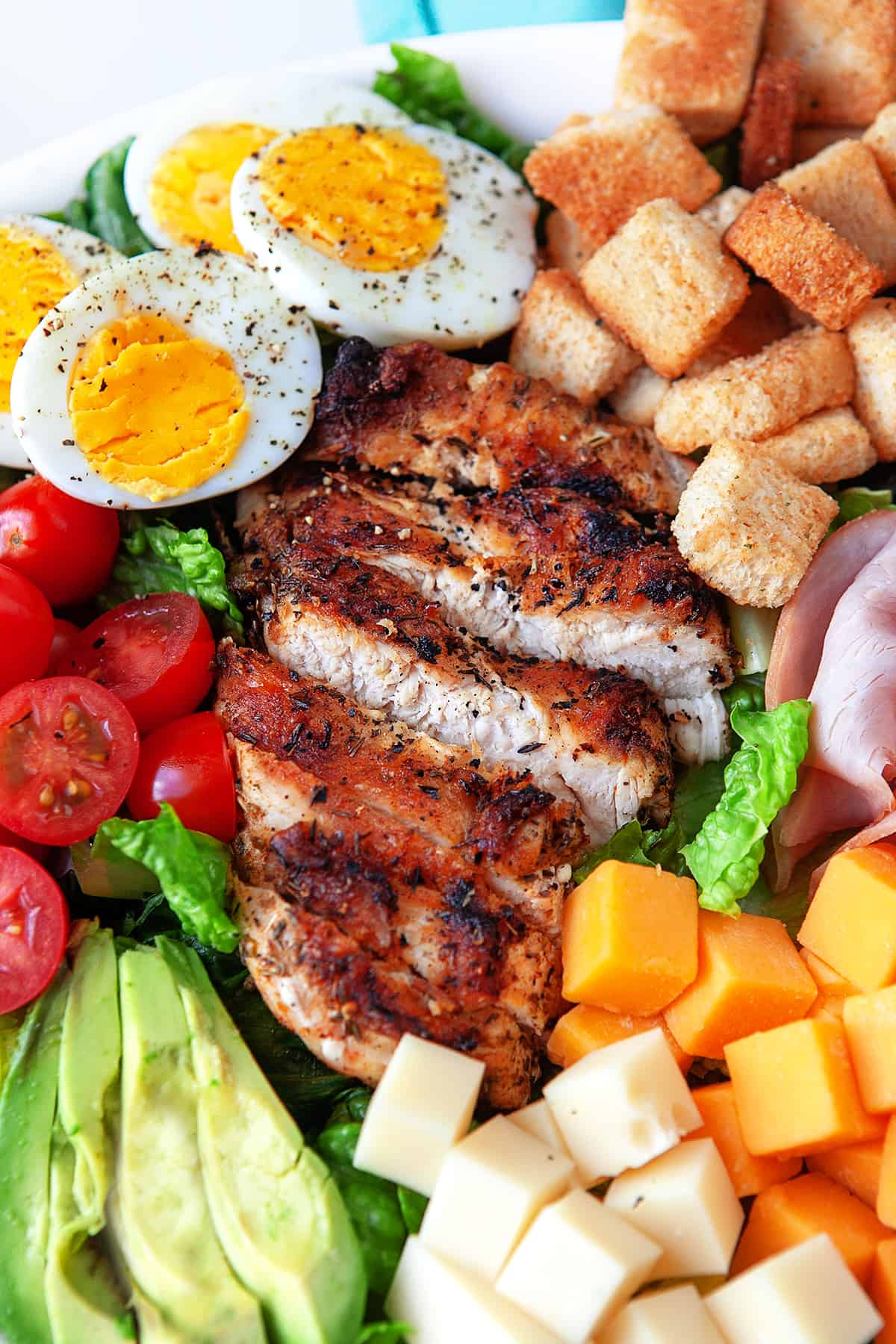 When everything is ready, arrange the remaining ingredients on top of the lettuce – Chef Salad is traditionally served with all the ingredients on top rather than tossed altogether. Serve the salad alongside your favorite salad dressing.
Why is it called a Chef Salad?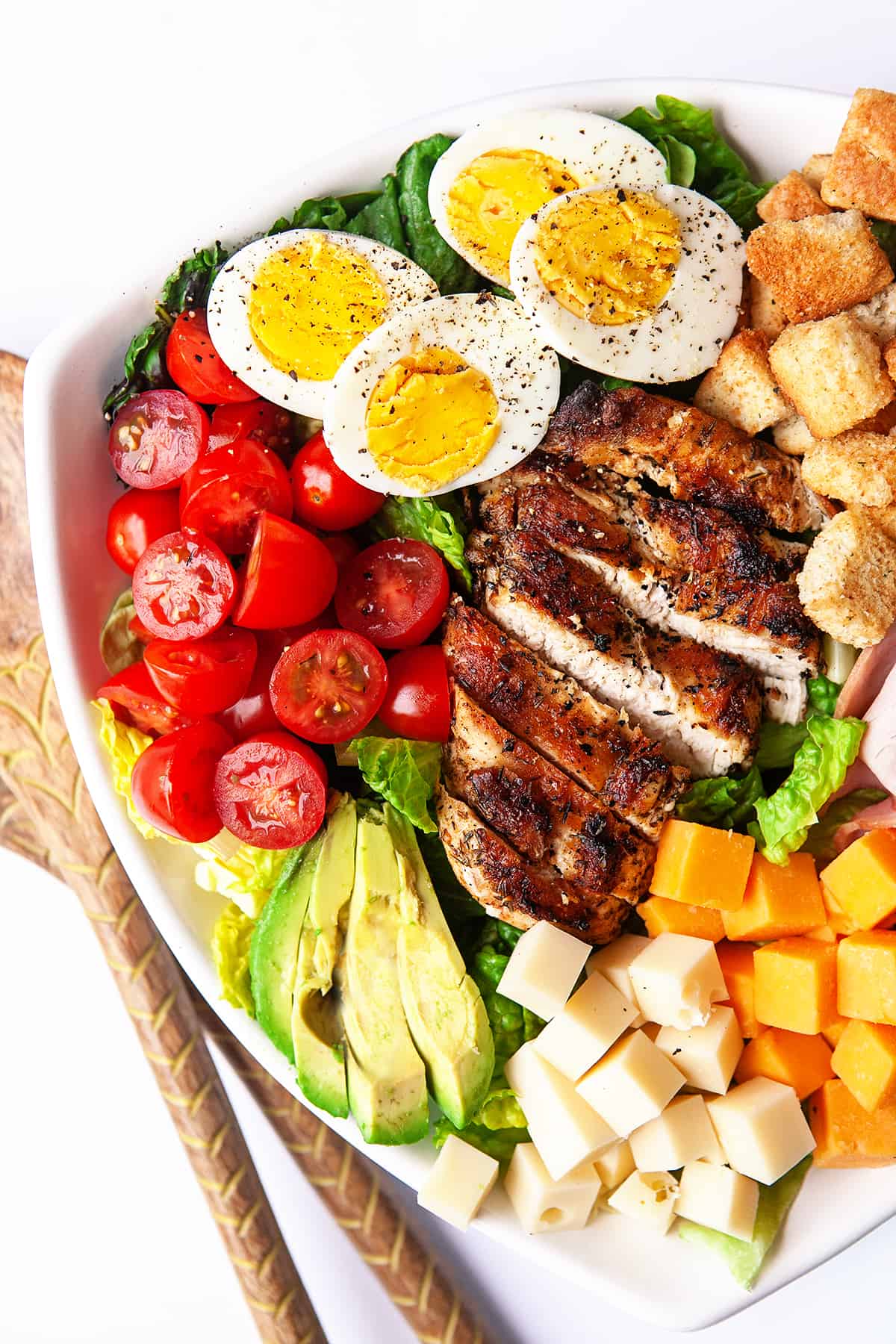 While no one knows for sure exactly where the Chef Salad originated from, it's most commonly associated with Louis Diat, a famous chef of the Ritz-Carlton hotel in New York City during the 1940s, and chef Victor Seydoux at the Hotel Buffalo.
As the story goes, the chef improvised the meat, egg, and cheese salad over greens, and when hotel customers began requesting the off-menu salad, the chef purportedly exclaimed, "Well, it's really a chef's salad."
Whatever the salad's origins were, though, it has become one of the most popular salads in North America!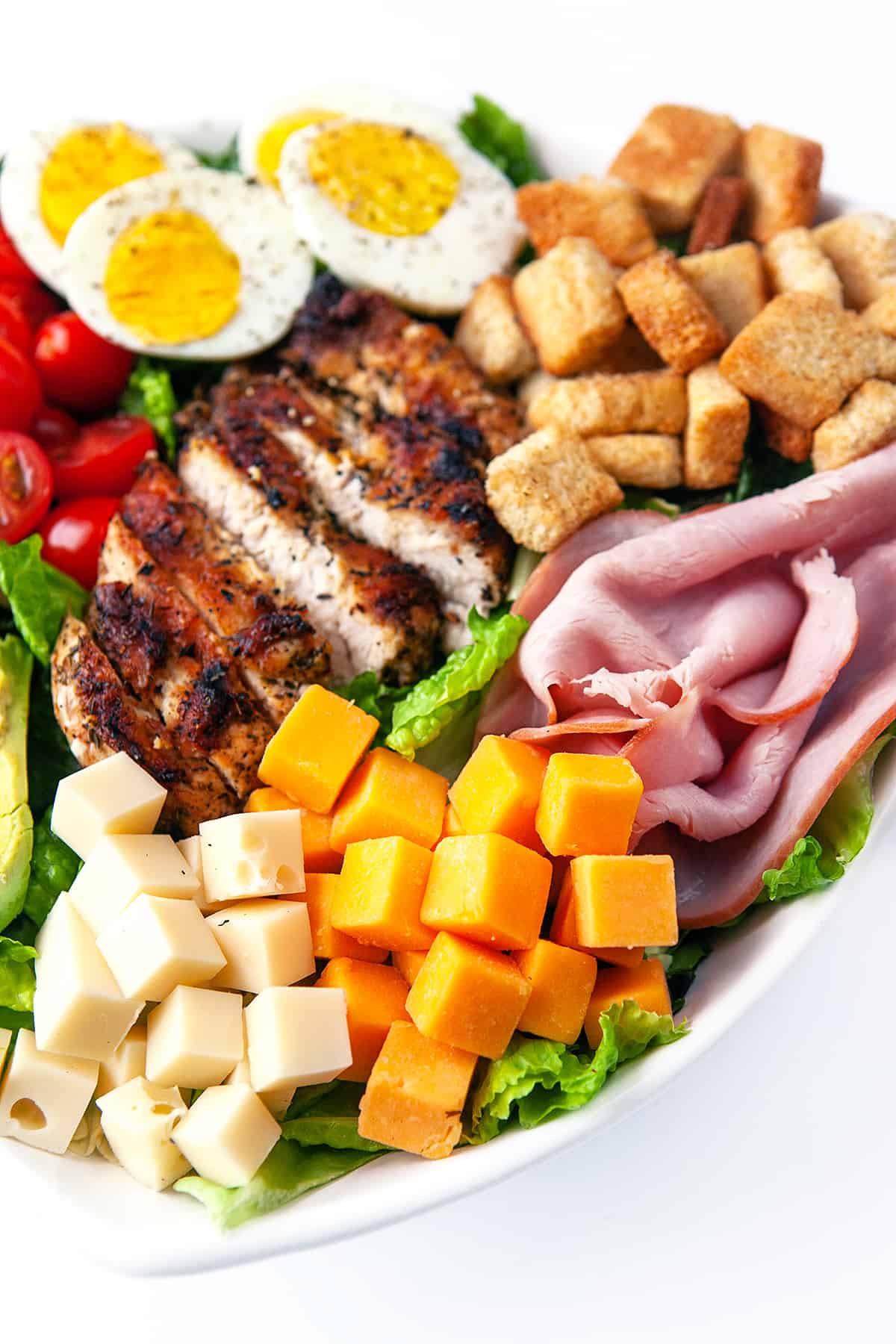 What is the difference between a chef's salad and a cobb salad?
The short answer is not much. Both salads begin with a bed of lettuce and include hard-boiled eggs, meat, and cheese topped with a creamy dressing. However, a Chef Salad normally includes meats such as ham, while a Cobb Salad would include bacon.
Whatever you decide to call it, though, this is definitely a salad you should try making at home! It's so easy and delicious.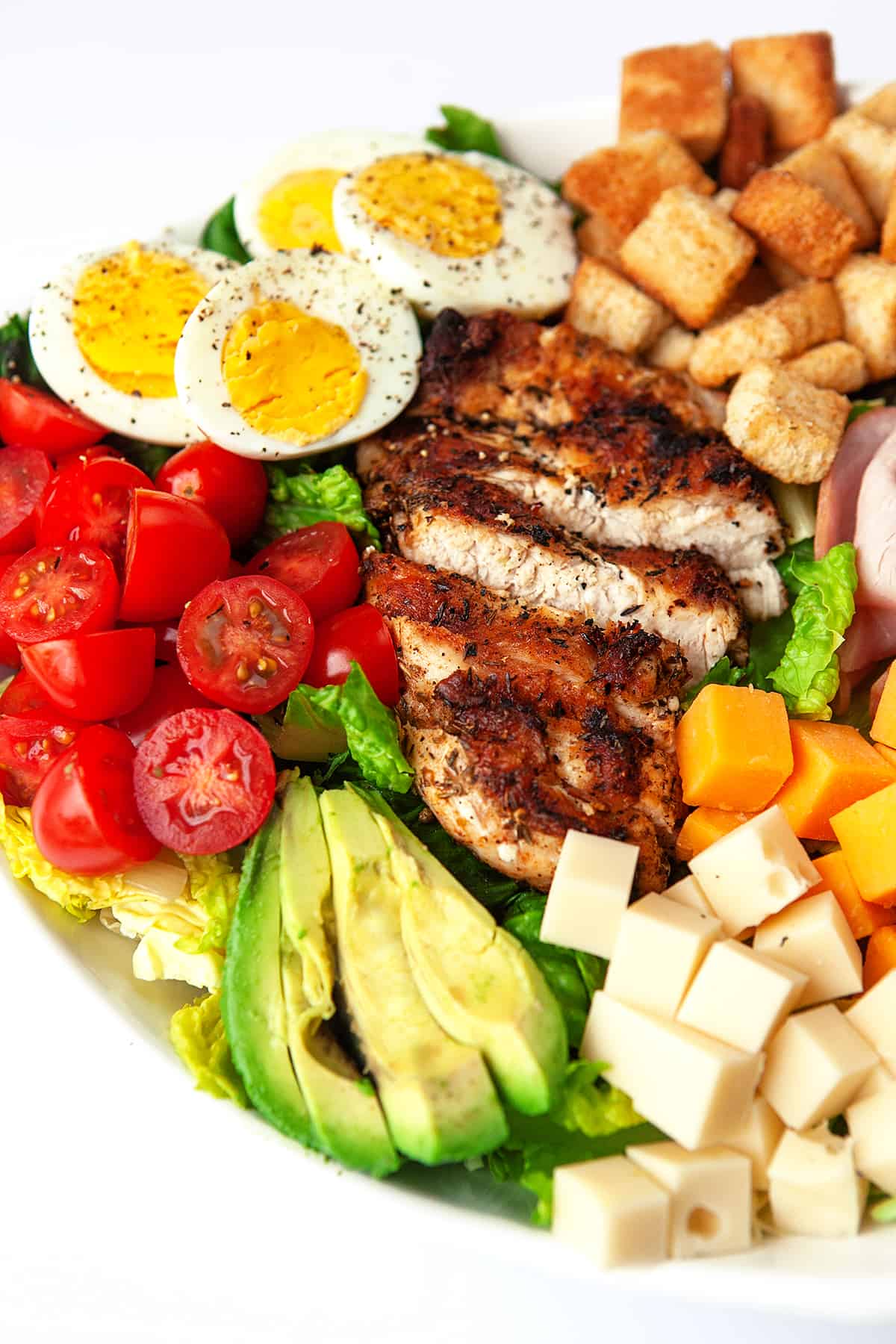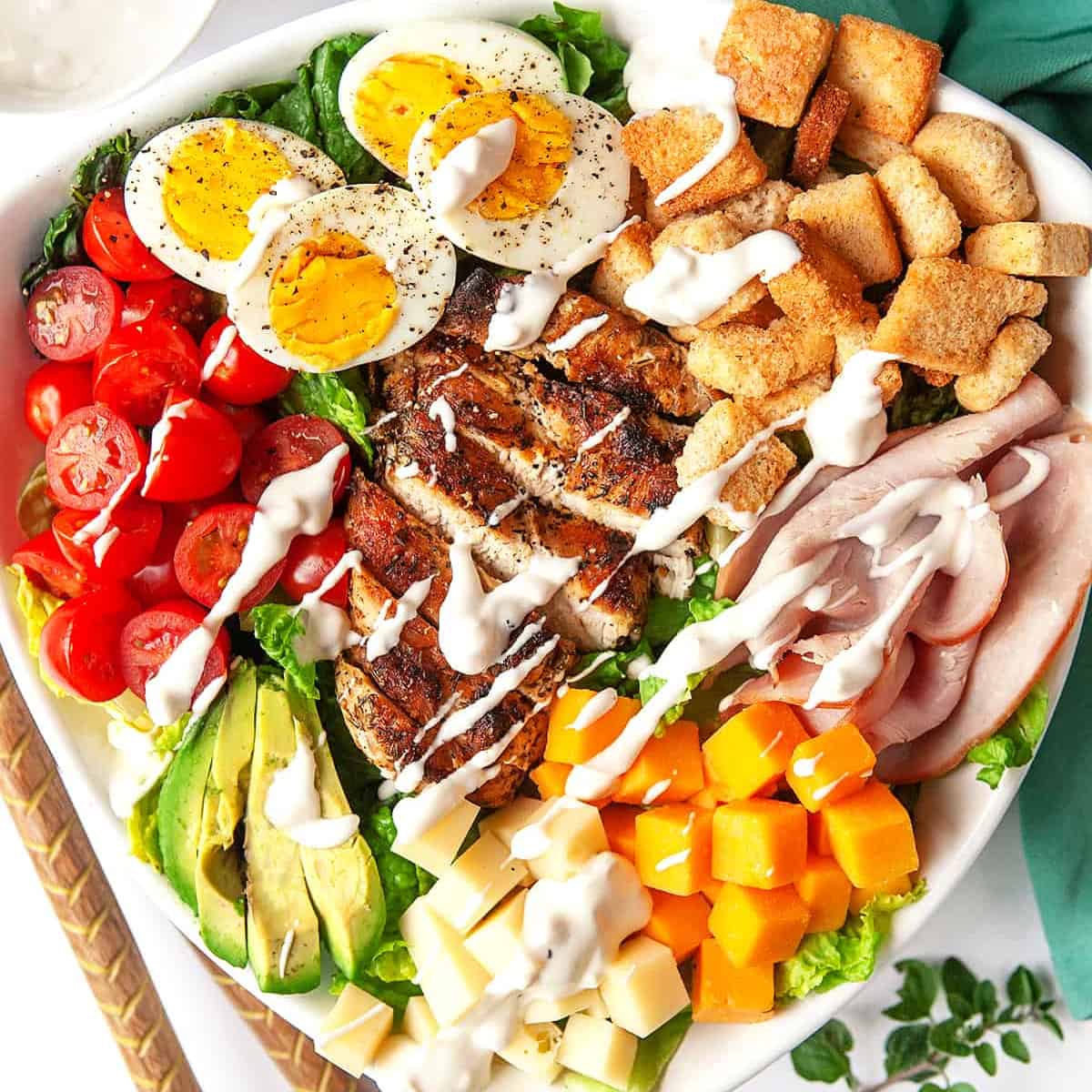 Pin it HERE!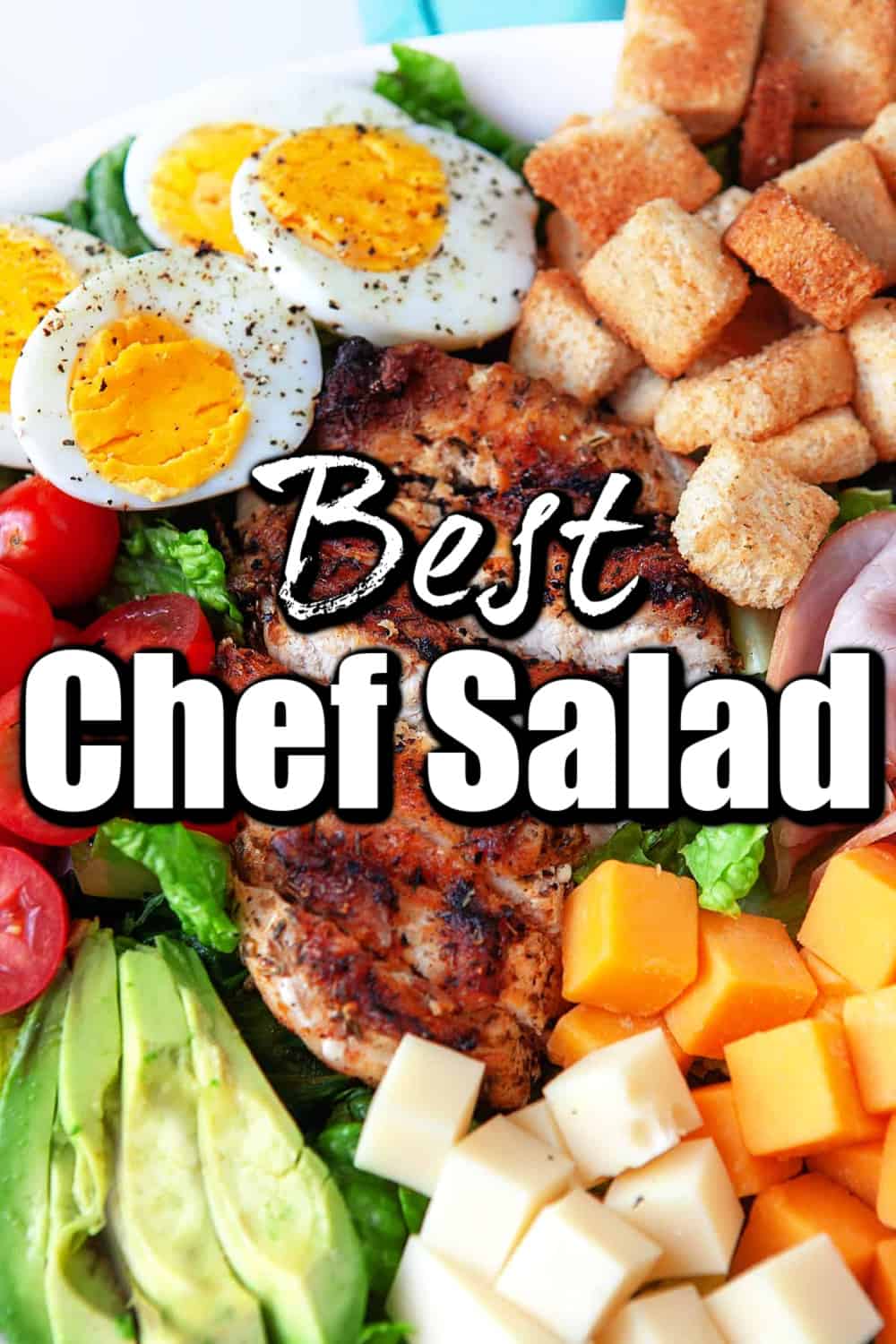 Pin it HERE!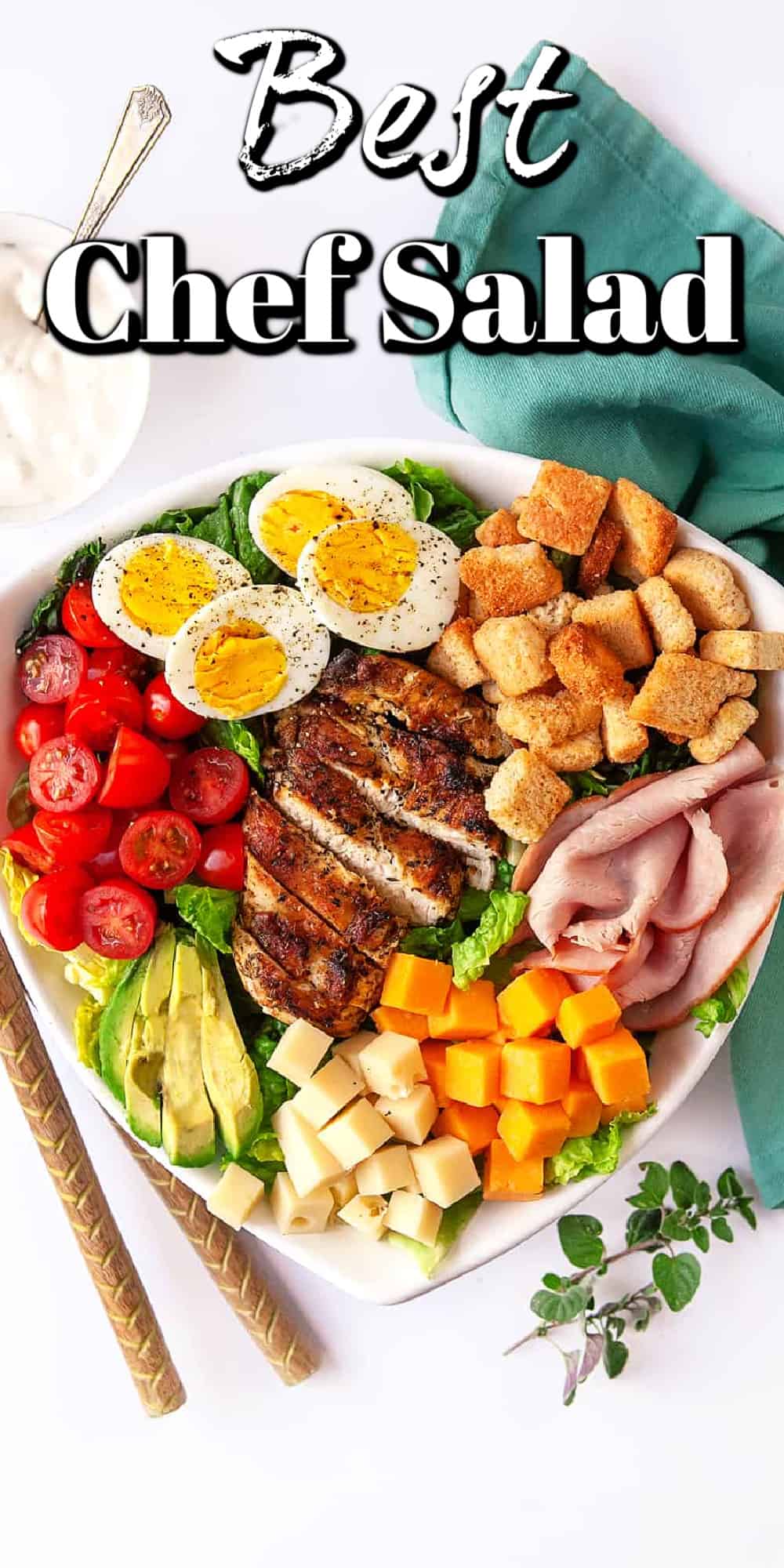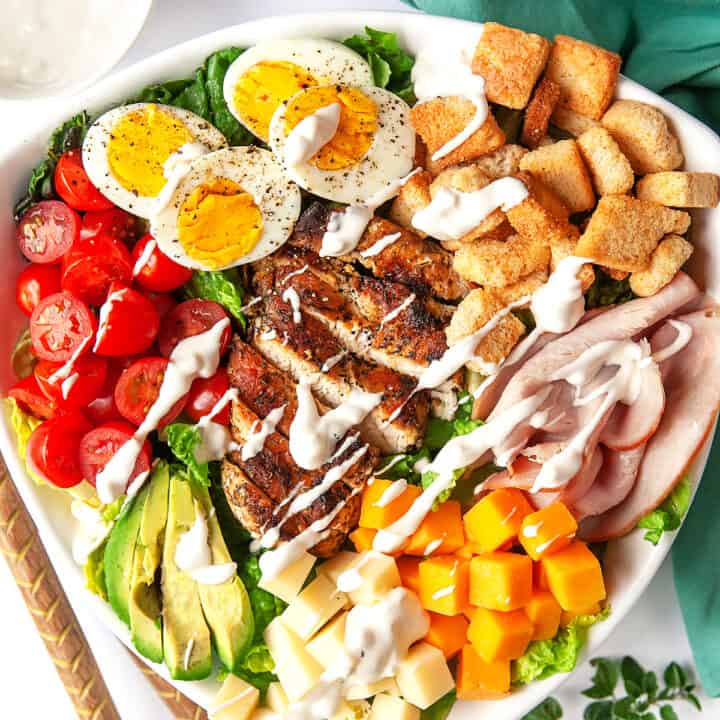 Best Chef Salad
Yield: 4 servings
Prep Time: 15 minutes
Cook Time: 15 minutes
Total Time: 30 minutes
A delicious Chef Salad loaded with Italian grilled chicken, sliced ham, hard-boiled eggs, cheese, avocado, and more! Top it with your favorite creamy dressing for a perfect summer lunch or dinner.
Ingredients
1 large boneless skinless chicken breast
1 tablespoon extra virgin olive oil
1 teaspoon Italian seasoning
juice from half a squeezed lemon
salt and pepper
4 cups fresh lettuce greens (romaine or butter lettuce)
1/2 cup cherry tomatoes, halved
2 ounces cubed cheddar cheese
2 ounces cubed swiss cheese
1 avocado sliced
6 slices of deli ham
2 hard-boiled eggs, sliced
1 cup croutons
Creamy Salad dressing like Blue Cheese or Ranch
Instructions
Preheat your grill, grill pan, or cast-iron skillet to medium-high, and brush the grates with oil.
Add the chicken to a bowl and toss with the olive oil, Italian seasoning, lemon juice, and a pinch of salt and pepper. Grill the chicken for 5 to 8 minutes per side, or until the chicken is cooked through. Remove from grill and let stand for 10 minutes. Thinly slice the chicken.
Add the salad greens to a large bowl, and arrange the chicken, ham, eggs, tomatoes, avocado, cheese, and croutons on top. Serve immediately alongside your favorite creamy salad dressing, or try our homemade Parmesan Peppercorn Dressing or Buttermilk Ranch Dressing.
Notes
You can easily double this salad to feed a bigger crowd. See all of our tips and tricks in the post for this salad.
Recommended Products
As an Amazon Associate and member of other affiliate programs, I earn from qualifying purchases.
Nutrition Information:
Yield: 4
Serving Size: 1
Amount Per Serving:
Calories: 538
Total Fat: 36g
Saturated Fat: 11g
Trans Fat: 0g
Unsaturated Fat: 21g
Cholesterol: 167mg
Sodium: 978mg
Carbohydrates: 27g
Fiber: 7g
Sugar: 11g
Protein: 30g
Recipe calculation was provided by Nutritionix and is an estimation only. If you need nutritional calculations for medical reasons, please use a source that you trust.