Salpicao Brazilian Salad
Salpicao Brazilian Salad – I am having a guest here today but we are sharing the stage together as I have made her recipe and took the picture. Lisa is a friend that Ken has had since grade 7. Lisa went on to become an international super model, who appeared on the front of Vogue and many other magazines. She has traveled the world over and lived in Rio De Janeiro for many years.
Recently Lisa came over to give Amber lessons on modelling, poise, clothes, makeup etc. Important and fun things for a 12 year old girl. In our time together we of course also chatted about food. She graciously shared this amazing salad recipe with us and I am now sharing it with you today. Here is a photo of Lisa and what she has to say about this fabulous salad that I will be making again and again. I now give you Lisa Kauffmann.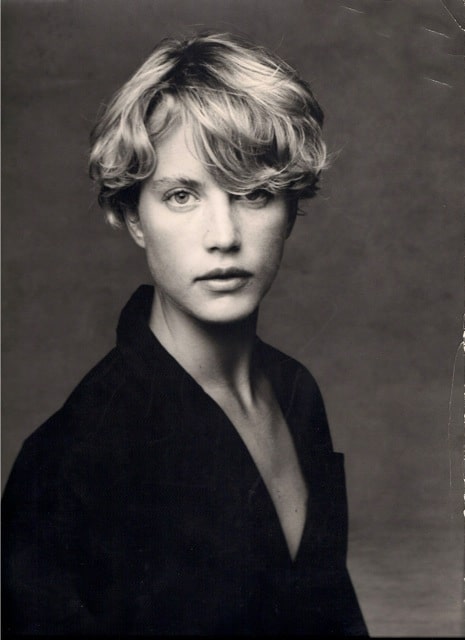 It is a traditional chicken salad from Brazil. It is a great summer food and comes in handy when you are a bit pressed for time (also a good way of using a store bought BBQ chicken) and want to make something great for a summer pot luck. . In this case, prepare all of the ingredients and put them in separate containers to transport and combine them all into the serving dish when ready to serve.
Some Salpicao recipes ask for mayonnaise, but I am not a fan of mayo in the summer so that is why I substitute the olive oil (healthier too).
Some people add green peas as well, but in Brazil they are from a can so they don't have the same taste as fresh or frozen, that is why I don't put them in. They can be optional.
For it to be a true Salpicao, it needs the string potatoes on top.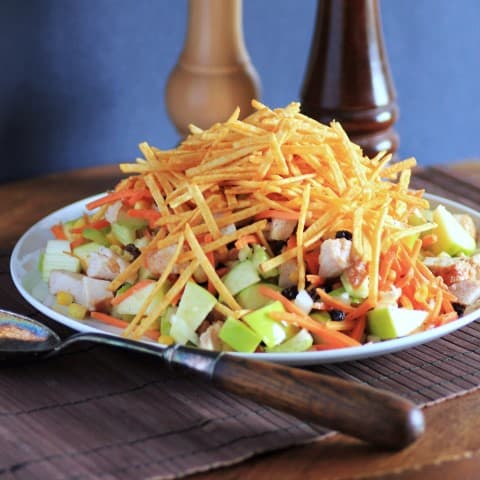 Salpicao Brazilian Salad
A fantastic salad full of crunch and flavor!!
Ingredients
4 chicken breasts, cooked with chipolte mango seasoning or Montreal chicken spice or store bought cooked packaged chicken (400gms) or store bought whole BBQ chicken
4 cups shredded carrots, loosely packed
2-3 diced Granny Smith apples
4-5 celery stalks, thinly sliced
1 cup raisins, plumped in hot water
1 cup corn niblets
¾ cup onion finely diced, sweet or red
Olive oil
Lemon juice
Salt and pepper
Shoestring potato chips
Instructions
Shred or dice chicken. Combine all ingredients when ready to serve. Drizzle with a small amount of olive oil, dash of lemon juice, salt and pepper to taste. Top with shoestring potatoes.