Copycat Wendy's Apple Pecan Chicken Salad
One of my absolute favorite things to eat is a big delicious salad filled with tons of flavors and full of crunch!! Wendy's has some nice looking salads out lately and I have made three of them including the dressing for you to try, like this Copycat Wendy's Apple Pecan Chicken Salad.
They are full of healthy and wonderful ingredients that the whole family will love. Soon we will all be pulling out the crock pots and covering the BBQ and doing one dish wonders like lasagna, soups and casseroles.
Don't forget to add freshness back into your dinner with a lovely meal sized salad. It can just be the change you need!! ENJOY!!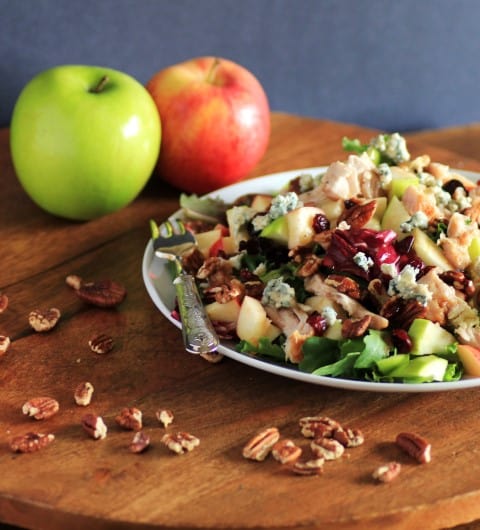 Yield: 1
Copycat Wendy's Apple Pecan Chicken Salad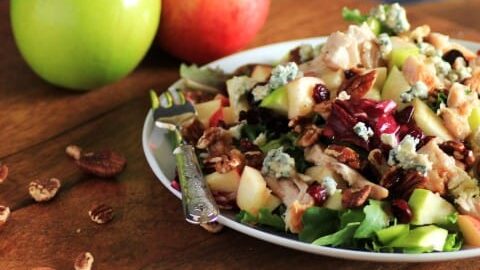 A big dinner sized salad full of flavor and crunch!!
Ingredients
2 cups romaine lettuce, torn
2 cups mixed greens
100 gms. cooked chicken
1/4 cup roasted pecans
1/4 cup dried cranberries
1/8 cup crumbled blue cheese
1/2 chopped green apple
1/2 chopped gala apple
Dressing
2 Tbsp. honey
2 Tbsp. pomegranate juice
2 Tbsp. white wine vinegar
1 tsp. dijon mustard
1/4 cup olive oil
Salt and pepper to taste
Or use Marzetti® Simply Dressed® Pomegranate Vinaigrette
Instructions
For the dressing mix all the ingredients together in a jar and shake well, set aside. For the salad on a large dinner plate lay out the romaine and top with the mixed greens. Next place the cooked chicken on top followed by the pecans, cranberries, green and gala apple and then the blue cheese. Drizzle with about 1/4 to 1/3 of the dressing. Refrigerate remaining dressing.