This gorgeous Winter Citrus Salad with a Poppy Seed Vinaigrette is a total show-stopper of a side dish! With a blend of bright, juicy citrus fruits paired with salad greens, fresh mint, and crunchy fennel, this simple citrus salad is bursting with delicious flavor.
Many people think of fresh salads as summer fare, but this Citrus Salad will easily change your mind. It's the perfect light and fresh antidote to all the sweets and heavy winter dishes. Winter is the best season to find all the sweet and juicy oranges and grapefruits. This salad is the best way to put them to good use.
If you want more winter citrus ideas, check out this yummy Citrus Sangria and this delicious Citrus Cake with Limoncello Glaze! Or for another great winter salad idea try our Sweet Kale Salad, perfect for the holidays.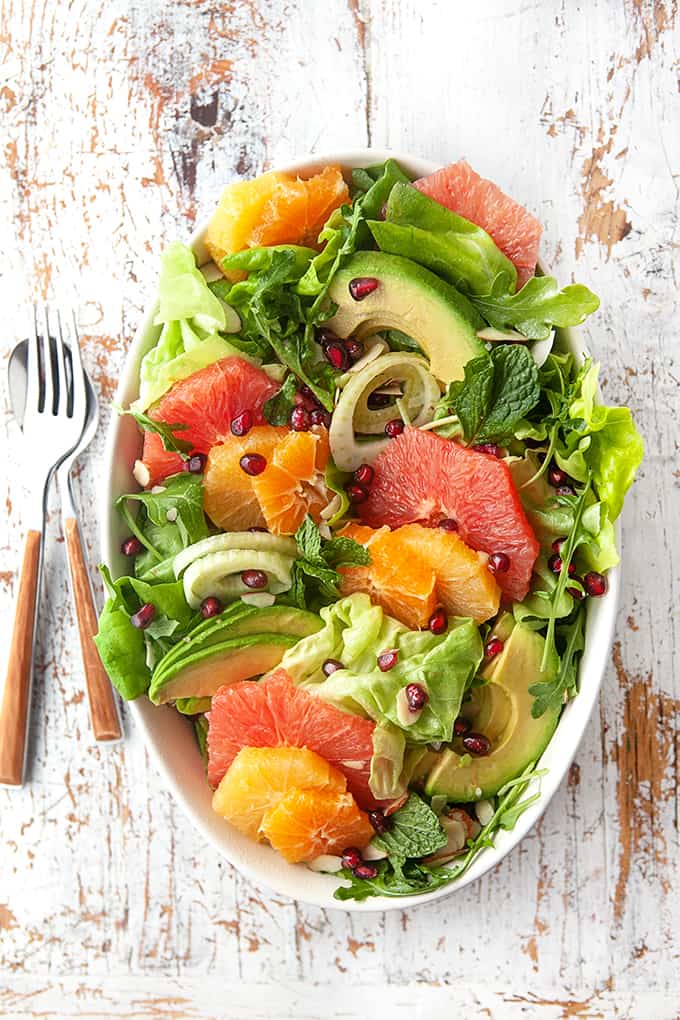 Hi, it's Allison here again from Some the Wiser. It's been such a joy being part of the team here this year! And I'm so excited to share this salad with you! Winter Salads are some of my favorite dishes to prepare (and to eat!). Be sure to check out my Shaved Brussels Sprouts and Apple Salad, as well as this Fresh Cranberry Apple Farro Salad.
Helpful Items For This Recipe
This post contains affiliate links. As an Amazon Associate, I earn a small portion from qualifying purchases at no extra charge for you.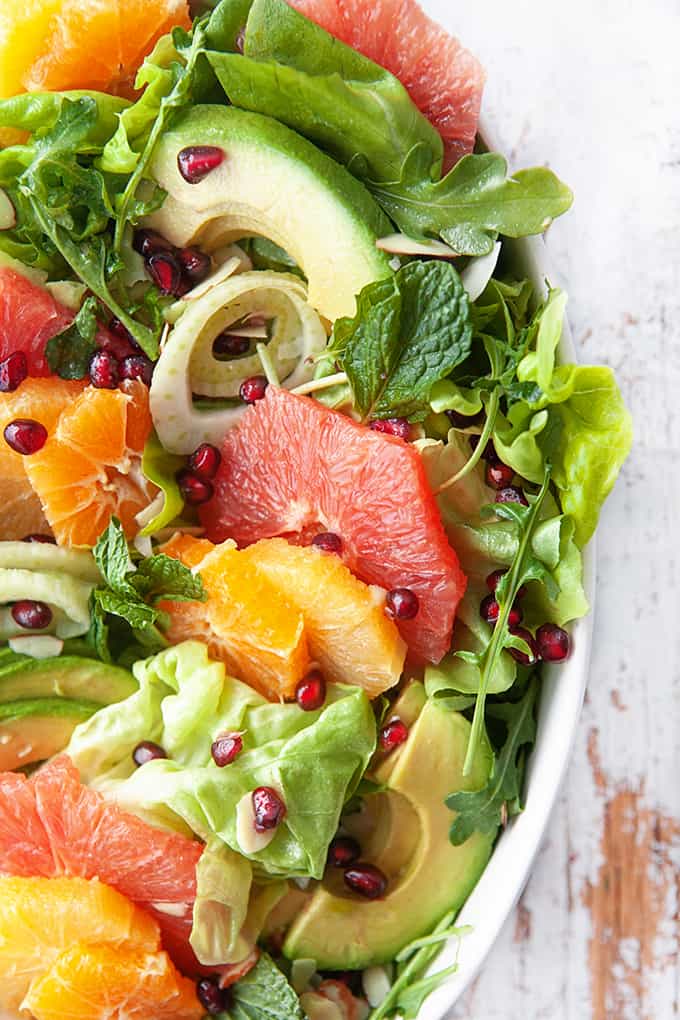 What are the 5 Types of Salads?
While there are thousands of different salad recipes to choose from, in the culinary world, there are just 5 types of salads. While you can create so many different variations, understanding the principles behind the five types helps you make better, more delicious salads. Some salads can be plant-based, and some are not; here is the list.
Let's take a look at the five types of salads:
Green Salads: These are fresh, green, crisp salads made with tossed fresh greens, like lettuce.
Fruit Salads: As the name suggests, these salads use fruit as the main ingredients. They include dishes like Ambrosia and Fruit Cocktails.
Bound Salads: These are salads in which the ingredients are bound together in a mass with a thick dressing or mayonnaise. Salads like Chicken Salad or Egg Salad are bound salads.
Farinaceous Salads: Salads made with starches, like pasta, rice, or potatoes fall into this category.
Composed Salads: These are salads that are intentionally composed, or skillfully built, like a Cobb Salad. They are called "composed salads" because the ingredients are arranged on a plate rather than just tossed together.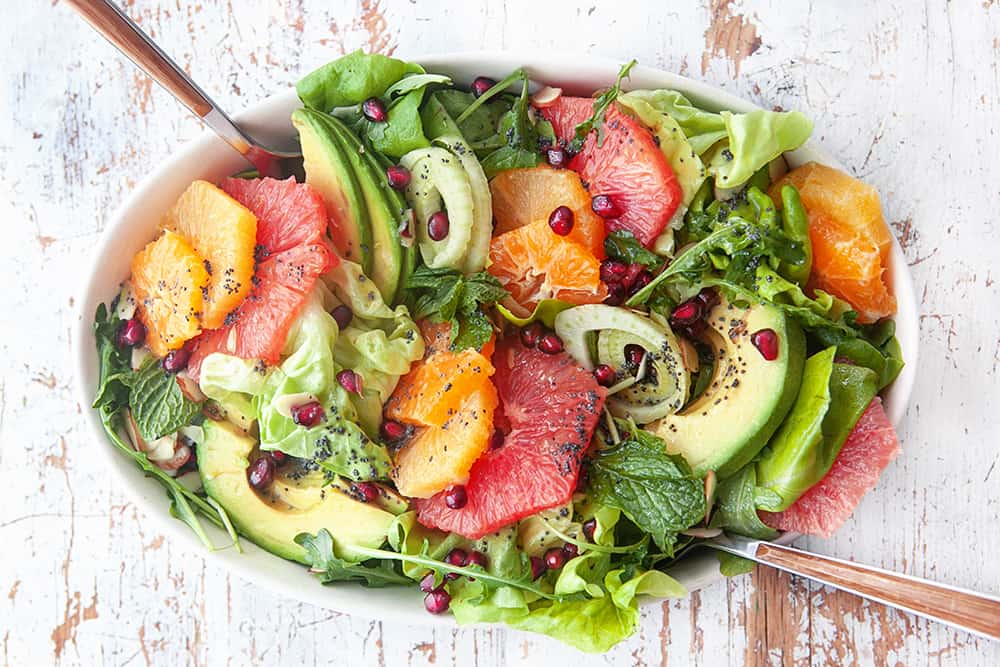 This stunning Winter Citrus Salad would be considered a Composed Salad because it's intentionally composed on a platter to showcase the citrus fruits. If the composed salad is meant to be served buffet style (rather than individually plated or served in a small bowl), then be sure to get a little bit of everything when you dish it up.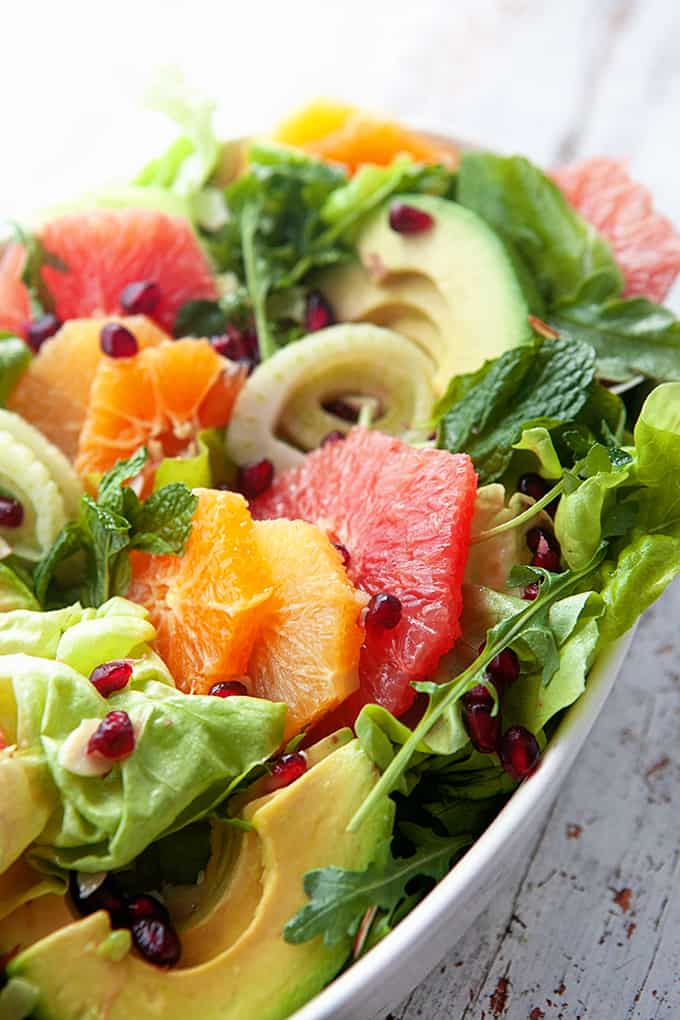 What is in a Winter Citrus Salad?
The key ingredients in a Winter Citrus Salad are the citrus fruits. Using a blend of citrus will add more color and flavor to the salad. In this salad, I used a blend of Ruby Red Grapefruit, Oranges, and Mandarins (Clementines).
You can also look for Blood Oranges, Cara Cara Oranges, Tangerines, or White Grapefruit. I like to look for a blend that will showcase several different colors as well as varying levels of sweetness.
Make sure when preparing the grapefruit and orange slices that there is no white pith left. The white pith will leave a bitter taste on the citrus fruit.
Plus, grapefruit and oranges peeled and sliced look much prettier with the edges removed. It gives the salad a very professional-looking touch.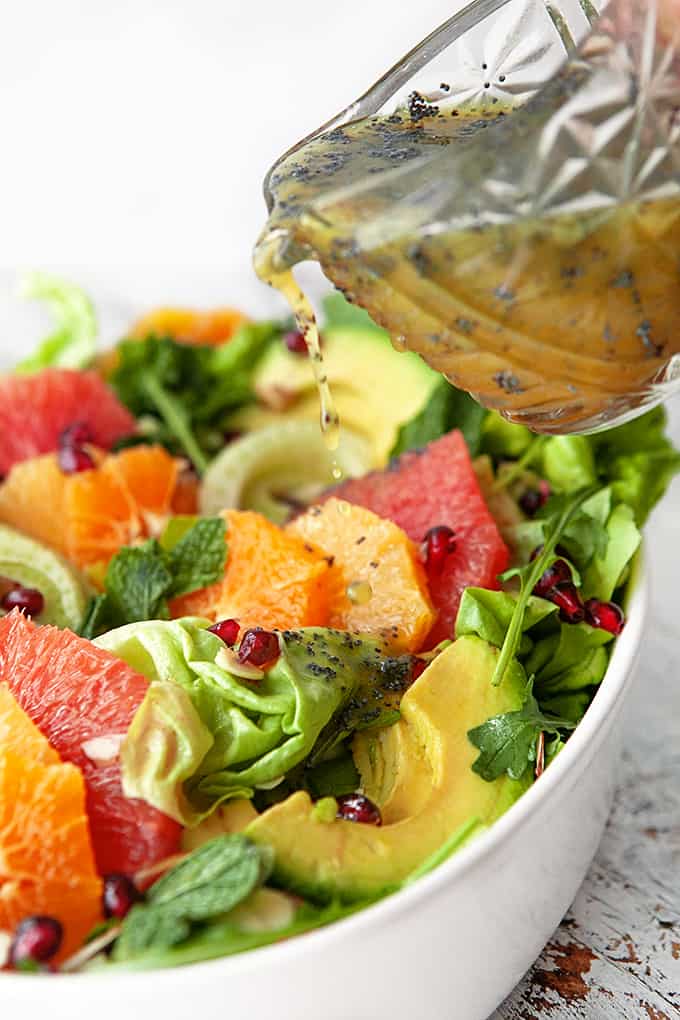 In addition to the citrus, there are fresh greens (Boston Lettuce and Arugula) that form the base of the salad. To add an extra burst of flavor and crunch, this Winter Salad also includes thinly sliced fresh Fennel and Fresh mint. Sliced avocado pairs so well with the citrus flavors and makes the salad a little heartier.
To finish the gorgeous side dish off, it's topped with slivered almonds, juicy pomegranate arils, and a simple but tasty Poppy Seed Vinaigrette. It's only a handful of ingredients, but together, they make a mouthwatering salad.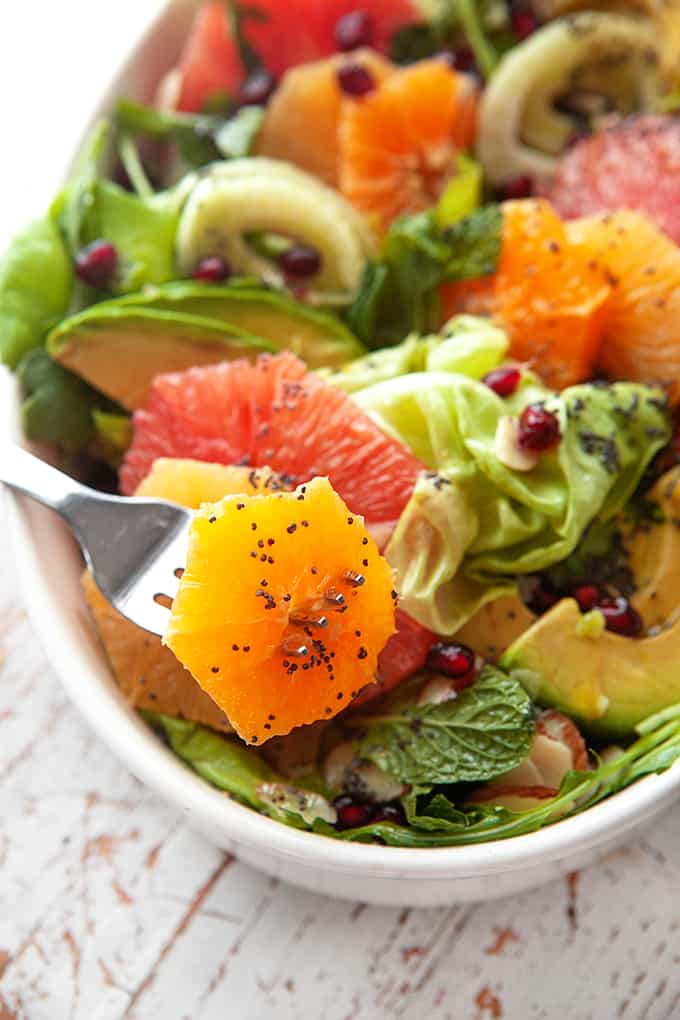 What is Winter Citrus?
In our modern world, we can buy citrus any time of year at the grocery store. So you may be wondering what is winter citrus? Well, citrus may be available all year round, but the very best citrus can be found during the North American winter citrus season.
Citrus fruits are referred to as Winter Citrus because they are at their sweetest and juiciest during the winter. This is the time of year that it's easiest to find a wide variety of good citrus fruits. North American winter is also the season for many favorite citrus-based dishes, like this Winter Citrus Salad.
Poppy Seed Salad Dressing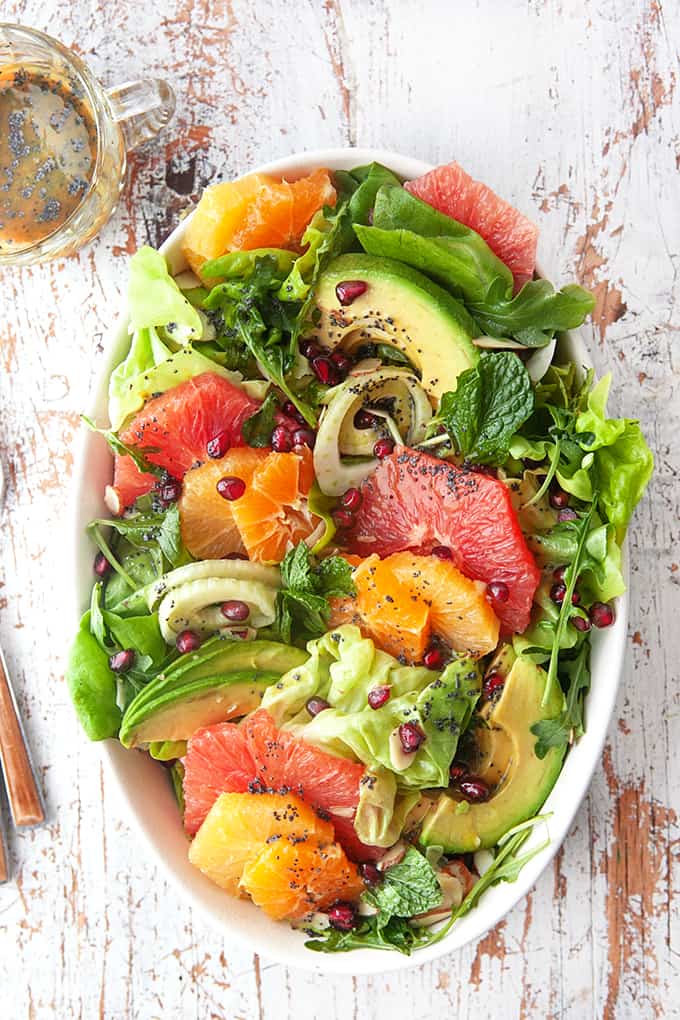 The dressing is comprised of simple ingredients. I like to use a neutral oil instead of olive oil like grapeseed or canola oil. A simple white vinegar balances this out.
The dressing gets just a touch of a bite from red onion, but I use regular mustard as opposed to Dijon mustard to tame it down a bit.
The dressing is then sweetened up to match the citrus with maple syrup and, finally, a sprinkle with salt.
Feel free to adjust the ingredients to your liking.
Pin it HERE!!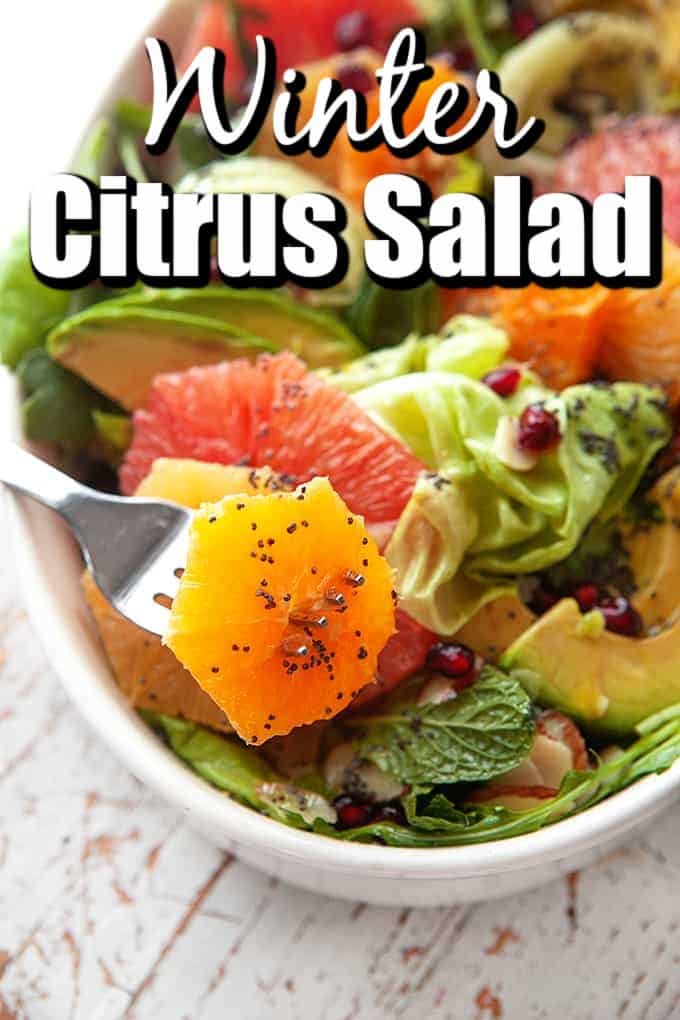 Pin it HERE!!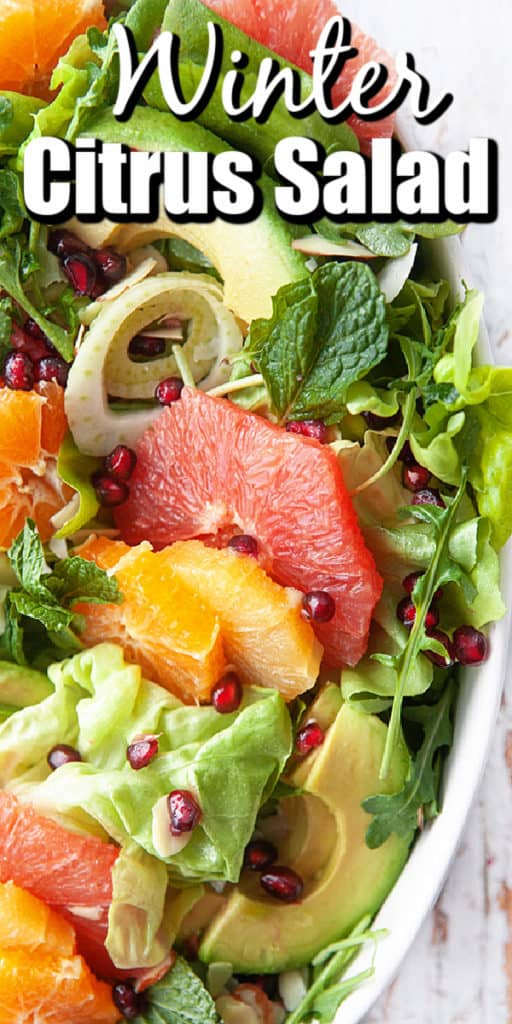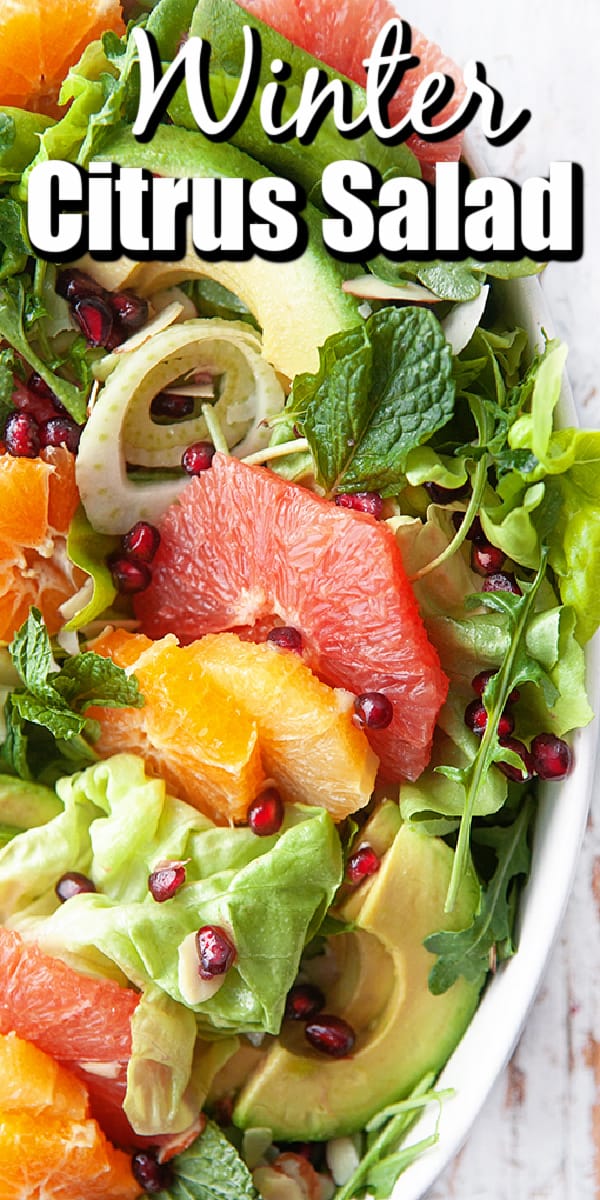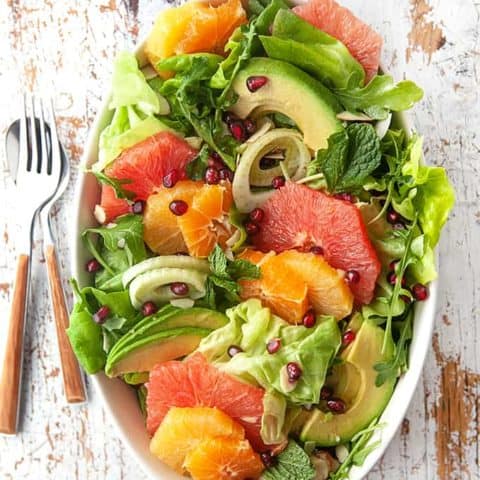 Winter Citrus Salad
Yield: 4 to 6
Prep Time: 20 minutes
Total Time: 20 minutes
This gorgeous Winter Citrus Salad with a Poppy Seed Vinaigrette is a total show stopper of a side dish! With a blend of bright, juicy citrus fruits paired with salad greens, fresh mint, and crunchy fennel, this simple citrus salad is bursting with delicious flavor.
Ingredients
1 large head Boston Living Lettuce
1 generous handful Arugula leaves
2 Navel Oranges (peeled and thinly sliced)
2 Clementine Oranges (peeled and thinly sliced)
1 large Ruby Red Grapefruit (peeled and thinly sliced)
1 Avocado
1 small bulb Fresh fennel, thinly sliced
1/2 cup Pomegranate Arils
1/3 cup slivered almonds
Handful of Fresh Mint Leaves
For the Dressing
2 tablespoons, plus 1 teaspoon white vinegar
2 tablespoons, plus 1 teaspoon maple syrup
1/3 cup grapeseed oil (or other neutral oil, like canola)
2 tablespoons grated red onion
1/4 teaspoon salt
1 tablespoon prepared yellow mustard
1 tablespoon poppy seeds
Instructions
Make the dressing: In a mason jar or small bowl, combine all of the dressing ingredients and shake or whisk until well combined. Taste and adjust for desired sweetness. Dressing will keep in a sealed jar in the fridge for up to a week.
Assemble the Salad: Layer the lettuce and arugula in serving dish. Top with citrus, then avocado slices and fennel slices. Sprinkle with fresh mint, pomegranate, and almonds. Add dressing just before serving.
Recommended Products
As an Amazon Associate and member of other affiliate programs, I earn from qualifying purchases.
Nutrition Information:
Yield: 6
Serving Size: 1
Amount Per Serving:
Calories: 282
Total Fat: 21g
Saturated Fat: 2g
Trans Fat: 0g
Unsaturated Fat: 17g
Cholesterol: 0mg
Sodium: 135mg
Carbohydrates: 24g
Fiber: 8g
Sugar: 13g
Protein: 4g
Recipe calculation was provided by Nutritionix and is an estimation only. If you need nutritional calculations for medical reasons, please use a source that you trust.