Citrus Cake with Limoncello Glaze
by Vintage Kitchen Notes
Paula brought this amazing Citrus Cake with Limoncello Glaze for you today all the way from Buenos Aires. She so kindly helped me out when I needed it. She has a gorgeous blog filled with mouth-watering recipes and photos. I also love the name of her website called Vintage Kitchen Notes, which you have to go over and browse around, you will love it. I now give you Paula.
Hi everyone, I´m Paula from Vintage Kitchen Notes and I´m blogging from Buenos Aires.
I met Tara through the now-defunct Foodbuzz but became blogging friends through #SundaySupper.
As you already know, since you´re reading this, she is a fantastic photographer and proliferous blogger. And she´s writing a series of cookbooks! So talented. The guest posting here is just wonderful.
I remember well the first time I made this cake. Without the poppy seeds nor the glaze, only lemon zest. I had invited a few friends over for brunch. This cake stood tall and perfect in the center of the table.
Coffee, muffins, fruits, a lot of talks, stories, and laughter were exchanged, a few hours passed and the cake remained untouched. Not even a hint of interest from anyone. As the gathering was clearly coming to an end I insisted they try it. But they had eaten a lot already. They politely declined but I insisted, feeling a bit sorry for the lovely cake that I knew was so good.
Oohs & Aahs!
To make this short, not only did they taste it, but, between oohs and aahs, demanded to take some home, each one of them, since I had cut it at the end of the brunch and they couldn´t eat anything else really.
From then on, it was my most requested cake. I have made it with just orange zest, a mix of citrus, poppy seeds, a chocolate glaze, rum glaze. And a few other variations I probably don´t remember now.
It is extraordinary in spite of its ordinary appearance. Talk about looks being deceiving. If I had to choose only one plain cake recipe for the rest of my life it would be this one.
The poppy seeds and limoncello glaze add another dimension of flavor that is welcome after you´ve made it with just lemon zest, according to the original recipe.
I really like using a mix of citrus, anything I have lying around. Today it was lemon, orange, and tangerine. It is brushed with a lemon syrup as soon as it comes out of the oven and then glazed, in this case with limoncello, when the cake has cooled.
It has one of the best aromas coming out of the oven. A fabulous cake and a very well known one. Through the years, before the food blog explosion, this recipe was one of those best-kept secrets of many hostesses and caterers. Once you make it you will realize why. Be prepared to give out the recipe.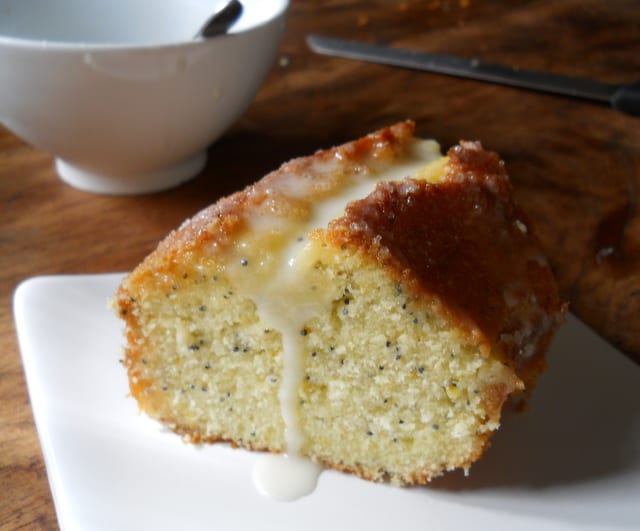 CITRUS CAKE WITH LIMONCELLO GLAZE
adapted from Maida Heatter´s 62nd. Street Lemon Cake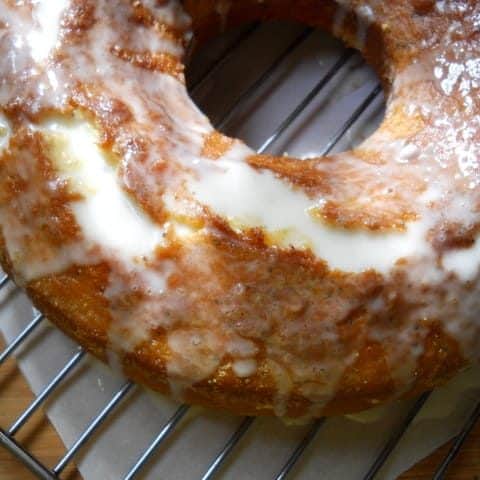 CITRUS CAKE WITH LIMONCELLO GLAZE BY VINTAGE KITCHEN NOTES
Yield: 8 Servings
Prep Time: 30 minutes
Cook Time: 1 hour 10 minutes
Total Time: 1 hour 40 minutes
A delicious Citrus Cake with an Amazing Limoncello Glaze
Ingredients
For the cake:
3 cups sifted all-purpose flour
2 teaspoon baking powder
1/2 teaspoon salt
8 oz. (1 cup) unsalted butter
2 cups of sugar
4 large eggs
1 cup milk
Zest of 1 lemon, 1 tangerine, and ½ orange
4 Tbsp. poppy seeds
For the syrup:
1/3 cup fresh lemon juice
½ cup of sugar
Limoncello glaze:
1 cup powdered sugar
3 to 4 Tbs limoncello
Instructions
For the cake, preheat oven to 350°. Butter a tube pan and then dust it all lightly with fine, dry bread crumbs. Set aside.
Sift together the flour, baking powder, and salt. Set aside.
In the large bowl of an electric mixer, beat the butter until soft. Gradually add the sugar and beat well. Beat in the eggs, one at a time, mixing well after each addition. Don´t worry if the mixture looks curdled.
Beginning and ending with dry ingredients, add them in three additions alternating with the milk in two additions. Beat only until incorporated. Remove the bowl from the mixer and add the citrus zest and the poppy seeds.
Pour the batter into the prepared pan, spreading evenly.
Bake for 1 hour and 5 to 10 minutes, until a cake tester inserted comes out clean. Let the cake stand in the pan for 5 minutes and then cover with a rack and invert. Leave the cake upside down.
Prepare the glaze by mixing the juice and sugar in a small bowl. Brush 2/3 of the syrup all over the hot cake. It will absorb it.
Turn it right side up and brush the remaining syrup.
To make the limoncello glaze, mix powdered sugar and liqueur in a small bowl.
Let the cake cool completely and glaze.
It is best to wait a few hours before cutting the cake.