Sponge Toffee for Halloween
Sponge Toffee for Halloween, I have not made this since I was a child and I have to say it is one of my favorite candies. It reminds me of my childhood when I used to make divinity, fudge, and candies like this. It is so crunchy and yummy and melts in your mouth!!
Making candy has an art to it. You can't just walk away from it. This is something that you must be paying close attention too. You also have to keep in mind that making anything with hot sugar that even after the heat is off the mixture continues to cook and can burn so very easily. Ask Ken, the candyman and he will tell you that for sure.
You can do it the old fashioned way with a bowl of cold water and test for the different stages. I like this method better than a thermometer. Making candy takes patience and practice. The first time I overdid the sponge toffee, not that it was inedible but it was probably 30 seconds to a minute overdone and it didn't rise nearly as well as it should have. \
Try, Try Again!
So the second time I used a smaller pan. I did get a thicker sponge toffee, pretty much perfect but I had molten lava sponge toffee overflow onto my counter. Didn't matter as it just hardened there on the granite and came right off. So in the recipe, I will say to go back to the 9×13″ pan.
Making candy can be a two-man job. When you have something that is so incredibly hot and the timing of getting it into a pan quickly is essential you could use an extra set of hands. At least I found this out the hard way. Trying to balance a 3-liter pot in the air while trying to scrape out molten lava is not easy.
Sorry, I am not trying to make this seem like an impossible recipe on the contrary it is quite easy but you need to know some things ahead of time.
I hope you try this for Halloween and that it brings back childhood memories for you or you create some with your children.
Happy Hauntings!!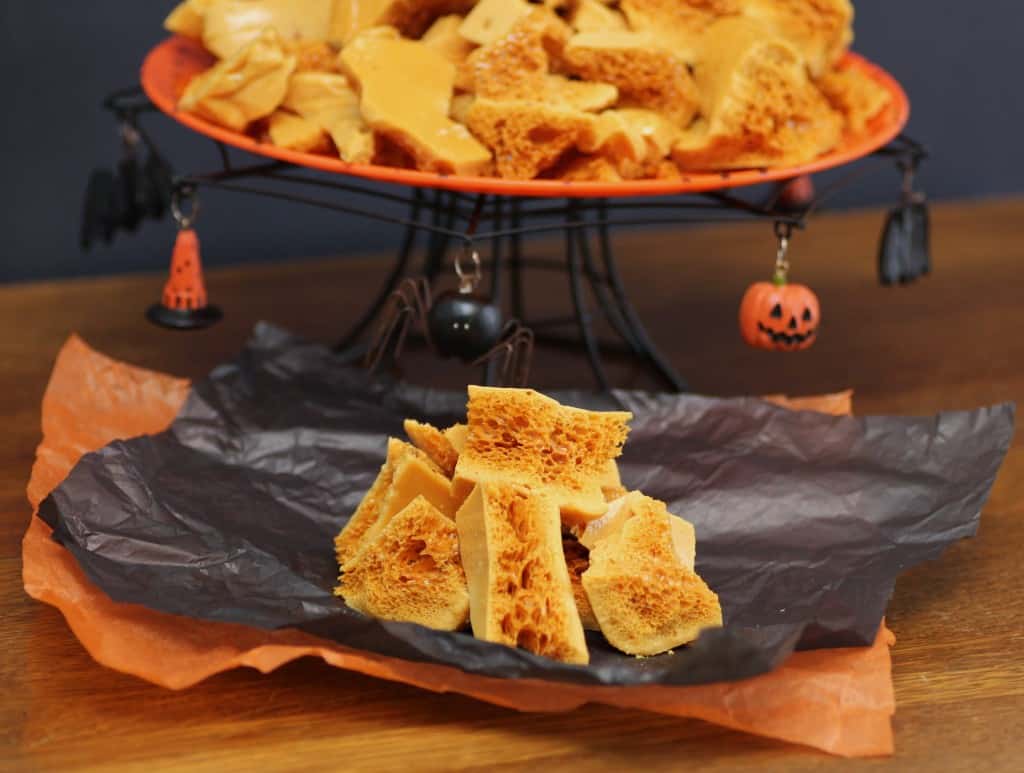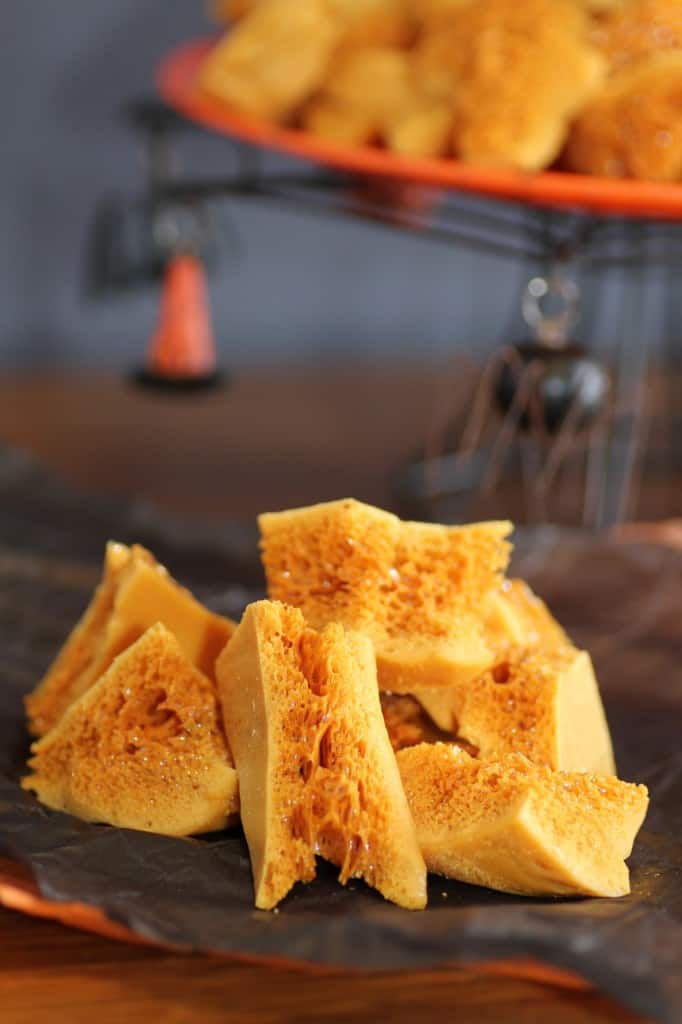 The Recipe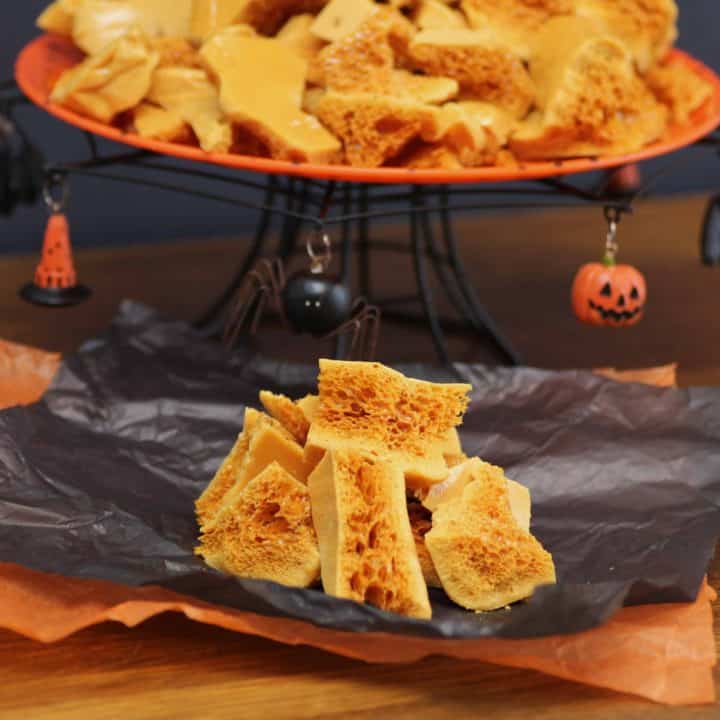 Sponge Toffee for Halloween
Yield: 48 pieces
Prep Time: 5 minutes
Cook Time: 10 minutes
Total Time: 15 minutes
A perfect treat for Halloween!
Ingredients
2 1/2 cups granulated sugar
2/3 cup white corn syrup
1/3 cup water
4 tsp. baking soda
2 tsp. vanilla
Instructions
Spray a 9x13" pan with cooking spray and line with parchment paper. Set aside.
Place sugar, water, and white corn syrup in a 12 cup or 3 L saucepan over medium heat and cook stirring until the sugar dissolves.
Bring to a boil, and cook without stirring. Brush down the crystals on the sides with a pastry brush dipped in cold water. Cook until the hard crack stage of 300F or when 1 tsp. is dropped into water it forms hard brittle threads about 10 min.
Remove from the heat and being very careful to add baking soda. Add it all at once and quickly stir with a whisk. It will increase dramatically but just keep whisking, add the vanilla in now.
Working quickly pour toffee into the prepared pan. Let cool without disturbing until completely cool about 2 hours. Break into pieces.
Make ahead, store in an airtight container between layers of waxed paper for 1 month.
Nutrition Information:
Yield: 24
Serving Size: 1
Amount Per Serving:
Calories: 109
Total Fat: 0g
Saturated Fat: 0g
Trans Fat: 0g
Unsaturated Fat: 0g
Cholesterol: 0mg
Sodium: 216mg
Carbohydrates: 28g
Fiber: 0g
Sugar: 28g
Protein: 0g
Recipe calculation was provided by Nutritionix and is estimation only. If you need nutritional calculations for medical reasons, please use a source that you trust.
Recipe adapted from Canadian Living.