Tasty and easy to prepare, this Sweet Kale Salad recipe is simple and a crowd-pleaser. A delicious mix of kale, shredded carrots and broccoli slaw tossed in a creamy poppy seed dressing with some sweet dried cranberries and an extra crunch from the pepitas and toasted almond slices. It is a perfect balance of sweet and savory flavor!
I love how this is a nutritious and wholesome salad, full of vitamins; you will love it too! This Winter Citrus Salad, Apple Cranberry Coleslaw, or Fall Harvest Salad might be seasonal salads you would love. And, you would probably be fond of this Apple Pecan Salad if you tried it.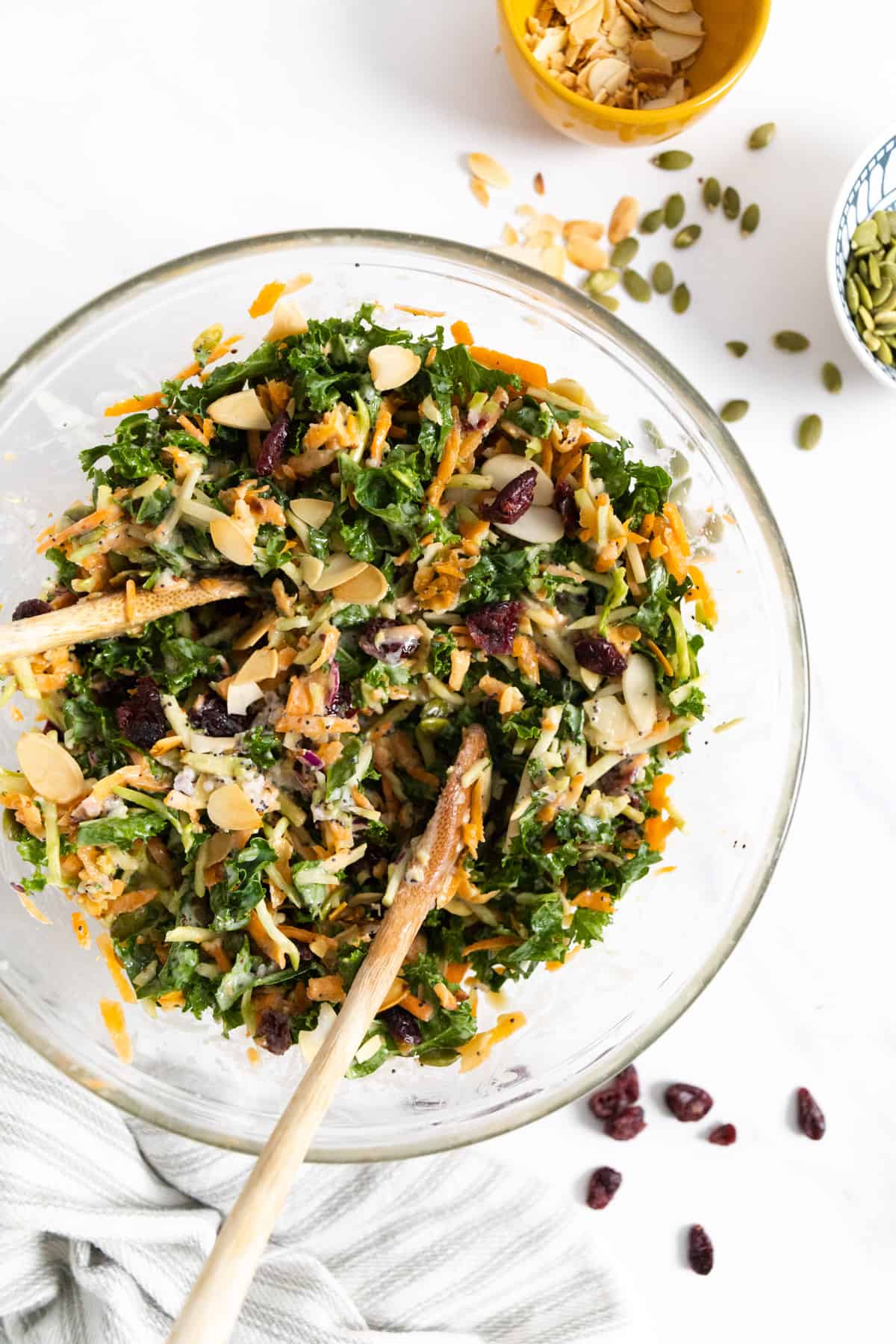 Subscribe To Our Weekly Newsletter
WHAT IS IN SWEET KALE SALAD?
This salad recipe is pretty easy and can be adapted with what you have on hand or according to your taste. The mix of greens can be changed, and if you wish, the poppy seed dressing can also be adapted or swapped for another one. But let me give you my salad ingredients and guide you through my version.
Here is what you would need: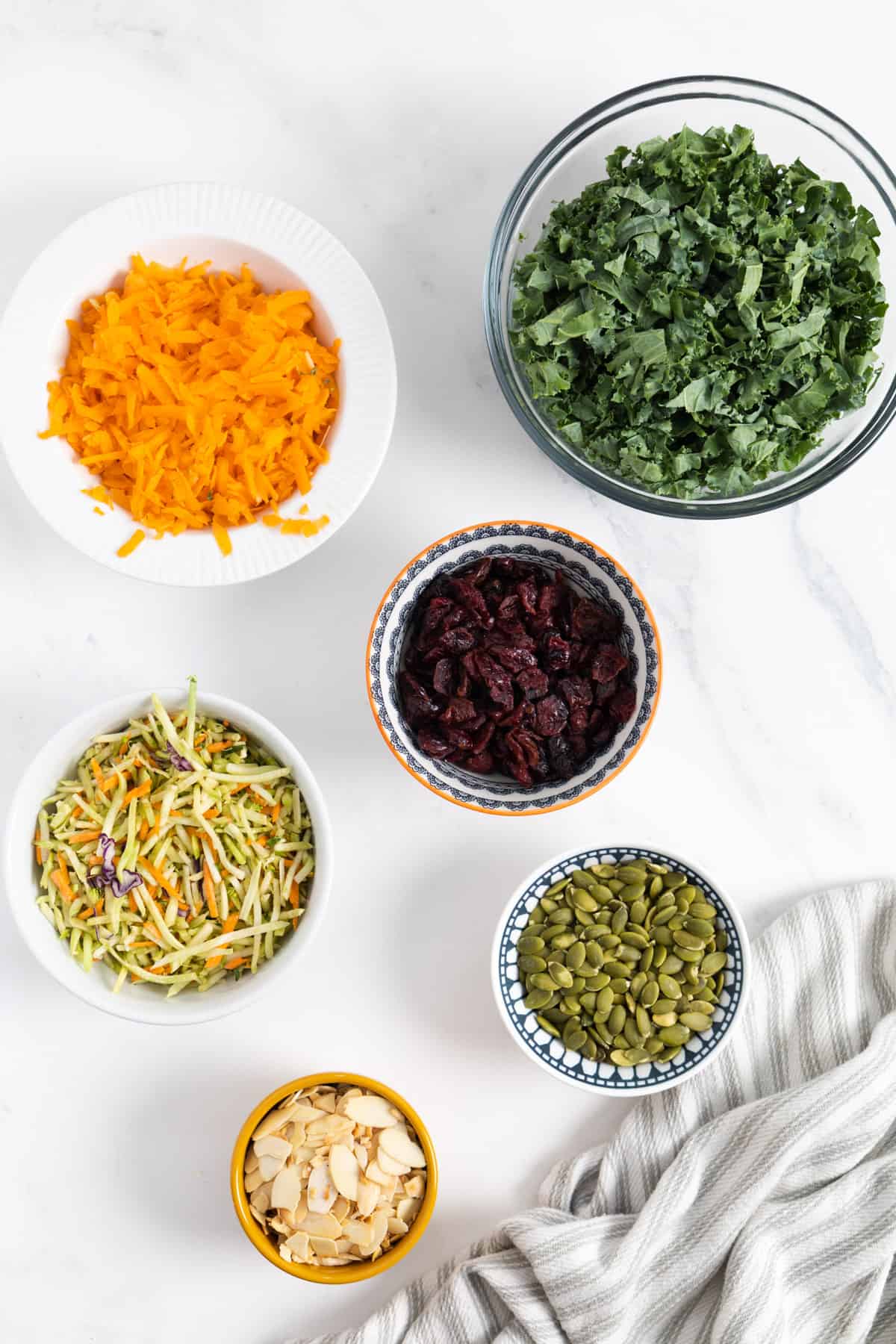 GREENS: This recipe is made with a mix of kale, shredded carrots, and a slaw made of broccoli. You can either chop it all and make your own or buy a sweet kale salad kit at the store.
CRANBERRY: The sweetness of the dry fruit is a great addition, don't skip it!
ALMONDS: Toasted almonds add an extra taste to your salad. Sliced nuts present well, but you can also use slivered ones.
PEPITAS: Pumpkin seeds are a great nutritious addition to your salad.
SALAD DRESSING: I used this poppy seed dressing recipe, but you can also use a store-bought one if you are in a pinch. The creamy coating really pairs well with all the ingredients.
You can make components from scratch or add in some store-bought ones too. We want to keep this simple for you.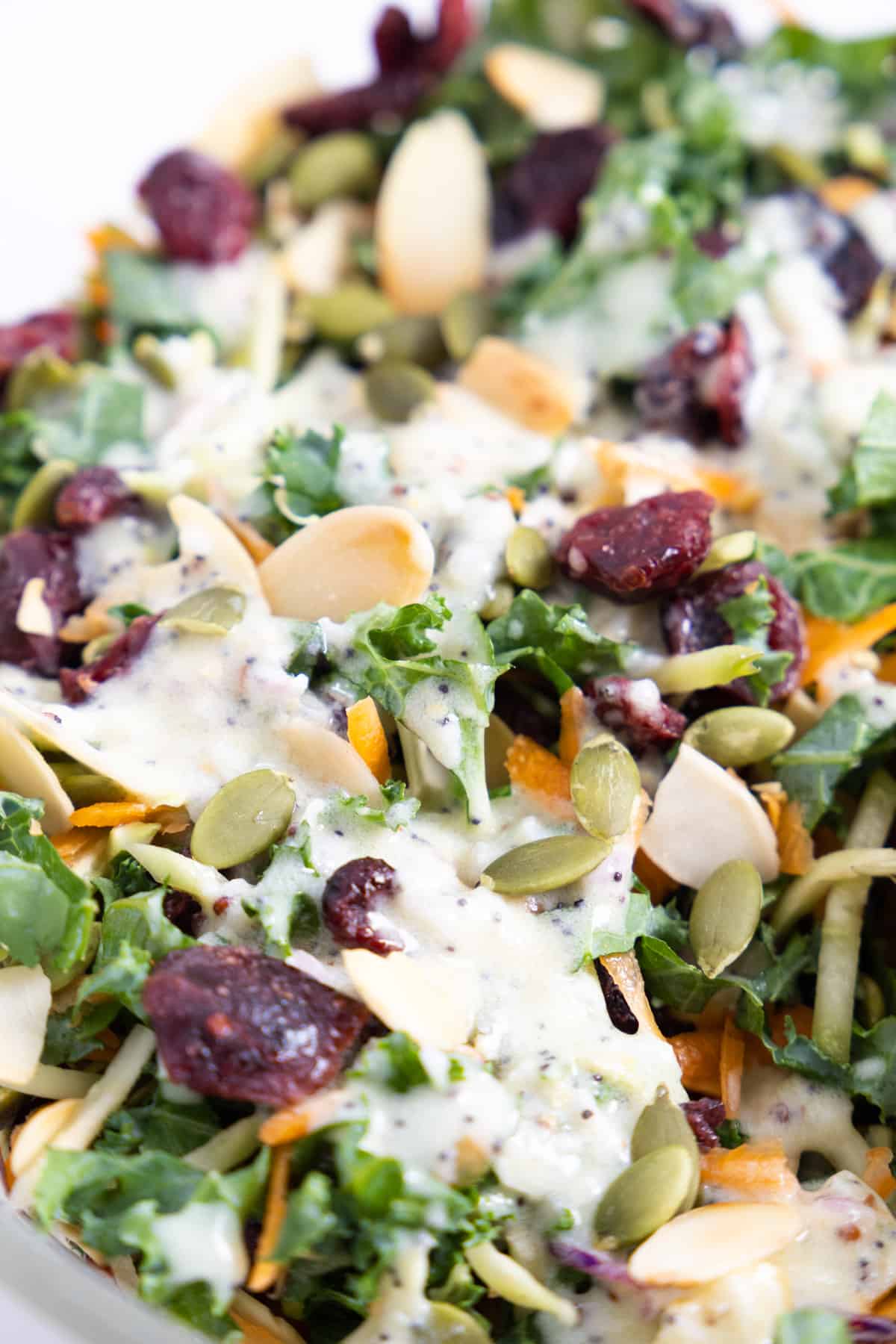 HOW TO MAKE SWEET KALE SALAD
I love when recipes are so delicious and easy to prepare like this one! Let's make it; it is pretty quick to make, from the kale broccoli mix to the dressing.
Note: No need to massage the kale, just remove the stem as noted and chop it up. Then, dress it an hour before serving, your leaves will be softer. However, if you want/need to, you can definitely massage it for a few minutes.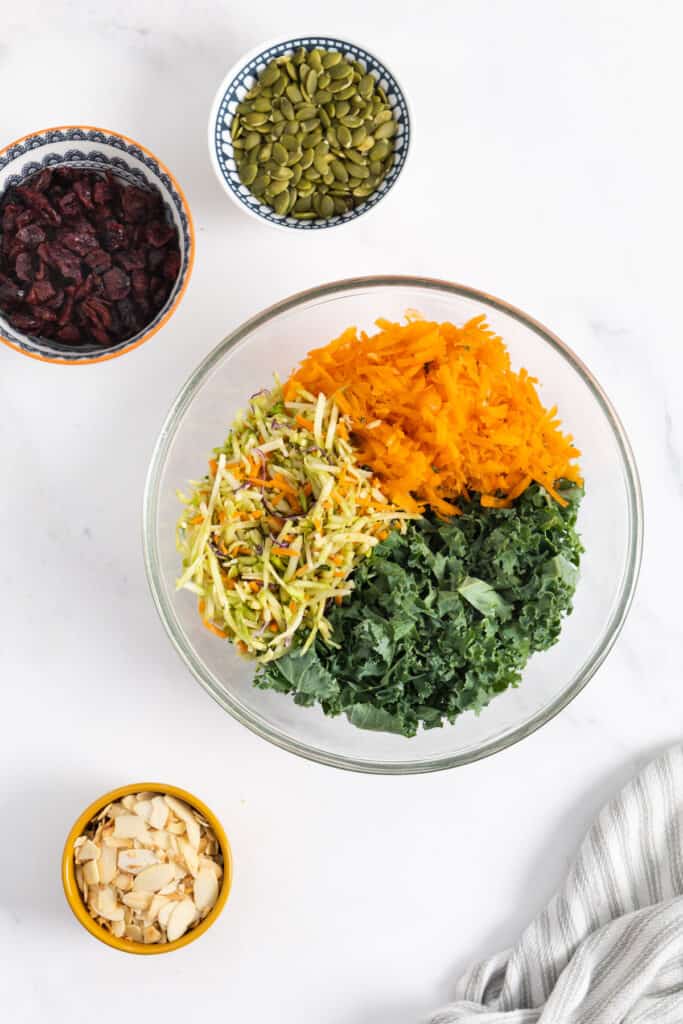 TIP: To toast the almonds, simply place them on a dry hot pan for 3-4 minutes and toss them often so they don't burn.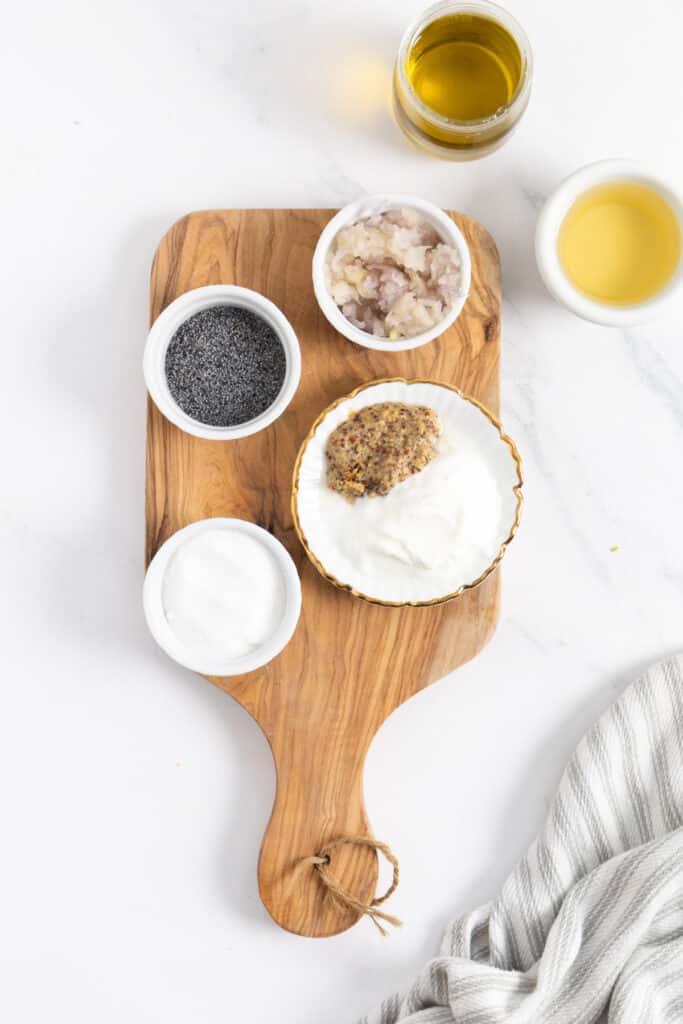 VARIATIONS & TOPPING IDEAS
This tasty kale salad is versatile, and you can easily adapt depending on what you have on hand or your taste. Here are more suggestions:
Skip the grocery store's kale salad kits, toppings, and salad dressings and make your own; it is so effortless. If in doubt, when at the grocery store, choose the kale broccoli Brussel sprouts mix.
FAQS AND TIPS
How do you eat sweet kale? This recipe is great as:
– a perfect side dish to accompany your turkey.
– a great lunch option if you are adding protein such as chicken, fish, or quinoa.
– an addition to a potluck table for Thanksgiving dinner.
Is the Sweet Kale Salad healthy? The base of this salad is full of greens and, therefore, healthy. Kale is a superfood and nutritious, and so are the seeds and nuts. However, if you want a healthier approach to this recipe, consider dressing it with this lemony dressing.
Can I prepare it ahead of time? Yes! However, do not dress the salad right away; keep the salad covered and refrigerated, and assemble before serving.
How long can I store the sweet kale salad? If you already tossed it with the dressing, you may eat it within 24 hours. The dressing itself can be stored in the fridge for up to 2 weeks; just shake it before using it. The kale mix can be placed in an air-tight container in the fridge for 4-5 days.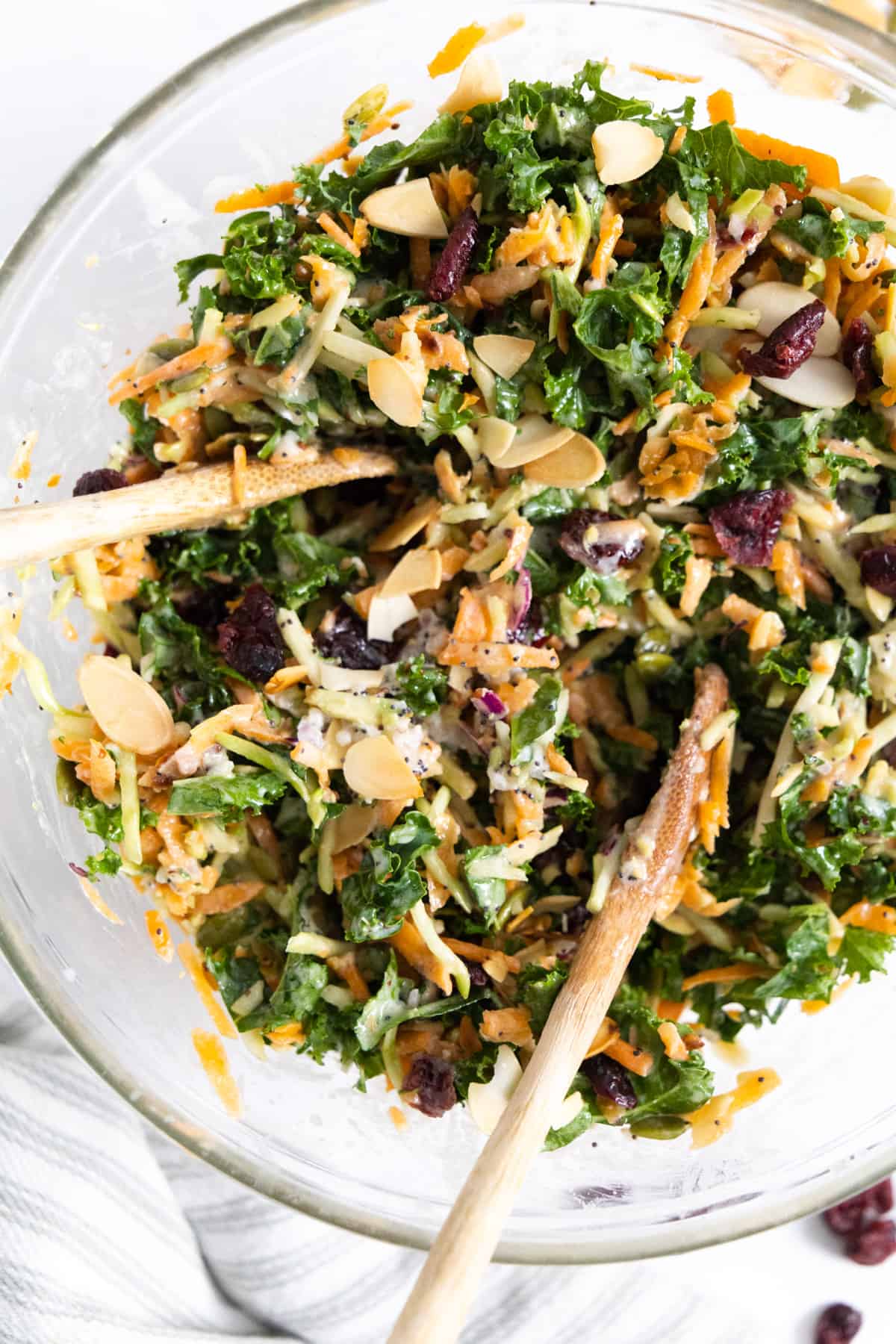 OTHER DELICIOUS FALL SALADS TO TRY
Do you want more delicious salads for Fall or anytime? We love creative salads as a meal or as a side dish. Here are a few of our best picks you should give a try: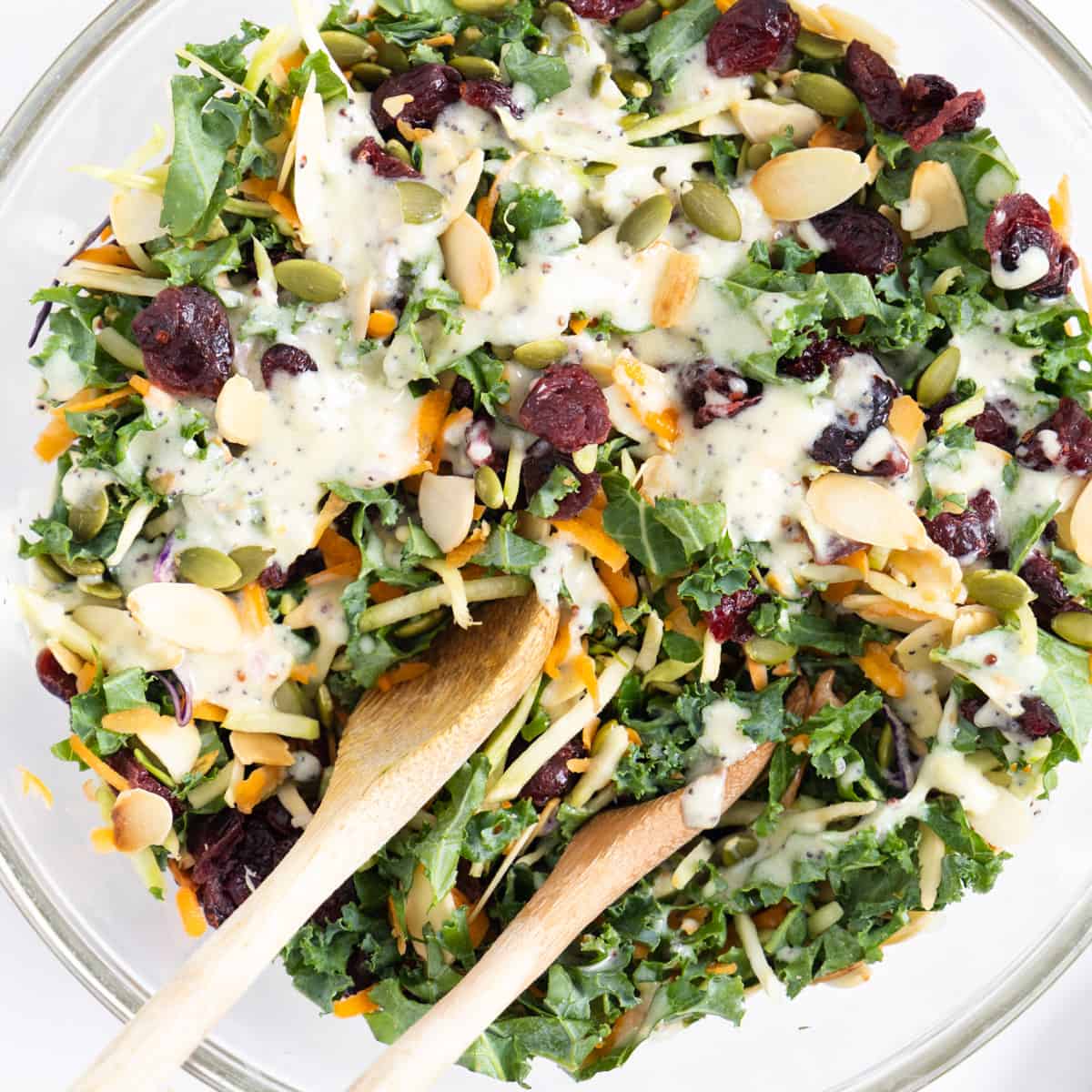 Pin it HERE!!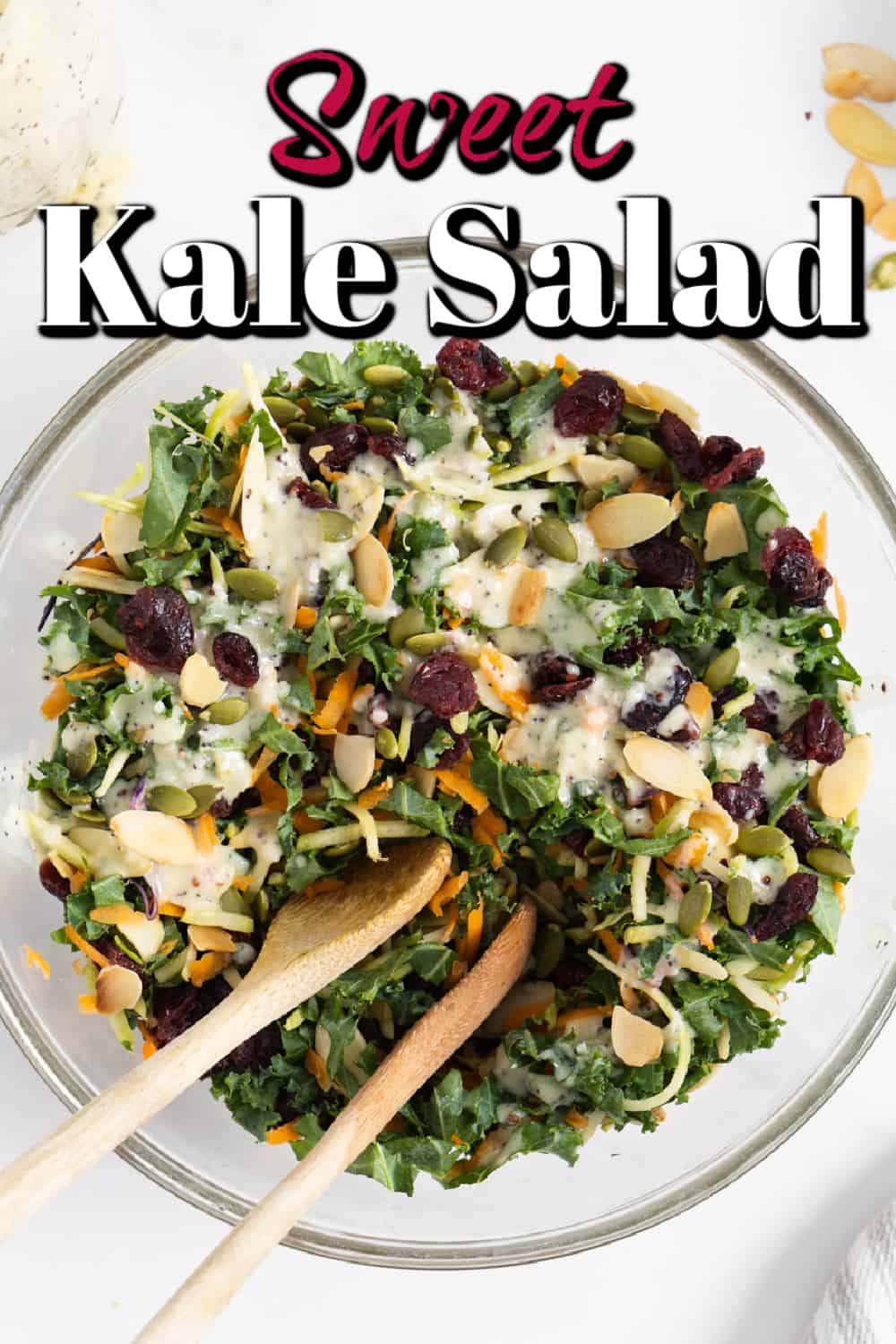 Pin it HERE!!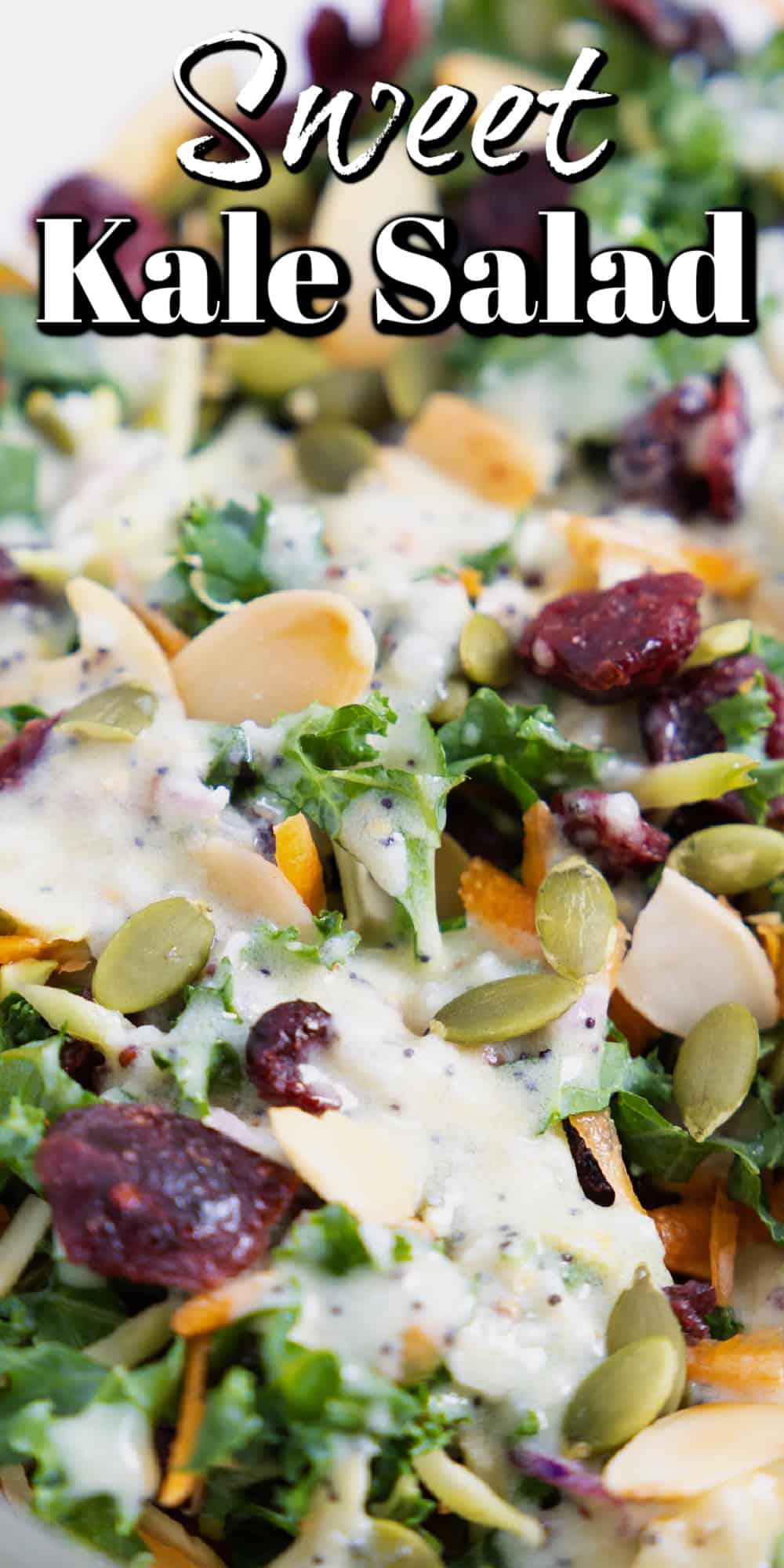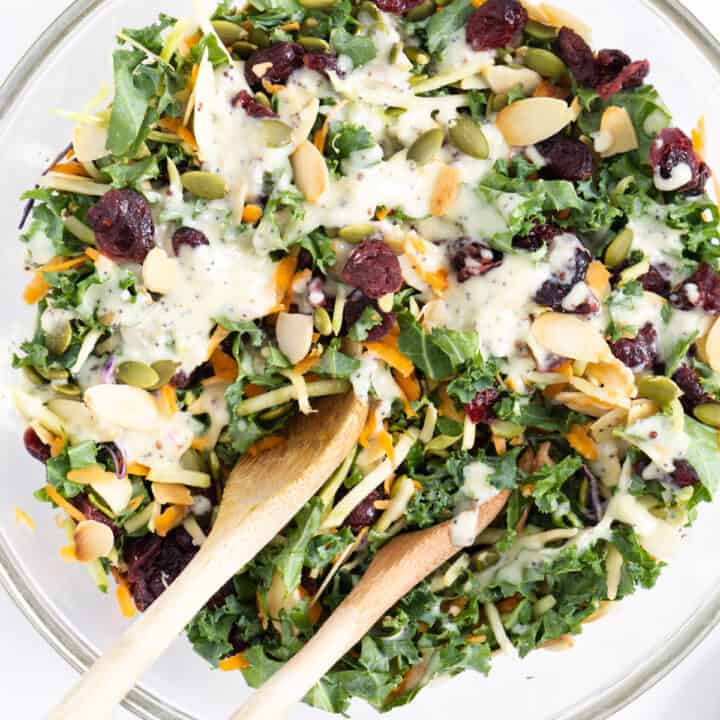 SWEET KALE SALAD
Yield: 6
Prep Time: 20 minutes
Total Time: 20 minutes
This Sweet Kale Salad recipe is a delicious mix of kale, shredded carrots, and broccoli slaw tossed in a creamy poppy seed dressing with some dried cranberries, pepitas, and almonds.
Ingredients
3 cup of kale
1 cup of broccoli slaw
1 cup of shredded carrots
1/2 cup of sliced almonds
1/2 cup of pumpkin seeds
1/2 cup of cranberries
1/3 cup of poppyseed dressing
Instructions
Wash all the vegetables and pat them dry.
If you are shredding the carrots yourself, peel and shred them using a cheese grater.
Prepare the kale: remove the stem from the kale by pulling the stem in one hand and the leaves in the other one. Toss the stem and chop the leaves.
In a large bowl, place the kale, shredded carrots, and broccoli slaw. Toss it.
Add the almonds, dried cranberries, and pumpkin seeds. Toss some more.
Prepare the dressing as directed in this recipe.
Pour over the salad and toss one last time; it is ready!
Notes
- Prepare ahead of time, and if not dressed, you may store the salad for 2 days and the dressing for 2 weeks in a closed jar in the refrigerator.
- Use a store-bought lemon poppyseed dressing if you need a shortcut.
Nutrition Information:
Yield: 6
Serving Size: 1
Amount Per Serving:
Calories: 170
Total Fat: 11g
Saturated Fat: 1g
Trans Fat: 0g
Unsaturated Fat: 9g
Cholesterol: 2mg
Sodium: 171mg
Carbohydrates: 16g
Fiber: 5g
Sugar: 6g
Protein: 5g
Recipe calculation was provided by Nutritionix and is an estimation only. If you need nutritional calculations for medical reasons, please use a source that you trust.