I am going to be getting nostalgic about this recipe. This Marinated Carrot Salad was one that my mom and grandma would make all the time. I remember seeing jars of it in the refrigerator. It lasts quite a few days/weeks and it was always a recurring recipe every summer.
Mostly now we eat carrots warm like in these delicious dishes, Honey Glazed Dijon Roasted Carrots, Feta Roasted Carrot Recipe, Carrot Ginger Soup, or Cranberry Sage Carrots. We do love this veggie in this household and it goes great in soups, stews, pot roasts, and more!!
This Marinated Carrot Salad is a very popular recipe from the 1960s but is still as delicious today. It has a sweet tang that so many people like. I like it when the carrots are still tender-crisp and not fully cooked. It goes great with our Easy Moroccan Couscous, Pineapple Coleslaw, or Creamy Sugar Snap Peas with Bacon for any get-together.
Amber jumped in and made this recipe as you see today. It carries on the tradition through the generations!! I hope you try it and tell me what you think. Do you remember this recipe from your childhood?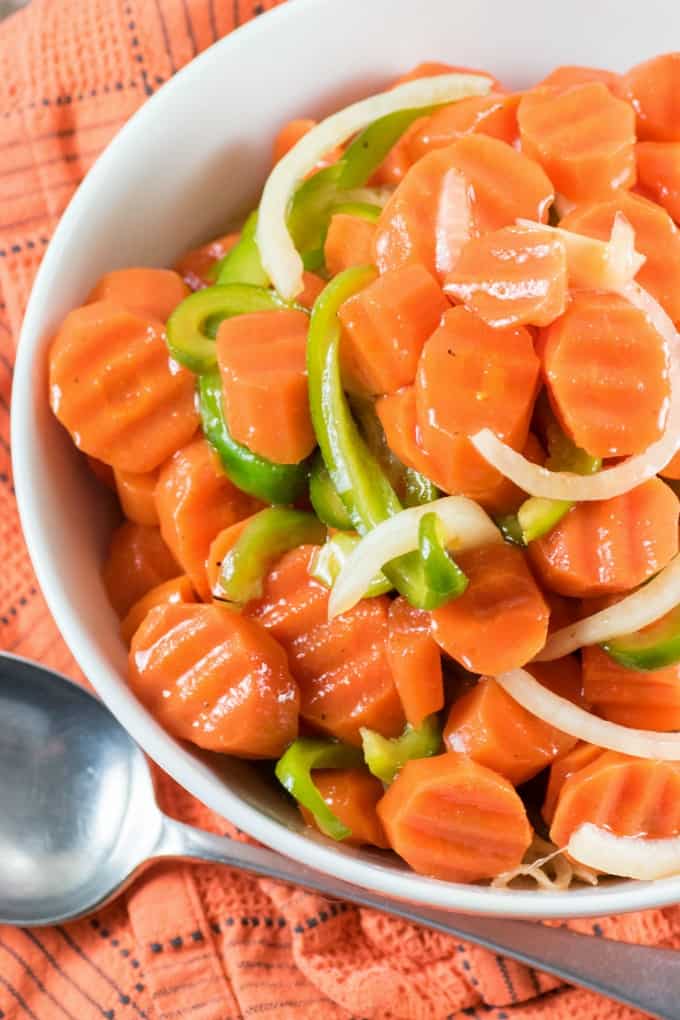 Helpful Items for the Recipe
This post contains affiliate links.
Wavy Crinkle Cutting Tool Serrator Salad Chopping Knife
Porcelain Serving Oval Bowls 1.1 quart/40 oz-Salad/Pasta Dishes Set, 2 Packs
Stainless Steel X-Large Serving Spoons (2-Pack)
Summer salads are the best!! A salad like this is great at any gathering, is completely portable and is wonderful to make days ahead of time.
The sunny colors are wonderful to put out on any table! It really is a welcoming salad and will be gobbled down any night of the week.
How to Make a Simple Carrot Salad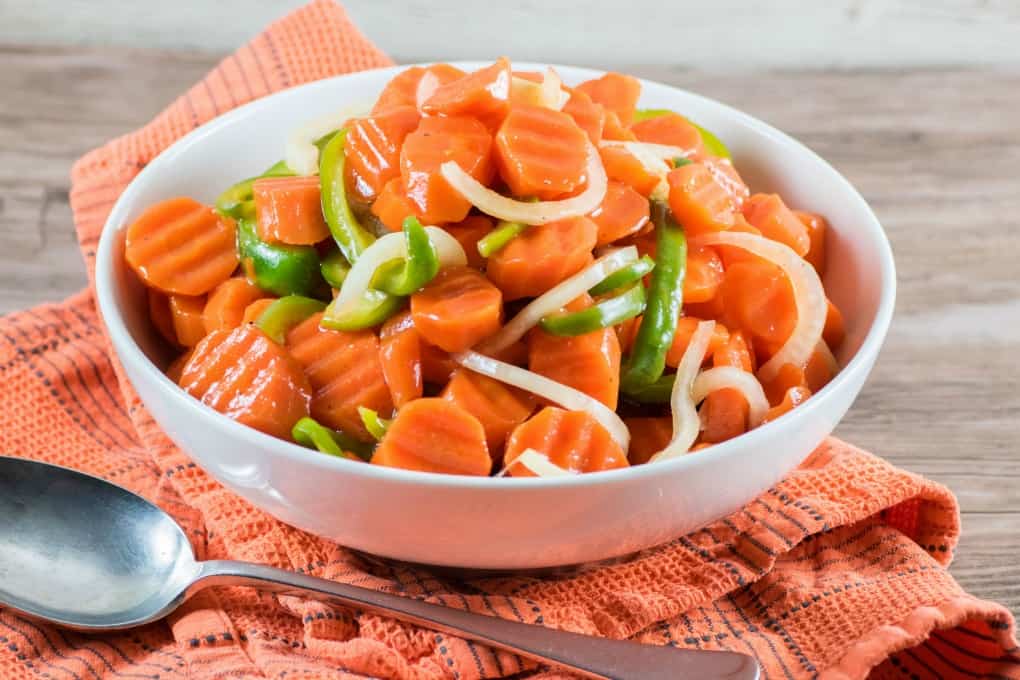 This carrot salad recipe is simple to make, it only requires a few steps and then time to marinate. The first step is to peel and slice your carrots.
Place the carrots into a medium pot and cover with water. Cook until tender-crisp or how you would like them done. Just don't overcook them so they are falling apart.
Drain your carrots and let cool. While the carrots cook makes the dressing. In a small pot heat the soup, oil, sugar, mustard, vinegar, Worcestershire and salt and pepper. Heat to a boil to dissolve the sugar and meld the ingredients. Cool to room temperature.
Then combine all the ingredients and marinate for 12 hours in a sealed container. As I said, mom would have them divided into jars in the fridge portioned out for meals if it was just for us at home.
She would have this salad in a larger container if we were taking it to a party or outing. The recipe I have is old, tattered, with many spills, you know then that is a well used and loved recipe.
Mom didn't cook very much, unlike me. She would have rather been in the garden growing gorgeous plants, fruits, and vegetables, so the recipes of hers I treasure.
How to Cut Carrots for a Salad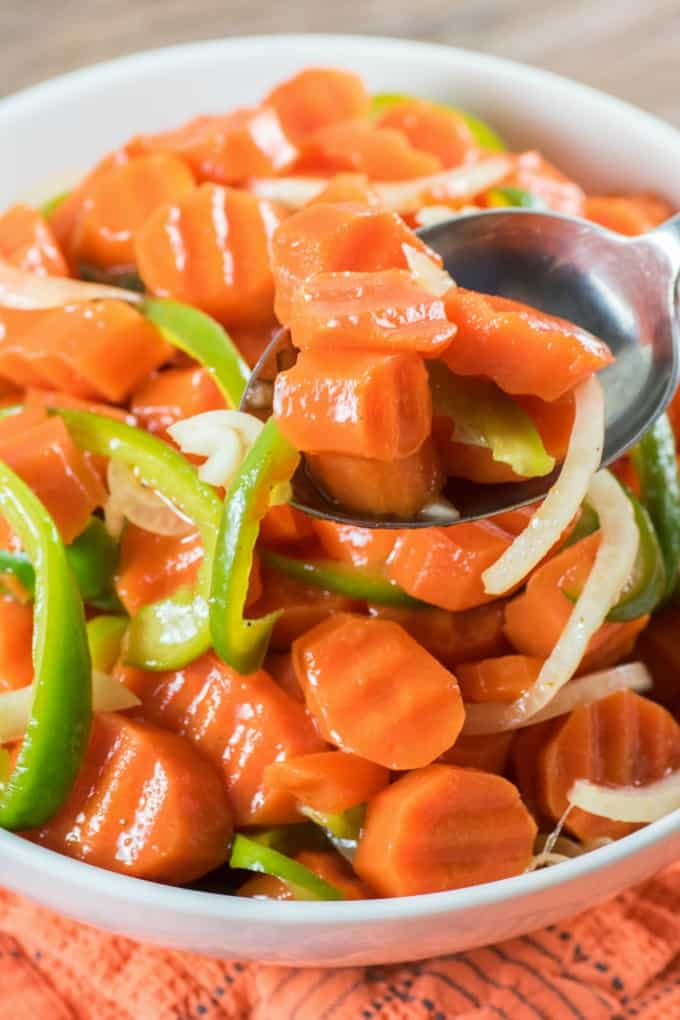 I also like how Amber crinkle cut the carrots; they are so pretty in the salad. If you don't have a serrated slicer as we do then a diagonal cut is also pretty but coins will work too.
I have included a serrated slicer in the helpful items for this recipe, it is an inexpensive utensil and works great with carrots making them look just that little bit fancier.
Just don't make them too thick and try to keep them uniform when slicing. The green peppers and onions add to the salad in color, texture, and taste.
How Long Does Marinated Carrot Salad last?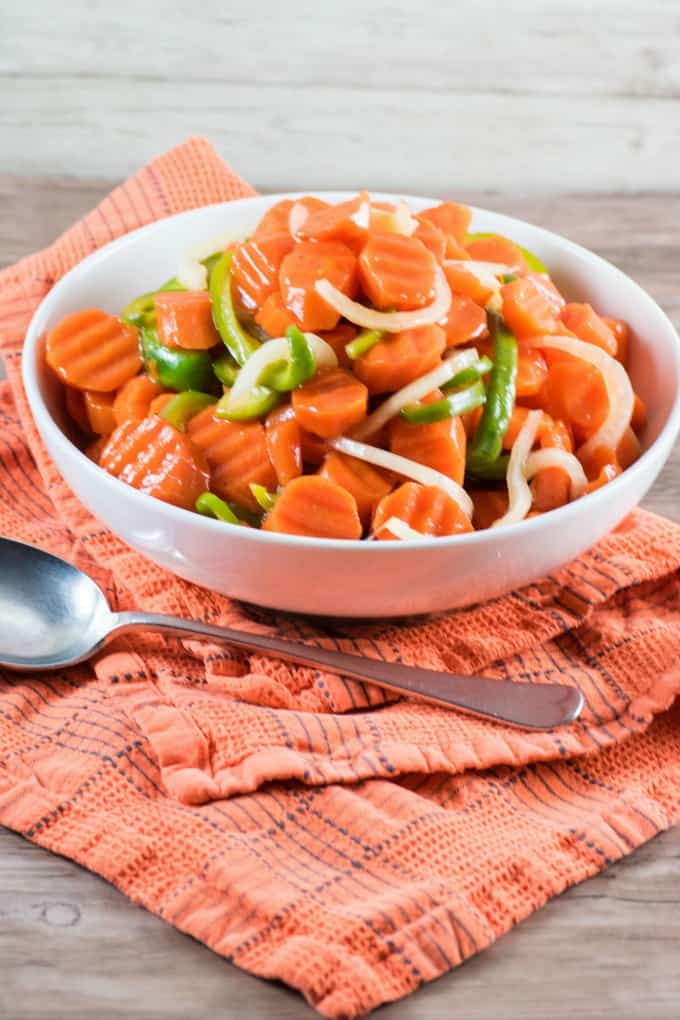 This Marinated Carrot Salad lasts up to 2 weeks so it is ready when you are!! Great make-ahead that is delicious and gives you something different to go with those yummy cole slaws, macaroni, and potato salads.
Carrots can be used in subtle dishes right up to robust pairings. They enhance the flavor of a meat dish also and are extremely versatile.
This salad is also vegetarian and even vegan so everyone can enjoy it. Try it at one of your summer parties or meals soon; I bet it will be a winner of a side!!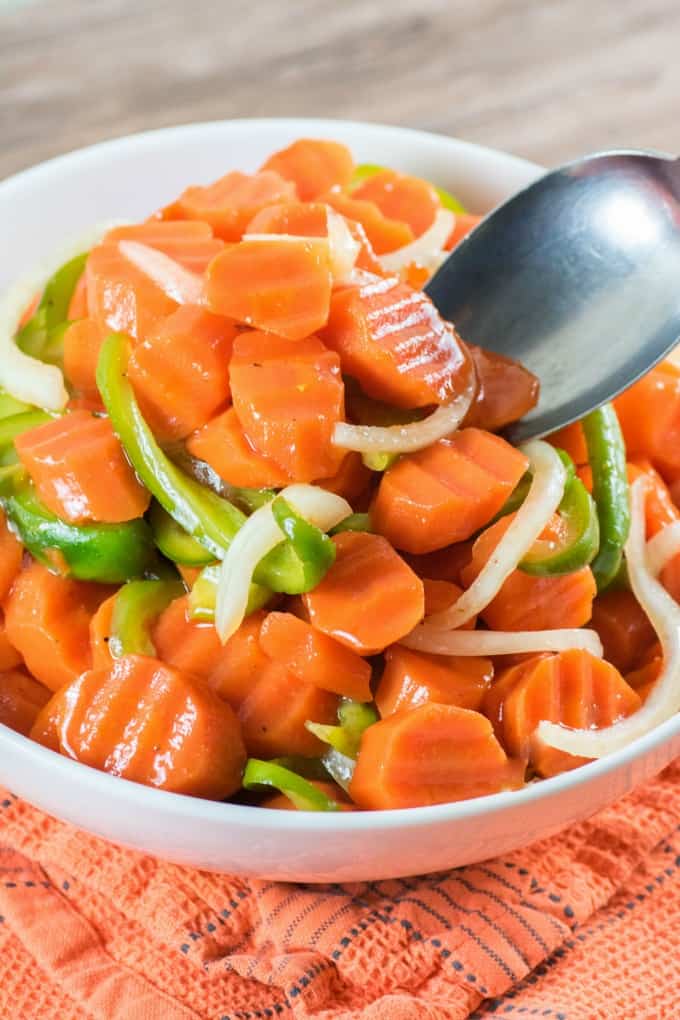 There are a few carrot salad recipes around that I like, the one that has shredded carrots with raisins and Moroccan spices I enjoy but I have not made it for so long but it really gives a punch of flavor to a meal. I have also purchased this type of salad in the store.
I have to start experimenting more with carrots for salads or sides as they have such a lovely natural sweetness that goes with many ingredients. Plus, carrots are really an inexpensive vegetable to use in so many applications.
They are also a vegetable that keeps so well in your crisper while not losing on taste or crunch!! They can be served at any time of the year hot of cold and are equally as good.
Do you have a favorite salad recipe that you would like to share? I would love to hear about it!!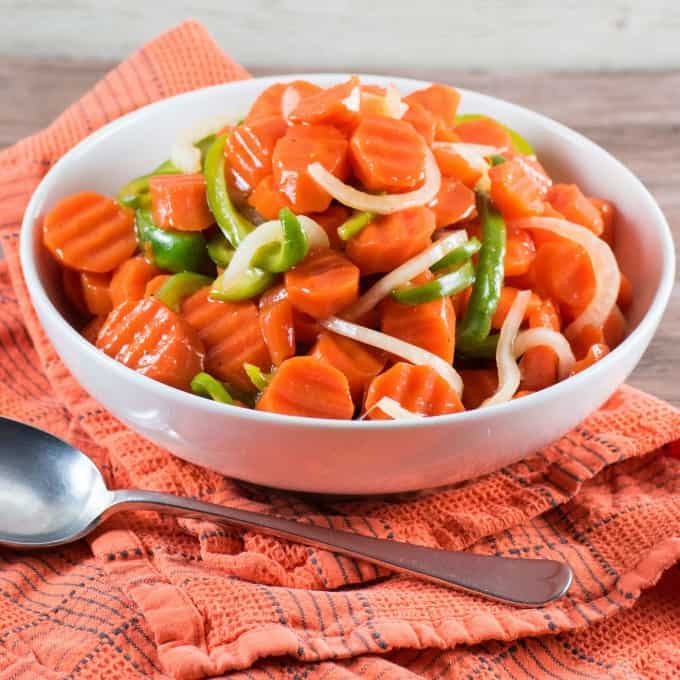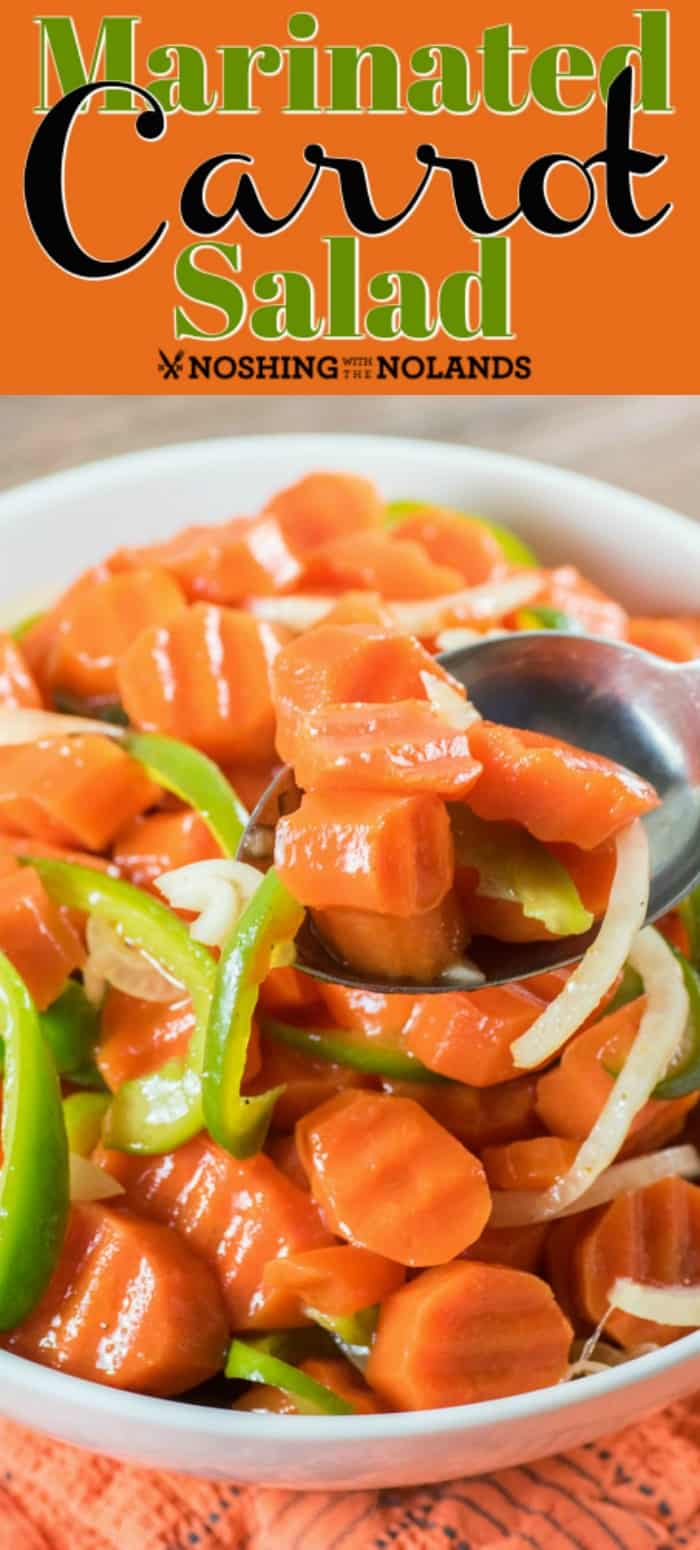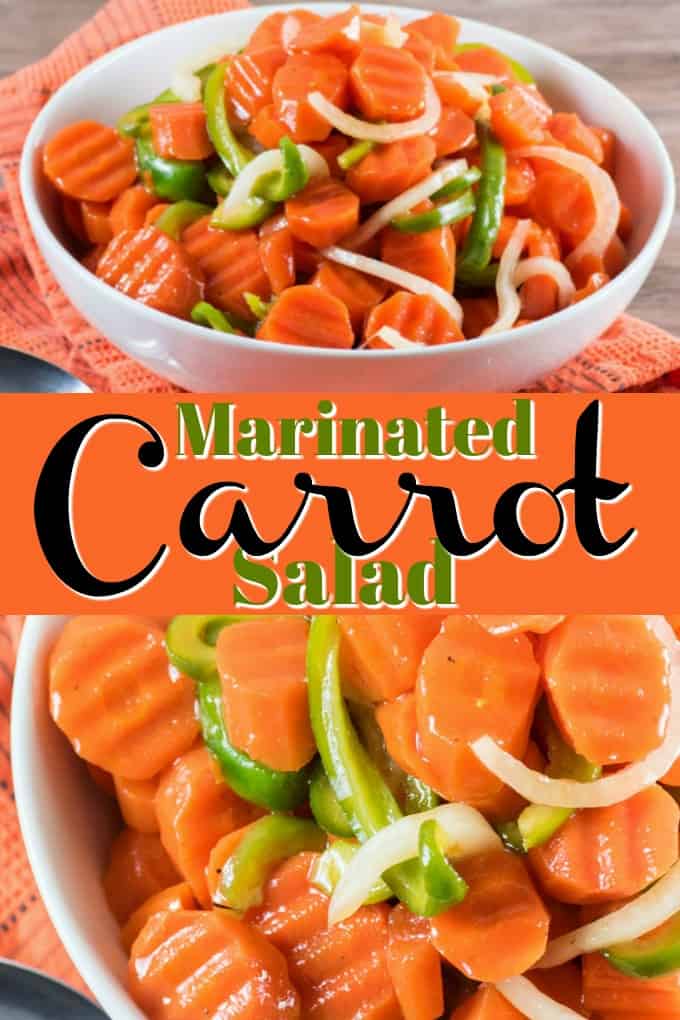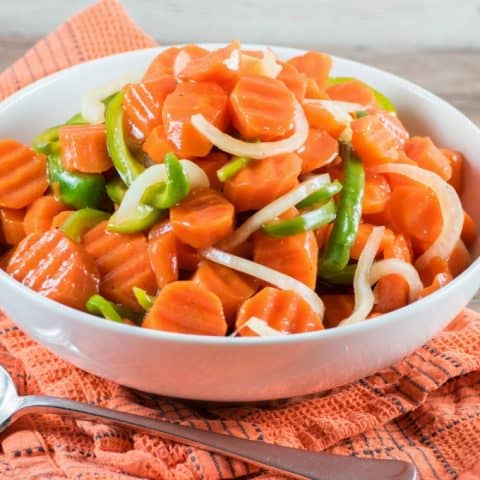 Marinated Carrot Salad
Yield: Serves 12
Prep Time: 10 minutes
Cook Time: 10 minutes
Additional Time: 12 hours
Total Time: 12 hours 20 minutes
This Marinated Carrot Salad is a fabulous side to go with so many mains and it's great for a summer gathering. It is a nostalgic recipe for me as it was something that my mom and grandmother used to make. It is a tangy sweet side that appeals to so many for summer BBQ.
Ingredients
5-6 cups carrots, peeled and sliced
1 medium green pepper, sliced thinly
1 medium sweet or regular onion, sliced thinly
Dressing
1/2 cup canola oil
3/4 cup white vinegar
1 cup sugar
1 can (10 oz.) Condensed Tomato Soup
1 tsp. yellow mustard
1 tsp. Worcestershire sauce
Salt and pepper to taste
Instructions
Add the carrots to a large pot and cover with water. Bring to a boil over medium high heat and cook for about 5 min. or until tender crisp. Don't overcook so that they are falling apart. Drain the carrots and let them cool.
While the carrots cook, in a small pot add the canola oil, vinegar, sugar, tomato soup, mustard, Worcestershire sauce and salt and pepper to taste. Bring to a boil over medium high heat and stir to let the sugar dissolve and the ingredients meld together. Remove from heat and let cool to room temperature.
Mix the carrots, green peppers, and onions together in a container with a lid. Add the dressing and toss well. Refrigerate for at least 12 hours before serving.
Notes
This recipe will last up to 2 weeks in the fridge if sealed tightly. It is a great portable recipe for any gathering.
Recommended Products
As an Amazon Associate and member of other affiliate programs, I earn from qualifying purchases.
Nutrition Information:
Yield: 12
Serving Size: 1
Amount Per Serving:
Calories: 305
Total Fat: 10g
Saturated Fat: 1g
Trans Fat: 0g
Unsaturated Fat: 9g
Cholesterol: 0mg
Sodium: 337mg
Carbohydrates: 53g
Fiber: 12g
Sugar: 32g
Protein: 3g