Feta Roasted Carrot Recipe
I have found a new love with roasted veggies. I started with Spiced Roasted Cauliflower and then Roasted Italian Tomatoes. There also have been many others along the way including this big roundup for 32 Amazing Roasted Vegetables. Carrots are not something I have roasted a lot of. So I wanted to try this Feta Roasted Carrot Recipe and it was perfection. So easy, so delicious. A perfect side dish for weeknight to a weekend meal.
All vegetables get an extra boost of flavor when roasted. The little bits of caramelizing that they get too, brings out their natural sweetness. Plus, roasting veggies is so easy!! A little drizzle of olive oil and salt and pepper is all you need. This recipe we topped the carrots with feta and parsley. A perfectly gorgeous combination.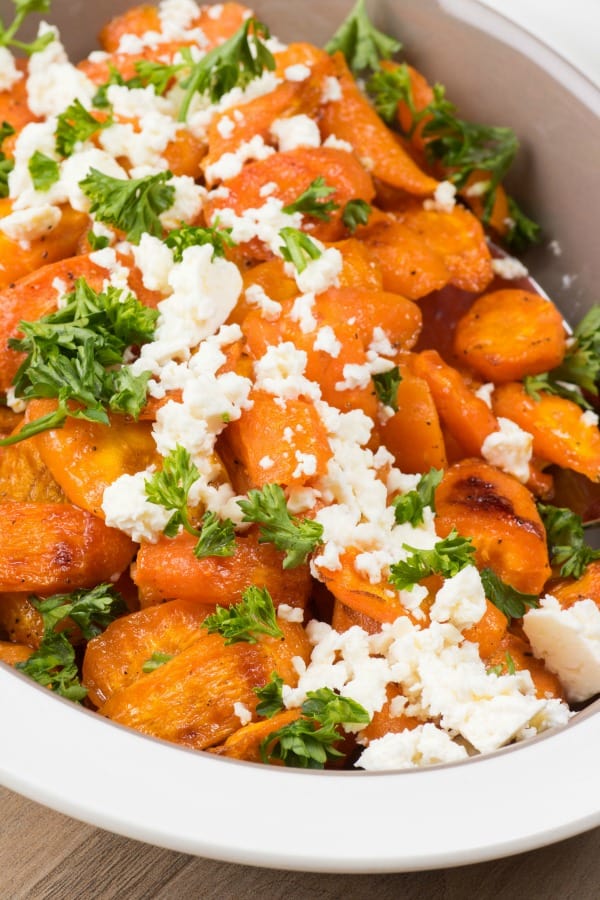 You want to dig into this right away don't you?!! What is not to love? This makes a great side dish for any main!! The slightly salty feta cheese enhances the gorgeous sweet carrots and now with summer almost here you will get some spectacular local produce to enjoy!!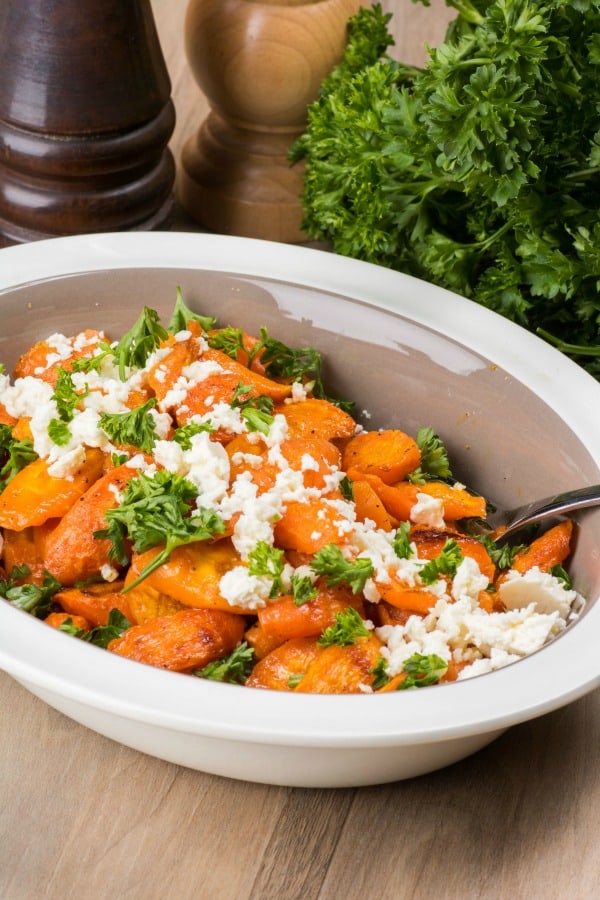 Roasting the carrots really takes out the ho-hum from your daily meal, I am so tired of simple boiled carrots. We really needed a quick solution that brings them up a notch and I have found it with this recipe.
I would love to try this recipe using different color carrots. The farmers market and our local gourmet grocery store always have some amazing locally grown carrots. I have tried, besides the orange of course, red, white, yellow and purple but there is also a black carrot which I have not seen before. The black carrots are a deep, deep purple and sometimes have a creamy light colored center. So pretty!! Which ever color you get, try this recipe and ENJOY!!
The Recipe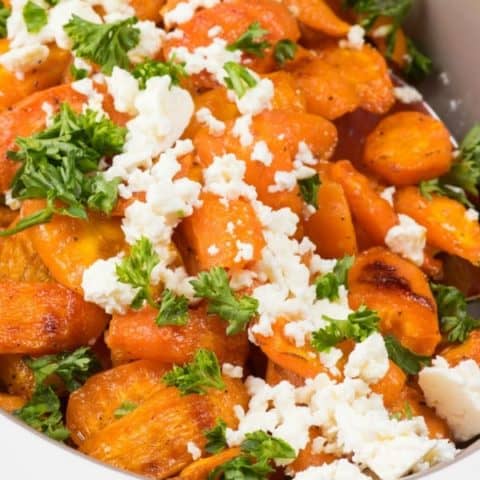 Feta Roasted Carrot Recipe
Yield: 4 servings
Prep Time: 10 minutes
Cook Time: 30 minutes
Total Time: 40 minutes
Feta Roasted Carrot Recipe will up the vegetable to a new level with very little work. This easy side dish goes great with so many entrees.
Ingredients
10-12 large carrots, diagonally crinkle cut or plain
2-3 Tbsp. olive oil
Salt and pepper to taste
1/4 cup feta, crumbled
Fresh parsley for garnish
Instructions
Preheat oven to 425F.
Toss carrots with oil on a rimmed baking sheet and season with salt and pepper. Roast in the oven for 25-30 min. or until caramelized and tender. Tossing at about the 20 min. mark.
Place hot carrots in a bowl and top with feta and garnish with chopped parsley.