Cheesy Scalloped Potatoes
Cheesy Scalloped Potatoes are a classic side dish that really makes a dinner special. Rich, comforting and always a welcomed sight are scalloped potatoes coming hot and bubbly out of the oven. We recently had a big ham and what goes better with that than these potatoes but they are also great with steak, chops, chicken, turkey and more. 
Gratin is a great technique to make a dish look over the top delicious. Whether it is cheese, breadcrumbs, egg or butter, all of them give you a gorgeous browned appetizing topping to first appeal to the eyes! I have tried to lighten up scalloped potatoes and you kind of end up with a watery mess. I am using 3% milk though instead of cream and this gives you perfect saucy satisfying potato with a few lower calories but with all that cheese it is kind of a losing battle!!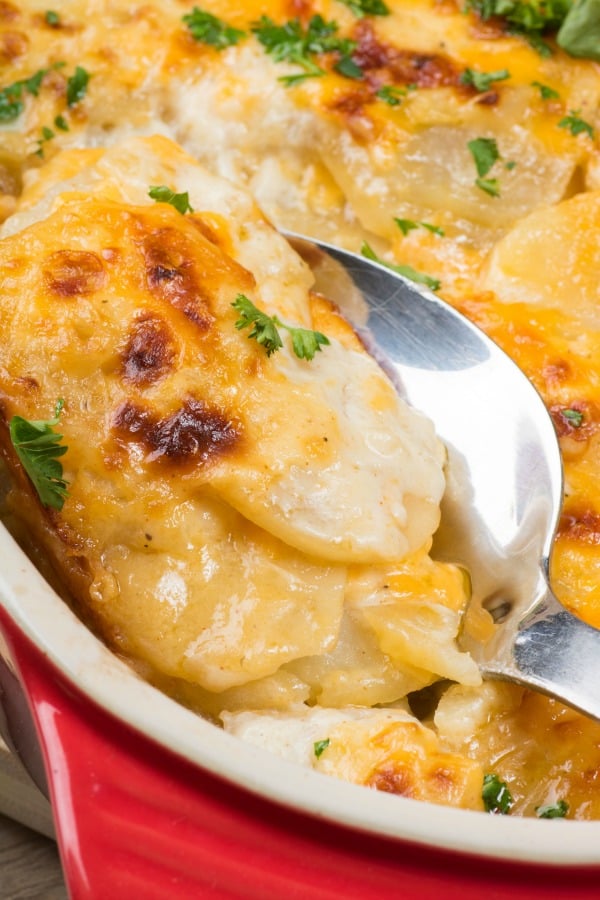 You must agree that this is very tantalizing looking. Is there anything better than cheddar and potatoes to make you feel all wonderful inside? A true indulgence that is worth every calorie.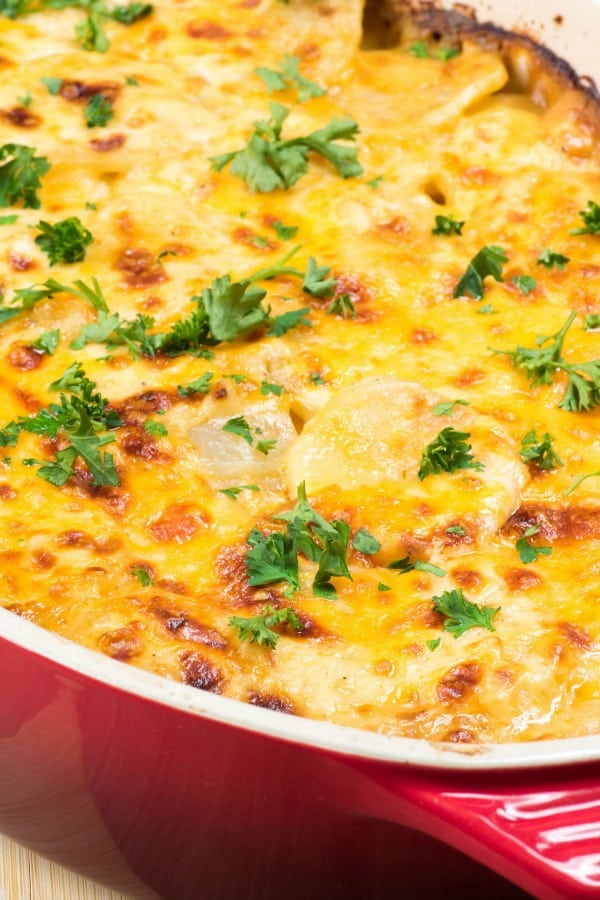 Why wait for the holidays when you can dive right into this at anytime. I like adding in some chicken stock in place of some of the milk. With this you are just amping up the flavor profile even more. Keep the spices fairly simple though, salt, pepper, paprika, and garlic are all you need. A quick sprinkle of parsley gives the dish the added color in the end.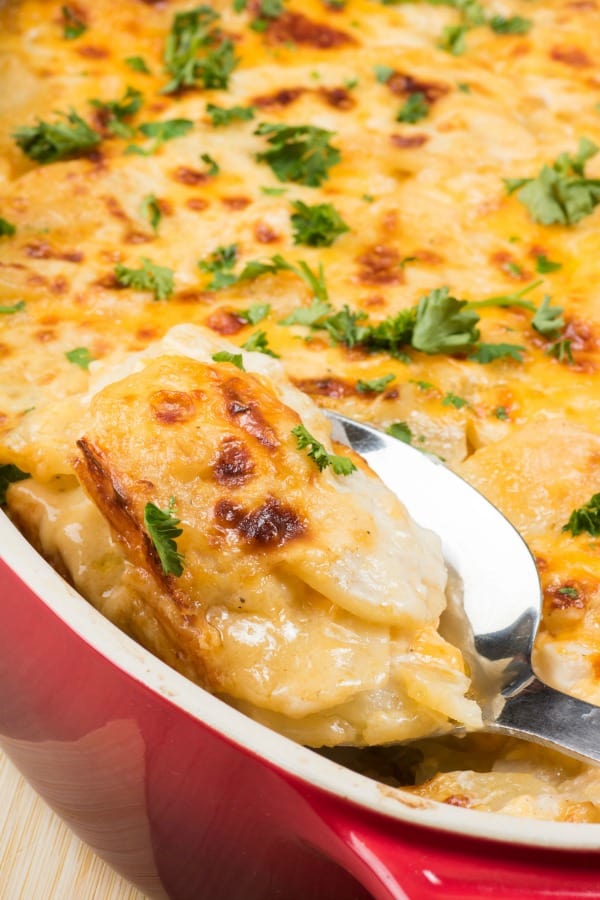 This spring/summer when you have a cooler day pop these into the oven, man, they would go crazy good with a steak. Reminds me of something you would get at a nice steak house like Ruth's Chris. I have done a few of their copycat dishes like Ruth's Chris Copycat Sweet Potato Casserole, Ruth's Chris Copycat BBQ Shrimp or Copycat Ruth's Chris Shoestring Fries, just to name a few. This one would rank right up there with those. 
The Recipe
Cheesy Scalloped Potatoes
Cheesy Scalloped Potatoes are a classic dish that is loved the world over. With its rich sauce and comforting cheese, this is a dish that is always a sure fire hit.
Ingredients
3 Tbsp. butter
1 medium onion, diced
2 tsp. garlic, minced
3 Tbsp. flour
½ cup chicken stock
2 cups 3% milk
1 tsp. salt or to taste
½ tsp. black pepper or to taste
½ tsp. paprika
3-4 lbs. russet potatoes
2 cups cheddar cheese, grated
Parsley for garnish
Instructions
Preheat oven to 400F.
Grease a 9x13" pan or equivalent and set aside.
In a medium saute pan add the butter and saute the onion over medium heat for about 4 min. Add the garlic and saute for another 1-2 min. Stir in the flour and cook stirring for 1 min. Whisk in the stock and milk slowly. Add in the salt, pepper and paprika. Continue to whisk until mixture bubbles and thickens. Remove from heat and set aside.
Have all ingredients prepared and then peel and slice the potatoes, into ⅛" slices. Place half of the potatoes in the bottom of the greased pan. Top with ½ the sauce and 1 cup of cheddar cheese. Repeat. Bake for 30-40 min. with the cover on or aluminnum foil. Then remove the lid or foil and bake for 30 min. or until bubbly, browned and the potatoes are tender.
Sprinkle with parsley and serve hot.