What could be better than a big delicious chocolate chip cookie? Well, one that has added pretzels and caramels like these Chocolate Chip Pretzel Caramel Cookies. This recipe started off as a big Cowboy Skillet Cookie that I made years ago. With a couple little changes it is now what you see today. So cookie lovers of the world, unite and enjoy this new salty, sweet combination!! If you are looking for more chocolate chip cookies recipes pop on over to TheBestDessertRecipes.
I loved using pretzels in these cookies, next I want to try potato chips but still have my thinking cap on for those. Should I go chocolate again or maybe butterscotch, the verdict is still out on the path that these cookies will take.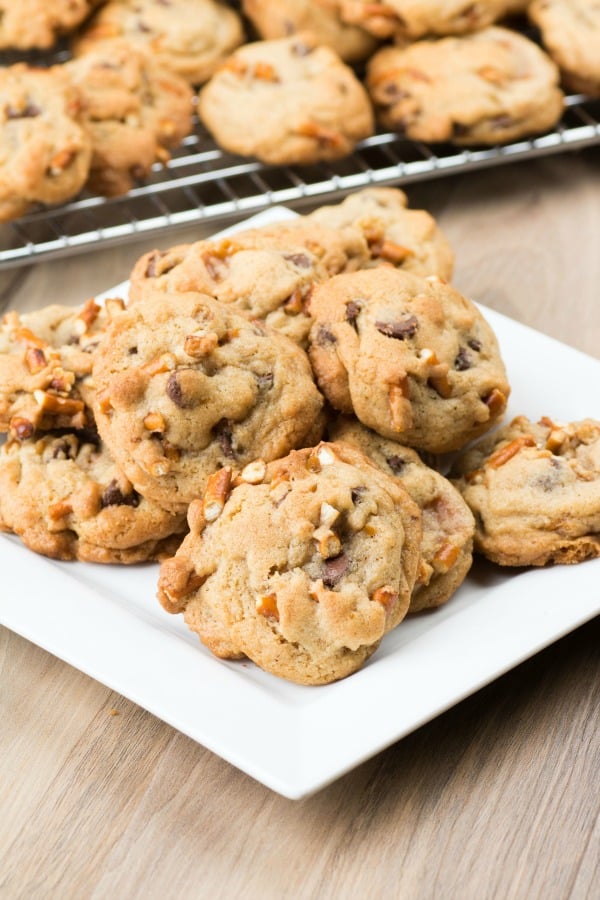 With each bite you get awesome flavor and then you hit the caramel and it is like the angels sing!! So scrumptious!! I have one little trick to tell you though if the caramel resides on the side it will ooze out when baking and not look so pretty. That happened to just a few cookies. So when you are scooping them out just make sure the caramel is buried in there with all the other yummy ingredients.
Isn't almost everyone a big lover of chocolate chip cookies? A big cold glass of milk is a must!! Dunk, dunk, slurp and enjoy!! Then grab another and repeat!! You know you wanna!!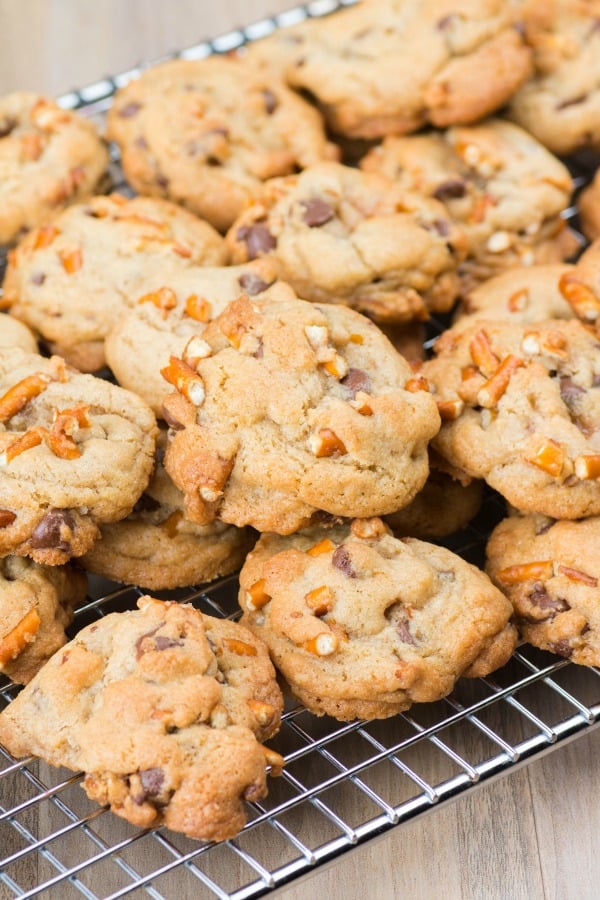 These cookies did not last long, as we munched, shared, munched and enjoyed!! I was told by some that this was the best chocolate chip cookie ever!! I love that salted caramel thing that is going on all over the place, in drinks, cookies, cakes, squares you name it!! These cookies give you just that and more!! A simple recipe to make and one that will be gobbled down!!
The Recipe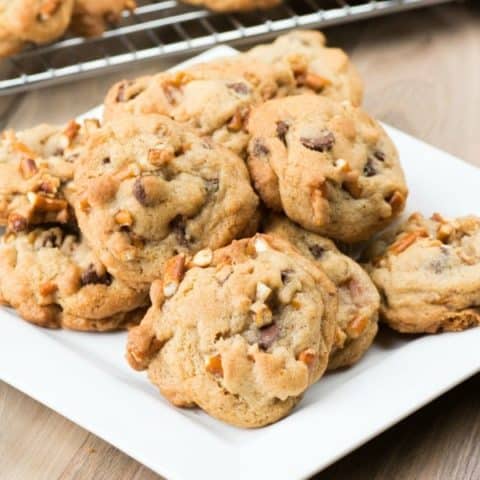 Chocolate Chip Pretzel Caramel Cookies
Yield: 36 cookies
Prep Time: 15 minutes
Cook Time: 12 minutes
Total Time: 27 minutes
Chocolate Chip Pretzel Caramel Cookies are the perfection combination of sweet and salty, crunchy and soft. Dig your teeth into a batch of these soon!
Ingredients
2 1/4 cups flour
1 tsp. baking soda
1/2 tsp. salt
1 cup butter, softened
3/4 cup sugar
3/4 cup brown sugar
2 whole eggs
1 tsp. vanilla extract
1 1/2 cups semi sweet chocolate chips
1 cup roughly chopped pretzels
22 caramels cut in half
Instructions
Preheat oven to 350F.
Whisk together flour, baking soda and salt and set aside. Beat butter and gradually add in the sugars and the vanilla in a large bowl of an electric mixer fitted with a paddle attachment until well mixed.
Add eggs one at a time and continue to mix. Gradually add in the flour mixture, beating well after each addition.
Fold in the chocolate chips, pretzels and caramels. Scoop onto a greased cookie sheet using a 1" scoop or a tablespoon. Make sure caramels are hidden in the dough so they don't melt out from the cookies. Bake for 10-12 min. or until golden brown. Cool on the cookie sheet for 5 min. and finish cooling on cookie racks.