Have you seen these crazy out-of-the-box milkshakes yet? We have recently gone over to the divine side of life in trying these!! I thought for summer a S'mores Milkshake would be not only fun but a delicious treat for everyone to share.
There is a new chocolate drink in town making this milkshake very easy to make. Amber has been all over this scrumptiously rich premium chocolate drink. Caotina had to be literally pried from her hands so I had enough to make this drink. She loves how easily it dissolves in milk but also how wonderful it tastes!!
Disclosure: I was compensated for this post. All opinions and experiences are my own.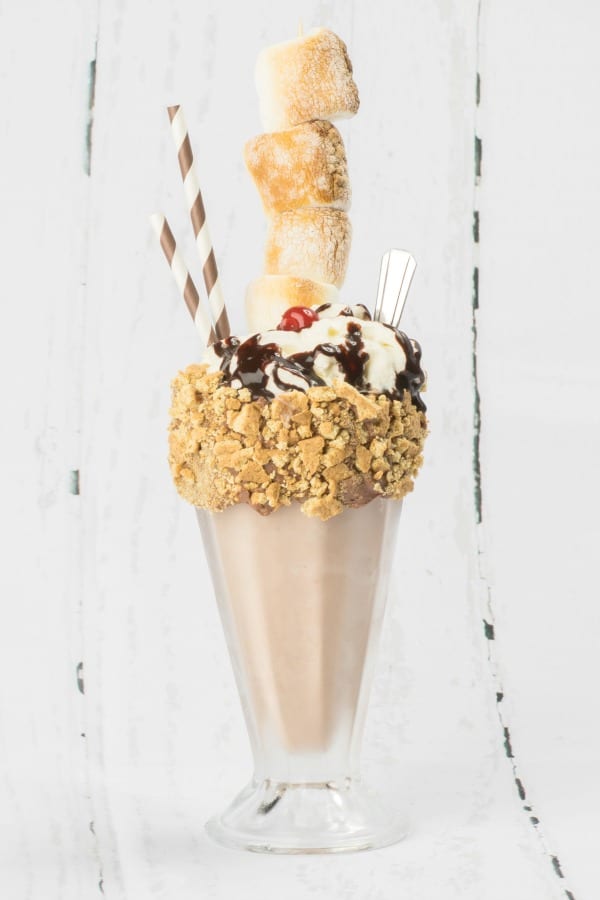 This milkshake was easy to make. I started with a cream cheese Caotina infused border at the top of the glass so that the graham crackers would easily adhere.
I then popped that glass into the freezer. When I was ready to assemble my milkshake I lightly toasted marshmallows on a skewer under the broiler. Careful not to go too far with this and have them get too soft and fall off or burst into flames!!
I then whirled Caotina up with vanilla ice cream and milk to the perfect thick shake consistency. Poured it in the already prepared glass, and topped it with whipped cream, chocolate sauce, a cherry and the toasted marshmallows.
Caotina Chocolate Drink Mix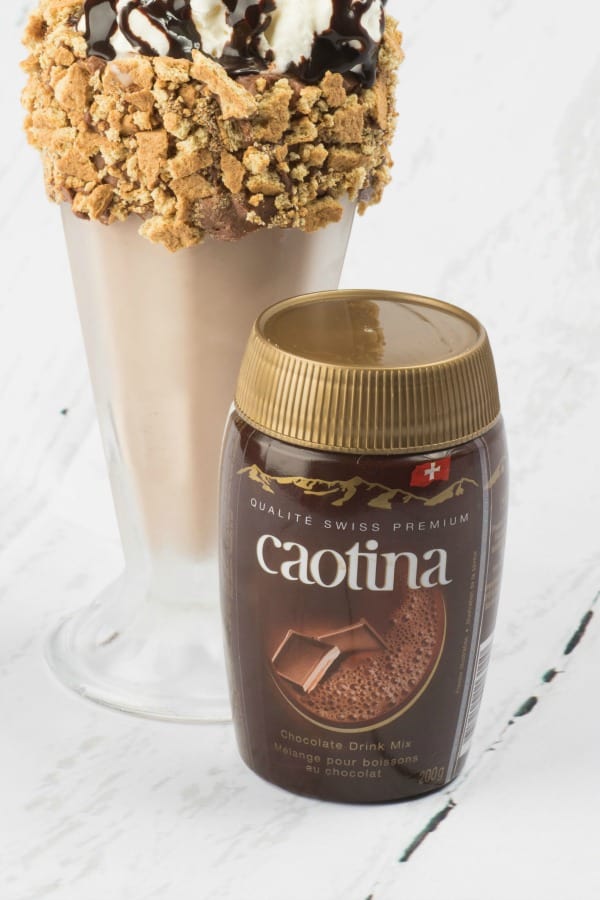 Invented by Wander in 1963 in Switzerland. Caotina real swiss chocolate has been mixed with reduced-fat cocoa powder that quickly dissolves in hot or cold milk. The result is a deliciously smooth beverage that reigns supreme in the global market.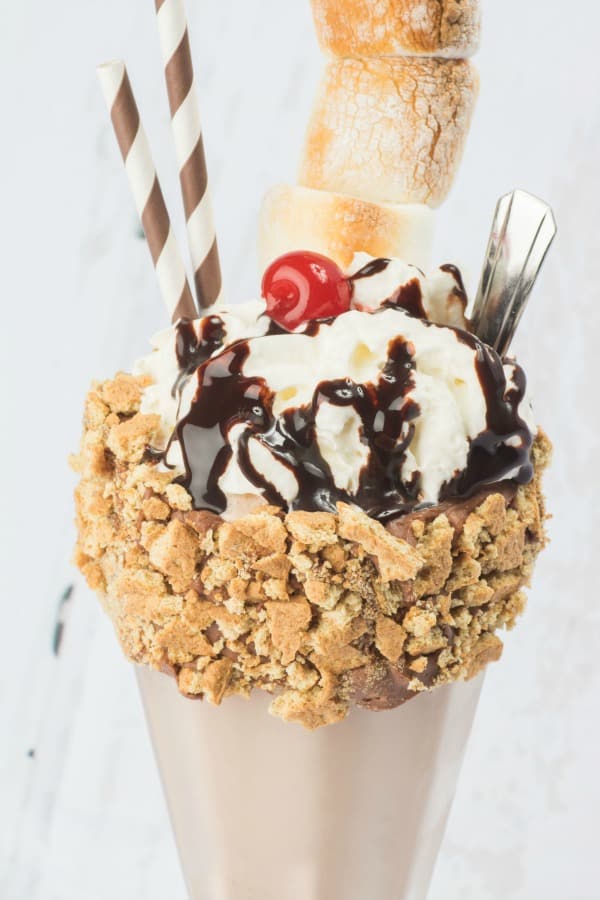 This is one seriously good milkshake. Can you see the look on someone's face if you presented this indulgence to them? This is fun or even romantic to share!! Make someone happy with this creation, they will literally hug you!!
The Recipe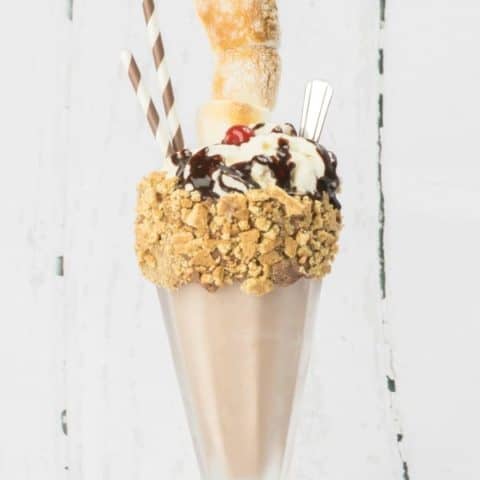 S'mores Milkshake
Yield: 1 serving
Prep Time: 20 minutes
Total Time: 20 minutes
This S'mores Milkshake is sure to please anyone and you will get rave reviews for the over the top deliciousness and ease of using Caotina chocolate drink mix.
Ingredients
Rim
2 oz. light cream cheese, microwaved for about 20 seconds or until slightly warm
1 Tbsp. Caotina chocolate drink mix
1 Tbsp. icing sugar
2 graham crackers, smashed
Marshmallows
Milkshake
4 scoops vanilla ice cream
1 Tbsp. Caotina chocolate drink mix
1/2 cup milk
Whipped Cream
Cherry
Chocolate Sauce
Instructions
Prepare glass ahead of time by mixing together the cream cheese, 1 Tbsp. Caotina and 1 Tbsp. icing sugar. Slather this mixture at the top of the glass and press in the graham crackers. Place in the freezer.
When ready to serve the milkshake. Mix the ice cream, milk and Caotina together in a blender and blend until smooth.
Place the marshmallows on a skewer. Toast marshmallows quickly under the broiler.
Pour the milkshake into the prepared glass. Top with whipped cream, chocolate sauce and a cherry. Place in the skewered warm marshmallows. Serve with straws and a long spoon.
Availability in Canada
Caotina is available at major grocery stores across Canada, including Sobeys, Foodland, Longo's, Highland Farms, and Coppa's.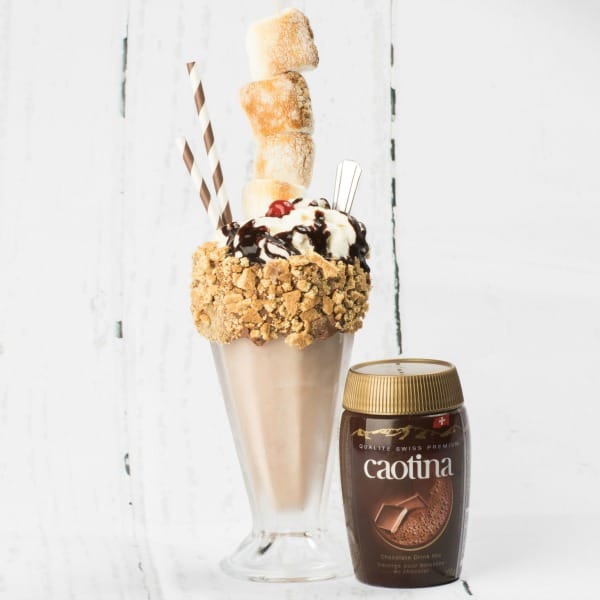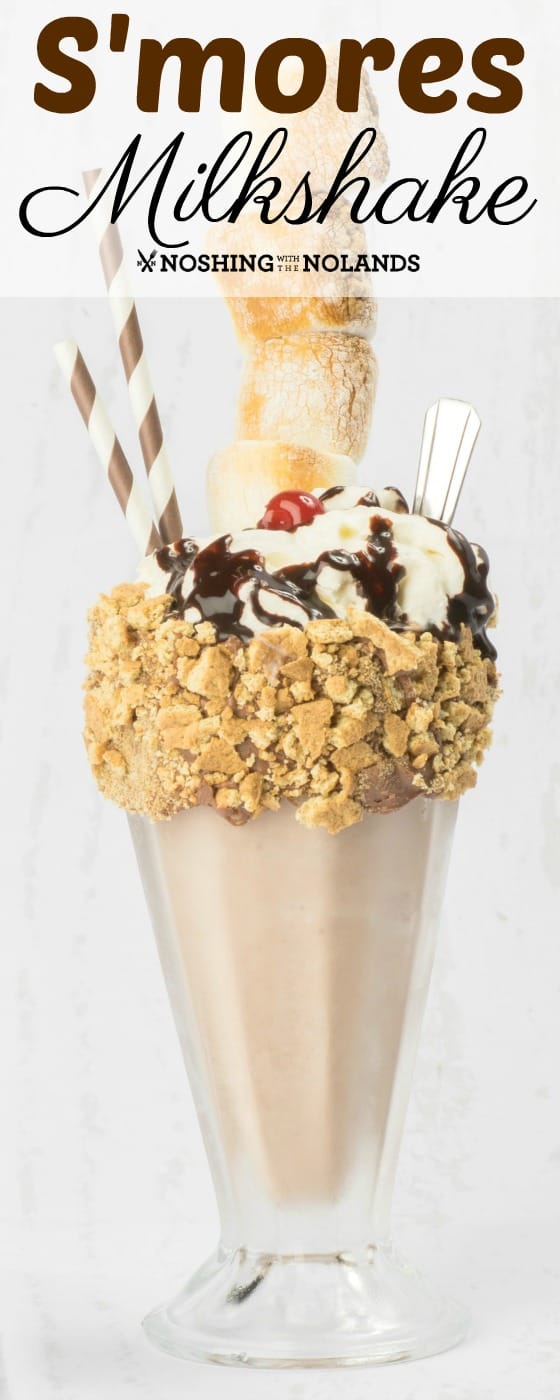 Come and enter our giveaway for a gorgeous basket from Caotina worth $150. Giveaway available to Canada only. A draw will be held on June 19th at 12:00am, which at that time a random winner will be chosen. The winner will have 48 hours to respond by email or another winner will be selected. Good luck everyone!