Cowboy Skillet Cookie
Cowboy Skillet Cookie – This is how I picture a cowboy to eat his cookie, by the slice!! I made this the other day for Amber and her friends but it quickly dawned on me that this would be perfect for Stampede. It is so simple and such a great recipe. It was gobbled down in no time.
Try this cookie today and you will be called "Yahoo" to how easy it is. I searched a skillet cookie on Tasty Kitchen and found one by Mommy's Kitchen. Kudos to her for such a great recipe!!! Go and check out her site for more great recipes at www.mommyskitchen.net
2 1/4 cups flour
1 tsp. baking soda
1/2 tsp. salt
1 cup butter, softened
3/4 cup sugar
3/4 cup brown sugar
2 whole eggs
1 tsp. vanilla extract
1 1/2 cups semi-sweet chocolate chips
Preheat oven to 375F. Whisk together flour, baking soda, and salt and set aside. Beat butter and gradually add in the sugars and the vanilla in a large bowl of an electric mixer fitted with a paddle attachment until well mixed. Add eggs one at a time and continue to mix. Gradually add in the flour mixture, beating well after each addition. Fold in the chocolate chips. Spray a 10 " cast iron pan with cooking spray and press cookie dough into the pan evenly. Bake for 40 min.. until the edges are crispy and the top is dark golden brown. If the cookie starts to brown too quickly lay a sheet of aluminum foil over the top. Let cool on a wire rack. Cut slices right out of the pan. You can top a slice with ice cream and chocolate sauce for a dessert too!!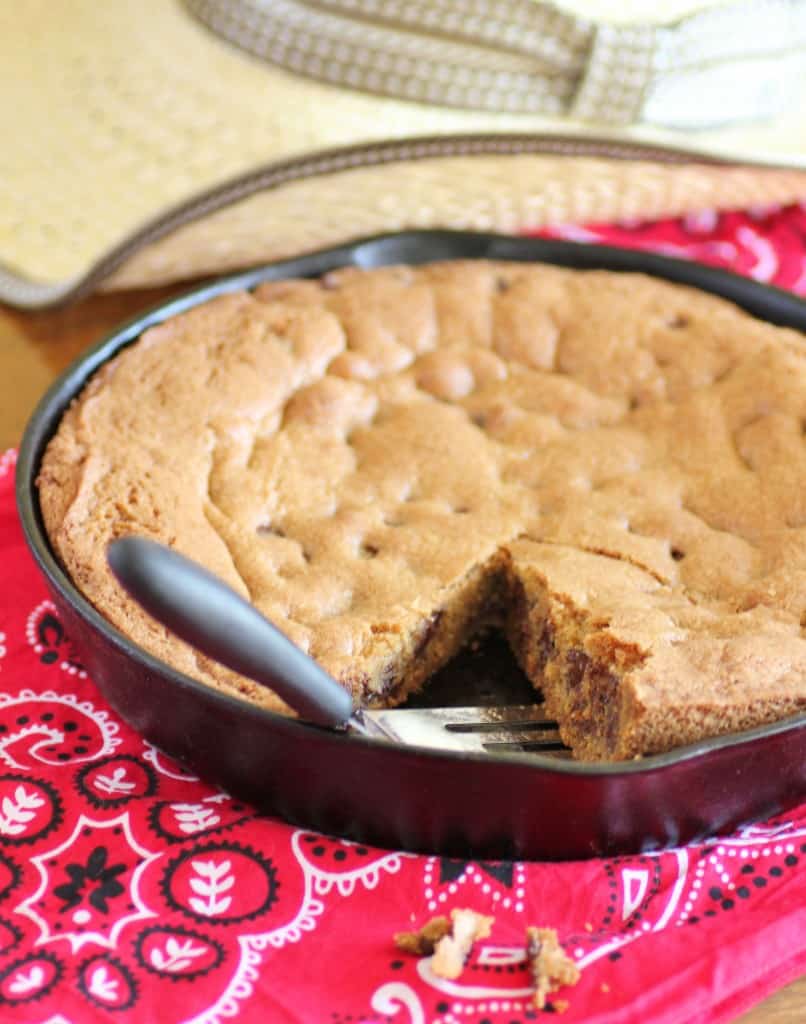 >