If you're looking for a simple, rich side dish, this Potato Leek Gratin is the perfect recipe! With thinly sliced potatoes, sauteed leeks, a cream sauce, and a deliciously cheesy topping, it's the best combination of crisp, tender, and melty. It pairs well with Ham, Chicken, Beef or Fish, making it a great option for Easter and other holidays!
Looking for more delicious side dishes? Try our Egg Salad Deviled Eggs or our tasty Caramelized Carrots. Or we have another dish that you may love, our Sweet Potato Au Gratin is fantastic too.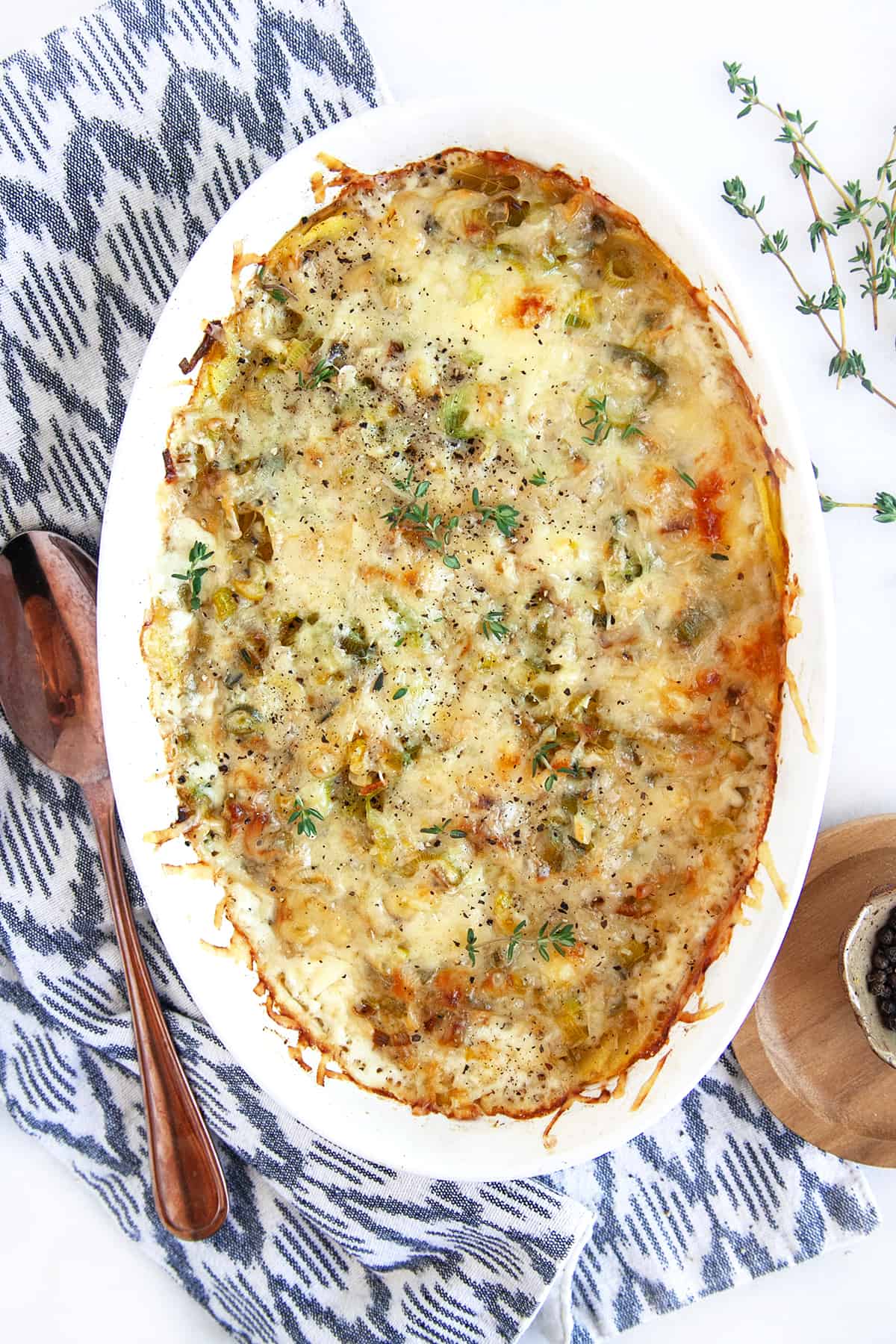 What is in Potato Leek Gratin?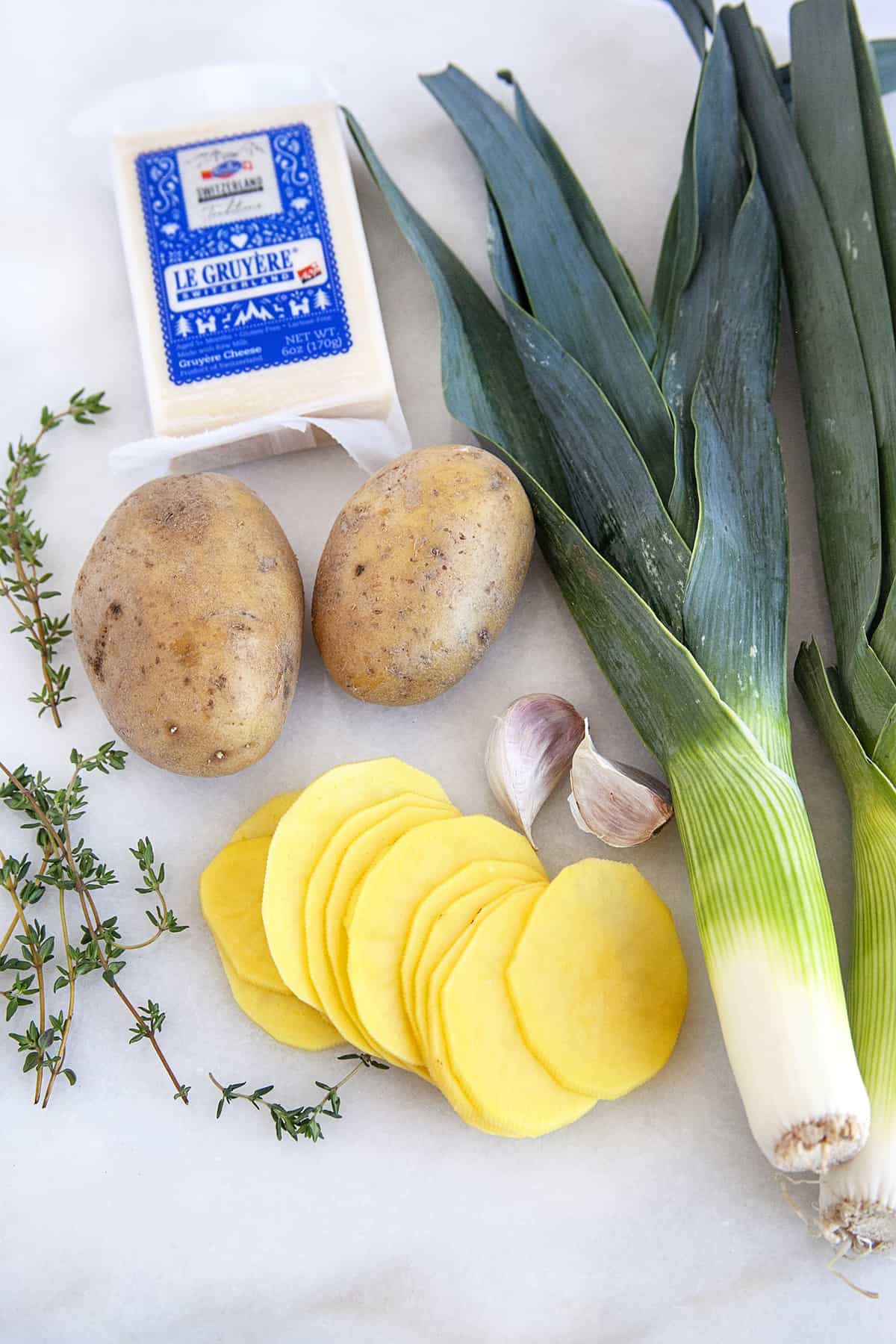 While there are many ways to make Potato Leek Gratin or Potatoes Au Gratin, I think it tastes best when you keep it simple. For this gratin, you only need a handful of ingredients, which allows the flavors of the leeks and the creamy garlic sauce to really shine. Best of all, because it doesn't require much, it's an easy side dish to add to your holiday menu.
Ingredients
Yukon Gold Potatoes – Peeled and sliced into thin rounds. It is possible to cut the rounds with a sharp knife, but it works best when you slice the potatoes with a mandolin so that they are uniformly thin.
Leeks – Leeks are notorious for hiding dirt and small pebbles between their leaf sheaths. Be sure to wash them carefully, pulling apart all the leaf sheaths to rinse well in between. Trim the leeks (you'll only use the white and light green parts of the leek). Cut them lengthwise and then slice them into thin half-moon slices.
Heavy Cream – This adds a rich flavor to the finished dish. In a pinch, you can get away with half and half, but it really does taste best with cream.
Gruyère Cheese – Not only does this add a nutty, salty flavor to the topping, but it also crisps around the edges for delicious crunchy bites.
Butter – Use this to butter the gratin dish and to sauté the leeks and bring out their sweetness.
Bay Leaf – Use this to flavor the cream sauce.
Garlic – Fresh garlic cloves work best here.
Thyme – Fresh herbs add loads of flavor and work as a beautiful garnish for the finished dish.
Salt and Pepper – Necessary ingredients for flavor always.
How to Make Potato Leek Gratin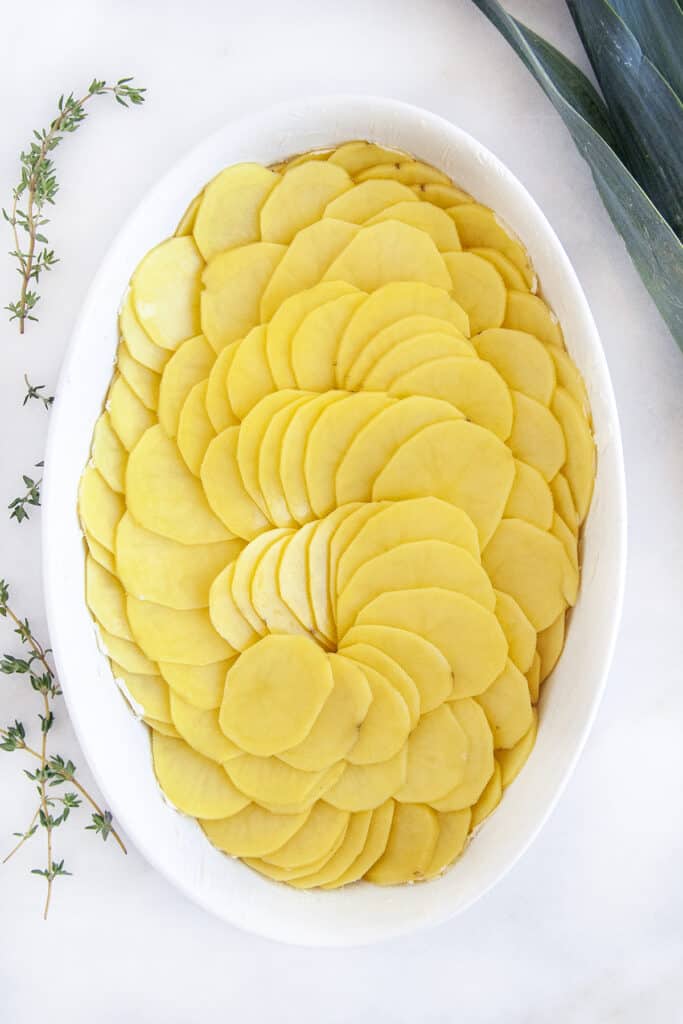 Preheat the oven to 350 degrees Fahrenheit. Generously butter a 2-quart casserole or gratin dish (7×11″ or 14×9″).
Layer the thinly sliced potato rounds in the buttered gratin dish.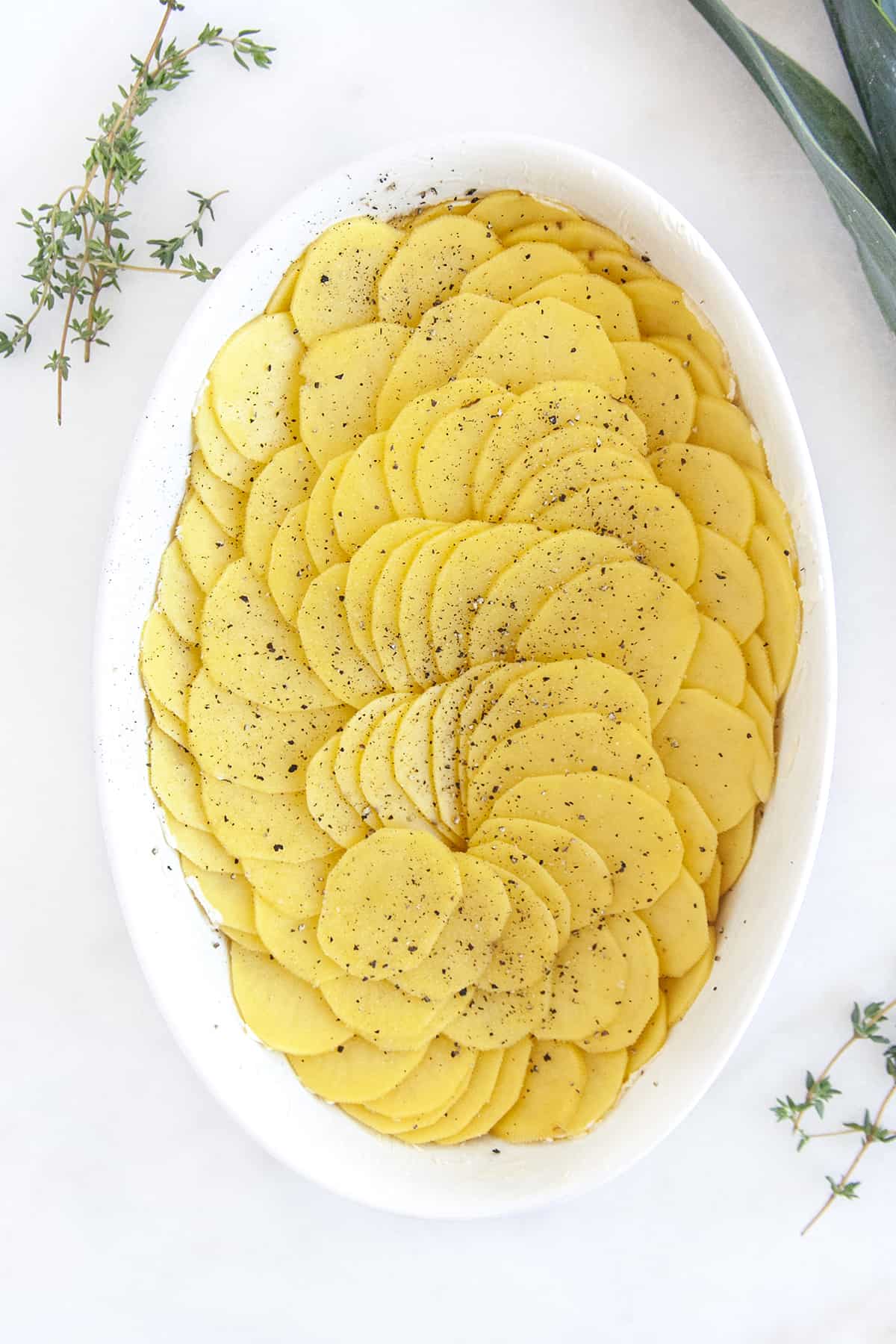 Sprinkle the potatoes evenly with 1/2 teaspoon salt and a few grinds of freshly ground pepper. Set aside.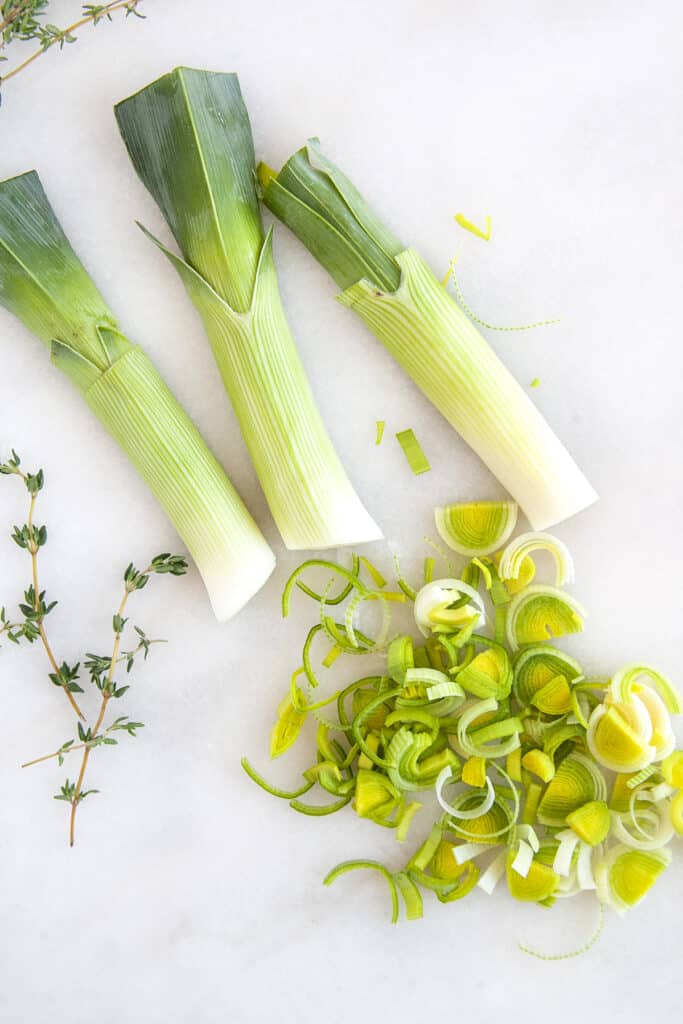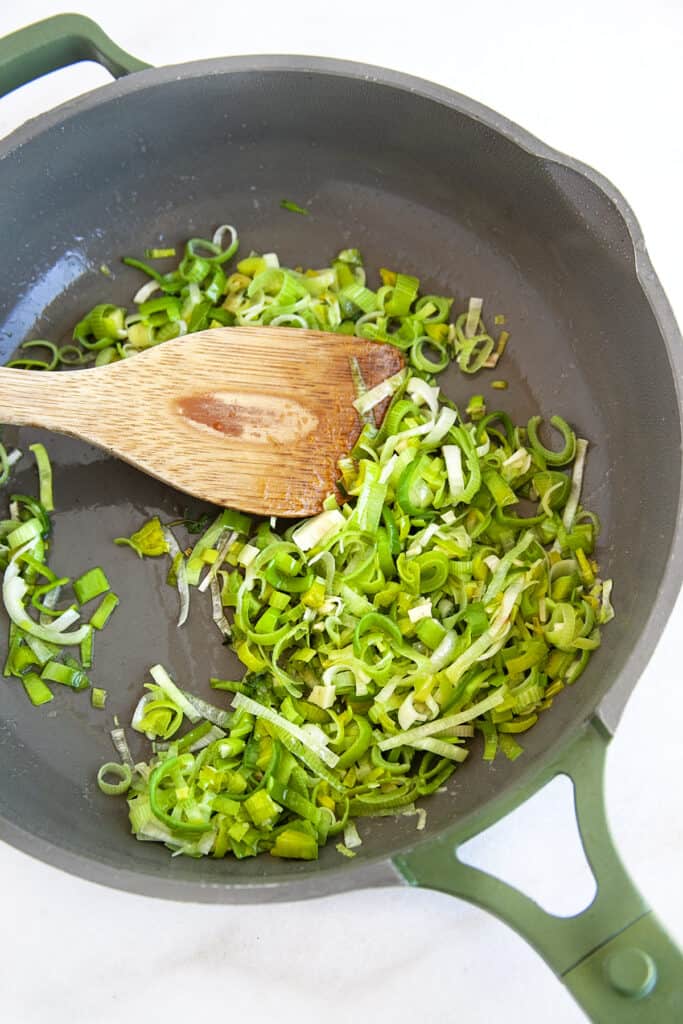 Melt butter in a large skillet over medium heat. Add the leeks, 1 minced garlic clove, and the leaves from two sprigs of fresh thyme. Sauté for about 5 minutes, or until the leeks are tender and beginning to turn golden.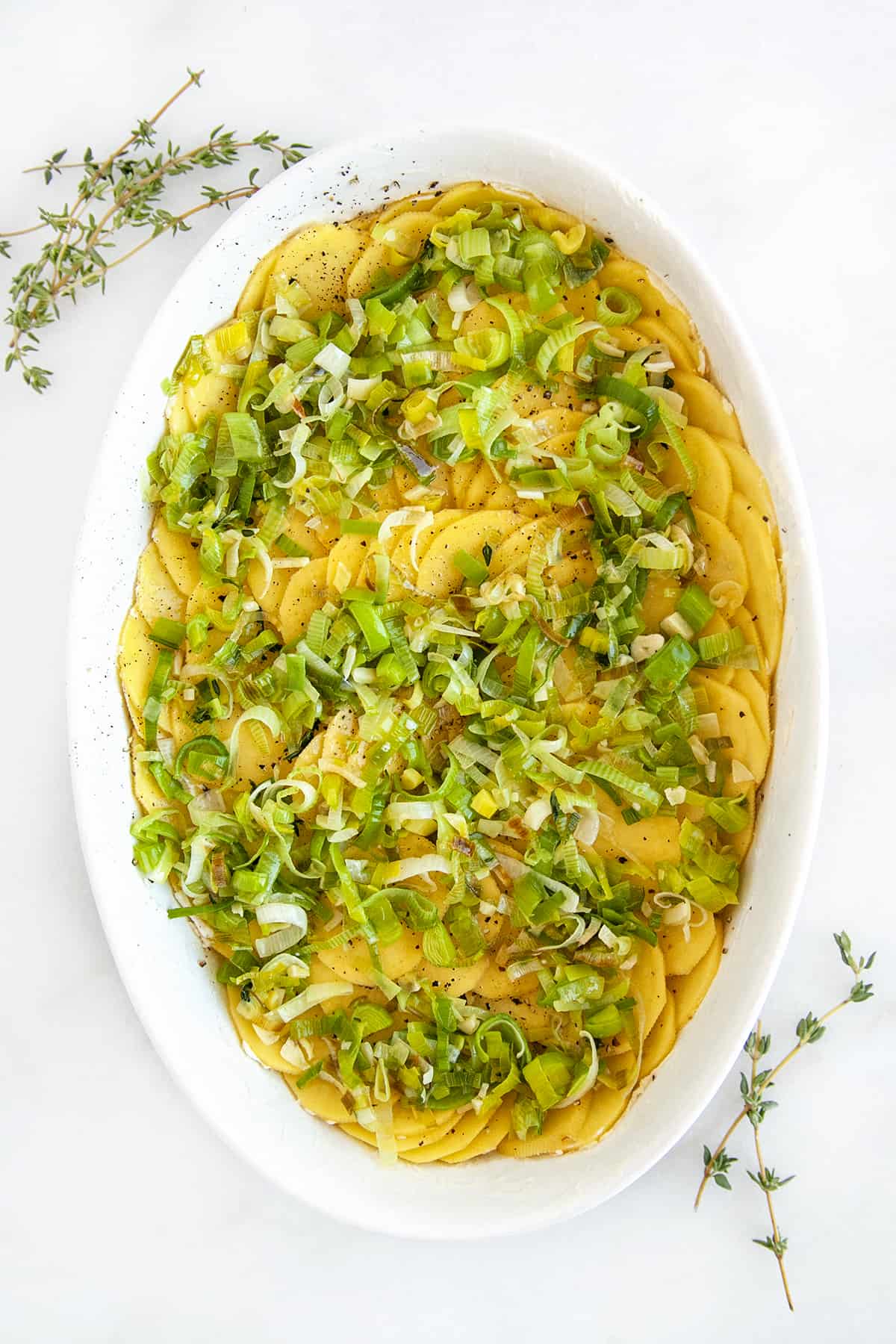 Spread the thyme and leek mixture over the layered potatoes in the dish.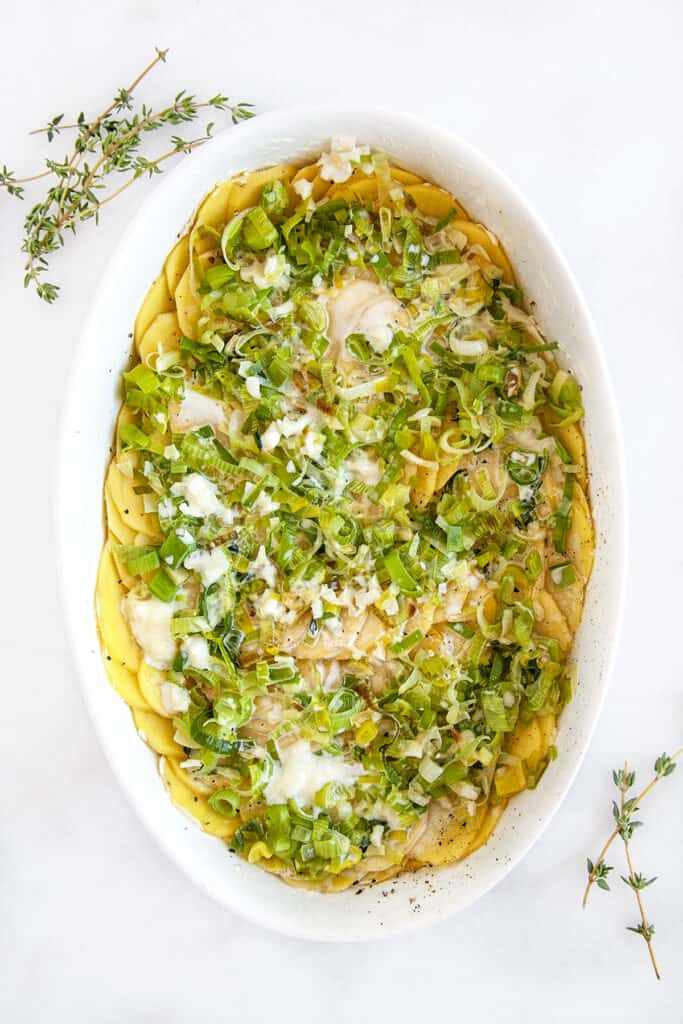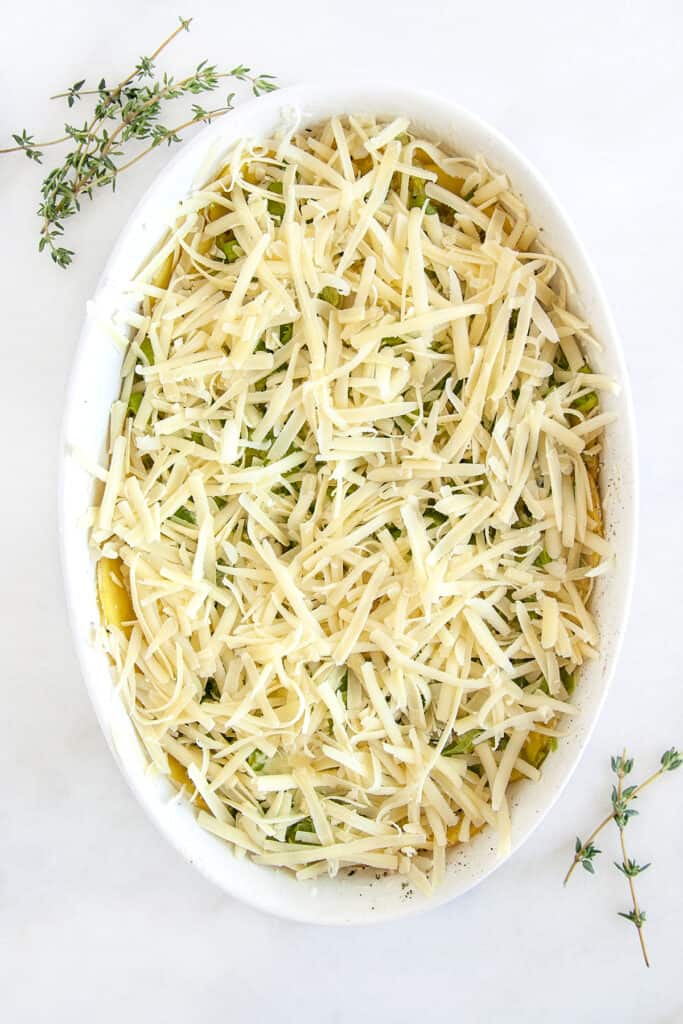 Add the cream, remaining minced garlic clove, bay leaf, and remaining salt to the same pan you cooked the leeks in. Simmer over medium heat for 5 minutes. Pour the hot cream mixture evenly over the leeks and potatoes in the baking dish. Top with grated Gruyere cheese.
Cover the dish with foil and bake for 30 minutes. Uncover and bake for an additional 15 to 20 minutes or until the gratin is golden brown and bubbling and the potatoes are tender.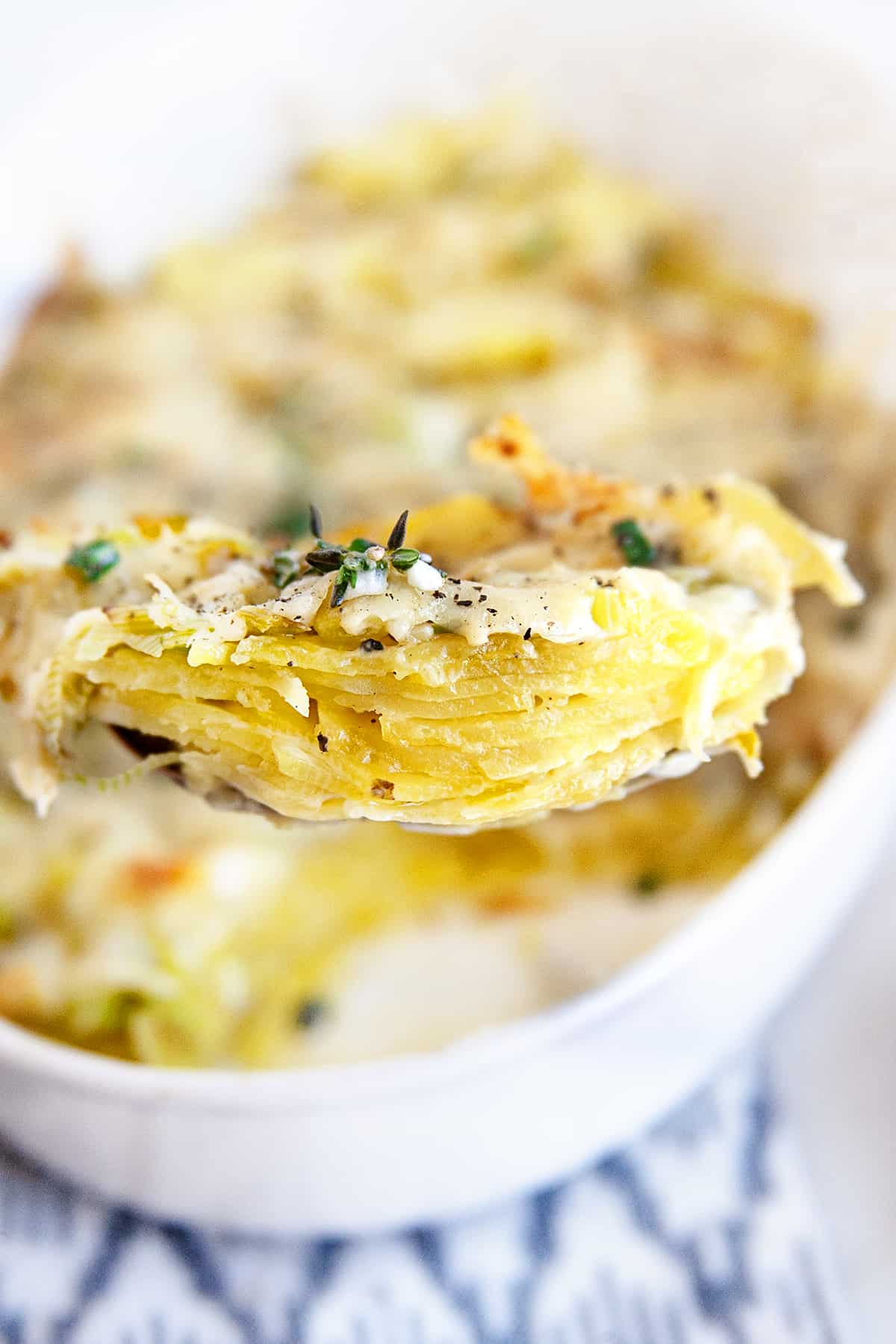 When the Potato Leek Gratin comes out of the oven, it is ready to serve immediately! The cream will have cooked into the thin layers of the potatoes, making them soft and creamy. Likewise, the cheese topping is both melty and crispy around the edges. Every bite is to die for!
What To Serve with Potato Leek Gratin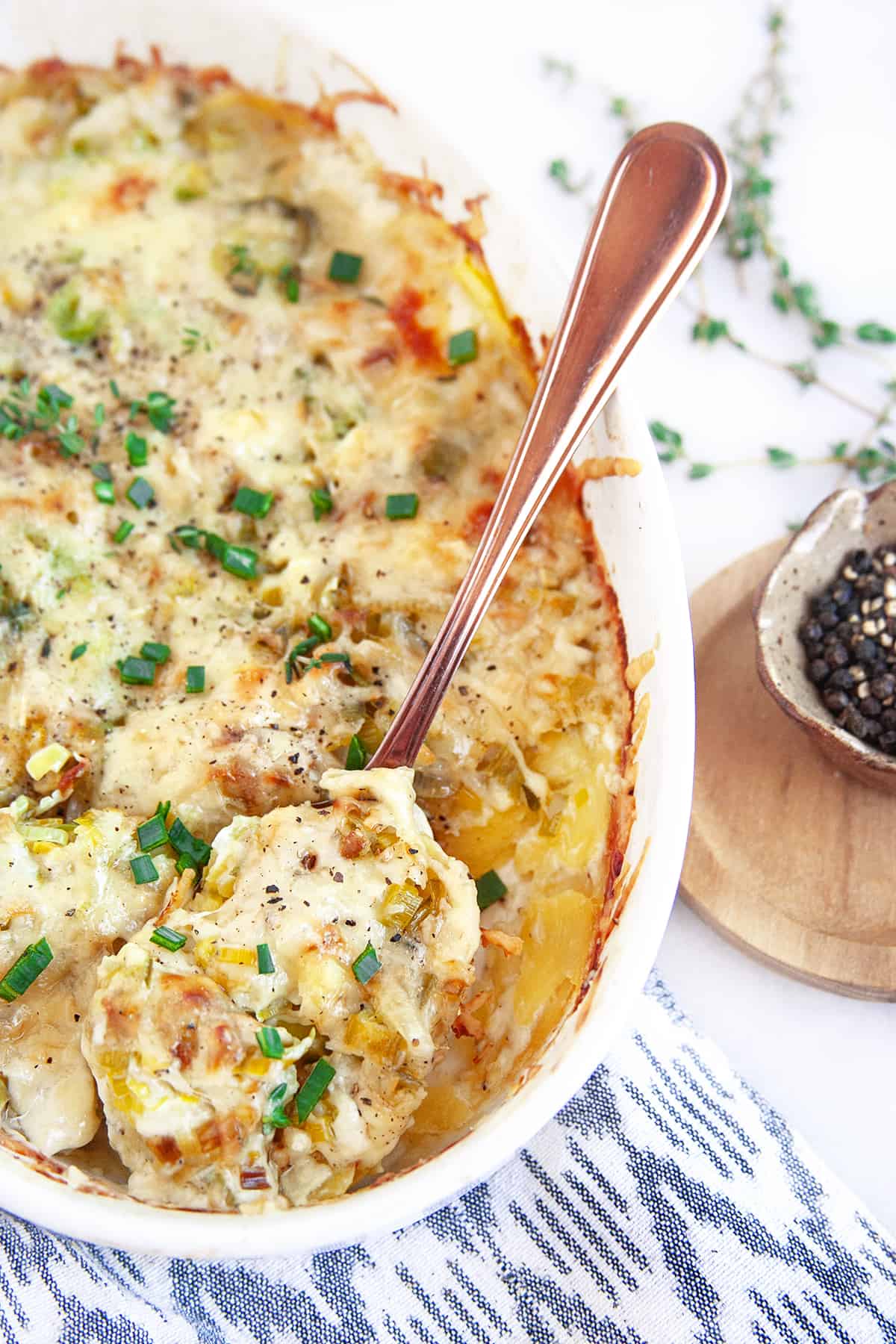 At our house, we always serve Potato Leek Gratin with our Easter Honey Glazed Ham! It also pairs well with the following main dishes:
Whatever you decide to serve your Potato Leek Gratin with, this bubbly, buttery side dish will steal the show!
Recipe Pro Tips!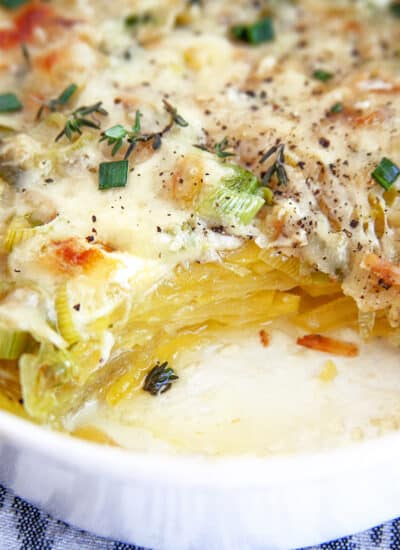 What is the best kind of potato for this recipe?
We like to use Yukon Gold in this recipe, but you could also use a Russet potato too.
Not recommended are waxy potatoes like fingerlings, new potatoes, creamers, etc. You want a nice large potato that will give you pretty layers and hold its shape.
What does Au Gratin mean?
The term au gratin or gratin means to cover with bread crumbs or cheese; in this recipe, it is all about the cheese!!
Can I Make this recipe ahead of time?
Yes, this side dish can be made 24 hours in advance. Make sure the potatoes are completely covered in cream and cheese, as any exposed bits of potatoes will discolor slightly.
Cover tightly with plastic wrap and refrigerate. Let the dish sit at room temperature 30 minutes prior to baking to warm; you may need to add 10 minutes to the cooking time.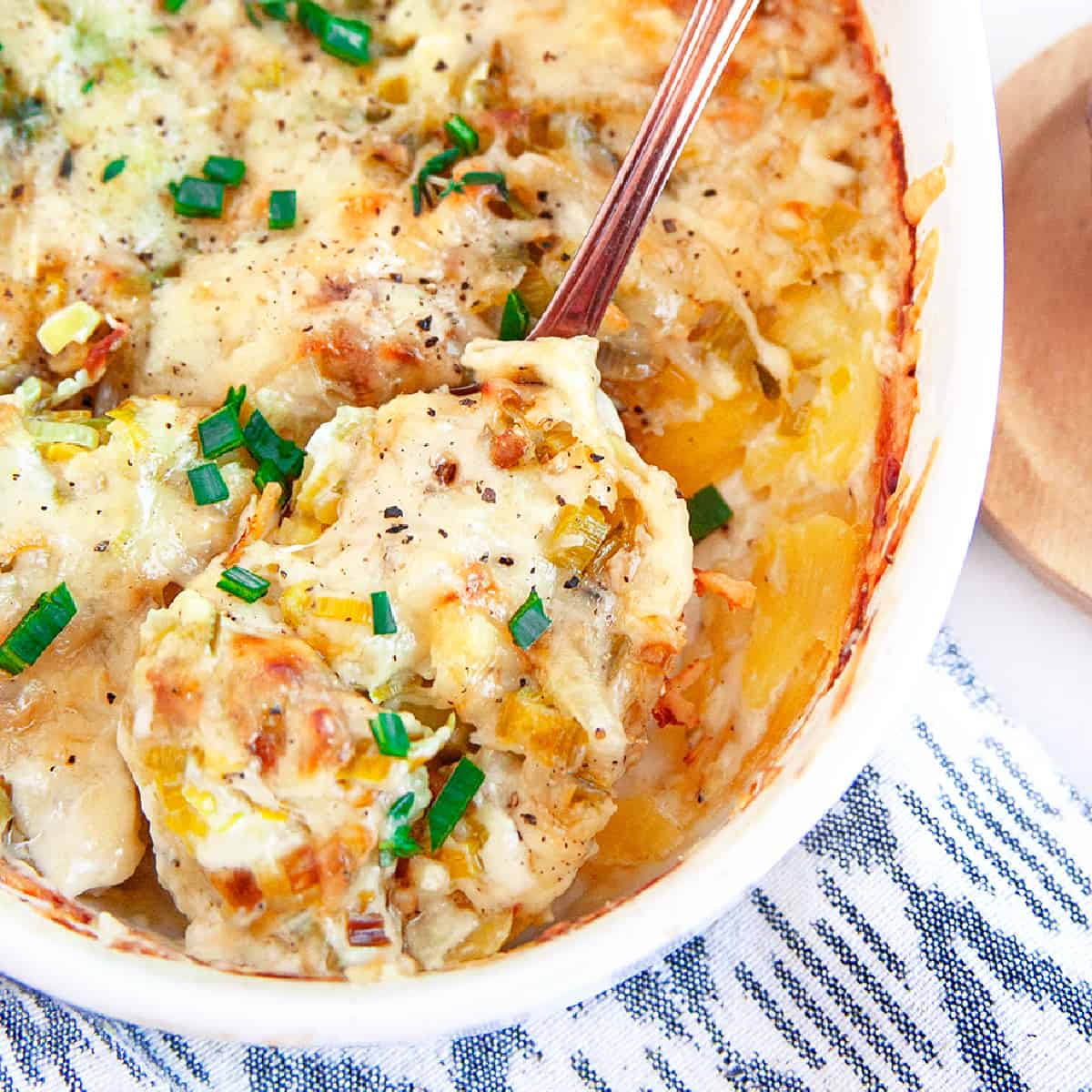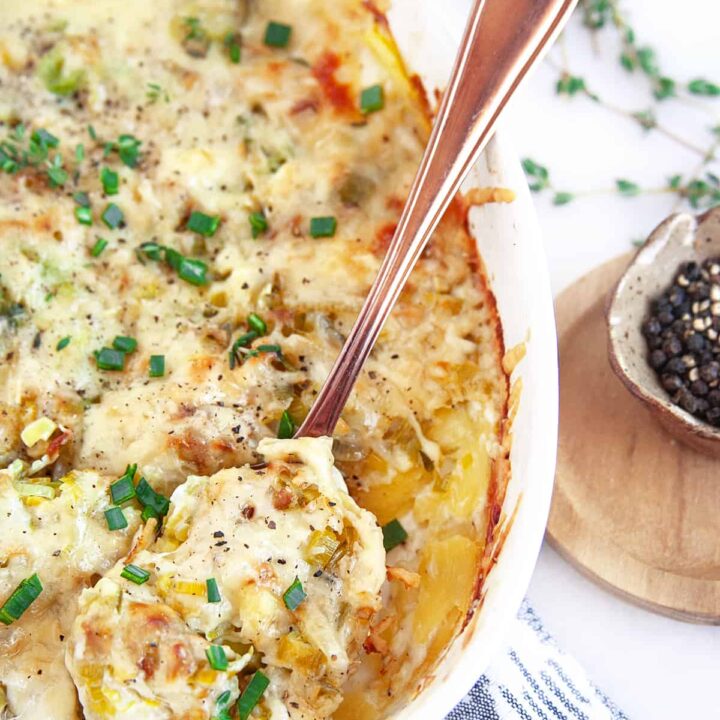 Potato Leek Gratin
Yield: 6 servings
Prep Time: 30 minutes
Cook Time: 45 minutes
Total Time: 1 hour 15 minutes
This Potato Leek Gratin is a fabulous recipe to enjoy for the holidays or to make for a Sunday supper. Creamy, cheesy with wonderful herbs flavors.
Ingredients
1 1/2 pounds peeled Yukon Gold Potatoes, thinly sliced into 1/8 inch rounds
3 tablespoons butter (plus more for greasing the pan)
2 medium leeks, trimmed, halved, and sliced into half-moon rounds (about 1 1/2 cups sliced)
1 teaspoons salt, divided
pepper
2 sprigs of fresh thyme, plus more for garnish
2 cloves garlic, minced (divided)
1 cup heavy cream
1 bay leaf
3/4 cup Gruyere cheese, grated
Instructions
Preheat oven to 350 degrees Fahrenheit. Butter a 2-quart casserole or gratin dish.
Layer the rounds of sliced potatoes in the buttered dish. Sprinkle with 1/2 teaspoon of salt and a few grinds of pepper.
Melt 3 tablespoons butter in a large skillet over medium heat. Add the leeks, 1 minced garlic clove, and the leaves from the sprigs of thyme. Saute for 5 minutes or until the leeks are tender and begin to turn golden.
Spread the leek mixture evenly over the potato rounds in the dish.
Add the cream, remaining garlic, bay leaf, and 1/2 teaspoon salt to the skillet. Simmer over medium-low heat for 5 minutes.
Pour the cream mixture evenly over the potatoes and leeks. Top with the grated cheese.
Cover with foil and bake for 30 minutes. Remove foil and bake for an additional 15 to 20 minutes, or until the cheese is bubbly and beginning to brown and the potatoes are tender.
Garnish with fresh thyme if desired and serve.
Recommended Products
As an Amazon Associate and member of other affiliate programs, I earn from qualifying purchases.
Nutrition Information:
Yield: 6
Serving Size: 1
Amount Per Serving:
Calories: 369
Total Fat: 25g
Saturated Fat: 16g
Trans Fat: 1g
Unsaturated Fat: 8g
Cholesterol: 77mg
Sodium: 532mg
Carbohydrates: 29g
Fiber: 3g
Sugar: 3g
Protein: 9g
Recipe calculation was provided by Nutritionix and is an estimation only. If you need nutritional calculations for medical reasons, please use a source that you trust.