It is Easter again, what an amazing time of the year. My mind goes to lemon and eggs right away. I love lemony desserts and I adore Egg Salad Deviled Eggs but they are something that I rarely make. I am not sure why as my family loves egg salad sandwiches and my goodness what can be easier!! Or is it??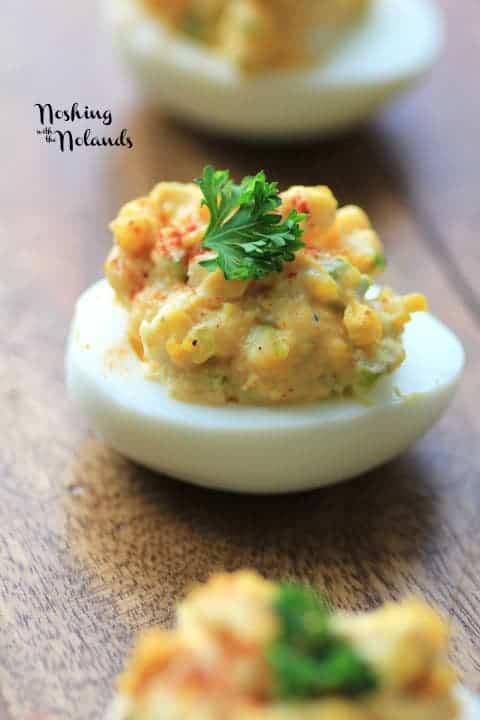 We moved back in September and just recently redid all of our appliances in the kitchen. We purchased an induction cooktop and it has taken some getting used to. Hmmm, how to boil and egg?? Before on my gas stove I would put the eggs in a pot, cover with water, bring to a boil, turn off and then let sit for 10 min.
Remove the eggs from the pot and plunge into a ice bath, when cool, refrigerate until ready to use. Okay I tried that with the induction but was worried as it is instant heat on and instant heat off. So I let them simmer for 1 min. and then shut them off. In the end I got gorgeous medium boiled eggs. Fine for egg salad but not for deviled eggs. Back to the drawing board!!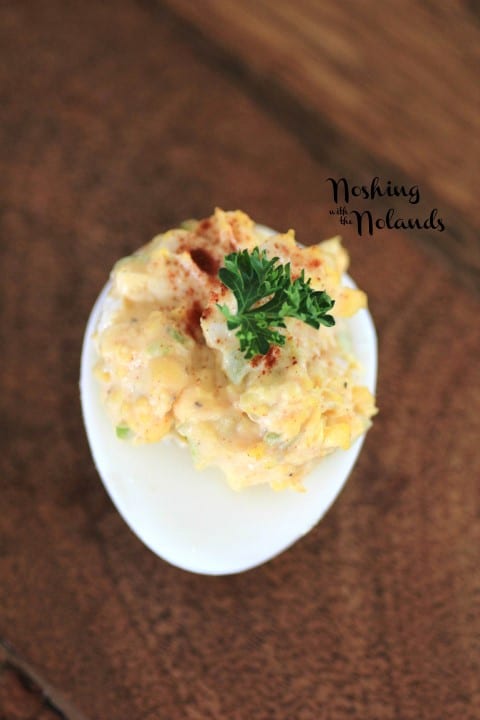 I thought since the water really does stay hot with gas for so much longer, I needed to keep that heat with the induction. So in the eggs went again, up to a boil and gently cooked for 1 min. then down to just below a simmer for 10 min.
I plunged them in an ice bath until cool and refrigerated. When ready to make the egg salad I cracked the larger end, it should have an air pocket there and then the peeling is easy. I cut the first one in half anxiously and viola the perfect hard boiled egg stared back at me. I was so excited.
I wanted to make simple deviled eggs, ones that kids and adults will all love. So I made an easy egg salad sandwich mixture and put that back into the eggs. They were all gobbled down, loved them!!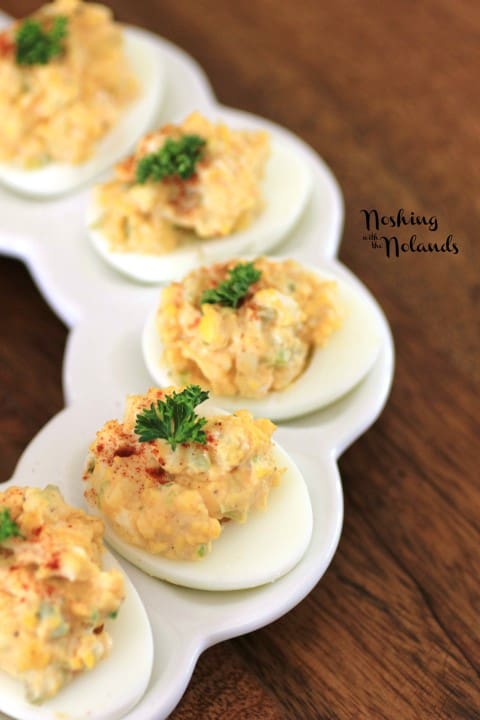 How do you tell if you have over cooked your eggs? They will have a grey hue all around the yolk, very unappealing. So sometimes it is just a simple thing to master but it takes trial and error and that is what the kitchen is all about. Now I know how to boil a medium egg and a hard boil egg on my new induction cooktop. I hope this helps you out if you have a new induction also.
I wish all of you a very Happy Easter/Passover weekend!!
Egg Salad Deviled Eggs for Easter/Passover Feast #SundaySupper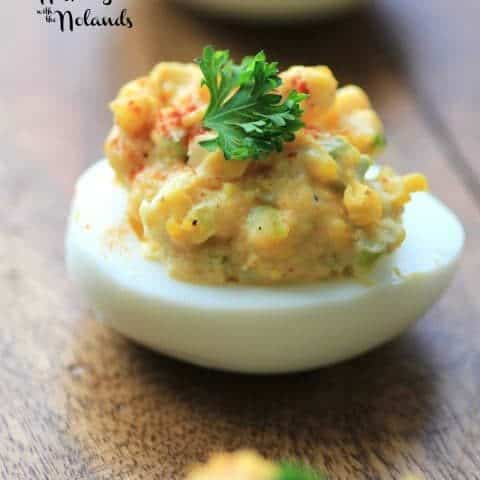 Egg Salad Deviled Eggs for Easter/Passover Feast #SundaySupper
Egg Salad Deviled Eggs are perfect for Easter as an appetizer or part of your meal.
Ingredients
8 hard boiled eggs
1/4 cup finely chopped green onion, white and light greens only
1/4 cup finely chopped celery
2/3 cup light mayonnaise or to desired consistency
Salt and pepper to taste
Paprika
Notes
Slice 6 eggs in half and remove the yolks, chop the yolks and the 2 additional eggs finely.
Add the celery and green onion. Stir in the mayonnaise, salt and pepper. Place the mixture back into the eggs.
Sprinkle with paprika and top with parsley. Refrigerate until ready to serve.
Hopefully you will just a little extra for on top of a cracker!! Indulge!!
Nutrition Information:
Yield: 12
Serving Size: 1
Amount Per Serving:
Calories: 91
Total Fat: 7g
Saturated Fat: 2g
Trans Fat: 0g
Unsaturated Fat: 4g
Cholesterol: 126mg
Sodium: 182mg
Carbohydrates: 3g
Fiber: 1g
Sugar: 1g
Protein: 5g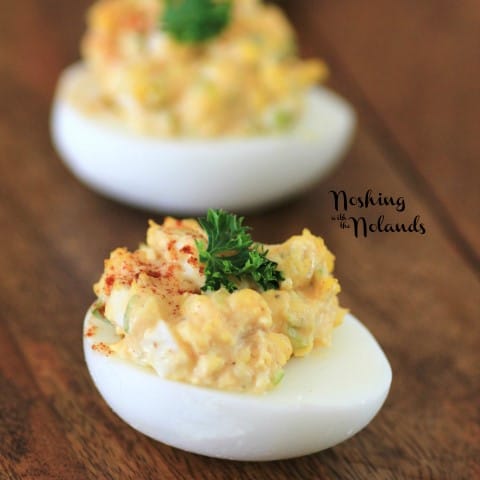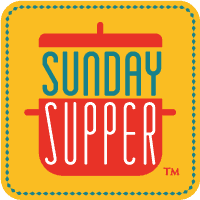 Breakfast/Brunch
Appetizers:
Savory and Sweet Breads:
Sides and Salads:
Main Dishes:
Desserts:
Join the #SundaySupper conversation on twitter on Sunday! We tweet throughout the day and share recipes from all over the world. Our weekly chat starts at 7:00 pm ET. Follow the #SundaySupper hashtag and remember to include it in your tweets to join in the chat. Check out our #SundaySupper Pinterest board for more fabulous recipes and food photos.
Would you like to join the Sunday Supper Movement? It's easy. You can sign up by clicking here: Sunday Supper Movement.