I am really into braising lately. I love the technique and have received from my girlfriend a big gorgeous Italian ceramic pot to braise in. So I wanted to make a family-style Perfect Pot Roast in it. Braising is a technique where you first quickly brown a protein and then place it in a large pot with fluid but not completely submerge it. It is then covered and slowly cooks in the oven over a long period of time. This pot roast is a perfect example along with a dish like Coq Au Vin.
This Perfect Pot Roast is a gorgeous meal for a Sunday family dinner. It is tender and full of flavor. Braising in my opinion shouldn't leave the meat in shreds but still be able to carve. If there is a bone it should still be on the bone.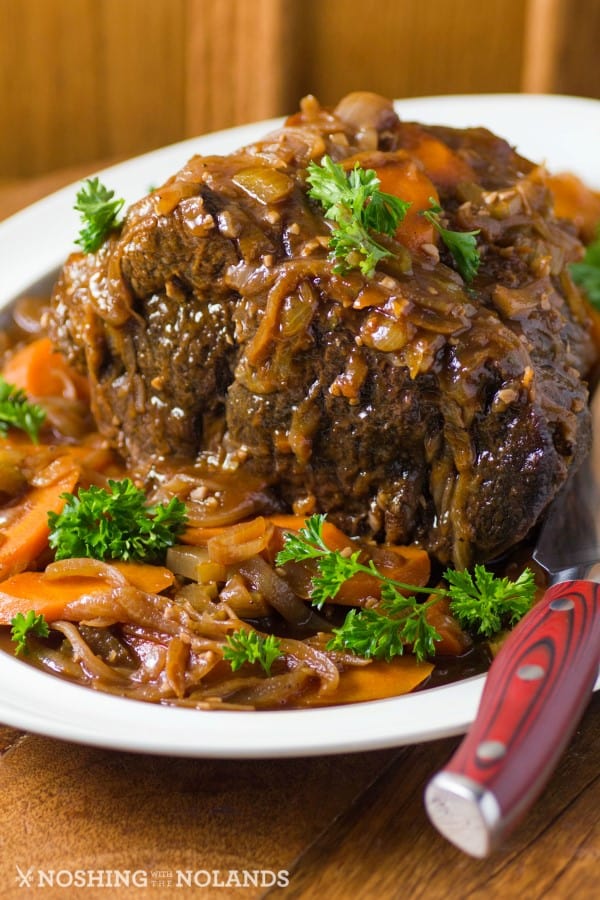 There is lots of sauce, veggies and beef to be shared around. Doesn't that look scrumptious, the perfect celebratory winter meal can be simply made too! Braising frees up lots of time in your day!! Family time is never better than over a great meal!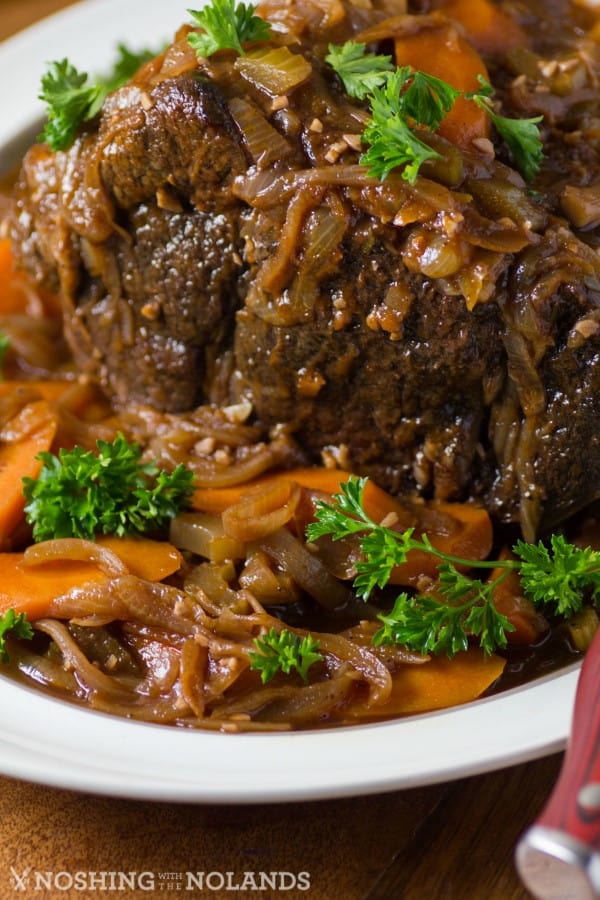 Low and slow is the key to a great pot roast. Plus, this recipe has lots of flavor with easy to find ingredients. Make some great fluffy mashed potatoes and a few more veggies and you are feasting!!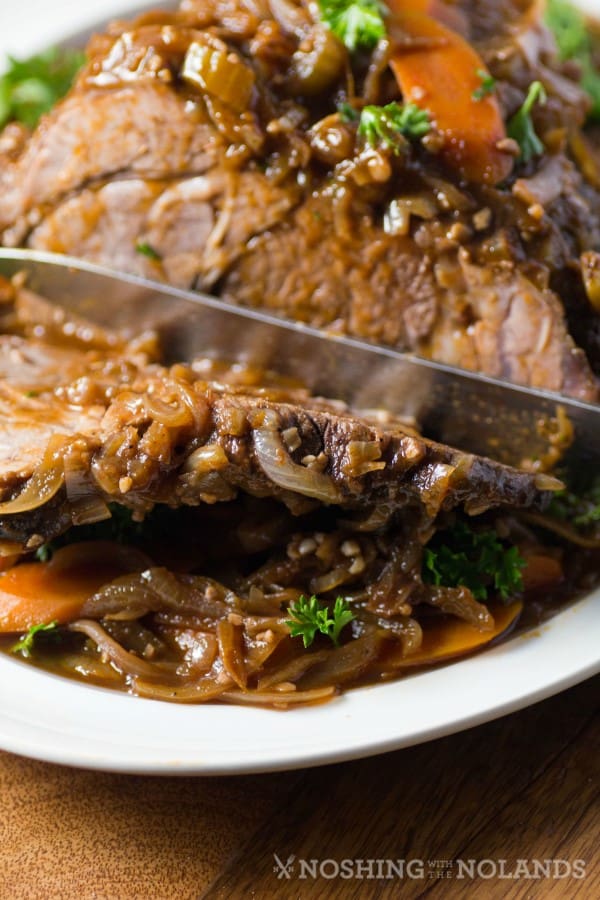 See how it still slices and is not crumbly, that is a perfect pot roast!! Tough roasts like a chuck benefit from a slow braise. The result is a tender and succulent meat with a gorgeous sauce for gravy. Enjoy this recipe with family and friends over the holidays and all winter long!!
The Recipe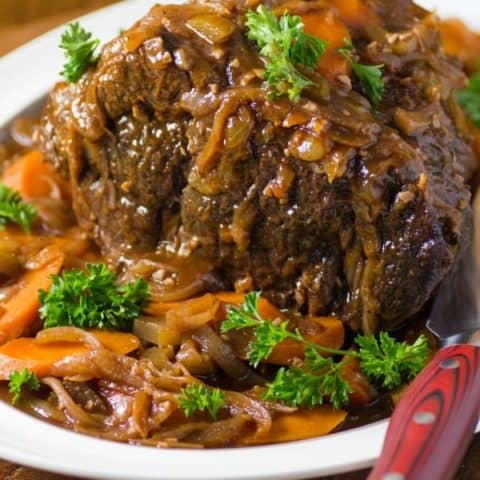 Perfect Pot Roast
Yield: 6 servings
Prep Time: 30 minutes
Cook Time: 3 hours 30 minutes
Total Time: 4 hours
The Perfect Pot Roast takes a tough inexpensive cut of meat and makes it something spectacular!!
Ingredients
3 1/2 lbs. beef chuck
Kosher salt and freshly ground pepper
1 tsp. granulated garlic
2 Tbsp. butter
1 Tbsp. olive oil
5 medium onions, sliced
3 medium shallots, sliced
2 Tbsp. garlic, minced
3 celery stalks, sliced
5 carrots, peeled and sliced
5 oz. can tomato paste
2 cups beef stock
1 1/2 cups red wine
6 sprigs thyme, tied together with kitchen twine
Instructions
Thoroughly add salt, pepper and granulated garlic to all sides of the roast. In a large Dutch oven heat the butter and olive oil over medium-high heat. Sear the beef on all sides until browned nicely all over. Remove the meat to a platter.
Turn the heat down to medium and add the onions and shallots. Cook for about 10 min. or until caramelized. Preheat the oven to 325F. Add in the garlic, carrots and celery and cook for another 5 min. Make an opening in the center of the pan and add the tomato paste. Stir and let cook for 1-2 min. Add in the stock and wine and scrap up the brown bits on the bottom of the pan. Add the beef back in and any juices from the meat. Add in the thyme.
Cover and place in the oven. Cook for 1 hour and then baste with the juices. Baste again in an hour and then cook for an additional hour. For a total of 3 hours or until cooked but not falling apart. Slice the meat and serve with the sauce and vegetables.
Recipe adapted from Guy Fieri.