Chocolate Peanut Butter Balls
This is a fun no bake recipe that you can have whipped up in no time. I remember a friend of mine's mom would send him a container of these each Christmas, they were his favorite and he kindly shared one with me, he cherished them! I hadn't thought of that in years but it popped into my head, so I decided to make and share with you these delicious Chocolate Peanut Butter Balls.
They are super easy to make as they don't require any cook time, in the oven or stove top. You make the yummy peanut butter balls, freeze them and then dip them in melted chocolate. The sprinkles on top are optional but add a nice festive touch I think. Don't let chocolate dipping be intimidating to you. It is slightly messy but very easy and once you have done a few you can get on a roll.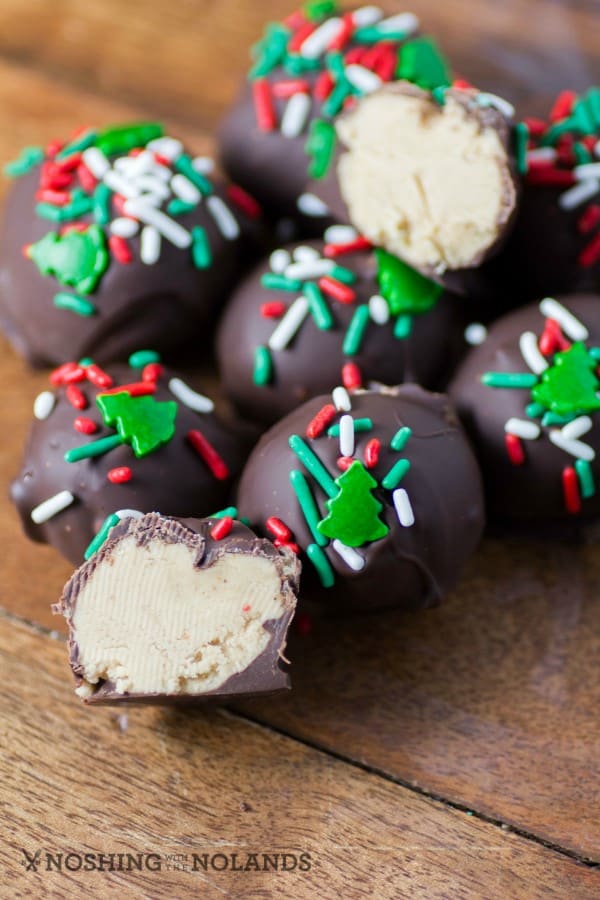 They are pretty to add to any cookie tray for the holidays, if they last that long! They keep well in the refrigerator with all my other chocolates. I normally don't like to freeze chocolates but keep the freezer for all my cookies.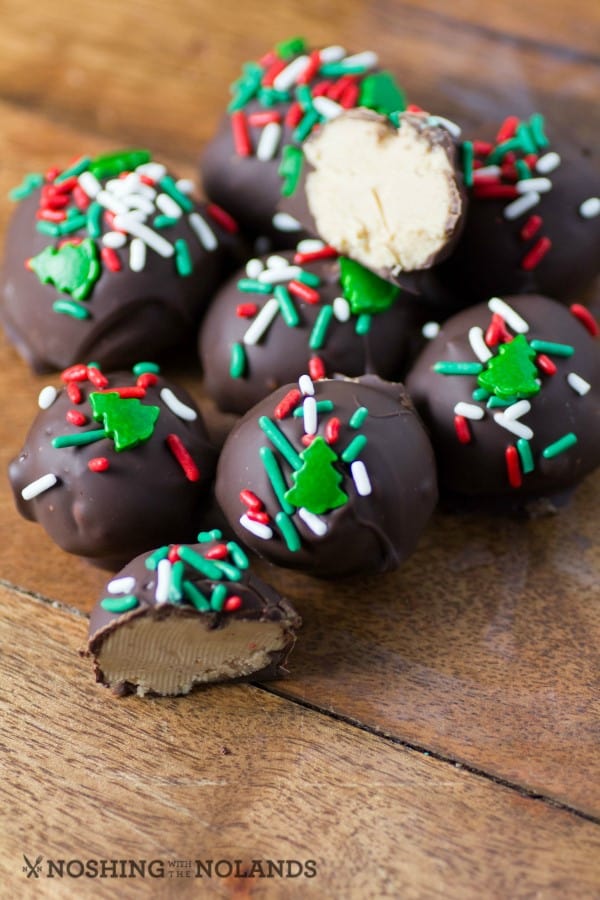 Add this one to your chocolate/cookie making this holiday season. Everyone will love you for it!! Happy Holidays!!
The Recipe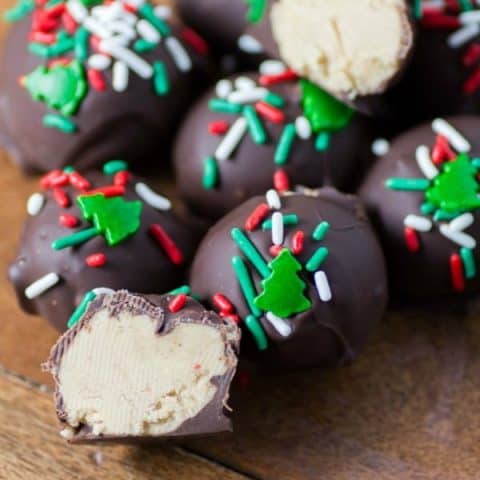 Chocolate Peanut Butter Balls
Yield: 40 balls
Prep Time: 30 minutes
Total Time: 30 minutes
Chocolate Peanut Butter Balls are an easy no bake treat that are perfect for the holidays.
Ingredients
2 cups icing sugar
6 Tbsp. butter, softened
1 cup smooth peanut butter
18 oz. semi sweet chocolate chips
Holiday sprinkles (optional)
Instructions
In a large bowl of a standup mixer, mix together the icing sugar, butter and peanut butter. Roll into 40 balls. Place on wax paper lined cookie sheets and set the sheets into the freezer for 30 min. or alternatively in the fridge. They will stay firmer in the freezer of course for dipping.
Melt the chocolate chips in a microwavable bowl at half power for 1 minute intervals, stirring until melted and smooth. Dip the balls in the chocolate laying them on a fork. Lightly bang off any excess chocolate on the side of the bowl. And place back on the cookie sheet. Add the sprinkles while the chocolate is stil wet. Store them in the fridge to set and then in an air tight container to keep. They will keep for 2-3 weeks in the fridge.