I have been paid by Fleischmann's as an ambassador but all my endorsements, thoughts, and opinions are my own.
I have a very special post for you today! Cinnamon Knots with Cream Cheese Dip will have everyone racing to the kitchen to devour these!! With the holidays upon us, everyone loves the smell of freshly baked goods and this recipe will have everyone excited. Whether they are hot out of the oven or warmed again when company arrives, they will be a sure-fire hit.
Being a Fleischmann's Baking Ambassador is easy for me. In our house, Fleischmann's is number one for baking. It is the only yeast and corn starch we buy and both of these are used to make this recipe the best it can be!! If you would like a savory recipe try our Garlic Knots too.
I would love to see you baking this recipe for the holidays!! As an added bonus you can enter Fleischmann's "It's All You Knead" contest before December 31st to be eligible to win one of seven Cuisinart Precision Master 5.5 qt. Stand Mixers. Good luck to you all and don't forget to have your UPC code handy when you visit www.itsallyouknead.ca to enter!
What is a Cinnamon Knot?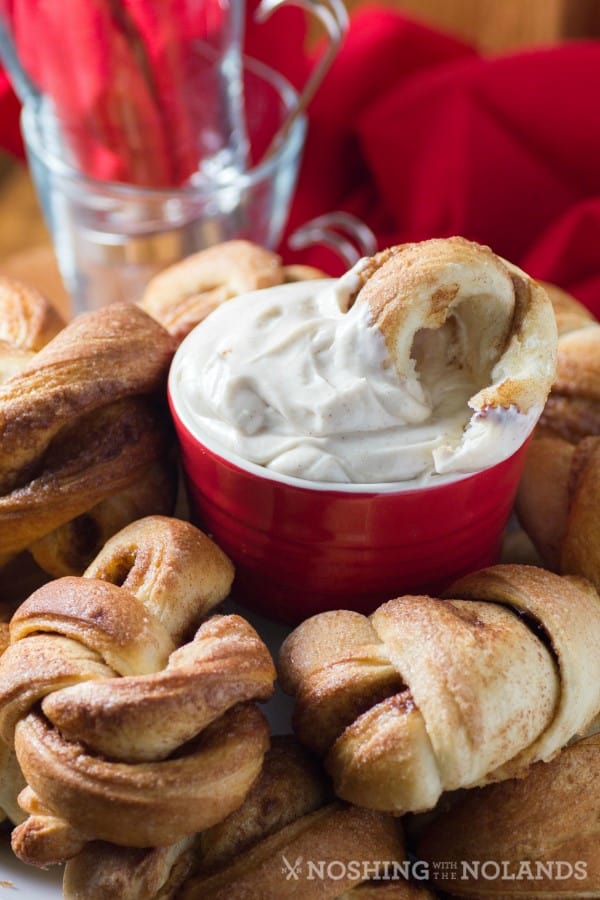 These turned out heavenly!! What is a Cinnamon Knot you ask? Well, they are like a cinnamon roll but tied into a knot. Instead of the icing being slathered on you can enthusiastically dip to your heart's content.
Using Fleischmann's yeast will make sure you have big fluffy knots to serve your company. Fleischmann's Canada corn starch in the filling makes sure it doesn't all ooze out!!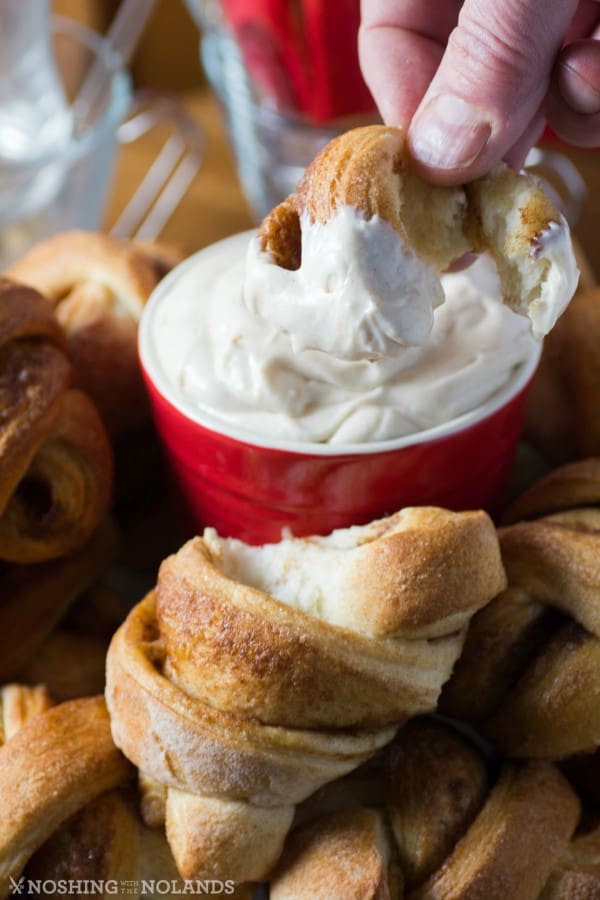 Rip, dunk and YUM!! These will take you from breakfast to dessert and are perfect with an afternoon cup of coffee too! There is cinnamon in the filling, on the outside with a sprinkle of cinnamon in the dip also. Not too much but just the right amount!!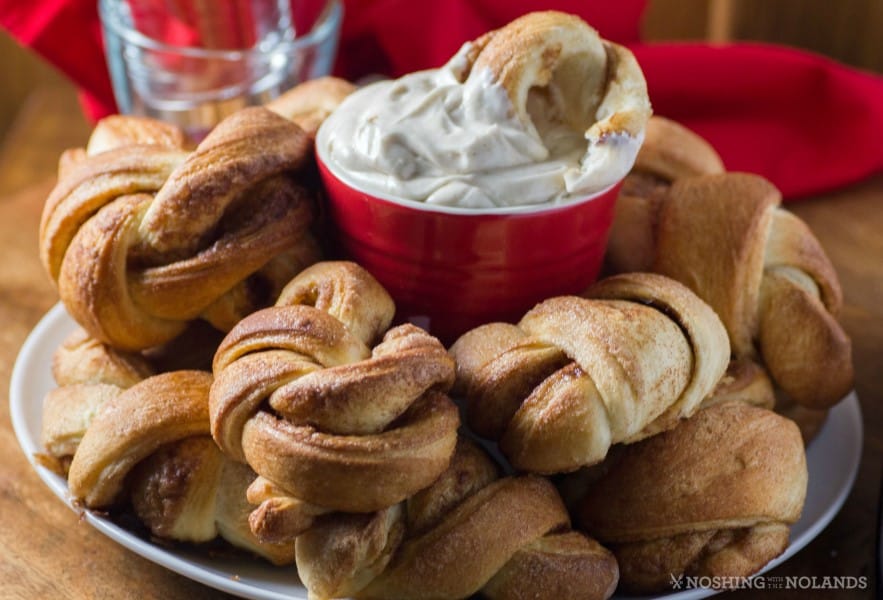 Cinnamon Rolls are very popular in North America and in Northern Europe. They are comfort food at their best. We used Fleischmann's traditional yeast for these knots but they have lots to choose from for all your baking needs.
Whether you are making pizza crust, using your bread machine or after a rapid rise yeast, Fleischmann's have these and more!!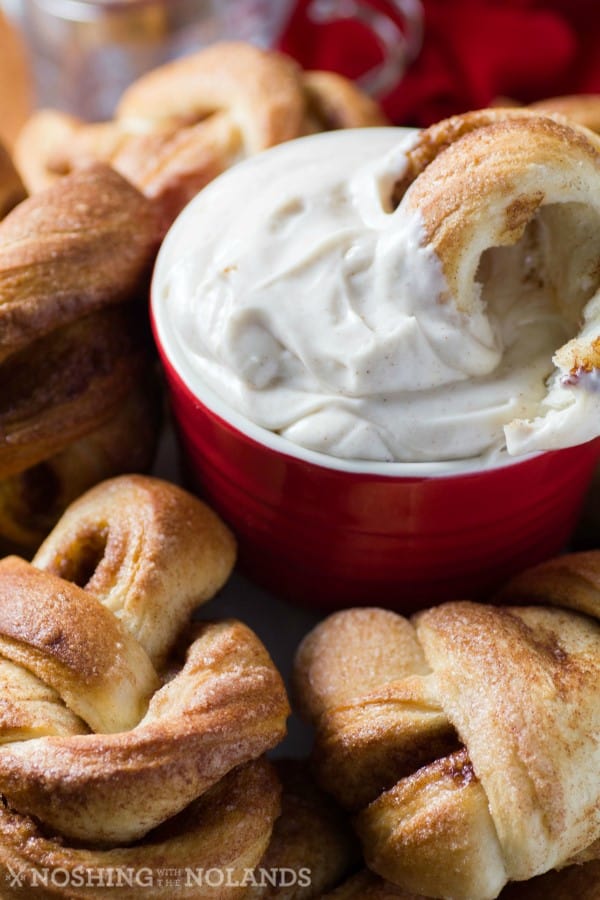 Have fun baking this holiday season with all of Fleischmann's products!!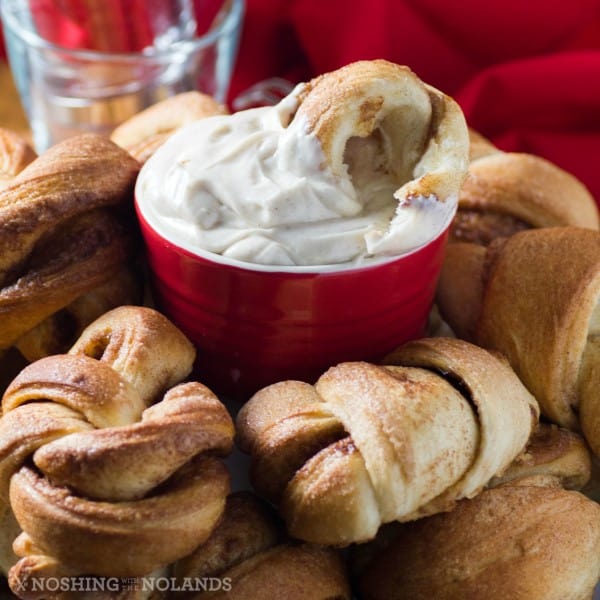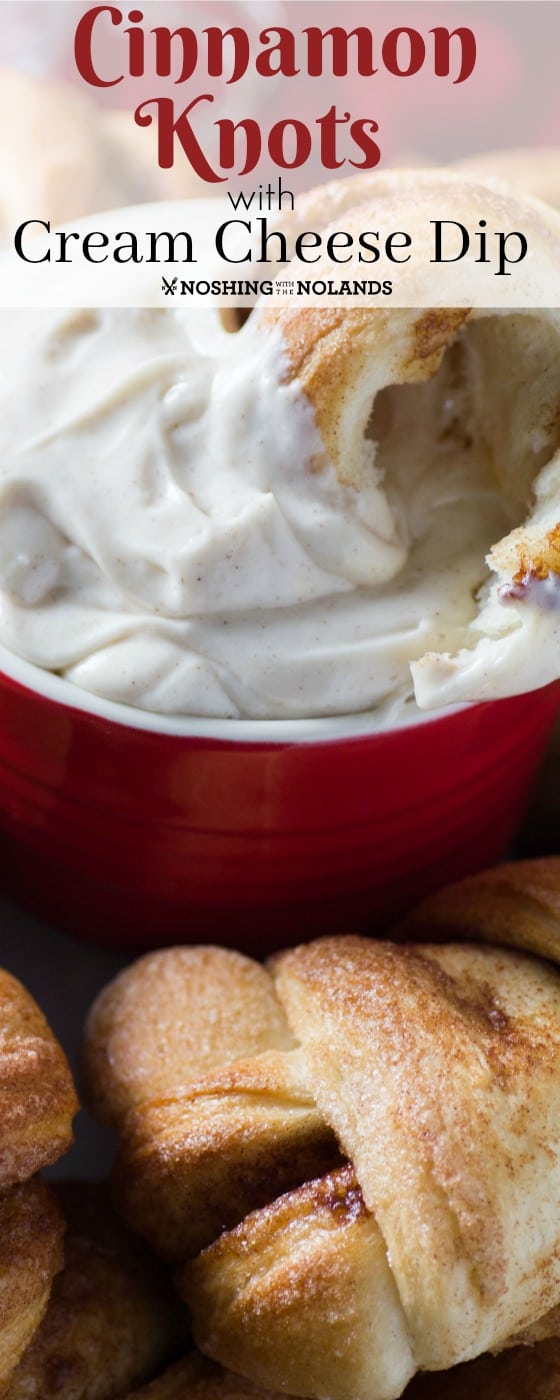 Cinnamon Knots with Cream Cheese Dip Recipe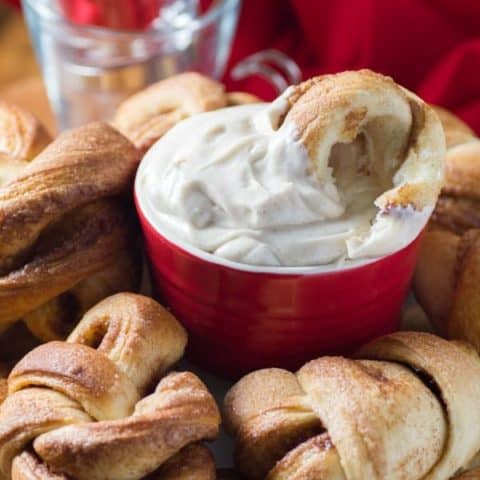 Cinnamon Knots with Cream Cheese Dip
Yield: 18-20 knots
Prep Time: 30 minutes
Cook Time: 20 minutes
Total Time: 50 minutes
These delicious Cinnamon Knots with Cream Cheese Dip are the perfect breakfast, brunch, or snack. The pastry marries gorgeously with the sweet cheese dip you won't be able to stop at just one!!
Ingredients
Dough
2½ tsp. Fleischmann's active dry yeast
½ cup warm water
½ cup sugar
¾ cup warm homogenized milk
2 large eggs
7 Tbsp. butter, divided
5½ - 6 cups flour
Filling
1/4 cup butter, softened
3/4 cups packed light brown sugar
1 1/4 Tbsp. cinnamon
3/4 tsp. Fleischmann's cornstarch
Cream Cheese Dip
8 oz. light cream cheese
1 cup icing sugar
3 Tbsp. milk, more if needed
1 1/2 Tbsp. brown sugar
1/2 tsp. cinnamon
Instructions
In a bowl of a standup mixer, fitted with a dough hook pour water and sugar in, sprinkle yeast over top and stir. Let stand for 5-10 min. until the mixture becomes foamy.
Meanwhile melt 6 Tbsp. of butter in a microwave safe bowl, set aside to cool.
When the yeast mixture is ready add the milk, eggs and 6 Tbsp. melted butter. Mix on low adding in 4 cups of flour, one cup at a time. Now add in remaining flour slowly until the dough becomes a ball. Knead on medium high for 5 min. The dough should be tacky but not sticky.
Lightly dust a work surface and take dough out and knead a few times by hand.
Add the last Tbsp. of butter to a large bowl and microwave. Place dough into bowl and then turn over to coat with the butter. Cover loosely with plastic wrap and drape over a towel. Set bowl in a warm spot in the kitchen and let dough rise until doubled, about 60-90 min.
While the dough is rising mix together the brown sugar, cinnamon and cornstarch for the filling and set aside.
When the dough is ready turn it onto a lightly floured work surface. Knead the dough a few times and then roll it out into an 18"x24" wide rectangle. Spread on the ½ cup softened butter. Leave a 1" border around the edge.
Sprinkle half the dough lengthwise, with the brown sugar mixture. Fold it over to make a rectangular pocket. Roll gently with a rolling pin. Take a small amount of water and run it around the edges. Press gently to seal. With a sharp knife or pizza cutter cut into 1" strips. They should be about 9" long. Take each strip and tie it into a knot. Place on a lightly greased baking sheet. Cover with plastic wrap and a tea towel, let rise for 30 min.
Preheat oven to 350F. and bake until golden brown for about 20 min. Rotate pan halfway through. Let cool 5 min. and then serve warm. You may want to cool completely and store in a sealed container, reheat when ready to serve.
While the knots are baking make the dip. In a standup mixer add all the ingredients. With the paddle attachment, beat first on low until smooth and then on high until thoroughly mixed and not lumpy. Serve with the warm knots.