It is Bundt time again and this month's theme is Spices and hosted by Deepti of Baking Yummies. Thank you kindly for hosting Deepti!!! Today I give you Cinnamon Roll Bundt Cake for #BundtBakers.
I started thinking of using all these exotic spices but then cinnamon buns popped into my head. Cakes of all kinds are a celebration, not a daily event so you want it to be good. Try our Glazed Pistachio Bundt Cake for another amazing dessert.
I wanted something with the real taste of a really good cinnamon bun, you know like the kind you get in one of those lovely cinnamon bun shops in the mall or in a bakery with the yummy cream cheese frosting that gets all over your fingers and face!!
You feel like a kid again eating one of those!!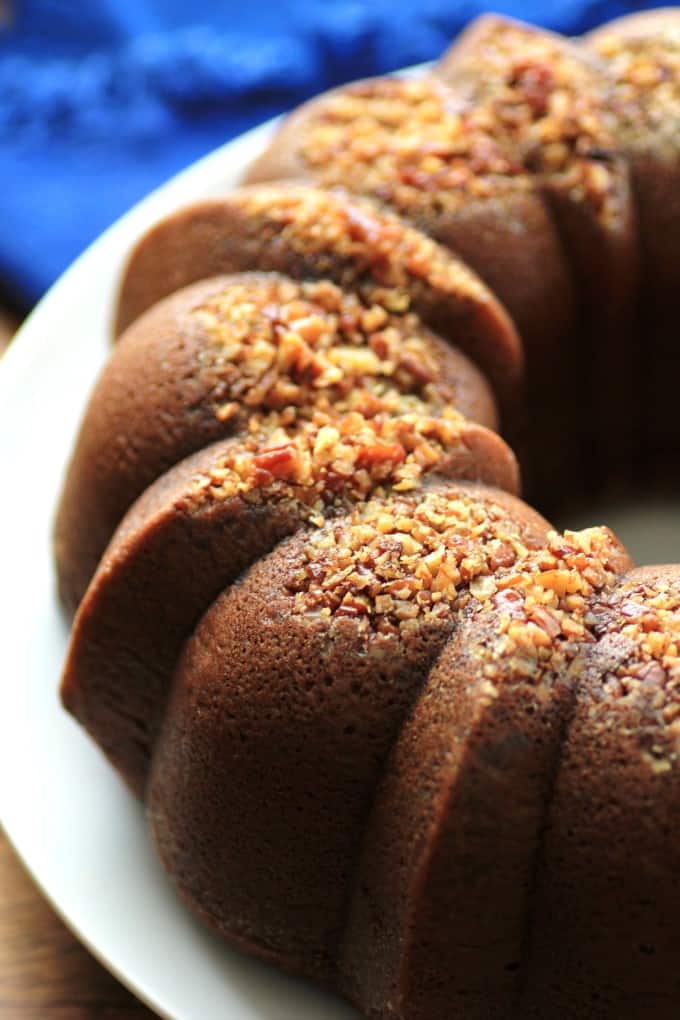 I wanted that same experience in a bundt cake. I have to admit, I was really experimenting this time, not adapting from anything. What a relief when this beautiful bundt popped out!!
How to Make a Cinnamon Roll Bundt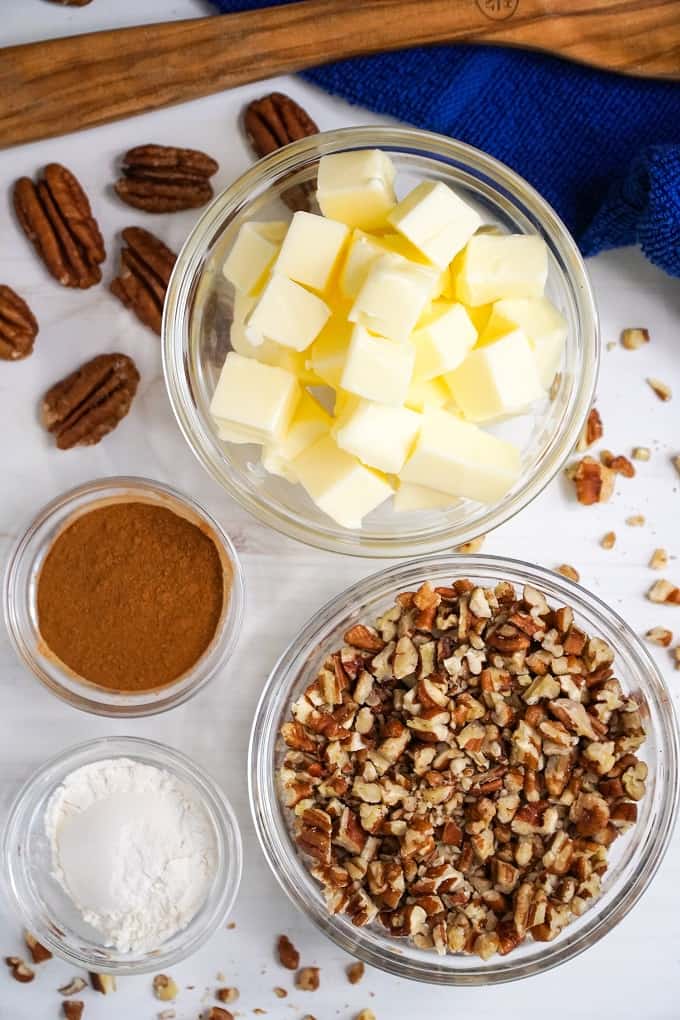 The first thing you need to do when making a Cinnamon Roll Bundt is to make sure you have all your ingredients ready to go. I love to have everything measured and laid out before I start baking. It makes everything go smoothly as you work through the recipe.
Using good quality ingredients is also important. Using fresh good quality cinnamon, for example, makes a big difference. If your cinnamon has been sitting in your cupboard or spice drawer for a few years it will have lost most of its flavor.
Do yourself a favor and pick up some fresh cinnamon, it will make a world of difference. There is even more than one type of cinnamon on the market, get adventuresome, your taste buds will thank you later.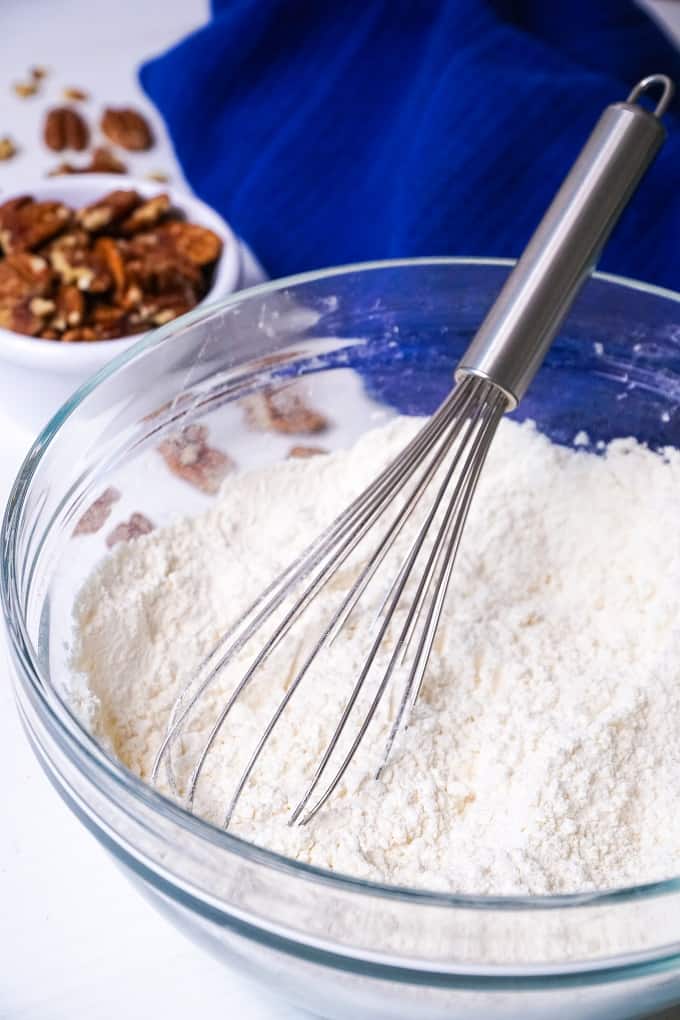 Start by preheating your oven to 350 degrees F. Spray your bundt pan with cooking spray and flour the inside of the pan, shaking out any excess flour. This is a very important step to allow your bundt to slide out of the pan with ease.
Sprinkle the chopped pecans in the bottom of the bundt pan and set them aside. As with most cakes make sure you mix your dry ingredients together. Add the flour, baking soda, salt & pudding mix in a large bowl and whisk to combine.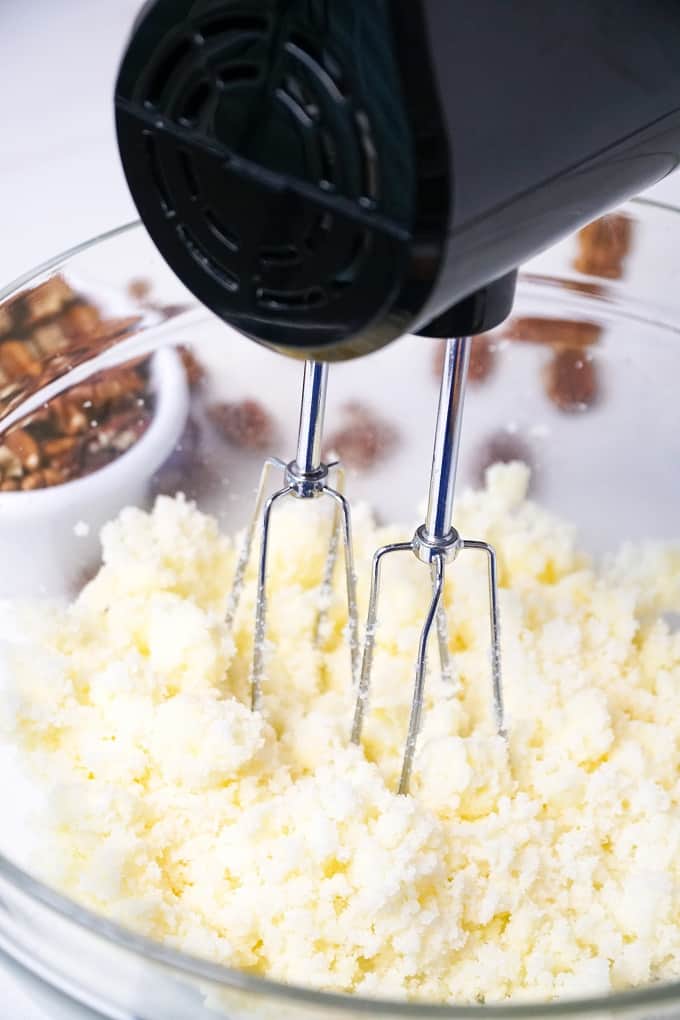 Next, you need to cream the butter and sugar using a stand mixer or hand mixer in a mixing bowl until it is light and fluffy. Add the eggs to the sugar mixture, then alternate adding the flour mixture, the sour cream, and the milk/vanilla mixture ending with the flour.
How to Get That Cinnamon Bun Swirl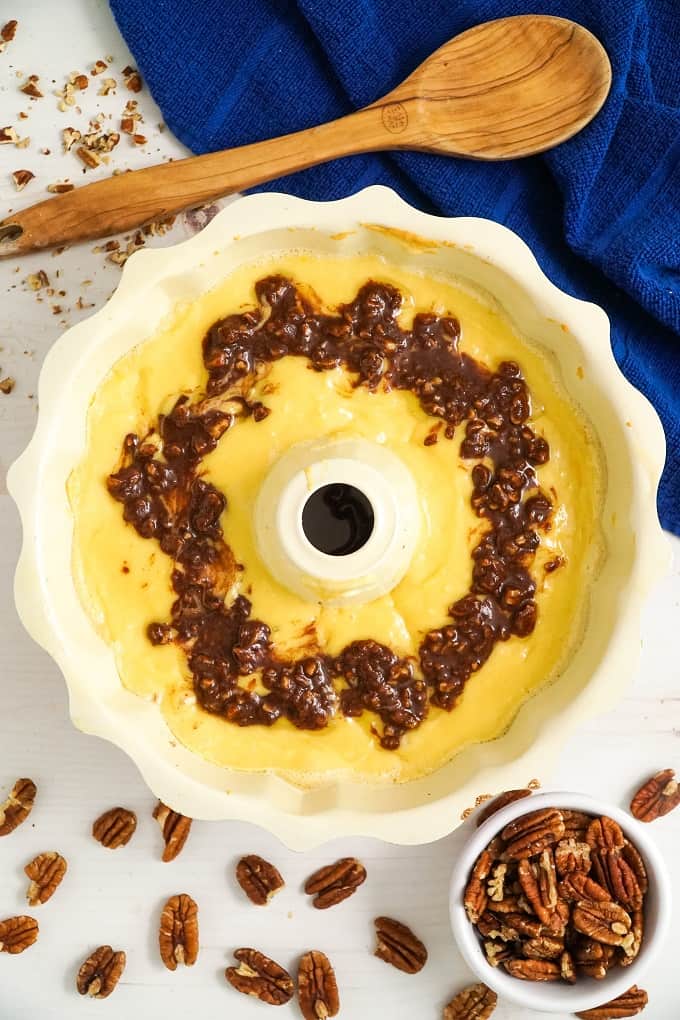 Mix together the swirl ingredients in a medium bowl. Pour 1/2 the batter into your prepared 10-inch bundt pan. Then add 1/2 the swirl mixture on top of the batter in the pan, pour the remaining batter into the pan then add the remaining swirl mixture to the pan.
Press it down slightly into the batter, this will give you the swirl you are looking for in the middle of the cake.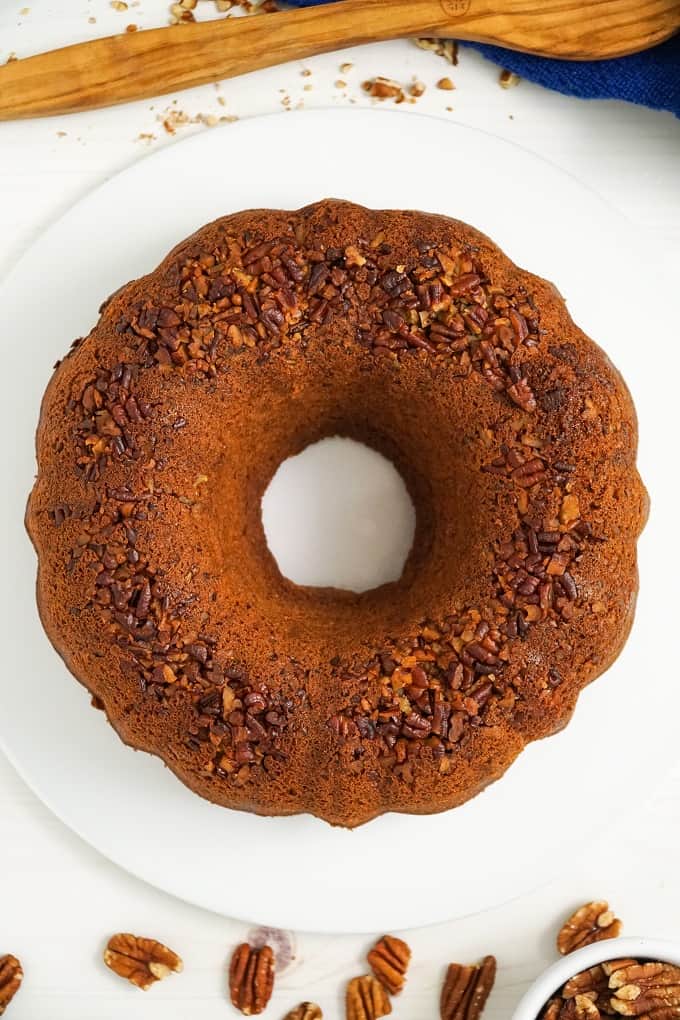 Once your cake is baked and a toothpick or cake tester placed in the center comes out clean let the cake rest for 10-15 minutes, then remove it from the pan and allow it to cool completely on a wire rack. Look at those wonderful chopped pecans on the top of the cake!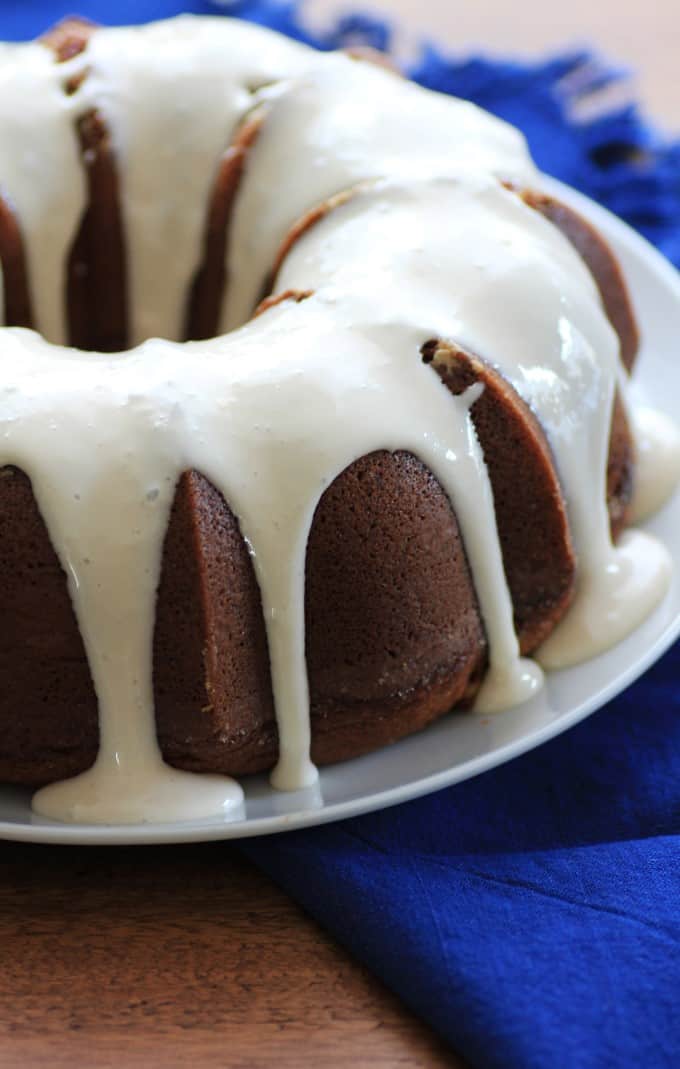 Then you will want to add that scrumptious cream cheese frosting!! When you are ready to serve your creation prepare the icing by mixing the cream cheese, powdered sugar, milk, and vanilla extract together. Drizzle over the cake allowing it to run down the sides and into the middle of the cake.
When I first made it I nervously cut into it to see the interior and could have jumped for joy!! I was so happy with the swirls and the moistness of the cake.
It was really the best one I have made so far. Loved the cinnamon, pecans, and cream cheese frosting. You have to try this show stopper of a cake!!
It is so moist inside and stayed moist for days!!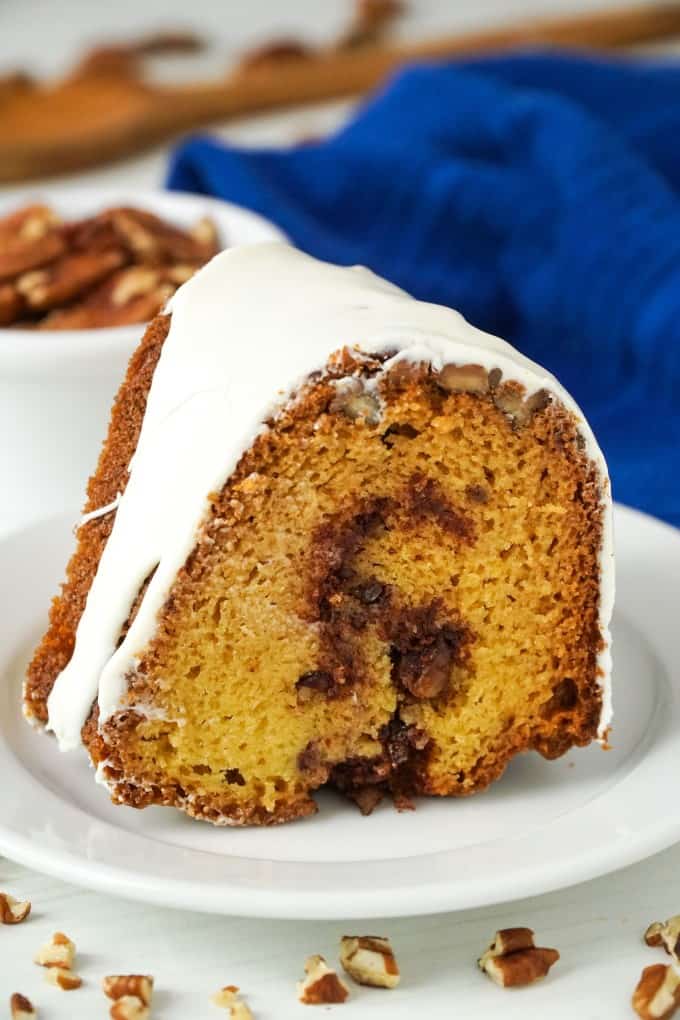 What is Bundt Bakers?
It's a group of Bundt-loving bakers who get together once a month to bake bundts with a common ingredient or theme.
Follow our Bundt Bakers Pinterest board for incredible bundt cake recipes and inspiration.
Stacy of Food Lust People Love heads up our group and has a #BundtBakers page where you can find information and links to the recipes for each month.
Read more at http://magnoliadays.com/2014/sweet-potato-pound-cake/#VLZ0s0I3ealqICpZ.99
We take turns hosting each month and choosing the theme/ingredient.
If you are a food blogger and would like to join us, just send an email to Stacy at [email protected] or ask to join our private Facebook group.https://www.facebook.com/groups/232682126893174 This is a purely administrative group. All recipes and photographs can be found on our individual blogs or our Pinterest board.
Here are some more delicious spiced bundts to try: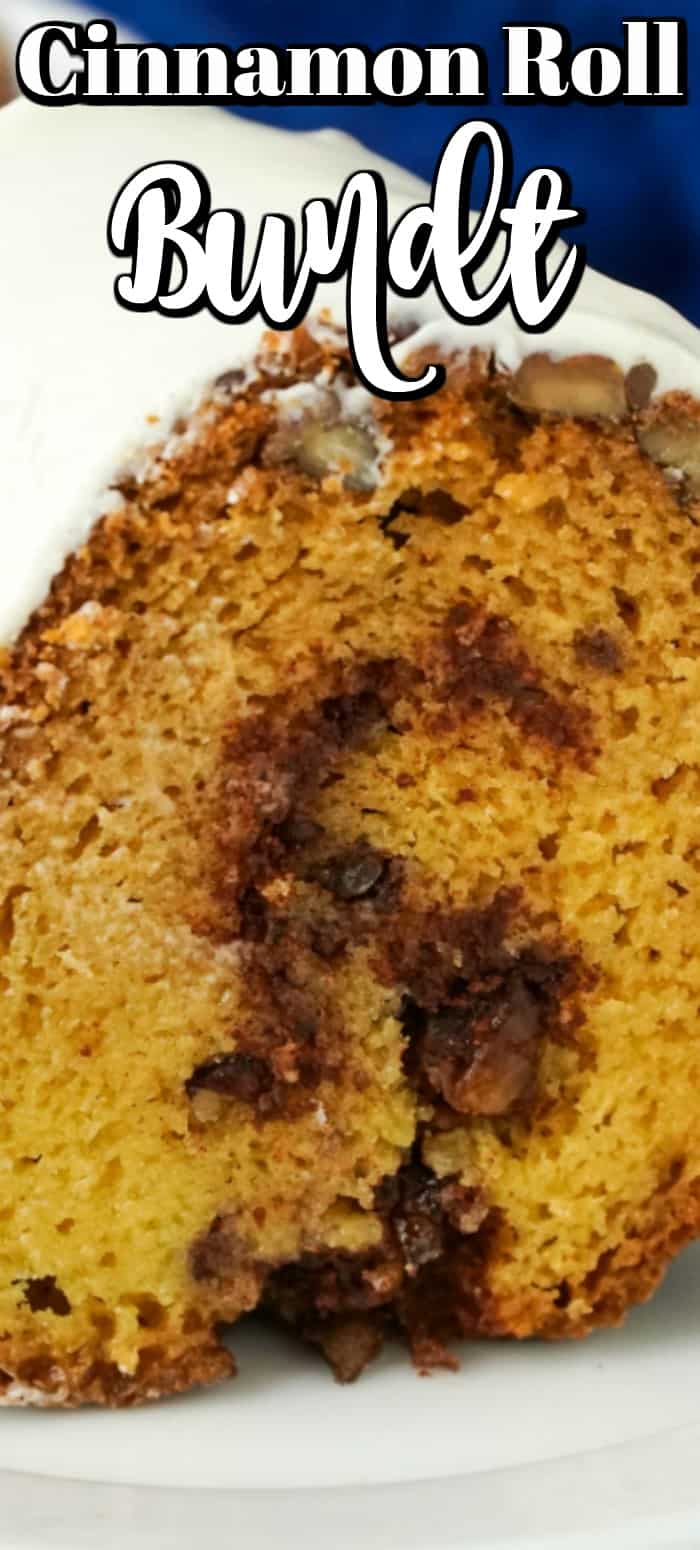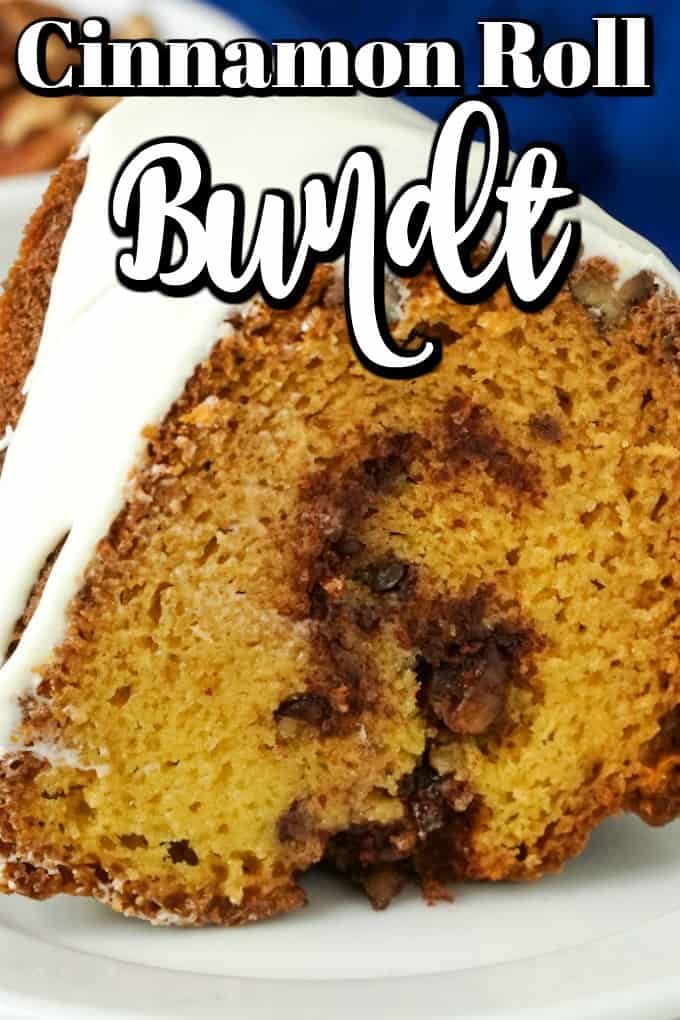 Cinnamon Roll Bundt Cake Recipe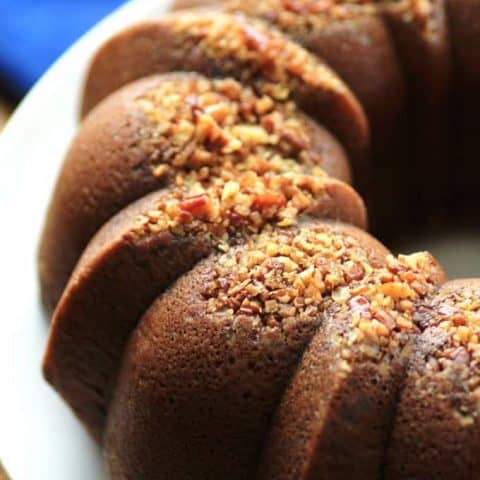 Cinnamon Roll Bundt Cake for #BundtBakers
Yield: 10-12
Prep Time: 20 minutes
Cook Time: 1 hour
Total Time: 1 hour 20 minutes
A bundt cake that tastes just like a delicious homemade cinnamon roll!! This recipe is fun to make, to serve and to eat!! With a moist inside, a crunchy top, luscious cream cheese frosting and a surprise inside swirl, this bundt cake has it all!!
Ingredients
Bundt
½ cup butter softened
1¼ cup sugar
3 eggs
2¼ cup flour
2 tsp. baking soda
½ tsp. salt
1- (5 oz.) 153 gm. package instant vanilla pudding mix (4 serving size)
½ cup sour cream
1 cup milk
1 tsp. vanilla
⅓ cup chopped pecans
Swirl
⅔ cup chopped pecans
1 Tbsp. cinnamon
½ cup butter softened
1 Tbsp. flour
Cream Cheese Glaze
4 oz. cream cheese
2 cups icing sugar (confectioner's sugar, powdered sugar)
2-3 tbsp. milk
1 tsp. vanilla extract
Instructions
Preheat oven to 350F. Spray a bundt pan with cooking spray and flour the inside. Spread the ⅓ cup pecans on the bottom of the pan and set aside. Whisk together the flour, baking soda, salt and pudding mix. Set aside.
In a standup mixer beat together the butter and sugar until fluffy. Add the eggs one at a time and mix well. Add the flour alternatively with the sour cream and milk mixed with the vanilla, and ending with the flour. Beat well for 2 min.
Mix the swirl ingredients together. Pour half the cake batter into the prepared bundt pan, take half the swirl mixture and with your hands drop small pieces all around the center of the batter, connecting the filling like a ring in the middle. Pour the remaining batter in and top with the rest of the swirl mixture, pressing it into the batter slightly again making a ring in the middle of the batter. Bake for 50-60 min. or until a cake tester comes out clean. Let cool for 10-15 min. Then carefully place on a cooling rack to cool completely. The cake is so moist it can be made a day ahead of time, wrapped with foil.
When ready to serve. Whip together the cream cheese glaze by creaming the cream cheese until softened, slowly add the icing sugar and vanilla. Add enough milk for desired consistency. Beat for 3-4 min. on high to remove any lumps. Pour over cake and serve.
Nutrition Information:
Yield: 12
Serving Size: 1
Amount Per Serving:
Calories: 526
Total Fat: 29g
Saturated Fat: 14g
Trans Fat: 1g
Unsaturated Fat: 13g
Cholesterol: 105mg
Sodium: 494mg
Carbohydrates: 62g
Fiber: 2g
Sugar: 40g
Protein: 7g