Do you love Cinnamon Rolls as much as I do? They are one of my favorite indulgences and I love it when they are fresh, full of cinnamon flavor, mile high, and loaded with delicious cream cheese icing. Well, Ken made these and they sure fit the bill for everything that I love. So today, I am excited to bring you Copycat Cinnabon Cinnamon Rolls.
There's nothing like the smell of cinnamon rolls from the oven – have you ever stopped dead in your tracks in the mall when you walk past that delicious smell when Cinnabon cinnamon rolls are baking or they're straight out of the oven? Also for something different try our Lemon Sweet Rolls. You will go crazy over these too.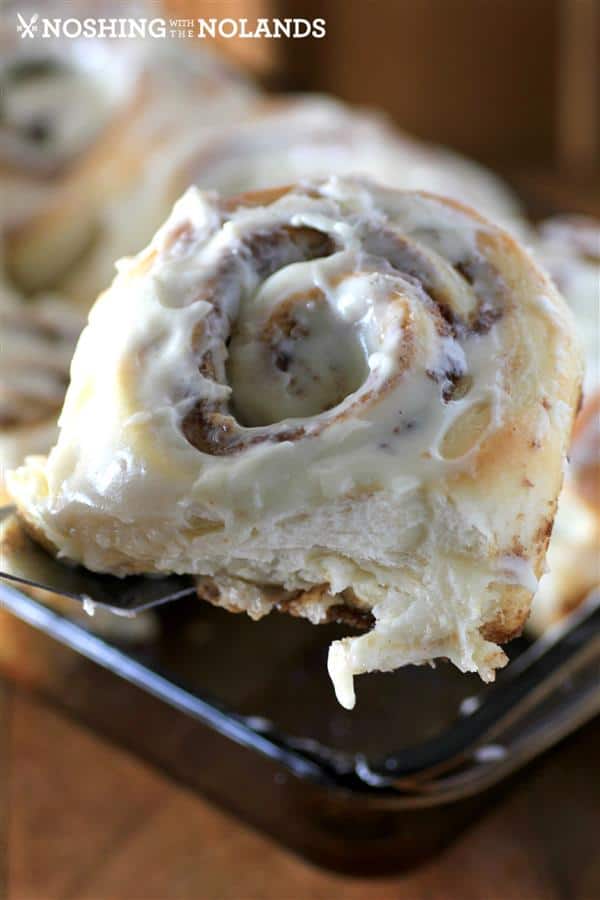 Helpful Items for This Recipe
This post contains affiliate links.
Watching the icing melt on the still-warm cinnamon rolls is one of life's greatest pleasures. But, the cinnamon buns from the mall can be big and they cost a pretty penny. Why not try this recipe for homemade cinnamon rolls that taste just like Cinnabon Cinnamon Rolls but are made from scratch with quality ingredients and come out of your oven perfectly golden brown ready to frost?
Once you see how easy these are to make and how amazing they taste, you won't ever be tempted by the Pillsbury make at-home cinnamon buns again! I can't promise that the smell in the food court won't be tempting, but knowing you can make these at home is a good reason not to buy any!
Everything you dreamed of in a perfect cinnamon roll and made fresh at home. There is nothing like the smell of fresh bread baking!!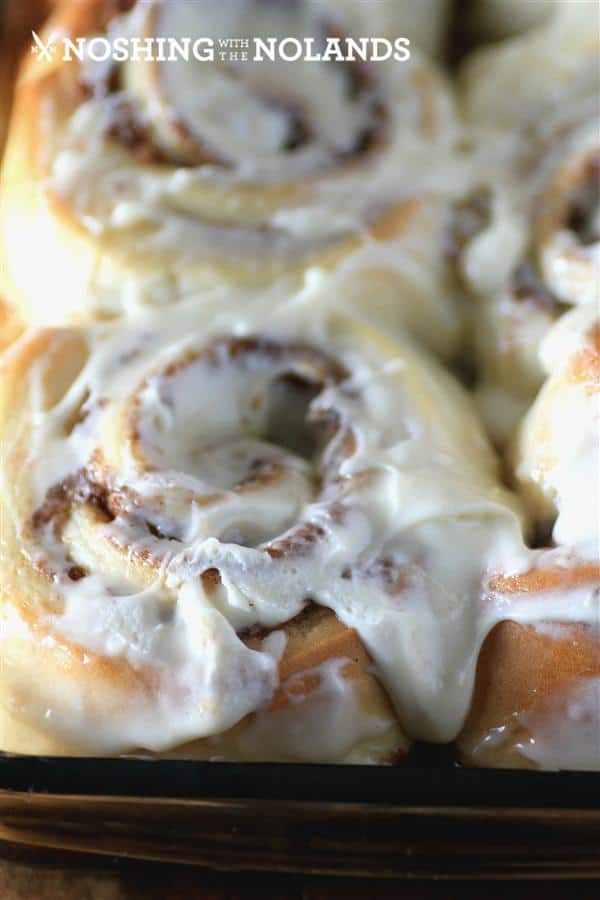 We have made cinnamon rolls before but never quite this big and beautiful. These were outstanding and really not that difficult to make considering the end result is this deliciousness! If you want to make mini rolls (and get more of them in a batch) you can do that too, but these big beautiful rolls don't last long in our house!
We made these when we were having Ken's cousin over for brunch. They were thoroughly enjoyed by all. They make a great treat from morning until night, from breakfast right through to dessert!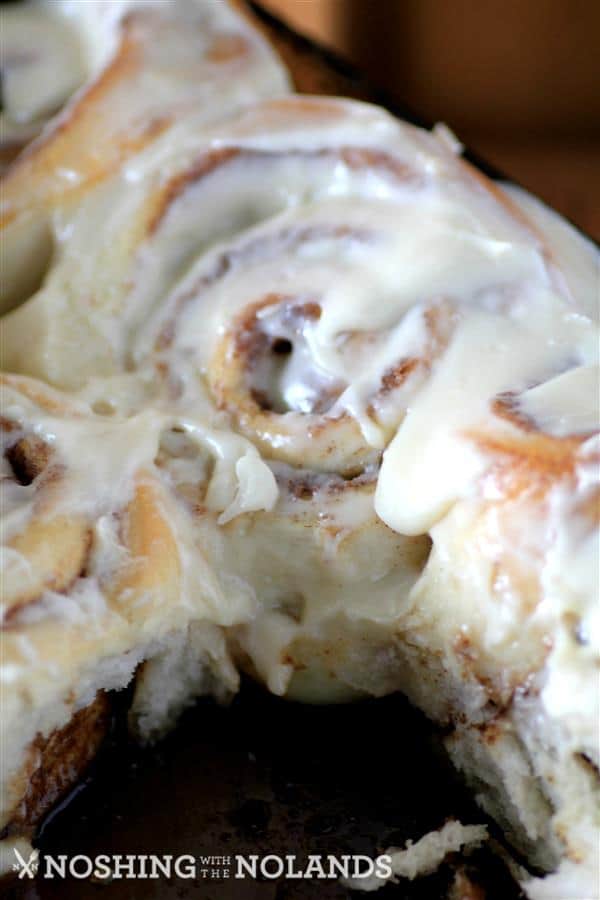 The recipe makes the perfect amount of 12 scrumptious rolls. Enough to share at any meal and some leftovers for gifts too!
How to Make Cinnabon Cinnamon Rolls at Home Recipe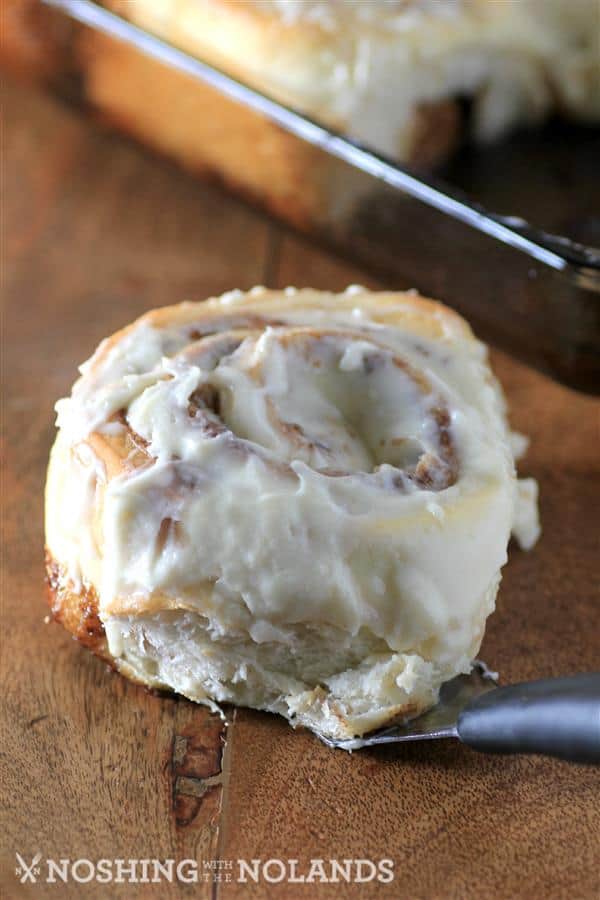 Notes:
While I use a stand mixer for this, you can make it by kneading it by hand if you don't have a stand mixer. Mix it in a bowl with a spoon for as long as you can. Then knead with your hands until all the flour is incorporated into the dough. The dough should be tacky to the touch when it's ready. The advantage of kneading by hand is that you'll be able to tell when it's fully mixed by how it feels in your hands.
You want to use warm water – it should be a few degrees above room temperature but not hot – and mix it with ½ cup of sugar. The warm water helps the sugar dissolve more quickly than room temperature or cold water. Sprinkle the active dry yeast over the water and sugar mixture – it needs to go on top and work down – if you put it in first it may need to be stirred to fully activate.
Make sure you have a light dusting of flour on your work surface whenever you're rolling out or kneading the dough. When the dough is worked it gets stickier so the flour stops it from sticking to the surface you're using. I recommend plastic cutting boards (that are only used for dough) or a silicone mat to knead the dough. You can use your (clean!) countertop to roll the dough if you want.
Put the Cinnabon recipe in a baking dish or baking pan that will hold them all or as we do two 8×11″ pans. They need room to rise!!
Hints:
You want to put your dough in a warm spot in your kitchen but not in direct sunlight or over a heating vent – that can make it too warm. Don't attach the plastic wrap to the bowl – the dough is going to expand so it needs room to do so.
Use a light kitchen towel – if it's too heavy it can make it harder for the dough to rise. Be careful not to let it rise too much – it should be roughly doubled in size.
Finally, make sure to do the icing in stages – half about 5 minutes after the buns come out of the oven and then the other half when they're cool. This is because the first half melts down into the buns (oh so good!) so you want the second half to stay on the top!
Enjoy!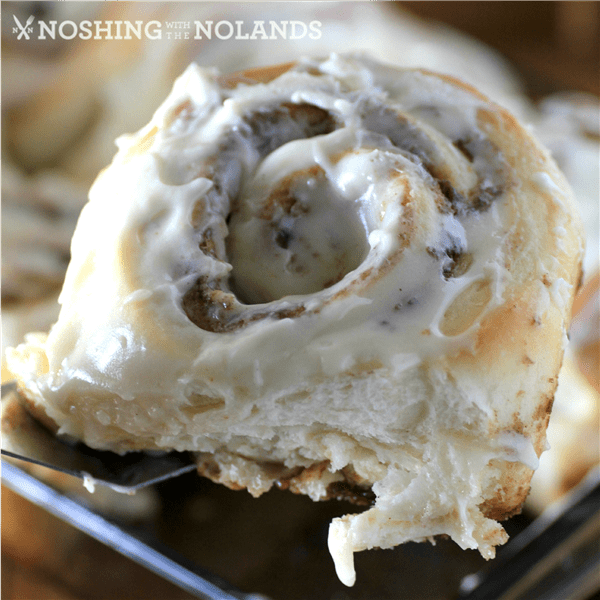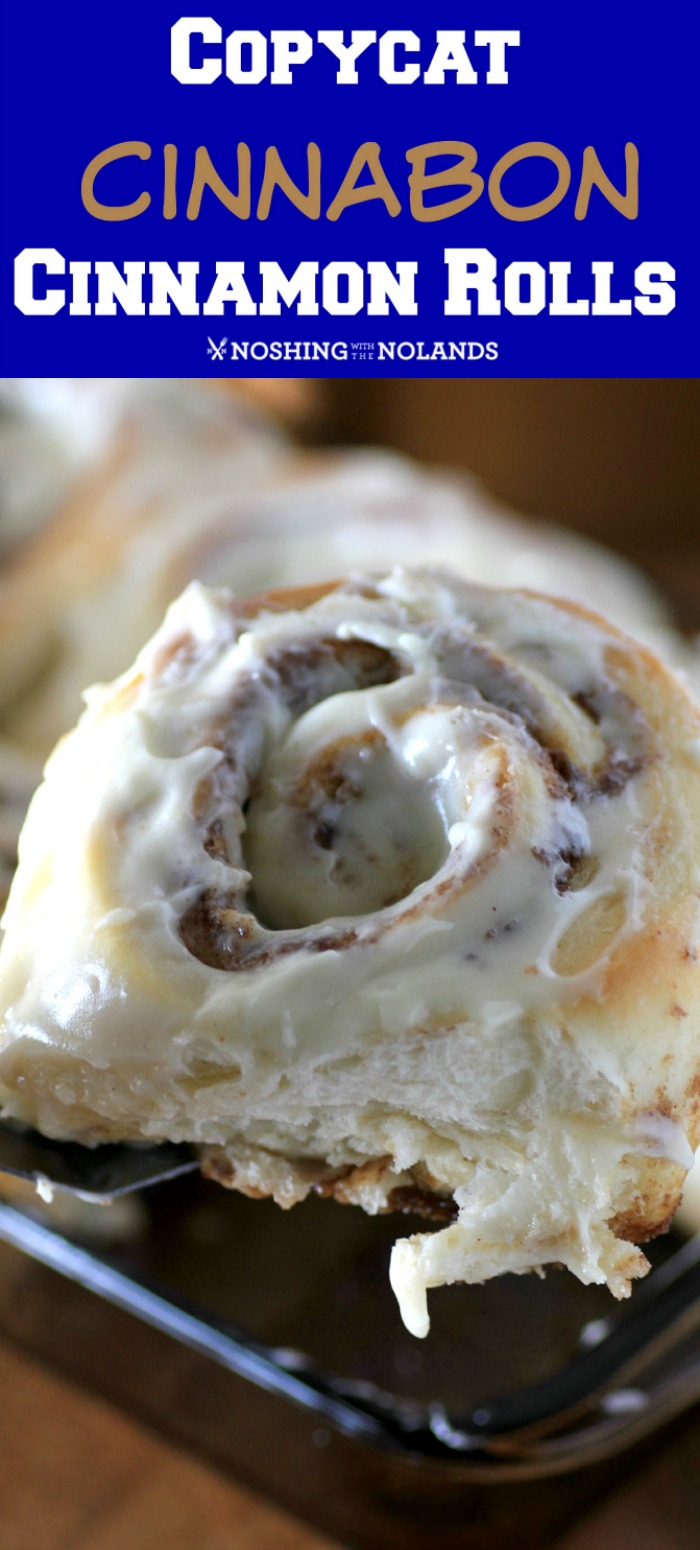 Copycat Cinnabon Cinnamon Rolls Recipe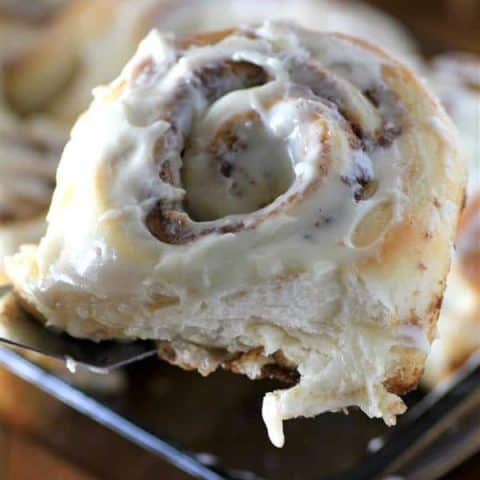 Copycat Cinnabon Cinnamon Rolls
Yield: 12 Rolls
Prep Time: 25 minutes
Cook Time: 20 minutes
Additional Time: 2 hours
Total Time: 2 hours 45 minutes
Copycat Cinnabon Cinnamon Rolls are everything you dreamed of in a perfect cinnamon roll and made fresh at home.
Ingredients
Dough
2 1/2 tsp. active dry yeast
1/2 cup warm water
1/2 cup sugar
3/4 cup warm homogenized milk
2 large eggs
7 Tbsp. butter, divided
5 1/2 - 6 cups flour
Filling
1/2 cup butter, softened
1 1/2 cups packed light brown sugar
2 1/2 Tbsp. cinnamon
1 1/2 tsp. cornstarch
Icing
4 oz. light cream cheese, softened
1/4 cup butter, softened
1 cup icing (confectioners) sugar
1/2 Tbsp. fresh lemon juice
1 tsp. vanilla extract
Pinch of salt
Instructions
In a bowl of a standup mixer, fitted with a dough hook pour water and sugar in, sprinkle yeast over top, and stir. Let stand for 5-10 min. until the mixture becomes foamy.
Meanwhile, melt 6 Tbsp. of butter in a microwave-safe bowl, set aside to cool.
When the yeast mixture is ready add the milk, eggs, and 6 Tbsp. melted butter. Mix on low adding in 4 cups of flour, one cup at a time. Now add in the remaining flour slowly until the dough becomes a ball. Knead on medium-high for 5 min. The dough should be tacky but not sticky.
Lightly dust a work surface take the dough out and knead a few times by hand.
Add the last Tbsp. of butter to a large bowl and microwave. Place dough into a bowl and then turn over to coat with the butter. Cover loosely with plastic wrap and drape over a towel. Set the bowl in a warm spot in the kitchen and let the dough rise until doubled about 60-90 min.
While the dough is rising mix together the brown sugar, cinnamon, and cornstarch for the filling and set aside.
When the dough is ready turn it onto a lightly floured work surface. Knead the dough a few times and then roll it out into an 18"x 24" wide rectangle. Spread on the 1/2 cup softened butter. Leave a 1" border around the edge.
Sprinkle the dough with the brown sugar mixture and press in with a rolling pin. Now take the top long end and roll towards yourself. Run a bead of water on the last 1" of dough to seal. Cut the dough in half and then each half in halves, you will now have 4 pieces. Cut each of the four pieces into thirds. You will have 12 rolls now.
Grease two 8x11" pans and 6 place rolls swirl side up into each pan. Place end pieces upside down. Again, loosely cover with plastic wrap and drape with a kitchen towel. Let stand in a warm spot in the kitchen and let rise until doubled about 60-90 min.
Preheat oven to 350F. Bake for 20 min. or until golden brown and cooked through. Rotate pans halfway.
While the rolls are baking make the icing. In a clean bowl of a standup mixer add in the butter and cream cheese and beat until light and fluffy. Add the rest of the ingredients and continue to beat for another 3-5 min. Set aside.
When the rolls are baked let cool for 5 min. then spread on 1/2 the icing. Let cool further and spread on the additional icing.
Recommended Products
As an Amazon Associate and member of other affiliate programs, I earn from qualifying purchases.
Nutrition Information:
Yield: 12
Serving Size: 1
Amount Per Serving:
Calories: 1689
Total Fat: 29g
Saturated Fat: 15g
Trans Fat: 1g
Unsaturated Fat: 11g
Cholesterol: 86mg
Sodium: 274mg
Carbohydrates: 314g
Fiber: 11g
Sugar: 48g
Protein: 39g
Recipe adapted from
The Slow Roasted Italian