These Lemon Cranberry Bars are a perfect balance of sweet and tart. With a brownie consistency, the flavors are delightful and it makes a lovely holiday treat.
Maybe you've tried these Rhubarb Dream Bars and Lemon Pie Bars, and it's time for something new and festive with the holidays just around the corner. These cranberry bars with lemon accents will do the trick.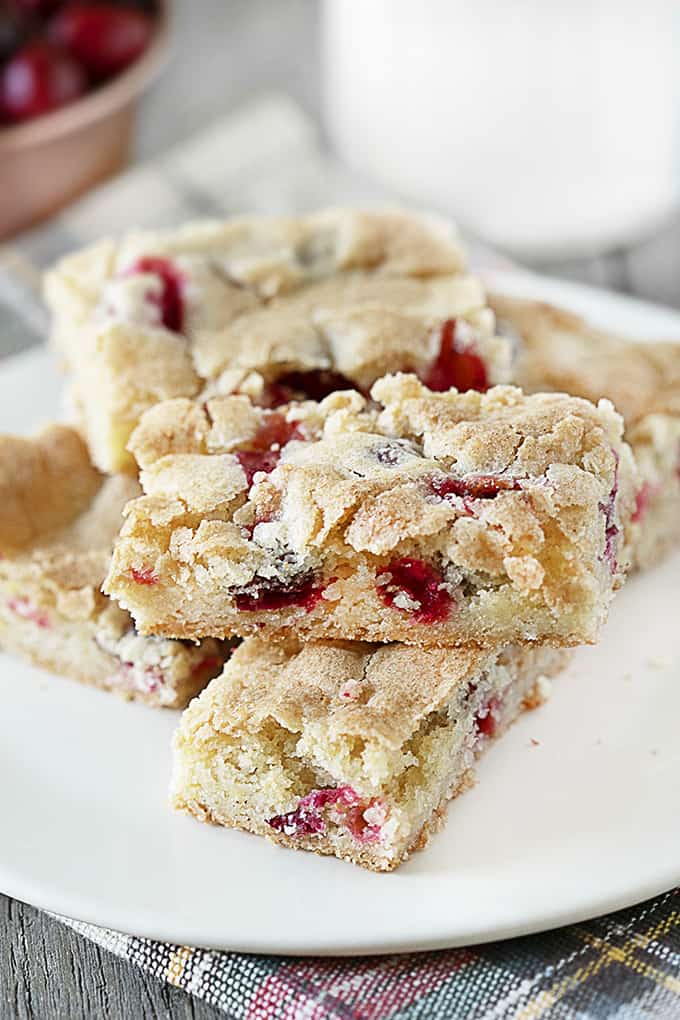 To be honest with you, this was a new flavor combination for me. However, it truly gave my taste buds a run for their money. And that is no exaggeration. It was delicious and my family kept asking if they could have more.
I'm baaaaack. Hey friends, it's Kelly here again. Just in case we haven't met, I'm the creator and writer behind the blog, Live Laugh Rowe. We like to celebrate food, life and all things creative.
Before we deep dive into the post, I thought I'd share a couple of my favorite bar recipes. Like these Pecan Pie Bars that my husband and I devoured. Oh my goodness, so good.
And on a lighter note, these Skinny Lemon Bars are packed with that lemony zing. The shortbread crust elevates each bite. I might just have to make these again soon (wink-wink).
Back to the recipe. So, the extent to me using dried cranberries consisted of adding them to my chicken salad. Insert facepalm. And fresh cranberries? Well, they only made an appearance in my home as vase fillers at Christmas.
Cranberry sauce is something that I've never tried and probably never will. The consistency tends to keep me at bay.
Sweet, Tart, and Festive Dessert Bar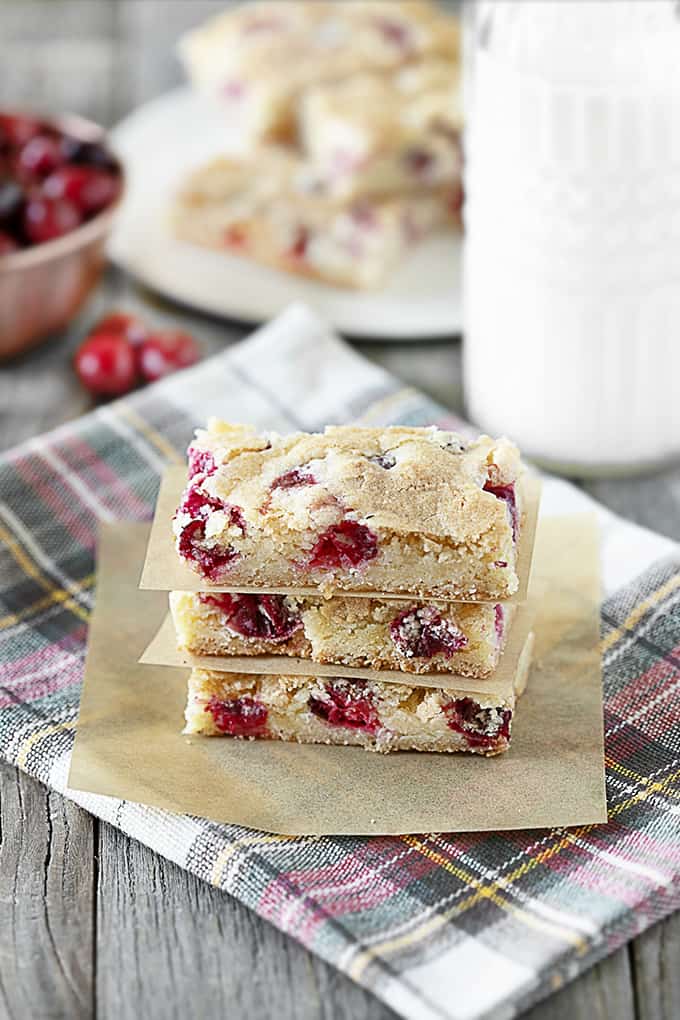 So yet again, I challenged myself to something new. We'll see what you think.
I did a little hunting on different versions of this recipe — some added white chocolate chips, coconut flakes, chopped pecans, chopped walnuts, brown sugar, etc.
Sticking with something a little more basic (and easy) was my goal. Plus, I really wanted the lemon and cranberry to be the star of the show.
While I may not have used a lot of extras, feel free to tweak the recipe to your liking. We'd love to hear what you do — so let us know in the comments below.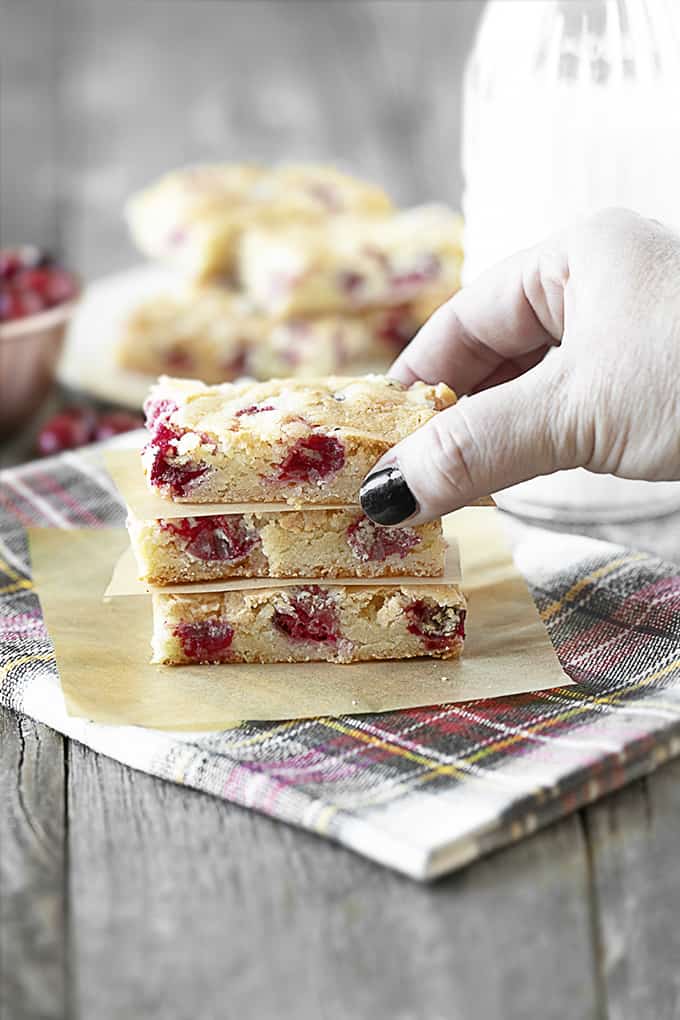 Can I bake with fresh cranberries?
Baking with fresh cranberries will give your recipe a juicy and tart flavor. A simple rinse and add them to your ingredients.
When I went to make these, I stared at the bag of fresh cranberries in fear that I was going to do something wrong. I just kept thinking that it couldn't be as easy as adding them to the dough. Nevertheless, it was "that" easy.
These cranberry bars proved me wrong, they're incredibly easy to use in recipes — and add some amazing flavor.
In fact, I don't think this recipe would taste quite the same without the fresh cranberries, frozen cranberries would work too though.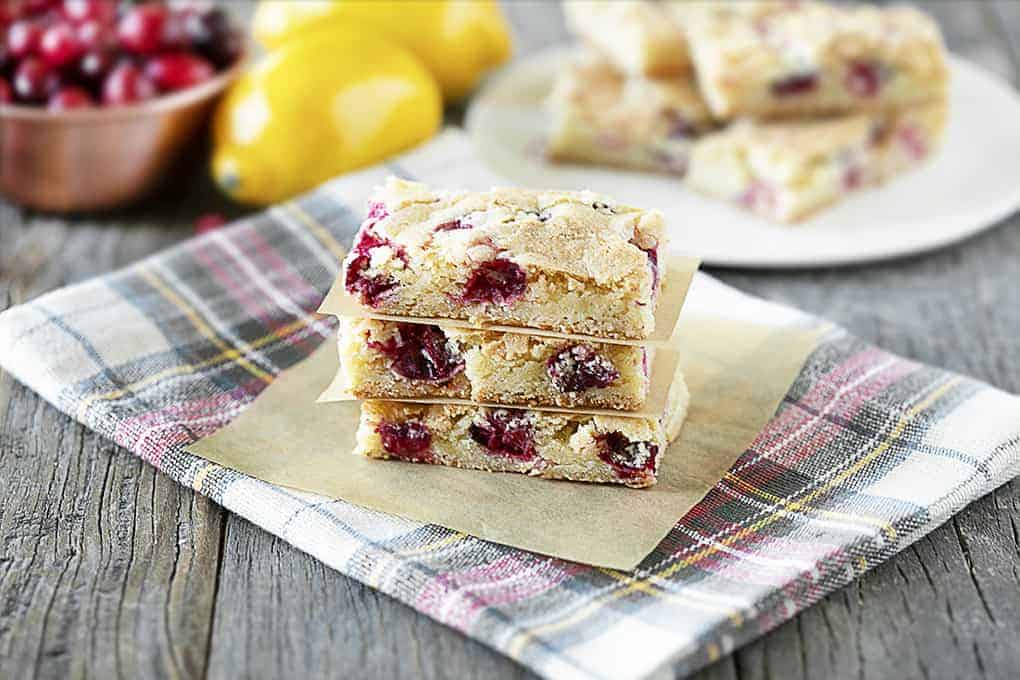 Making Lemon Cranberry Bars
Let's dive into making this deliciousness. Grab your mixer, a 9×13 pan, and your ingredients. I think you'll be pleasantly surprised at how easy it is to pull this recipe together.
Simple ingredients with great results are always key to a successful recipe in my mind.
Preheat oven to 350 F. Then the ingredients come together quickly first beating in a medium bowl the sugar with the butter and lemon zest until fluffy. Next, add the eggs and lemon extract instead of lemon juice.
The dry ingredients are second to last with the cranberries being folded in at the end. Scoop this into a prepared baking pan and bake for about 35 minutes until light brown on the edges and top.
After the bars have been baked let them cool completely and then you can dust them with powdered sugar before serving if you like.
This is a great recipe that everyone will love. Plus, these bars have a great cranberry lemon flavor that so many enjoy for the holidays. Enjoy and Happy Holidays!!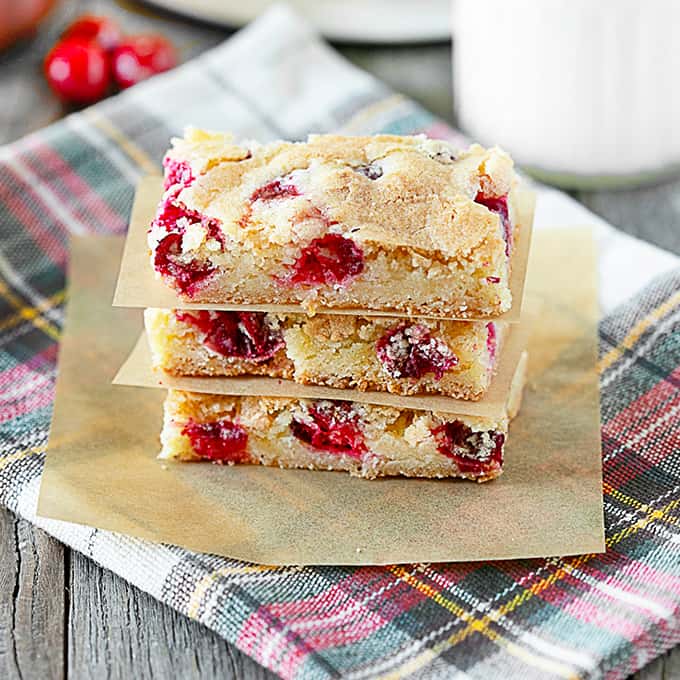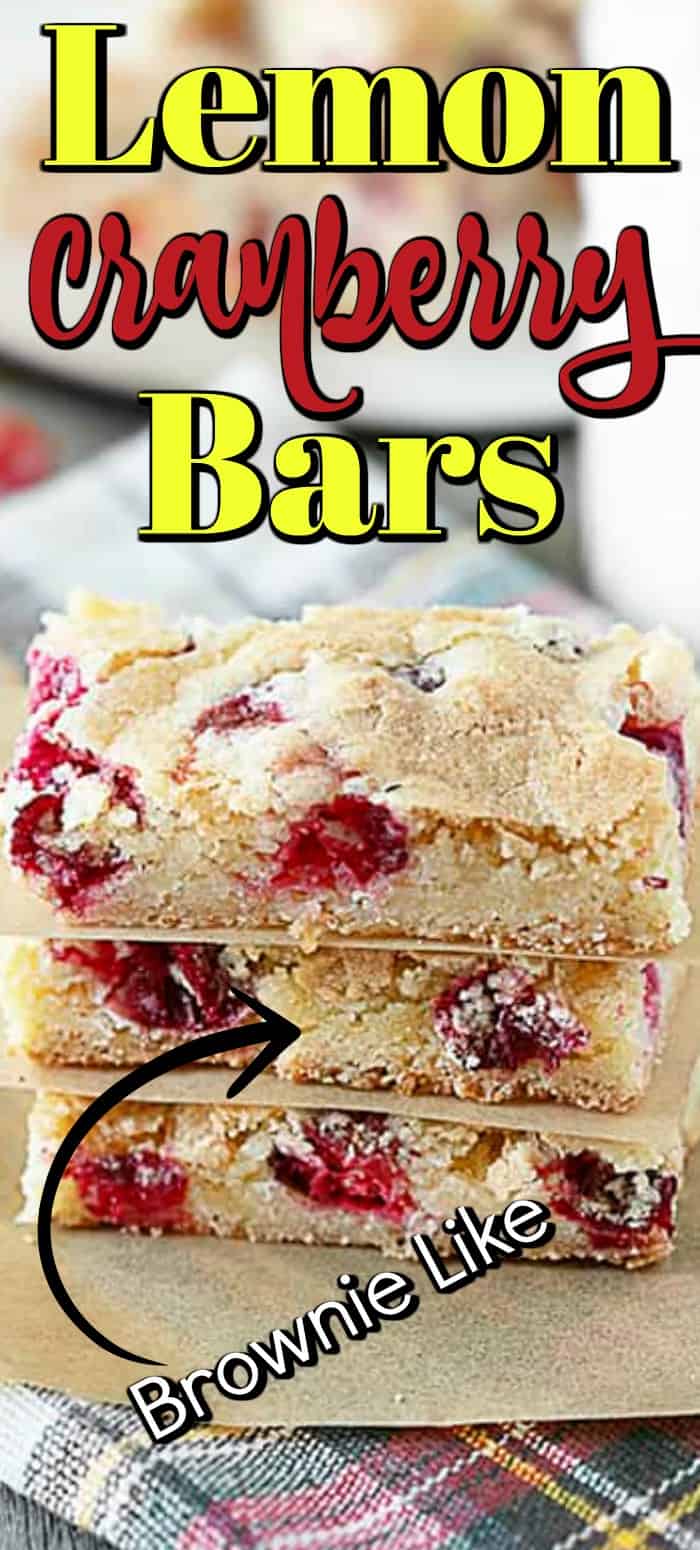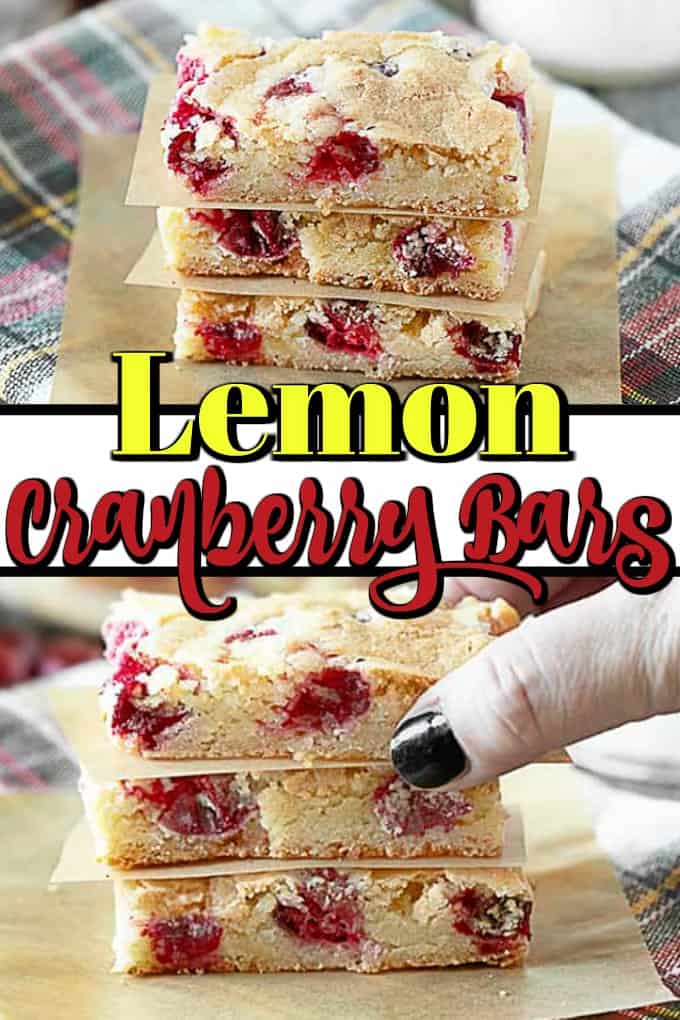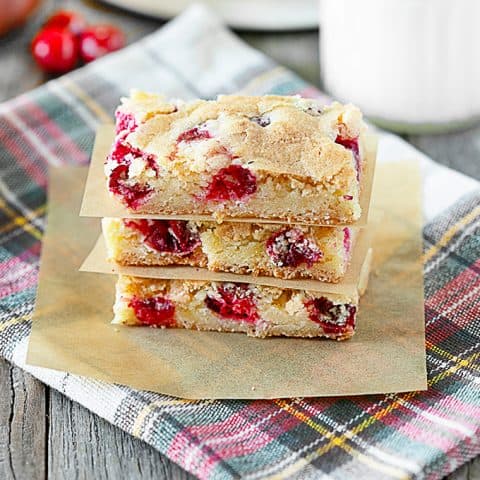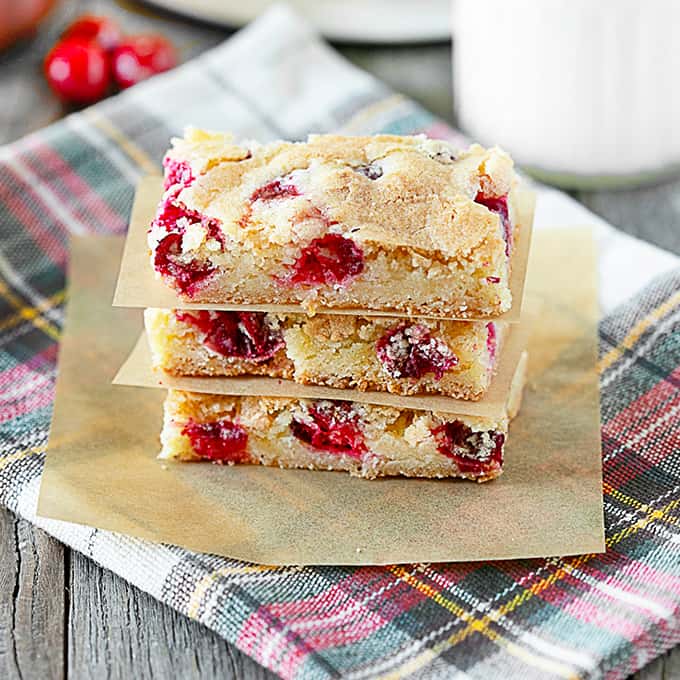 Lemon Cranberry Bars
Yield: 25-30 Bars
Prep Time: 10 minutes
Cook Time: 40 minutes
Total Time: 50 minutes
Lemon cranberry bars with a perfect balance of sweet and tart. Delicious flavors with a brownie consistency -- they make a delicious holiday treat.
Ingredients
2 eggs, room temperature
1/2 cup salted butter, room temperature
1 1/2 cups granulated sugar
1 teaspoon lemon extract
Zest from 2 lemons
1 1/2 cups all-purpose flour
1 teaspoon baking powder
1/2 teaspoon salt
1 cup fresh cranberries (up to 2 cups will work as well)
Powdered sugar for dusting, optional
Instructions
Preheat oven to 350°F and line a 9x13" pan with parchment paper. You can also grease the pan if you prefer. However, the parchment paper will make it much easier to remove the bars from the pan.
Using a mixer, beat together the granulated sugar, butter and lemon zest until it appears light and fluffy. Add eggs and lemon extract and beat well. Be sure to scrape down the sides of the bowl as needed.
Add dry ingredients and mix until just combined. Fold in cranberries.
Spoon dough into prepared pan and press it down as best as you can to ensure that it covers the pan in its entirety. If you use your hands, be sure to grease them well due to the sticky consistency of the dough. It won't look perfect but will bake together nicely.
Bake 35-40 minutes. Mine baked for 35 minutes in a gas stove. The edges and top will have some light browning.
Allow to cool completely. Remove parchment paper and bars from pan. Peel away the parchment paper and dust with powdered sugar (optional)
Cut into bars and serve.
Recommended Products
As an Amazon Associate and member of other affiliate programs, I earn from qualifying purchases.
Nutrition Information:
Yield: 30
Serving Size: 1
Amount Per Serving:
Calories: 112
Total Fat: 3g
Saturated Fat: 2g
Trans Fat: 0g
Unsaturated Fat: 1g
Cholesterol: 21mg
Sodium: 81mg
Carbohydrates: 20g
Fiber: 0g
Sugar: 14g
Protein: 1g
Recipe calculation was provided by Nutritionix and is an estimation only. If you need nutritional calculations for medical reasons, please use a source that you trust.