Little Potato Galette
Disclosure: I was compensated for this post by The Little Potato Company. All opinions and experiences are my own.
I love a galette and Little potatoes, also known as Creamer potatoes, are so simple and delicious to add to a dish like this. A Little Potato Galette is great as an appetizer or a side dish or even as a main course. It can be made ahead and then popped into the oven to reheat when ready to serve.
A very practical and elegant looking dish that really is fairly simple to make using the gorgeous Terrific Trio blend of Creamer potatoes from The Little Potato Company.
The galette was fun to make but best of all it was amazingly delicious. Crispy on the outside with wonderfully soft potatoes and leeks all atop of a cheesy layer bursting with flavor. This will make the perfect holiday dish or simply can be enjoyed at any time of the year.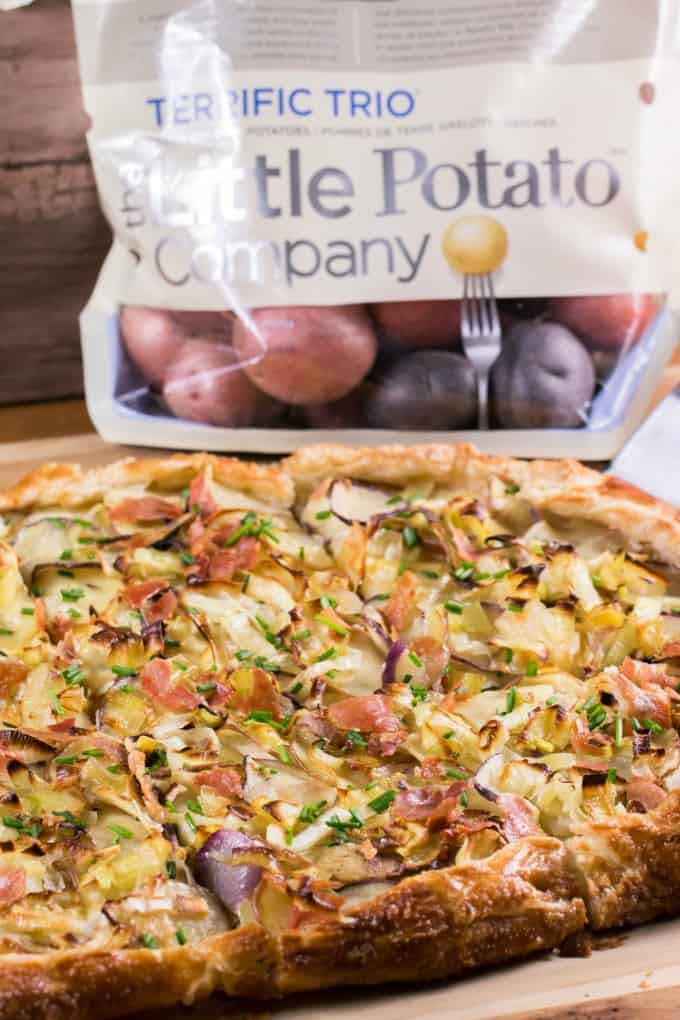 Using the multi-colored Terrific Trio potatoes from The Little Potato Company gives the galette little bursts of color. These Creamer potatoes are great with their unique flavor profiles.
The yellow Creamer potato is smooth and buttery. The red has a sweet, earthy taste and the blue Creamer potato surprises with deep purple skin and yellow flesh. It has a pronounced potato flavor and a hint of minerality.
They are the perfect combination for this recipe, giving each bite just a slightly different flavor and color. They are superb in a recipe like this but also great grilled or boiled.
What is Potato Galette?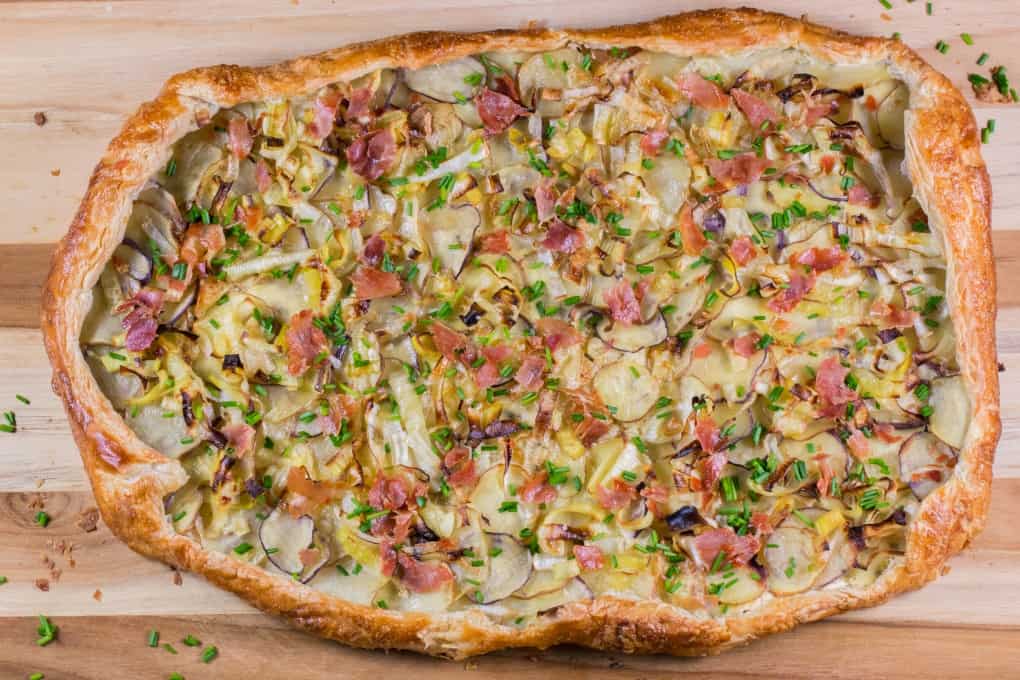 A galette is a French pastry like a tart or pie but it is open-faced. They can be sweet or savory in their application. A galette is very easy to make using frozen puff pastry or store-bought dough.
But be my guest to make your own dough and I can help you with How to Make the Perfect Pie Crust Recipe also.
Some potato galettes don't use pastry at all but are just layers of potatoes which are delicious also. A shredded potato galette is popular too which is like a giant hash brown. Yum!!
You can also make an individual galette that would make an amazing presentation too.
How to Make Potato Galette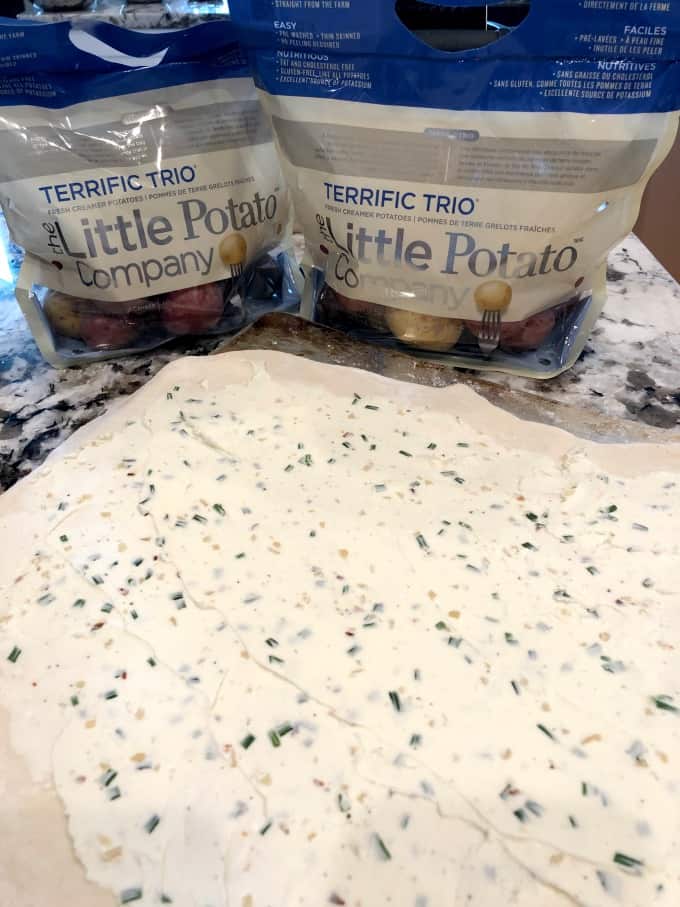 For our recipe, we used a frozen puff pastry that we had thawed and then rolled out to an 18×12″ rectangle. This fits perfectly on our baking sheet which is 16×13″. So roll yours out to fit your pan accordingly.
We mixed together goat cheese with chives, garlic and a pinch of red pepper flakes. This added a scrumptious layer of flavoring and mixing the goat cheese with heavy cream made it perfect for spreading.
Next, we will add the Little potatoes. Creamer potatoes and cheese are a winning combination.
Using a Mandolin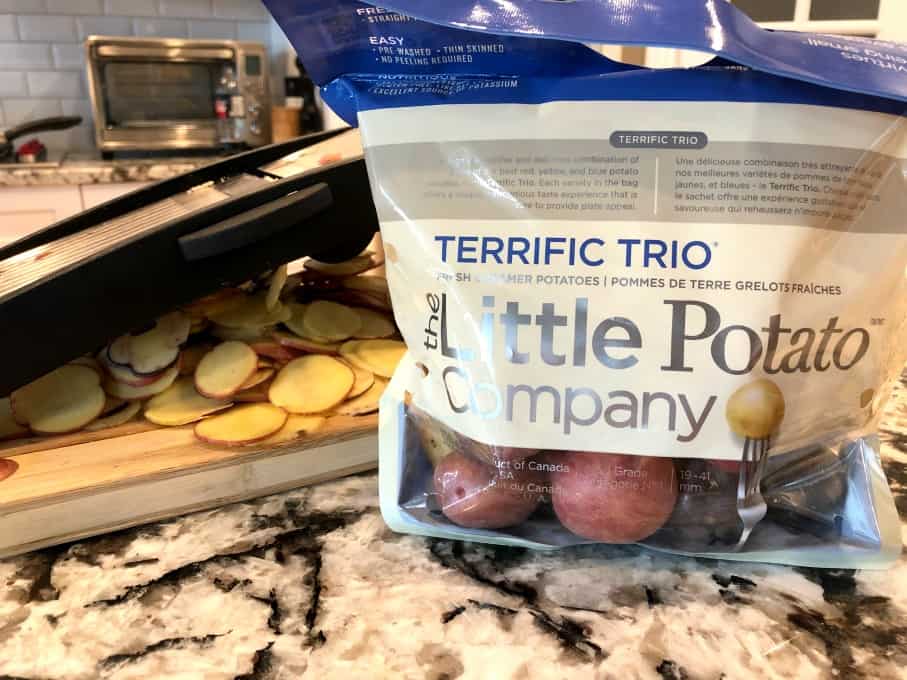 Have you used a mandolin before? They are very easy to use and give you wonderfully uniform sliced vegetables or fruit for so many dishes. Use the safeguard and you won't have any danger of being sliced.
Because these potatoes are pre-washed it saves you more time for slicing, and the skin is tender and colorful to brighten up the galette too. Make sure the potatoes are thinly sliced and then the entire dish will cook uniformly. Once the potatoes are done then you can preheat the oven.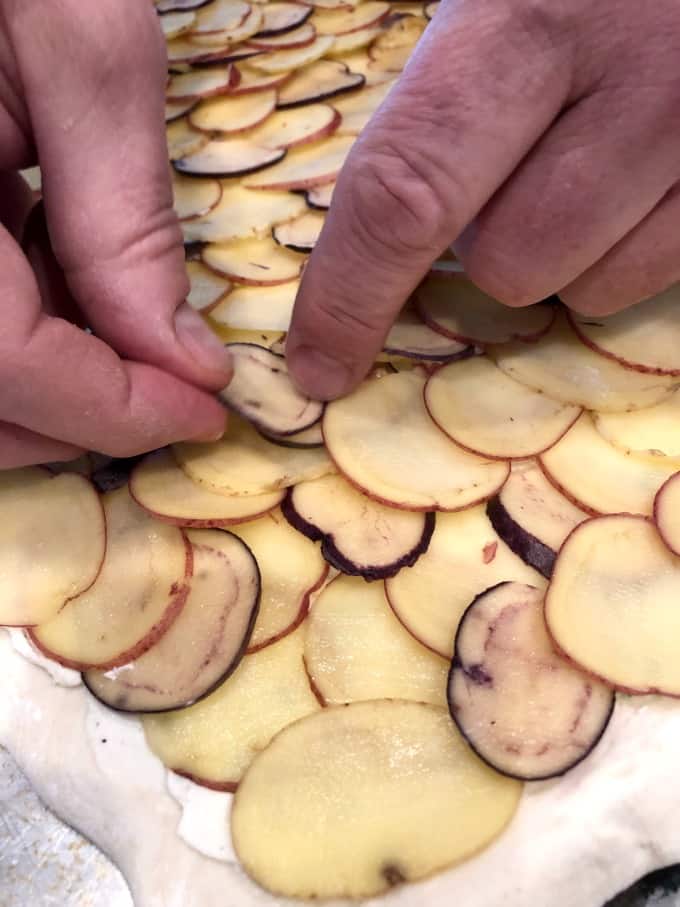 Little potatoes slice up gorgeously using a mandolin and the colorful varietals make them stand out too – the purple varietal has some interesting purple markings right through the yellow flesh of the potatoes. Just lay them out in a slightly overlapped single layer.
Leave a good 1 inch or so for a border to fold over later. If you have remaining potatoes fry them up quickly or bake them for excellent potato chips!!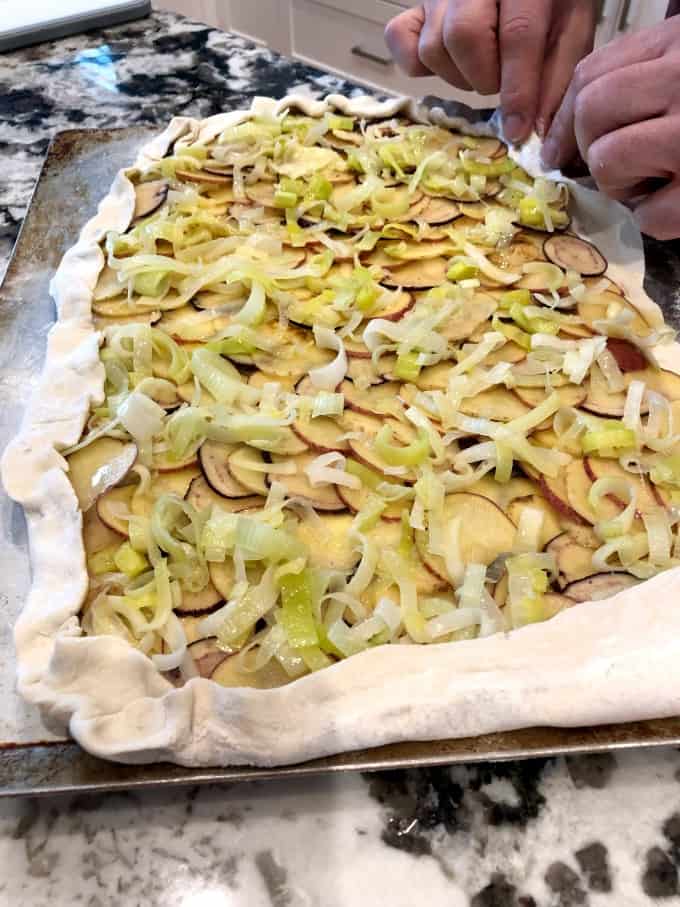 The galette is pretty even unbaked. Just turn up the edges and brush them with a beaten egg. Drizzle oil on top of the potatoes and then salt the potatoes and the crust.
Pop this into the oven and bake at 400F for about 40 minutes or until golden brown and you are ready for an amazing meal.
Can You Make a Potato Galette Ahead of Time?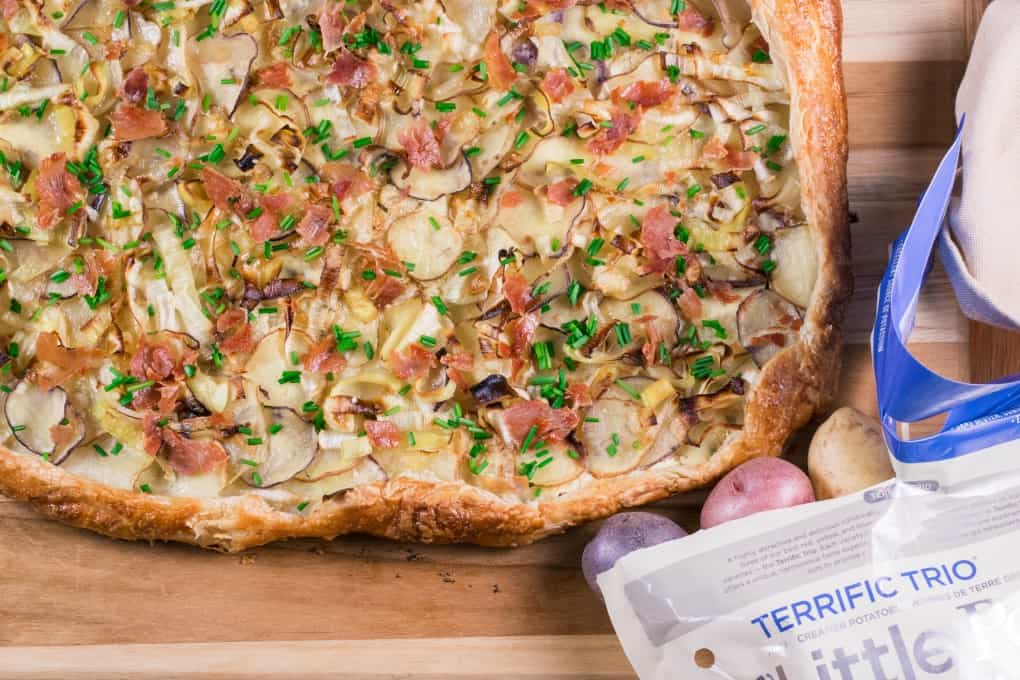 You could make it and bake it ahead of time. As long as it is cooked then the potatoes won't oxidize anymore (which means to naturally discolor. You can still eat them if they oxidize, but they don't look as nice. Just reheat in a 375F for 10-15 min. and the puff pastry will be lovely and crispy again.
This would also make a lovely, delicious lunch or brunch item for the holidays too. Certain elements of the galette could be made ahead for easy assembly. Have the puff pastry thawed and waiting for you would be the first step.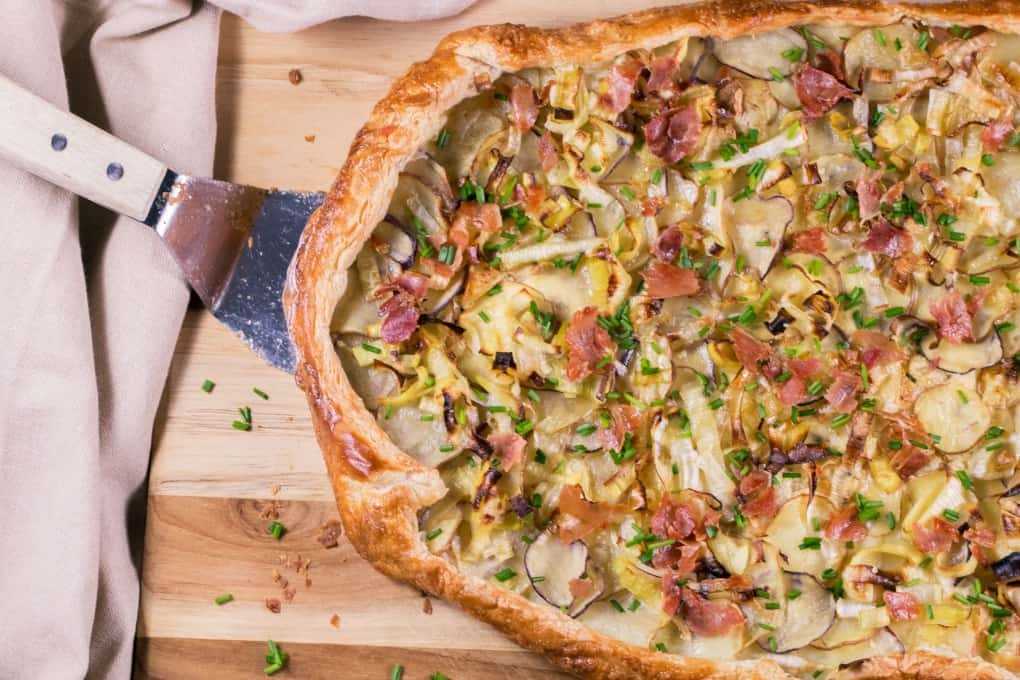 Then mix the cheese layer together. Saute the leeks in a skillet over medium heat and lightly season with salt and pepper and store them in the refrigerator. And crisp the Proscuitto and have it ready also.
You can even chop the chives. Then all you have to do is roll out the pastry and slice the Creamer potatoes and assemble. Everyone will love watching you assemble this too with much anticipation.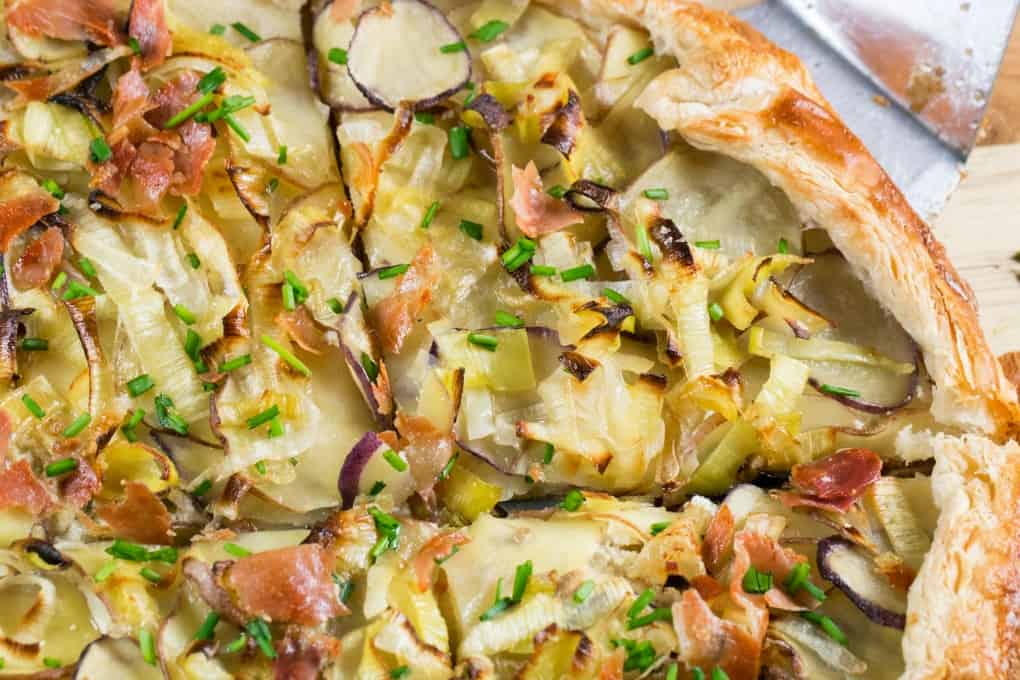 It can be cut into larger pieces like this and served as a meal, side or sliced small and served as an appetizer. We loved this recipe and gobbled it down. Amber said it smelt like perogies when it was baking and she couldn't wait to have a slice.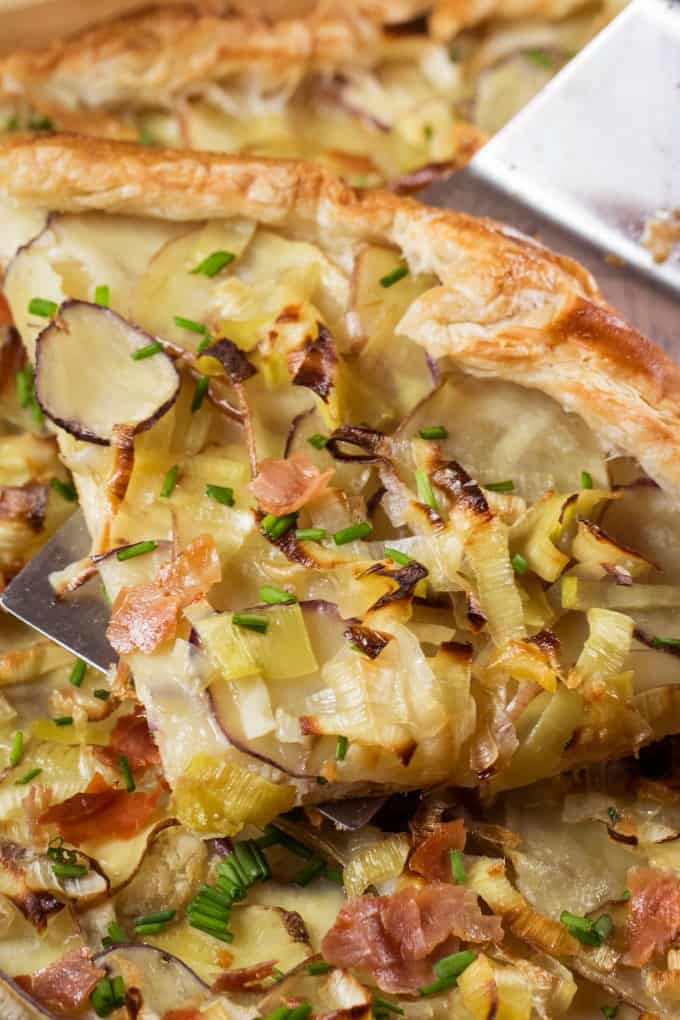 What is not to love, crispy, flakey, buttery puff pastry layered with a tangy goat cheese mixture, very thinly sliced Creamer potatoes and topped with Proscuitto, leeks, and chives!! So delish!! Enjoy this over the holidays and beyond!!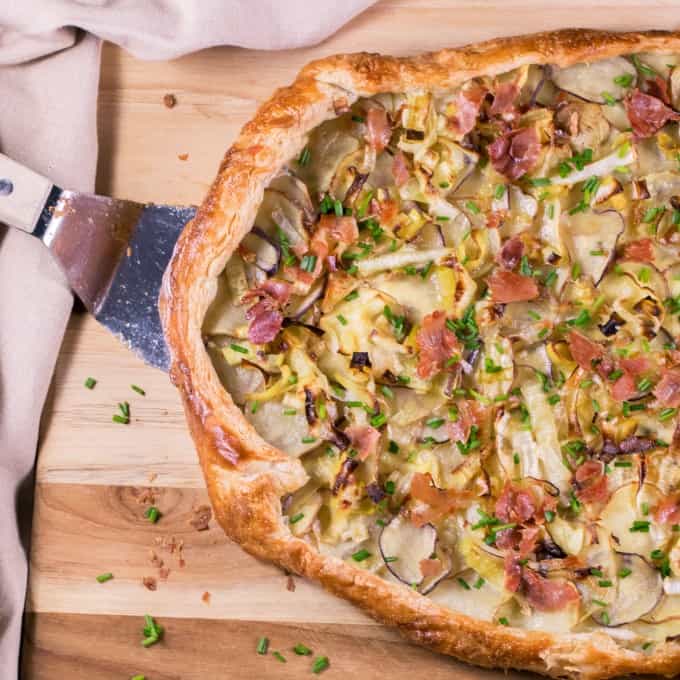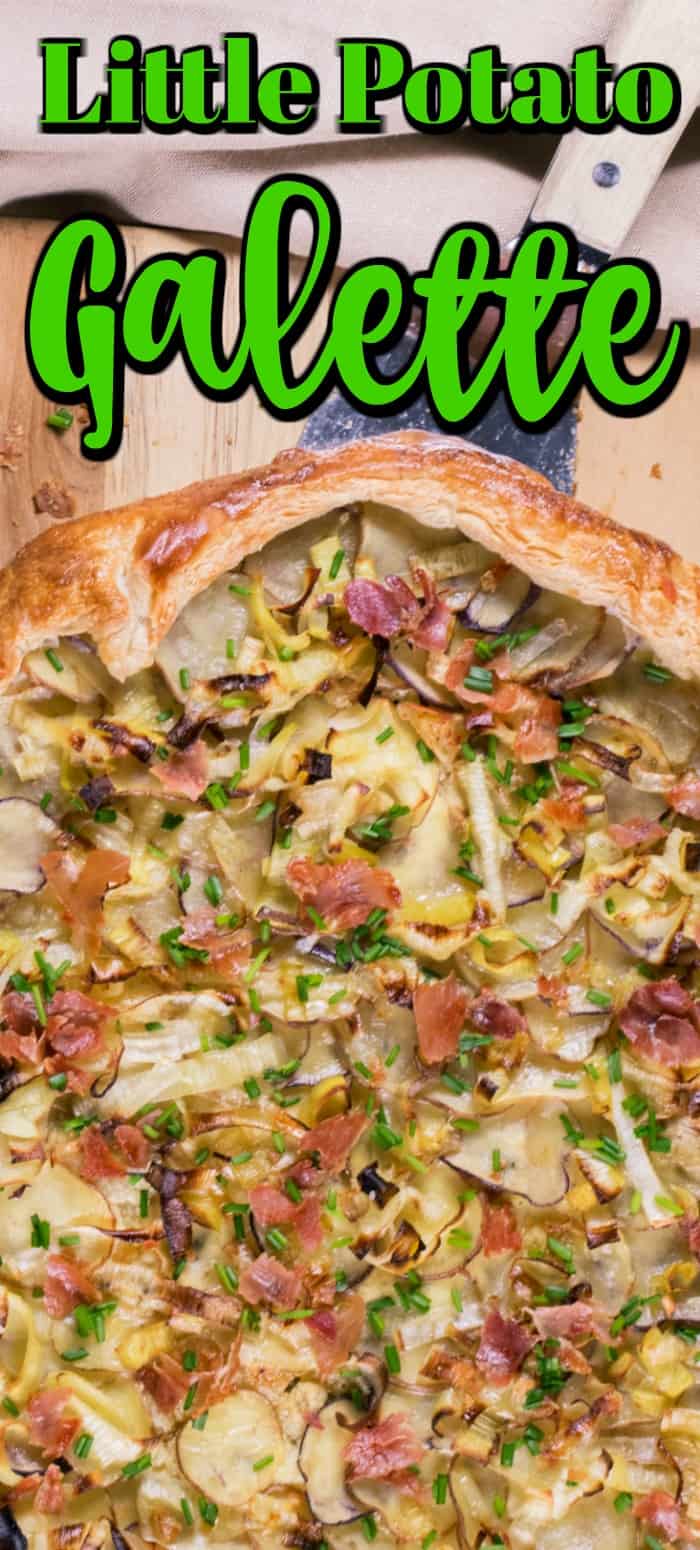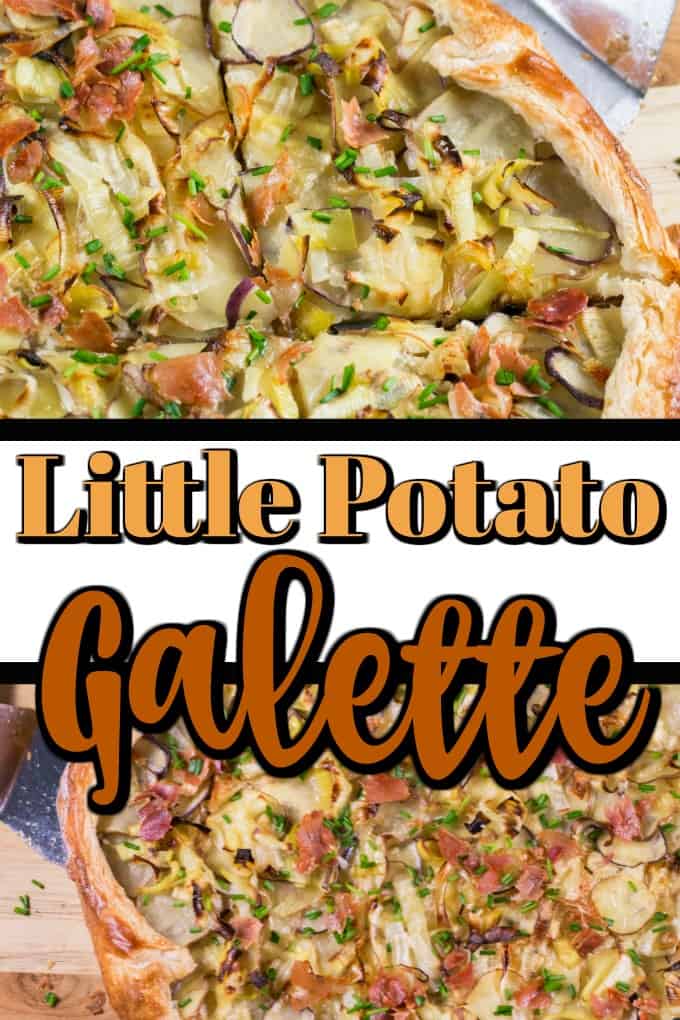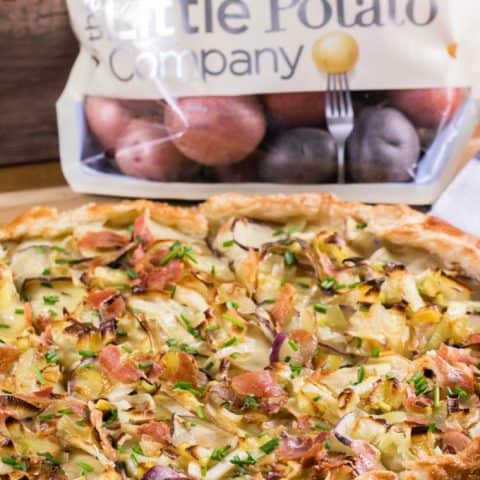 Little Potato Galette
Yield: 8 servings
Prep Time: 20 minutes
Cook Time: 40 minutes
Total Time: 1 hour
This amazing Little Potato Galette is great to serve for brunch to dinner or an appetizer. It is filled with Creamer potatoes, goat cheese, garlic, chives and topped with leeks and Proscuitto for the perfect combination of flavors.
Ingredients
397 gm. frozen puff pastry, thawed
All-purpose flour for rolling out
1 lb. Creamer potatoes by The Little Potato Company (I used Terrific Trio)
1 large leek or 2 medium, white and pale green parts only, halved lengthwise, thinly sliced
1 Tbsp. olive oil, more for drizzling
4 oz. goat cheese
5 Tbsp. heavy cream
2 garlic cloves, minced
2 Tbsp. chives, finely diced, divided
Pinch of red pepper flakes, optional
Kosher salt and freshly ground pepper
2 slices Proscuitto, crisped in a nonstick fry pan
1 egg, beaten
Instructions
Roll out the puff pastry on a floured surface with a floured pin to an 18x12" rectangle. Place on a baking sheet covered with parchment paper. Alternatively, roll out to fit the baking sheet you have. Set aside.
Saute the leeks in 1 Tbsp. olive oil in a medium skillet on medium heat for about 5 min. Don't brown. Season with salt and pepper and set aside.
Meanwhile, preheat the oven to 400F and mix the goat cheese with the cream, garlic cloves, and 1 Tbsp. chives. Season with red pepper flakes if using and salt and black pepper. Spread out thinly on the puff pastry leaving a one-inch border.
With a mandolin slice Creamer potatoes thinly. Layer in a single layer onto the puff pastry overlapping slightly and mixing up the colors of the Little potatoes evenly. Drizzle with oil and salt and pepper. Top with the sauteed leeks. Fold over the edges and brush with the beaten egg, salt the edge slightly.
Bake in the oven for 30-40 minutes. If the middle of the galette starts to puff just poke it slightly to let the air escape. Bake until the potatoes are soft and the crust is golden brown.
Garnish with crumbled Proscuitto and the remaining Tbsp. of chives. Slice into large pieces for a side or main and smaller for an appetizer.
Notes
If baking ahead of time, cover and refrigerate for several hours or overnight. Reheat in a 375F oven on a baking sheet for about 10 min. or until heated through and the puff pastry is crisp.
Nutrition Information:
Yield: 8
Serving Size: 1
Amount Per Serving:
Calories: 531
Total Fat: 29g
Saturated Fat: 8g
Trans Fat: 0g
Unsaturated Fat: 20g
Cholesterol: 45mg
Sodium: 468mg
Carbohydrates: 55g
Fiber: 3g
Sugar: 2g
Protein: 13g
Recipe calculation was provided by Nutritionix and is an estimation only. If you need nutritional calculations for medical reasons, please use a source that you trust.