Disclosure: I was compensated for this post. All opinions and experiences are my own.
There are lots of great things heading our way now that fall is around the corner. One of them is "game day" and for us at this house game day is in the form of football. We watch both CFL and NFL! The best part is enjoying some delicious food while you watch too so I came up these Little Potato Irish Nachos recipe that will please everyone!!
They are super easy to make using Little potatoes from The Little Potato Company. They come pre-washed and only require a slice or two before roasting, never any peeling!!
Also all you require is only the oven as you can bake your bacon, roast your potatoes and melt the cheese all in one appliance, easy peasy!!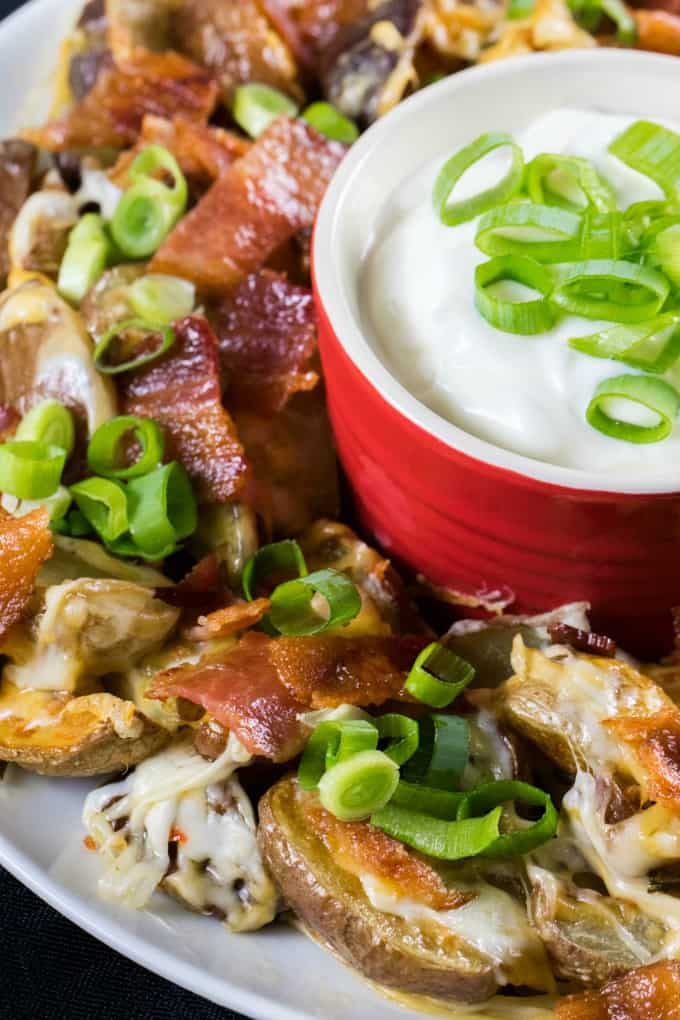 I know, aren't they amazing looking!!? Nothing better than Creamer potatoes, bacon and cheese!! They are sort of like a potato skin without any of the fuss!!
If you want to add in other ingredients be my guest. These are scrumptious with jalapenos on top and salsa for dipping too bringing them even closer to a nacho.
I like to use a Tex Mex cheese blend to make them yummy and with just slightly more oomph.
What are Irish Nachos?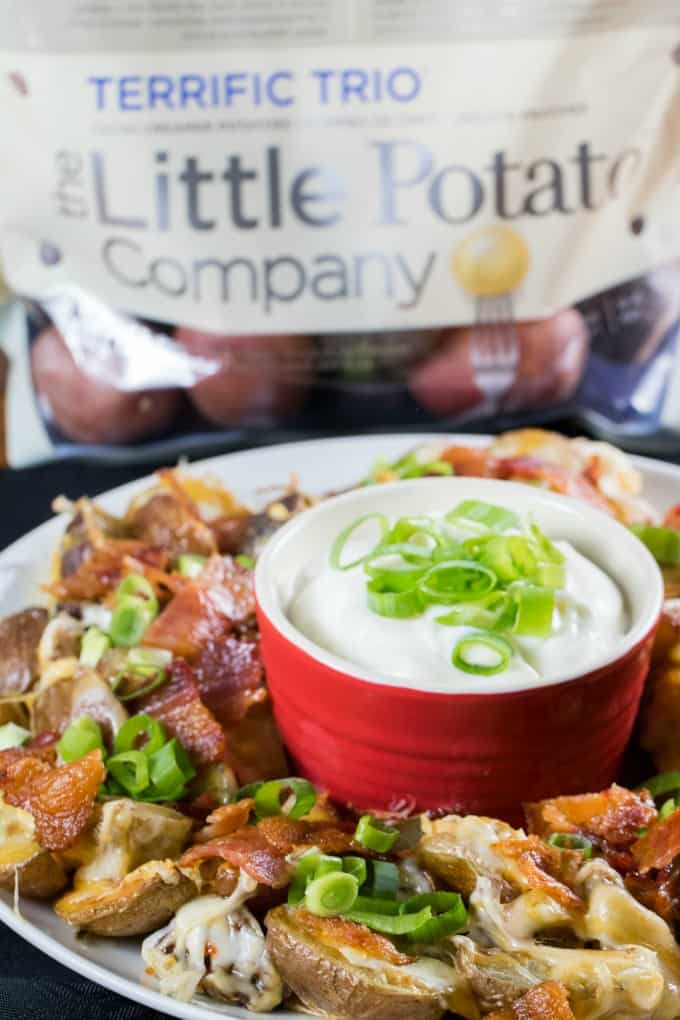 Irish nachos are a play on nachos with a fun twist and always contain potatoes instead of tortilla chips. Ours, of course, use Little potatoes as they are so easy to use. They go right from bag to baking sheet as there is no peeling or washing required.
A quick toss in olive oil and Kosher salt and they are ready for the oven. Roasting potatoes doesn't take long; they are done in 30 minutes. Time them for anytime while you are watching a game to enjoy.
Most recipes include bacon also, and of course, cheese but then your imagination can take over to add your favorite toppings too.
The Little Potato Company's Terrific Trio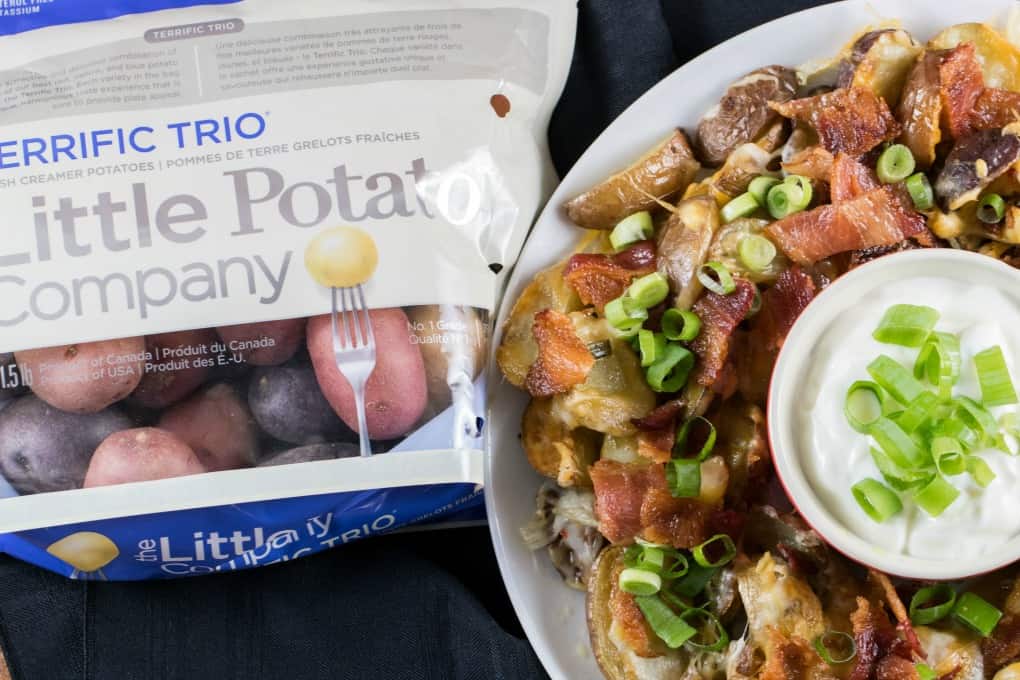 For this recipe we used The Little Potato Company's Terrific Trio which is an outstanding combination of red, yellow and blue potatoes.
The yellow Creamer potato is smooth and buttery. The red has a sweet, earthy taste and the blue Creamer potato surprises with deep purple skin and yellow flesh. It has a pronounced potato flavor and a hint of minerality.
They are the perfect combination for this recipe, giving each bite just a slightly different flavor and color. They are great roasted like in this recipe but also great grilled or boiled.
How Do You Make Irish Nachos?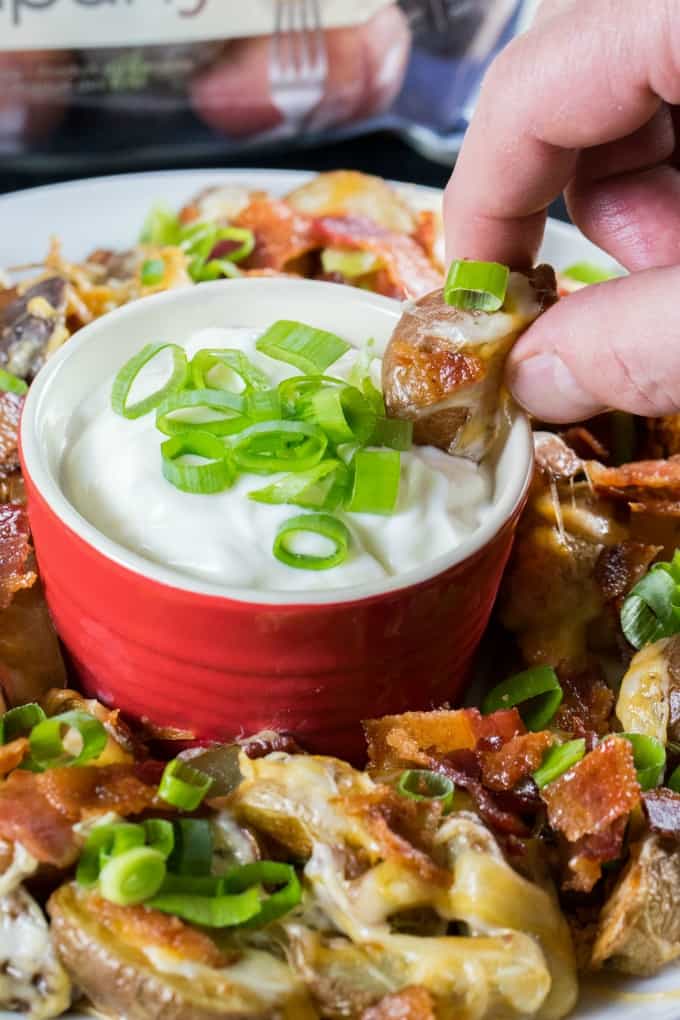 The recipe is as simple as roasting potatoes, baking bacon and topping the Little potatoes with cheese and one more run in the oven, this time under the broiler.
Grab them with your fingers or pass around the forks. They will be gobbled down instantly!!
Creamer potatoes come in a 1.5 lb. bag which is perfect for this recipe. Have a bigger crowd coming? You can make a double batch with their 3 lb. bags if you like also.
Nothing can be easier than this recipe to feed a crowd and your hungry game day fans will be thanking you for this delicious recipe.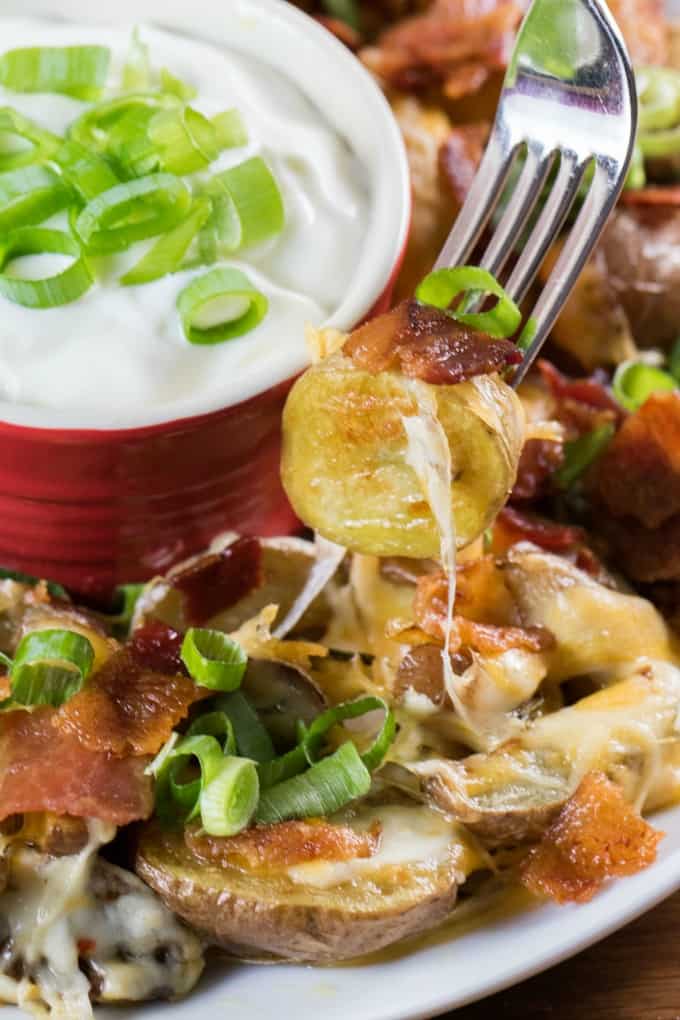 Roasting the potatoes to perfection gets them golden on the outside and creamy on the inside and the best part is that it takes very little effort from you to achieve this.
One trick I have for roasting potatoes is to leave them towards the end like in the last 5 min. to flip. This will garner you a crispier result than if you flip them halfway through.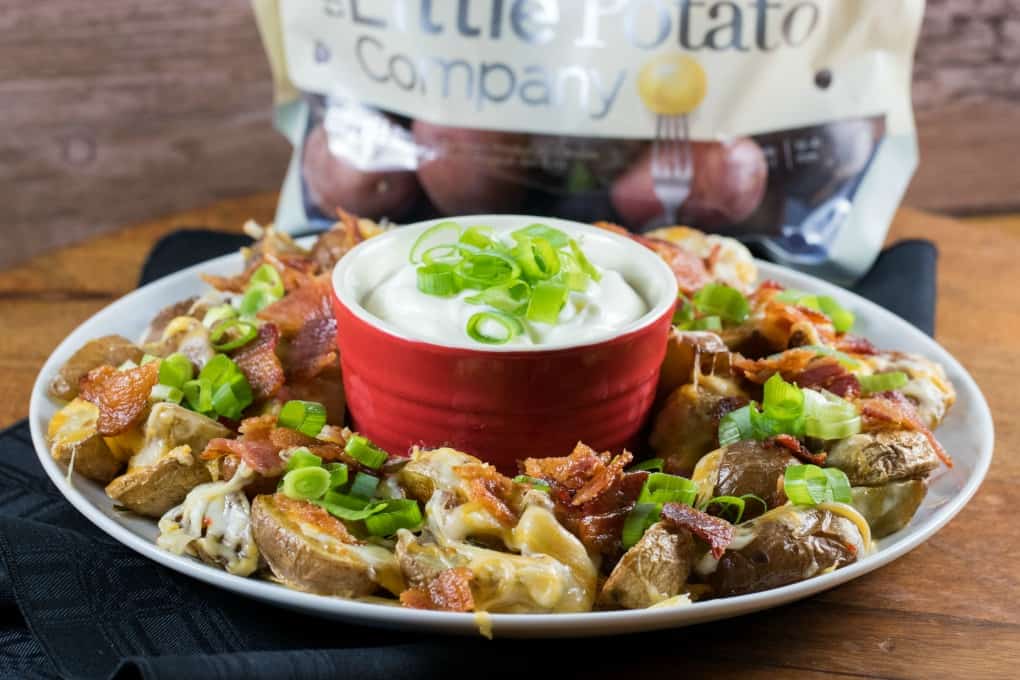 This plate of Little Potato Irish Nachos fulfills all my needs and wants in a big comforting platter!!
Little potatoes, crispy bacon and ooey gooey cheese. What more would you want on game day!!? And think how great these would be on St. Patrick's Day!!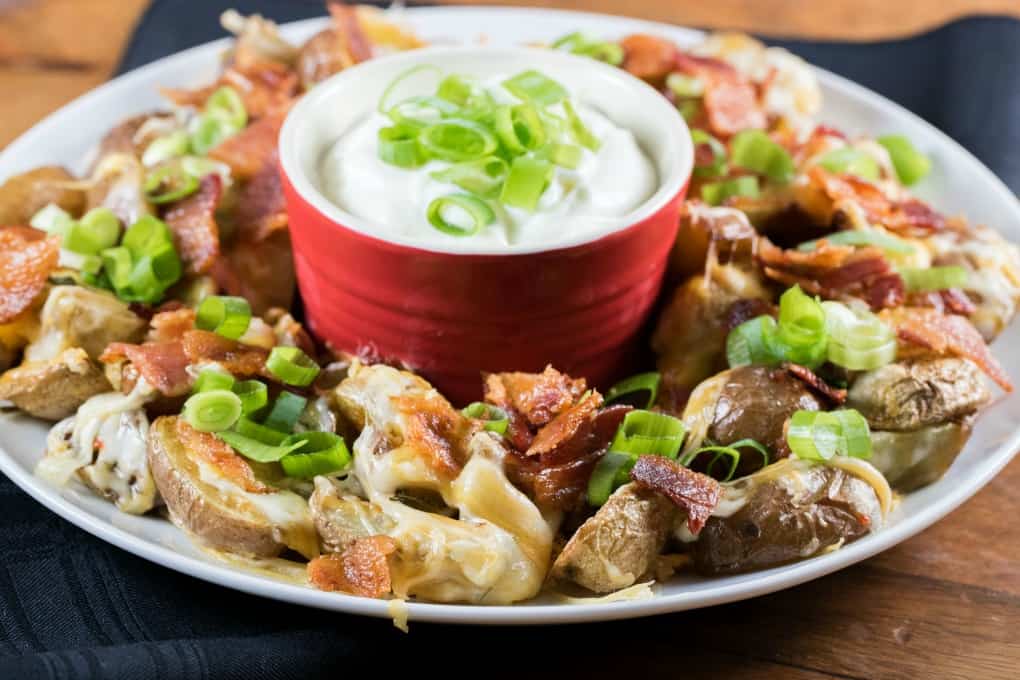 When you have recipes like this one to look forward to, bring on the Fall!! Grab the gang and enjoy some fun times together.
You might see this recipe at an Irish pub but of course it isn't a true Irish dish. Enjoy Irish pub food at home with these delicious Little Potato Irish Nachos. Sooo good!!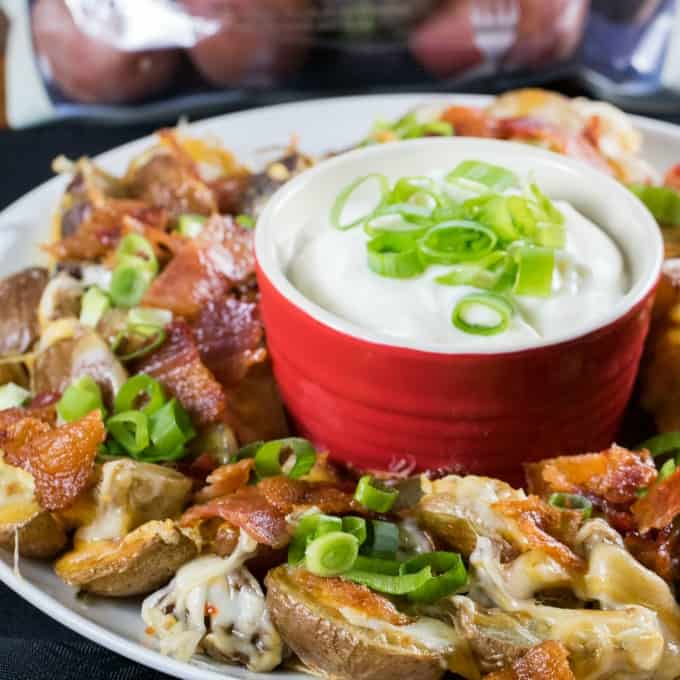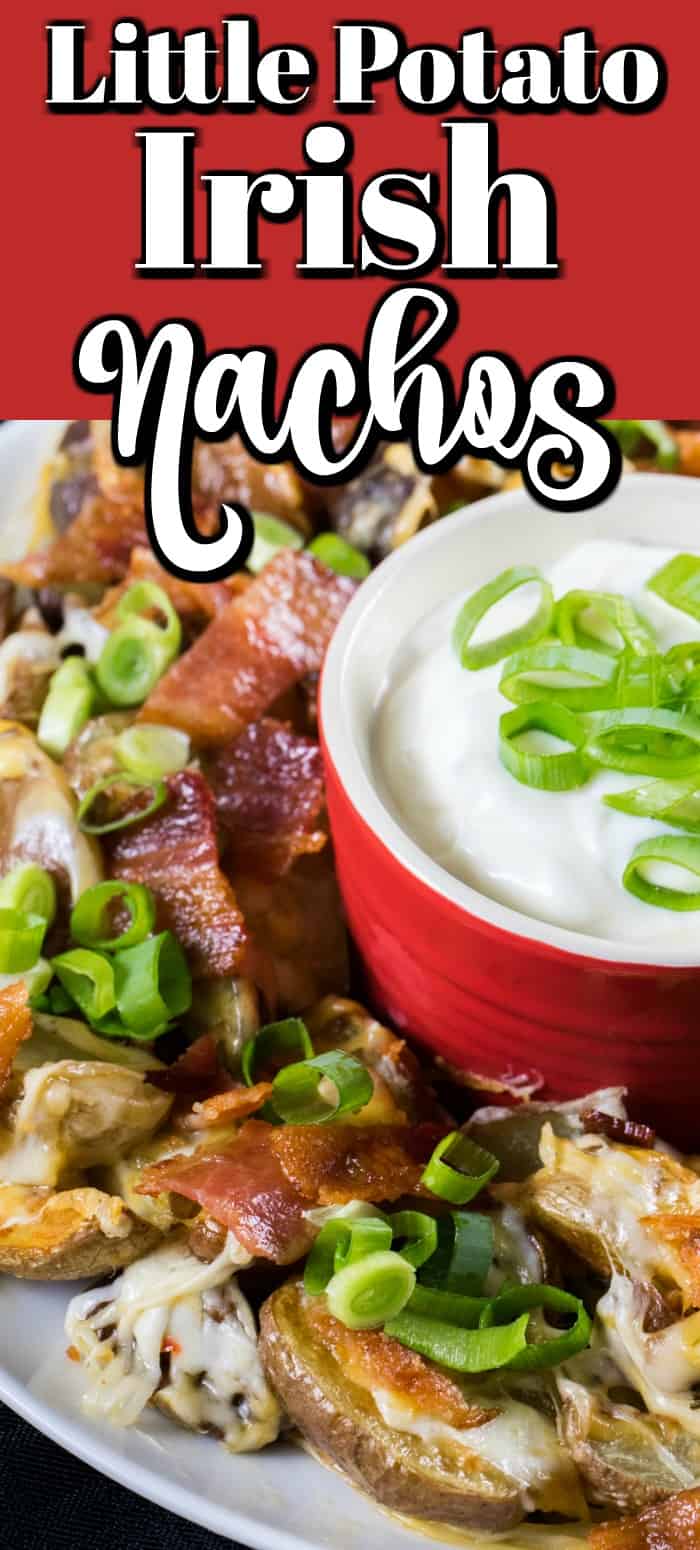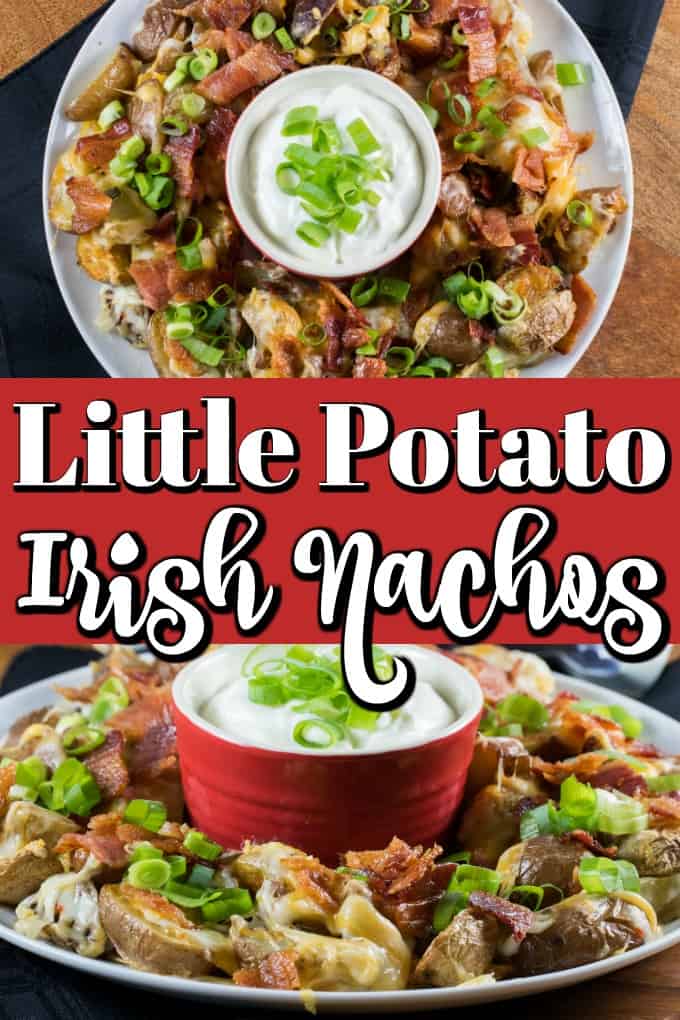 Little Potato Irish Nachos
Yield: 4 servings
Prep Time: 10 minutes
Cook Time: 30 minutes
Total Time: 40 minutes
Little Potato Irish Nachos are a fun twist on traditional tortilla nachos and are perfect for fall and game day. With roasted Little potatoes, crisp bacon and ooey gooey cheese they are pure comfort food!!
Ingredients
1 1/2 lbs. The Little Potato Company's Terrific Trio, halved or quartered
2 Tbsp. olive oil
2 tsp. fresh rosemary, chopped
Kosher salt to taste
6 slices good quality bacon
1 cup Tex Mex cheese blend, shredded
2 green onions, diced
Sour cream
Other various topping like jalapenos, salsa etc. (optional)
Instructions
Preheat oven for 400F.
Line a baking sheet with foil and lay out bacon.
Take a second baking sheet and toss potatoes with olive oil, rosemary and Kosher salt to taste. Lay potatoes out with lots of space in between in a single layer.
Place both sheet pans in the oven. Turn the bacon after 8 min., cook another 8 min. or until desired crispness. Watch that bacon doesn't burn and remove to paper towels when done. Crumble or slice into large dice when cooled.
Cook potatoes for 30 min. flipping at about 25 min. mark. Roast until golden brown.
Move potatoes closely together and top with cheese. Broil until melted.
Transfer to a serving dish with sour cream in the center.
Top with the bacon and green onion. Serve immediately.
Nutrition Information:
Yield: 4
Serving Size: 1
Amount Per Serving:
Calories: 411
Total Fat: 22g
Saturated Fat: 8g
Trans Fat: 0g
Unsaturated Fat: 12g
Cholesterol: 45mg
Sodium: 614mg
Carbohydrates: 38g
Fiber: 4g
Sugar: 3g
Protein: 17g
Recipe calculation was provided by Nutritionix and is an estimation only. If you need nutritional calculations for medical reasons, please use a source that you trust.