Garlic Rosemary Fondant Potatoes
Disclosure: I was compensated for this post. All opinions and experiences are my own.
Have you heard of Fondant Potatoes before? Let me take you on a journey and explain all about these delicious Garlic Rosemary Fondant Potatoes that I have made for you today using The Little Potato Company's Creamer Potatoes.
This is such an easy recipe to make and one that you will want to be making again and again. It brings these Little potatoes to new heights as I have never had a more tender and creamy potato unless it was mashed.
They are crispy on the outside and velvety on the inside. They go perfectly with all your holiday mains and can easily be doubled when a crowd is coming over. Want another meal using Creamer Potatoes, try our Slow Cooker Roast Beef with Potatoes and Carrots.
What are Fondant Potatoes?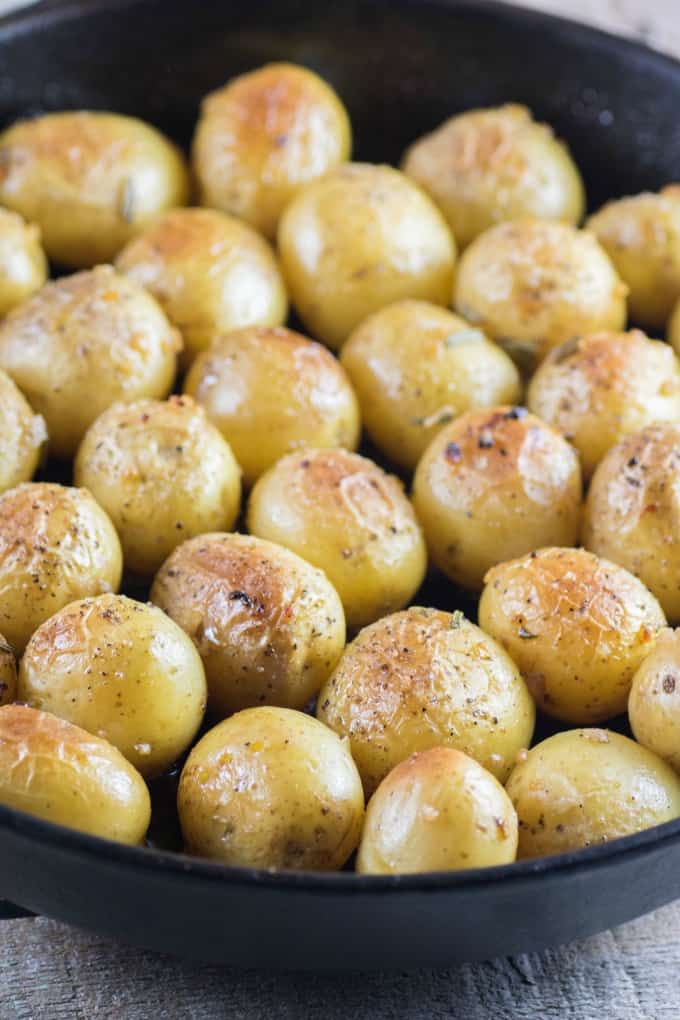 You might be thinking these are roasted potatoes. Well they are slightly similar but then again a whole lot different. Fondant potatoes originated in France and is a method of cooking potatoes.
Traditionally a large potato would be cut into a cylinder, then ends are browned and then they are slowly roasted in butter and broth.
We used the Baby Boomer varietal from The Little Potato Company for this recipe, they are a yellow-white flesh Creamer potato that already is smooth and silky in the center and just melts all over the palette.
Fiddling with peeling and cutting the potatoes is hard work when you can use these perfectly shaped Creamer potatoes. They come prewashed and there is no need to peel the potatoes, thanks to the naturally thin-skin, it's delicious. No need to have potatoes cut at all!
You can be a Masterchef like Gordon Ramsay and pull off this recipe like no other when using The Little Potato Company's Creamer potatoes.
Speaking of great chefs, The Little Potato Company has a great contest on now with chef Michael Bonacini, ENTER for your chance to win $10,000.
How to Cook Fondant Potatoes?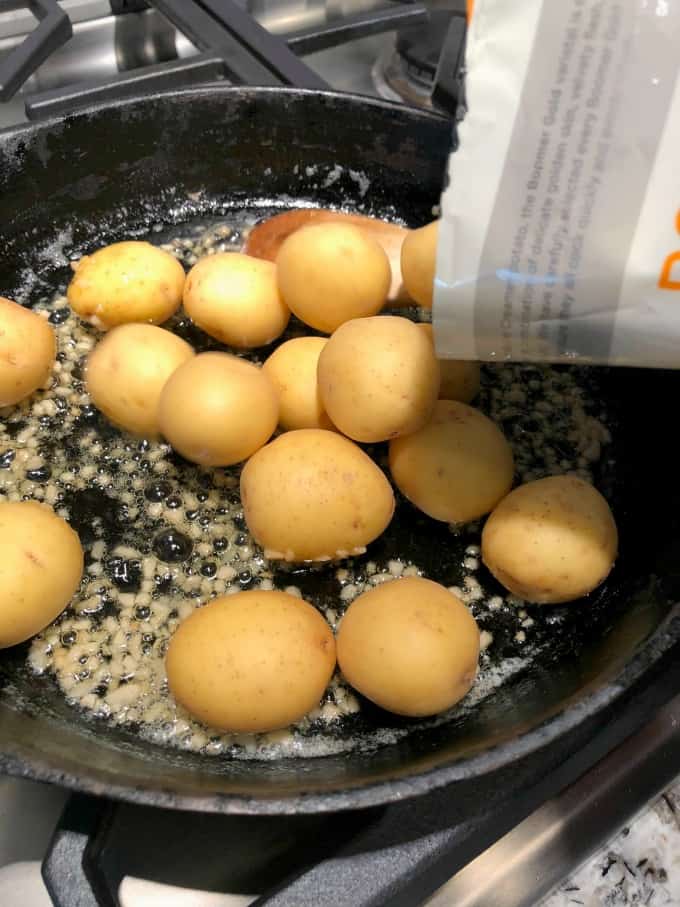 For our Garlic Rosemary Fondant Potatoes, start with a pan on medium heat, add the butter and olive oil, and cook the garlic until just fragrant. Then remove the pan from the heat and add in the Little potatoes.
Use a cast iron pan or one that can go from stovetop to oven. This is not only easier but it will ensure you keep all that wonderful flavor.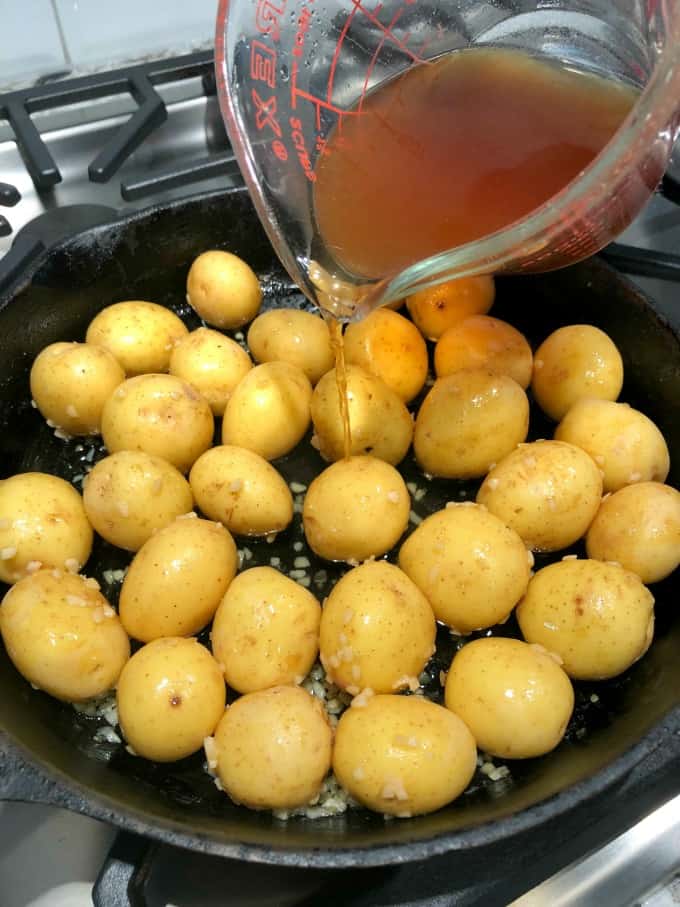 Once the potatoes have had a roll in the olive oil, butter, and garlic you pour in beef broth, put it back on the heat, and bring it up to a boil.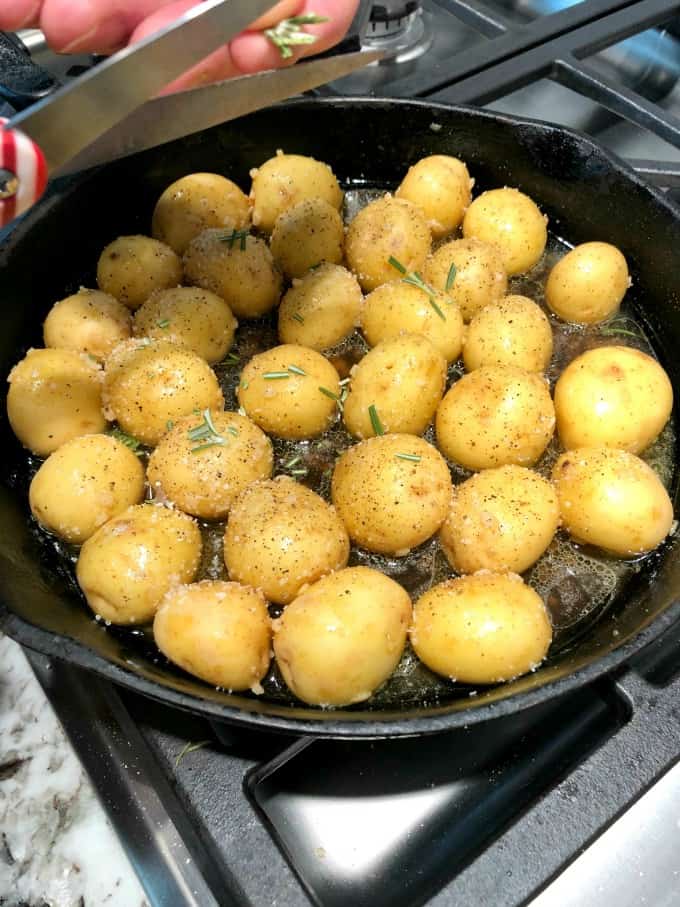 Add some salt and pepper and freshly snipped rosemary. You could also use a combination of rosemary and thyme if you like.
Once the broth is boiling pop this into a 425F oven for about 25 min. or until the potatoes are tender and almost all the broth has been absorbed or evaporated.
When the potatoes are tender and golden brown put the pan back on the stove and cook on medium-high to get the last of the broth evaporated and the potatoes browned on the bottom.
This ensures crispy exteriors and wonderful creamy interiors. Salt and black pepper again if need be and serve immediately to rave reviews!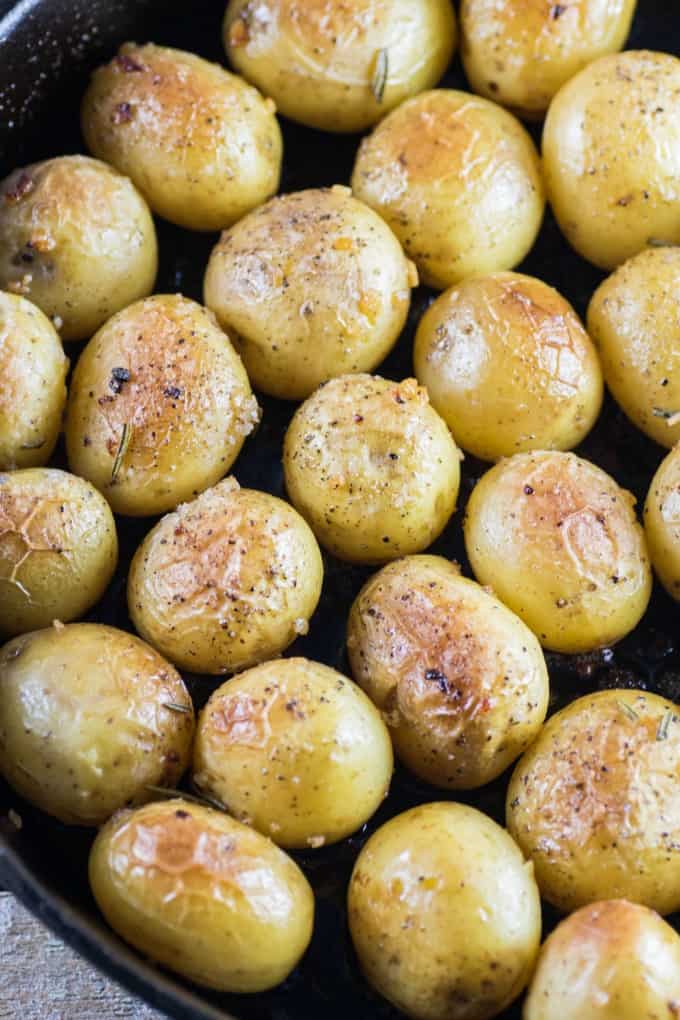 Fancy meals really don't have to be hard. It takes a bit of coordination but this recipe can be the last you do as you have all the other casseroles and the main finished.
The casseroles will keep warm while the main rests and the Little potatoes cook. You can then also slice up the bird or roast beef. Put the potatoes on the stove to finish up and you are ready to serve.
Feeding a crowd?
This recipe could be easily doubled with using either a larger cast iron pan, mine is a 10 1/2″ and it fits 1 1/2 lbs of potatoes perfectly or use a roasting pan.
You want the potatoes just to have enough room to give them a roll initially in the garlic sauce. The presentation is pretty though with them neatly tucked together.
The tops brown on their own in the oven and the bottoms you brown up on the stove on medium high heat at the end.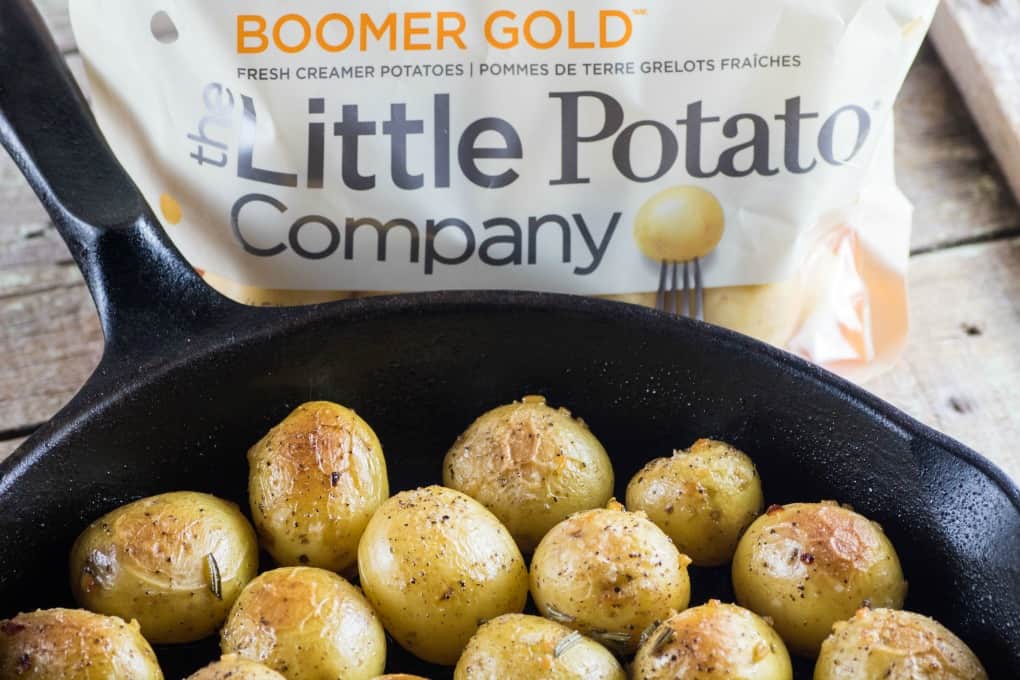 Garlicky, seasoned well and perfectly cooked, these Fondant Little potatoes are truly a magical experience. They are unique as they are not like any roasted potato you have ever had. A true holiday treat!!
I used beef stock for my recipe to give it that umph of flavor. You can easily use chicken stock or even make them vegetarian with vegetable broth.
Another great dish for the holidays is our Baked Little Potatoes Casserole. It has been a very popular post!!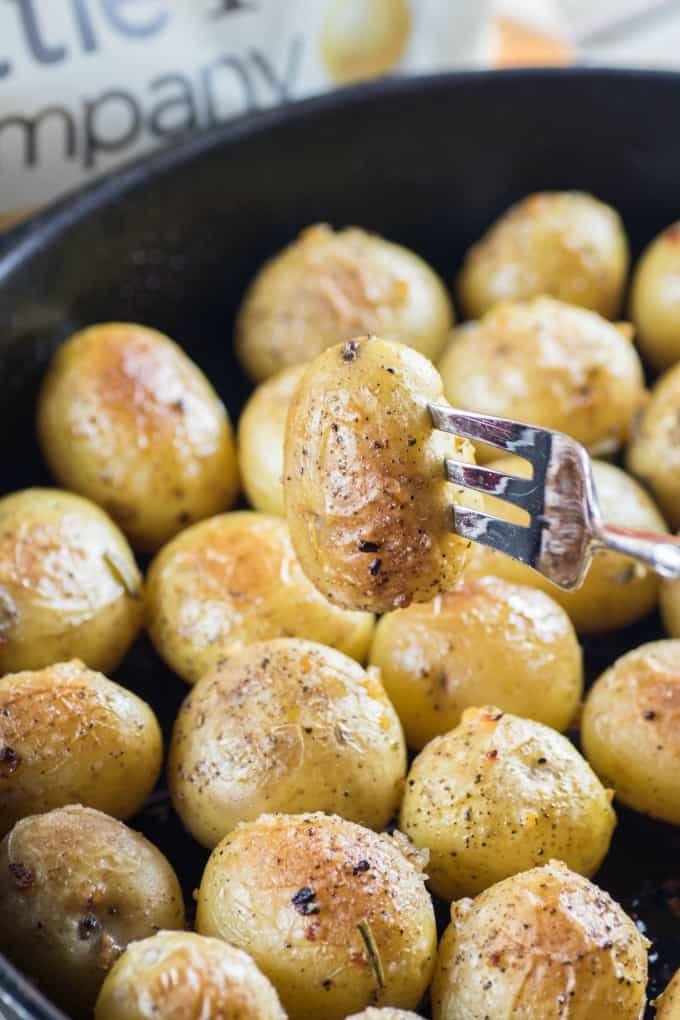 Isn't that just the perfect bite? You honestly need to try these potatoes ASAP, they will be a game changer!! The best way to cook potatoes for the holidays and such a great side dish!!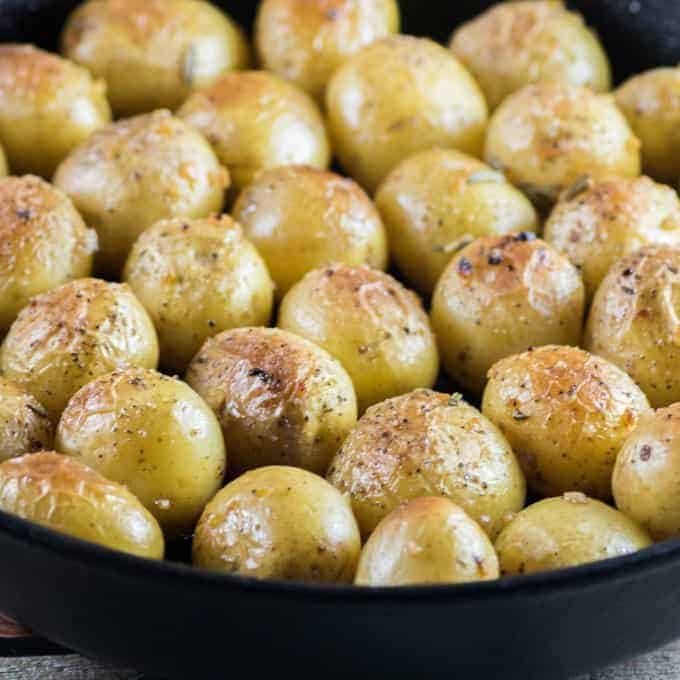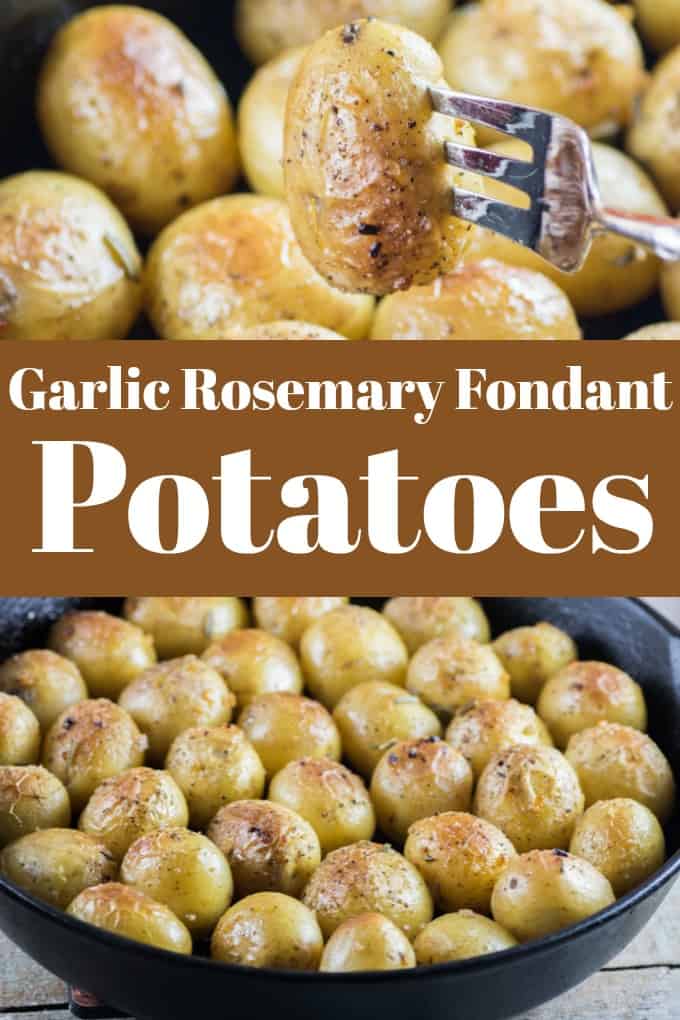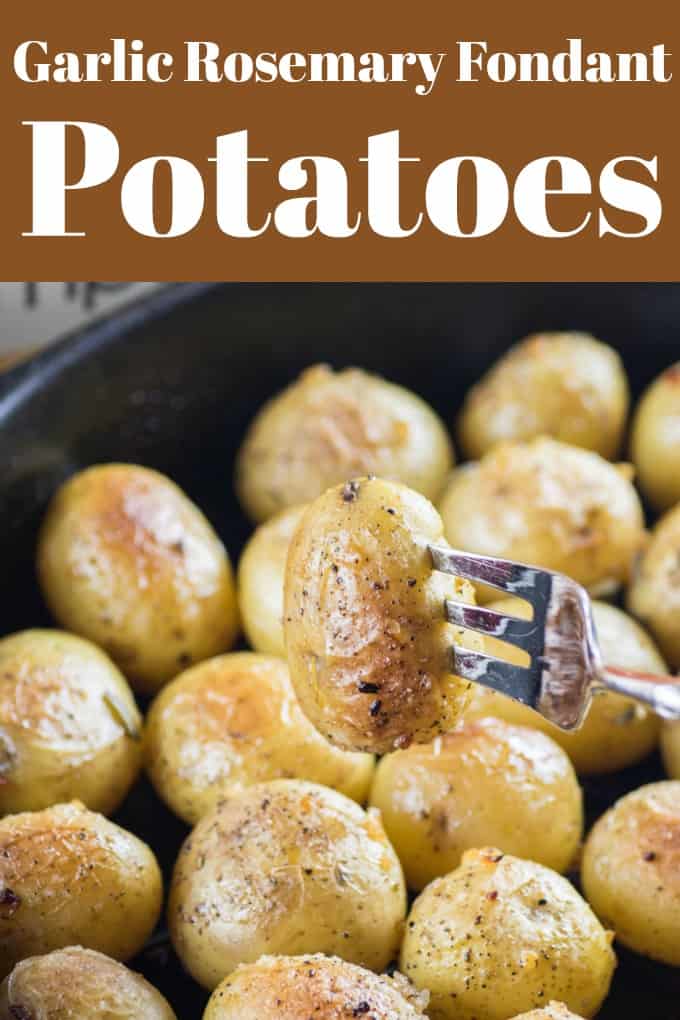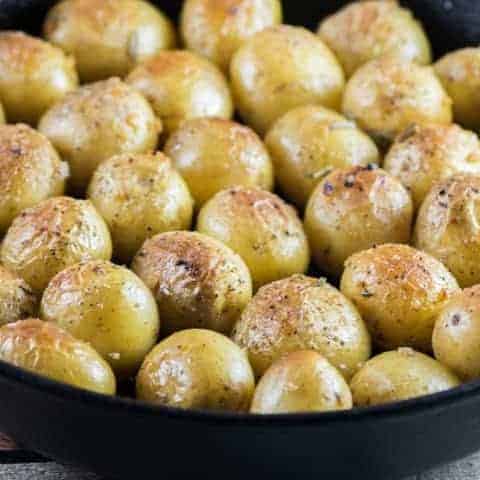 Garlic Rosemary Fondant Potatoes
Yield: Serves 4
Prep Time: 5 minutes
Cook Time: 35 minutes
Total Time: 40 minutes
These Garlic Rosemary Fondant Little Potatoes are velvety on the inside and crispy on the outside. This is a real game changer of a recipe!!
Ingredients
1.5 lbs. The Little Potato Company's Baby Boomers varietal
2 Tbsp. olive oil
1 Tbsp. butter
1 Tbsp. garlic, minced or 4 smashed garlic cloves
1 cup beef stock, you can use chicken or vegetable also
1 tsp. fresh snipped rosemary
Kosher salt and freshly ground black pepper
Instructions
Preheat oven to 425F. Put the olive oil and butter into a medium sized (10 1/2") cast iron pan or one that is oven proof. Heat on medium heat and then add the garlic either minced or whole cloves smashed. Cook until fragrant for about 1 min. Remove from heat.
Add the Little potatoes straight from the bag into the pan and roll in the garlic sauce. Pour in the beef stock.
Season to taste with Kosher salt and freshly ground pepper and fresh snipped rosemary.
Place back on the heat and bring to a boil and then into the oven for approximately 25 min. until almost all the stock is absorbed and the potatoes are tender.
Place back on the stove over medium high heat and cook off the remainder of the beef stock and allow the bottoms of the potatoes to brown. Remove the garlic if using the crushed cloves. Season if necessary and serve immediately.