Panko Crusted Sweet Potato Balls
We love to watch Diners, Drive-Ins and Dives and Ken came across an interesting recipe that was on there for sweet potato balls. Theirs were different than these ones and they were deep fried also. I wanted to make something a bit healthier so we baked ours. With a little research these Panko Crusted Sweet Potato Balls then came to life.
We love serving sweet potatoes for the holidays and one the most loved is our Ruth's Chris Copycat Sweet Potato Casserole. Sweet potatoes are a comforting vegetable and one that fits in beautifully for Thanksgiving and Christmas or all winter long.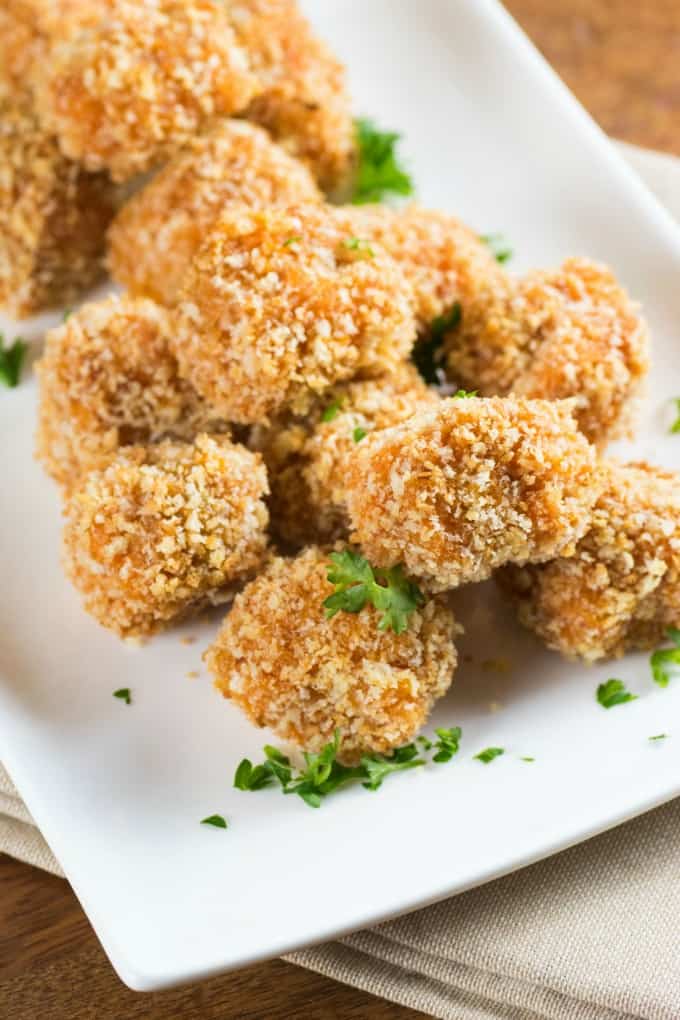 These Panko Crusted Sweet Potato Balls can be the best appetizer for the holidays or make a cute side dish too. They are easy to make and delicious with little bits of prosciutto inside that adds texture and flavor. We loved them.
Instead of brown sugar for sweetness we added maple syrup which works with the prosciutto and sweet potato lovely. A great pairing.
How Do You Make Sweet Potato Balls?
After boiling or steaming the sweet potato and mashing it you just add in your other ingredients. You could also bake the potatoes but you only need 1 cup for 20 balls. So if you want to make more you can with a large sweet potato.
Boiling and steaming allows you to do just enough and you will have a part of the potato as a leftover for another meal. Some sweet potatoes we get now seem like mutants as they are so, so large!
You could prep the potatoes ahead of time and have them ready to add the other ingredients and finish off the dish.
Once you form them into balls, roll in seasoned panko crumbs and then they are ready for the oven. They just need to then be baked for about 20 minutes or so until golden brown.
They are tender and soft and full of flavor. Think of the rave reviews you will get serving these for the holidays.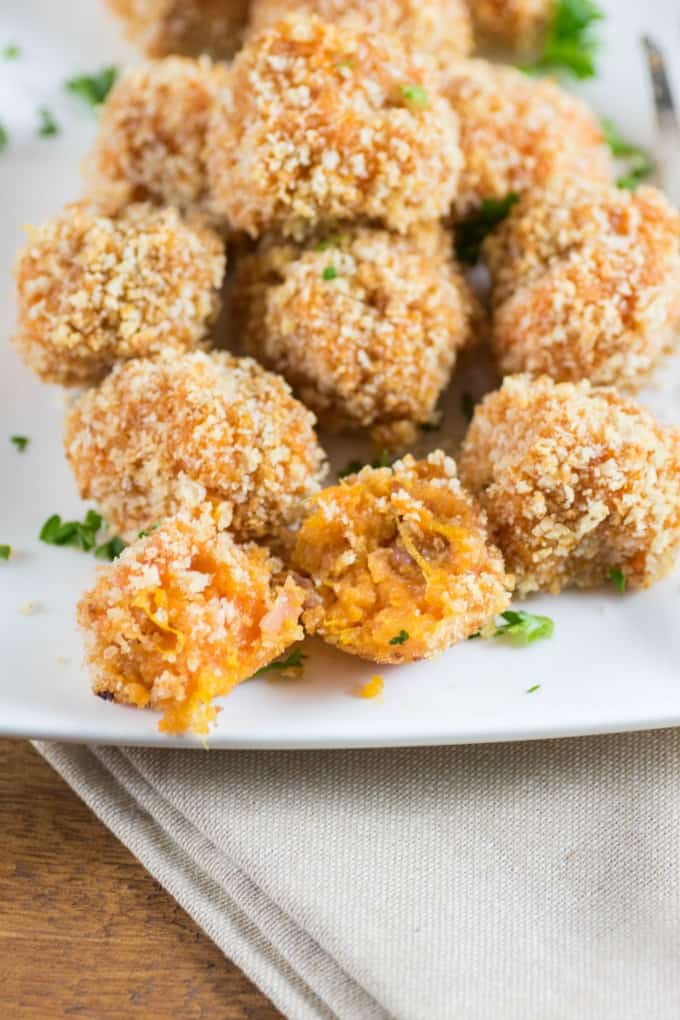 Sweet, savory, crispy, these little potato balls have it all! To me they scream of fall, plus I love how uniquely different they are. Such a treat for all your senses.
I have seen some sweet potato balls that really go over to more the dessert side of things. Paula Deen wrapped her sweet potato mixture around a marshmallow and then rolled it in coconut. Maybe a bit too sweet for me.
I like the play of sweet and savory for these and then they could be used as a great side dish too. Imagine these with your turkey dinner! You can still have mashed potatoes but a couple of these added would be perfection!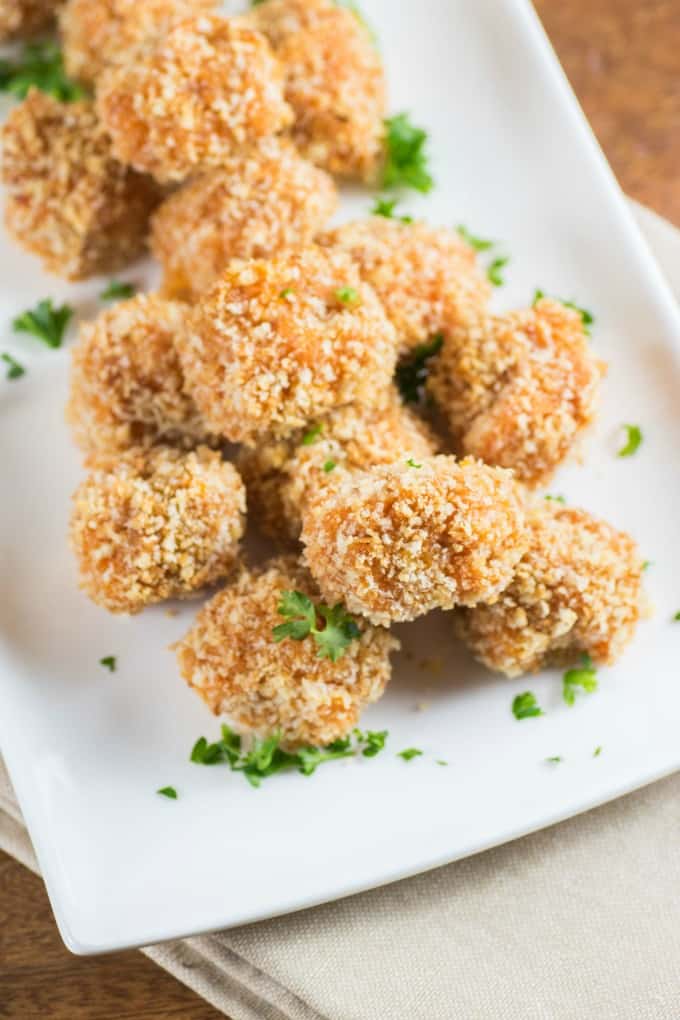 Some sweet potato balls are very Asian in nature, stemming from Thai food or Indonesian cuisine. Again they are deep fried and that is not where I wanted to go.
Enjoy this recipe, get creative yourself and try some different dishes. Do a trial run though always with a new recipe before diving right in to share with company.
Happy Holidays everyone!!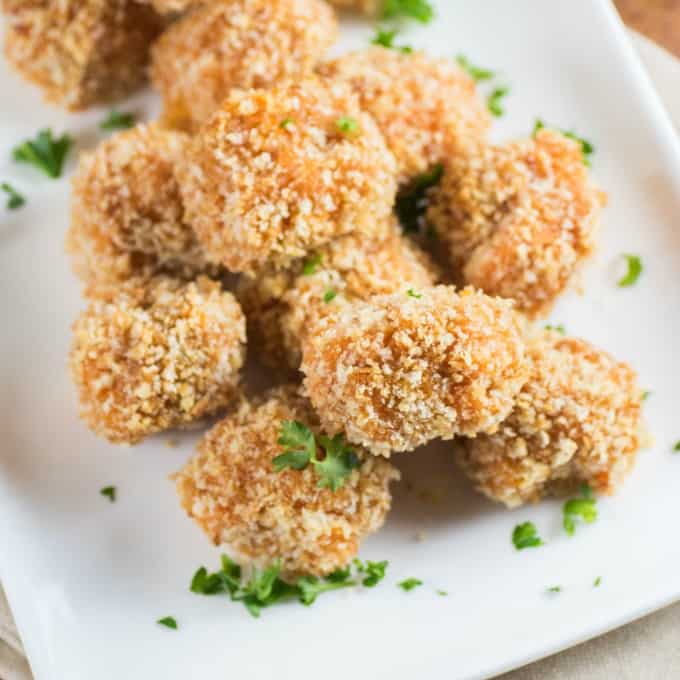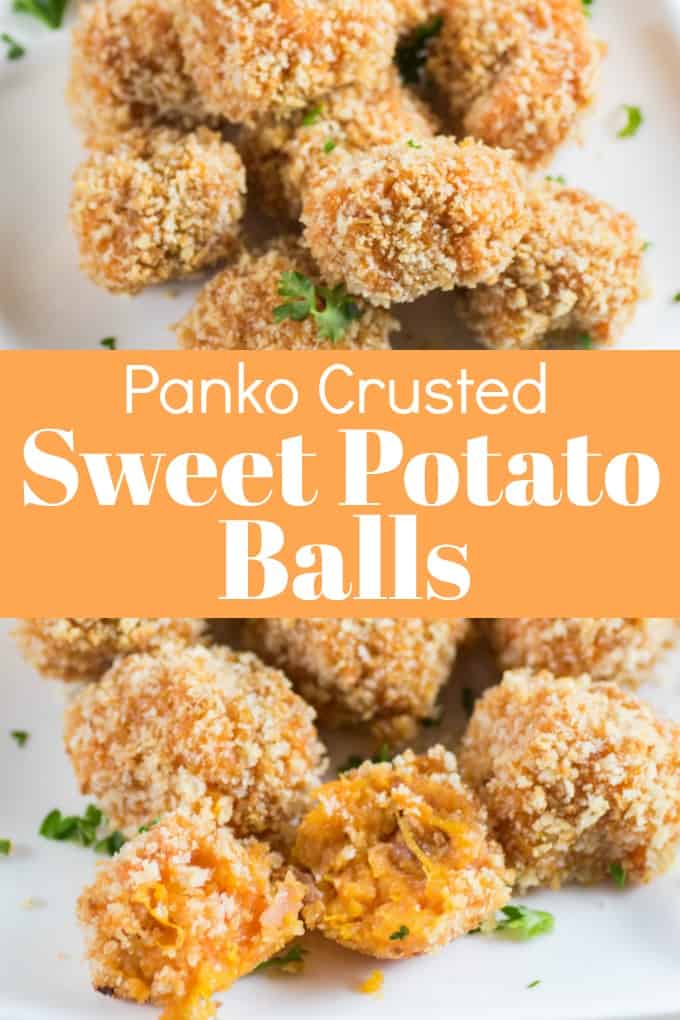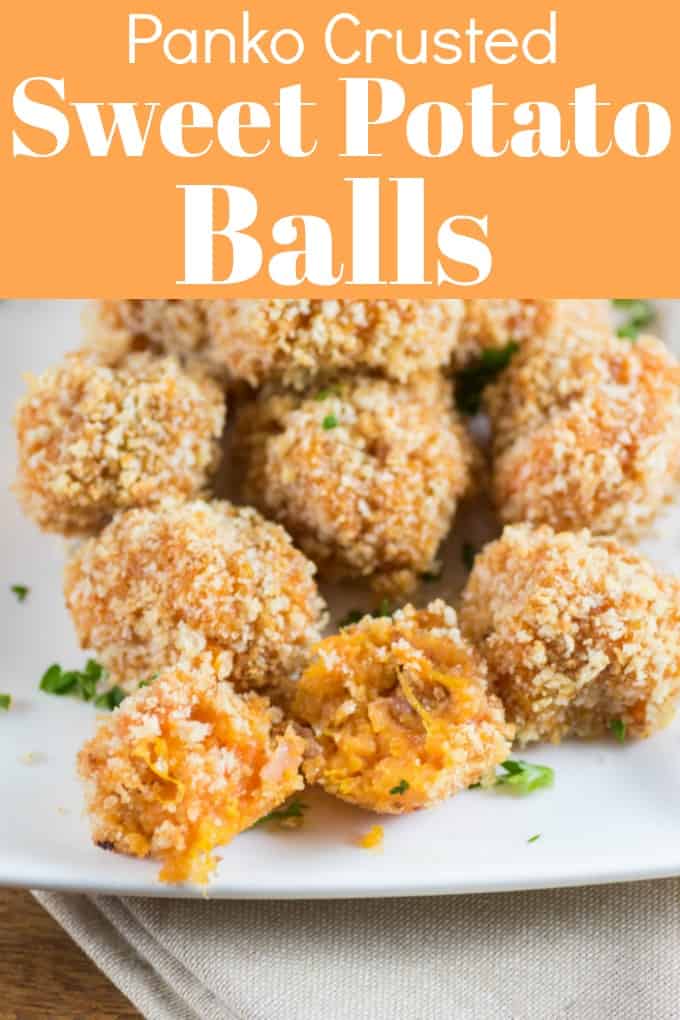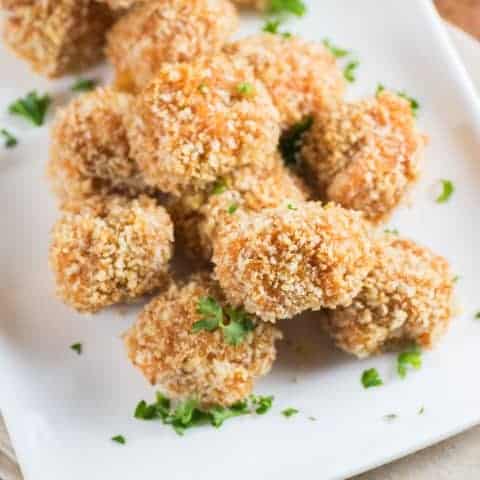 Panko Crusted Sweet Potato Balls
Yield: 20 balls
Prep Time: 15 minutes
Cook Time: 45 minutes
Total Time: 1 hour
These Panko Crusted Sweet Potato Balls are easy to make and are great not only as an appetizer but also as a side dish!
Ingredients
1 cup mashed sweet potato
2 Tbsp. melted butter
1 Tbsp. maple syrup
3 Tbsp. prosciutto, small diced
Salt and pepper to taste
Panko Crumbs
1 cup panko
2 Tbsp. olive oil
Salt and pepper to taste
Parsley, chopped for garnish
Instructions
Steam, boil or bake your sweet potato but make sure it isn't too watery. You can put it back into the hot pan once drained for more moisture to evaporate. Mash the potato and add the other ingredients, set aside to cool.
Preheat oven to 400F. Line a baking sheet with parchment paper.
Mix panko with olive oil and salt and pepper and fry up in a small pan until golden brown. Let cool.
Roll the sweet potato into about 20 balls and roll into the panko crumbs.
Place on lined baking sheet and bake for 20-25 min. or until crispy.
Garnish with parsley.
Recommended Products
As an Amazon Associate and member of other affiliate programs, I earn from qualifying purchases.